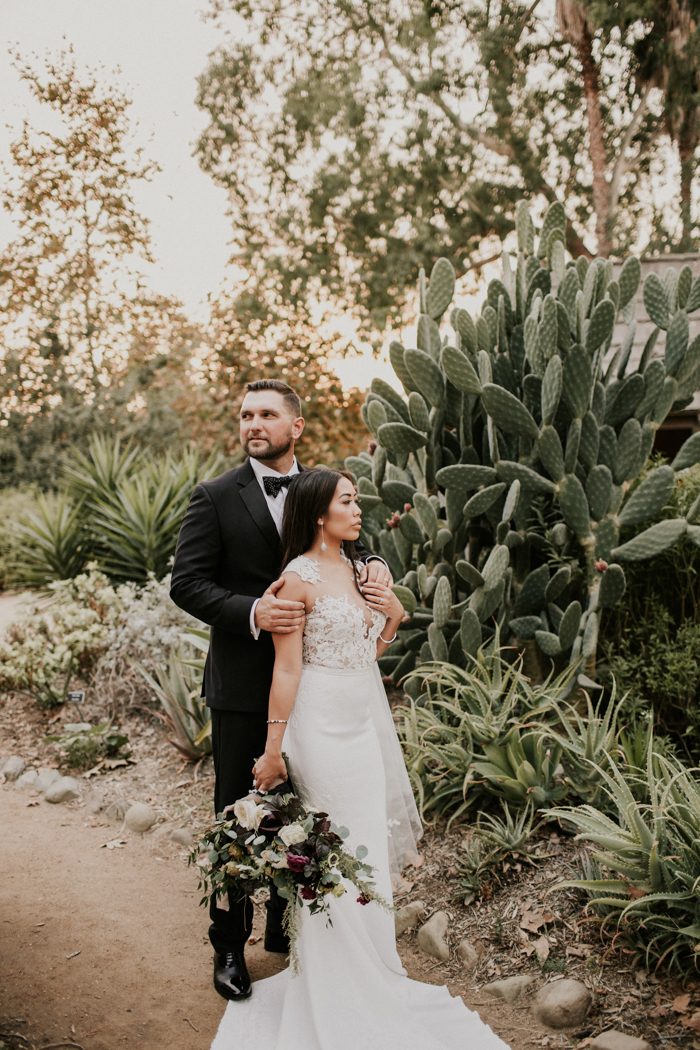 Franciscan Gardens was the perfect spot for Rachel and Garrett's moody and romantic wedding. These two focused on bringing in elements to their wedding that represented themselves individually as well as a couple. Incorporating their 'til death wedding vibe, the wedding decor is full of skulls, a rich color palette, and a neon sign that came together perfectly with the help of Joy n' Company Events. With a mix of pastel and dark-colored blooms, Foxtail Florals created some dreamy bouquets and flower arrangements that we are obsessing over. Photographer Jami Laree was there in capturing Rachel and Garrett's fun and edgy wedding day.
The Couple:
Rachel and Garrett
The Wedding:
Franciscan Gardens, San Juan Capistrano, California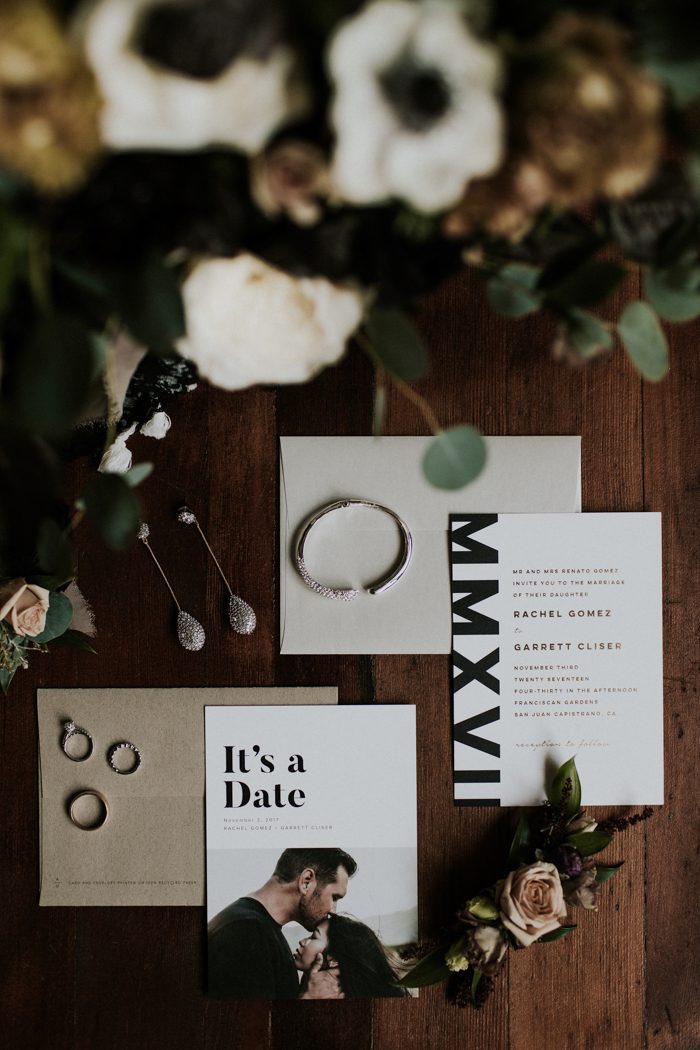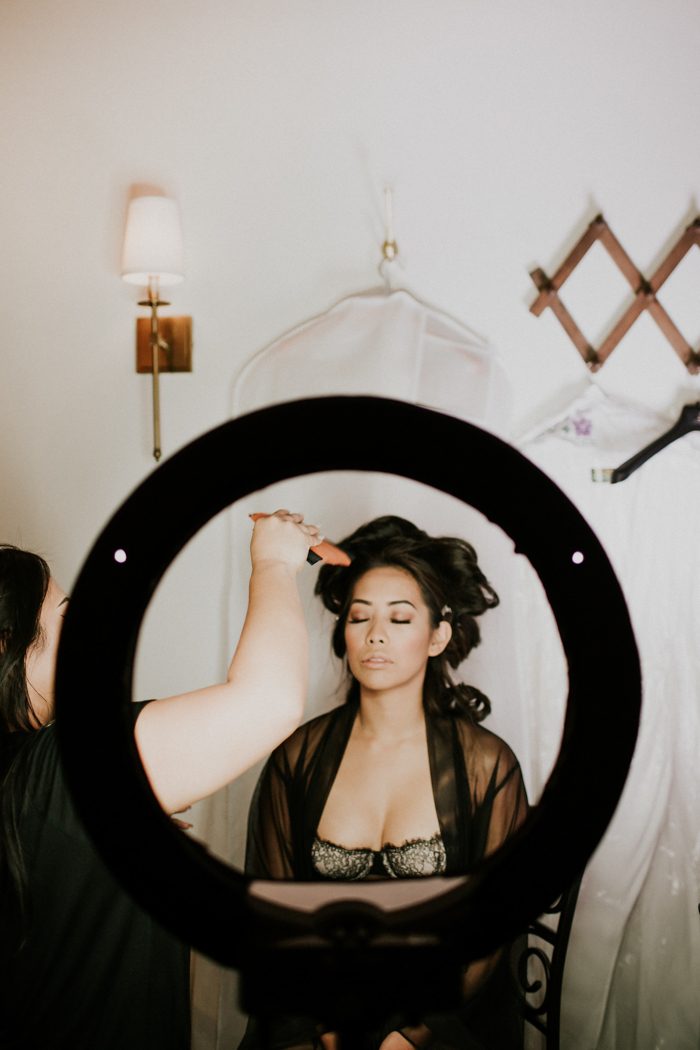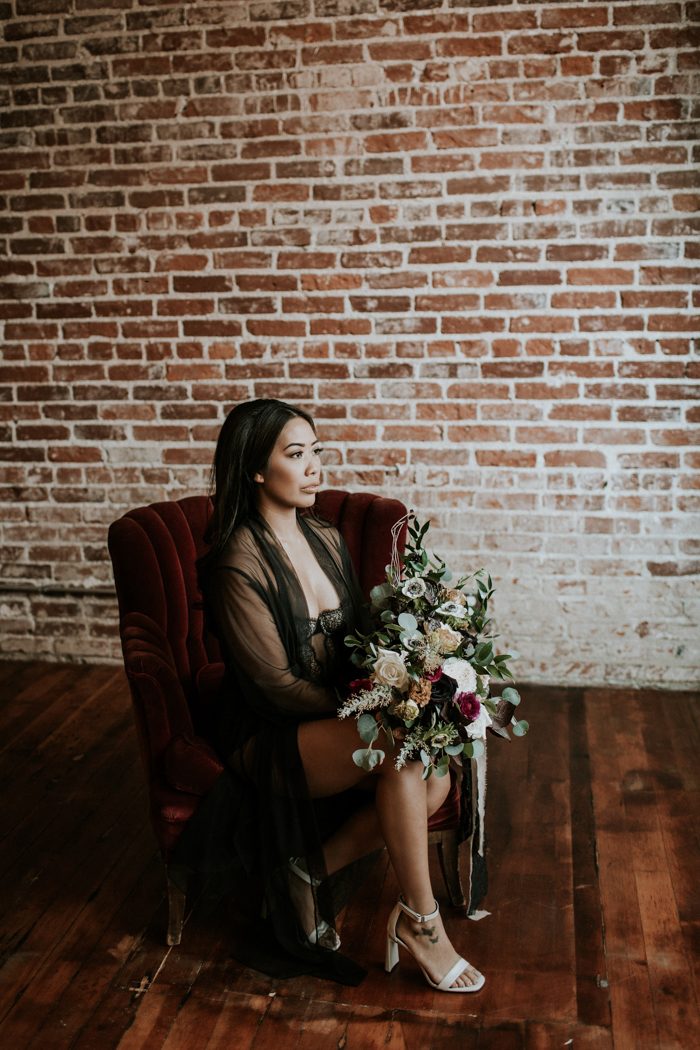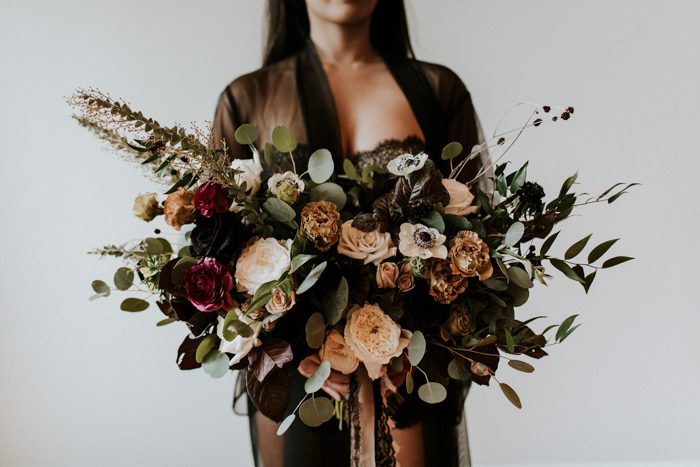 The most important thing in planning the wedding was staying true to mine and my husband's personalities and incorporating pieces that were reminiscent of our dating relationship and our love into the wedding–from the theme, to the music, to the individual decor pieces. It was also important hiring vendors/awesome people I could trust to see our vision and bring it to life.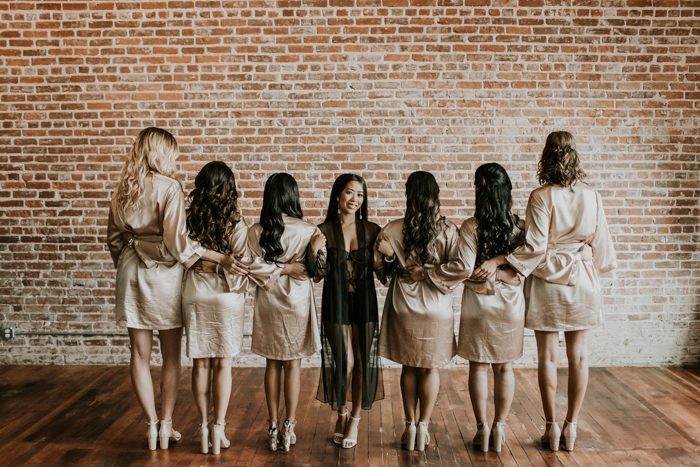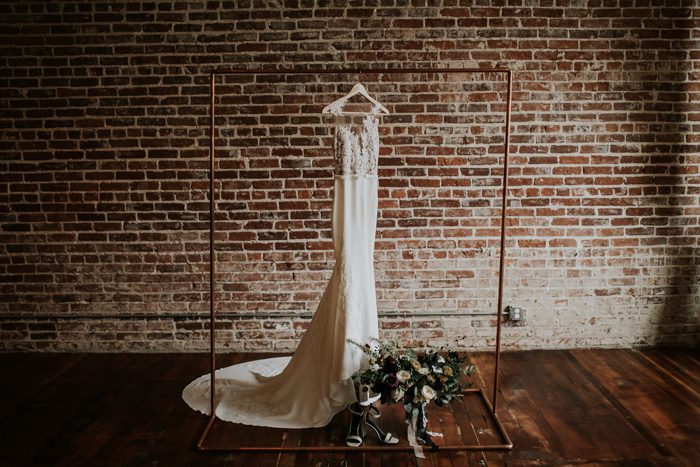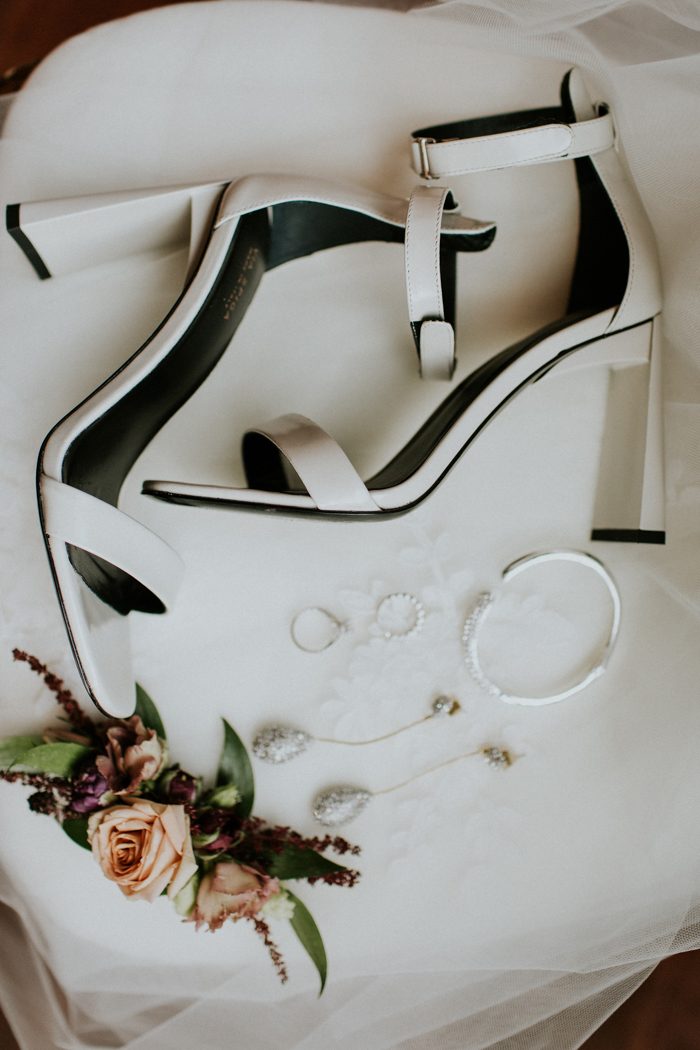 SHOP THIS POST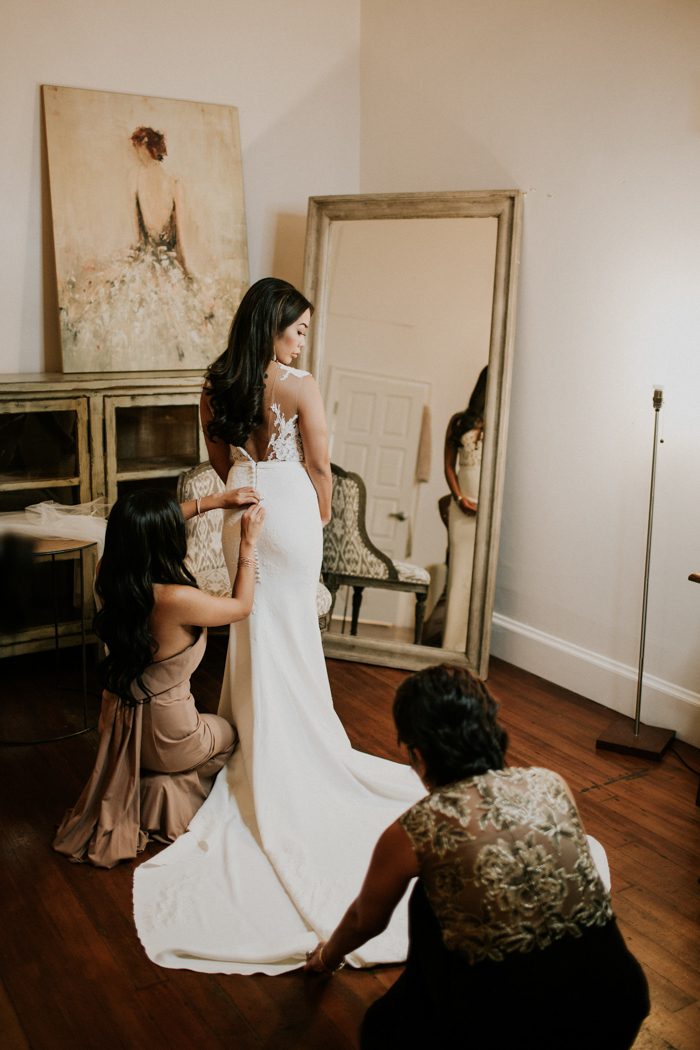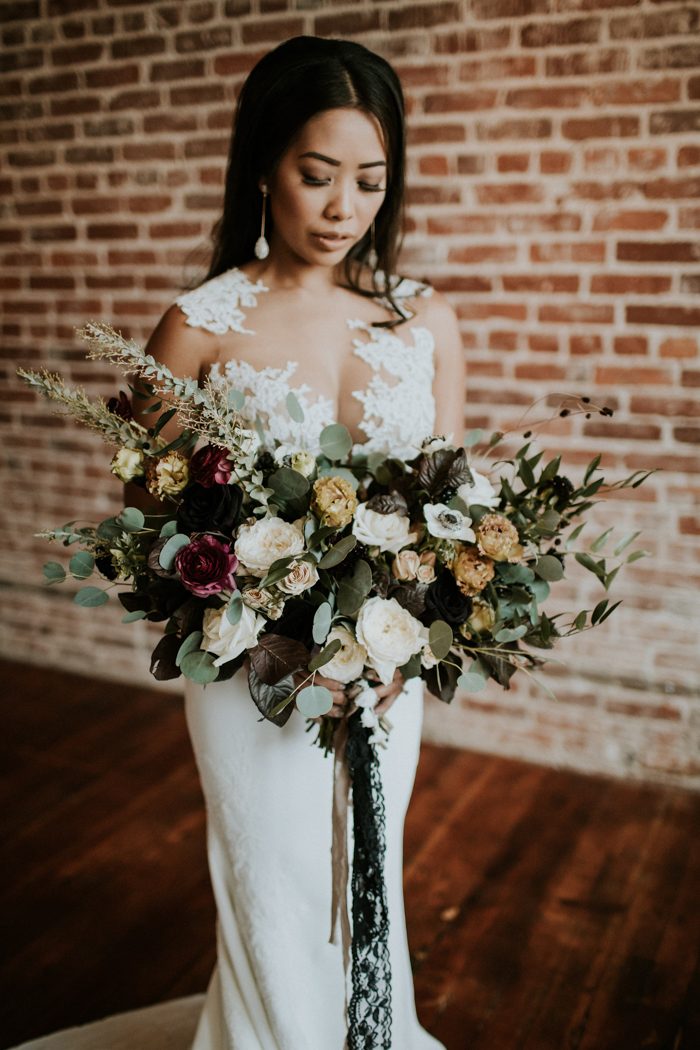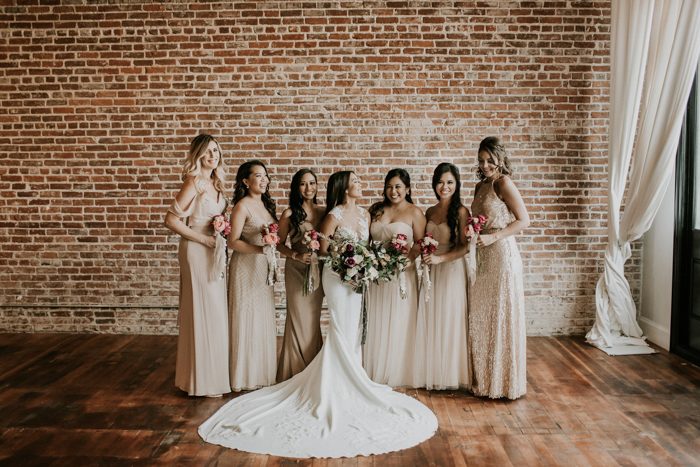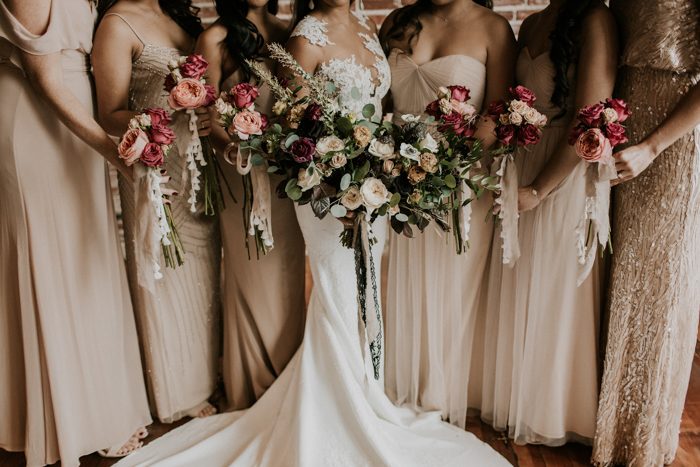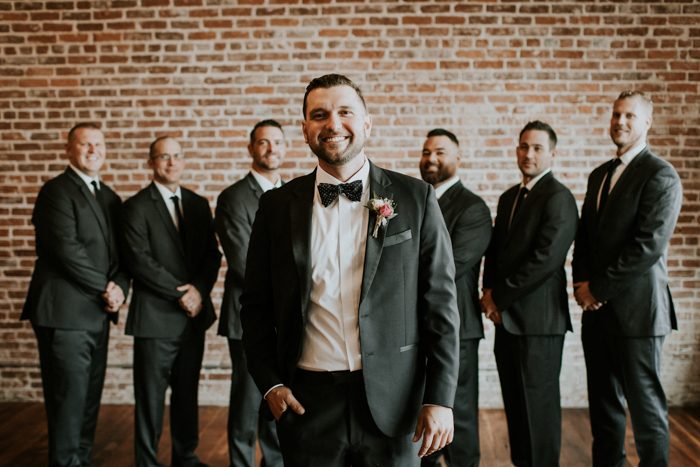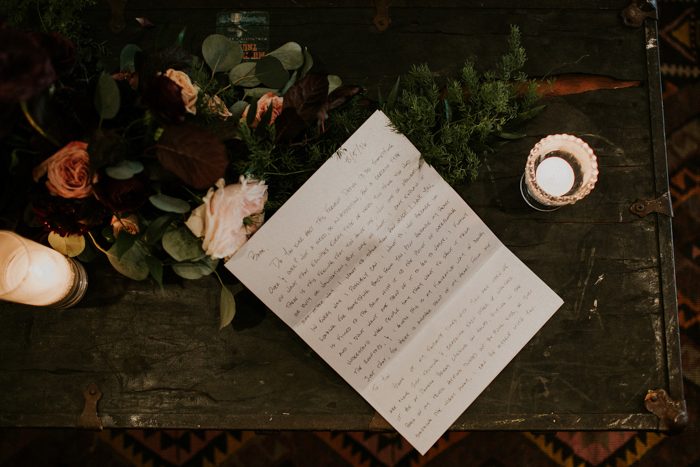 Stay true to yourself, and your relationship and remember what the wedding is truly about. It gets difficult to sift through the endless IG and pinterest wedding pages, and many times you can start to feel envious or even go off-budget. But prioritize what you feel is important to you and your fiance and stay true to yourselves. The day is, after all, about you both.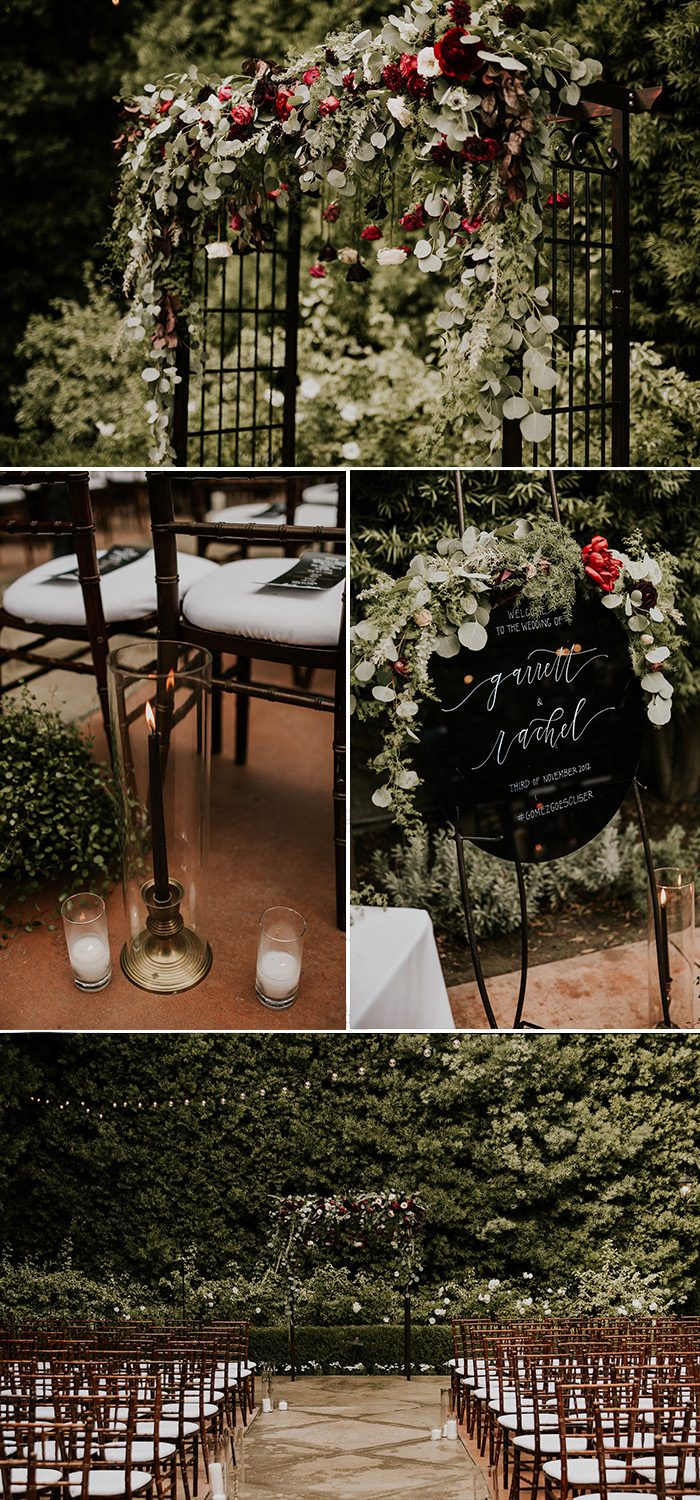 The most memorable part of the day was seeing each other for the first time walking down the aisle. As cliche as it sounds, we underestimate the emotion that overwhelms you when you see your future standing at the opposite end of the aisle. We did not opt for a first look, and we were not disappointed. The anxiety and nerves of the day come to a pinnacle when you are standing there about to walk down the aisle, and all at once you feel a sense of relief.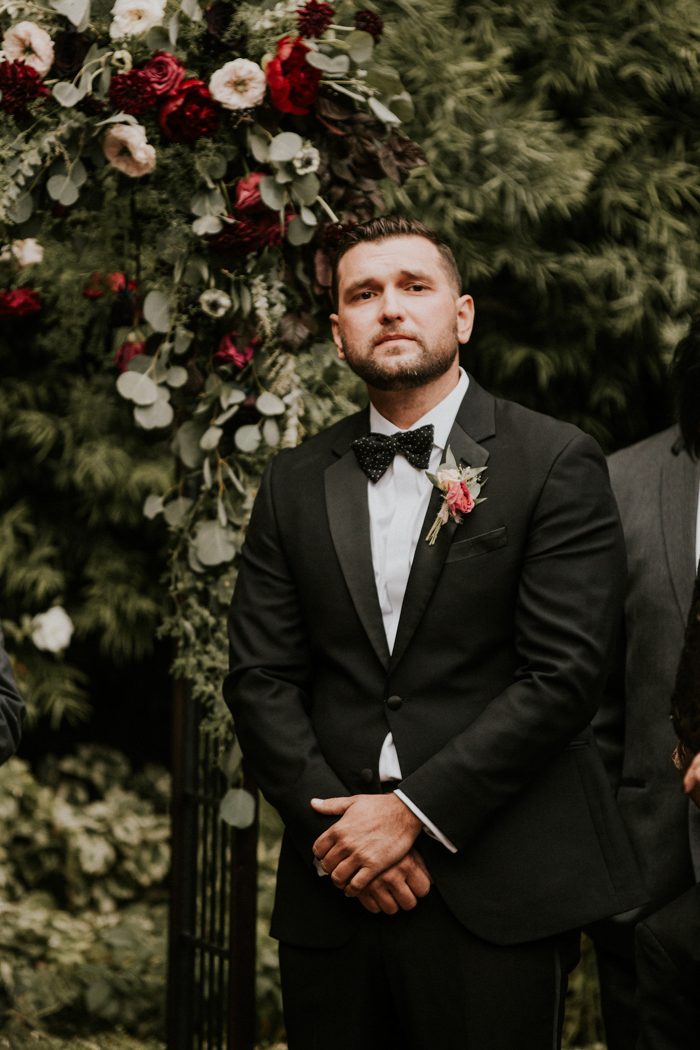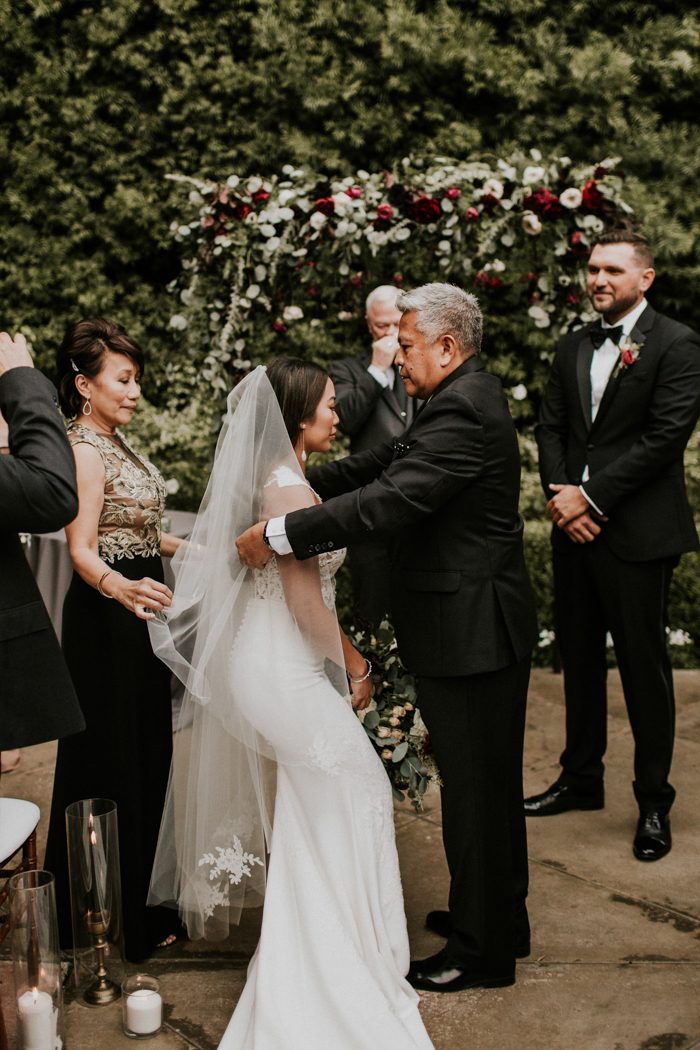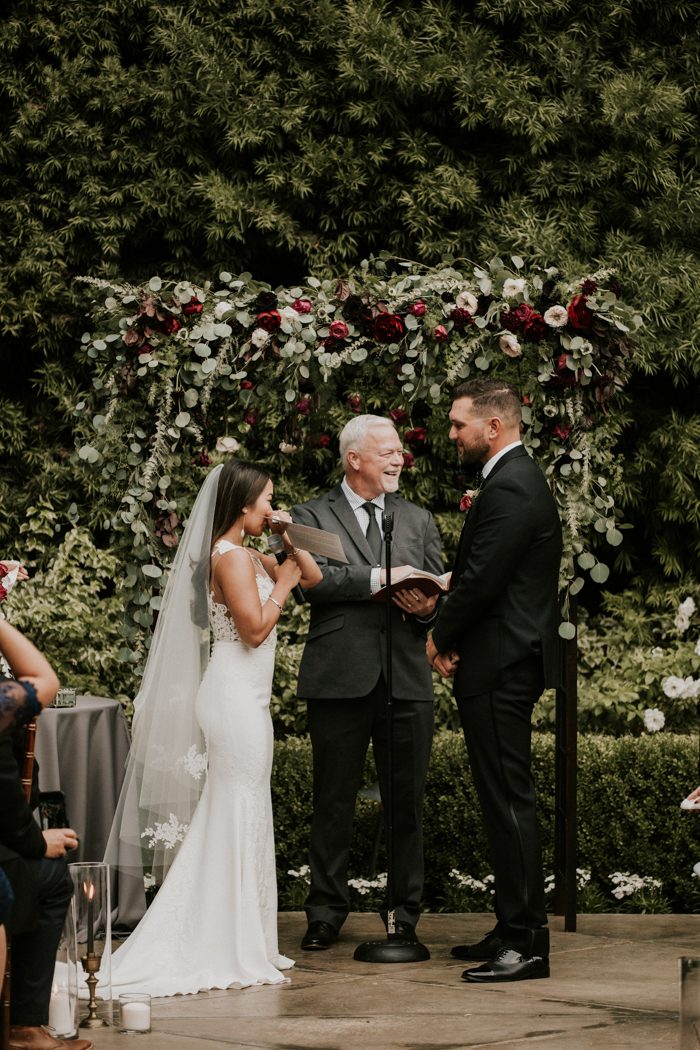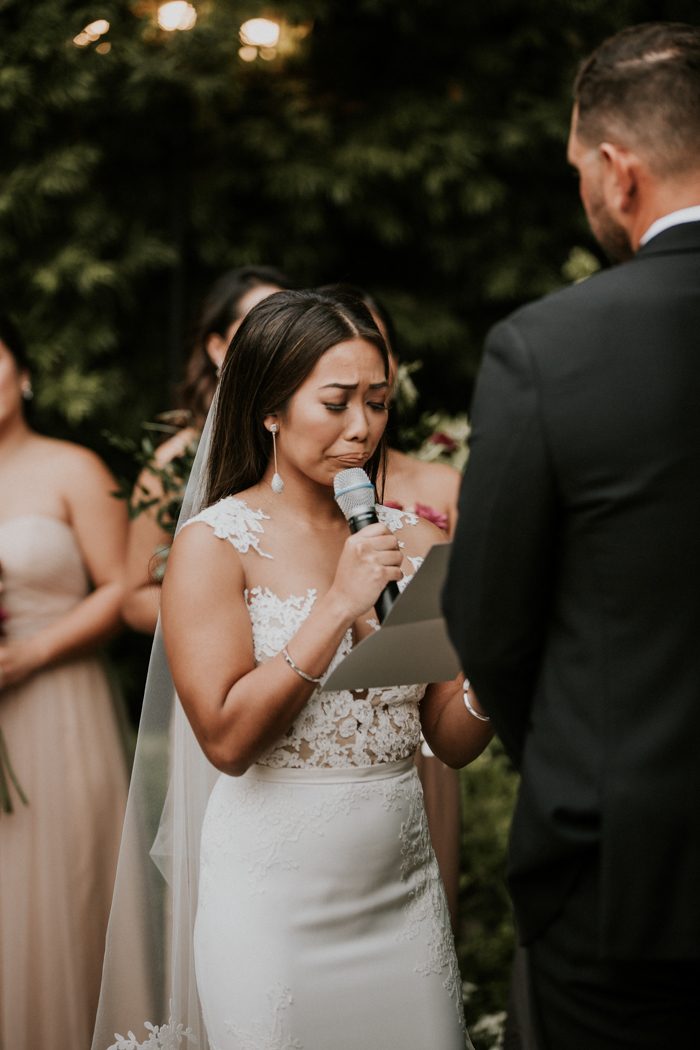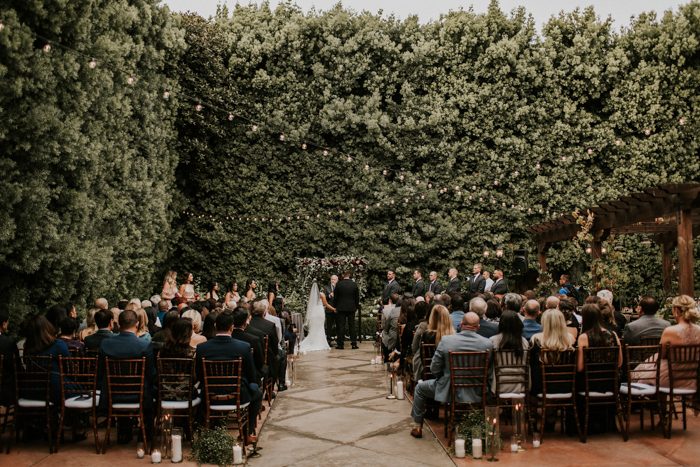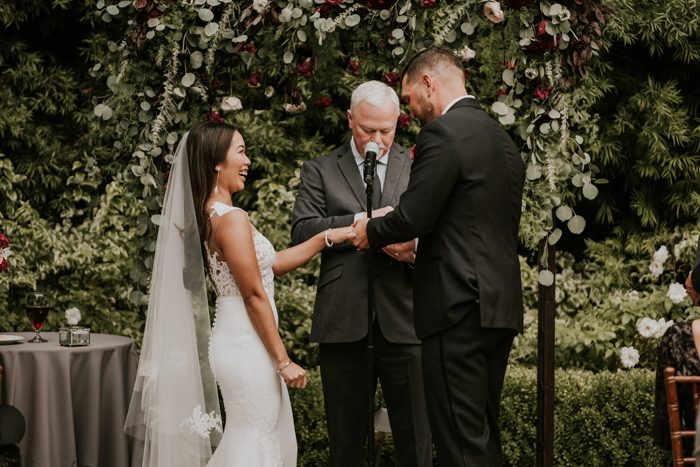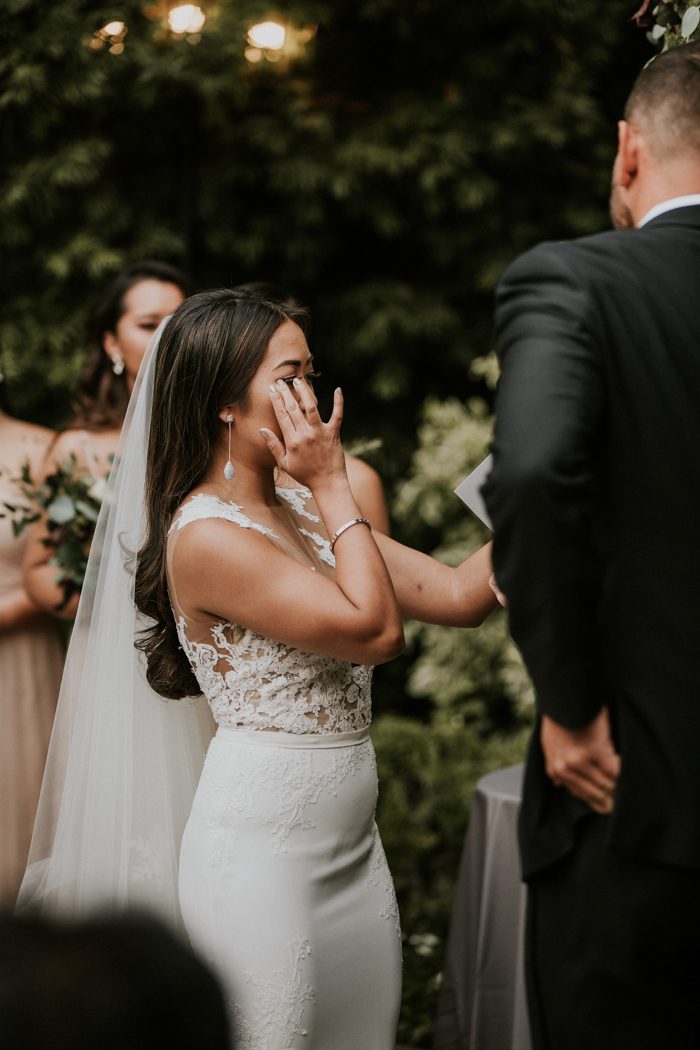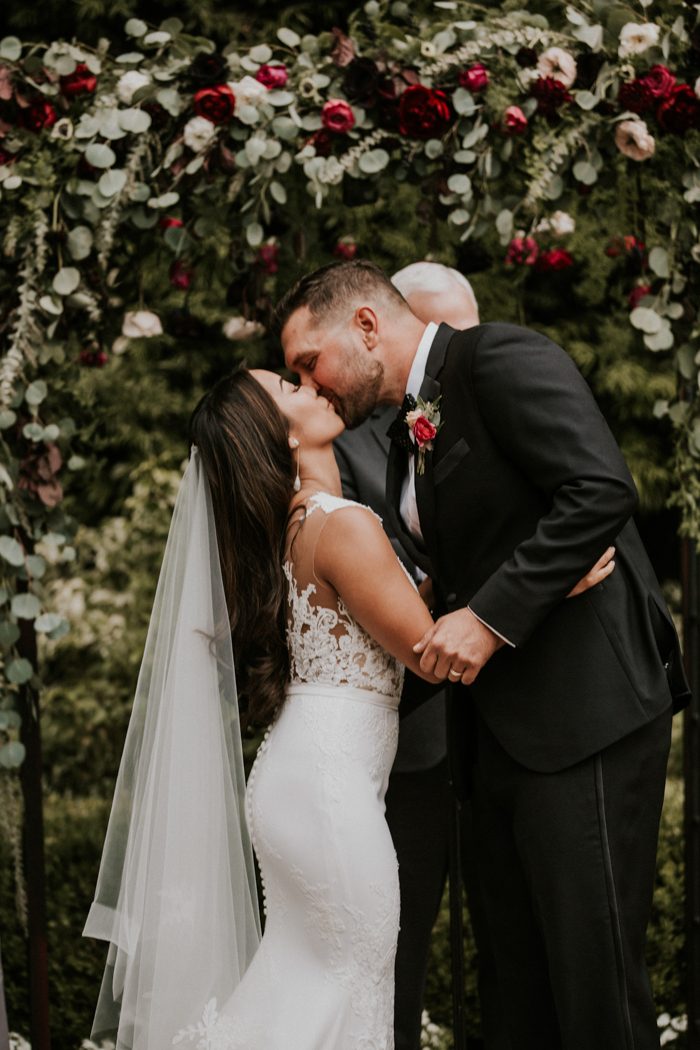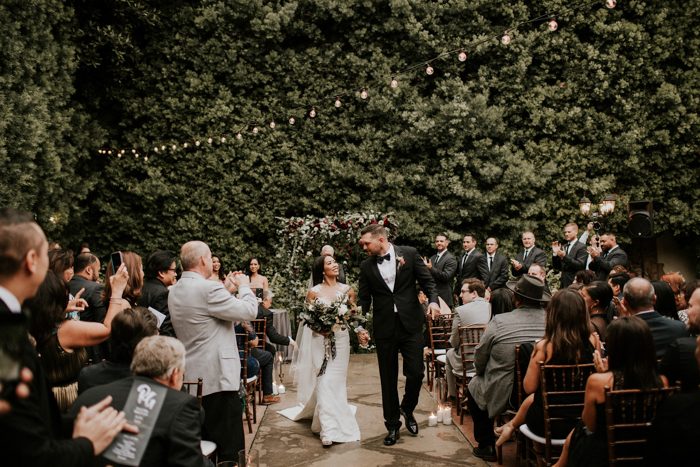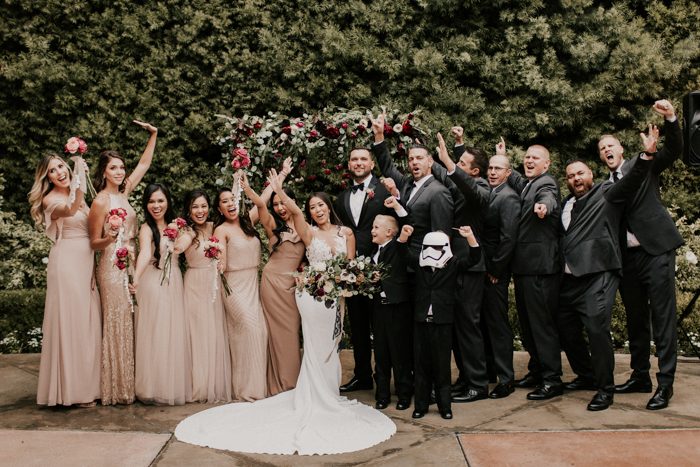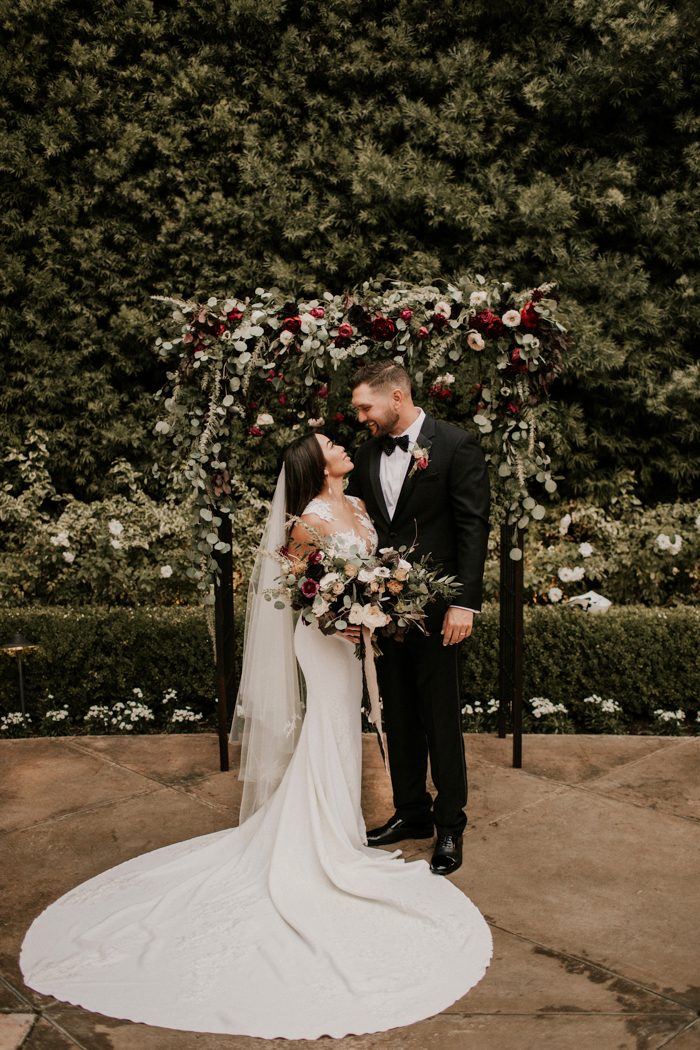 Franciscan Gardens in the heart of San Juan Capistrano is just a wedding venue that speaks for itself. It has a Spanish-style feel, with a secret garden look. It has a beautiful pergola with vines running down the center that you are able to hang florals or lights. The lighting is dark and moody, perfect for our theme, and it has a beautiful indoor brick venue for the reception in case it rained.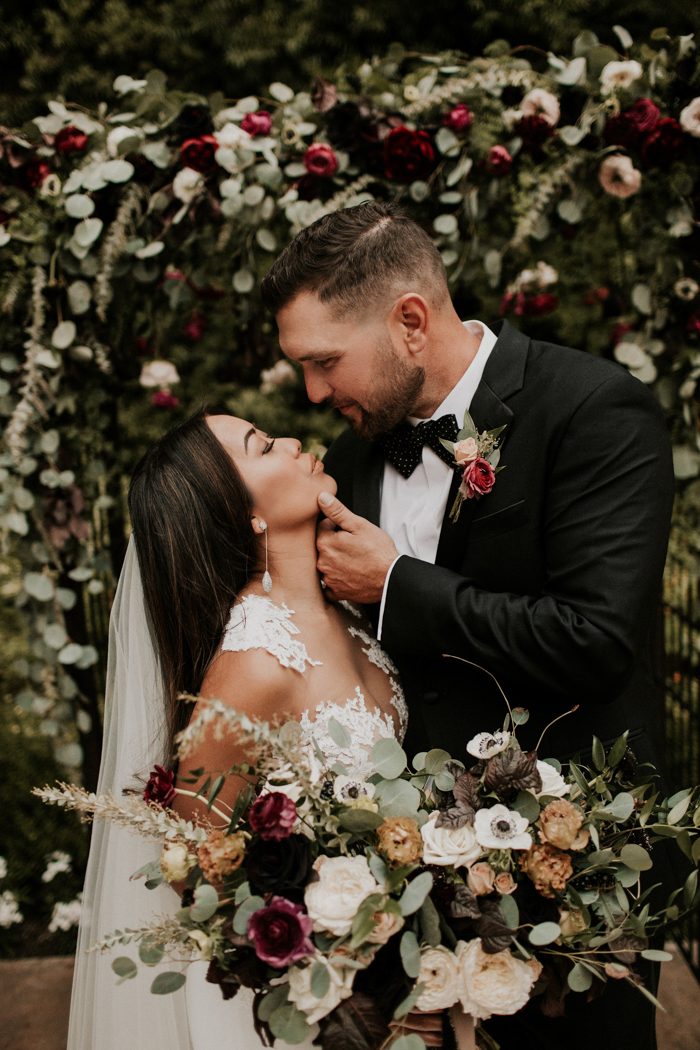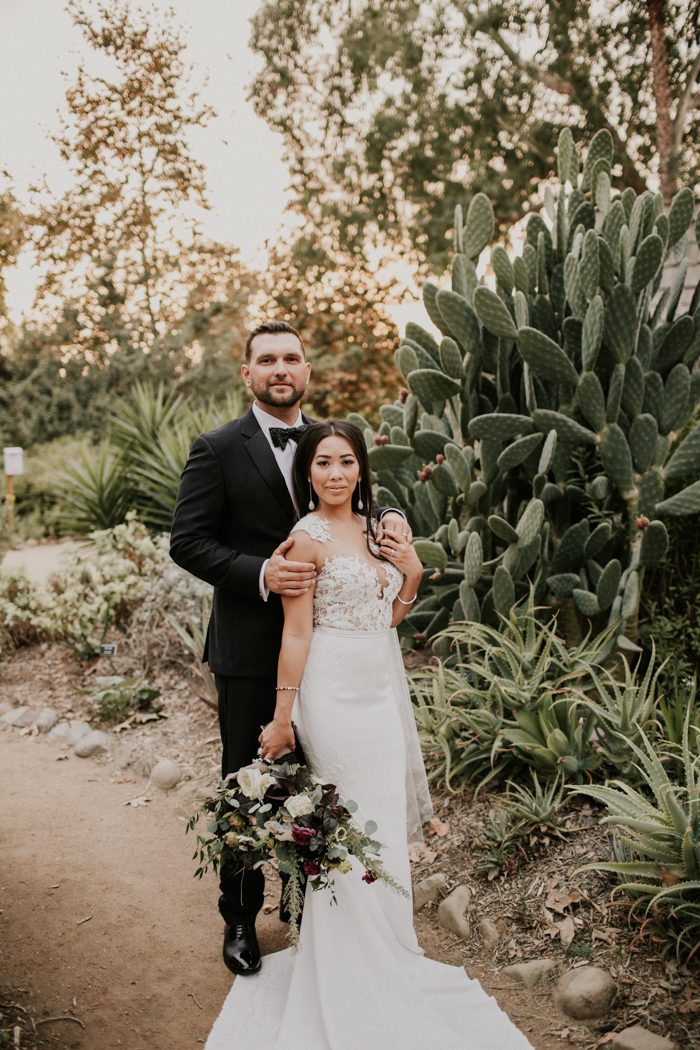 Jami was truly a godsend. She made us feel so comfortable, and took the photography game to a different level. She matched me and my husbands personalities so well and she just got us. She captured the best parts of the entire wedding and went above and beyond.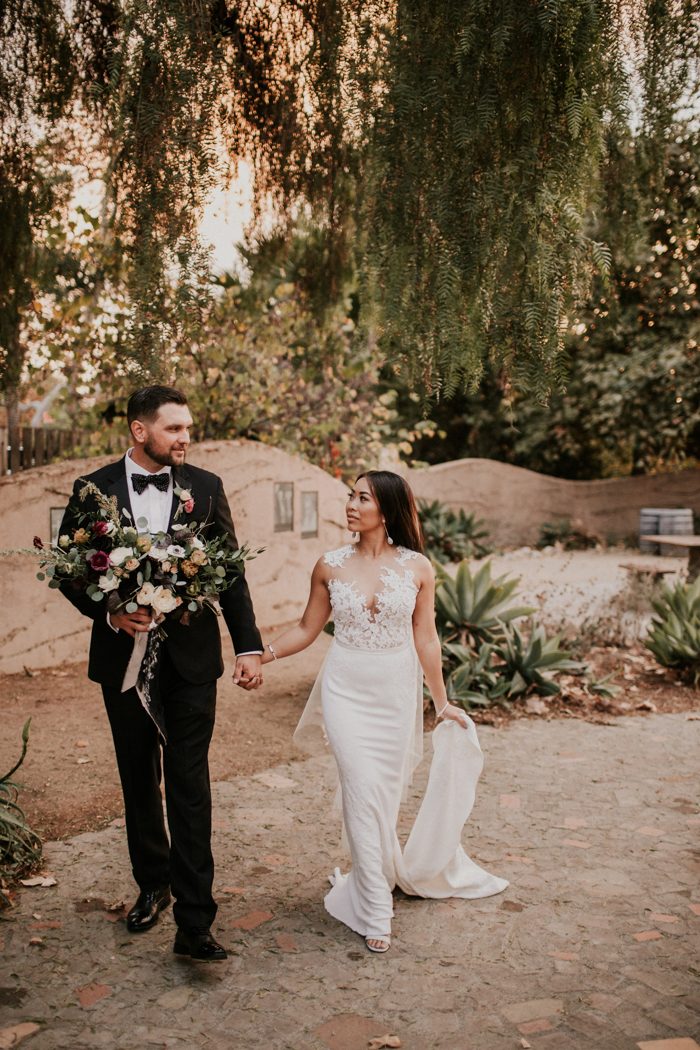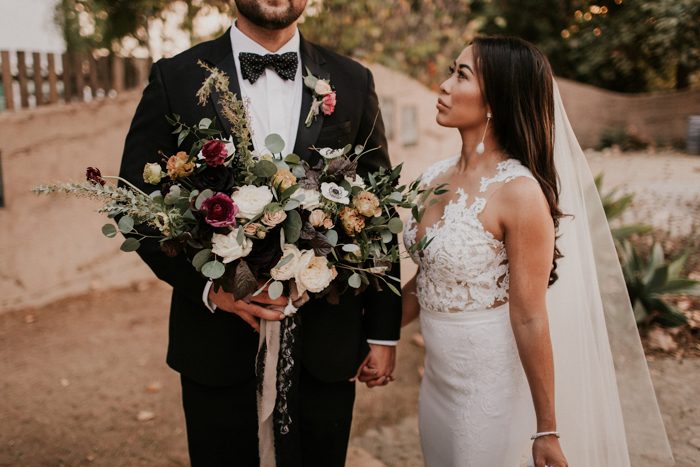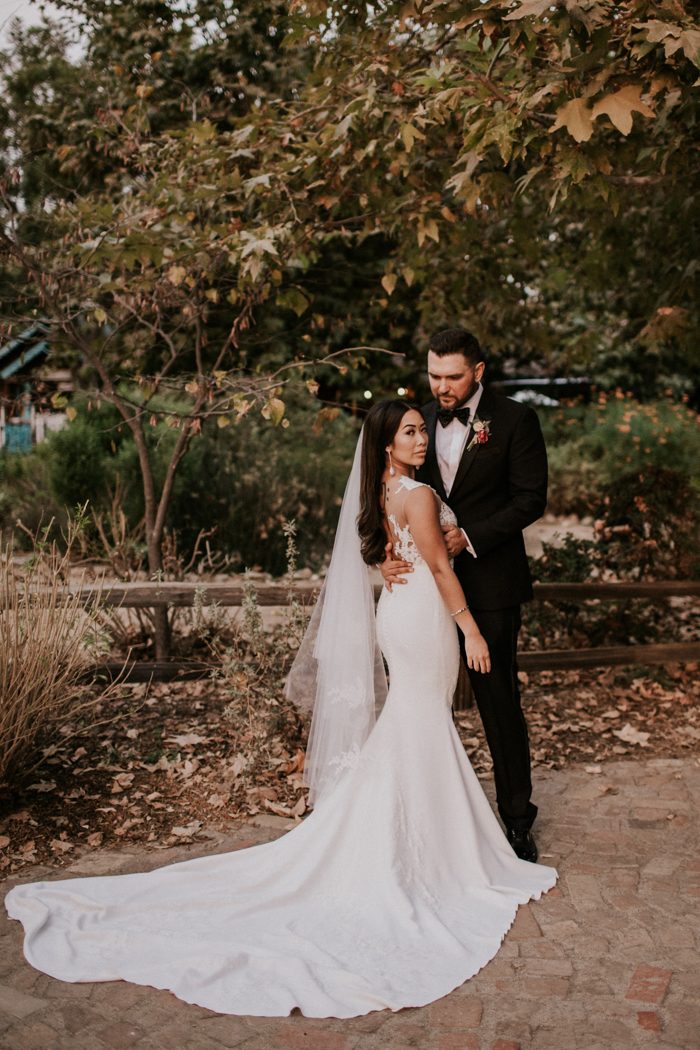 Michelle Searles was our wedding coordinator, she was fantastic from our first meet to the very end. She was the main reason why my husband and I did not stress at all during the day of. She kept us on track and her design aesthetic matched my own.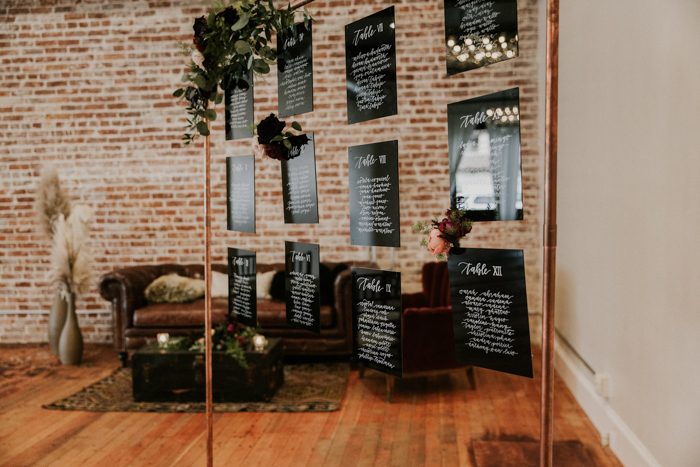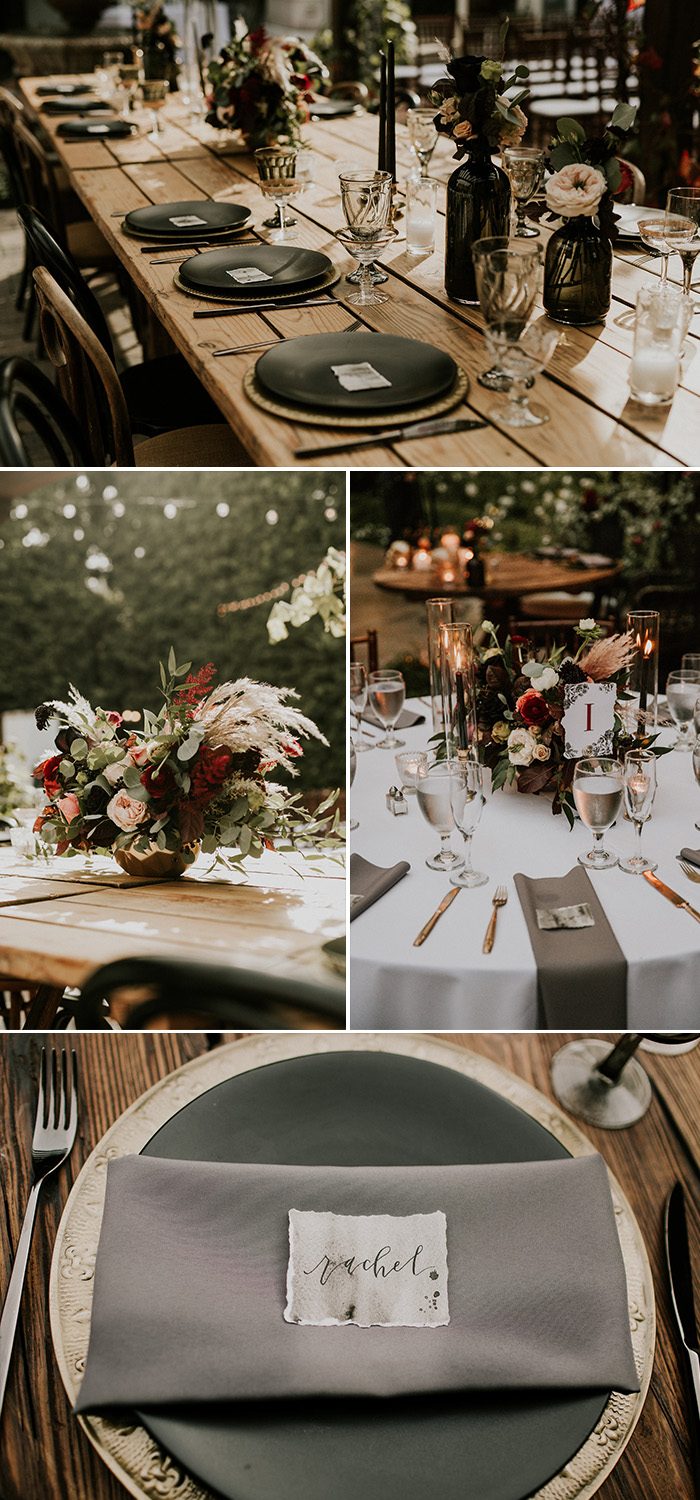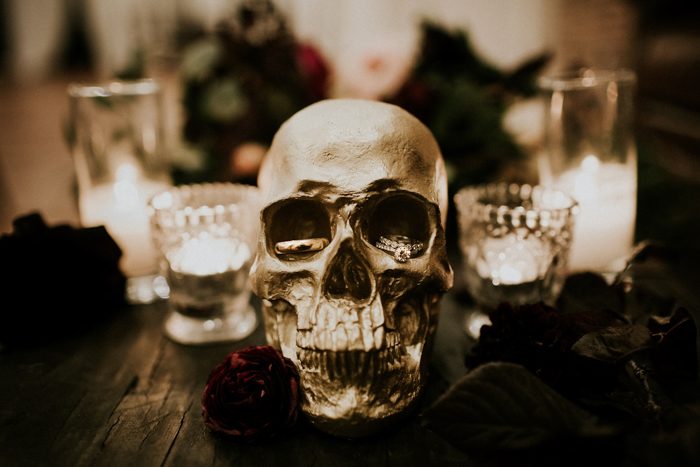 Garrett and I have had such a whirlwind romance. I instantly fell in love with his intellect and devil may care attitude. The dark, moody vibes just spoke to every inch of our soul. So it was not a surprise that we went with the romantic moody theme for the wedding. I remember vividly driving on our way up to Big Bear 3 months into dating and him and I both saying, "divorce is not an option." So I call the theme of our wedding "Til Death." We went with a black, white, and bronze base with deep florals. The black candlesticks, black dinner plates, bronze candelabras, and skulls completed the overall look and feel of our wedding reception.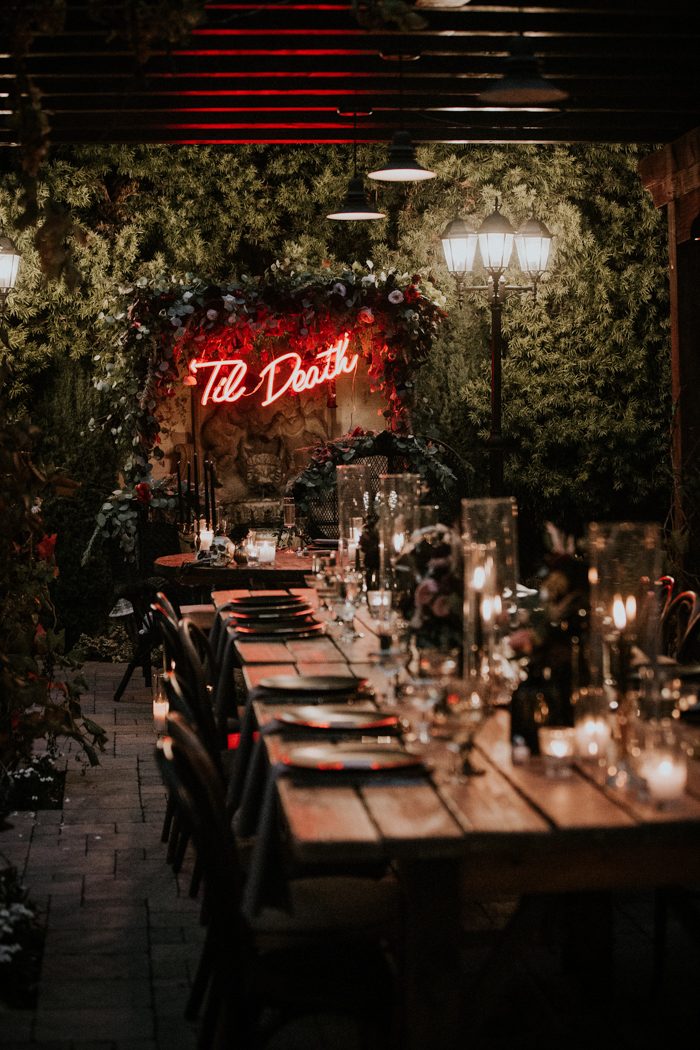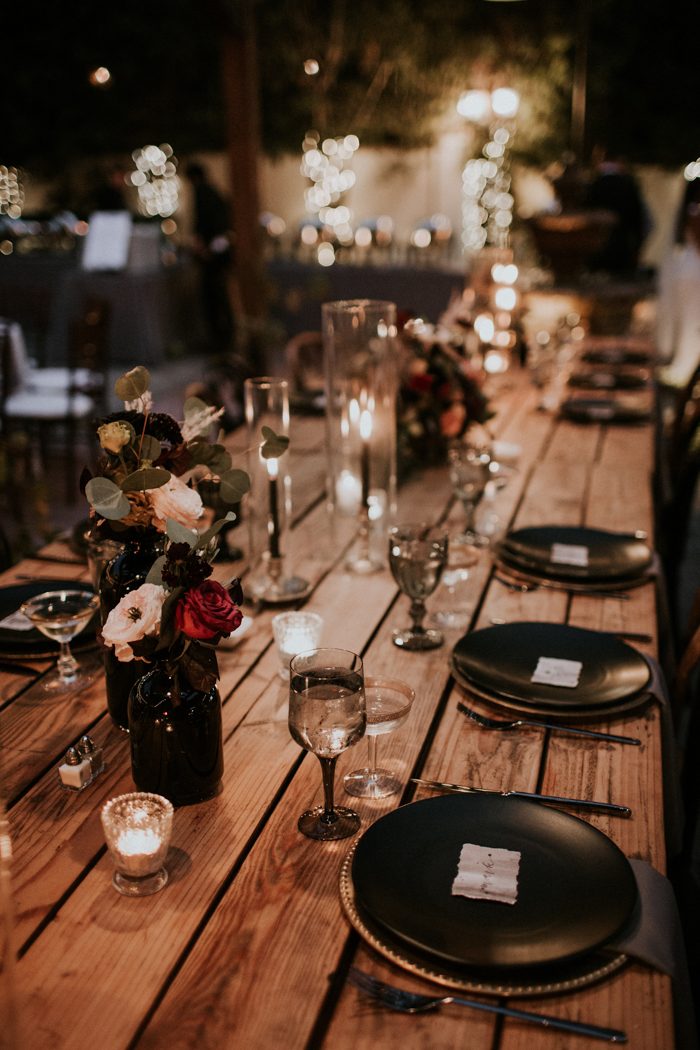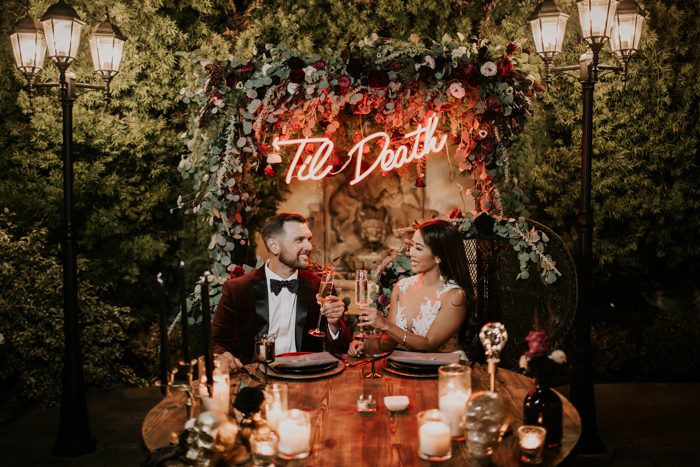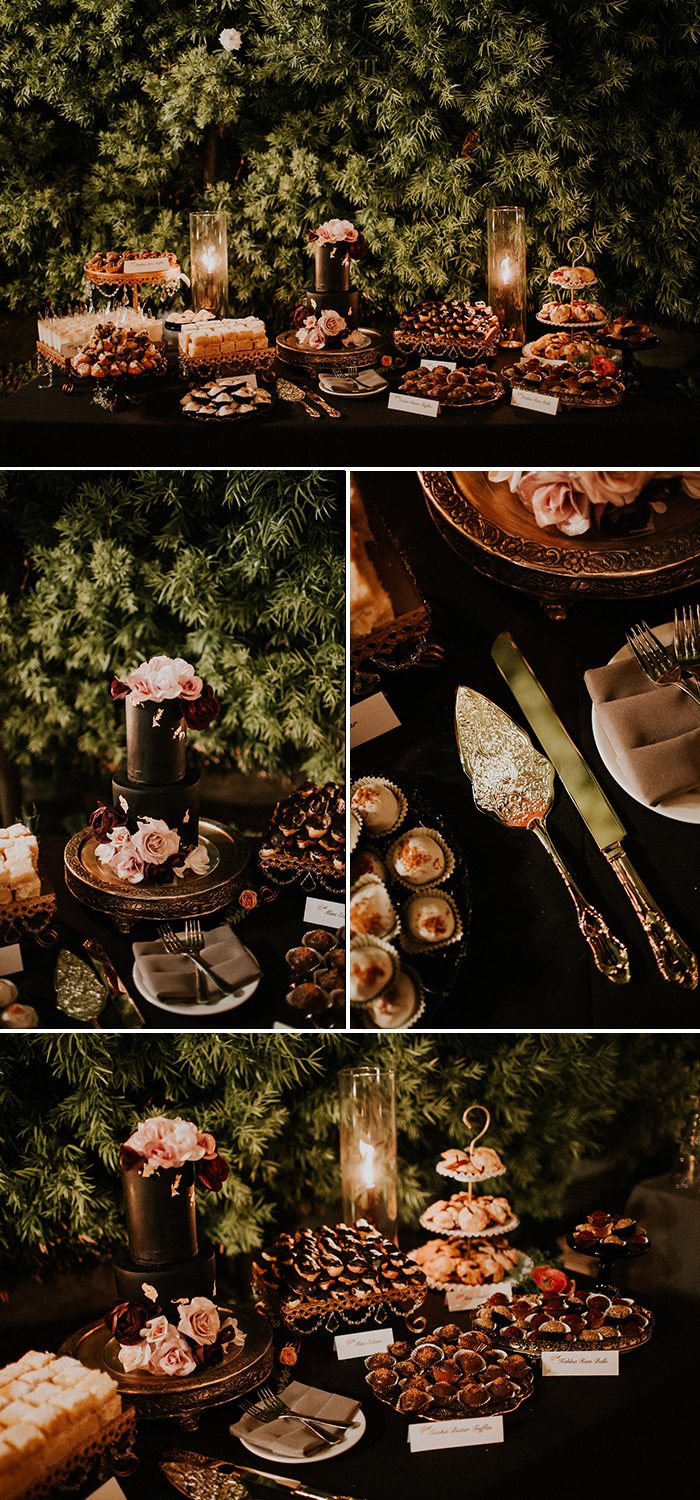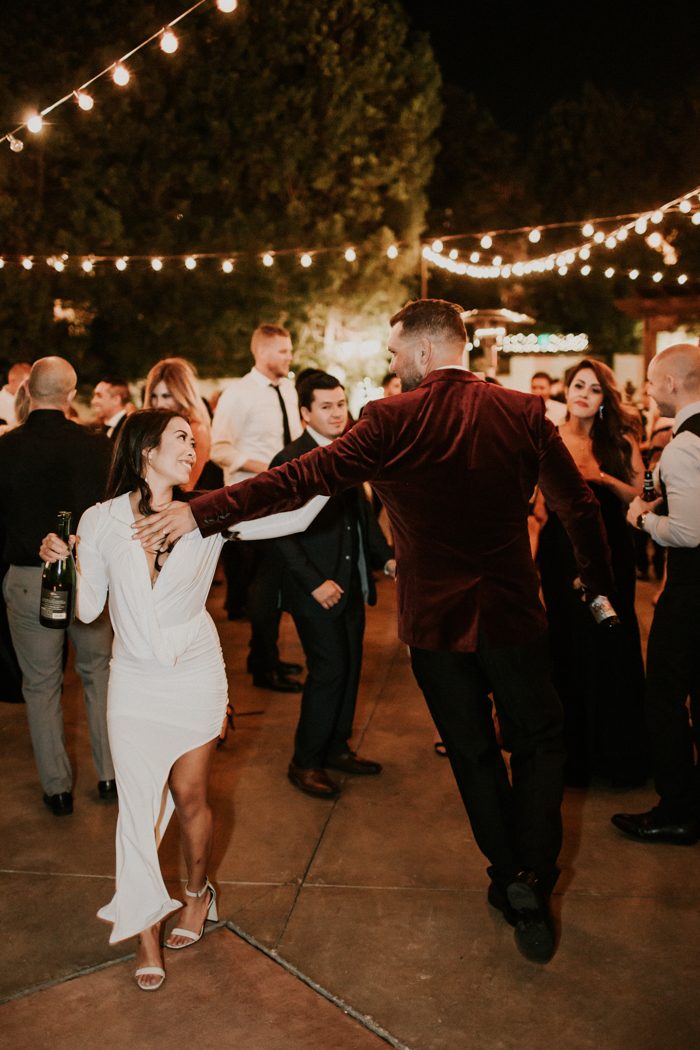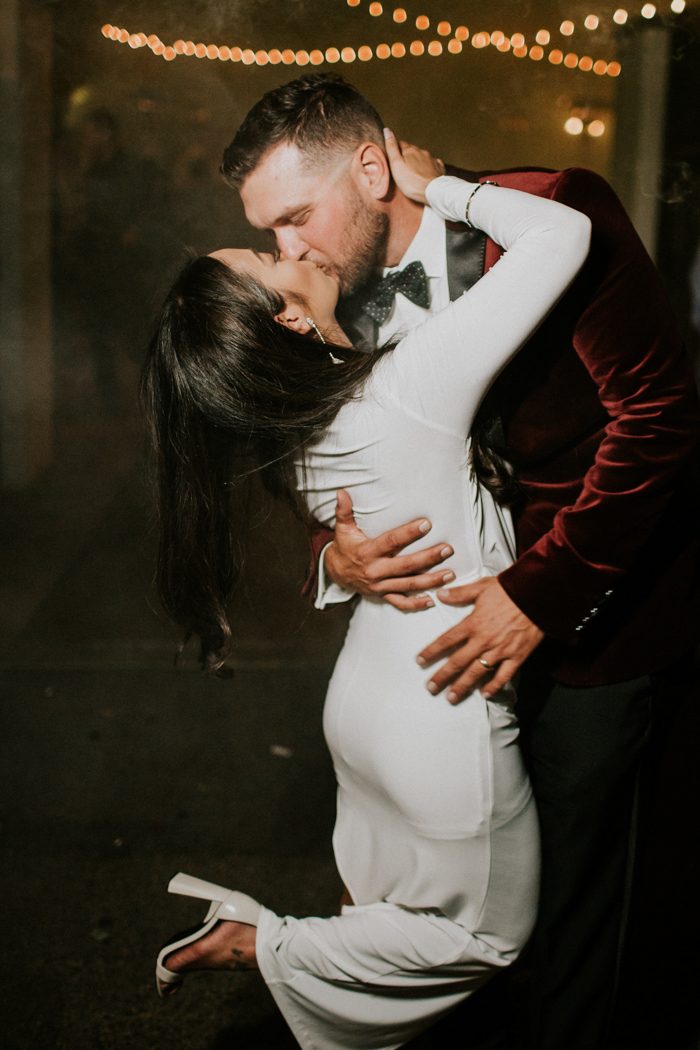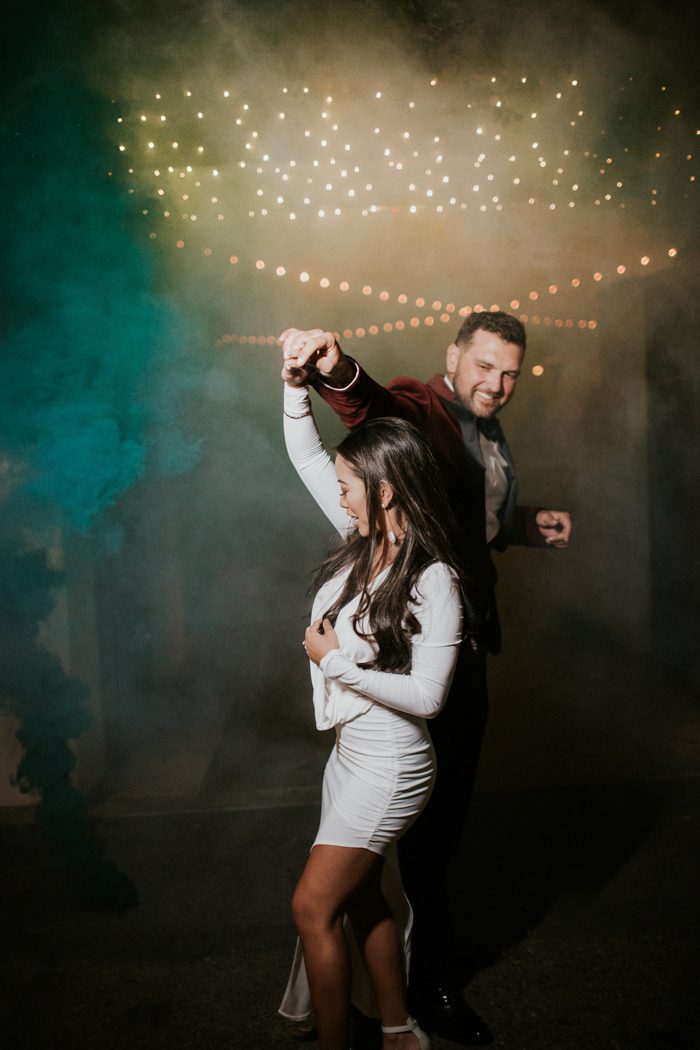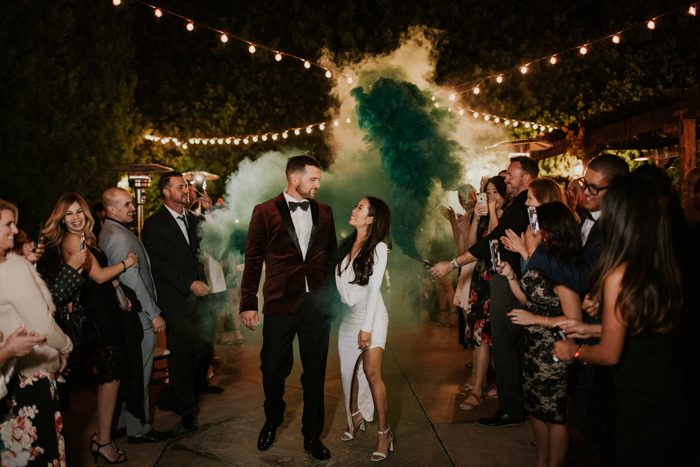 Hands down, our favorite photo was us walking out of the venue amidst the green and white smoke bomb for our grand exit. We were surrounded by friends and family, and Garrett stops mid-walk and just stares at me with the biggest smile on his face. I'm glad Jami was able to capture that moment for us and it came out super rad too.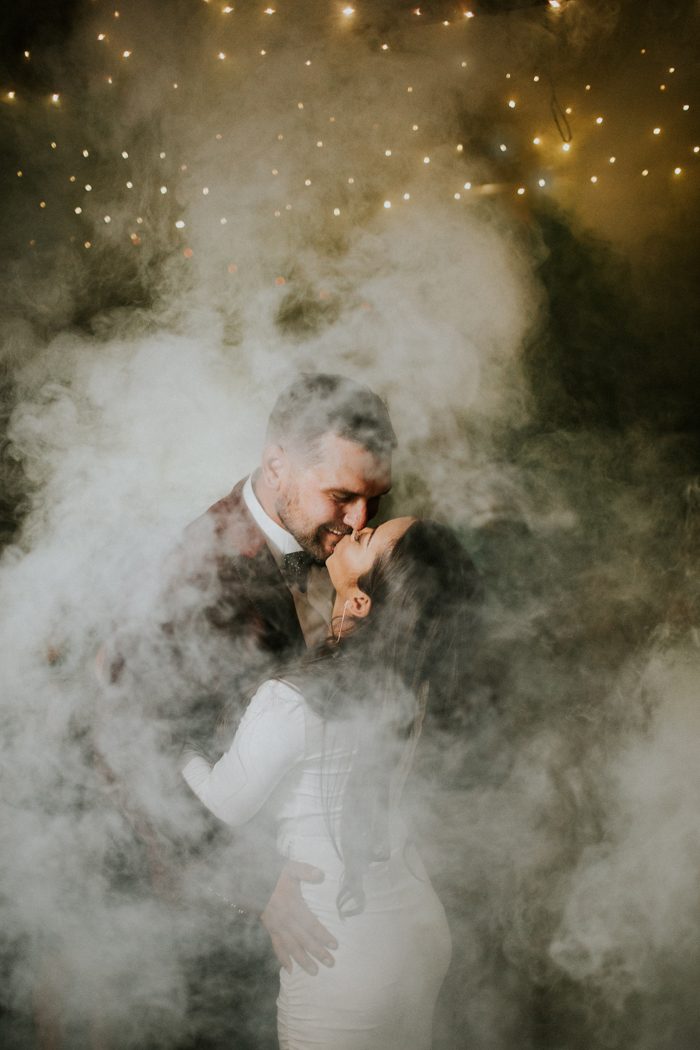 Congratulations to Rachel and Garrett, and a big thanks to Jami Laree for sharing their edgy yet glamorous wedding with Junebug! If you loved the deep color palette in this wedding, then you have to see the colors in this Phoenix Wedding at The monOrchid!