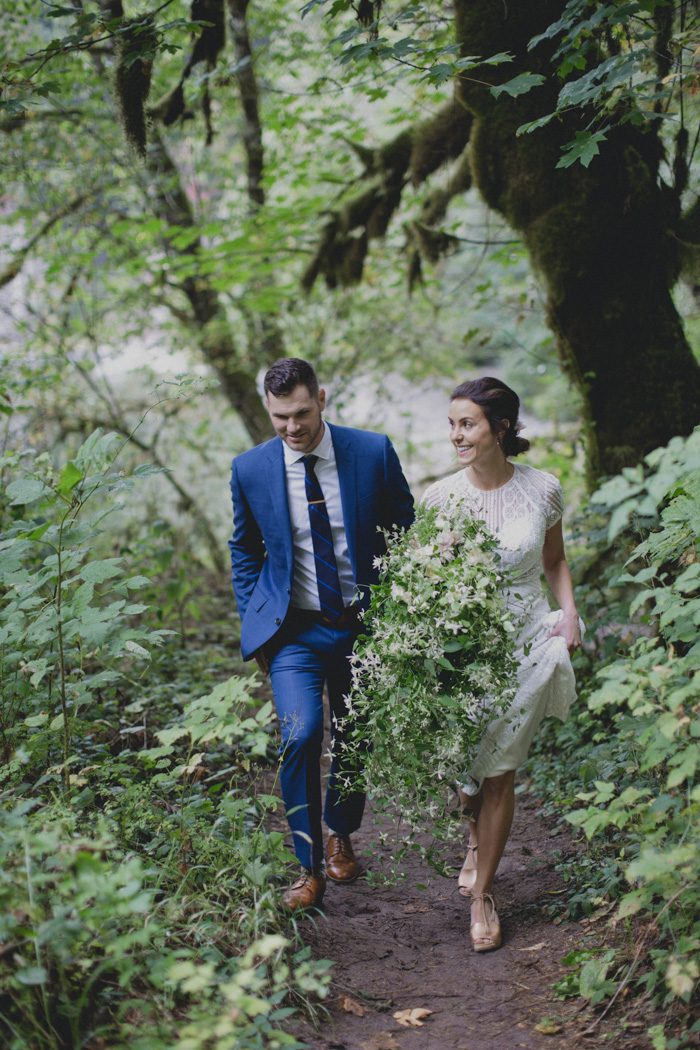 Into the woods we go for Tess and Paul's wild and carefree wedding at Camp Namanu! Inspired by the retro vibes of Moonrise Kingdom and romance of escaping into the woods with the ones you love, they rented cabins for the weekend-long celebration. Their ceremony took place in an open-air cathedral of towering trees and was co-officiated by each member of the wedding party, who shared stories from the beginning of Tess and Paul's relationship through the wedding day. Their reception featured tons of retro camp decor, mini pies from Annie's Pies, and specialty cocktails created by Merit Badge. We love that the bridesmaids' soft pink and green BHLDN dresses and the gorgeous floral hoops, cascading bridal bouquet, and campfire accents created by Fiore Floral Design perfectly complemented the natural beauty of the forest venue. And we adore every angle that Terra Lange Photography captured, especially the unique first look by the river and the couple's post-ceremony golf cart celebration!
The Couple:
Tess and Paul
The Wedding:
Camp Namanu, Sandy, Oregon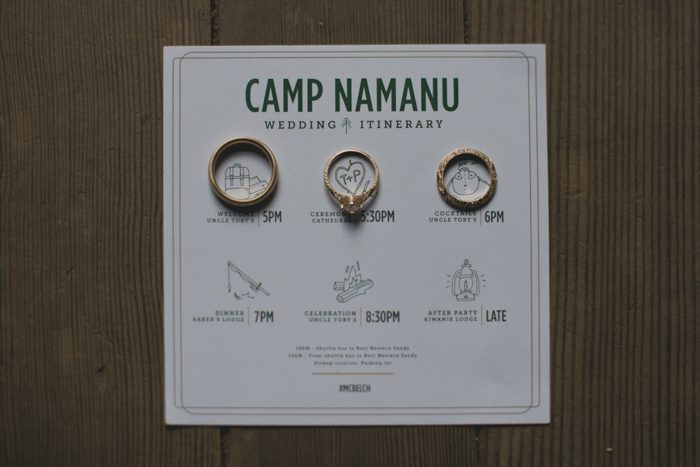 Our official aesthetic was Wes Anderson's Moonrise Kingdom meets Pacific Northwest. We wanted to bring the retro camp vibes of the movie to life in way that felt authentic to Oregon and our lifestyles. In everything we did, we wanted the natural beautiful of the camp and nature to no the over shined. It is such a magical place so our goal was to compliment it rather than complete with it.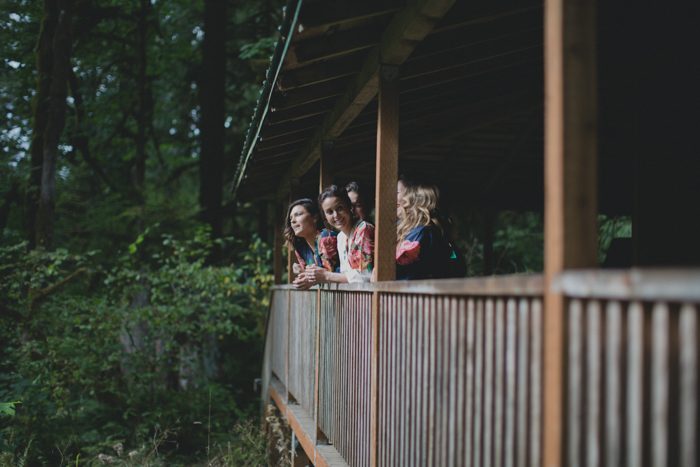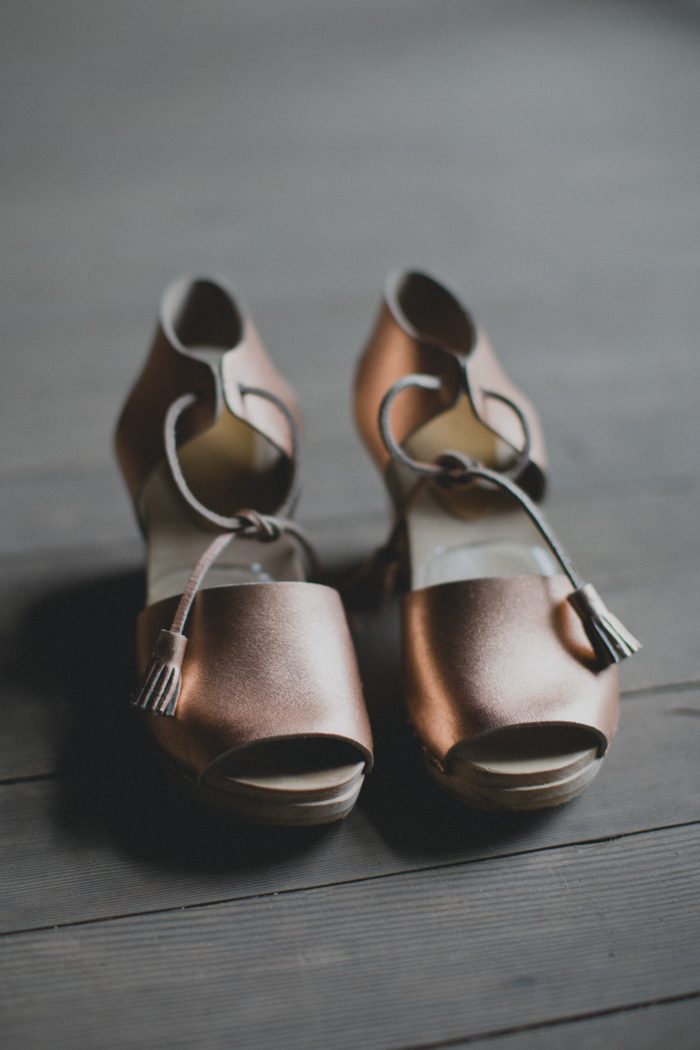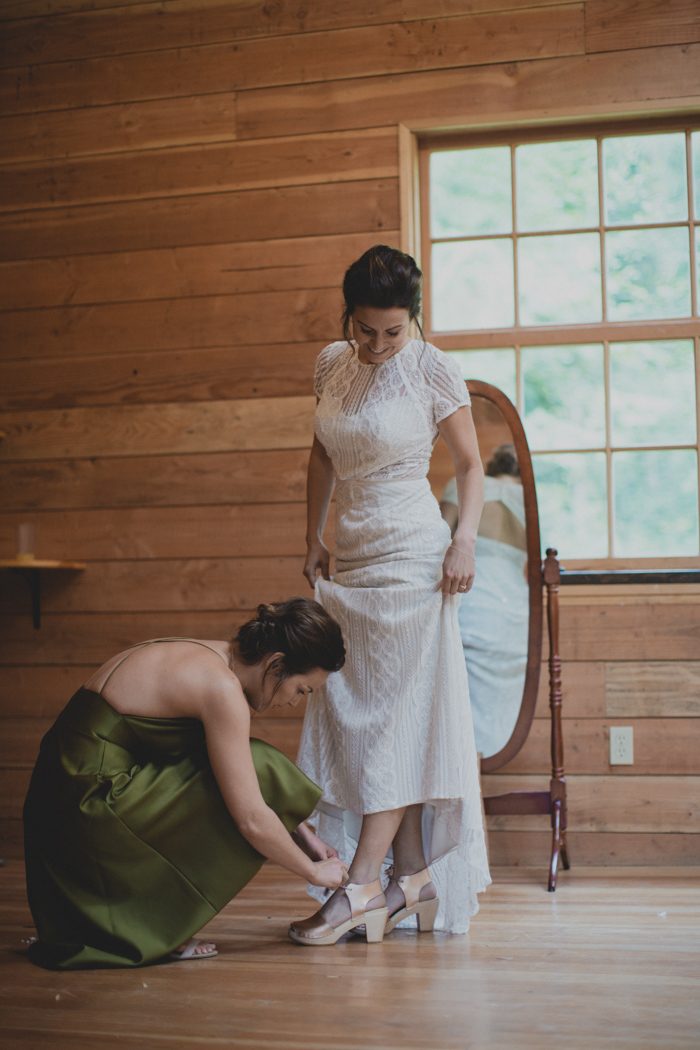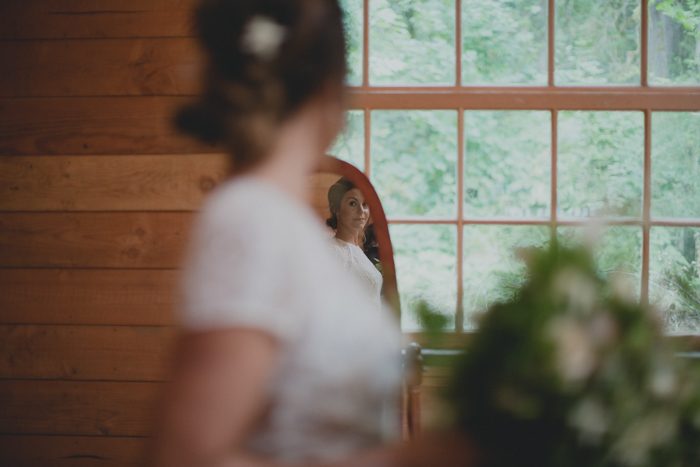 I wanted to feel myself first and foremost. The dress was more conservative than I thought I'd initially go for, but the partially open back added a surprise element of "wow" that I loved. I fell in love with the romantic and modern mix of the dress. I absolutely loved my bouquet, which my hair dresser used loose flowers from to weave into my hair. My shoes gave me a bit of height, were comfortable, stable and the pink sparkly leather added femininity to them. With the bridesmaids, we wanted them to feel like part of a collection rather than to match perfectly. Their only consistent element was the brass hoop flower ring created by our florist (at at times clear umbrellas!).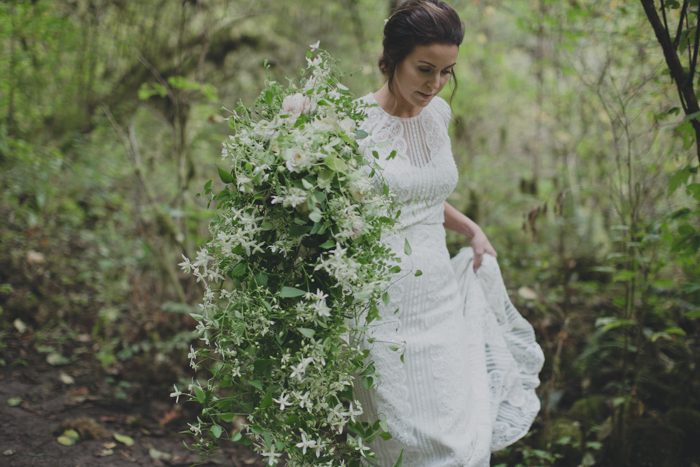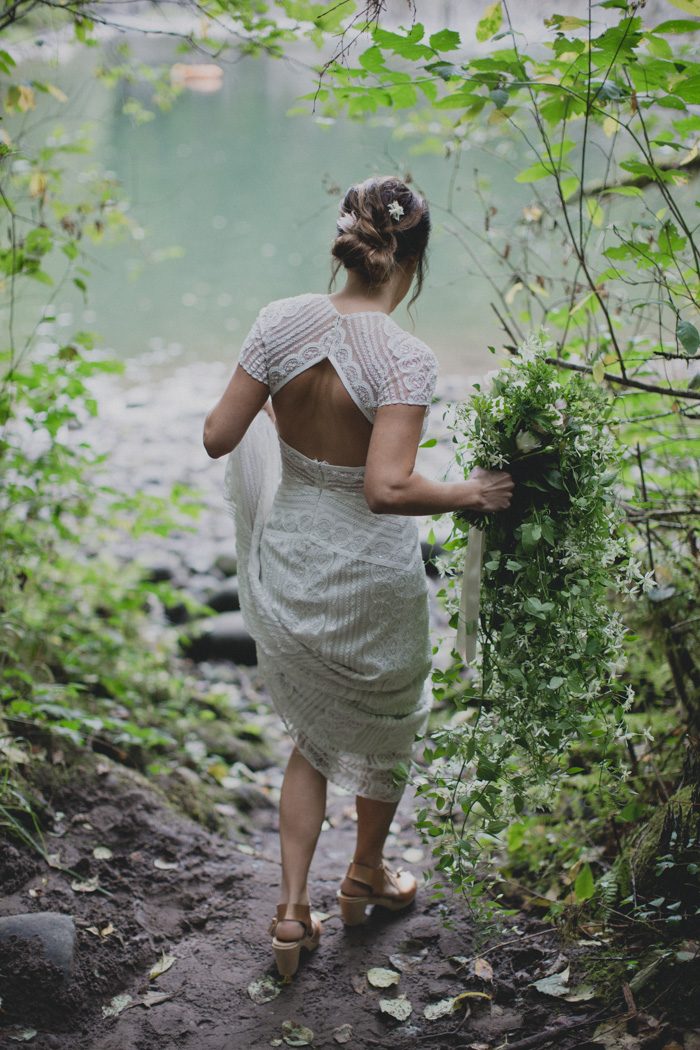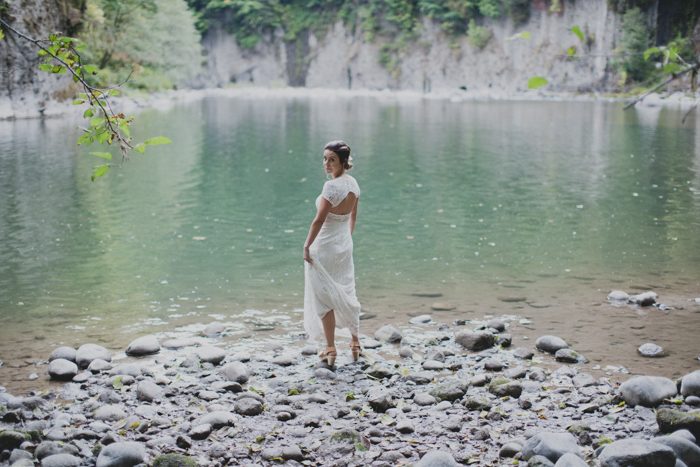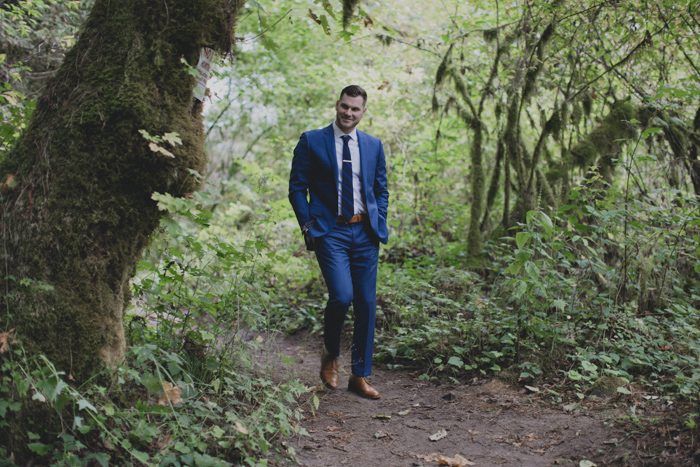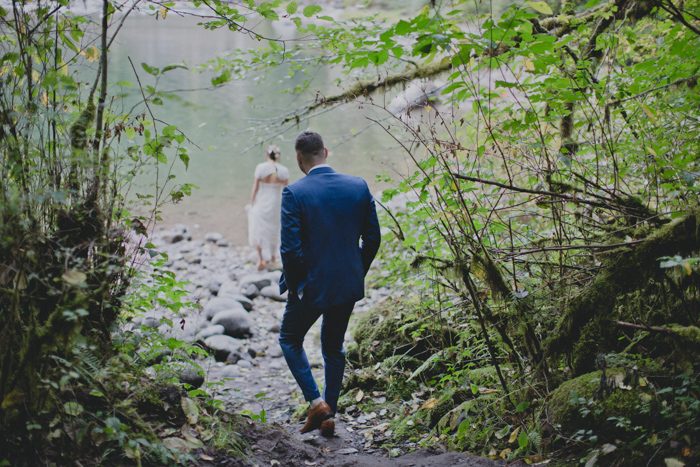 I love the first look photos, taken at the edge of the Sandy River when raindrops sprinkled on an off. Terra captured one image with me holding my dress up from the water and looking down while Paul looked at me as we are lightly holding hands. It was a funny transition shot that feels real and light and beautiful. It feels like how we might be without a photographer there, which makes it feel like such a natural representation of us on this day.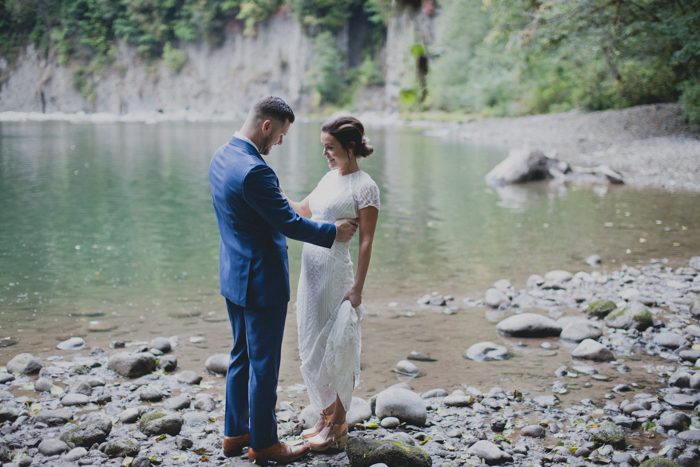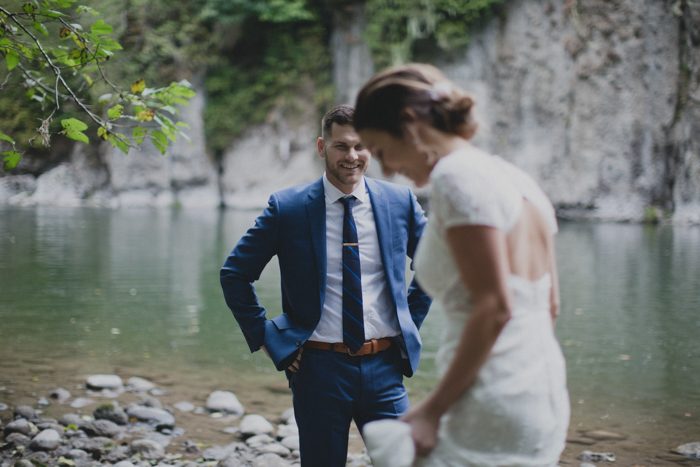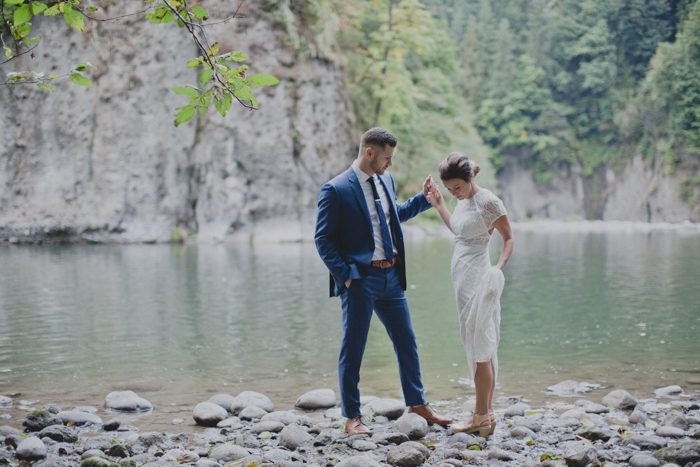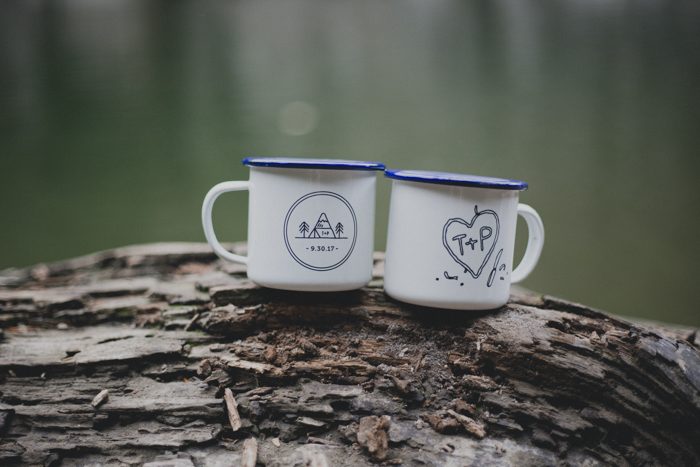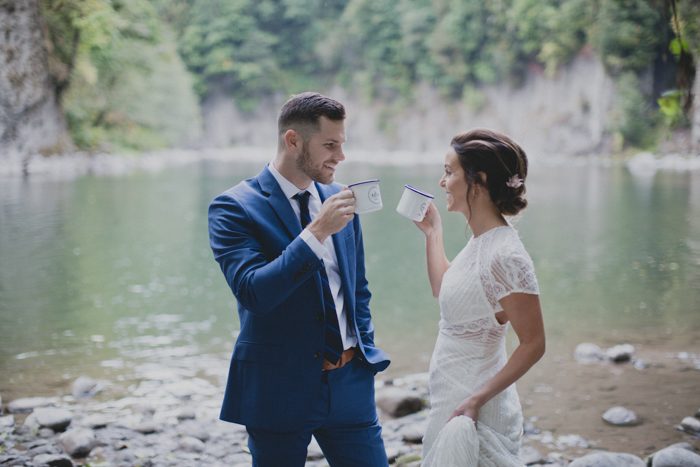 We didn't really have official colors carried throughout the day, but rather focused creating unique spaces for each occasion, allowing the natural elements to take the lead. The bridesmaids wore combinations of pale pink and mossy green mixing in lace and sparkles, complimenting the natural elements of the forest during the ceremony. The reception took on a bit more of a camp feel, with blue, cream and mustard bunting draping the ceiling of the open-air cabin.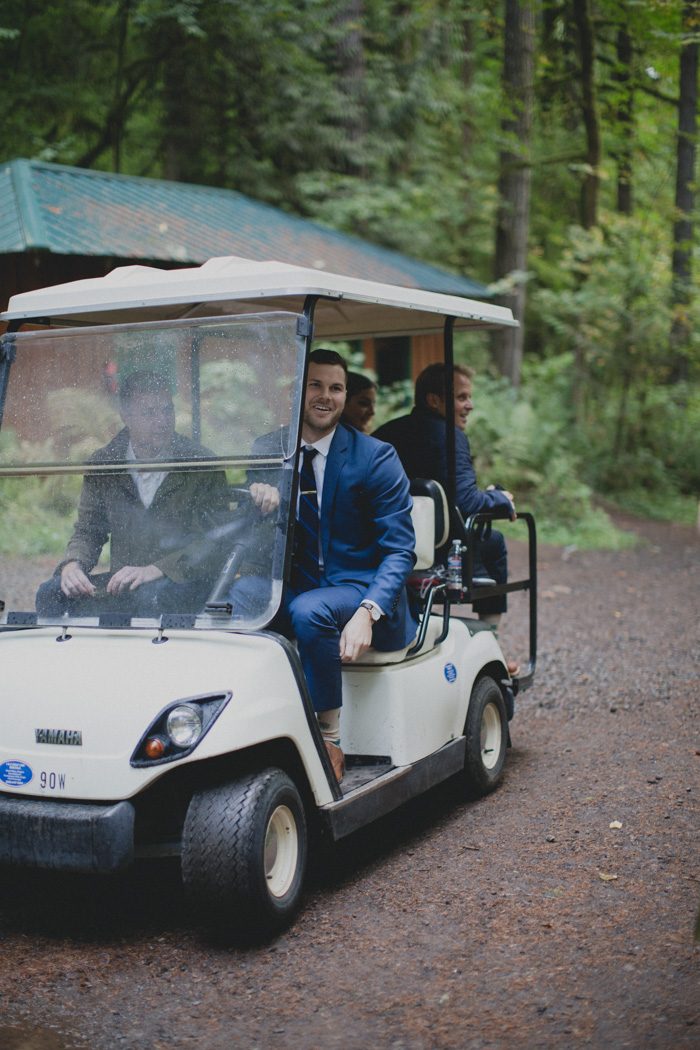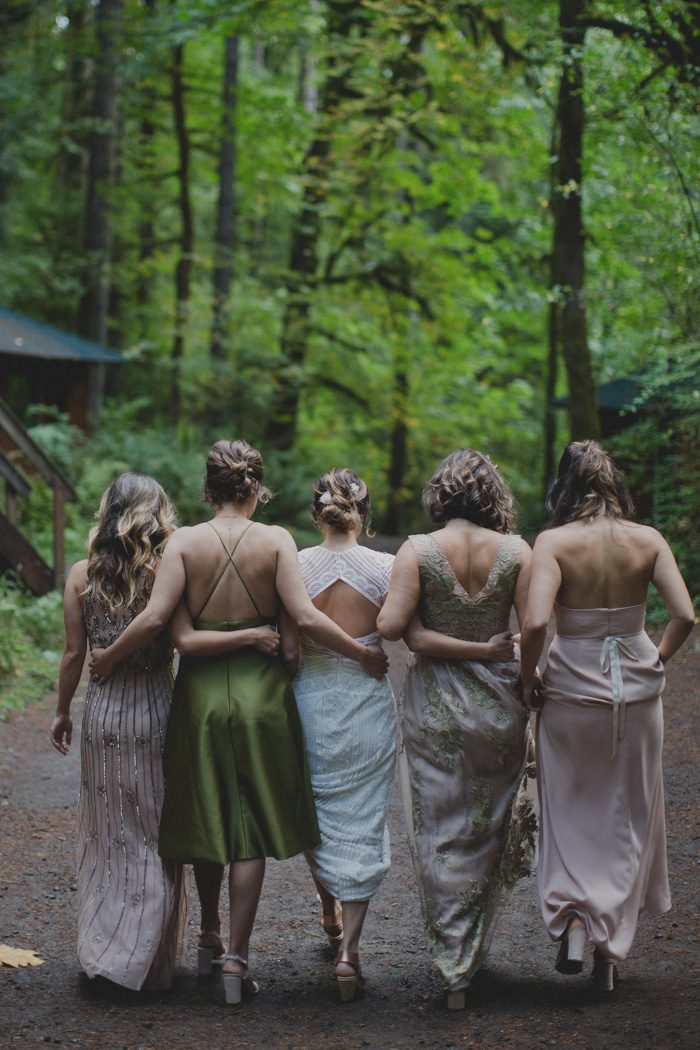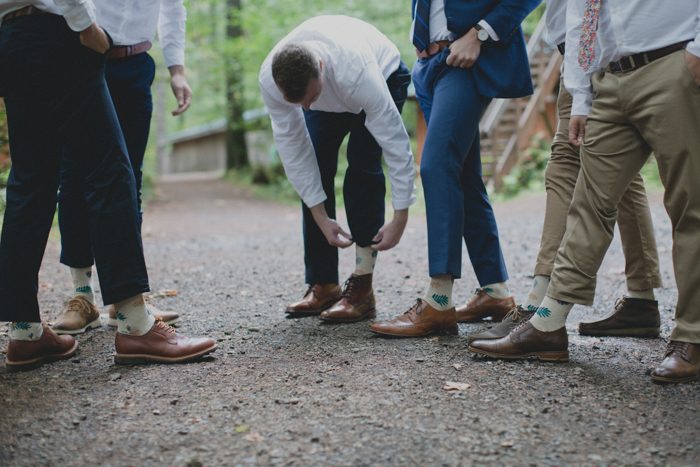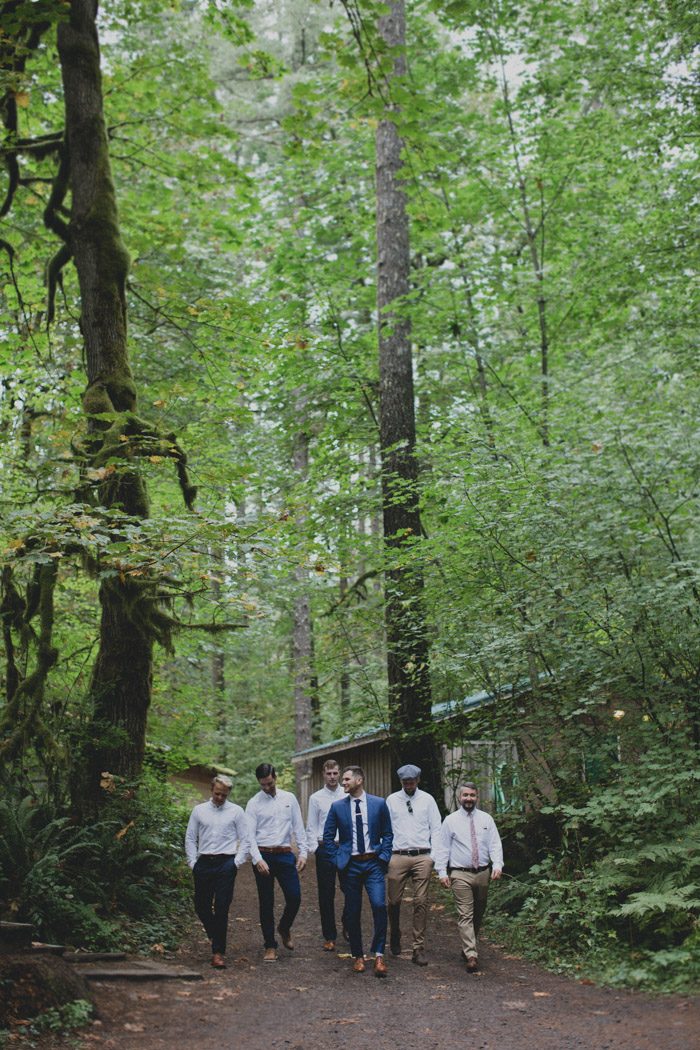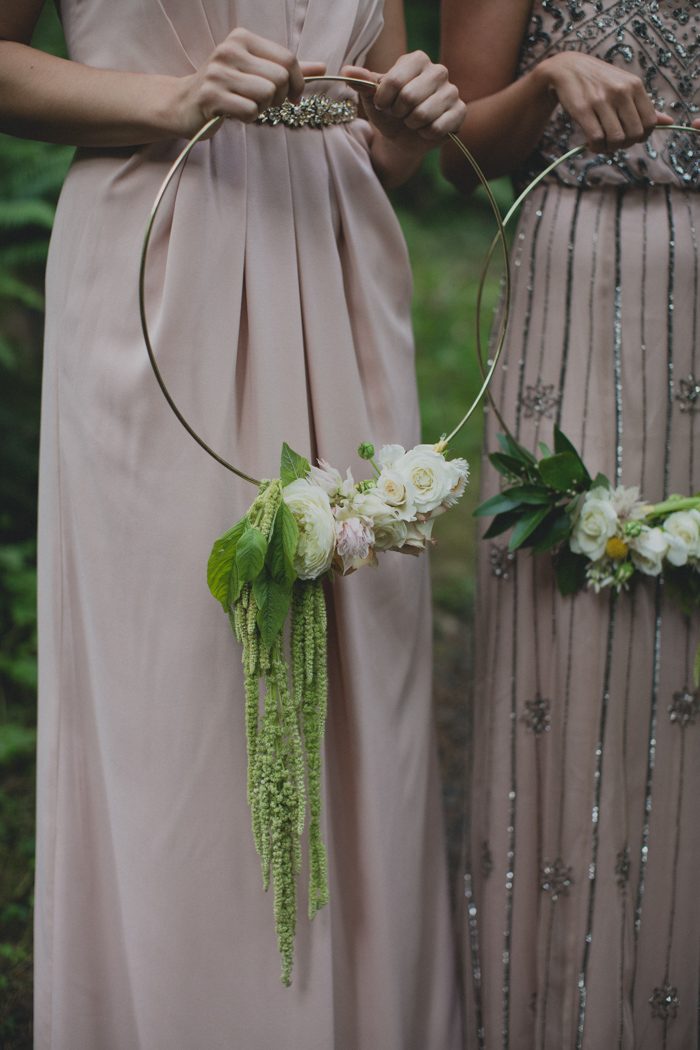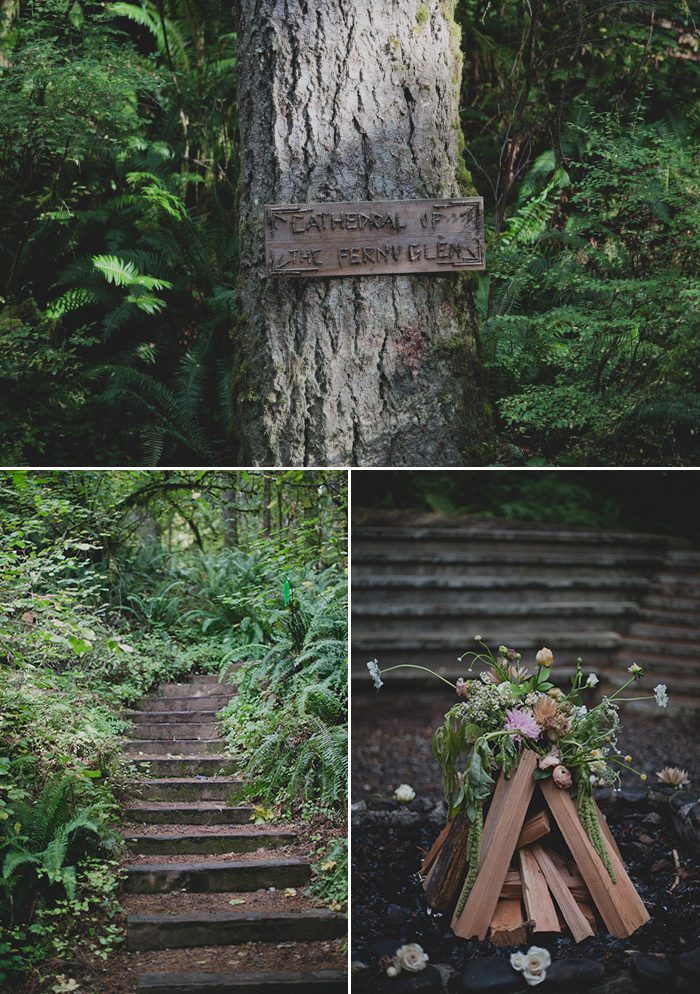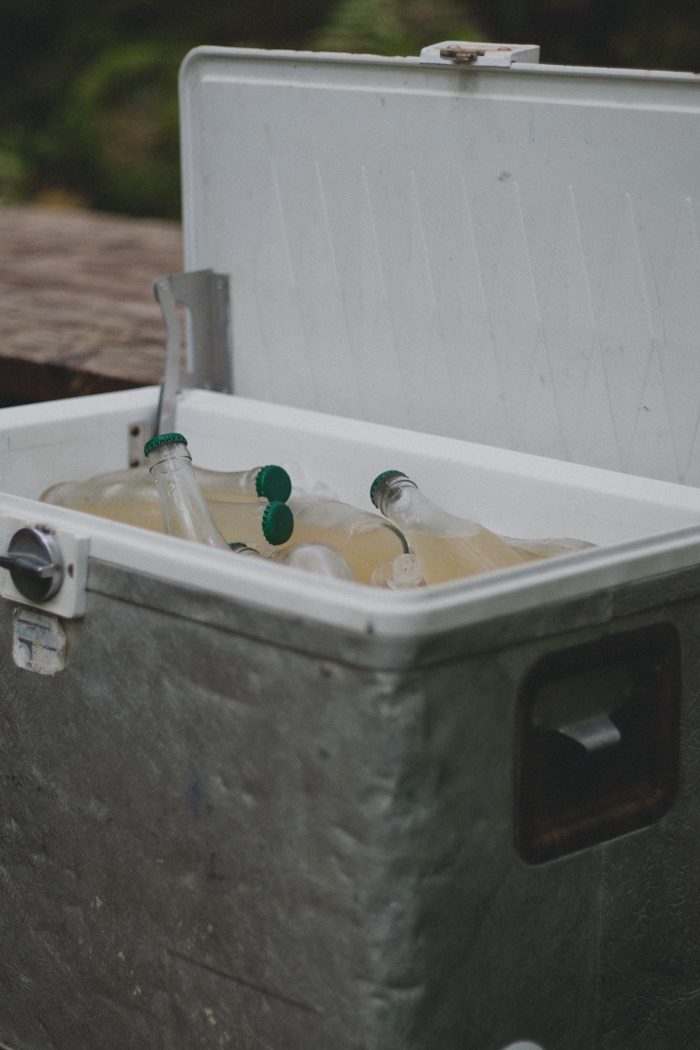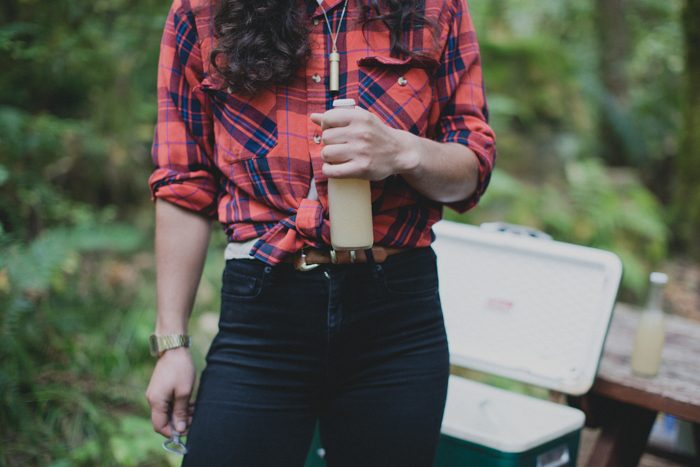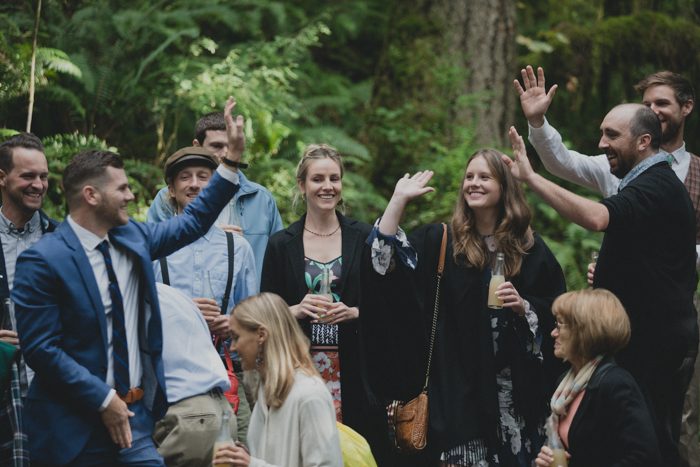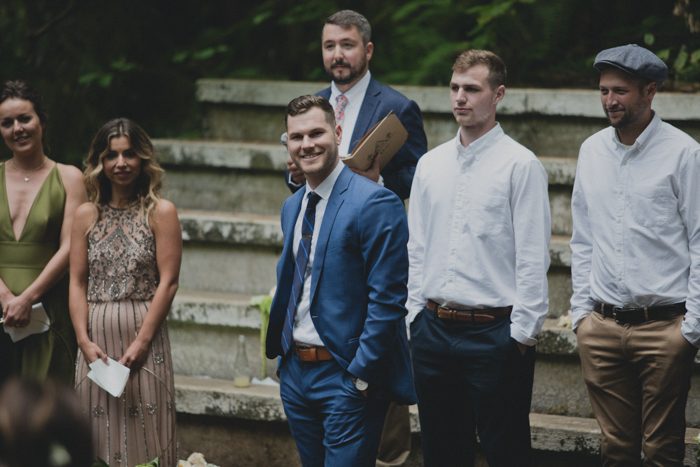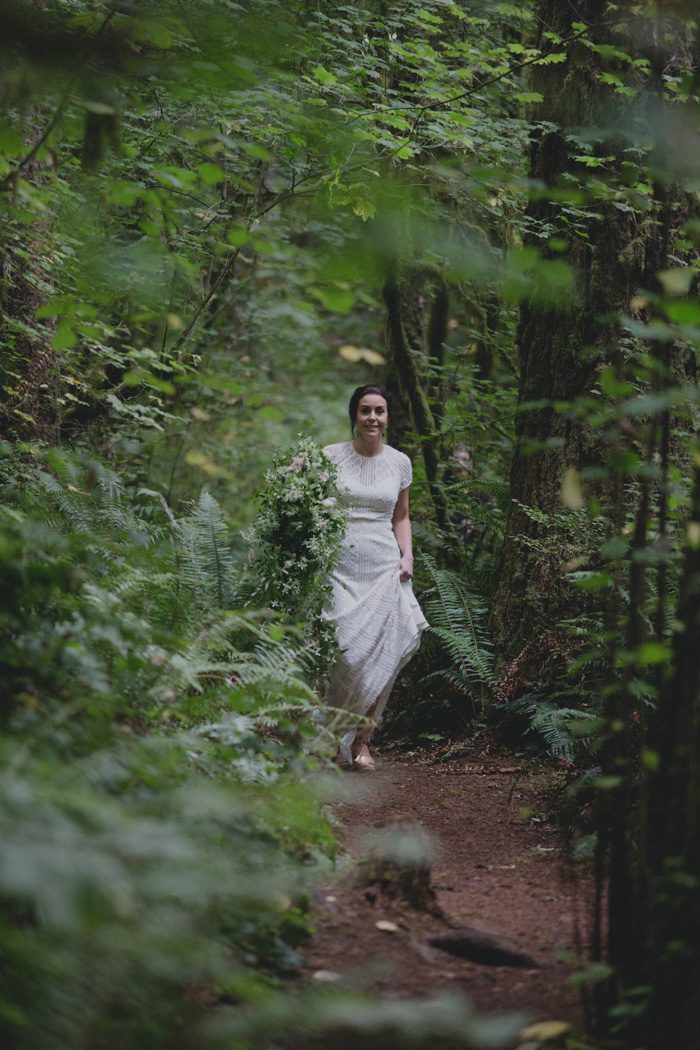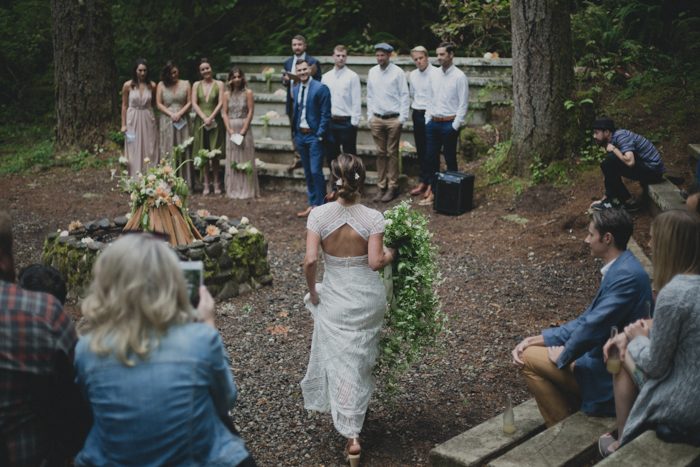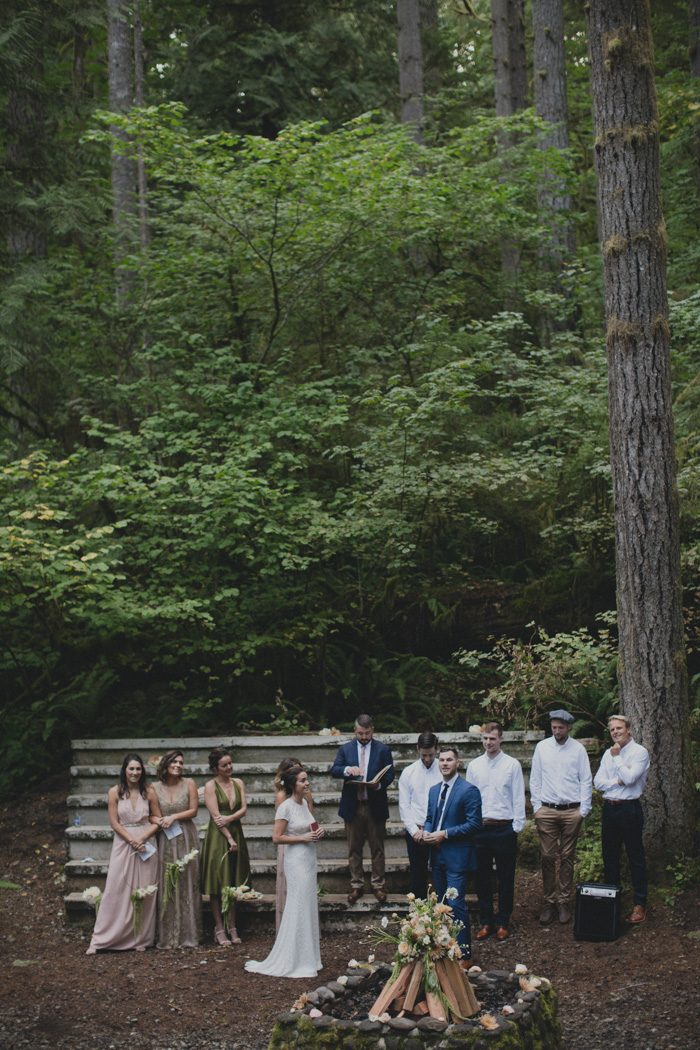 Having the ceremony take place in an open cathedral amongst the trees helped create a communal feel. There were no groom or bride sides, because we were all in a circle surrounding a fire pit that housed an explosion of flowers. This turned out to feel like a symbolic representation of our commitment to each other and our families. No sides; we're all in it together. The most special element of the ceremony was having our wedding party take part in marrying us. Each bridesmaid and groomsman took turns telling a portion of our 10+ year story together starting with us as chilling and ending with us as a couple today. There were a lot of laughs to say the least!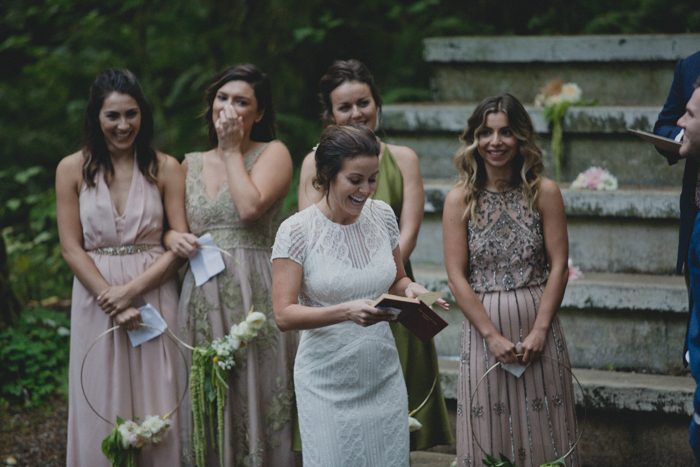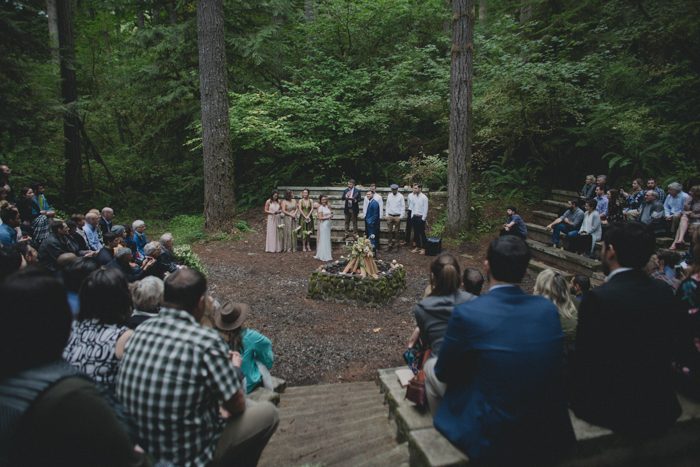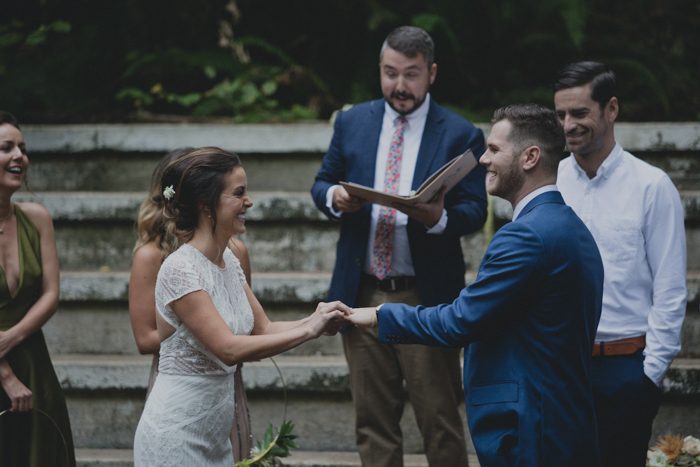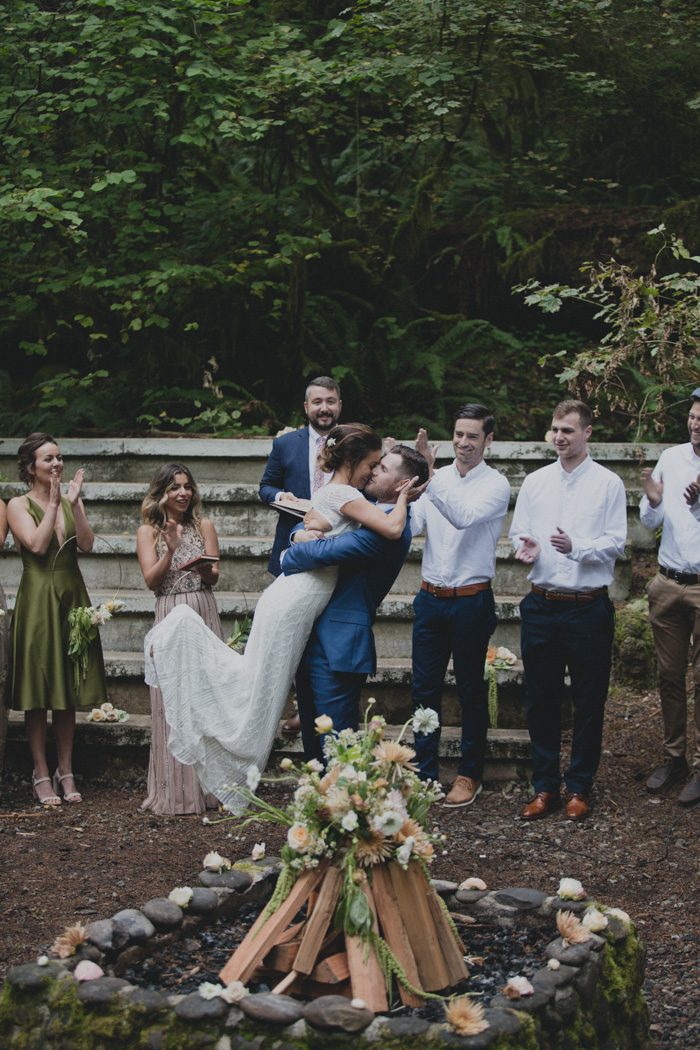 It had been raining on and off all day, and while it looked like we might get a rain-free window during our ceremony, the skies were predicted to open when we were planning on wrapping it up. Our wedding planner handed out umbrellas just in case, and we hightailed it up the ceremony site a bit early. During the ceremony the skies turned purple and our vows were interrupted by lighting and thunder. The ceremony wrapped rain-free and merely minutes after the guests made it back under cover the skies indeed opened up. The pre-storm ceremony skies made for beautiful lighting for the photos and the thunder added a dramatic effect to our commitment to each other.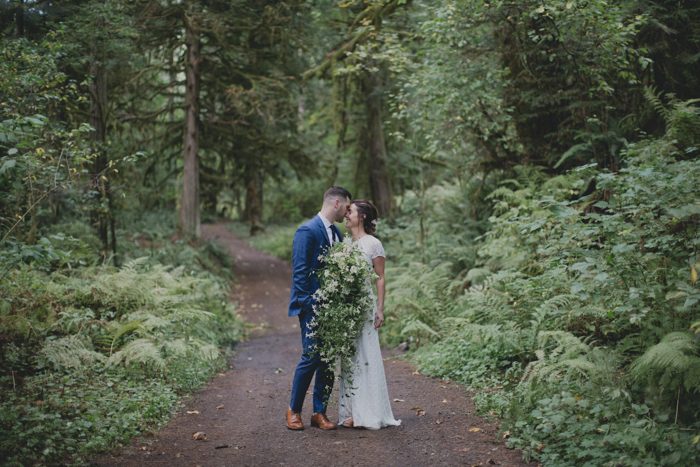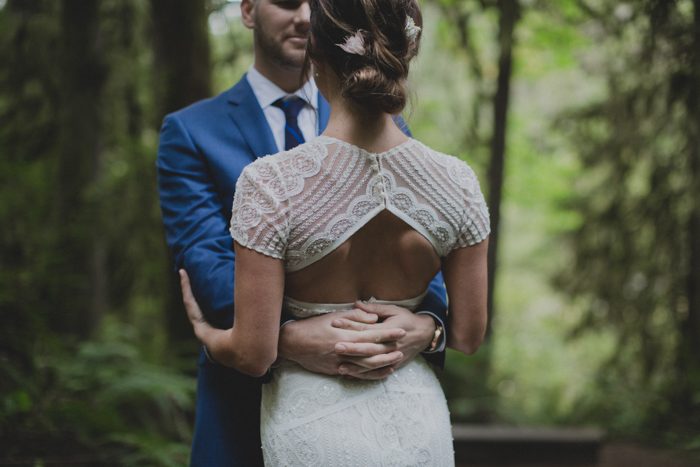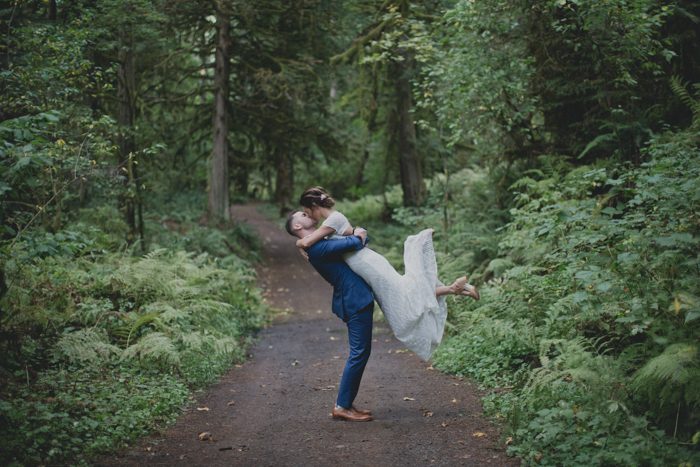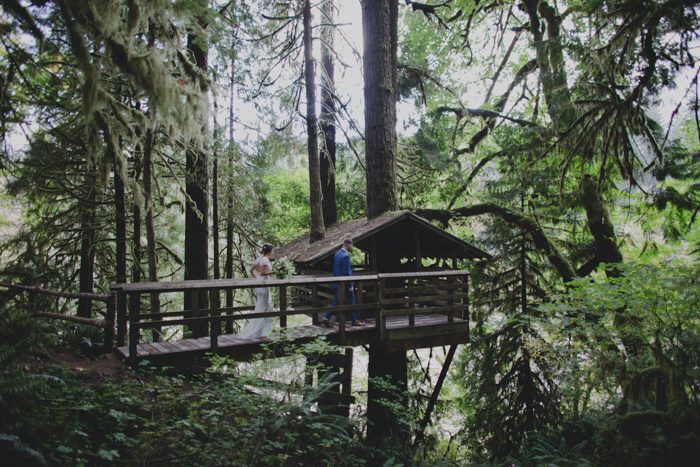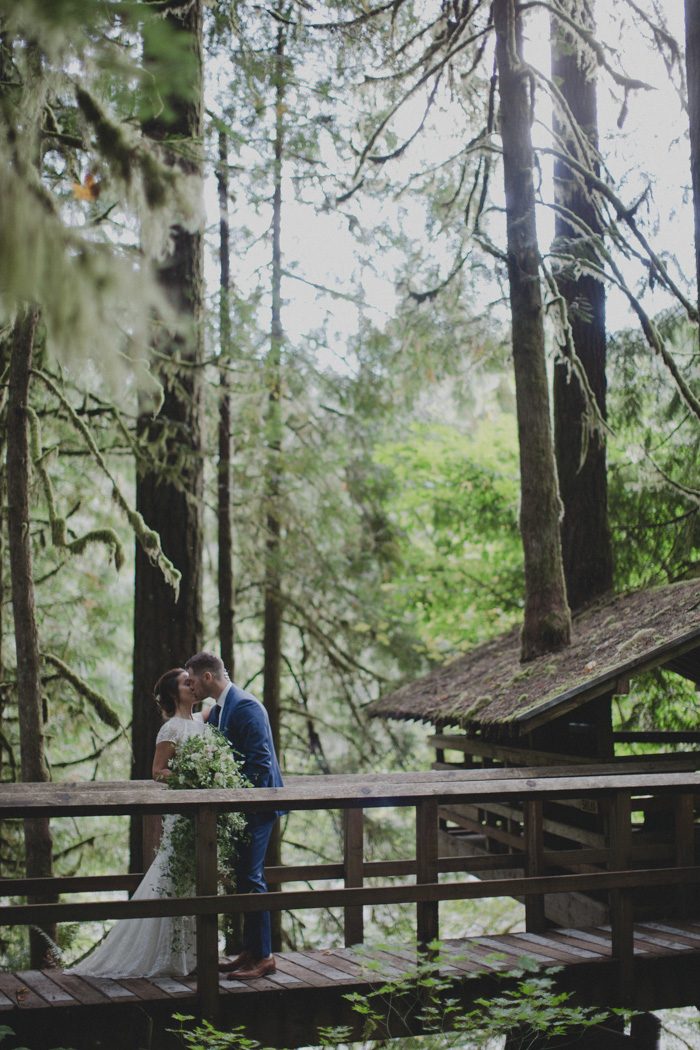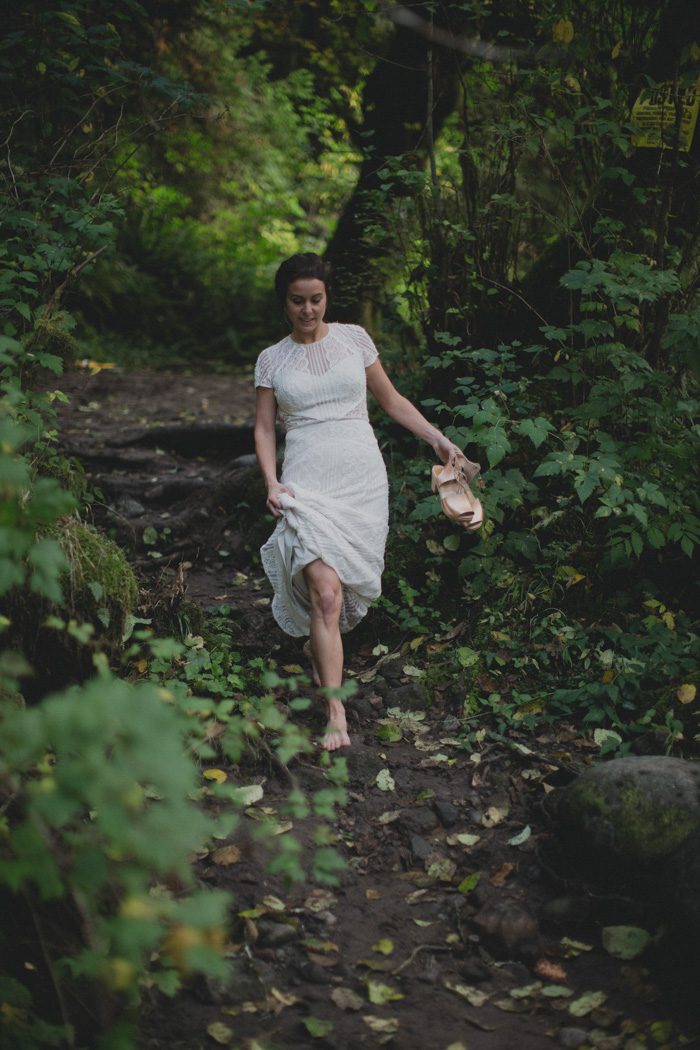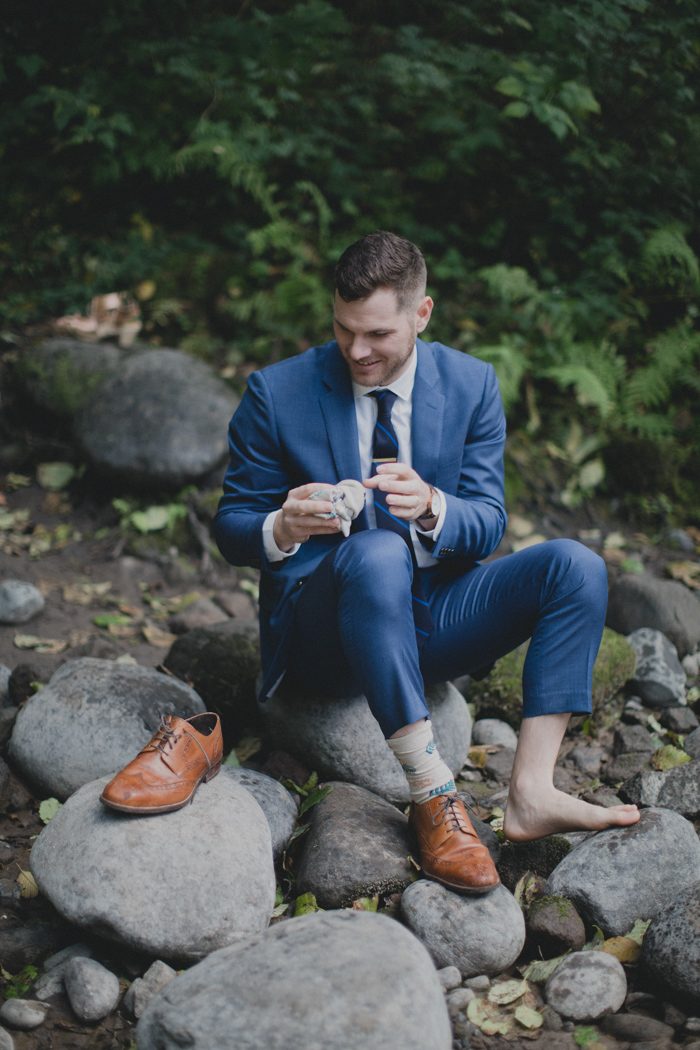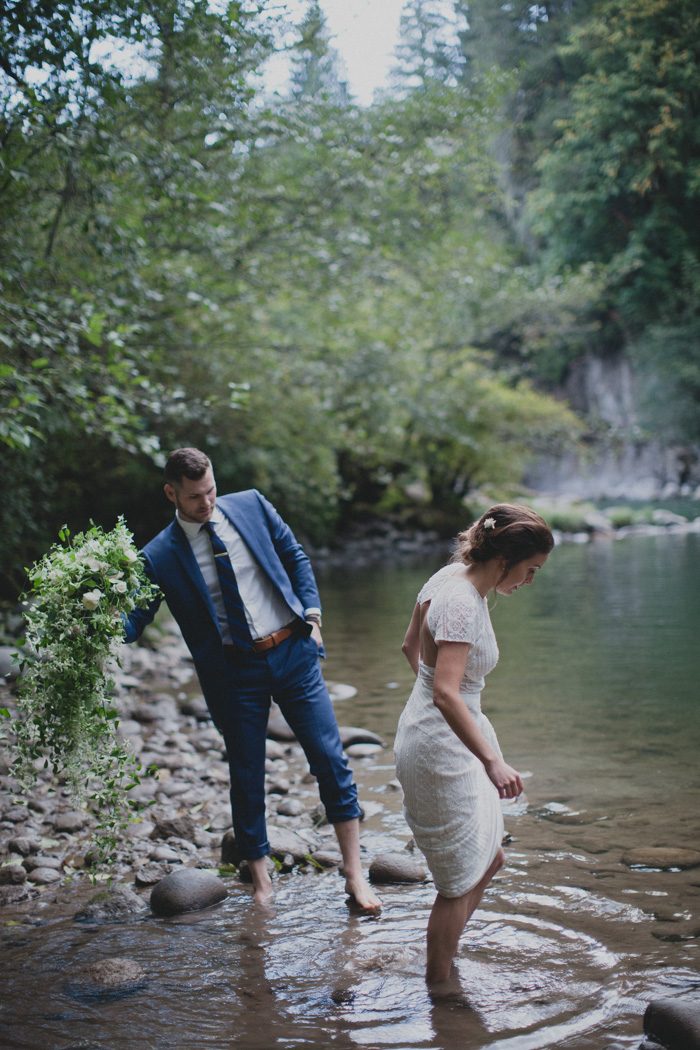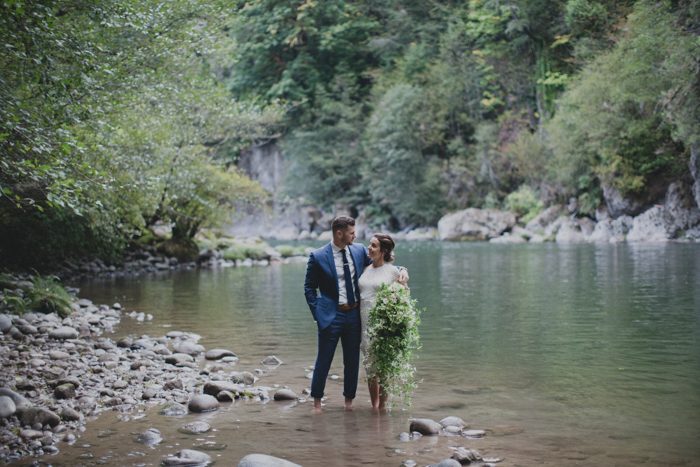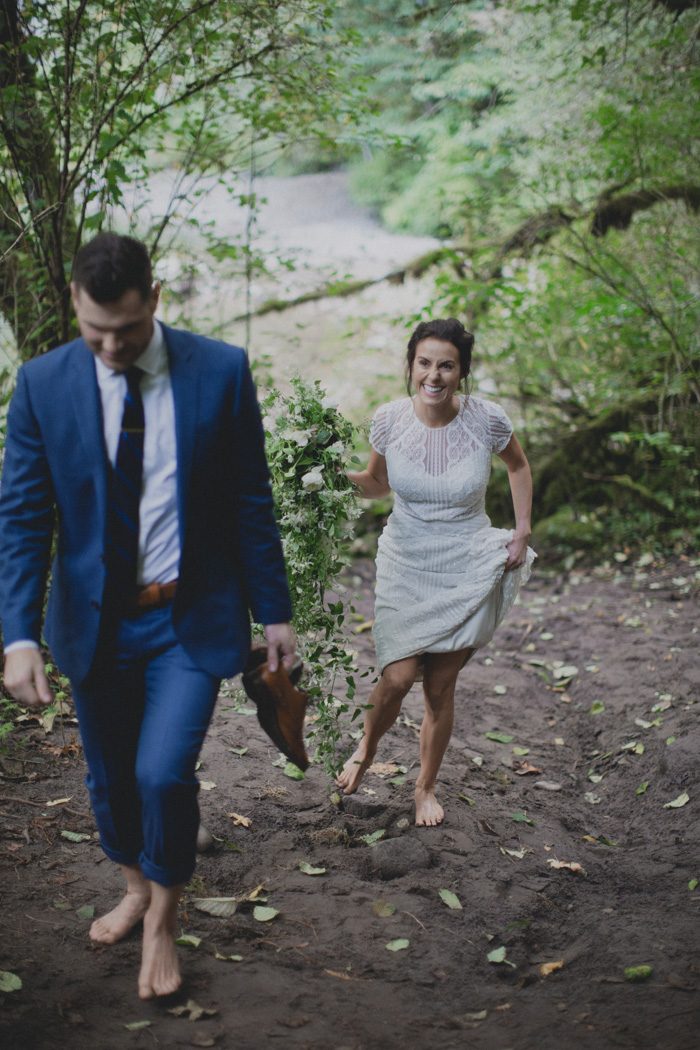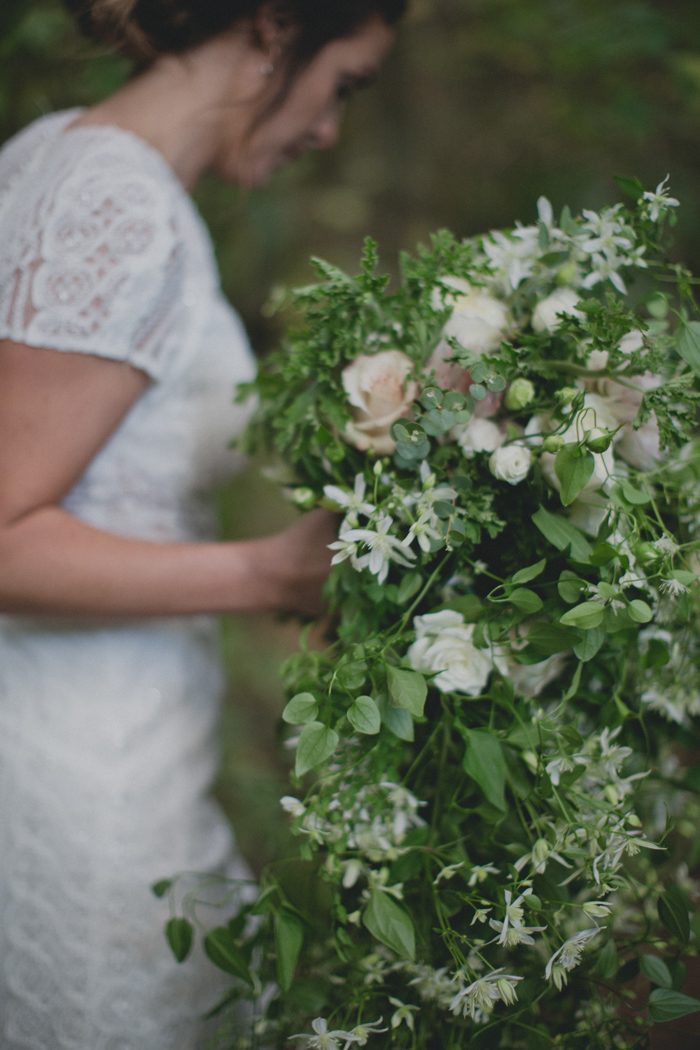 Terra was a blast to work with. She was prepared, professional, but was also down to have fun! She humored our asks and had a plethora of stunning ideas in mind. She even helped hold my shoes when we waded into the river together post-ceremony. So she was pretty much a rockstar! The groom especially loved that Terra captured the shot he had been planning scheming since we first met her…the golf cart donut shot. I was shoeless with my legs flailing outside of the cart while he was at the wheel, which he said, "Feels pretty symbolic of our relationship."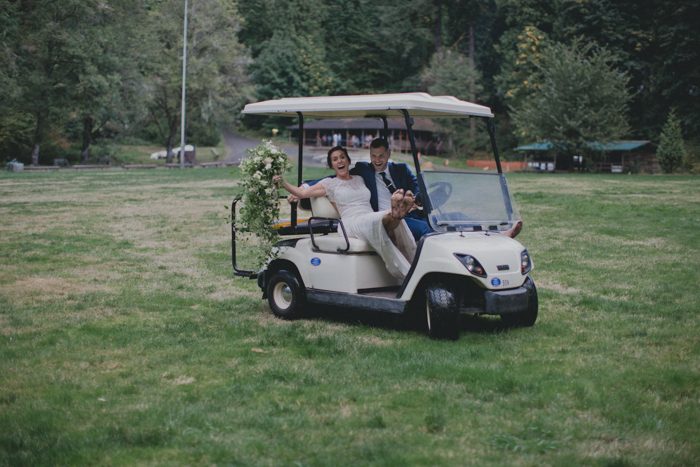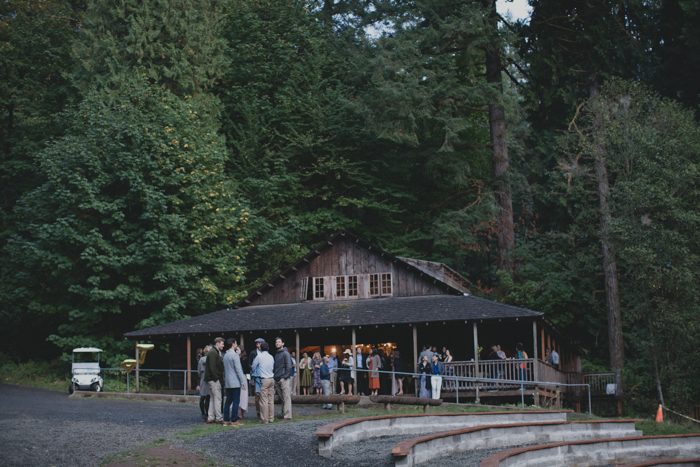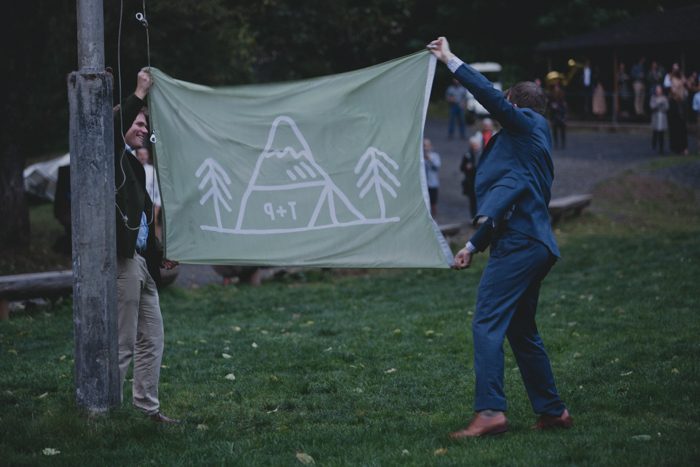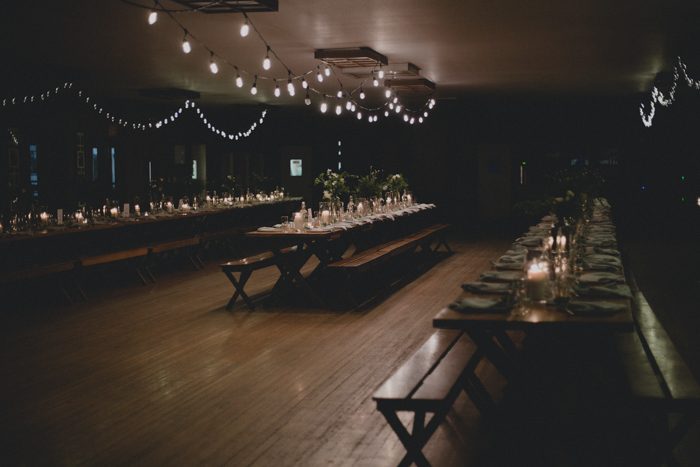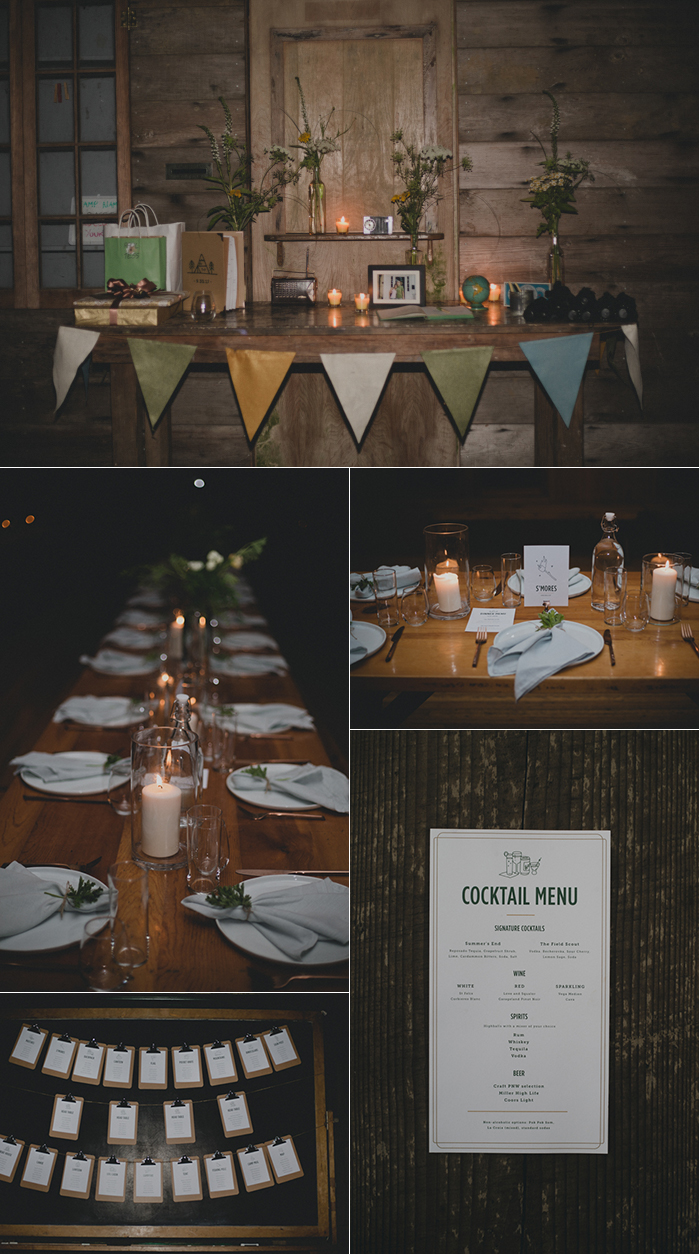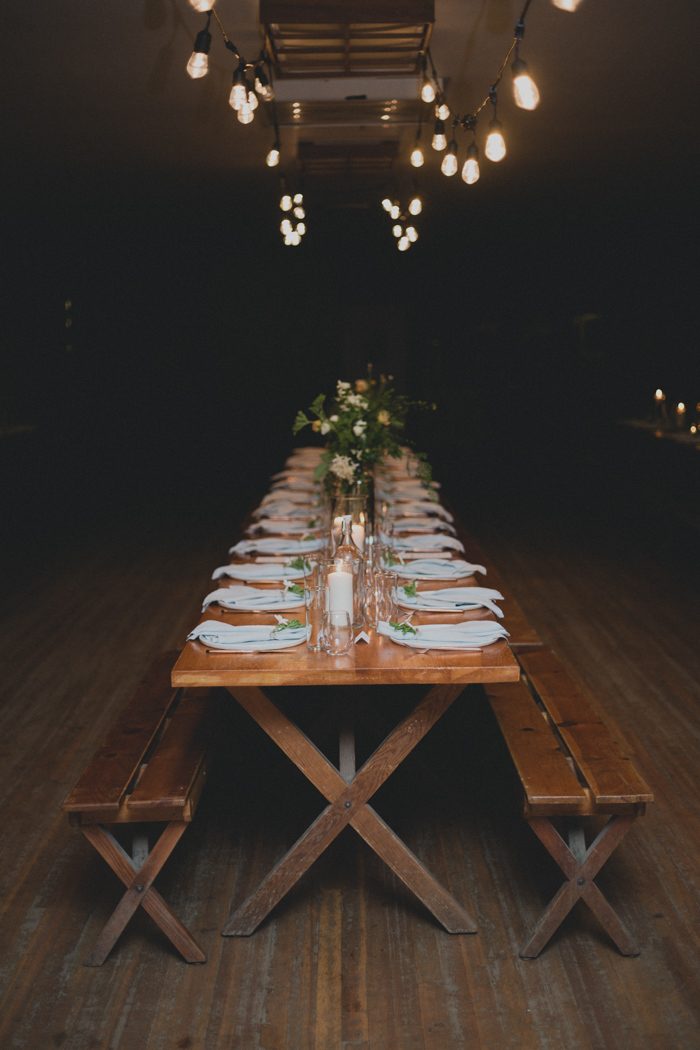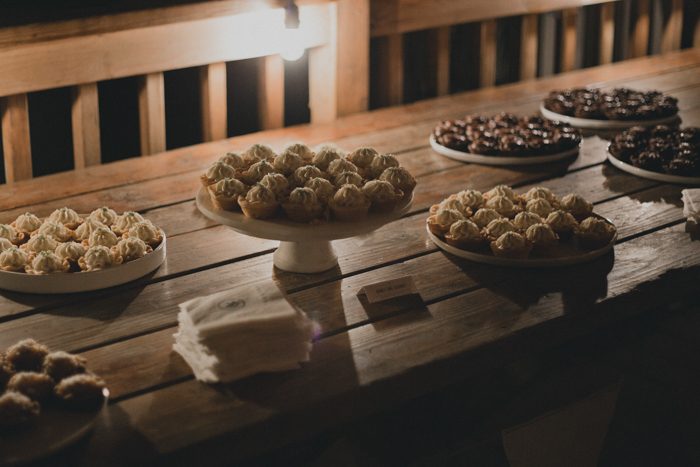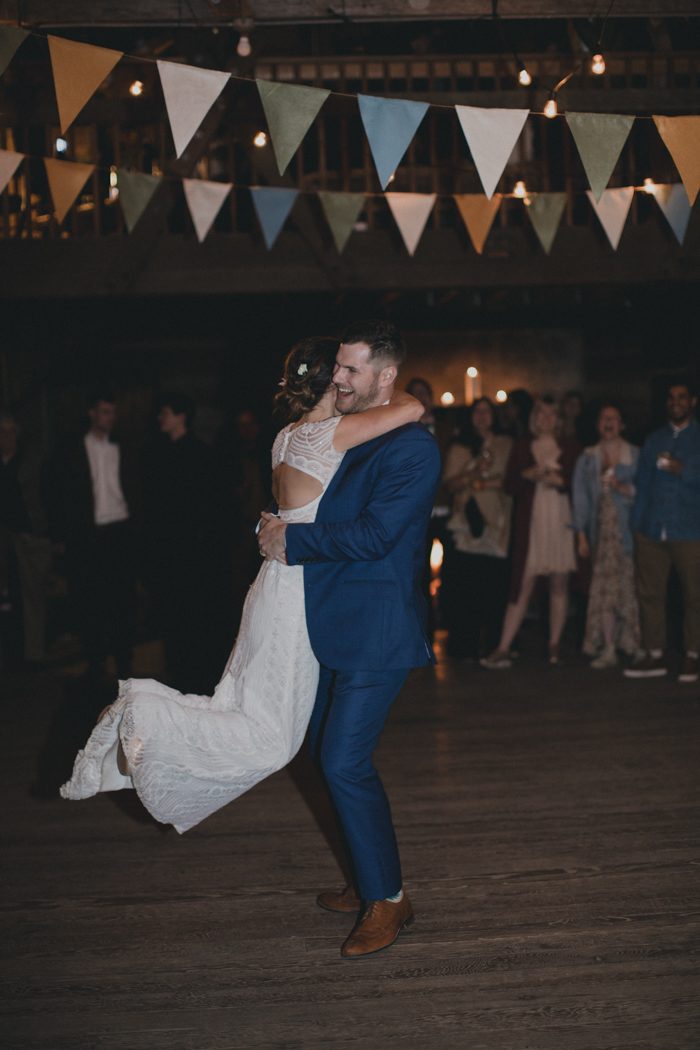 Our most heartfelt congratulations to Tess and Paul, and a big thanks to Junebug member Terra Lange Photography for sharing this adorable wedding with us! Looking for inspiration for how to style your camp-inspired wedding? Here are 6 ways to style your campground wedding venue!