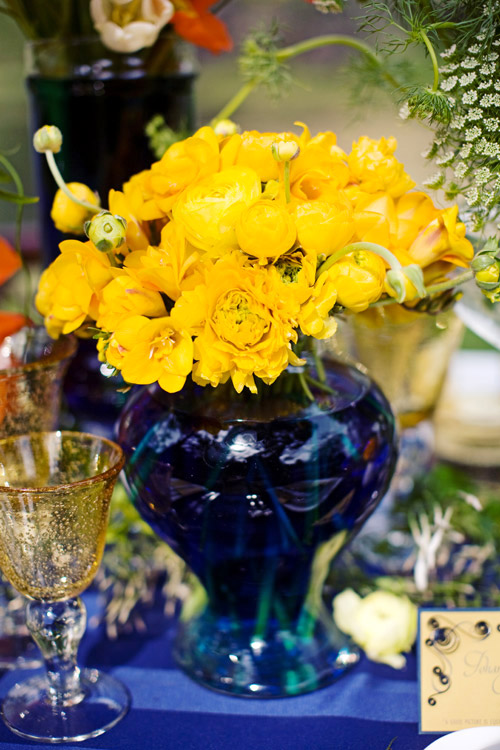 At Junebug we firmly believe that wedding inspiration can come from absolutely anywhere, and today's post is a fantastic example of that! San Francisco area wedding planner and designer Janece Shellooe of Every Elegant Detail was inspired by Van Gogh's famous painting The Starry Night, and it sparked her imagination to create a wedding table scape and photo shoot that was intricate, richly layered and wonderfully whimsical, just like the painting. Photographer Meg Perotti worked her magic on the images, and there was even a film created by Andrew Hsu of Studio MSV.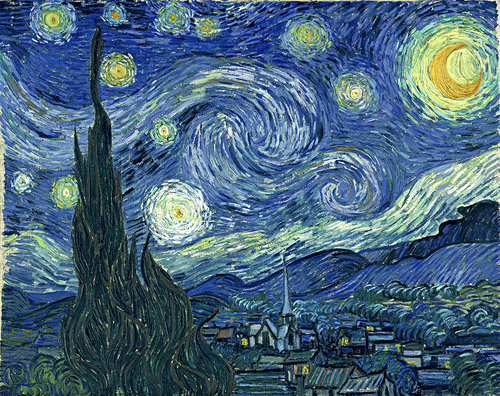 We love the striking colors and textures in the florals by Amy Burke Designs, and the swirling paper motif in the seating cards and menus by Rachel Hanson Designs. The yellow paper lanterns that hung from the trees at the rustic Radonich Ranch added to the starry sky effect, and that peacock blue and gold wedding cake from Studio Cake Design is genius! Even the bride and groom fit in perfectly with a romantic but modern Sarah Houston wedding dress and a dashing midnight blue tuxedo. Well done!



Contributors:
Photographer: Meg Perotti
Film maker: Andrew Hsu of Studio MSV
Wedding Planner and Designer: Janece Shellooe of Every Elegant Detail
Location: Radonich Ranch via Marky Carr of Vingette Events
Paper Designs: Rachel Hanson Designs
Florals: Amy Burke Designs
Cake: BethAnn Goldberg of Studio Cake Design
Dress: Sarah Houston via Nouvelle Vogue
Tuxedo: Selix Formal Wear
Hair and Makeup: Armando of Get Your Do Up
Thank so much you for sharing this creative wedding inspiration with us!