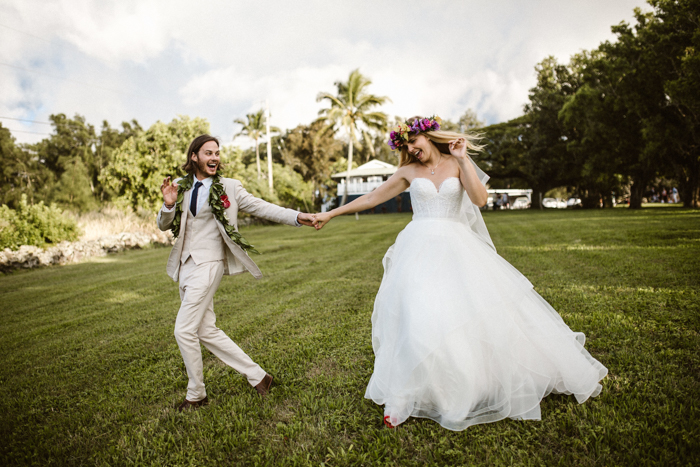 photo by Couple Cups
We totally get that weddings are expensive and the idea of hiring a cheap wedding photographer sounds like the perfect way to trim your wedding day budget. But, after years of experience in the industry, hearing stories from hundreds of couples and photographers, and planning our own weddings, we're here to tell you that photography is not the place to skimp! You will be spending so much time, energy, and money making sure every detail is perfect. How disappointing would be to invest so much and walk away with mediocre photos — or worse, no photos at all?!
Still not convinced? We've got some tried and true advice below on why your photographer is not just another vendor, a few things to consider before hiring your friend to do your wedding, and why hiring a free photographer is not all it's cracked up to be.
Here at Junebug, our mission is to help you have the wedding of your dreams, and that includes having every detail and every moment captured so you can cherish them forever. Trust us, a professional wedding photographer is one investment you will never regret making! And we've made it as easy as possible to find the best photographers in the world using our vendor directory.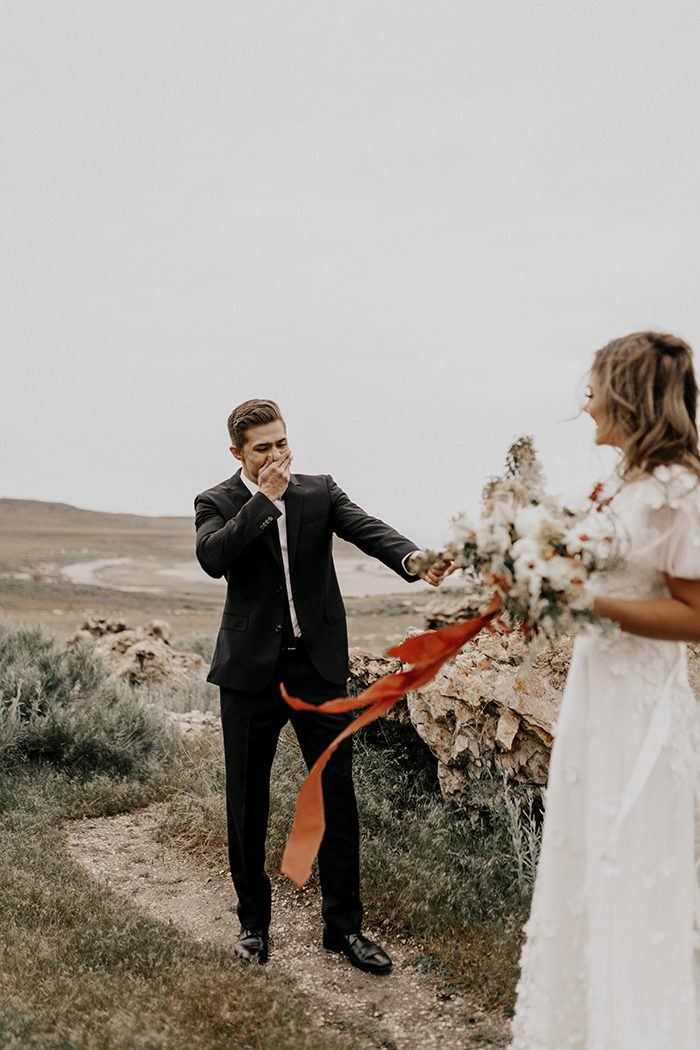 photo by Autumn Nicole Photography
1. The time you spend with them before, during, and after the wedding
When you envision your wedding, you probably picture yourself spending time with family, friends, and of course your new spouse. However, there's one person you actually spend more time with than anyone else on the big day: your photographer. From getting ready until sparkler send-off, your wedding photographer is with you every step of the way, capturing moments as they pass you in a whirlwind of joy.
When you start researching wedding photographers, keep in mind that liking them as a person is just as important as liking their work. Besides your actual wedding day, you actually spend more time before and after the wedding with your photographer than any other vendor when you think about your engagement session and photo delivery! Find someone you click with, whether that's through bonding over Parks and Rec quotes or your mutual love of dogs. During your Skype call or in-person meeting, see if the photographer makes you laugh, makes you comfortable, and makes you inspired. Are you already making plans to grab a drink or see your favorite band together when they come to town next month? That's a great sign! Hire someone you want to hang out with and that time spent together on your wedding day will be as comfortable and effortless as possible.
2. Their process requires your trust
In addition to liking your photographer, you've seriously got to trust them! Trust in your wedding photographer goes beyond knowing they'll show up on time and deliver your photos according to the contract. It's so important that you also trust in their process. We've written before about why your photographer doesn't need a shot list. The root of that post lies in trusting that they not only know that you'll want photos with your bridesmaids and of the cake cutting, but that they're going to capture the real, unscripted moments that are unique to you and your celebration (AKA the photos you really want from your wedding day!).
While this is likely the first wedding you've ever planned, your wedding photographer does this every weekend and knows a thing or two about what to expect. In addition to playing the role of the person who takes your wedding photos, your photographer can also be your biggest advocate throughout the wedding process. Lean on them when it comes to making your wedding day timeline because they know how to get you the best photos in the best light and also keep you from feeling stressed, overwhelmed, or tired in the process. You don't want to feel "over it" on your wedding day, and neither does your photographer — that doesn't make for very good photos! Ultimately, heeding your photographer's advice only makes the day go more smoothly.
3. Connection is where the magic happens
Hand in hand with trust comes connection. Those emotional photos you fell in love with in your photographer's portfolio didn't just happen out of thin air. Having a deeper connection with your photographer allows them to capture intimate moments throughout your wedding because you let them see that moment unfold. Part of this connection has to do with trust; trusting your photographer's process means giving them the space to be an artist. Your photographer wants to create the sort of images seen in their portfolio of you, but they need for you to let them guide the session to make their vision happen.
While all wedding vendors can be considered artists, there's something different about what photographers create because they are doing so in the moment. They have two people in front of them who are all dressed up and ready to celebrate the most exciting day of their lives and, despite a rapid timeline and minor stressors throughout the wedding, they're going to create some freakin' magical art on the spot. While other vendors have months to plan and perfect each detail they contribute to your wedding, your photographer just needs to feel connected to you as possible in order to tap into the "why" of your wedding – the beautiful marriage that's about to begin, the one-of-a-kind relationship you've had up until this point, and the little quirks that make you fall in love with each other more every day. Getting along with your other vendors is important, but the connection you have with your photographer is unparalleled.
4. Their value lasts long after the wedding day
What a photographer does for their client (that's you!) is really twofold: there's the experience they create leading up to and on your wedding day and then there are the images they deliver when all is said and done. With the exception of a few iPhone photos your friends and family take during the day, your wedding photographer's images are all that you have to remember your wedding by. No matter how much you spend on flowers, food, or fabulous reception chairs, the one thing you get to keep is your photos.
When you look through your wedding album, whether that's a leather-bound book you pass down to your children or a digital gallery you've shared on Facebook, you'll be able to remember it all: the songs that played while you danced for the first time as a married couple, the look your bridesmaids gave you when they saw you in your dress for the first time, the tears in your partner's eyes (and yours too!) as they spoke their vows aloud at the altar. Your wedding photographer is able to give you something that other vendors just can't, and that's ultimately why investing in someone whose work you believe in and who you'd totally hang out with in real life is worth it.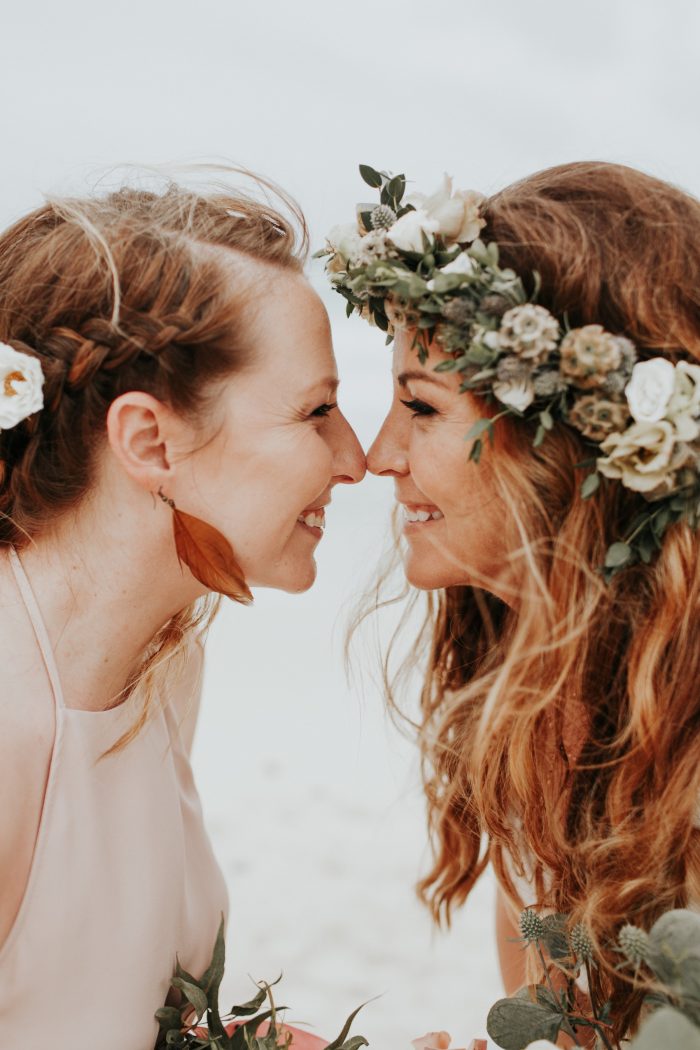 photo by Melissa Marshall
1. Is my friend a professional in the service I want to hire them for?
First and foremost, if your friend has not done a wedding before, making yours the first may not be the best idea. Even if they are an event planner outside of the realm of weddings or they're a hobby photographer, a wedding is a totally unique experience they may not be prepared for. You deserve to have an experienced professional taking care of the details without causing you any unnecessary stress. A well-versed wedding vendor knows how to handle the kinds of unexpected circumstances that come with weddings and are skilled in making moves you don't even know are happening behind the scenes to keep things running smoothly.
2. Do I want to hire my friend because I think they'll give me a discount or because their work resonates with me?
This consideration may not seem like a big deal, but it really comes down to respect. If your friend is a professional in their field, then this is their livelihood and they've got bills to pay! Expecting a discount or even free services is awfully presumptuous and can make your friend feel as though you don't value their time or talent. Before contacting your friend simply because they make a living as a photographer or florist, look at their portfolio as if you didn't know them personally and see if their work is truly a fit. Is their style what you envision for your day? Be sure to genuinely look into other vendors in your area as well to make sure your friend's work is really what you want, that way no one feels any disappointment when everything is said and done.
3. Would I rather have my friend enjoying my wedding day with me or working?
This last question can be a tough one to answer, so spend some time thinking about it before you inquire. When you close your eyes and picture your wedding, is your friend standing by your side or in the crowd with tears in their eyes, or are they behind the scenes making sure everything goes according to plan? If what you really want is for your friend to celebrate and enjoy themselves on your big day, then it might be best to invite them as a guest and leave the work to someone else.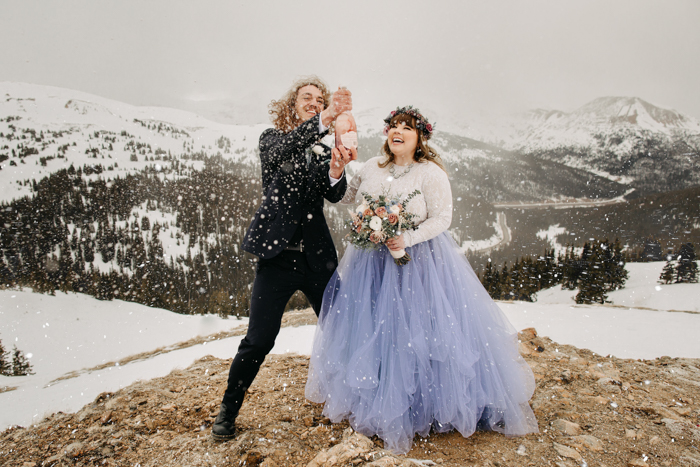 photo by Amy Bluestar Photography
1. Your Money Covers So Much More Than Just Photos
While it's normal to wonder why wedding photography has such a steep price tag, there are actually several factors built into the cost – all of them meant to benefit you! Perhaps the more obvious reasons a photographer charges what they do has to do with the value of their knowledge and skill, as well as the cost of their equipment and programs that help them capture your day in the first place. However, the cost of services also includes things like insurance for their gear and even liability insurance should something happen to them or you during the shoot.
Booking a free photographer can leave you vulnerable if something were to happen, whether that be the photographer's gear getting stolen or broken before your wedding or, goodness forbid, something happening to the photographer themselves. Being a professional is more than just talent and experience – it's being prepared and accountable for any number of situations.
2. There are No Do-Overs
When it comes to your wedding, it only happens once! There's no re-doing a first look, first kiss, or first dance. If your photographer doesn't have experience capturing weddings, specifically, they're more likely to become flustered by the quick timeline and crowd of people, be unaware of where they need to stand to get the shot, or forget completely about getting an image you definitely want from your day.
Your mom's friend with a nice camera or your college roommate who photographs beautiful landscapes as a hobby simply aren't experienced in the unique and fast-paced world of capturing a wedding. It's awesome for this person to want to gain that experience, but being the sole person in charge of documenting some of the most special moments of your life may not be the time or place.
3. Payment Seals the Deal
Anytime money changes hands, the situation becomes more serious. Seeing as this is your wedding day, each service hired should be taken seriously! With no money involved, your free photographer isn't necessarily held to a standard, whether that be a certain level of work or even that you receive your images (and in a timely manner!). With a professional photographer, you are making a payment for an exchange of services, and the photographer is contractually obligated to perform and deliver!
In order for someone to hold up their end of the deal, there has to be a deal made! Otherwise, who says your free photographer has to deliver your images, whether that's in the next six weeks, this year, or ever. Your payment goes beyond setting expectations and adds another sense of legitimacy to the equation that, again, protects you!
4. You Get What You Pay For
You've heard the phrase before – "you get what you pay for." When you think about your wedding day, your focus may initially be on where it takes place, who attends, and what's for dinner. However, once the rentals have been returned and the dress has been stored, all you have to relive your wedding by are the photos. You want to cherish your wedding photos for years to come, not get a bad feeling in your stomach about every time you remember what's missing or what could have been.
Wedding photography is a job that encompasses so many unique skills. Not only are they keenly aware of exactly what needs to happen in documenting your wedding on the big day, but they have abilities to turn what's in the camera into art after the fact using a variety of post-production processes. A photo can be beautifully composed straight out of the camera and still require more work to create images you will be able to use and show off.
Here's a little food for thought for you: would you trust your brother's friend to fix your engine if he isn't a mechanic, but has a nice toolset? What about letting your childhood friend perform minor surgery if they went to school for marketing, but they want to contribute to your healing process? Our guess is probably not. Just like with any other service, invest in a wedding photographer you trust, not only to nail every moment, but to be prepared, responsible, and professional – because it's worth it!
Ready to hire the photographer of your dreams? We list the best photographers in the world in our vendor directory!