This past week I've been such a lucky girl! I've gotten to visit local Junebug member dress shops and choose all the wedding dresses, veils, hairpieces and bridal accessories we'll be photographing for our book later this week. Fun! Yesterday I picked up this stunning Birnbaum and Bullock tulle ballgown from The Bridal Garden, and I fell in love with the idea of combining its classic beauty with cool rock and roll details. I love the way the grays, metallics and vibrant royal blues in this inspiration board add a lush but slightly edgy modern feel to this wedding day look. So romanitc, yet so current and playful!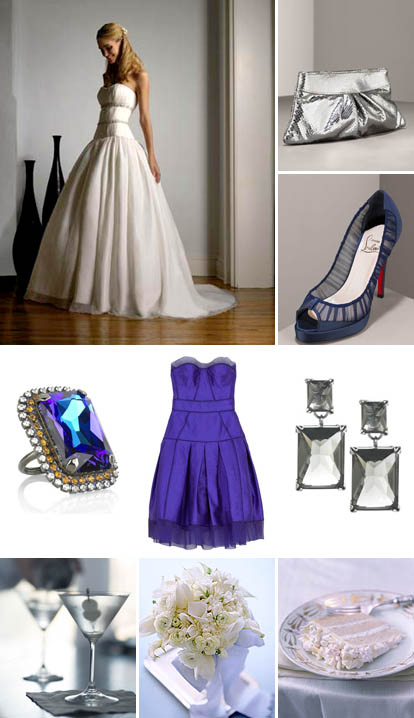 Top row:
"Leigh" crinkle silk chiffon ball gown from Birnbaum and Bullock, available at The Bridal Garden
Lauren Merkin "Eva" snakeskin print clutch from Neiman Marcus
Christian Louboutin navy pleated platform pump from Neiman Marcus
Second row:
Erickson Beamon Arcade Ring from Net-a-Porter.com
Zac Posen strapless pouf dress from Net-a-Porter.com
Lee Angel "Lucy" crystal earrings from Net-a-Porter.com
Third row:
Martinis and Gibsons from Matt Armendariz Photography
Bouquet of tulips, roses, ranunculuses, calla lilies, and tuberoses from MarthaStewart.com
White wedding cake from MarthaStewart.com
Stay tuned for more fun ideas from our wedding planning book photo shoots! We can't wait to share it all with you!