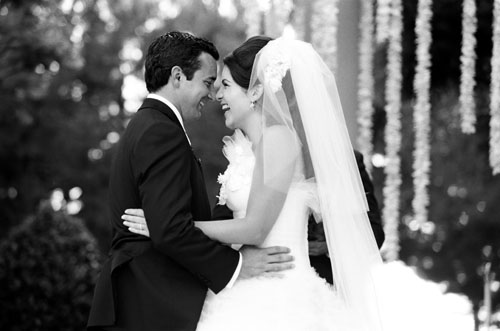 This week's Real Wedding, photographed by Yvette Roman and coordinated by wedding-planner extraordinaire Mindy Weiss (both Junebug members, how lucky are we?!) is absolutely stunning. From the gorgeous couple to the breathtaking flowers and amazing decor, we are completely enamored with it all.

Goals: Ann and Steve say that their goals changed throughout the wedding planning process, morphing from wanting a small destination wedding to a larger local celebration, but a few things remained constant. They wanted a wedding that was full of unique, rich details, while remaining cohesive and tasteful. Since the two come from different backgrounds, they knew that incredible food and great entertainment would also unify the event and make it memorable for everyone involved.

The Design: Ann and Steve's non-denominational ceremony was held outdoors under a magnificent trellised gazebo at the Monarch Beach Resort, where they recited the vows they had written themselves. To incorporate both of their cultural backgrounds, they chose to have both a candle-lighting and a glass-stomping, meaningful traditions in many Christian and Jewish weddings.
They wanted to be able to look back and find their wedding as beautiful on their 20th anniversary as on the day they wed, so they chose a very classic and timeless wedding color palette of deep reds and white. The ceremony was decorated in all white, with an incredible array of white floral arrangements and crystals, and the reception brought in the deep reds with plenty of red roses in varying shades, all created by Mark's Garden.
The Look: Ann was radiant in a ruffled ballgown from Oscar de la Renta and white Christian Louboutin peep-toe heels, while Steve was perfectly turned-out in a suit with a white tie and red rose corsage, complimenting the wedding color palette.

The Moments: During their first dance, to "All I Want is You" by U2, Ann and Steve just rocked back and forth in a tight embrace. "It was nothing fancy, and all eyes were on us, but it felt like there was no one else in the room." One of the most romantic moments of the day actually came after a five a.m. swim in the hotel pool with friends. The couple ordered room service back in their room and says Ann, "we basically fell asleep in our plates, but we were having so much fun together."

The Pros: To learn about all of the incredible wedding professionals who helped to make this wedding a reality, please visit our Real Weddings section.
Thank you so much for sharing your stunning celebration with us Ann and Steve!
If you're planning a wedding in Southern California or Seattle, don't miss our trusted Plan Your Wedding Hotlist, and if you're looking for a spectacular wedding photographer, check out our World's Best Wedding Photographer's Hotlist!