Inspired by old glamour and the romantic gardens where she and Matt tied the knot, bride Brooke's wedding day look is absolutely stunning! With her sideswept vintage waves, a lovely flowing wedding dress by Hayley Paige and some seriously sexy bridal shoes from Badgley Mischka, her bridal style is simply glowing – and it was all captured by wedding photographer Geoff Johnson.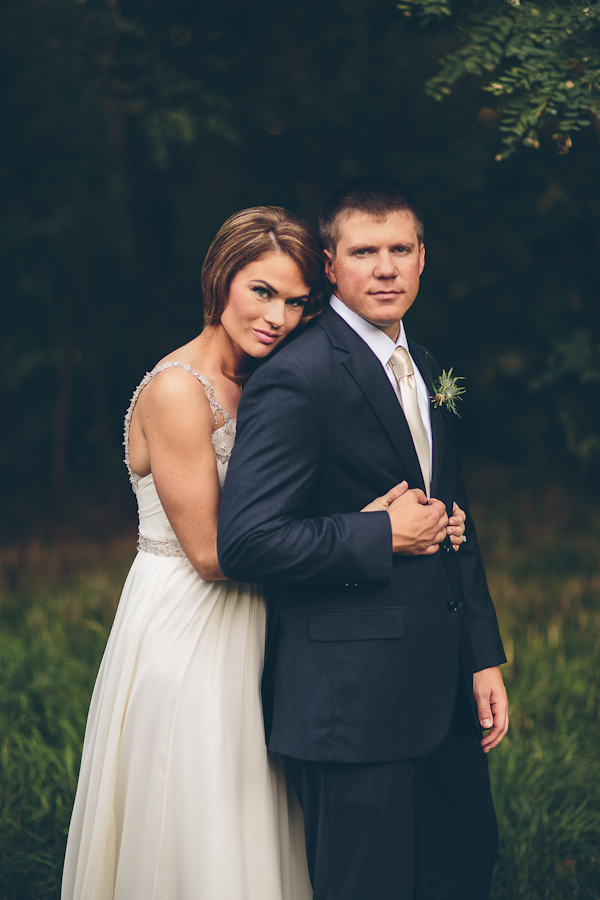 The Couple: Brooke and Matt
The Wedding: 9.21.2013 – Lauritzen Gardens, Omaha, Nebraska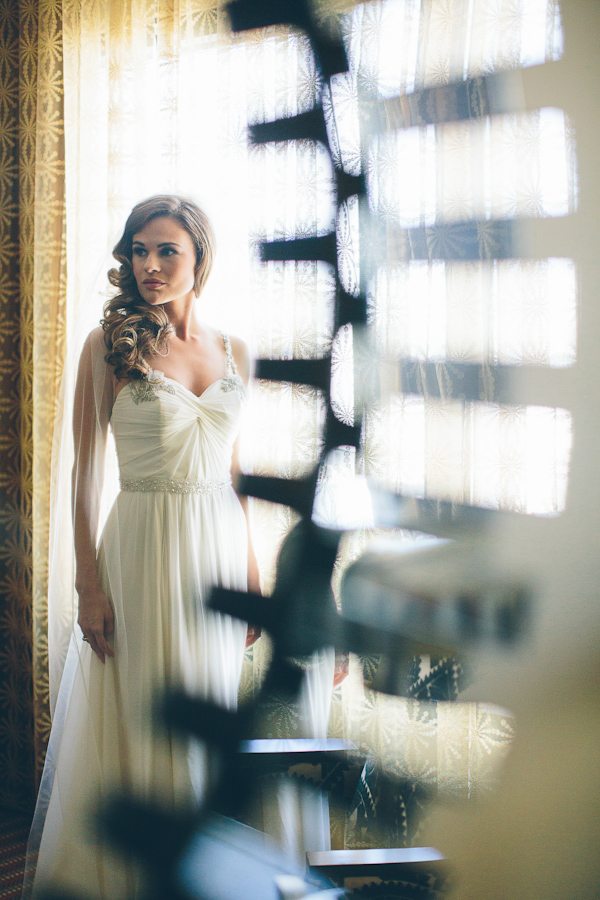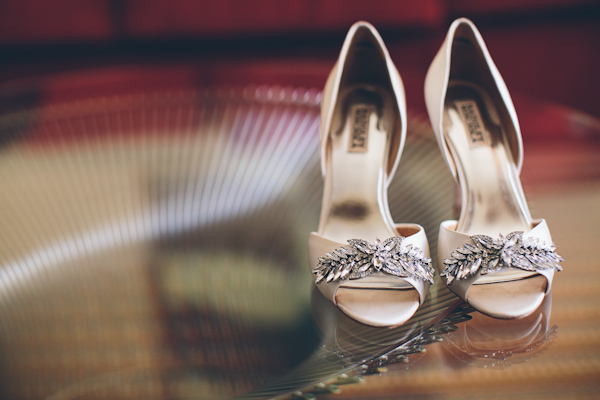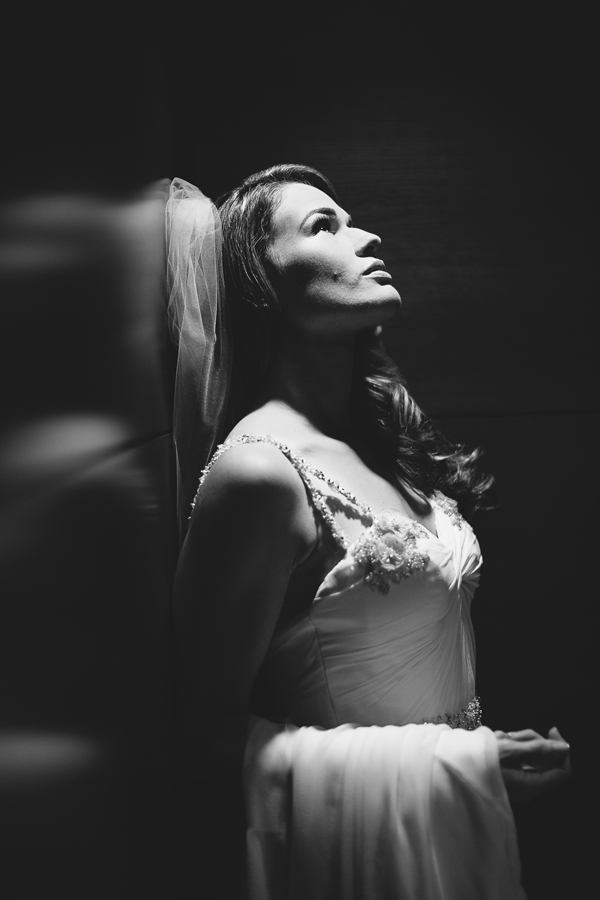 The Vision: Our ceremony was in a garden, so I planned on the atmosphere being very floral, while slightly glamorous and vintage, but with a garden party vibe. We really wanted the guests to have fun, relax, and really enjoy the surroundings that the garden provided. I love jewel tones, so it worked really well have wine tones, from light to dark, in the color palette, as well as beige and ivory tones. There were hints of metallics as well, and we added a few pops of navy to add more dimension to the color palette. It was easy to keep my look within the theme. The elements of the dress worked perfectly, and I picked accessories and styling that had a nod to the past, but with a updated edge, and interesting details.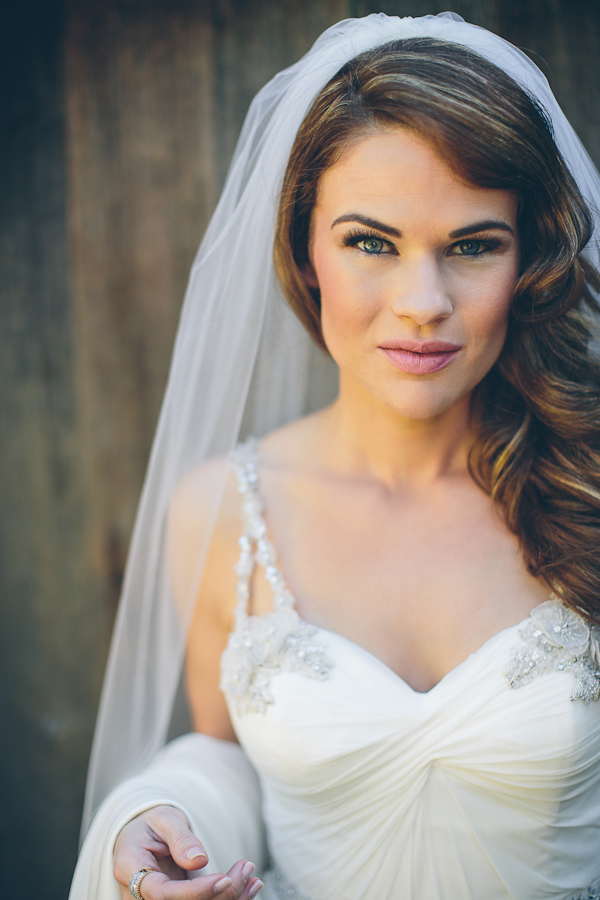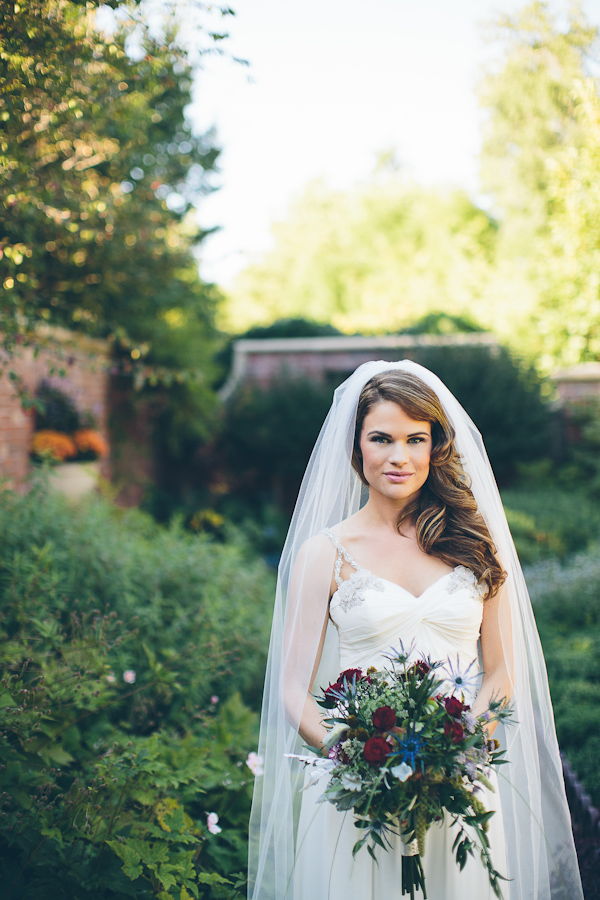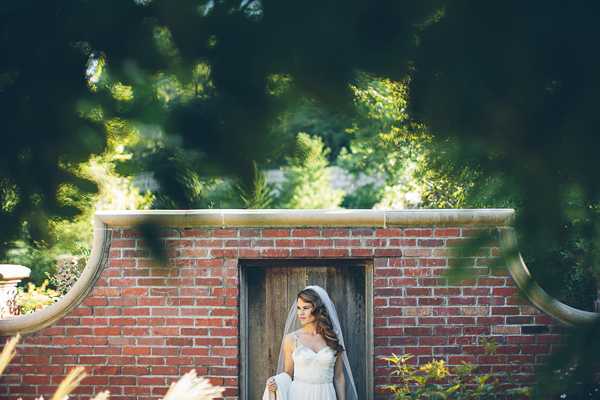 The Style: I was inspired mostly by the phrases "old glamour" and "garden party" for my look. Matt's style is more classic, so I felt that our looks created a fun balance. I was drawn towards images of flowing hair, flowers and dresses, so that idea was definitely incorporated. The bouquet was one of my favorite accessories. We strayed away from "tighter" floral arrangements, and the colors really popped. The variety in the bouquet also fit perfectly within the gardens where we were married. I also really loved my hair. It's very curly, so it was a risk to wear it down at an outdoor wedding (I am so lucky that we didn't have any rain!) I love the romantic quality of sideswept hair, and felt that it would be a good way to have it "down" but under control. The makeup was inspired by a modern 60's look with a smokier eye and natural pink lipstick to balance it out.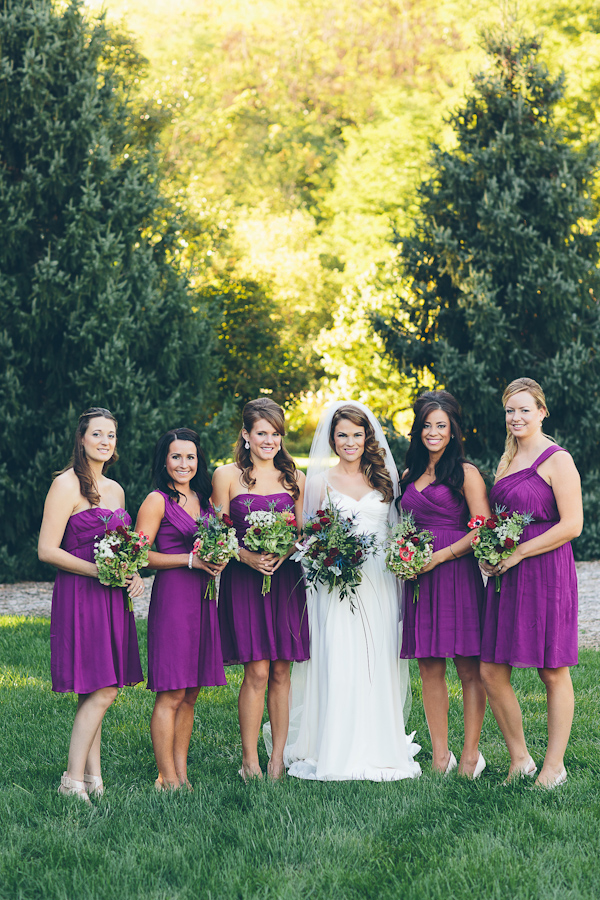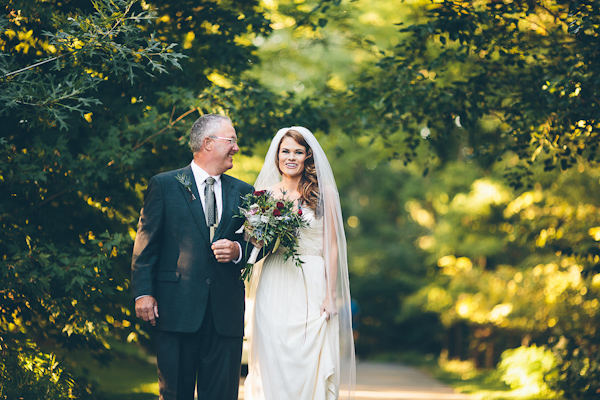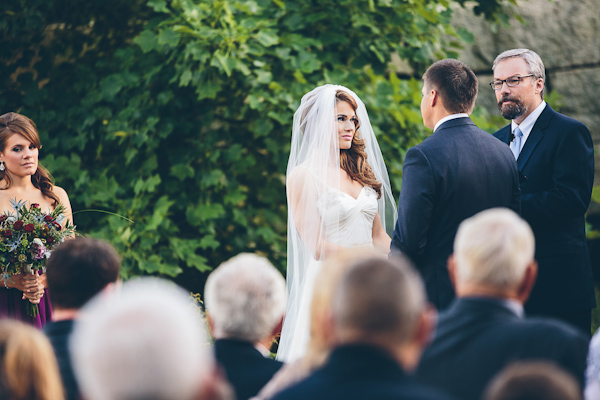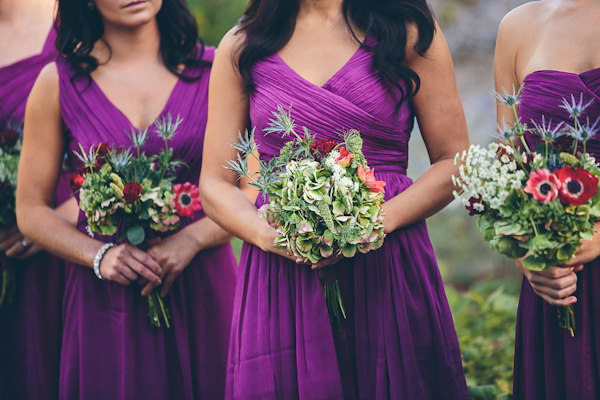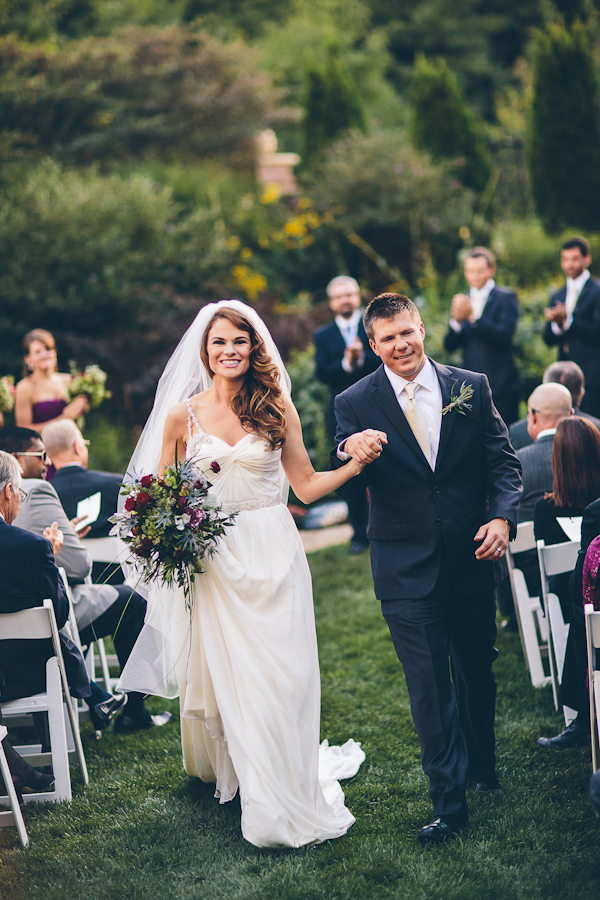 The Dress: Initially I knew that I wanted certain basic details, such as straps, ivory color, and ruching. The dress had to fit in with the outdoor setting with a soft, feminine silhouette; so not too much volume or weight (Jenny Packham's designs were a big influence). I found my dress while looking online and immediately responded to it. It was the third dress that I tried on at the boutique, and I felt that it could be the one right away. The issue came when I tried on a gorgeous Annasul Y dress, and I also immediately loved it too. I debated over the two for over an hour before going with my first instinct and choosing the Hayley Paige. A few people gave me advice to go try on more dresses so that there would be no regrets, which I did. Trying on more dresses only made me feel more strongly about my first pick, and I got even more excited about it!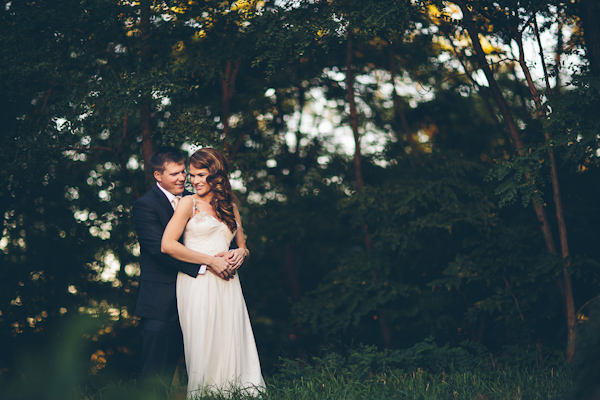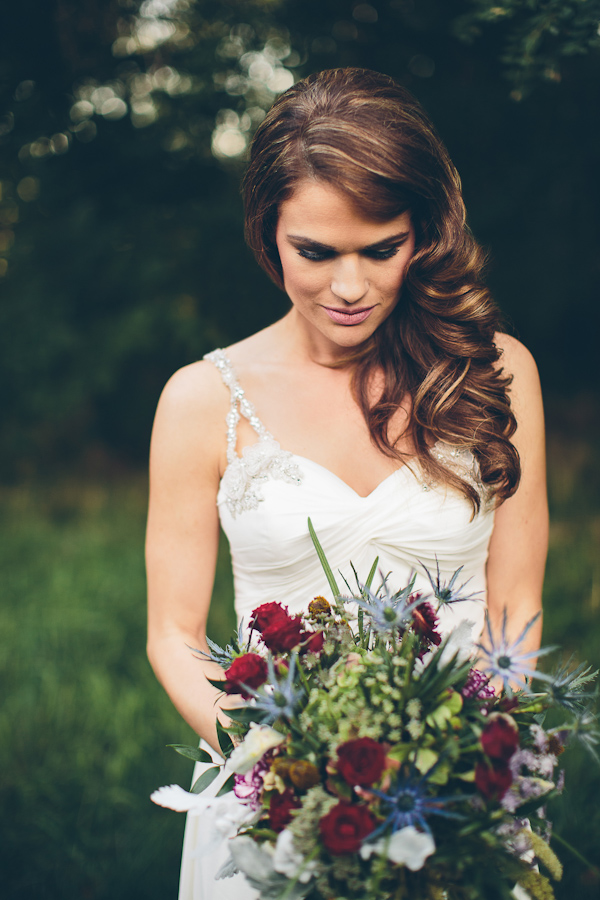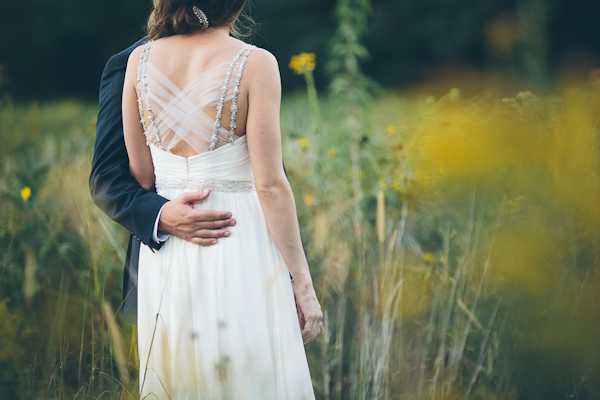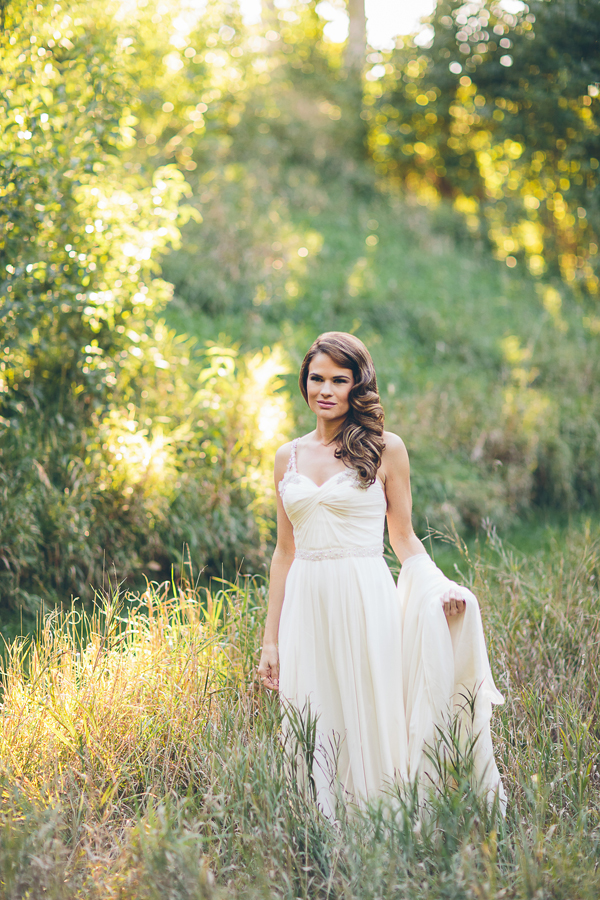 The Accessories: My wedding day style was more romantic than my everyday style, which I absolutely loved. It was the perfect opportunity to have fun with selecting the details. I chose my accessories based on how they fit into the overall look and feel. Each piece could have individual features, but it still needed to be cohesive. It was important that the accessories were complementary, and I wanted to strike the right balance of crystal detail so that the ornate dress straps and ruching of the dress weren't overpowered. The veil was one of my favorite accessories. It was long and simple, and it seemed to disappear at the edges, which added an airiness to the look.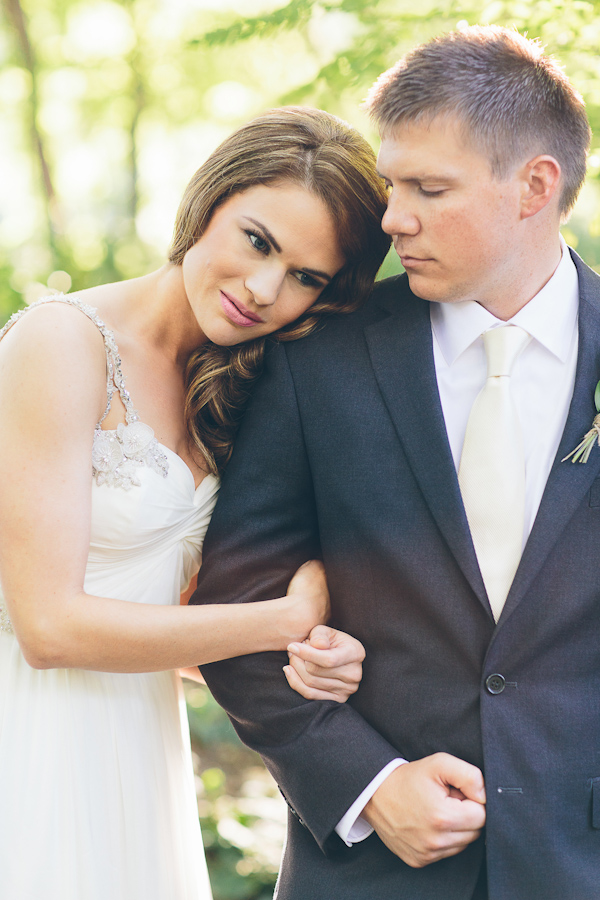 The Advice: Choose a few adjectives or phrases that you want for your wedding look and use those to fill in the overall look by selecting features that stand out to you. Don't be overwhelmed when thinking of the big picture, focus on one detail at a time, such as a hairpiece or earrings, that fit into your vision. In the end it will all come together beautifully.
The details are important, and so is comfort, especially on your wedding day. Remember to break your shoes in before the wedding, and make sure that you can wear them for 10 hours or more; and bring a gorgeous pair of flat sandals, just in case!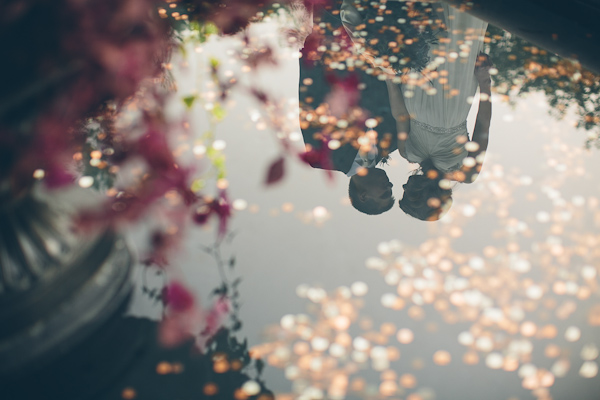 The Wedding Team:
Photographer: Geoff Johnson
Ceremony & Reception Venue: Lauritzen Gardens
Officiant: Dr. Bob Jordan, Dundee Presbytarian Church
Invitation Designer: Jessica Pape of Sas + Rose
Catering: Hap Abraham Catering
Florist: Loess Hills Floral Studio
Cake: Pettit's Pastry
Wedding Dress: Hayley Paige via Rhylan Lang
Bridal Accessories: Badgley Mischka (shoes), Jennifer Behr (headpiece)
Bridesmaids' Apparel: J.Crew
Groom's Apparel & Accessories: Jerry Ryan Clothing and Sportswear
Hair Stylist: Kirby Keomysay of Kontempo
Makeup Artist: Tasha Baughman of Kontempo
Live Music: D*Funk
Rentals: AAA Party Rentals
Rings: Frederic Sage via Elisa Ilana (bride), Borsheims (groom)
Thank you Brooke for sharing your gorgeous bridal style with us!
Looking for more bridal fashion? Check out our Wedding Dress Gallery for hundreds of designer wedding dresses!