Today's Real Wedding couple is so beautiful, and their traditional Indian wedding was so full of richly colored details and meaningful traditions I just can't stop looking at all the photos. What a delight!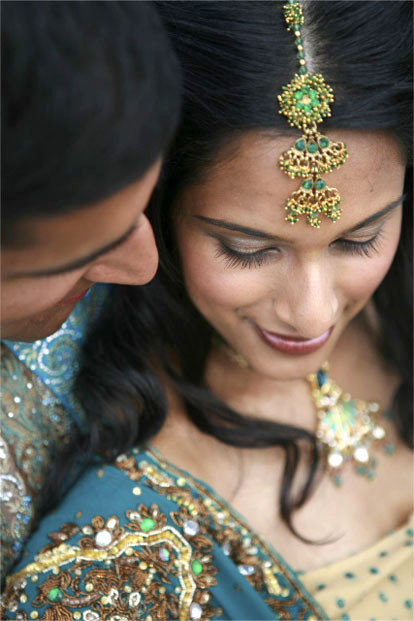 Ritu and Rishi were married in July in a traditional Hindu wedding that was made up of a number of joyus celebrations over multiple days. First off was the Mehndi party where Ritu was surrounded by the women she loves and her hands and feet were decorated with intricate designs for the wedding. Watching a Mehndi artist at work is a stunning sight to witness and the results simply couldn't be any more beautiful. They say the darker the Mehndi turns out, the more your mother-in-law will love you! What an amazing way to begin the wedding festivities.

The Sangeet, another pre-wedding celebration, was thrown by Rishi's family at The Woodmark Hotel, and was all about singing, dancing, drumming, laughing and celebrating the upcoming wedding. According to Ritu, "It was almost like a mini reception, 250 people attended as opposed to the 375-400 at the wedding!" There were dance performances, traditional songs, creative food stations and a color theme that included lots of bright colors like fuchsia, purple and turquoise.

On the day of the wedding ceremony, Ritu and Rishi got ready with their families and then met up to take fun photos all around downtown Seattle with Angie and Ashley of One Thousand Words Photography, which was one of Rishi's very favorite parts of the day. When it came time for the ceremony to begin, Rishi rode on horseback through the city, dressed in spectacular traditional Indian clothing, and was surrounded by his family and friends as they sang and danced him to his waiting bride and her family at the Seattle Sheraton. Their ceremony was traditionally Hindu until the very end when they were officially announced as husband and wife, and Rishi was asked to "kiss the bride".

It was important to Ritu and Rishi to make their wedding truly unique and to combine the formal with the fun so everyone had a good time. At the reception they had a special entrance for the groomsmen and bridesmaids to get the party started. They had a fake band dress up first as the Beastie Boys and then as AC/DC and the bridesmaids entered the party to Girls, girls, girls and the groomsmen walked in to Men in Black. There was a formal sit-down dinner as well as lots of dancing to Indian music, and the most sentimental moments came when their fathers gave their speeches. "Rishis Dad shared a great story about how each time Rishi's Mom got pregnant, they had a name picked out in case they had a girl. It was to be Ritu, but they ended up having two boys. However, now Ive come into their lives and they have their Ritu." How sweet! Ritu's Dad got so emotional that her Mom had to go stand by his side as he spoke. "It was just so sweet to see my parents that way." To brighten up the large Sheraton ballroom and bring summer indoors, they chose a color palette of turquoise, orange, gold and off-white, beautiful Indian inspired invitations, programs and place cards from Paper Moxie, and richly colored flowers from the talented Loves Me Flowers.
Thank you for telling us all about your incredible wedding Ritu and Rishi! We are smitten! To see the rest of the details and wedding professional involved in this wedding and many, many others, be sure to visit our Real Weddings section!