Megan and Kevin, both passionate readers and learners, couldn't have picked a more perfect location for their wedding- the new and architecturally stunning Downtown Seattle Central Library. It's a location close to their hearts, and it set the tone for the rest of their ultra-personal and creative wedding, photographed by Cheri Pearl Photography.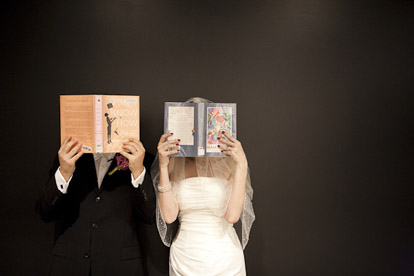 The bright tones of the flowers at the Pike Place Market were a long time inspiration for Megan, so she worked with florist Alexa Johnson from Fiore Blossoms to create bright and beautiful bouquets, corsages and boutonnieres in their jewel toned color palette of rich reds, purples, blues, and greens. Each bridesmaid chose her own dress and each groomsman wore a brightly colored bow tie that was given as a gift from Kevin, creating a wedding party look that was exuberant and full of style.

The wedding ceremony was performed by Megan's Aunt and Uncle, who are both professional writers (Uncle David is the the Executive Editor of the Seattle Times). One of the most meaningful parts of the ceremony was during the introduction, when specific anecdotes, tidbits, and information about all of their guests were woven into the welcoming speech to build community at the event and give a clearer picture about who their dearly beloved actually were. Though they had a number of attendants, only their siblings Megans brother of honor and Kevins best sisters stood up with them the altar, and many family heirlooms were incorporated into the wedding as well. Megan wore her great grandmother's vintage jewelry, both mothers wore matching lockets that Megan and Kevin had given them as gifts the previous Christmas, and their wedding rings were passed down from grandparents and great grandparents on both sides of their families.

After their ceremony they hosted a late evening cocktail and dessert reception with locally made sweets galore from Cameron Catering. There were individual flourless chocolate cakes with candied orange peel, chocolate hazelnut ravioli, chocolate truffles infused with raspberry, cardamom and lemon-thyme, individual apple tarte tatin, lemon meringue tartlets, white chocolate and lime cheesecake in chocolate cups, and seasonal fruit and cheese. To drink they served hot chocolate, coffee, and shots of cold milk, as well as Alaskan Ale beer (in honor of Kevins family), local Washington reds and white wines, and champagne. Megan said, " I'm known far and wide as the Dessert Queen, and Kevin has developed a sweet tooth by osmosis, so it was perfect for us."

Thank you so much for sharing your wedding day with us Megan and Kevin! For more information about all the wedding professionals who contributed to this day, please visit our Real Wedding library!