Travel Update- Friday, September 26th- This morning my guy and I are headed off to South Luangwa National Park for a weekend on our own, and we're staying at a place where elephants are known to walk right through the open air hotel lobby as they migrate!
Today's Real Wedding is a real stunner. Romantic, emotional and full of fabulous fashion and decor details, you won't soon forget! Here's Blair's take on what makes it one of the stand-out weddings of the year!
On July 20th of this year, I got a late night call from my friend and Junebug's art director, Kim Bamberg. Kim was super excited to let me know that she and her husband Adam had "just photographed a wedding that was truly magic". The wedding, which was expertly planned by the bride and groom, Leisl and Jeremy, was full of fun, spontaneity, and simply gorgeous fashion style.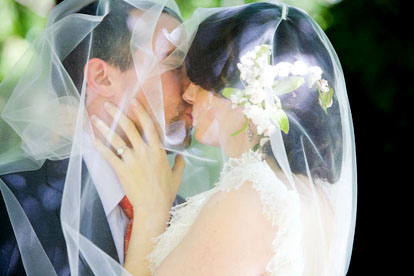 The bride, Leisl, wore a lovely, lacy dress by Monique Lhuillier, that she had custom altered to add a Victorian bustle, creating a look that was romantic and ultra-feminine. Putting her look together with shoes from Luly Yang, vintage earrings and art-deco wedding ring from Alexandria Rossoff, and bright red lipstick, Leisl looked simply stunning and totally radiant. She kept her look fresh throughout the day, transitioning from a handmade silk floral hair accessory and veil for her ceremony, to a chic feather comb for her reception, and on to a divine custom-made hat and J.Crew gown for her get-away with Jeremy on a bicycle built for two.

The couple designed artful invitations, save the dates, programs, and unique playing card table assignments, then had them printed by Wiley Valentine to capture their vintage look and signal the fun nature of their wedding to their family and friends. Their dress code listed on their website read "Attire for the wedding should be that sexy red dress you haven't been brave enough to wear yet…the more vibrant the better… and for men…don't be afraid to break out that zesty pinstripe suit…if you look in the mirror and ask yourself, "Is this outfit too much?" the answer is "No, No, it isnt!" The result was all of their guests arriving in outfits that matched the jewel tones of their location, and the vintage theme and bright color palette of their wedding design, making Leisl's dress the only touch of white to be seen. Simply genius!

Their intention for their wedding was to emphasize their love for each other and not a devotion to a particular religion. However, they felt it was important to honor their cultural backgrounds so they incorporated a huppah and other Jewish traditions into their ceremony and added a Klezmer band called, Shawn's Kugel, to their reception. The ceremony began with Leisl and Jeremy each walking down the aisle with both of their parents, and their rabbi focusing on the importance of their marriage bond. Their personal vows were crafted over several months and came straight from the heart.

The Ruins, Seattle's exclusive and "best kept secret" reception site, was the perfect venue for their joyous reception full of vibrant details and impromptu fun. Leisl and Jeremy decided to not invite children so that their adult friends could really cut loose without restriction, and that's exactly what they did! With the encouragement of band member Wendy Marcus, "Fun-Generator Extraordinaire", guests celebrated with exuberance and many broke out with impromptu singing and folk dancing throughout the night, transforming themselves from a polite group of strangers to a sweating, energetic group of new friends having the time of their lives.


All images above by Kim and Adam Bamberg of La Vie Photography

From start to finish the day was simply bliss; well planned, well executed, and well enjoyed! To find out more about Leisl and Jeremy's magic wedding visit our Real Weddings section, and be sure to check in with us next Wednesday, when Leisl's sister Justine, (the beautiful red-head pictured in the middle-left image above) will share her experience of planning her own super-fabulous and totally unique wedding day.