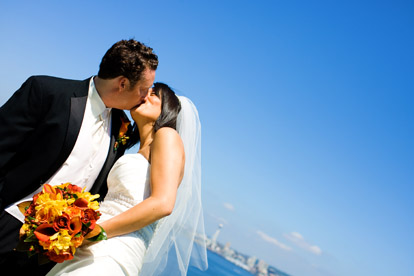 Joanne and Jaime's wedding was a brilliant combination of traditional and contemporary. They created a sacred and intimate focus on their marriage ceremony and the faith it represented to them, as well as a laid back and fun energy for their modern, urban-chic wedding reception. An unforgettable combination!

The day began as the women got ready at the ultra hip Hotel 1000, and the men met up with them for a fun photo session around Downtown Seattle and Pioneer Square with the talented GH Kim Photography. After their traditional Christian ceremony at the church they attend together, Joanne and Jaime took a few romantic moments alone to connect, and then headed off to the Harbor Club for their super stylish modern wedding reception.

Joanne and Jaime chose a wedding color palette of orange and chocolate brown, and I just love they way the colors blended so well with the existing decor of their reception site. So smart! Looking back they feel like their best decision was working with such wonderful wedding professionals- from the inspired music of the Dudley Manlove Quartet (one of their favorite bands) to the impeccable service and delicious food of the Harbor Club, to the personal connection they felt with Grace and Hun of GH Kim Photography, each member of their wedding team brought invaluable expertise to their day. "Working with great partners and making a lot of decisions early allowed us to relax and let them handle the hurdles on the day of the wedding, so we were able to focus on enjoying and remembering the once-in-a-lifetime experience."
Thank you so much for sharing your wedding with us Joanne and Jaime! To learn all about the professionals who helped create this beautiful wedding, be sure to visit our Real Weddings section.