It's day two of our Holiday Giveaway Week, and today we're all about honoring your bridesmaids. These are the women who know you, love you, and stand by you through thick and thin, as well as at the altar on your big, big day. Don't you think they deserve an awesome thank you for being such great friends? We sure do, so we put together a fabulous little collection of gifts that any woman would love:
– A Full Size Candle and Diffuser from Monique Lhuillier's new Home Fragrance Collection
– A $100 Gift Certificate to Rent the Runway
– Your Choice of Any Ring from Peachtree Lane
Read on to learn more about each item, and to enter to win just leave us a comment here telling us about why you love your bridesmaids, and the ideas you have for showing them your gratitude. We'll accept entries all week long, and choose our winner randomly next Monday, December 19th, 2011.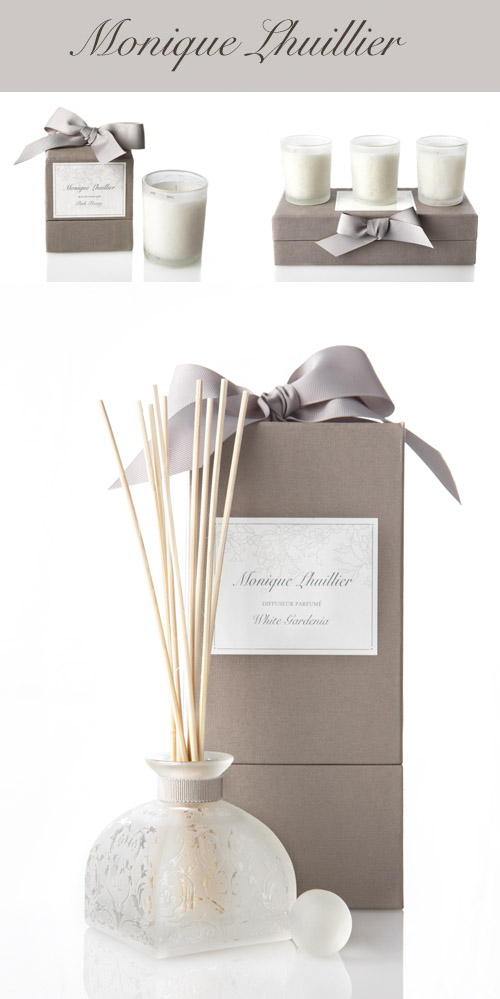 I'm a connoisseur of luxurious candles to burn at home, so I'll admit I'm not easily impressed, but when I recently received a candle from the new Home Fragrance Collection by Monique Lhuillier, I was wowed! From the absolutely gorgeous packaging the the delicate fragrance inside, I had no doubt that a new favorite had been found! Today's lucky Junebug winner will be receiving a full sized candle and diffuser in Pink Peony by Monique Lhuillier, which would make an incredible thank you or holiday gift to any woman in your life. The collection is so new that it's not yet available online, but to order you can call the Los Angeles (323-655-1088) or Edina, MN (612-929-0747) Monique Lhuillier flagship salons and they'll ship to where ever you are.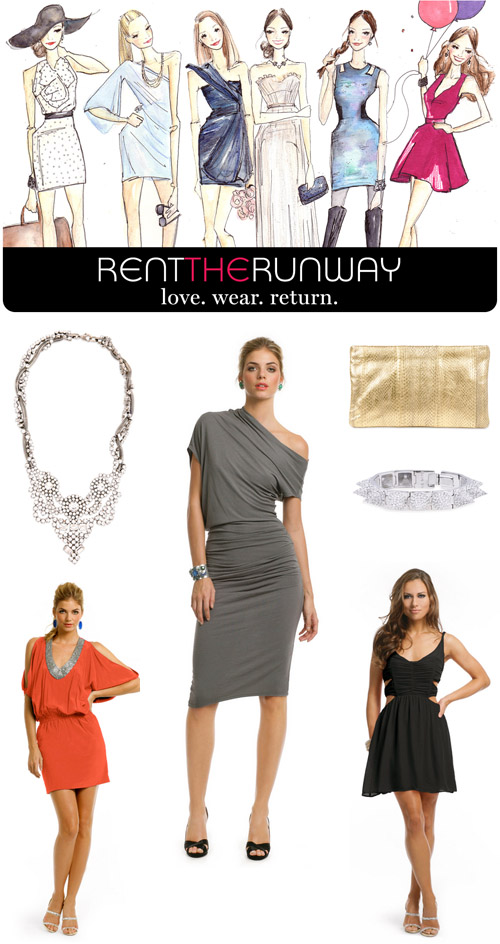 Do you have girlfriends who are into fashion? Are they always after that perfect party dress or accessory for their next big event? Well look no further for a creative thank you gift than a gift certificate to Rent the Runway! Rent the Runway is a service that allows you to rent incredible high-end clothing and accessories for a tiny fraction of their purchase price, so it feels like your wardrobe budget just multiplied. If you've got a bridesmaid to thank who would love to get to shop through a boutique filled with dreamy designer pieces, check out Rent the Runway. Today's winner will receive a $100 gift certificate to try it out!!
Texas based designer Rachel from Peachtree Lane creates whimsical rings and other pieces of jewelry that look as sweet as candy. Her nature-inspired cabochon rings are fun, affordable and just the right little thank you gifts for gals who love accessories. To share her lovely work with you, Rachel is offering our lucky winner your choice of any ring from the Peachtree Lane Esty shop! That's right, you get to choose the flower shape and color you love best – thanks Rachel!
And thanks for entering to win readers! Don't forget to enter yesterday's huge Bridal Fashion Giveaway, and all the photography related giveaways going on over on Photobug!