Today's Real Wedding is an absolute feast for the eyes! Heather and Chris are a fascinating and full of life couple, who besides being gorgeous themselves, hosted a gorgeous Indian inspired wedding celebration late last August that was absolutely bursting with personality. It was photographed by Stephanie Cristalli and is a pure delight to see!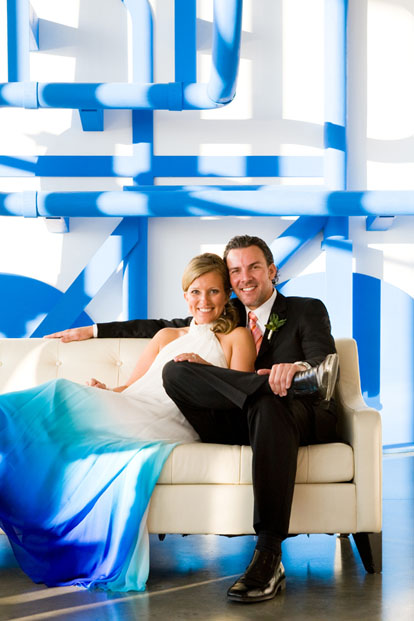 Just after Heather and Chris returned from a life changing 3 week trip to India, they saw a Hermes ad campaign called Hermes Orange, India Pink that reminded them of the colors and people of Rajasthan that they loved so much. These rich and exotic images became the base of their wedding style and color palette inspiration, which made a striking combination with the ultra modern setting of Seattle's Olympic Sculpture Park, overlooking the Puget Sound and Olympic Mountain Range. How fabulous is that?
To create the wedding they envisioned, Heather and Chris hired the talented team at True Colors Events, and the thoughtful officiant Sean Partrick O'Reilly. Their ceremony was spiritual, personal and inclusive, combining elements of Australia (where they live) and subtle touches of Christianity, Hinduism and Buddhism. They chose to have no attendants so that every guest felt their importance in the ceremony, and they released live butterflies during a special blessing to honor the spirits of their loved ones. Bright and lush flowers by Florarama Modern Design led their way down the aisle, and some guests sat in the grass on cushions hand made by Heather's mom.

After the touching ceremony, guests enjoyed cocktails while watching the sun go down over the water, and moved inside for dinner from Taste Events and music by DJ Sean from Seattle Parties. Heather's blue and white wedding dress by Badgley Mischka looked amazing next to the colorful art hanging on the walls, the table tops and lounge areas were decorated in white, orange and fuchsia, and mini Trophy Cupcakes were served instead of traditional wedding cake. What a fun wedding!
Thanks so much for sharing it with us you two! It is spectacularly inspirational!

For more information on all that went into Heather and Chris' wedding day, and many, many others, please visit our Real Weddings section!