Today's Real Wedding is sure to warm your heart and wow your eyes! It's an intimate family celebration full of incredible opulence and sweet, sweet sentiment, and we just couldn't love it any more!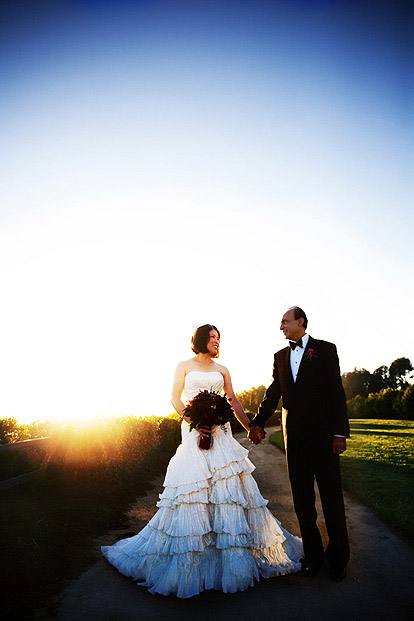 The beautiful bride is Grace, mother of Southern California event planner Angel Swanson of Events of Love and Splendor. When Grace and Raj were planning their big day, their goal was to really treasure a luxurious, joy-filled night with their families and very best friends, and to make each guest feel pampered and well-appreciated. Grace turned the planning over to her her daughter Angel and let her run with all of their ideas. "I trusted her completely with the plans and it obviously paid off. I told her to surprise me with some things, so I felt like I was truly a guest at my own wedding." The wedding was photographed by the talented Trista Lerit, filmed by Elysium Productions, and took place at Santa Barbara's famed Bacara Resort and Spa, where it was a leisurely and relaxed day from the beginning to the end. Grace treated herself to some time at the spa the morning of the wedding, and even had acupuncture performed in her room before she began getting ready.


Grace and Raj chose to have a traditional Christian wedding ceremony outside on the lawn overlooking the ocean, and they added some special readings as well – personal vows, a sonnet read by one of Grace's daughters, and love letters that they had written to each other specifically for that day read by their officiant. "Raj is a complete romantic, and hearing his heartfelt words read aloud was so moving." The color palette for the ceremony was pure white, to contrast beautifully with the deep blue sky. I love the happy little tags on each of the white Chiavari chairs, and the amazing pink and purple dresses worn by Grace's daughters. How perfect that they walked her down the aisle!

At the reception they kicked up the excitement with a color palette of rich jewel tones like eggplant, raspberry, plum, and gold, and stunning floral arrangements by Camilla Svensson-Burns. "We used an incredible amount of fuschia Phalaenopsis orchids in our table scape… I wanted a lot of drama in the room. Even with the small guest count and single dining table, I wanted the look to be very over-the-top and impressive." The guests all sat at one large table, family style, and the wedding favors at each place setting were boxes of Paulette Macaroons tied with antique brass lockets saying "Merci" inside. The menus were hand calligraphed by Crystal Kluge and mounted on dupioni silk-wrapped plaques, and the place cards were set inside collected wine corks. At one point during dinner, one of their dear friends stood up and sang them a song, and the rest of the guests joined in a capella. For Grace and Raj it was one of the most sentimental and romantic moments of the night.

Thank you for sharing this spectacular event with us Grace and Raj! We are honored to be able to feature it on our site. For more information about this wedding and the professionals who helped make it happen, please visit our Real Weddings section… and enjoy!