Paris + Elopement + New Years Eve + The most captivating couple around = R.O.M.A.N.C.E. What more is there to say?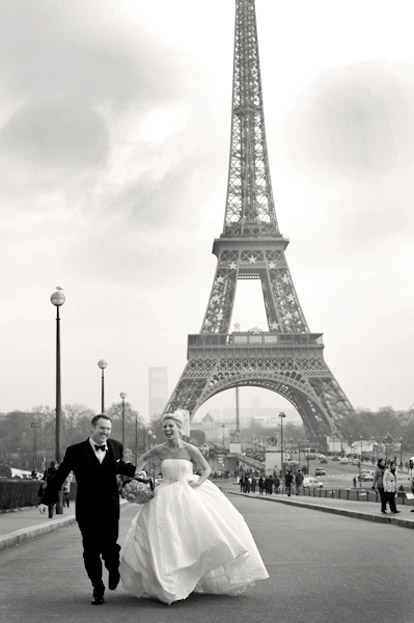 Genesis and Kevin, the stunning and oh-so-in-love couple in today's Real Wedding, had started planning a large traditional wedding, but soon felt like they were losing sight of their main priority- that their wedding day would be all about their commitment and their love- so out went the traditional wedding, and in came a plan to elope to the most romantic city on earth. Paris!
On the morning of the wedding, Genesis and Kevin woke up giddy. As they were getting ready they had their photographers, Amy and Stuart of Amy and Stuart Photography, deliver letters they had written to each other, along with a surprise gift from Kevin to Genesis of diamond earrings and a brand new veil. She had accidentally left the veil her mother had given her at home, so Kevin secretly found a wedding boutique in Paris that agreed to whip her up a new one. Sweet! Genesis wore a gorgeous dress by Amsale, pink shoes from Valentino (a woman after my own heart) and carried a bouquet of pink peonies, her favorite flowers, which they were miraculously able to find in the middle of winter in Paris! Kevin wore a tux by Valentino and his late father's cherished gold four leaf clover cuff links.

Their small, private wedding ceremony took place in the courtyard at the Hotel Plaza Athenee. They were attended simply by two of their dear friends, along with their photographers Amy and Stuart, and videographers, Fifty Foot Films. After the ceremony there was a first dance to Today by Joshua Radin, chocolate wedding cake prepared by a world champion pastry chef, and photos on the roof top of their hotel, overlooking all of Paris. Standing on the rooftop in Kevin's arms was one of Genesis' very favorite moments of the day!

In the courtyard next to their ceremony site was a small ice skating rink where they began their day of fun, running around Paris with their photography team, exploring the city and taking photos at many of it's most beautiful locations. From the roof top of their hotel, to Notre Dame and the Eiffel Tower and throughout a carriage ride down the Champs-Elysees, they reveled in every joyous, spontaneous moment, and celebrated the new year and their new beginning as husband and wife.

Thank you so much for sharing your incredible wedding story with us Genesis and Kevin! What an adventure!
To learn more about this Real Wedding, be sure to visit our Real Weddings Library, and to plan your own wedding in style, don't miss all the talented wedding professionals in our Seattle and Southern California Plan Your Weddings sections.