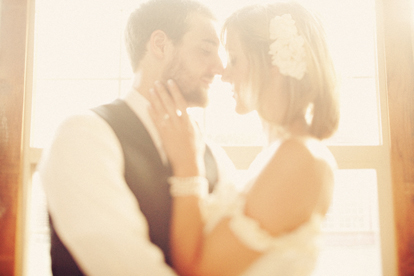 Today's Real Wedding of Daina and Anthony is pure fun and romance, and the images by Junebug member photographer Sean Flanigan couldn't make me any happier! So creative, so real, and so full of personality. The way he captured the intimacy between Daina and Anthony, and the joy of their friends, family and wedding party is spot on. It all makes me wish I had attended this amazing wedding myself!

Daina and Anthony's main goal was to host a wedding that included everyone they loved- a big celebration of family and friends, with great food, a beautiful location and gorgeous fashion. I'd say they pulled it off!

Both the wedding ceremony and reception took place at Sodo Park by Herban Feast, Seattle's super-cool, industrial turned urban-chic loft space just south of downtown. The wedding color palette included blues, shimmery whites, and greens, and was inspired by the flowers used in the bouquets. The ceremony itself was simple and modern and the already impressive event space was decorated similarly with sparkling lights, a lush green arbor and rich blue, white and green tablescapes. Daina looked absolutely incredible in her Monique Lhuillier wedding gown and her bridesmaids wore fantastic blue cocktail length dresses from Vineyard Collection.

The reception was catered by Herban Feast Catering, who is masterful at creating delicious meals of organic, locally sourced foods. The wedding cake was made by New Renaissance Cakes, and personalized M&Ms were given away as favors. Wedding planner Lily Sommers of Luminous Event Design helped bring every detail together and Daina and Anthony felt like hiring her to be a part of their wedding was one of the very best decisions they made. What a fun day!

Thank you for sharing your wedding with us Daina and Anthony!
To learn more about this wedding and nearly one hundred others from around the world, be sure to visit our Real Weddings Library!
To plan your own Southern California or Seattle area wedding, don't miss our Plan Your Wedding recommendation hotlist!