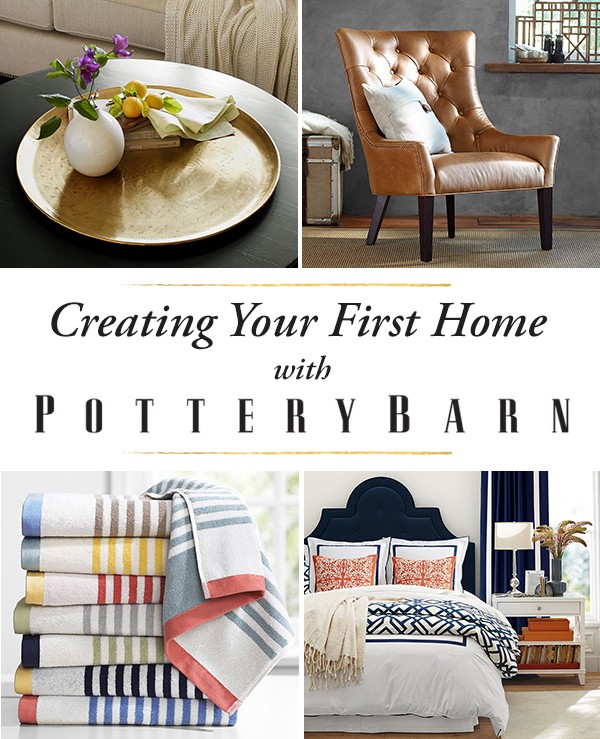 Etched Brass Tray, Hayes Leather Chair, Morgan Duvet, Marlo Stripe Bath Towels
While most of the wedding planning process is revolved around making every detail of your big day perfect, your wedding registry is about all the days spent together after you've said "I do." The same way you want your wedding day to be quintessentially you, the pieces you choose for your home should emulate who you are.
Creating your first home is the first step in building your new life together. Pottery Barn's Wedding + Gift Registry provides everything you need for your home, from the glasses to the pillows to the rugs you'll use in your every day life, to those exceedingly precious gifts you will save for special occasions. Registering with Pottery Barn is about more than choosing wedding gifts; it's about selecting the bowls you'll eat cereal from on the weekends, the blankets you'll snuggle up with on the couch, and accessories that my your first home your own.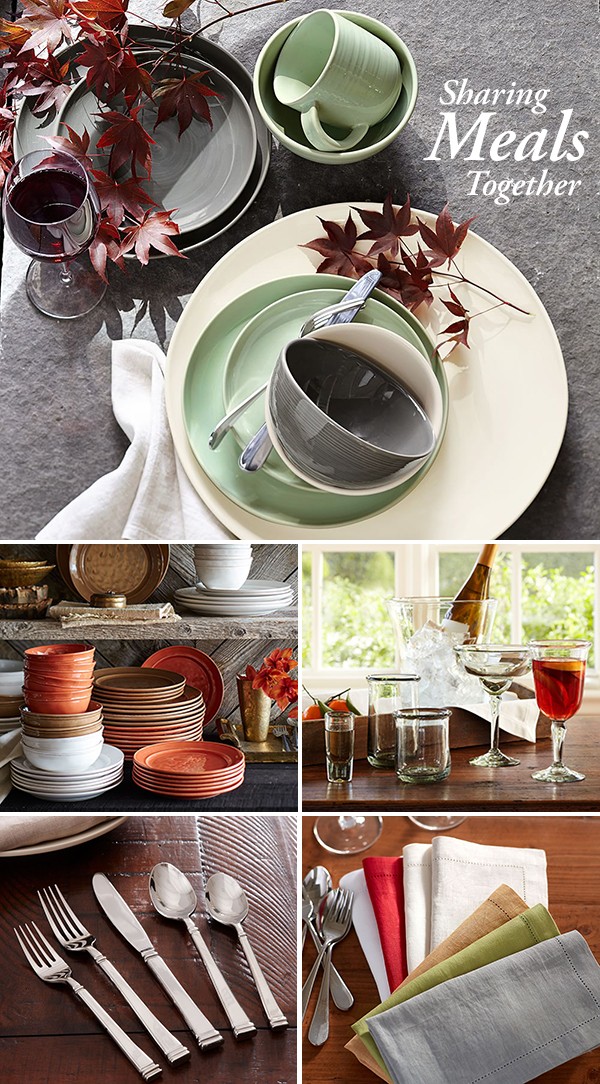 Joshua Dinnerware, Cambria Dinnerware, Casa Recycled Glassware, PB Classic Belgian Flax Linens, Riley Flatware
If the fastest way to your heart is through your stomach, then the most important room in your house is the dining room. Whether you're having the family over for dinner for the first time or sharing a homemade meal between the two of you, your dining set should feel like your own.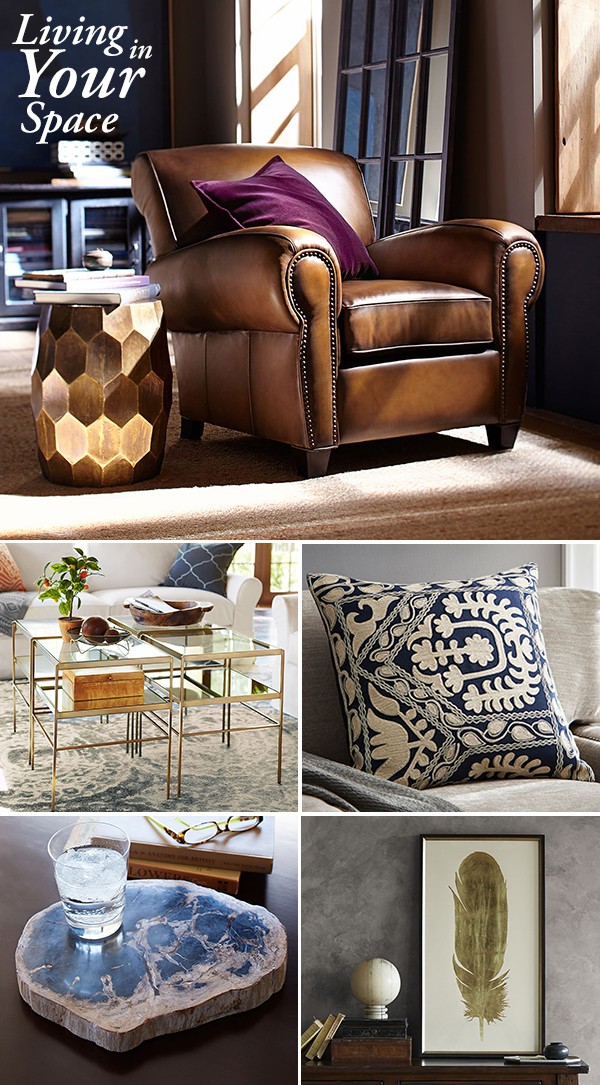 Vince Accent Stool, Leona Cube Table, Tessa Embroidered Pillow Cover, Gold Leaf Feather Wall Art, Petrified Wood Tray
Your home is so much more than where you wake up and the place you come home to after work. Home is where you read in a cozy chair on a rainy day, invite friends over for drinks, marathon that new show everyone has been talking about, and make plans for the rest of your life together. The pieces you fill your space with should be pieces you find both beautiful and useful.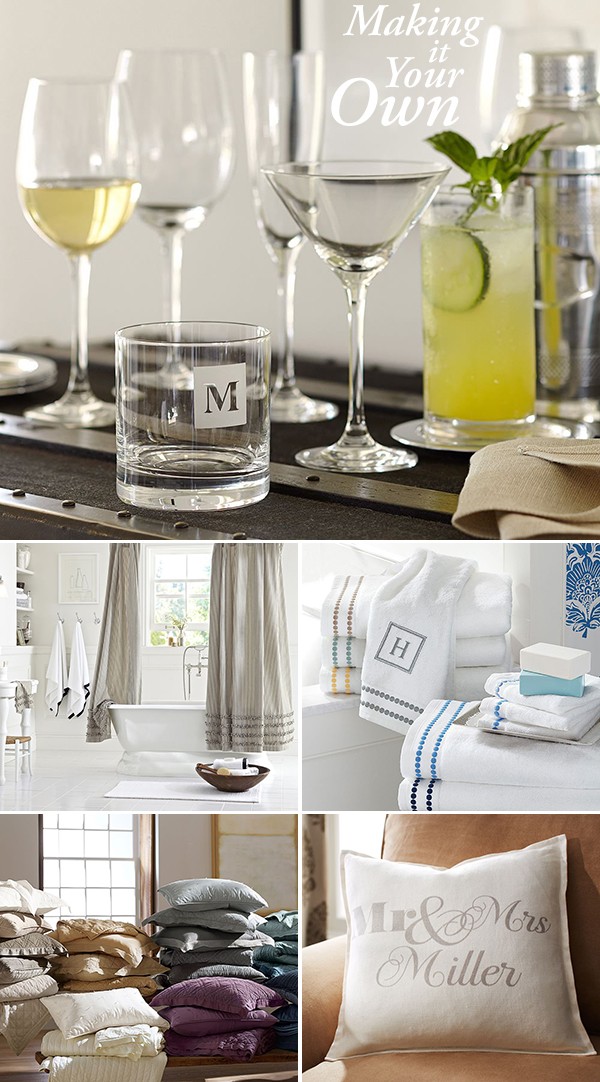 Schott Zwiesel Barware, Ruffled Ticking Stripe Shower Curtain, Pearl Embroidered Bath Towels, Mr. & Mrs. Pillow, Tencel Bedding
Personalizing your home can be one of the most fun parts about choosing decor for your living space. Whether you go for monogrammed bath towels and a custom Mr. & Mrs. pillow or select a color scheme and set of matching prints, your home should reflect your personality as a couple and the spirit of your lives together.
Because we're so excited about the fantastic selection of goods for your first home, we've teamed up with Pottery Barn to give one lucky winner a $500 gift card!
The Fine Print:
– This giveaway ends on September 3, 2015 at 11:59pm.
– Winner will be notified via email.
– To enter the giveaway, please complete the form below *Please note: by entering this giveaway, you are subscribing to the Junebug Weddings and Pottery Barn newsletters.
– By entering this giveaway you are agreeing to the Junebug Weddings Terms and Conditions.