Over the weekend our own amazing Junebug Image Editor Kim Bamberg, along with her husband Adam of La Vie Photography, were the photographers at the wedding of Courtney Gregoire and Scott Lindsay, the daughter and new son-in-law of the Washington State Governor Christine Gregoire. The outdoor wedding was the very first to ever take place at the 100-year-old Governors mansion in Olympia, Washington and was absolutely spectacular! We are thrilled to be able to share their wedding photos with you!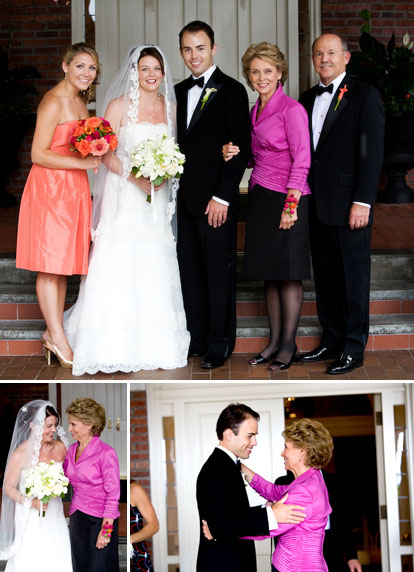 Governor Gregoire was gracious and relaxed, in true Northwest spirit. She was involved throughout the day from documenting the set up first thing in the morning to ending the night celebrating on the dance floor. Like the Washington native she is, she knew that contrary to popular belief it doesn't rain ALL the time here, and sure enough the clouds parted and the rain stopped just as the ceremony began. Courtney's dad felt the air for raindrops as he began to walk her down the aisle, and everyone cheered (the bride included) when he gave the "all clear" thumbs up.

Courtney and Scott chose a bright and lively orange, pink and grass green wedding color palette and filled their celebration with sweet personal touches. Courtney's "Something Blue" was her grandmother's blue stone ring that she attached to her garter, fabric from Governor Gregoire's wedding dress covered the ring pillow and was wrapped around the stems of Courtney's bridal bouquet, and Scott's dad carved the lovebirds they used as a cake topper. Courtney wore a gorgeous Judd Waddell gown from The Bridal Garden and custom made accessories from Abaloria Jewelry. Her bridesmaids wore Abaloria accessories as well, and strapless orange J. Crew dresses with gold metallic shoes. Beautiful!

For the reception Courtney removed her mantilla veil and wore her hair down in lovely loose waves. The cake was covered in summer fruits and flowers, the tent that surrounded the mansion was strung with colorful paper lanterns, and the place cards were set out for guests in summery green wheatgrass. Signature champagne drinks were served on the lawn and dinner was a Northwest menu of cedar grilled salmon, fig and hazelnut salad, lemon herb risotto and stuffed portabella mushrooms. The night ended with yummy blue cheese sliders served to guests and family as they had a ball dancing late into the night.
Thank you so much Courtney and Scott for sharing your day with us! It has been a real honor for Kim, Adam and the whole Junebug team to be able to share your story!