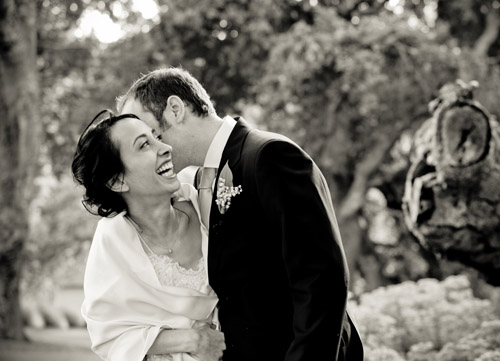 Today's Real Wedding of Shiva and Brett includes so many special and meaningful details that there's no possible way we can share them all with you, but with these wonderful images from Alisha + Brook Photographers, you can certainly feel the love and great joy that these two newlyweds shared on their wedding day!


The Goals: For Shiva and Brett, every part of their wedding planning was hugely important to them, and even though they planned the entire event from 3,000 miles away and in just six months, their wedding day was everything they dreamed of. It was elegant and beautiful yet most importantly relaxed and fun for all of their loved ones. "We knew that no matter where we chose to have our wedding, many of our guests would have to travel a long distance to be there and it was vital to welcome them with hospitality."
After numerous trips to California from New York and a number of rather stressful moments, Shiva and Brett decided on the beautiful Holman Ranch in Carmel Valley as their wedding location. It's beauty, privacy and spectacular outdoor spaces won their hearts and they just knew it was the right place for their 220 person wedding. They also chose to work with Amy and her team from Amy Nichols Special Events, which, looking back, turned out to be the very best decision they made. "For a little while in the beginning, I thought that I could do everything myself, but I couldn't have been more wrong! Amy and her team were an invaluable support not only on our actual wedding day but during the course of the 5 months when we were making decisions and setting the plans in motion. With her extensive experience, Amy helped organize what we had to do; she kept us on track about which decisions we had to make and at what time. She was always a voice of reason and always there as a friends during the moments when I was overwhelmed. The wedding day itself went so smoothly that Brett and I ended up really enjoying our time with guests. We completely forgot about all the worries that we had, and we couldn't have experienced that without Amy and her team."

The Design: Shiva and Brett chose a wedding color palette of "French" blue, a gray-ish brown and sage green with accents of amber, orange and ivory that complimented the natural beauty of the Holman Ranch and didn't overwhelm their modern and simple personal style tastes. Shiva and her mother found linens from La Tavola and amber glasses at Classic Party Rentals that led their color selections and the rest grew organically from there.
Amy and Shiva worked together to create a great flow for the wedding so that all areas of the Holman Ranch would be used throughout the night. The ceremony was at the edge of a cliff on the ceremony lawn, the cocktail hour was on the Rose patio, dinner was served on the main grounds and dancing took place in the carriage house. The grounds were so lovely that there weren't a lot of decorations needed, but some of the outstanding visual elements from the day were the Sofreh (or Iranian ceremony spread) that was lovingly created by Shiva's mother, the chuppah that they were married under, and the table arrangements for their family-style dinner. All of these were unified through the floral arrangements in tones of white, off white light green and orange, as well as the use of the french blue and brown colors. But even with all of that, Shiva says, "Great music and great food were probably the best unifying theme for the whole day."
The letterpress wedding invitations and paper goods were designed by Shiva herself (a textile designer by trade), "Art Directed" by Brett who is good at editing and encouraging a "less is more" approach, and calligraphed by the talented Jenna Hein. They loved colaborating on this project!
For wedding favors, Shiva's dear friend and Miami pastry chef Angela of Lovely Daze Desserts baked, froze and flew to California tiny French macaroons which they then packaged in little pyramid shaped boxes from So Inviting! on Etsy.com. The wedding cake was made by another friend, Nicola and her husband of Fleur de Cocoa, and it was a delicious creation of white chocolate mousse with brandied raspberries, ladyfinger sponge cake and Italian meringue. Wow!
The Look: Shiva's personal style is usually fairly simple and understated, and she really wanted to look and feel like herself on her wedding day. The most important fashion detail for this textile designer (of course!) was to have a wedding dress made with beautiful and high quality fabric. During a special weekend while her mom was visiting New York, Shiva found her dream dress during a trunk show at the beautiful Mark Ingram Atelier. It was a light and comfortable gown by Junko Yoshioka, made with lace and ribbon embroidery, and perfect for the outdoor celebration.
The bridesmaids (who ranged from a sixteen year old cousin to the maid-of-honor who was pregnant with twins!) wore blue dresses from the Jenny Yoo Collection, and they all looked wonderful. The groomsmen wore their own black suits with white shirts and were given matching blue ties to coordinate with the weddings color scheme. Brett's suit was by Prada.

The Moments: Because Shiva was born Muslim and Brett was born Jewish, they decided to have two ceremonies that incorporated their families' faiths and cultural traditions while still feeling current and representitive of their lives. The slightly shortened traditional Persian ceremony was performed privately in front of just their immediate families and closest friends, and the more Western Jewish ceremony took place among all of their wedding guest and included the moment when the couple exchanged their rings.
The reception included a seated three-course dinner and three distinctly different live music performances by Platinum Status, The Petrojvic Blasting Company and The Ebrahimi Brothers. The meal was important as Shiva and Brett love the meaning and value of a shared meal with those you love, and the music represented and celebrated all parts of their cultural backgrounds.
There were tears and emotions and sweet family involvement throughout this wonderful wedding day, and it was certainly an event that no one in attendance would ever forget!
The Pros: To learn more about the many wedding professionals who worked so hard on this wedding day, be sure to visit our Real Weddings section.

Thank you for sharing your wedding with us Shiva and Brett!
To plan your own Southern California or Seattle area weddings, check out our Plan Your Wedding Hotlists, and to find your dream wedding photographer for weddings anywhere in the world, don't miss our World's Best Wedding Photographers Hotlist!