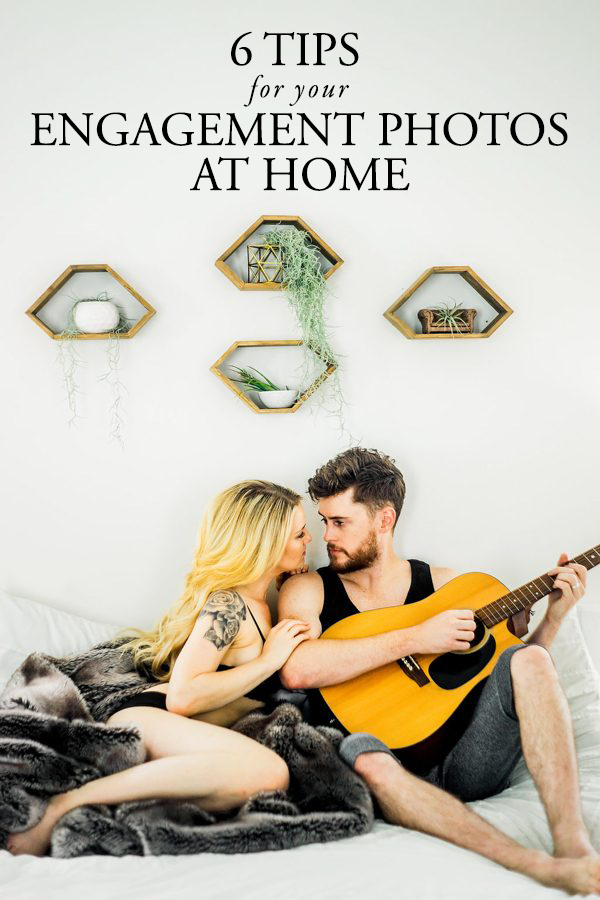 photo by Kayla Coleman Photography
An epic destination is obviously a great choice for your engagement photos, but some couples feel most comfortable taking their engagement photos at home! The in-home couple session trend is making its way through the photography community, and it's easy to see why when couples are able to really shine in a familiar space. From sensual to silly, engagement photos at home are just as diverse as the couples in the images. We've published quite a few of these special photo shoots here on Junebug, so here's a round up of our favorites to inspire your own!
1. Get Comfortable
Since most couples don't happen to be full-time models, jumping in front of the camera can be a little nerve-wrecking. We love that Karin and Levko started their session at home, getting into the groove with their photographer Tricia Victoria, before heading out to the lake for a daring and sexy dock photo shoot. Your home is familiar to you, so starting your session there can help make the rest of your engagement photos more natural.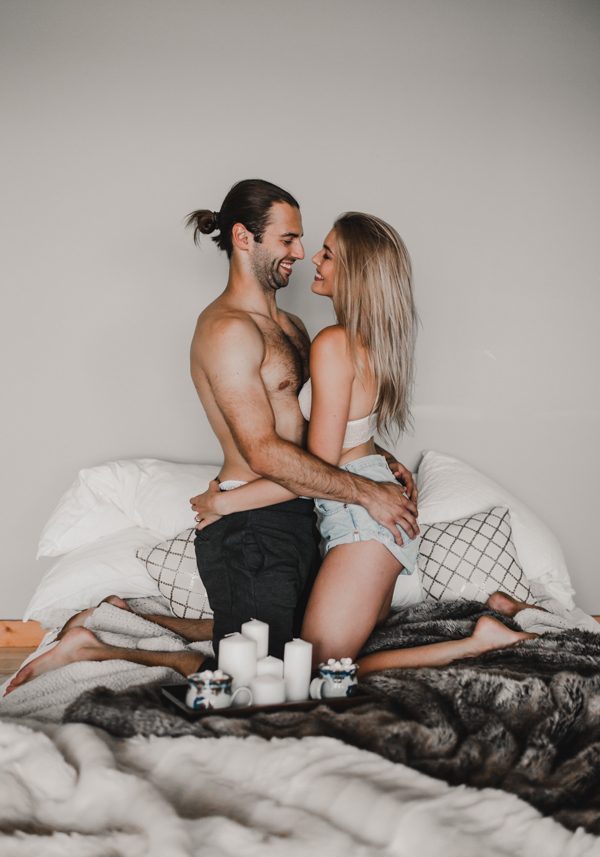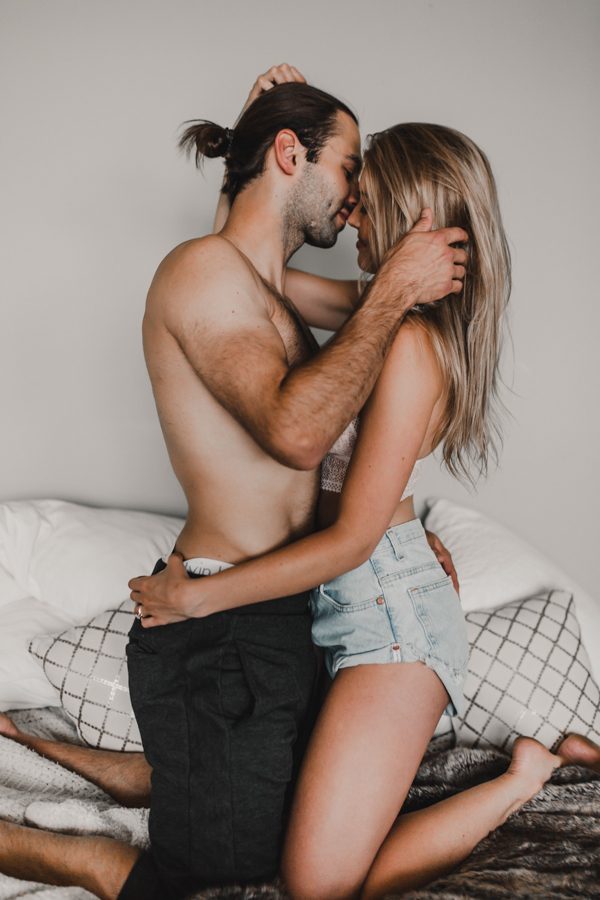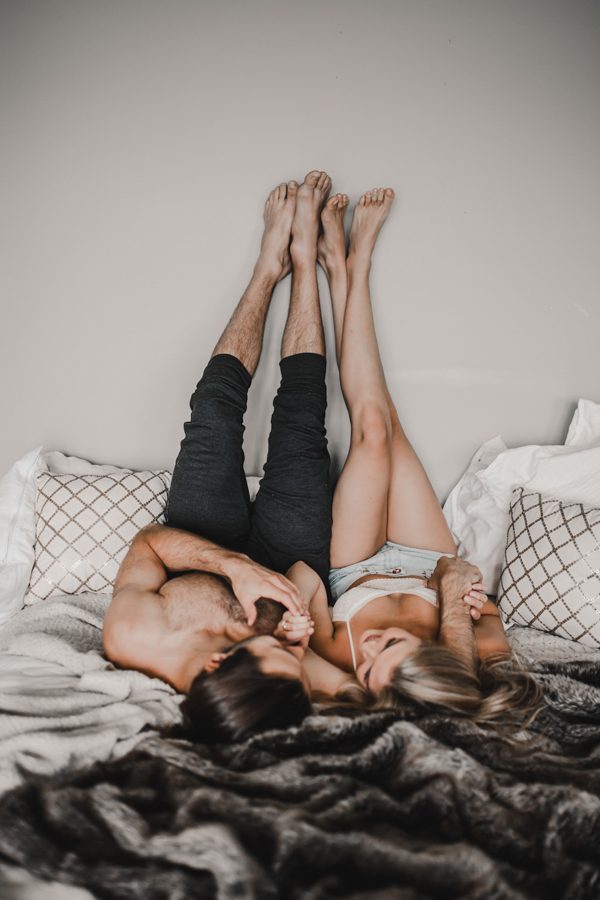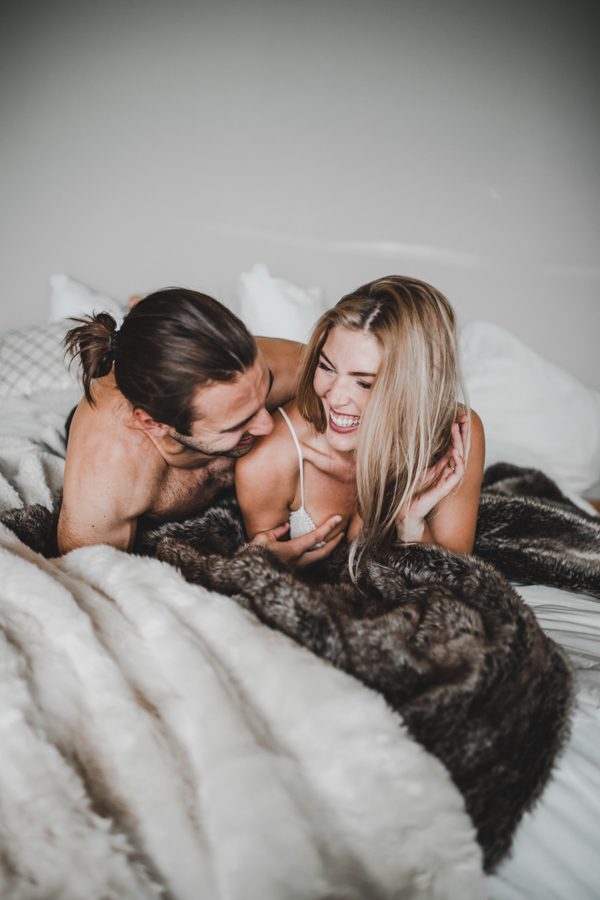 photos by Tricia Victoria Photography; see the rest of this cozy and hot Alberta engagement session here!
2. Find the Light
While it's true that this couple just glows when they're together, it's the light pouring into their bedroom that makes these photos really pop! If your bedroom has a great big window, that's the spot you want to choose, but if it doesn't, don't be afraid to set up in an unusual room in the house if it has better light! The highlights and shadows in these images take them from sweet to dreamy thanks to Serena Cevenini's skilled approach.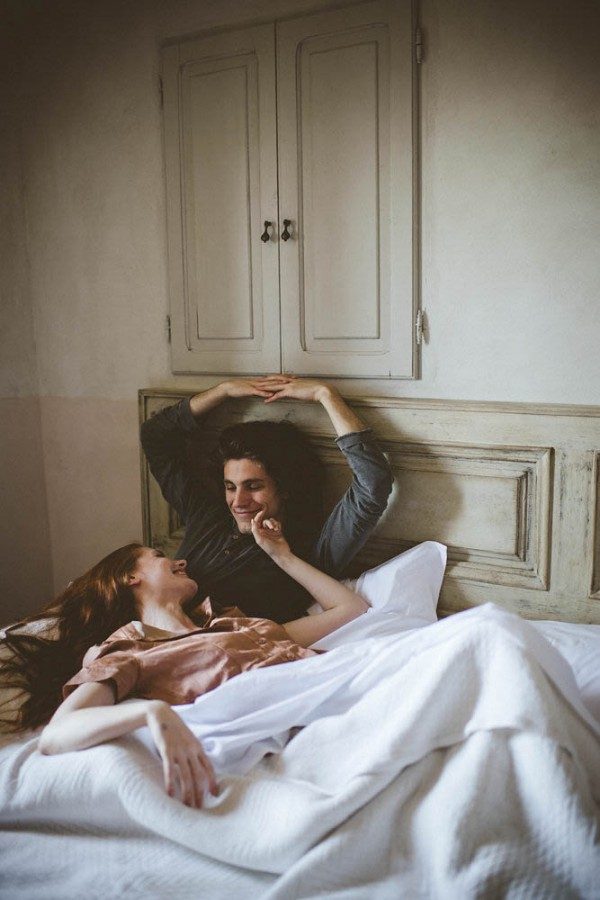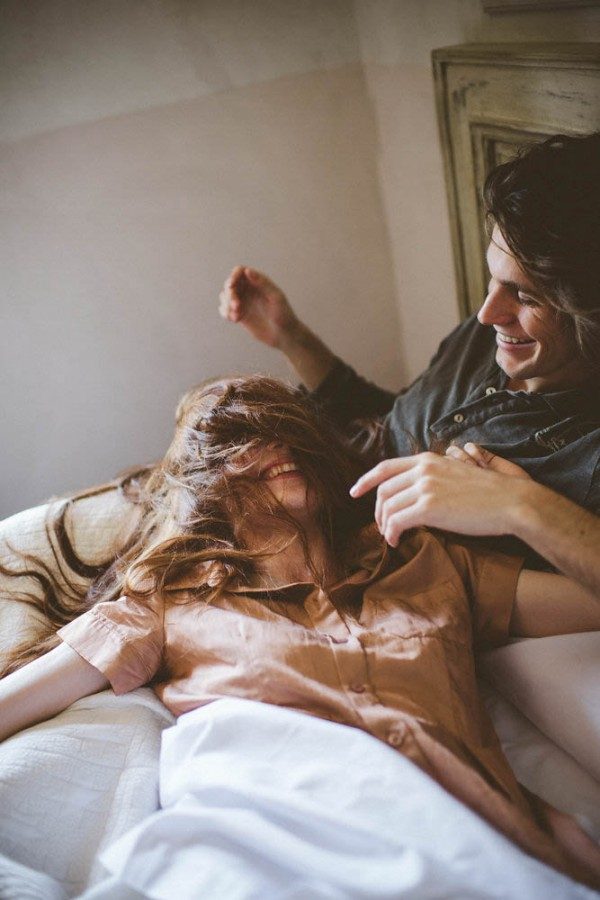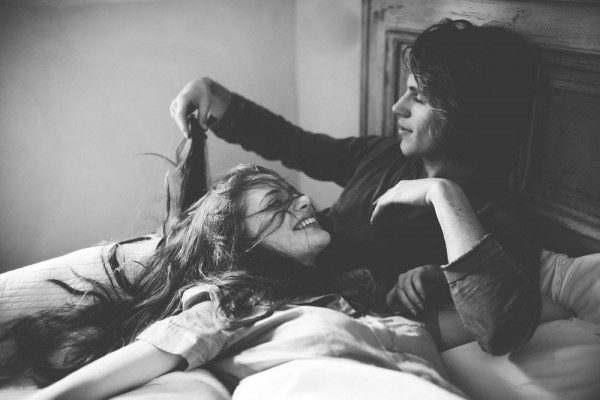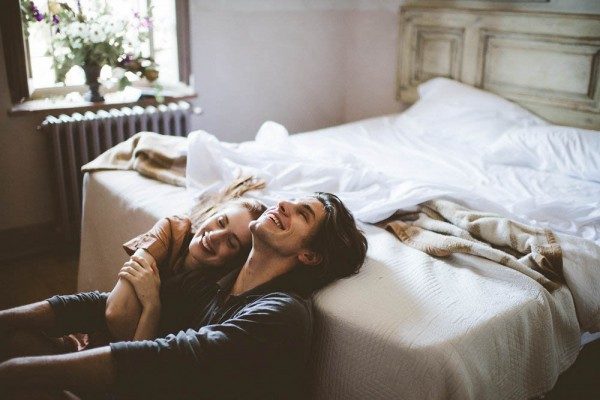 photos by Serena Cevenini; see the rest of this Italian soulmate session here!
3. Set the Scene
This adorable photo shoot by Ben Sasso is actually an anniversary session celebrating one year since Melissa and Josh's woodland wedding in Oklahoma. We love that even though the couple's outfits and interior design aesthetic are minimal in mostly black and white, we can see their personal style shining through. When deciding where in your home the engagement photos should take place, choose an area that is well-decorated, but not distracting.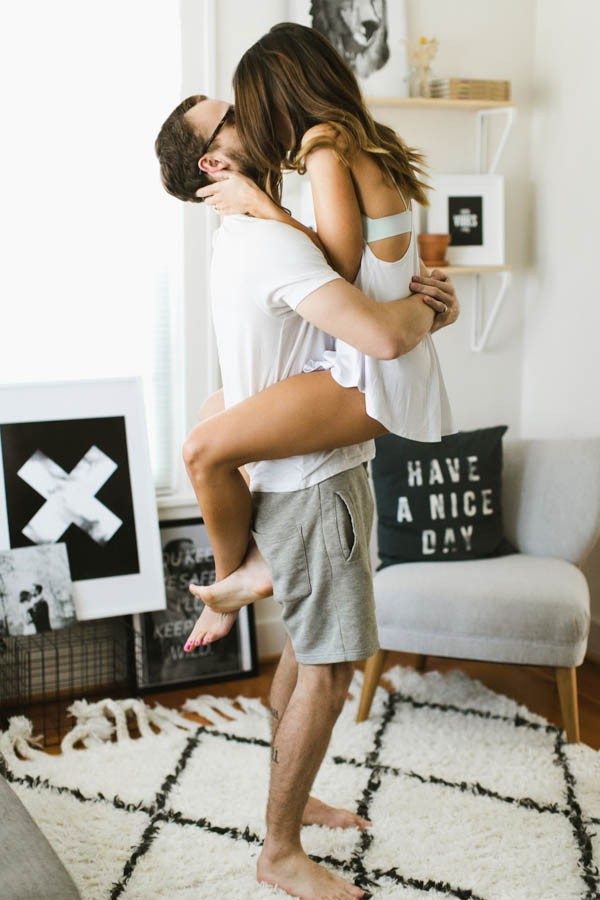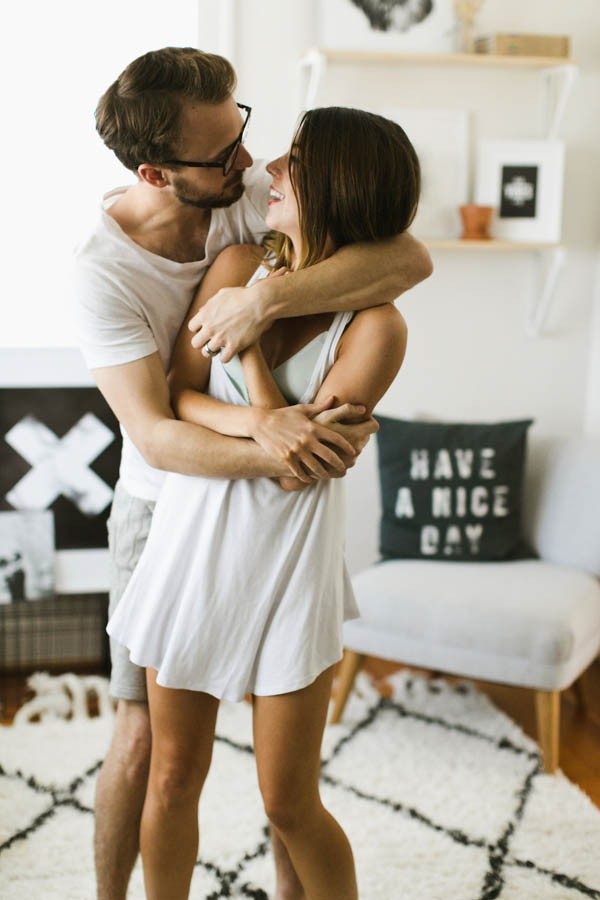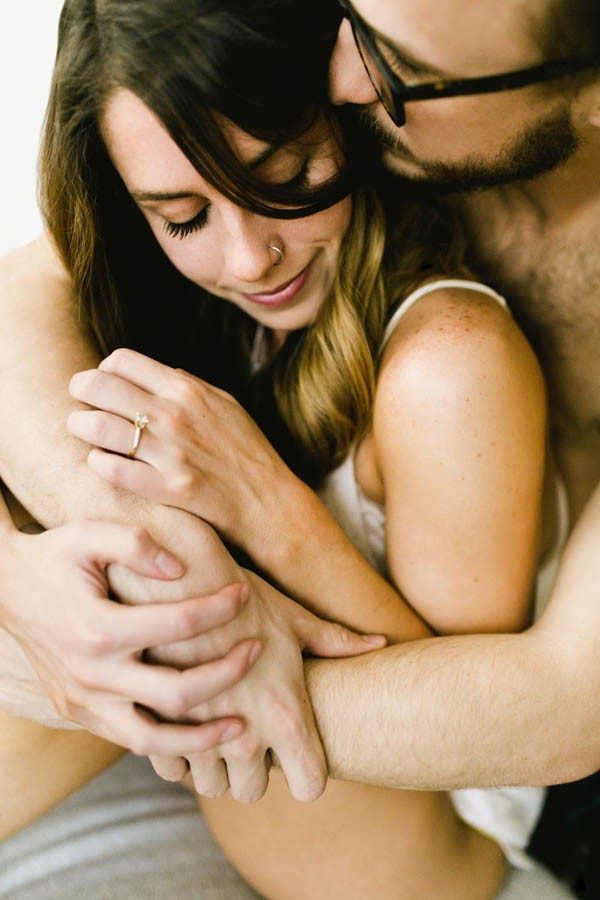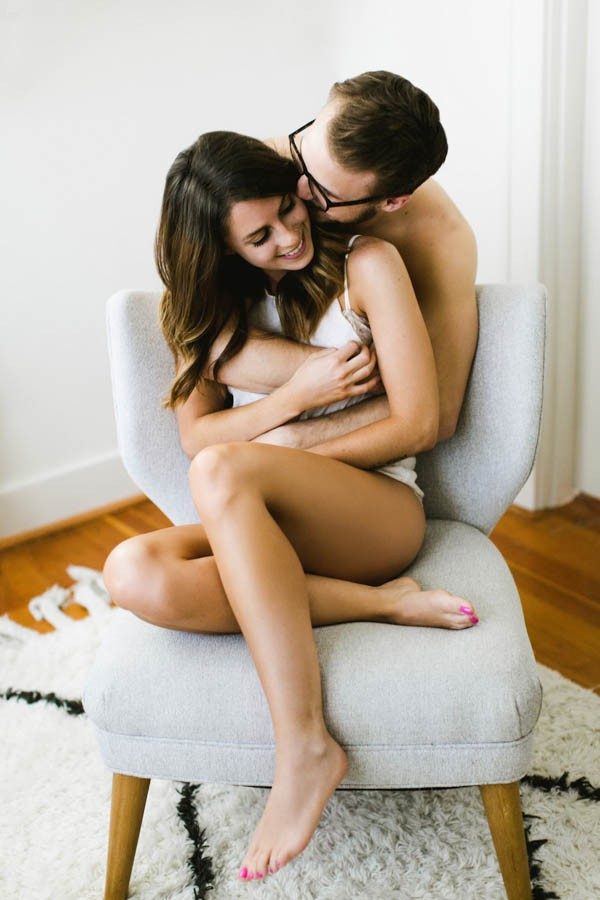 photos by Ben Sasso; see the rest of this Portland anniversary session at home here!
4. Utilize the Space
Once you've chosen the perfect backdrop in your home, it's time to get moving! Changing up positions and playing in your space not only makes for more interesting photos than sitting still, but it can also evoke different emotions. Maybe you decide to start in your usual cozy spot, but try moving to a place you don't usually sit for a bit of surprise intimacy. Turner and Kirsten read together in bed, like they probably have a hundred times before, but we're pretty sure the pillow fight was a first!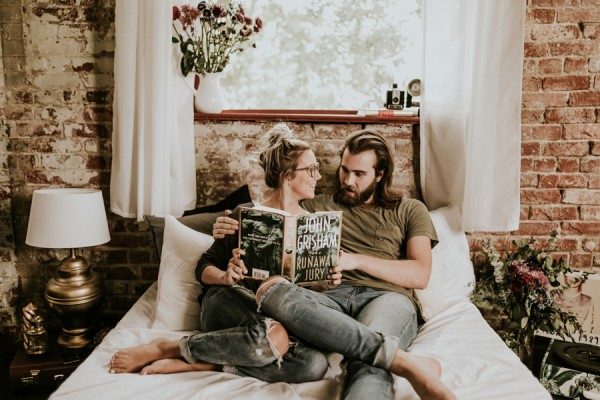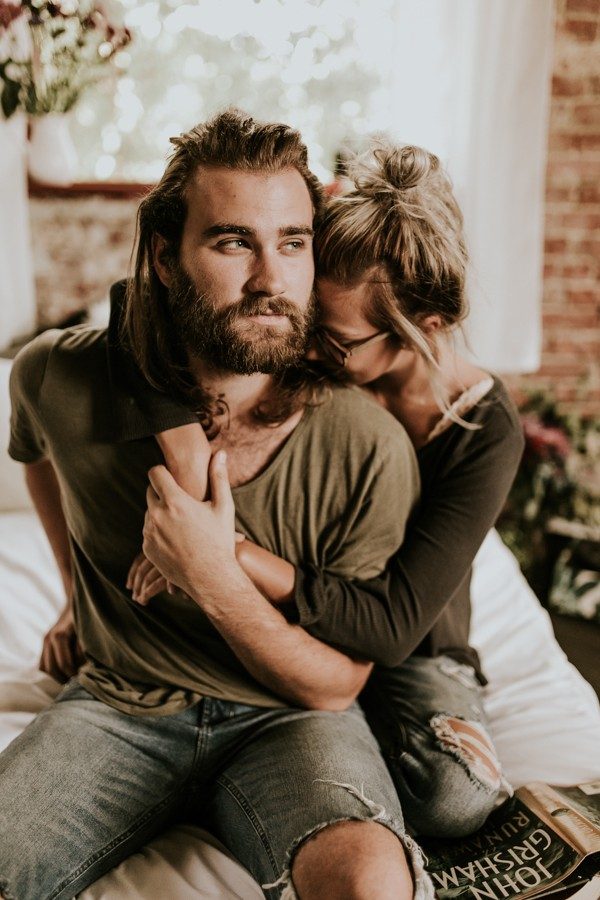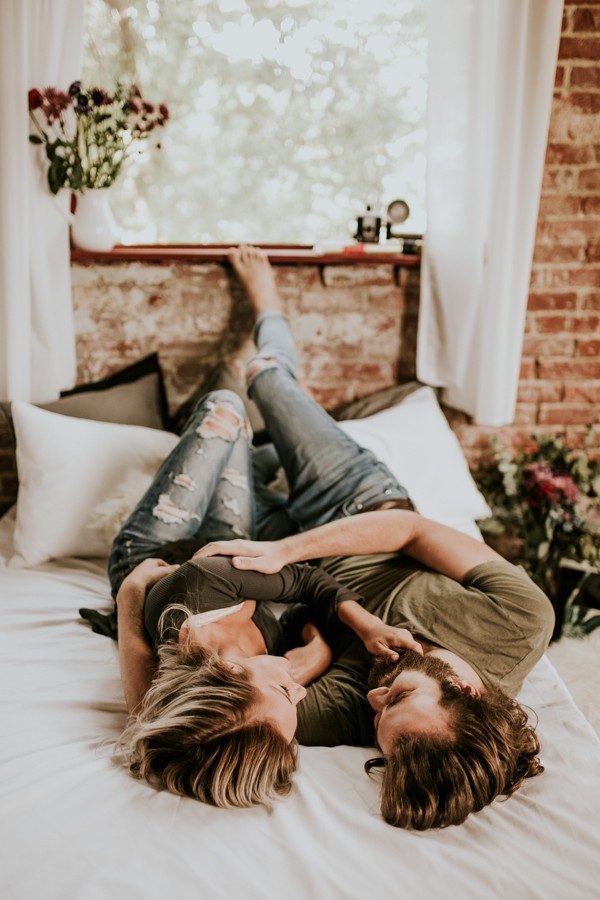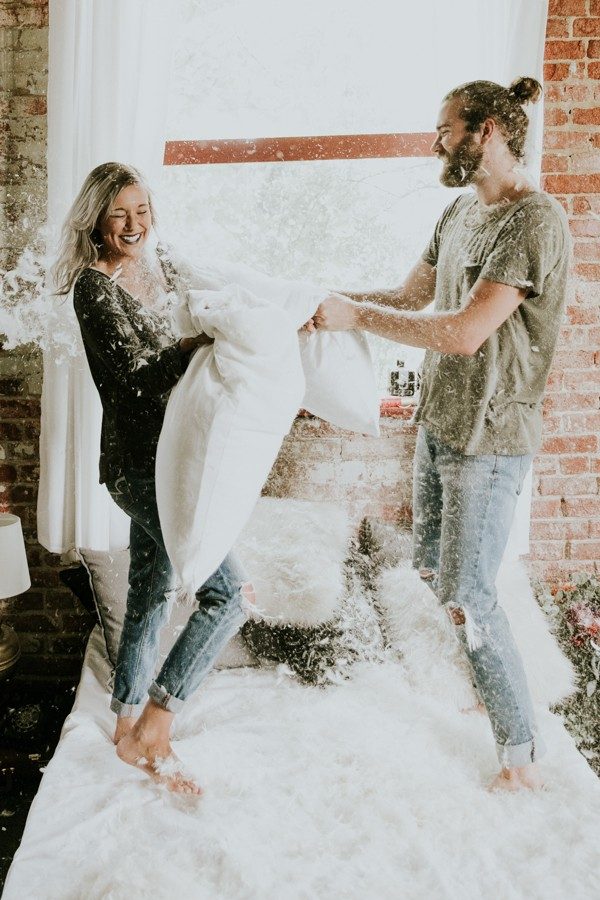 photos by Vic Bonvinci Photography; see the rest of this fun and flirty at-home shoot here!
5. Trust Your Photographer
Baring it all for a stranger can seem a little (or a lot) uncomfortable, which makes it even more important that you put your trust in your photographer! They're here to capture you authentically and tastefully. Do your best to forget someone is in your room taking photos of you in your undies by focusing deep into your partner. Shut your eyes, get closer, listen to each other's heartbeat and feel one another's breathing. Dani and Philip didn't have to pose for their photographer in these black and white images; they were just natural and Dustin Cantrell nailed the shots!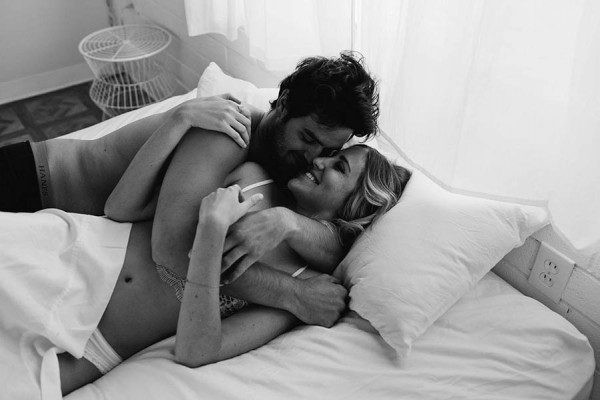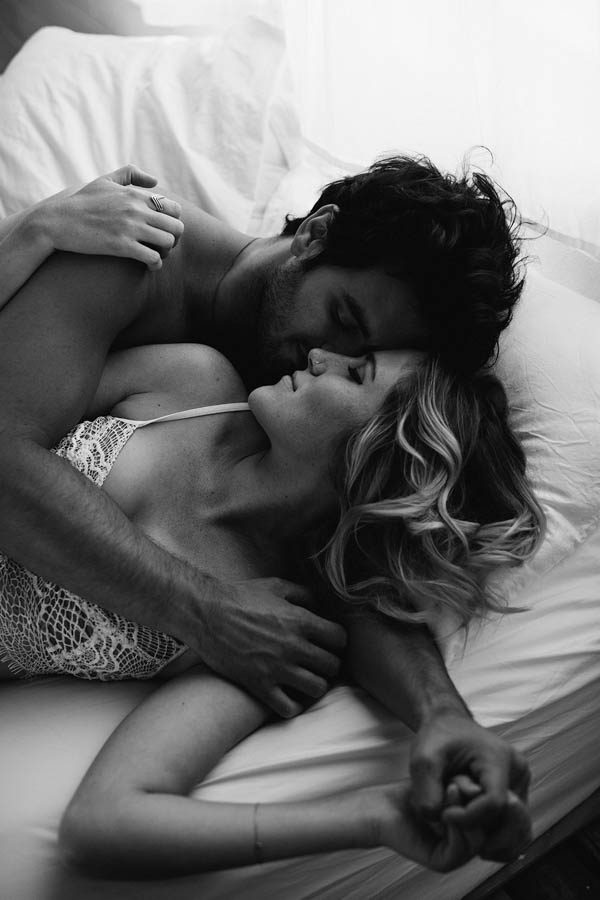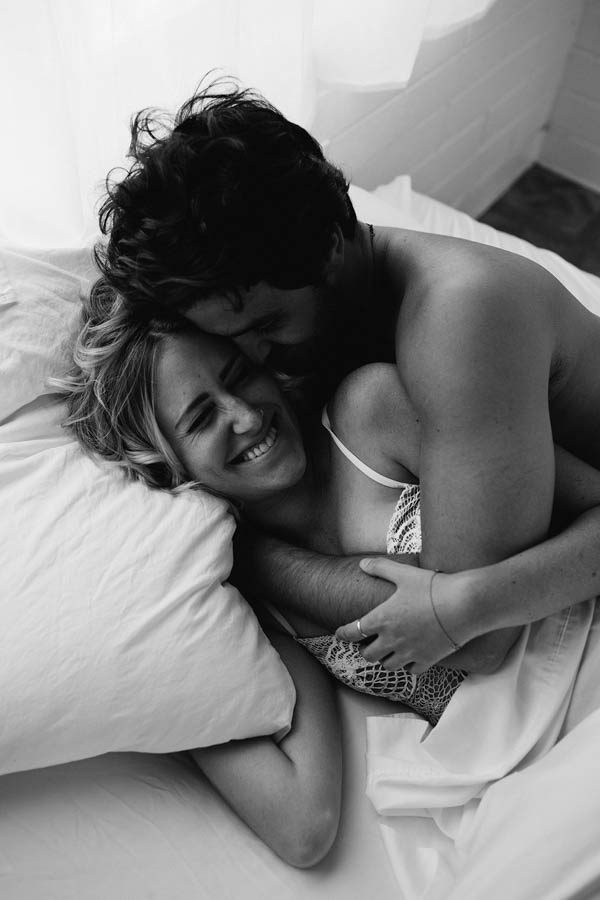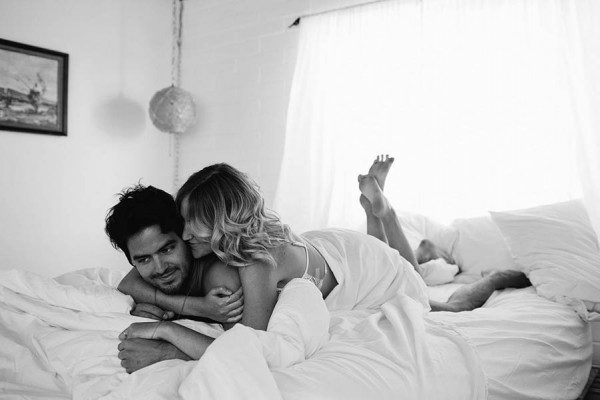 photos by Dustin Cantrell; see the rest of this sensual engagement photos at home here!
6. Be Yourself
Your engagement photos are going to be the most genuine when you're doing what you do best: being you! In your home, you don't have to impress anyone, so get silly, get comfortable, and maybe even get undressed! ;) Kayla Coleman Photography captured these photos of Nashville musician Jeffrey James and his sweetheart, and you can tell that this could have been any normal Tuesday for the two of them. The moved around the space, they trusted their photographer, and they were inexplicably themselves, as if the camera weren't even there!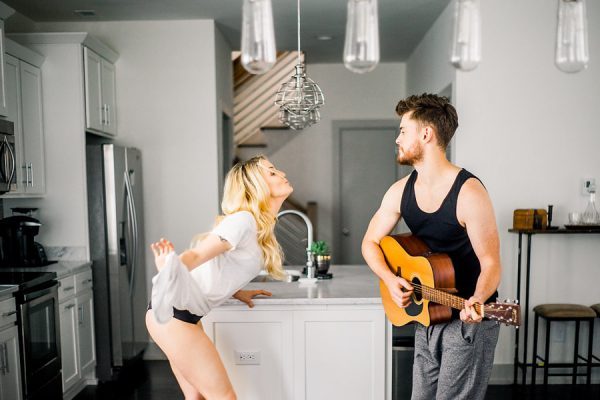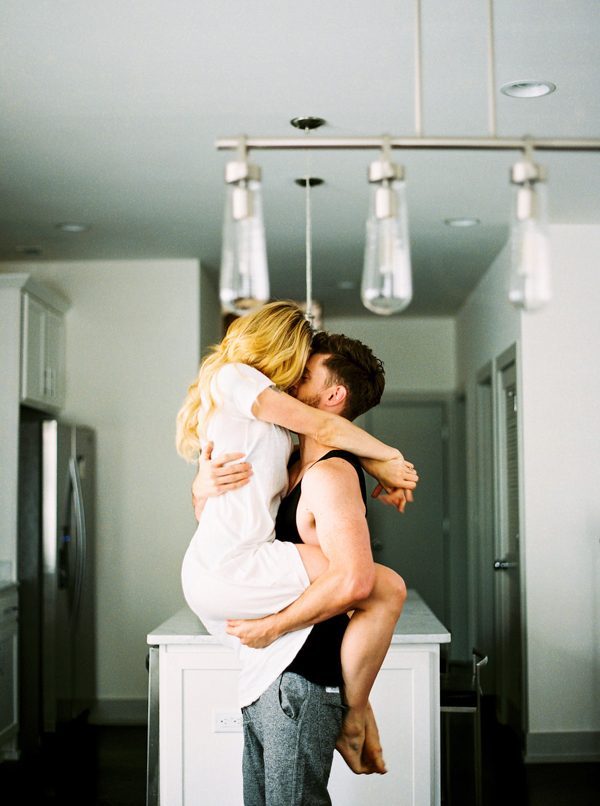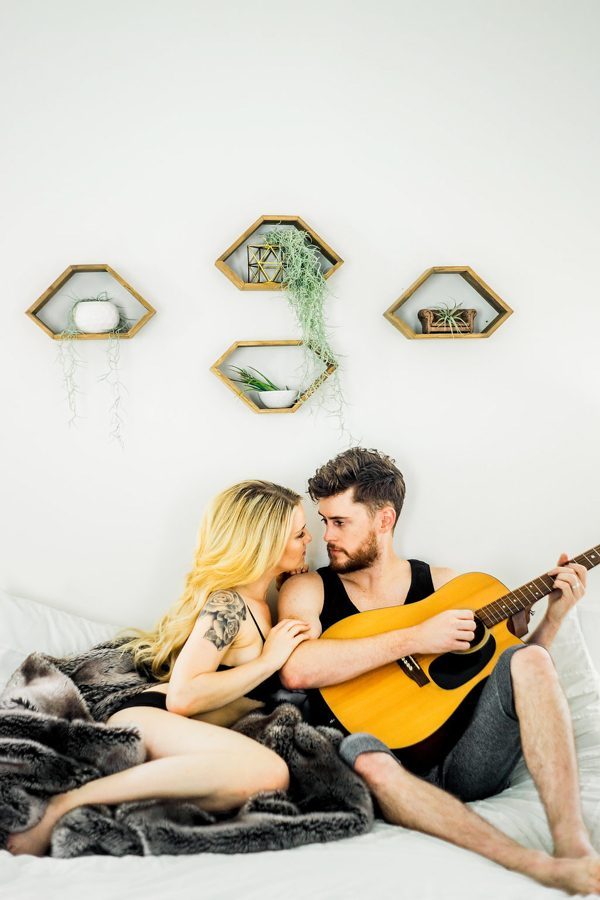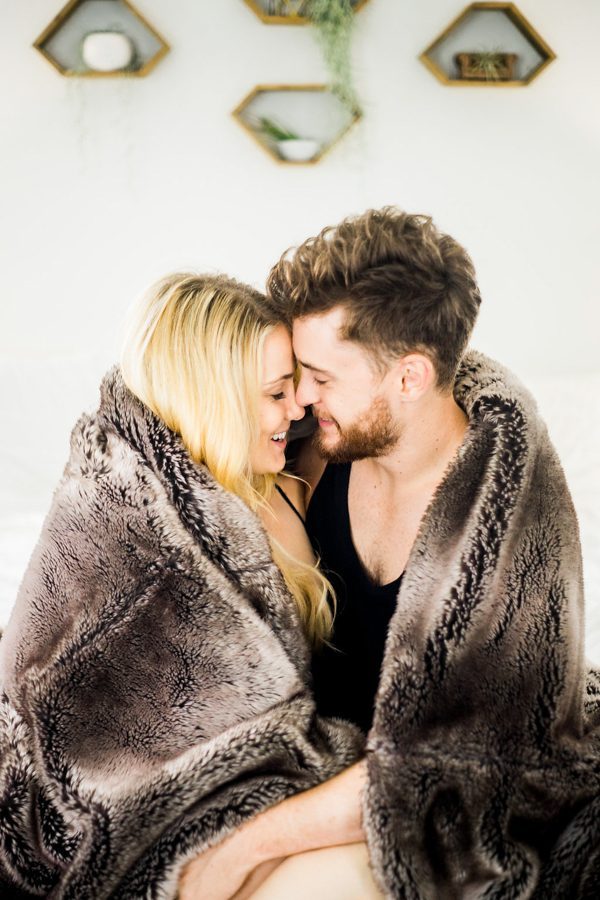 photos by Kayla Coleman Photography; see the rest of this Nashville sweetheart session at home here!
Ready for your engagement photos at home? Before you inevitably strip down to your skivvies, here's some inspiration for what to wear for your fall engagement photos!