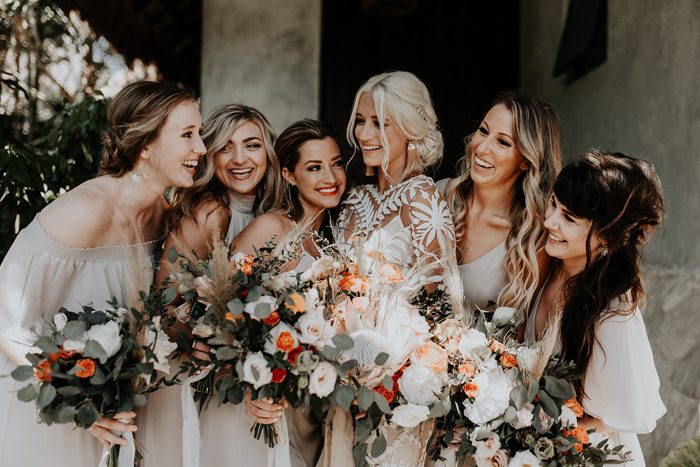 photo by Brooke Taelor
The new year will be here before we know it, so what better time than now to think back on our favorite weddings of 2018? From epic ceremony locations to killer bride and groom style to eye-catching floral designs to unforgettable newlywed moments, these weddings stole our hearts the moment we saw them — and refuse to let go!
Gina and Fernando's Epic DIY Wedding at Zona Colonial
Where it took place: Zona Colonial, Santo Domingo, Dominican Republic
Why we love it: This art designer bride and her woodworking groom made sure no detail of her wedding went untouched! While Fernando made all of the wood pieces, Gina painted signs, designed floral arrangements, crafted paper goods, personalized two leather jackets, and turned the Spanish-style patio venue into a tropical haven. Every single detail was the Pinterest-perfect, DIY gold!
See the full feature here!

photos by Ricardo Enrique Photography, additional photography by Lourdes Rojas, event planning by Decor Insider, ceremony venue: La Altagracia Church, reception venue: Zona Colonial, art direction by Los Plebeyos, bridesmaids' apparel by ASOS, groom's apparel by ASOS, and groomsmen's apparel by Zara
Hanna and Matthias' Cozy Cathedral Park Wedding
Where it took place: Cathedral Park and The Blockhouse, Portland, Oregon
Why we love it: Hanna and Matthias' wedding ceremony took place underneath a bridge…must we go on? With just a few simple touches, like a copper arch draped with greenery, an antique rug, and a copper bar cart altar, they made the iconic bridge location into a charming wedding ceremony site. Then they ended the night with a quintessentially Portland reception of burger, fries, and beers!
See the full feature here!

photos by Olivia Strohm Photography, ceremony venue: Cathedral Park, reception venue: The Blockhouse, catering by PDX Sliders, stationery by Hanna Wilson, hair and makeup by McKenzi Renae, wedding dress by Dreamers and Lovers, and rentals by Artifact Rentals
Angélica and Emiliano's Fashion-Forward Italian Destination Wedding in Tuscany
Where it took place: Monteraponi, Chianti, Tuscany, Italy
Why we love it: This destination wedding was planned in just 4 months and was the perfect combination of effortlessly elegant and rustically charming, all of which complemented the villa venue perfectly. The true showstoppers of the day, though, were the bride's custom lace gown, the bridesmaids' chic mismatched dresses, and the groom's floral-print suit, which updated classic Italian romance with a unique, eclectic twist!
See the full feature here!

photos by Chris & Ruth Photography, event planning by A Modo, venue: Monteraponi, floral design by Il Filo D'erba, catering and cake by Lo Scalco, officiant from My Wedding in Italy, hair and makeup by Marcelo Sath, wedding dress by Fabiana Milazzo, and groom's apparel by Gianni Feraud
Bobby and James' Moody Luxe NOLA Wedding at The Marigny Opera House
Where it took place: Marigny Opera House, New Orleans, Louisiana
Why we love it: Bobby and James channeled the darker side of New Orleans and used a moody fall palette along with luxurious textiles to give their venue a deeply romantic vibe. They also traded in traditional florals for lush greenery installations that made it look like guests were dining in an overgrown indoor garden. From the blue velvet tablecloths to the grooms' dark custom tuxedos, this NOLA wedding was the epitome of sophistication.
See the full feature here!

photos by Kristen Marie Parker, event planning by Clark and Kelly, venue: Marigny Opera House, floral design by Pistil & Stamen, catering by Catering D'Orleans, grooms' tuxedos by Commonwealth Proper, grooms' shoes by Christian Louboutin, and rentals by La Tavola Linens, Pompadour Productions, Yur Event, and Luminous Event
Crystal and Rawle's Romantic Glam Wedding at Trinity River Audobon Center
Where it took place: Trinity River Audobon Center, Dallas, Texas
Why we love it: Crystal loves all things earthy and bohemian while Rawle prefers clean lines and bold accents, so the modern architecture of their venue and the indoor/outdoor spaces provided the perfect compromise for their "Modern Romance" theme. They also added a touch of glam with the formal wedding party style, and Crystal added a pop of edge with a black leather jacket over her stunning gown.
See the full feature here!

photos by Chelsea Denise Photography, event planning by Truly Ewers Events, venue: Trinity River Audobon Center, floral design by Belle Decor, makeup by Ryan Whitney Makeup Artistry, hair styling by Aeleise Jana, wedding dress by Sarah Seven via The Dress Theory Nashville, and rentals by Posh Couture Rentals
Celbi and Gabe's Blissful Boho Tulum Wedding
Where it took place: Papaya Playa Project, Tulum, Mexico
Why we love it: Tulum wedding are notorious for being bohemian dreams, but Celbi and Gabe took boho bliss to a whole new level! Not only was their decor the perfect mix of relaxed and tropical, but the bride's a stunning lace gown and statement earrings are what beachy bridal dreams are made of.
See the full feature here!

photos by Brooke Taelor, event planning by Jayne Bubis Events, venue: Papaya Playa Project, floral design by Maria Limon, catering by Ginger Catering, cake by Zaida Marcos, stationery by You're Invited, hair and makeup by Prep Tulum, wedding dress by Rue De Seine, bridesmaids' apparel by Show Me Your Mumu, groom and groomsmen's apparel by Gap, rentals by Archive Mexico, and favors by Brayco
Juliana and Lais' Deliciously Beautiful Rio de Janeiro Wedding
Where it took place: Private Residence, Rio de Janeiro, Brazil
Why we love it: Juliana and Lais' awesome party vibe was only outdone by the killer bridal styles, which included a white jumpsuit, a classic white gown, minimalist accessories, and stunning hairpieces. They filled their venue with pops of pink and gold and filled every nook and cranny with brilliant florals to match their vibrant personalities.
See the full feature here!

photos by Thrall Photography, event planning by Vou Casar e Panz, floral design by Nega Fulô Floral, catering by Malagueta Buffet, cake by A Merenda, makeup by Ju Sales and Jo Portalupi, hair styling by Carol Castilho, wedding dresses by Suia Store and Mel Bessa Atelier, bridal accessories by Sunflower Acessorios and Diana Benchimol, event styling by Menta e Pessego, and candy by Brigadeiros da Bia and Confeitaria Neves
Ghazal and Luvh's Fusion Destination Wedding in Santa Barbara
Where it took place: Crossroads Estate, Santa Barbara, California
Why we love it: Ghazal and Luvh wedding day was a whirlwind of love and impossibly beautiful moments that included not one, not two, but three wedding ceremonies! We love that they dedicated time to pay tribute to their Indian and Persian cultures, as well as to their Western roots and that all of their ceremonies took place under the same flower-adorned wood arch to create a cohesive feel. From the vibrant colors to the couple's exceptional style, this Santa Barbara wedding was one for the books!
See the full feature here!

photos by Jenny Smith & Co., event planning by Bright Blue Events, venue: Crossroads Estate, floral design by Clementine Floral Works, makeup and hair by Marlaine Reiner, wedding dress by Tara Lauren, groom's apparel by Paul Smith, rings by Main Street Jewelers, rentals by MTB Event Rentals, and transportation by Santa Barbara Airbus
Jen and Marshall and Kelly and Justin's Double Wedding in Maryland
Where it took place: Private Estate, Maryland
Why we love it: Sisters Jen and Kelly couldn't imagine getting married without each other, so the planned the most epic double wedding we've ever seen! Their traditional and rustic styles worked like a dream together in shades of pink, green, and gold and the DIY projects they completed together looked gorgeous alongside the summery florals that rounded out their relaxed backyard party vibe. Also, we're firm believers that two wedding dresses are always better than one, and these sisters' looks were perfectly complementary while still being distinctly their own.
See the full feature here!

photos by Cody & Allison, floral design by Ona Rose Floral, cake by Peace of Cake, makeup by Rachael Wontrop, hair styling by The Brushing Bride, wedding dress by Etsy and Serendipity Bridal, bridal accessories by Jimmy Choo and Badgley Mischka, grooms' apparel by Hugo Boss, groomsmen's apparel by Men's Wearhouse, rings by Mark Broumand and Ben Bridge, and rentals by Ebb Tide Tent and Party Rentals
Iva and Giulian's Naturally Sophisticated Laurelville Manor Wedding
Where it took place: Laurelville Manor, York, Australia
Why we love it: It's no easy feat to combine black-tie elegance with bohemian charm, but Iva and Giulian made it look effortless! Between the bride's cascading orchid bridal bouquet, the wedding party's chic black, white, and red style, and the pampas grass that was bursting from the ceremony backdrop and the centerpieces, this Australian wedding was eye-candy from top to bottom.
See the full feature here!
photos by iZO Photography, venue: Laurelville Manor, floral design by Travelling Jaspers, catering by All Seasons Catering, stationery by Fenton Ink, wedding dress by Zanzis Couture, and rings by Ross Ezekiel
Let us know your favorite weddings of 2018 in the comments below and be sure to stay tuned for part two coming next week! In the meantime, check out these 18 elopements that will have you wanting to nix tradition!