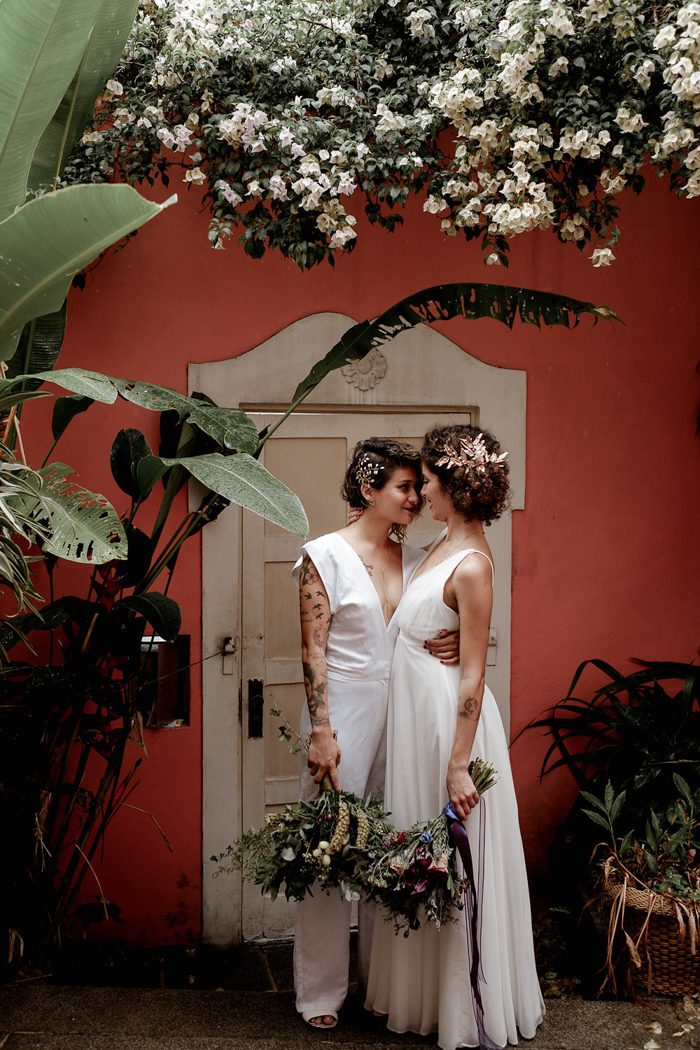 These fashion-forward brides had the most beautiful Rio de Janeiro wedding! Lais rocked the most perfect bridal jumpsuit from Ju Sales, and Juliana wore a classic Mel Bessa Atelier wedding dress. Choosing more simply stated attire for their day, they dressed up their looks with minimalist jewelry and some stunning hair accessories from Sunflower Acessorios and Diana Benchimol. Their killer looks went hand-in-hand with the stylish ceremony and reception space thanks to Menta e Pessego. After saying their "I do's," the celebration continued into a seriously awesome party with dancing and a dip in the pool! Thrall Photography outdid themselves when it came to capturing the big moments and everything in between.
The Couple:
Juliana and Lais
The Wedding:
Private Residence, Rio de Janeiro, Brazil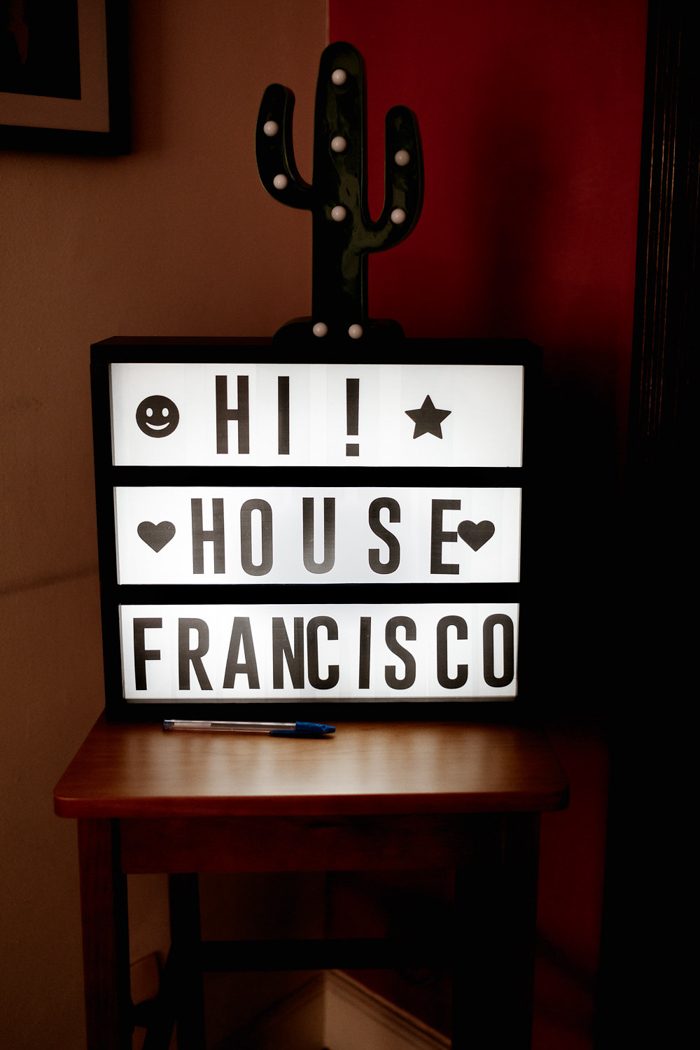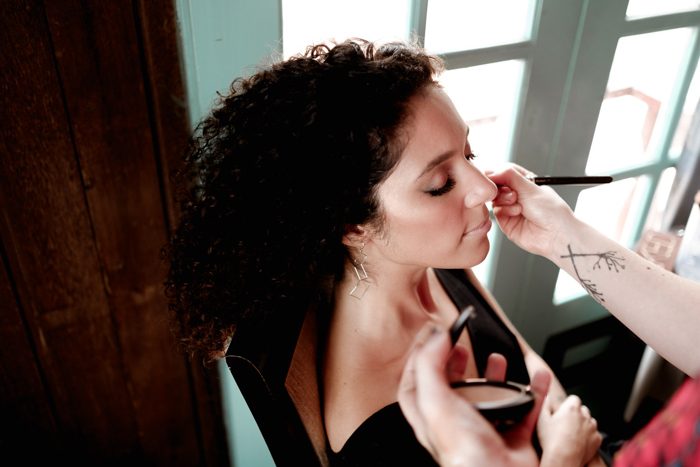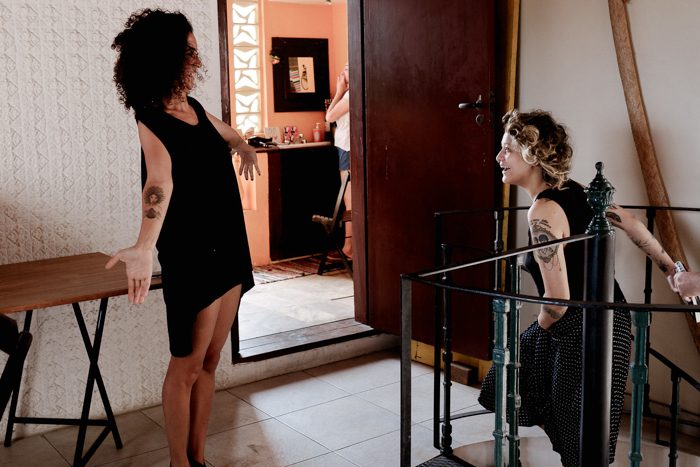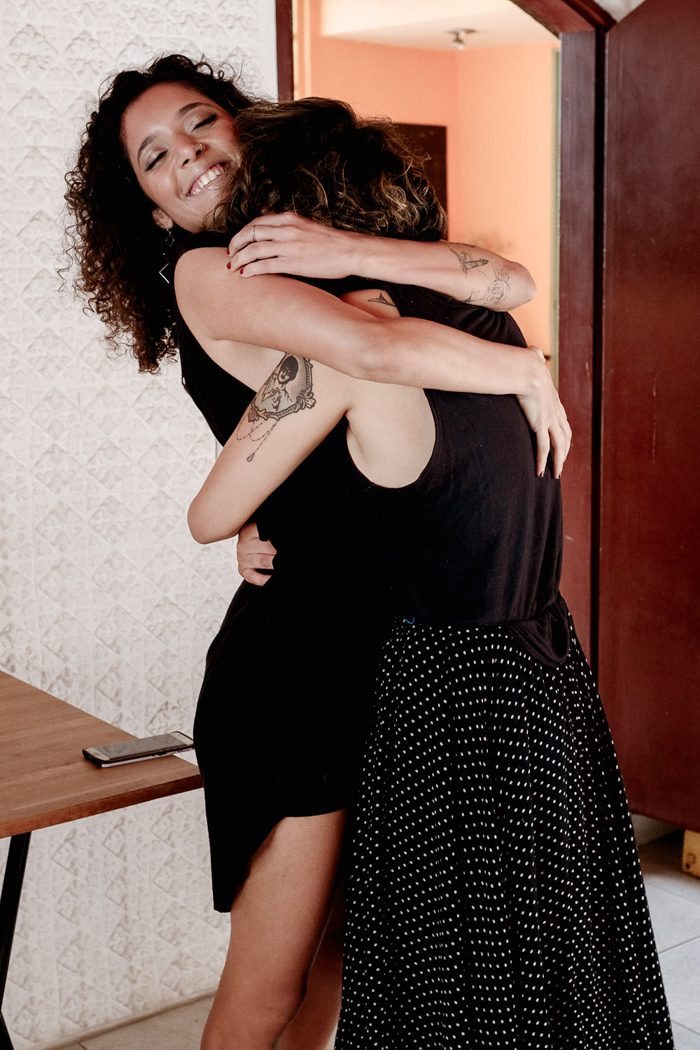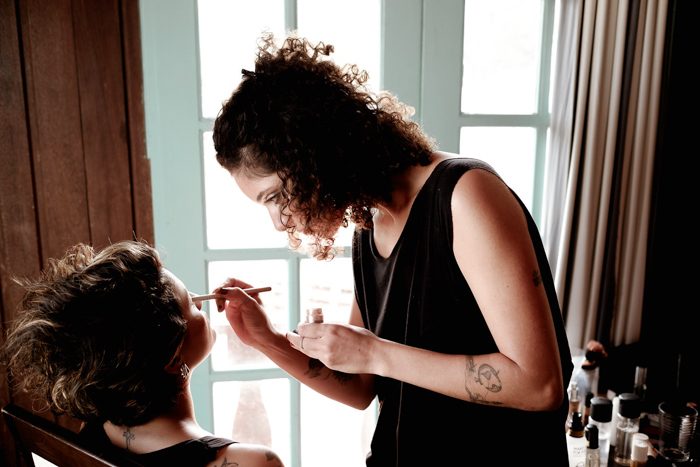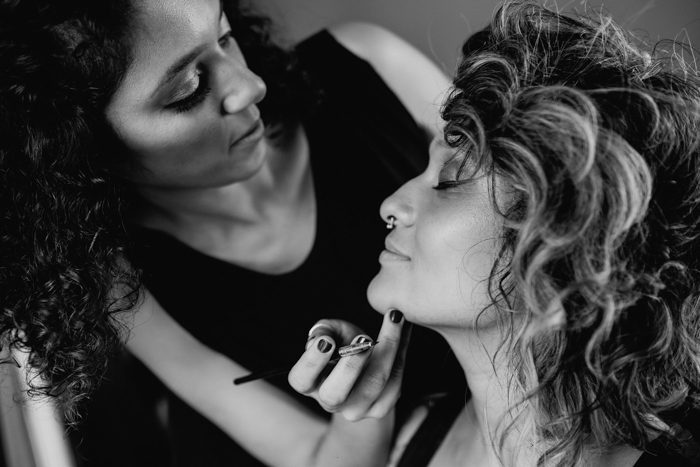 I (Juliana) am a makeup artist and did Lais' makeup. I was very nervous, my body was shaking and it took me much longer than usual. But it was amazing for me put my art in my loved one's face on our most important day together. And it was some time we got to spend together before the ceremony.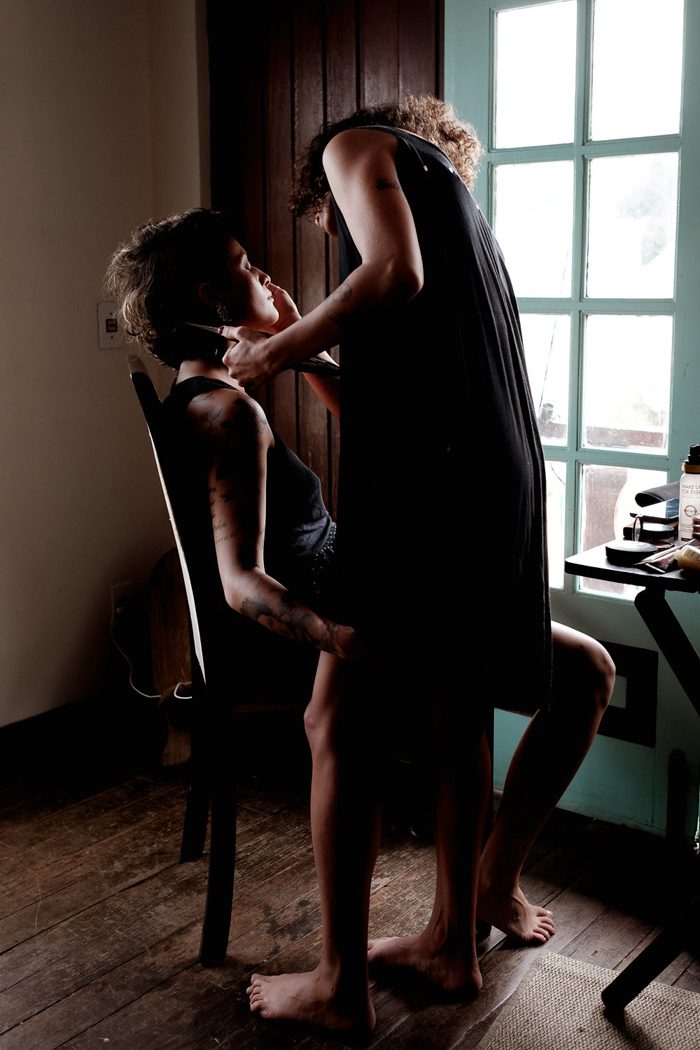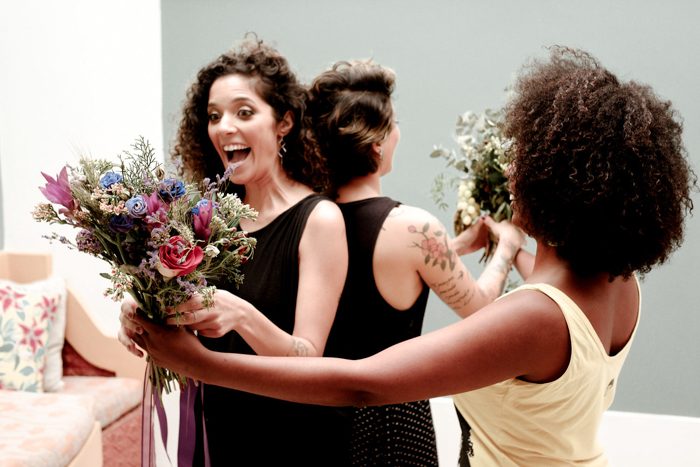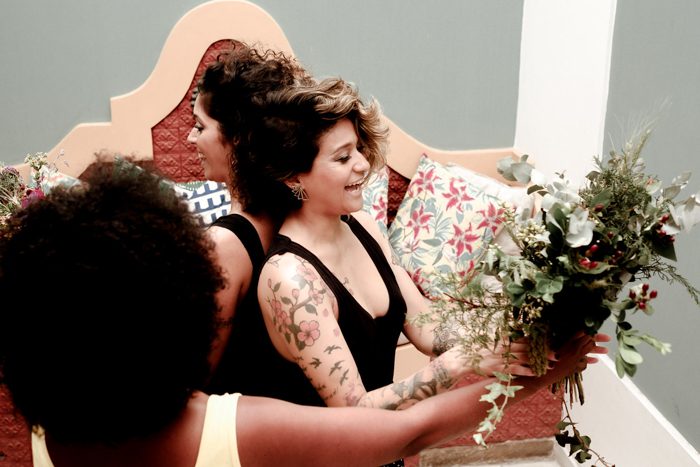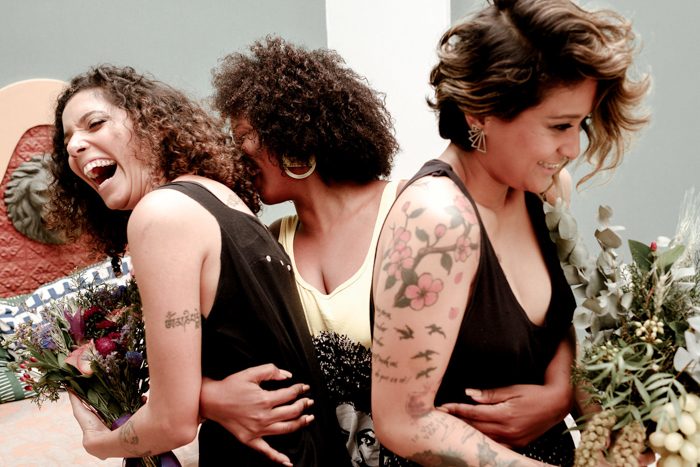 Don't be ashamed to ask for help. When we accepted our friends' help, we were able to really feel their love and spend time together crafting wedding stuff. Help is essential not to go crazy! Even if you have a professional wedding planner, there are lots of small things and details people can help decide and execute. Share them with your close friends. Another advice is to enjoy your party and forget small problems. Time flies and it goes over too fast to worry with details your guests won't even notice.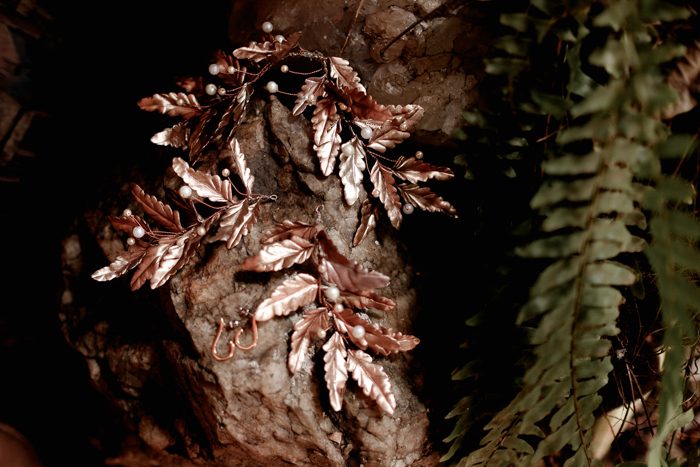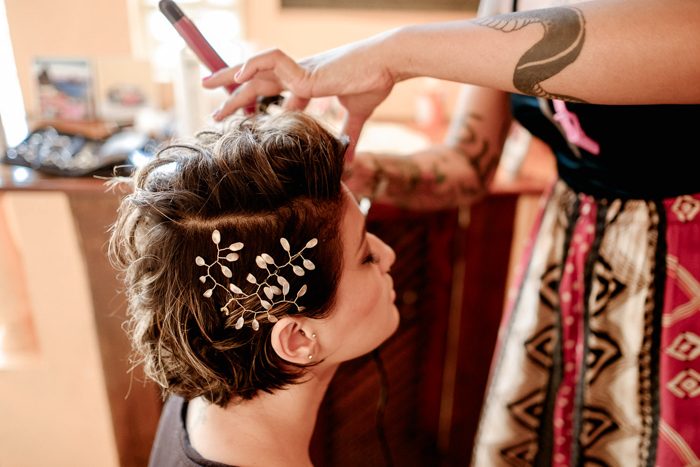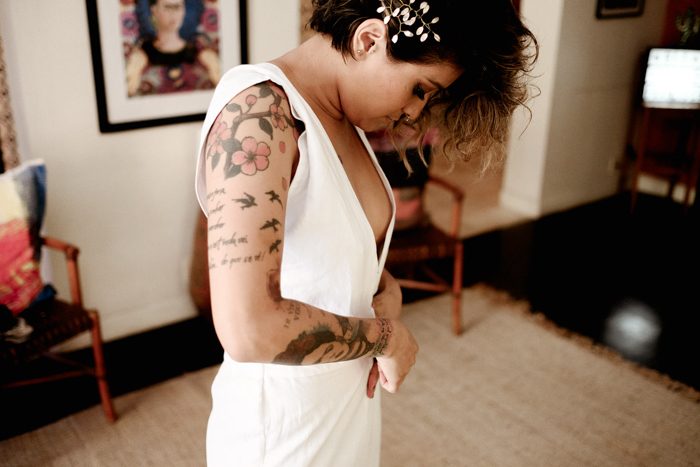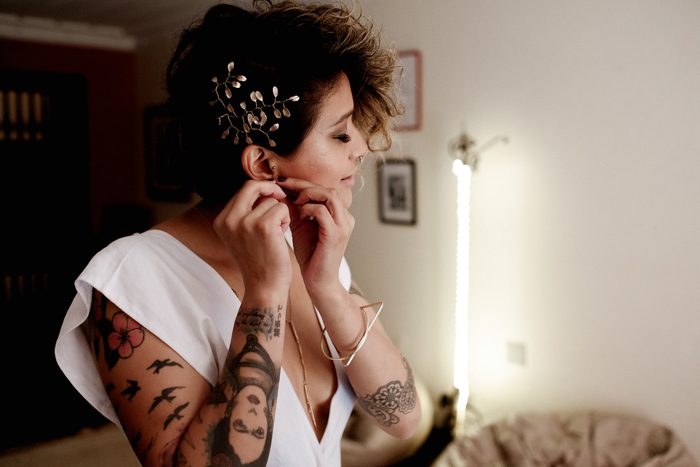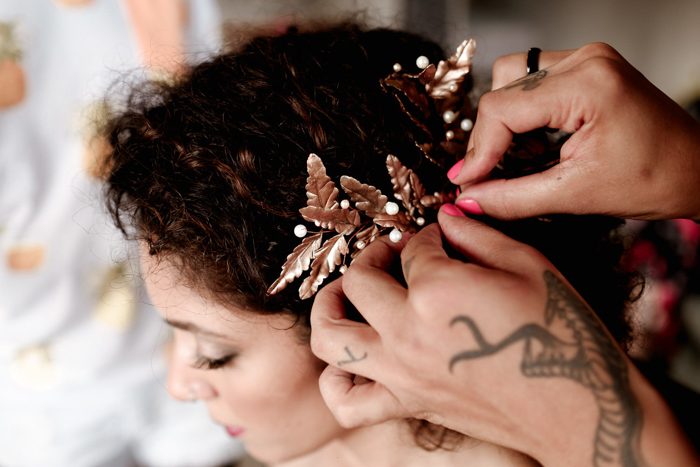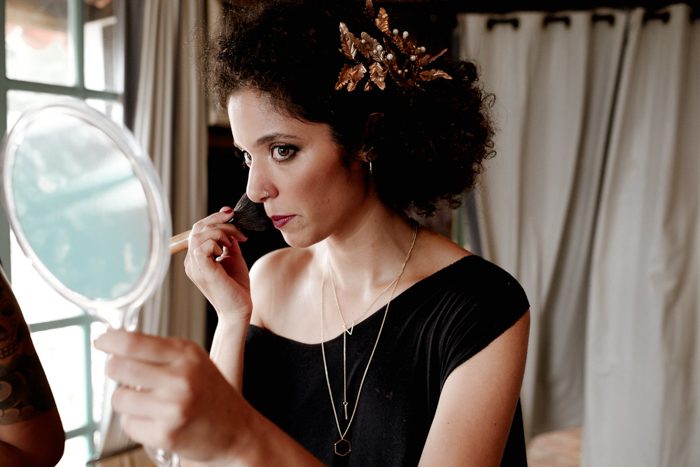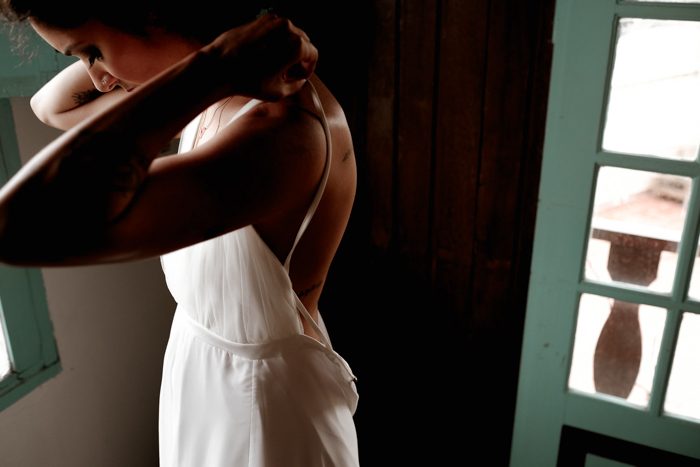 In Brazil it is difficult to find a dress without too much information such as lace, bows, embroidery and transparencies. Ju flipped through more than a thousand wedding dresses without success. So our wedding planner found and asked the brand designer, Mel, who by this time had proven herself to be a fairy, to craft a simple and beautiful dress in only two weeks.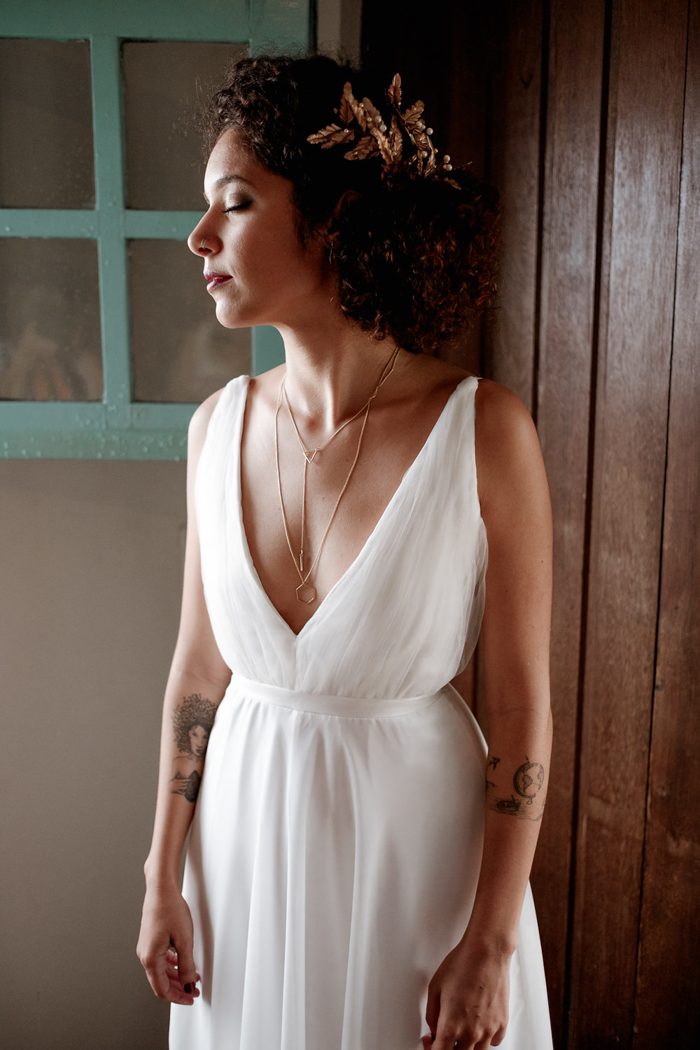 SHOP THIS LOOK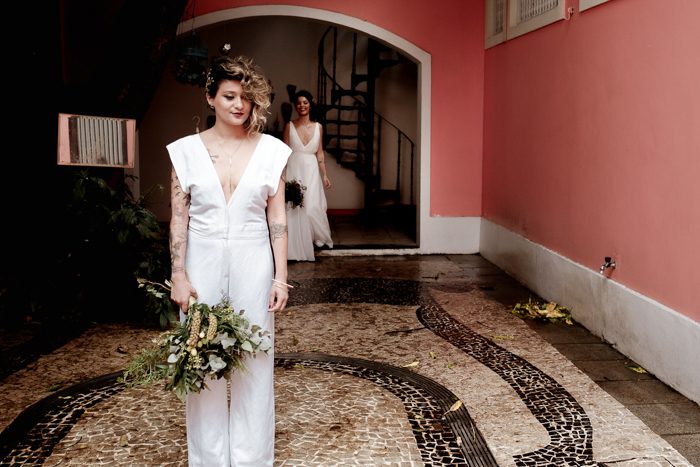 A few months ago I was working on a fashion shooting I saw this beautiful jumpsuit. I told Lais "If we have a wedding ceremony someday, this would be perfect for you.", and she agreed when she saw the photo. So, when we set the date, we wrote to the brand owner asking about the piece and it was out of stock. But the universe is amazing! The jumpsuit sample kept by the brand designer was exactly Lais' size!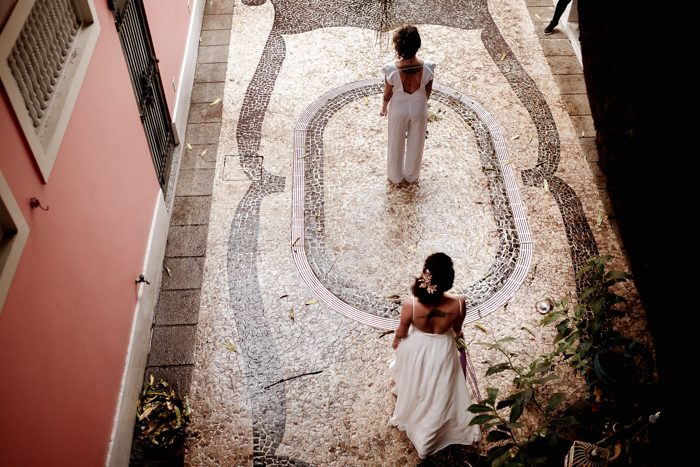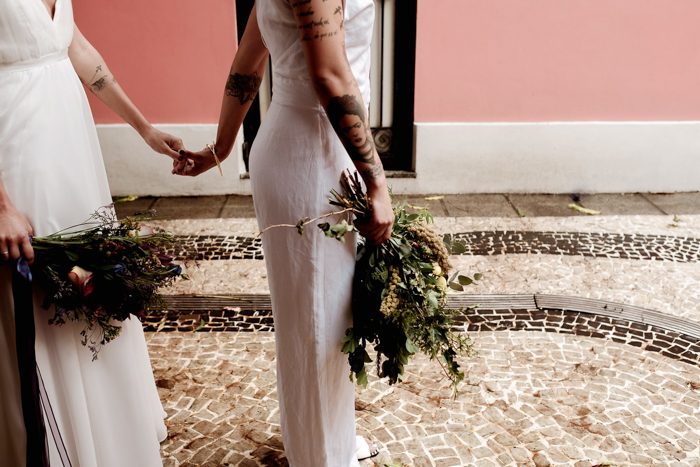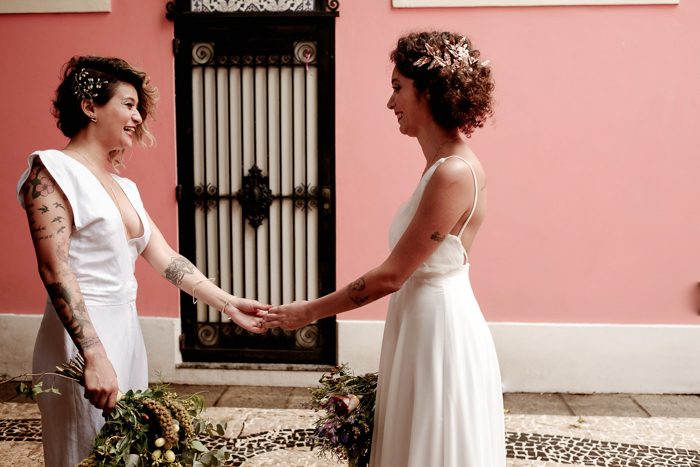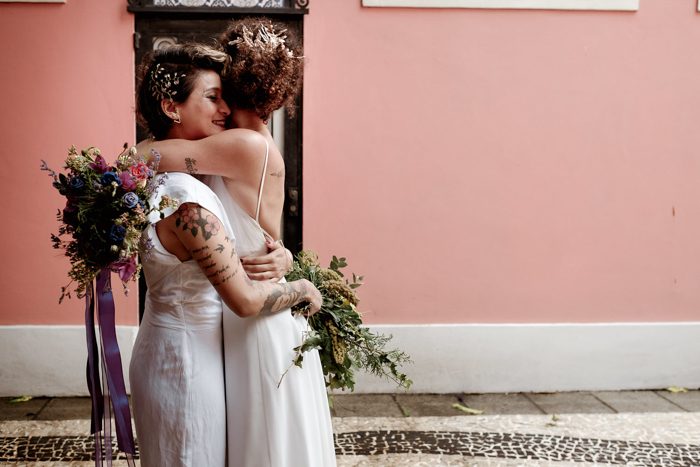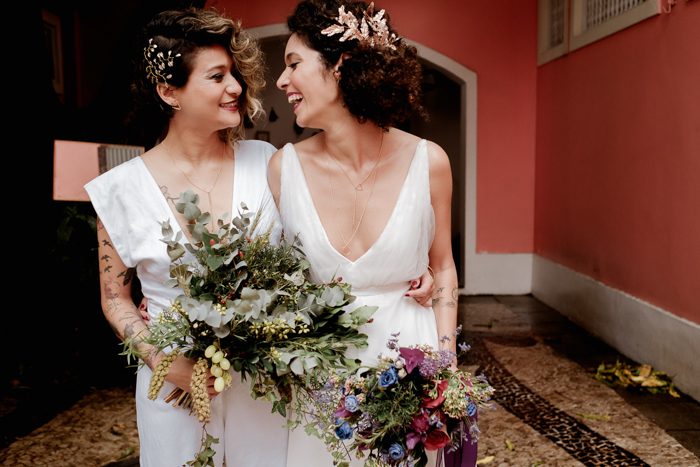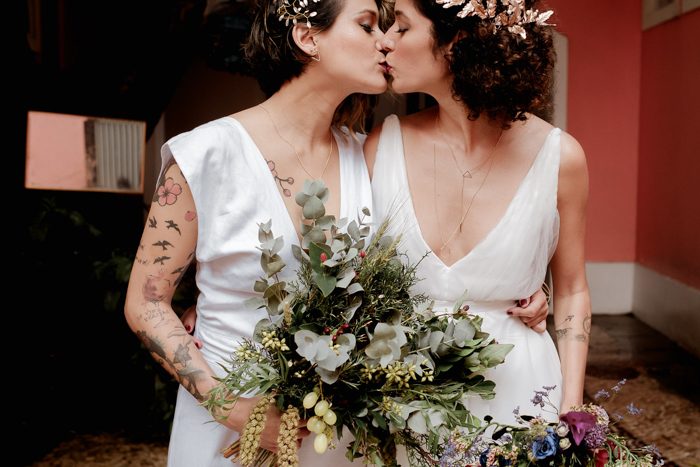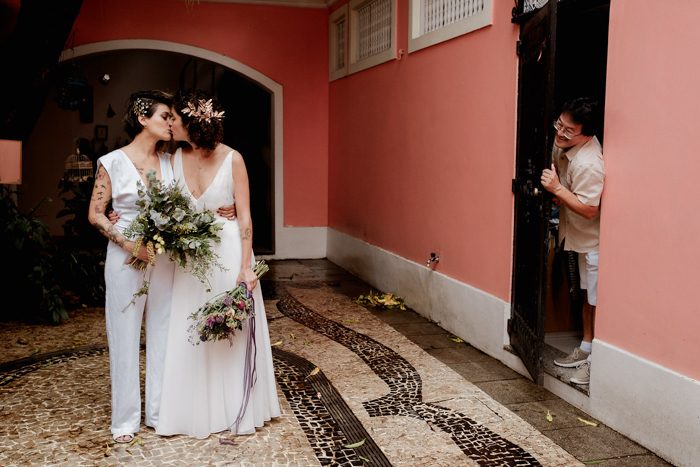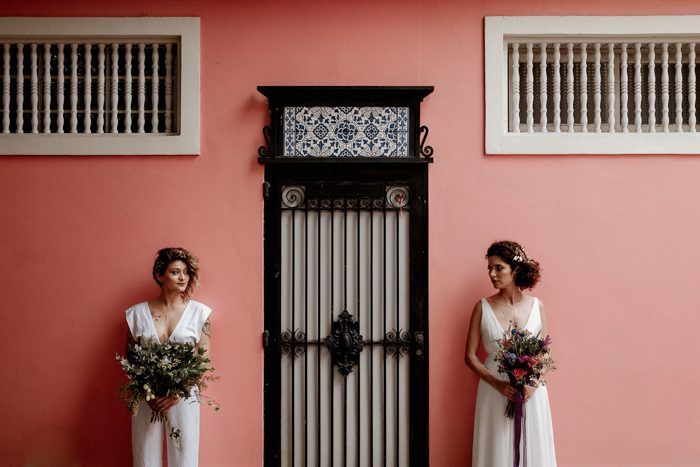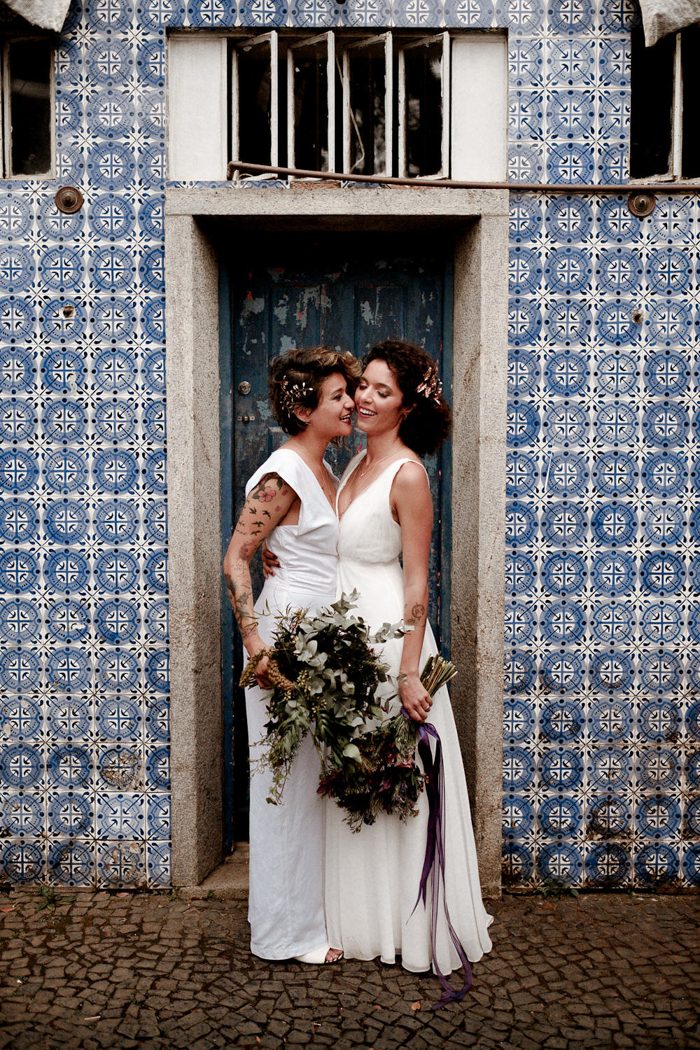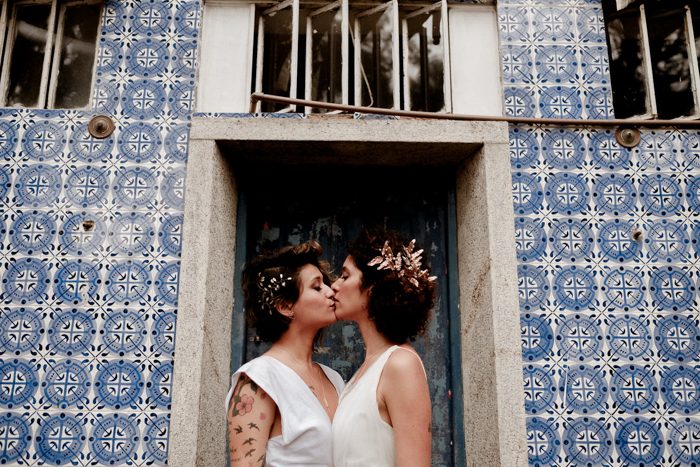 SHOP THIS LOOK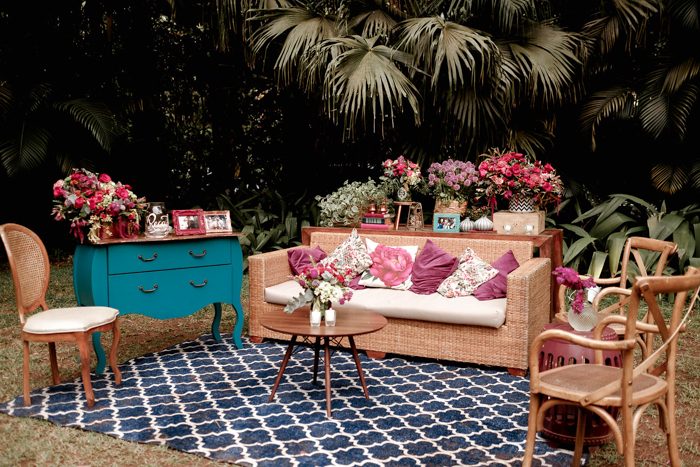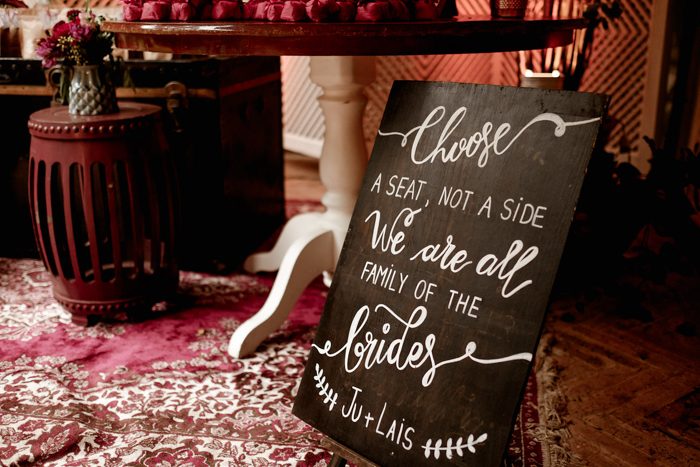 SHOP THIS LOOK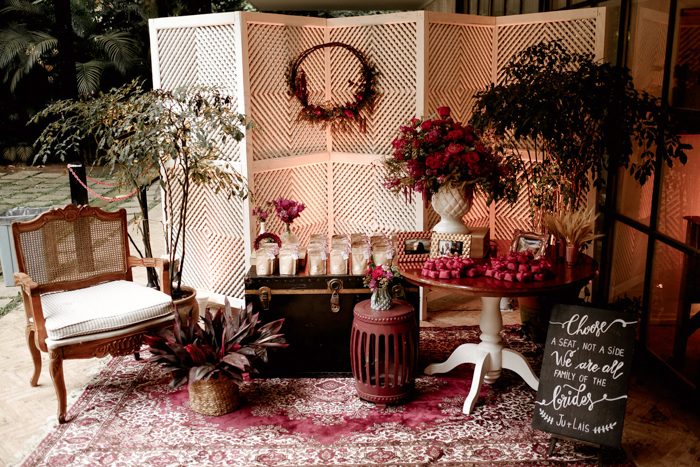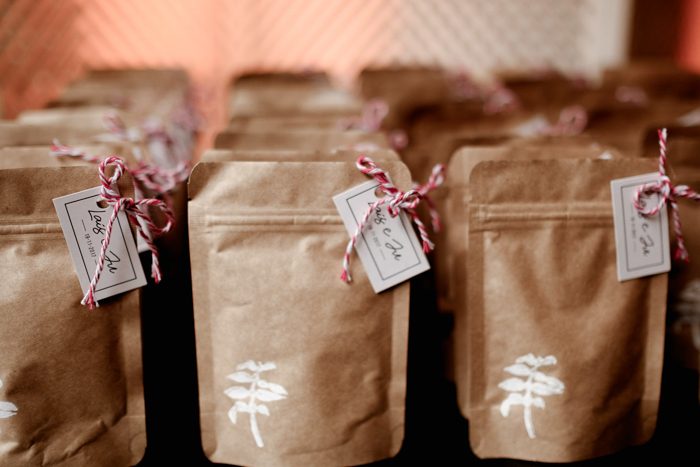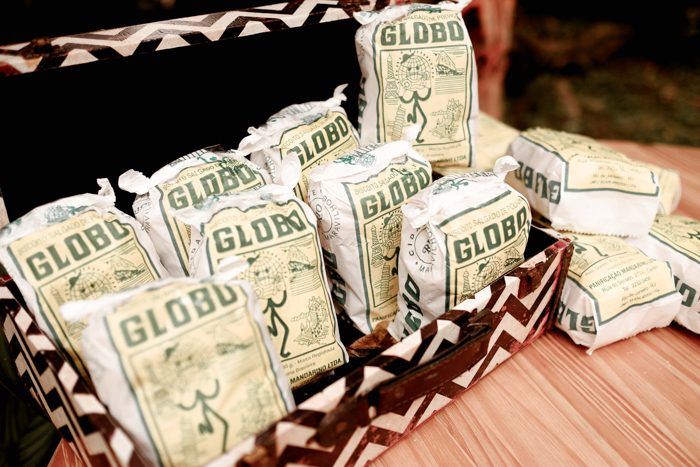 We are very simple people. So we thought this could be reflected in our celebration. We wanted an outdoor wedding where nature could converse with the decor and ceremony. Looking for inspirations, we saw boho inspirations and we liked that style — not everything, but as a starting point. Lais is a wine sommelier and a wine lover and I'm a makeup artist, but we are both baristas and coffee lovers too, so we bring coffee into subject whenever we have an opportunity! We tried to bring these passions into our wedding. We had a cheese and wine table, our invitations looked like a coffee sack, the wedding favors were small bags of ground coffee, our menu holders were made out of wine corks and our bouquets had representations of coffee beans and grapes.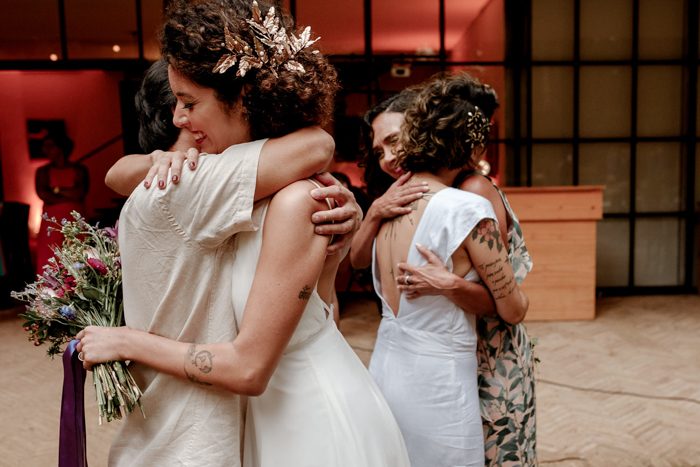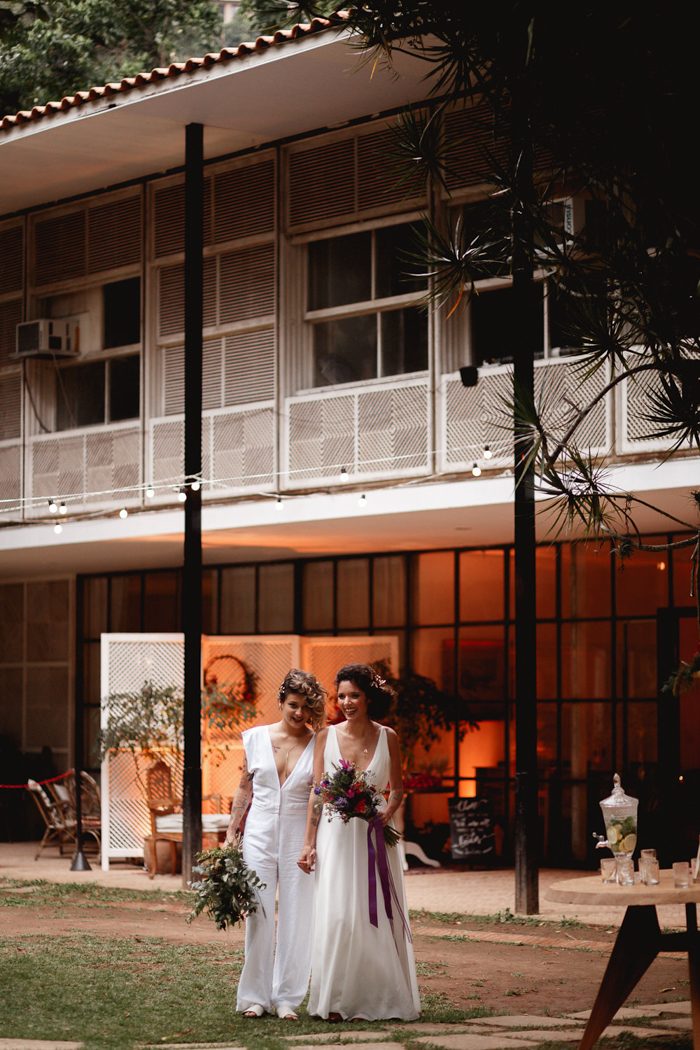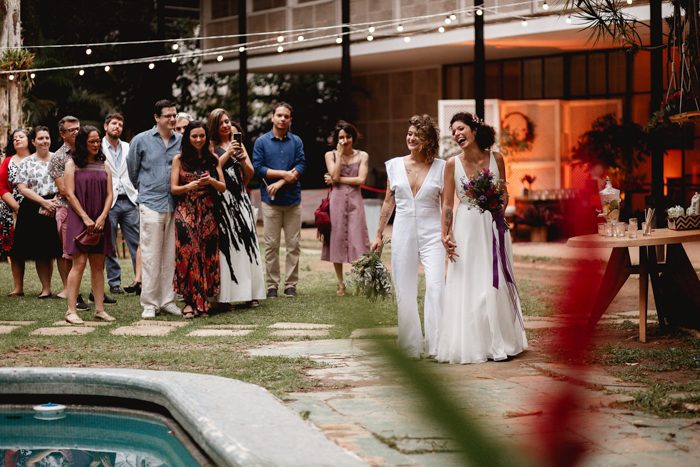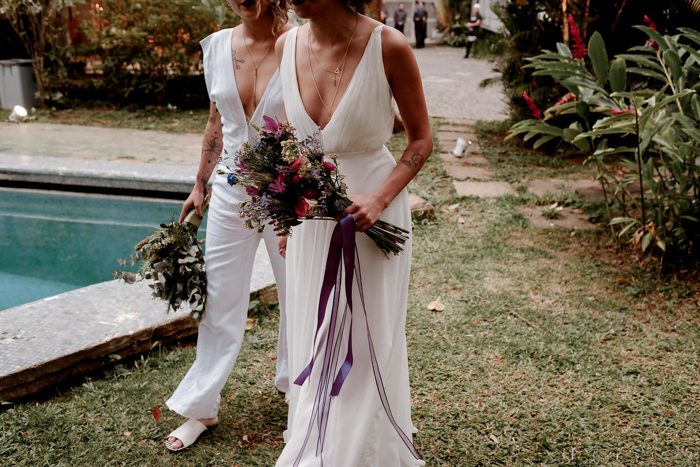 For us, a wedding is not about a father bringing his daughter to other family. So, we chose to enter the ceremony from opposite sides, with our parents, met each other in the middle and finished walking down the aisle together. Because we believe marriage is a new family built upon what we got from our parents. We change, but we never forget them. Our officiant is a philosopher and customized his sermon based on things we had talked about, things that are important for us. One of our friends also came to the pulpit to talk about how representative it was for us, as lesbians, to celebrate this wedding of two women.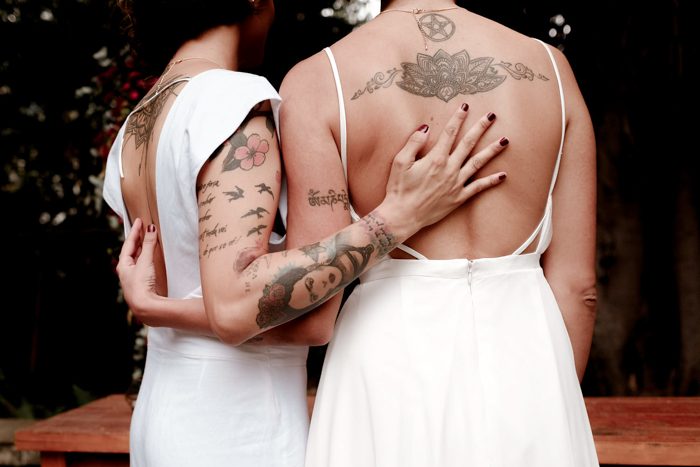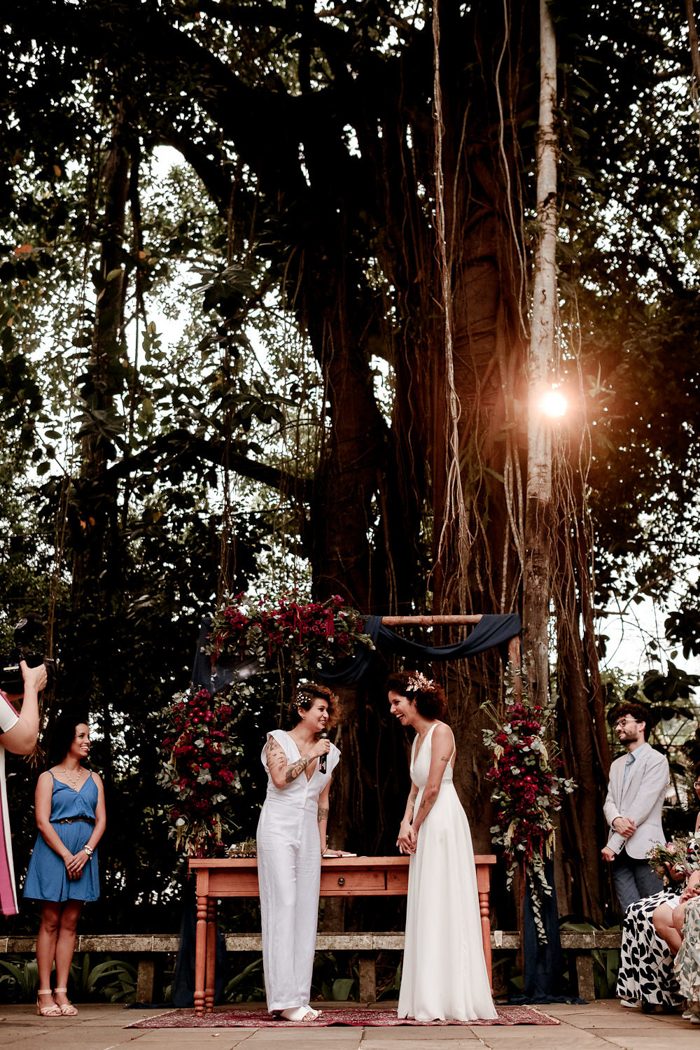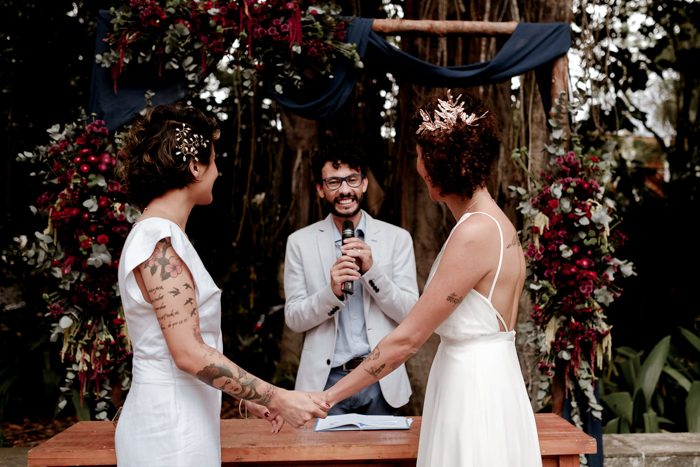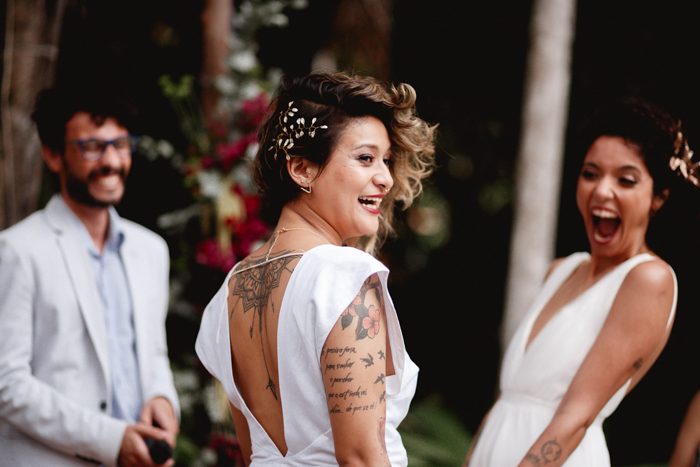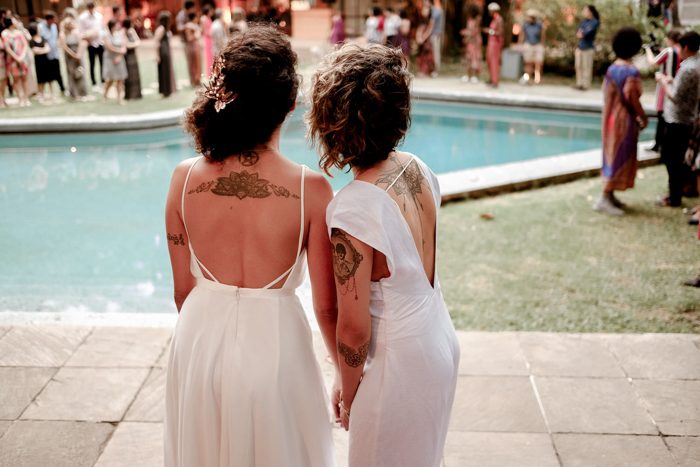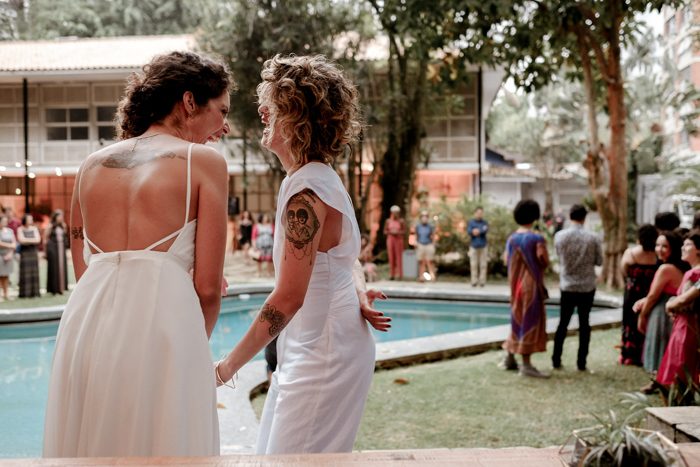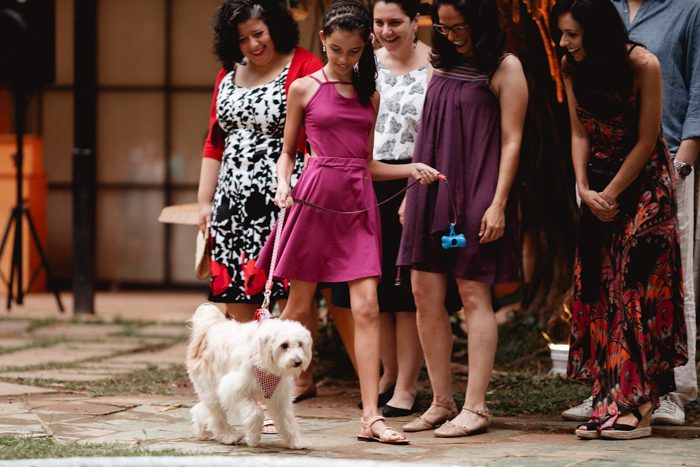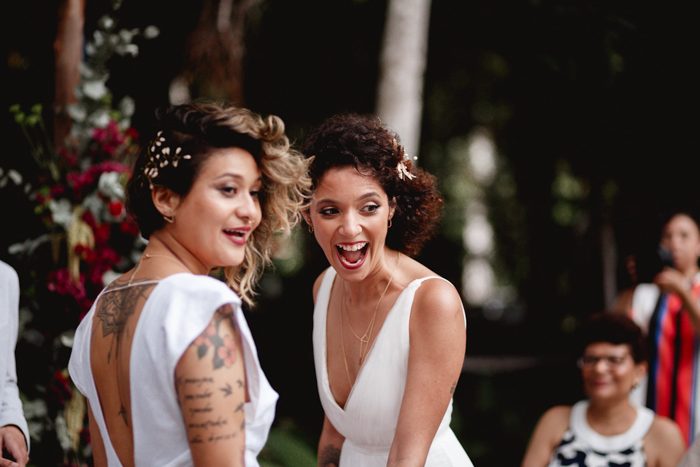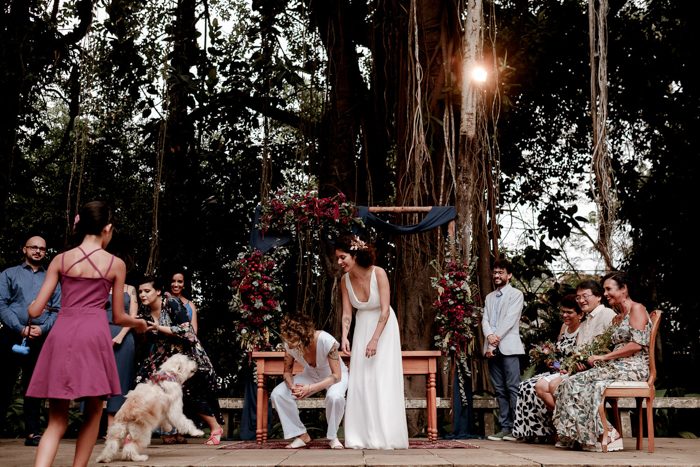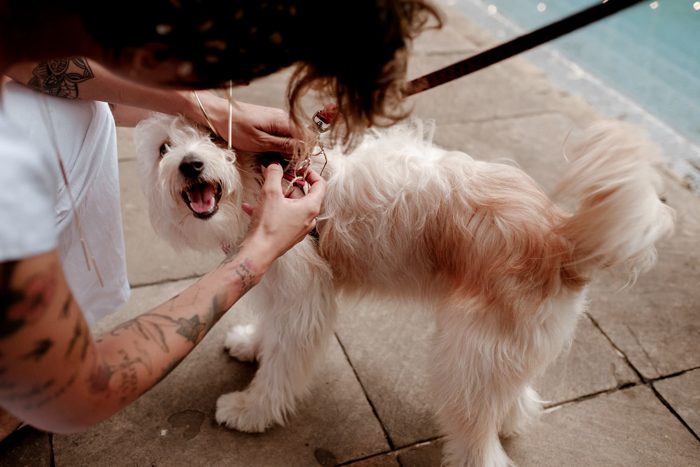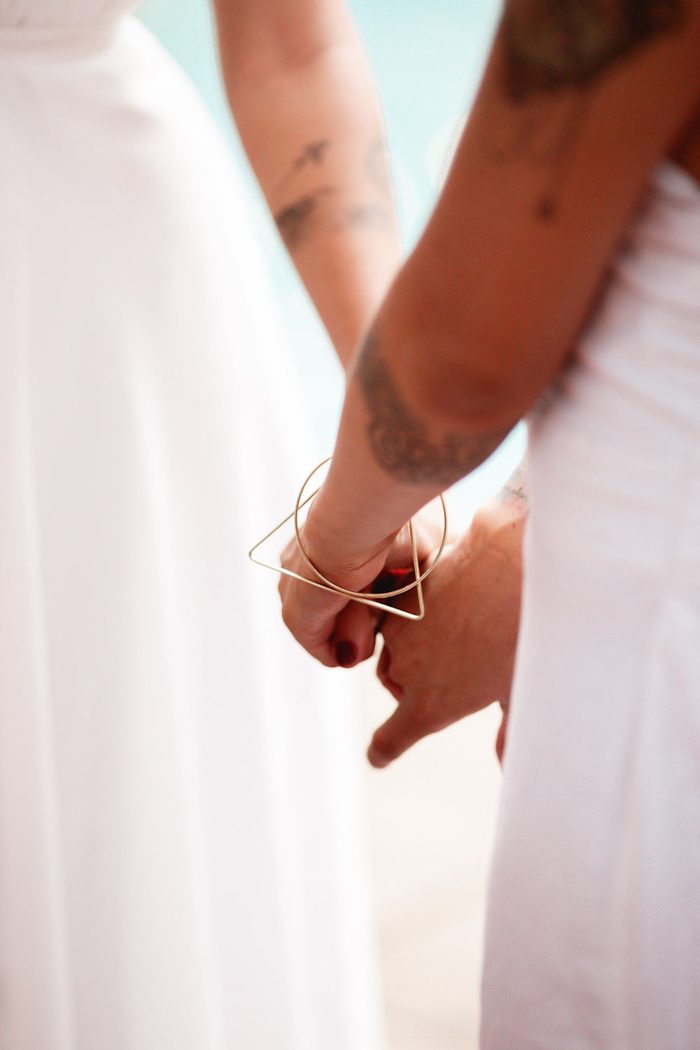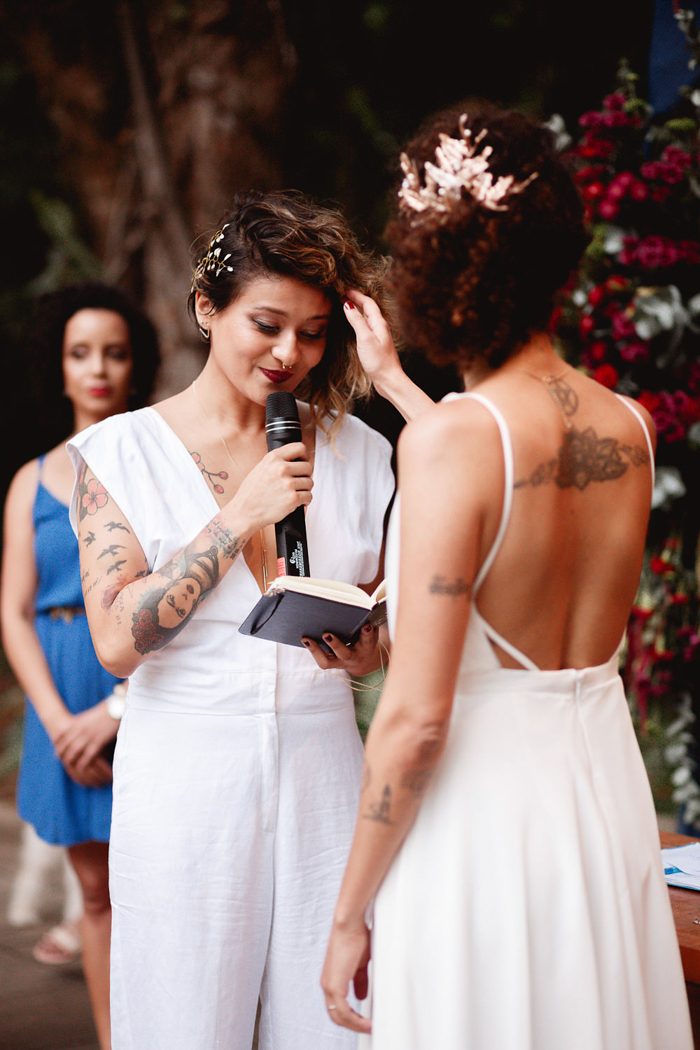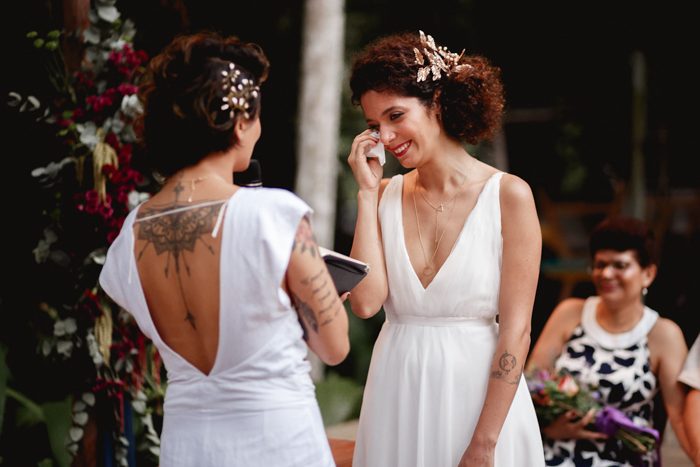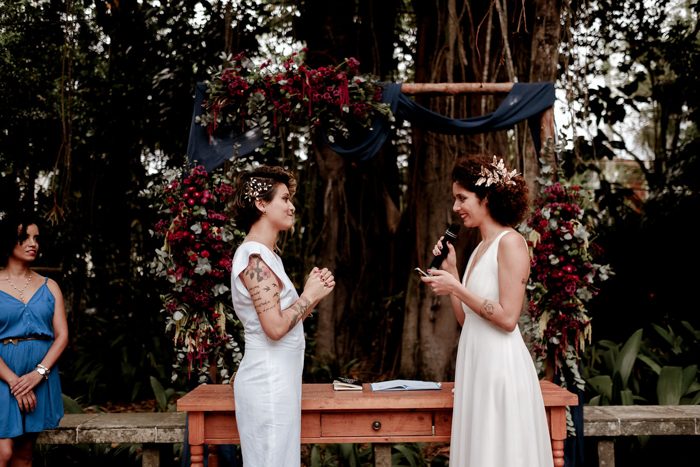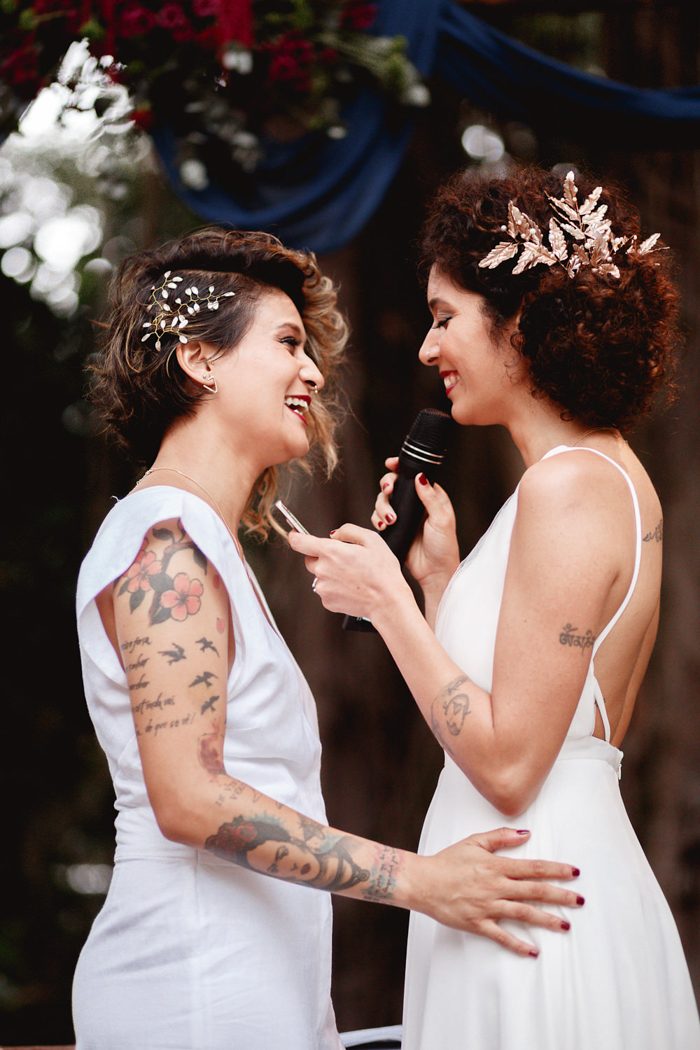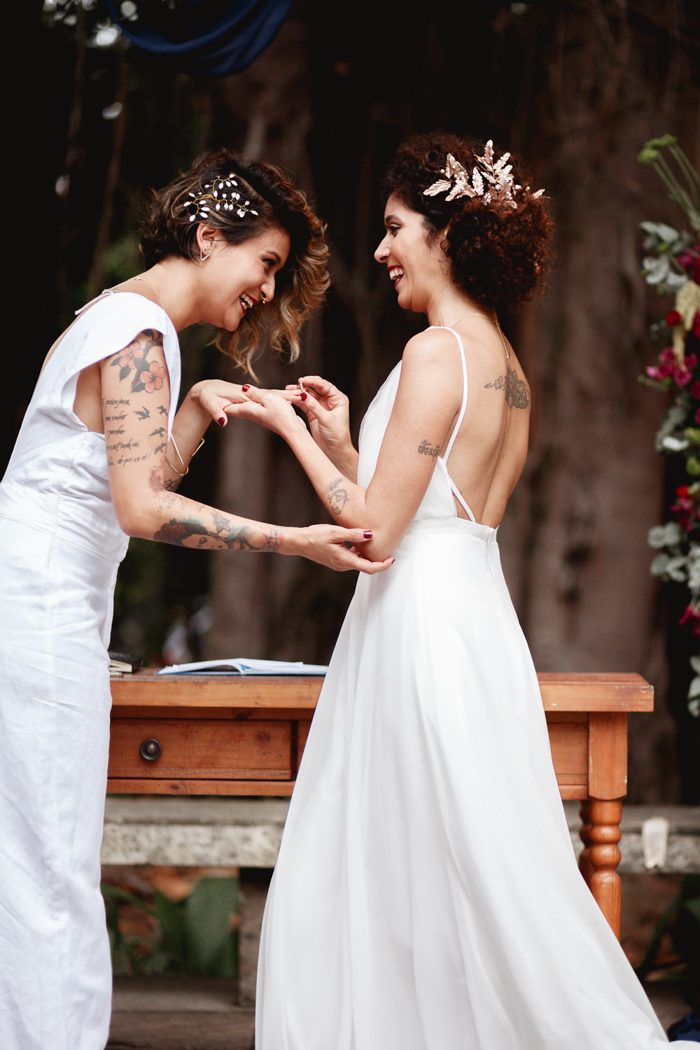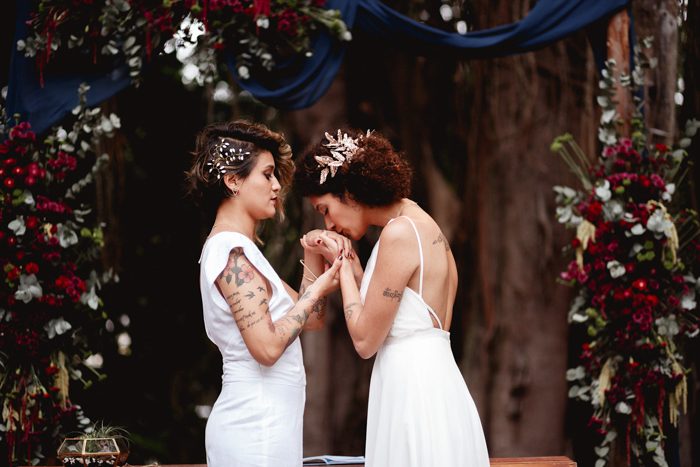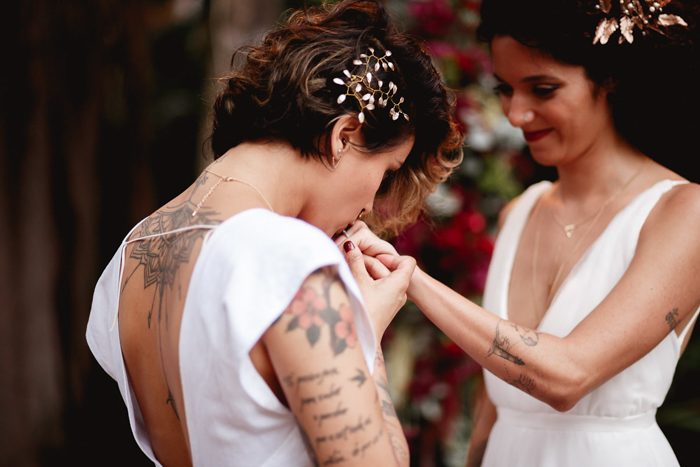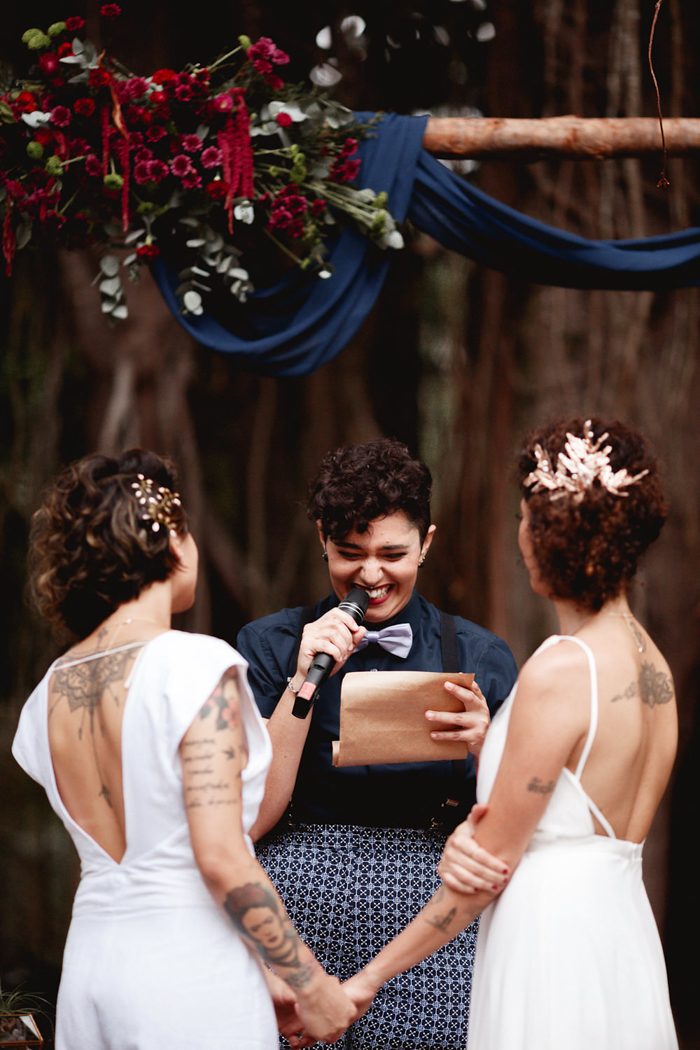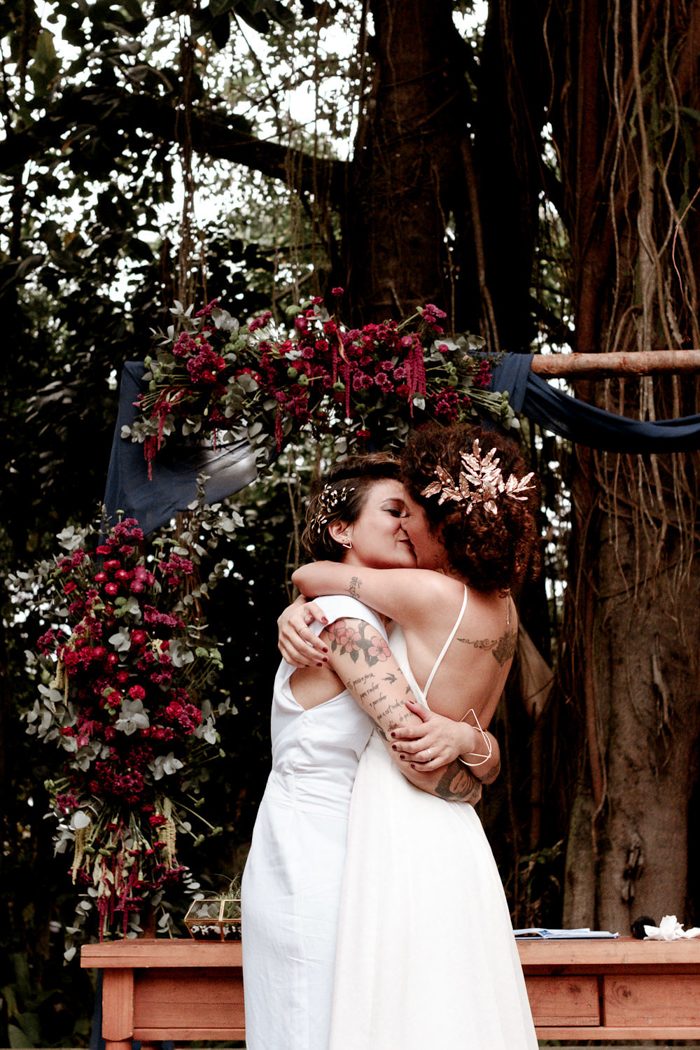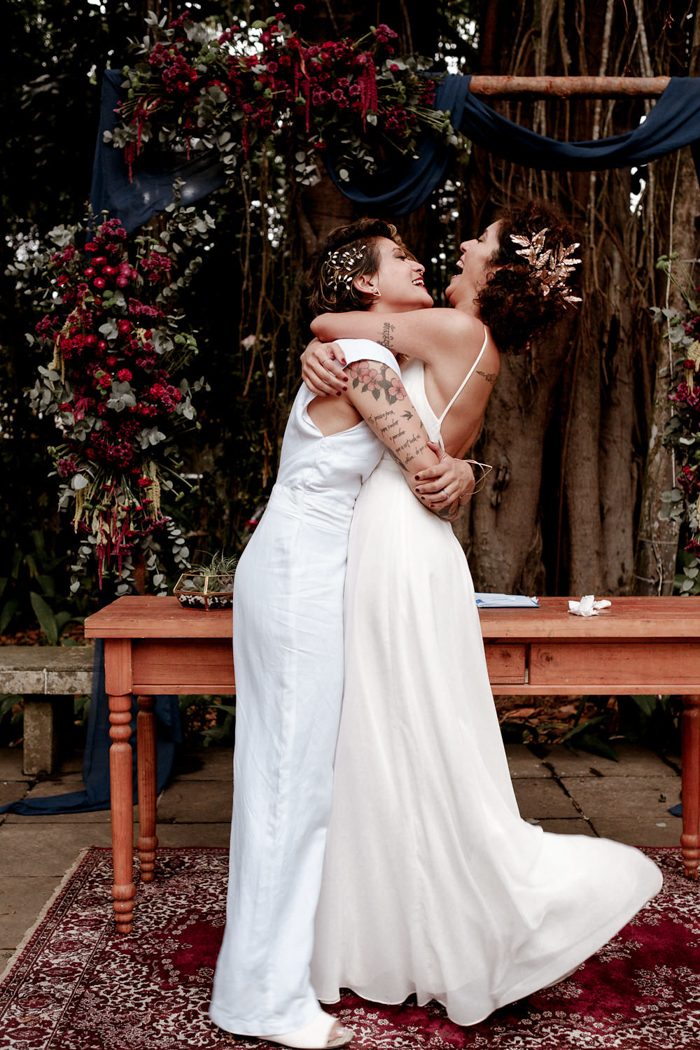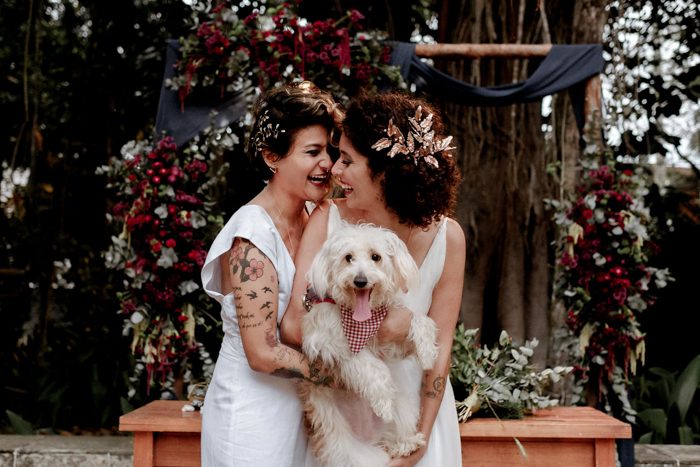 Our favorite photo, for both of us, is with our dog, Zoé. It represents our happiness in that moment, and Zoé looks like she is smiling to the camera.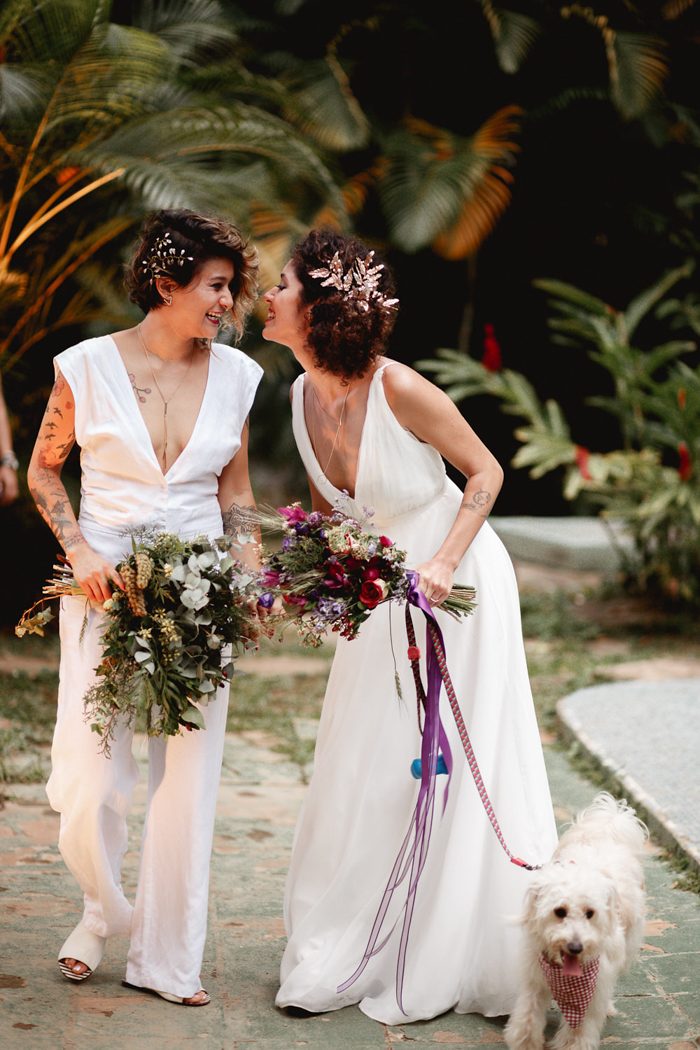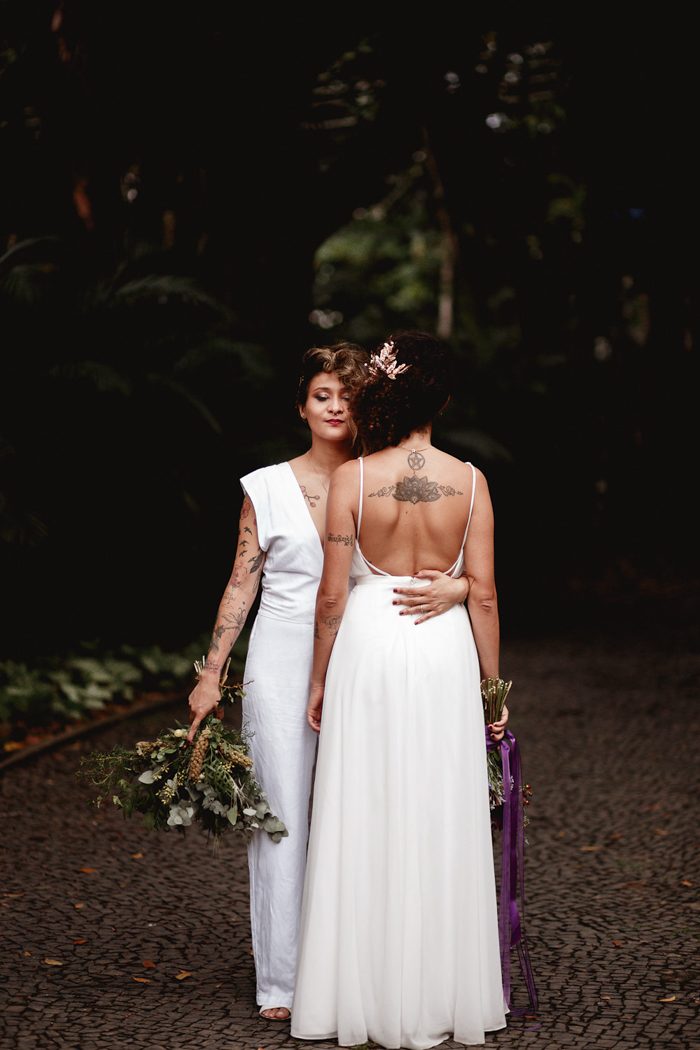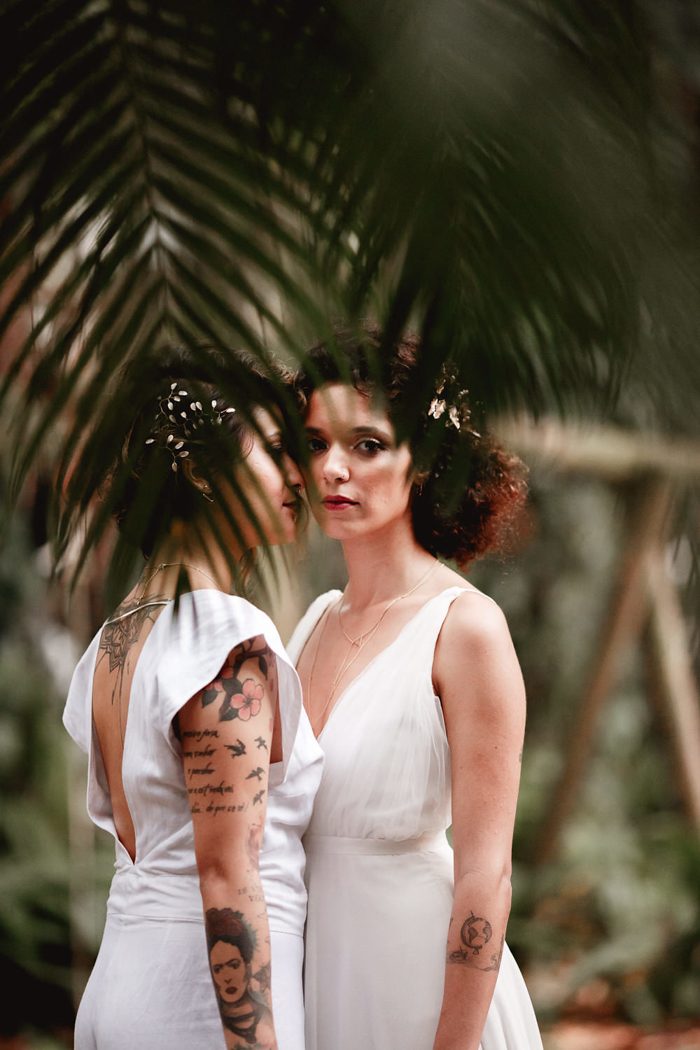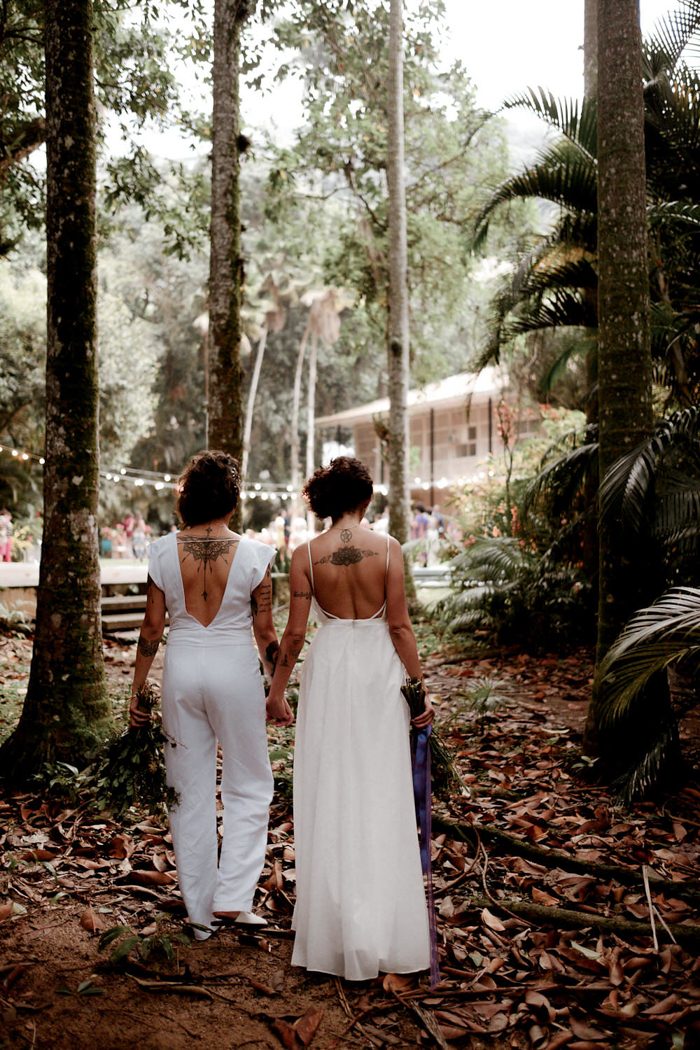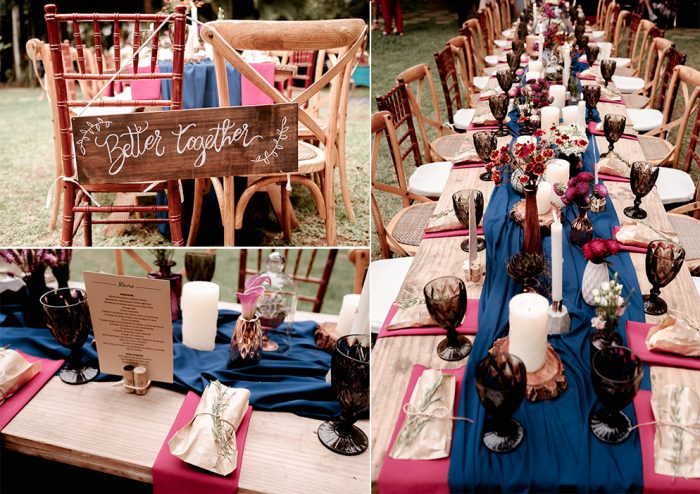 We were very sure about burgundy and marsala. Karine, our friend and decorator, suggested green and brown (in raw wood items) because these are abundant colors in nature and we don't know exactly where the blue came from, but we like blue and she suggested it as a complementary color.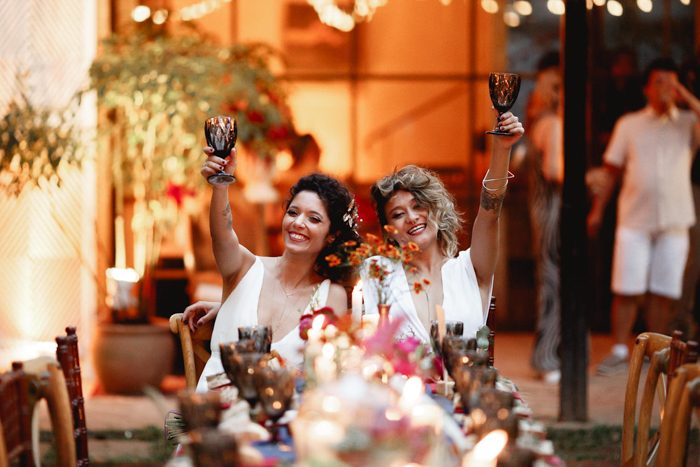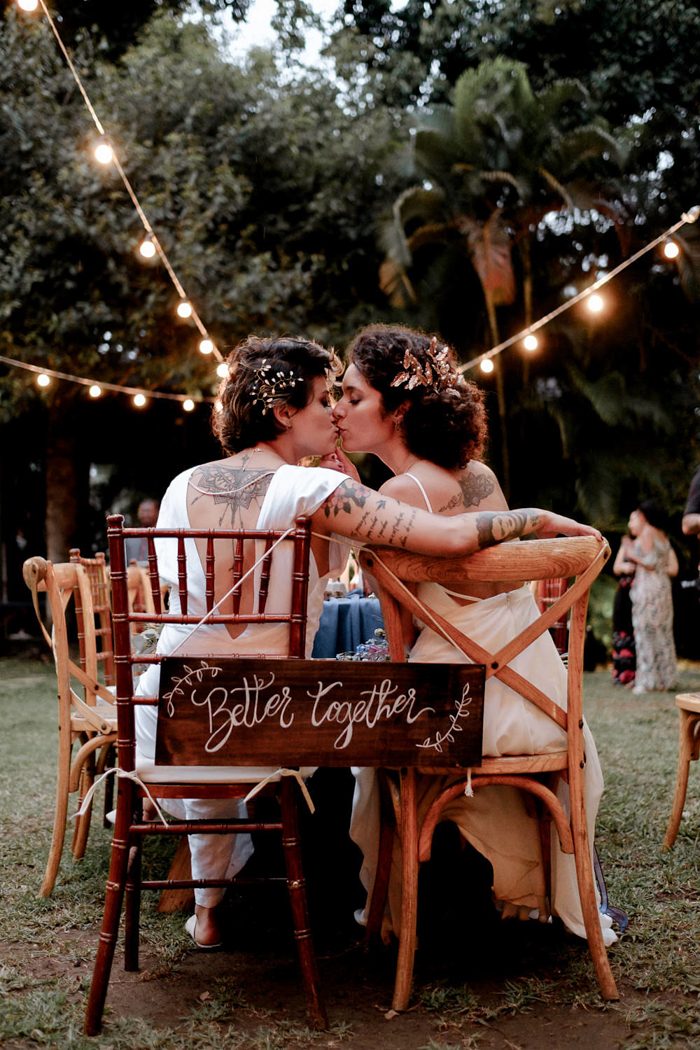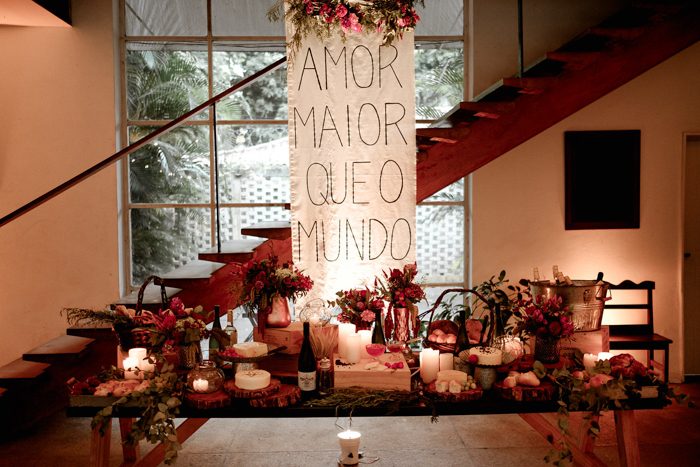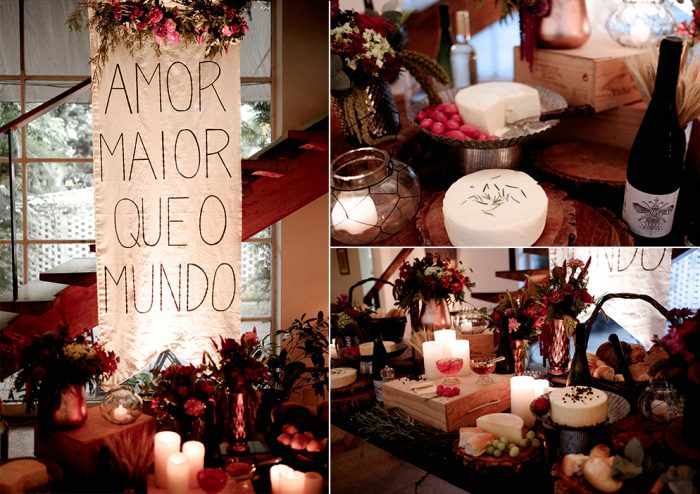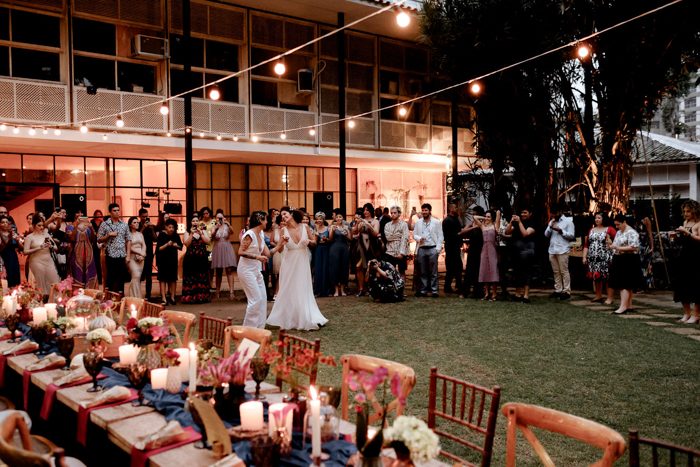 The best part was not a specific moment but realizing that people dedicated their time to make it all so beautiful, and noticing we were able to bring together almost all the ones who love us, support us and share our happiness.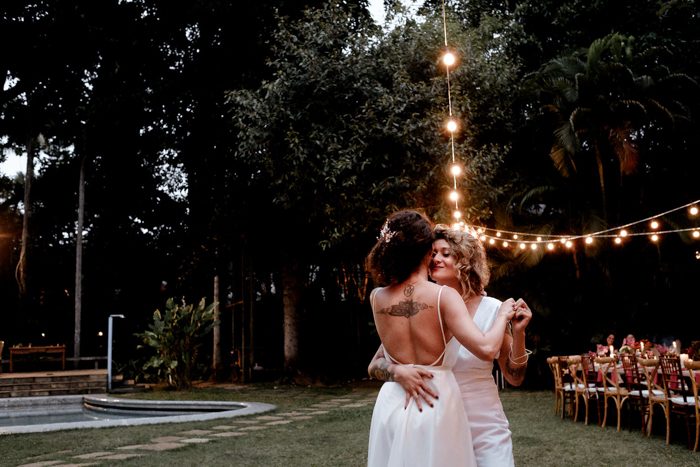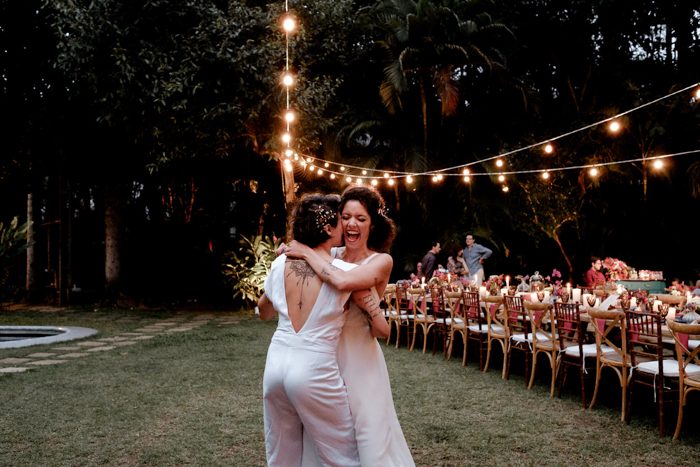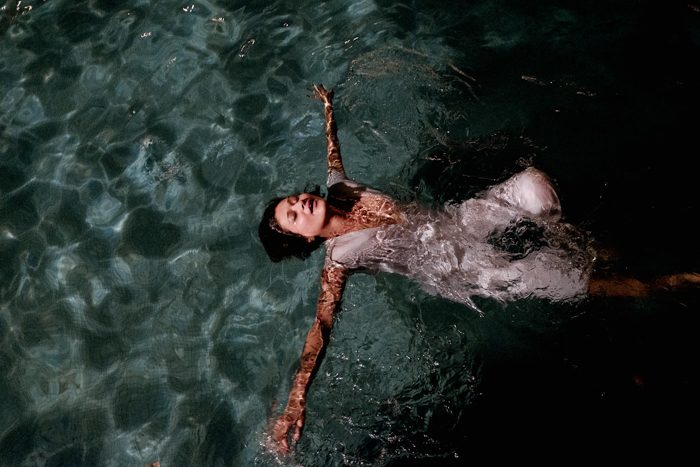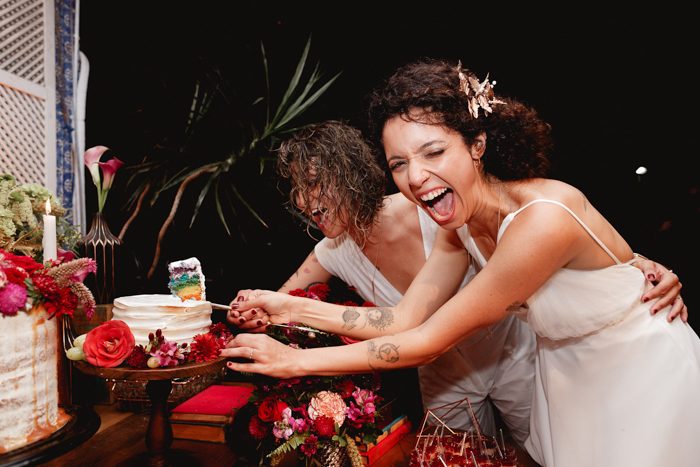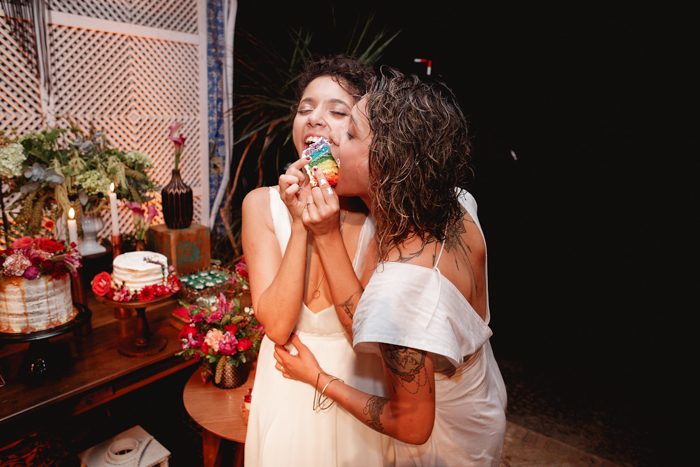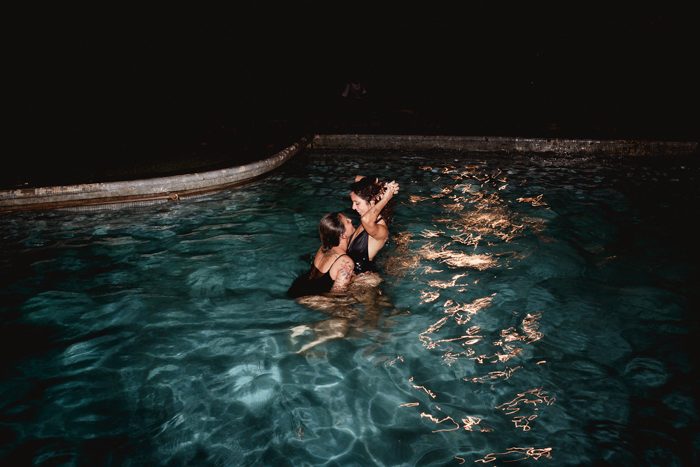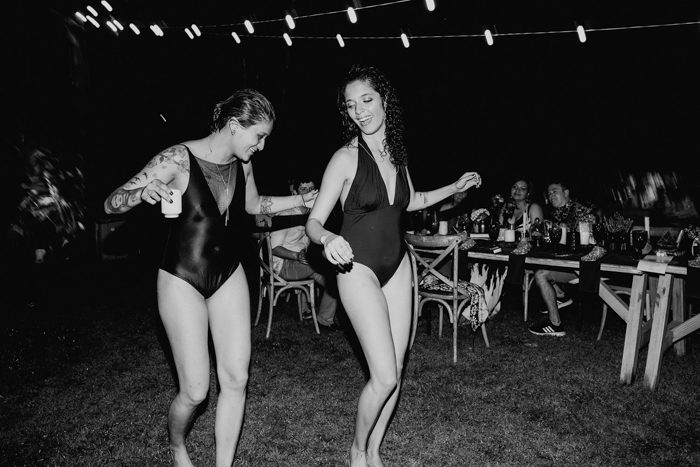 SHOP THIS LOOK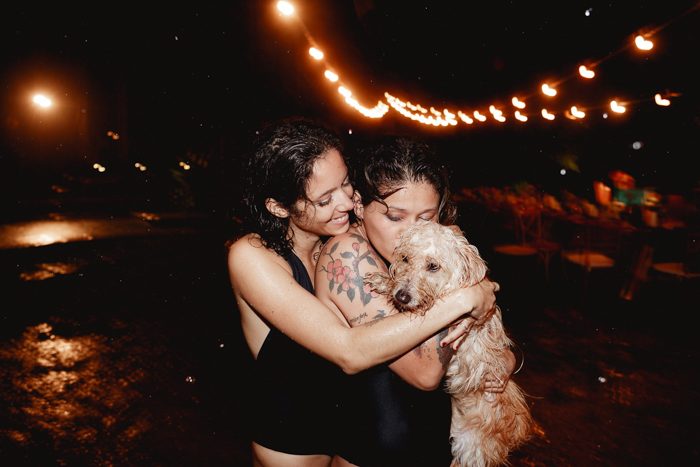 Congratulations to Juliana and Lais on their nuptials, and a huge thanks to Thrall Photography for sharing their fun and festive wedding with Junebug! To see a more edgy approach to a boho wedding, take a look at this tropical garden elopement inspiration at Coqui Coqui Valladolid!