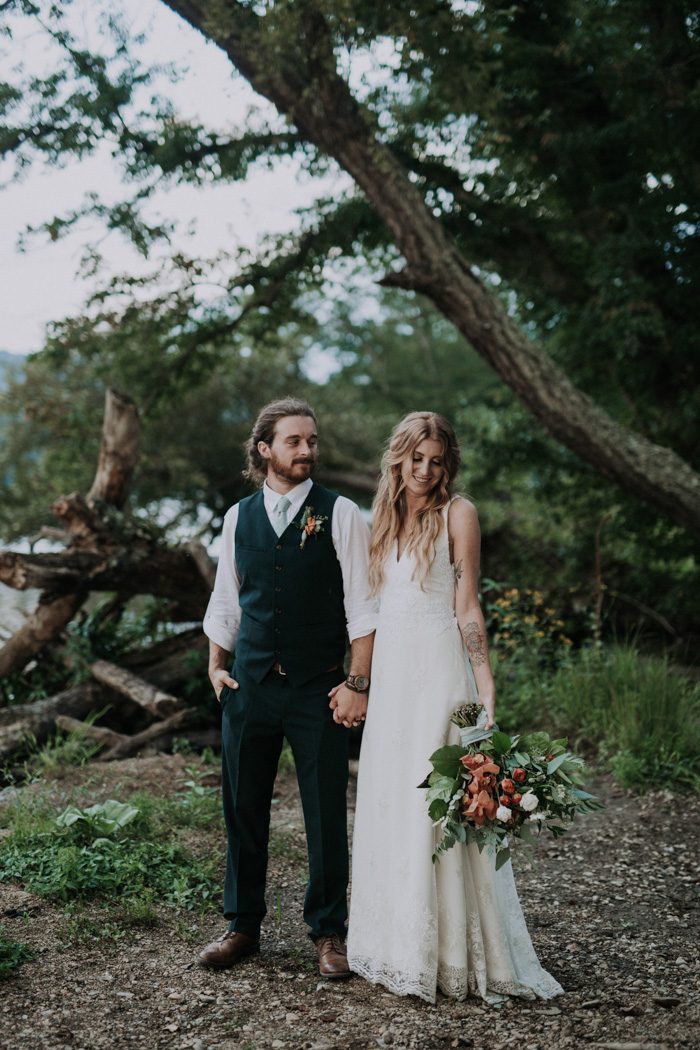 Linsey and Adam's love for vintage goods, woodsy locations, and carefree vibes came together beautifully in their Asheville wedding at Olivette. The couple always wanted an outdoor wedding so, when they found a venue that offered a woodsy landscape for their reception and a small, secluded island with a creek for their ceremony, they immediately knew it was the one. To make the venue their own, they brought in antique furniture, books, brass candlesticks, and DIY signage for a one-of-a-kind vintage look. Flora created greenery-forward centerpieces, arbor accents, hoops, and bouquets to add a fresh, organic feel to every nook and cranny. We can't get over all the DIY projects this creative couple and their loved ones made, especially the bride's custom gown that her mother made using lace from her own wedding dress. This Asheville wedding was a woodsy dream come true, and Sheila Nolt Photography captured every moment in beautiful detail!
The Couple:
Linsey and Adam
The Wedding:
Olivette, Asheville, North Carolina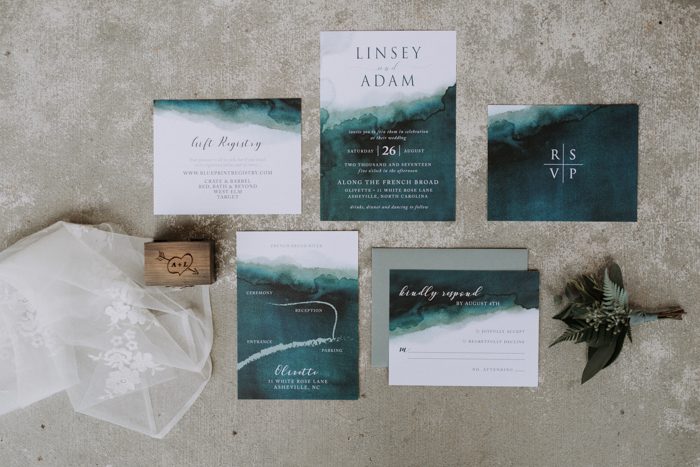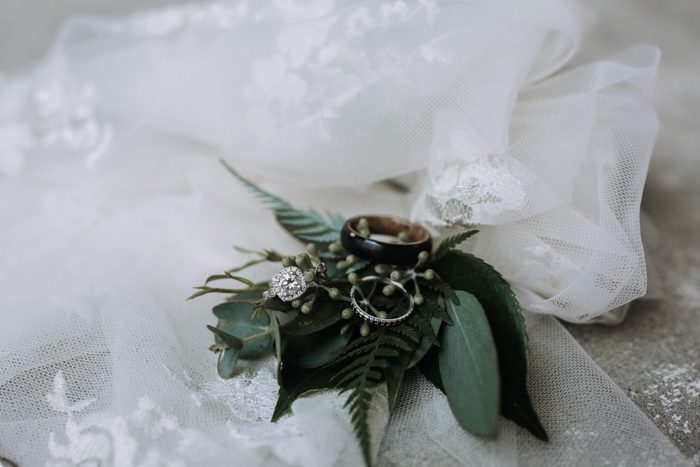 While we were planning our wedding, we were also in the process of shopping for a new house in the Asheville area. Nothing was set in stone when we booked our venue but we just knew we would find a house. Somehow we moved in just before for our wedding!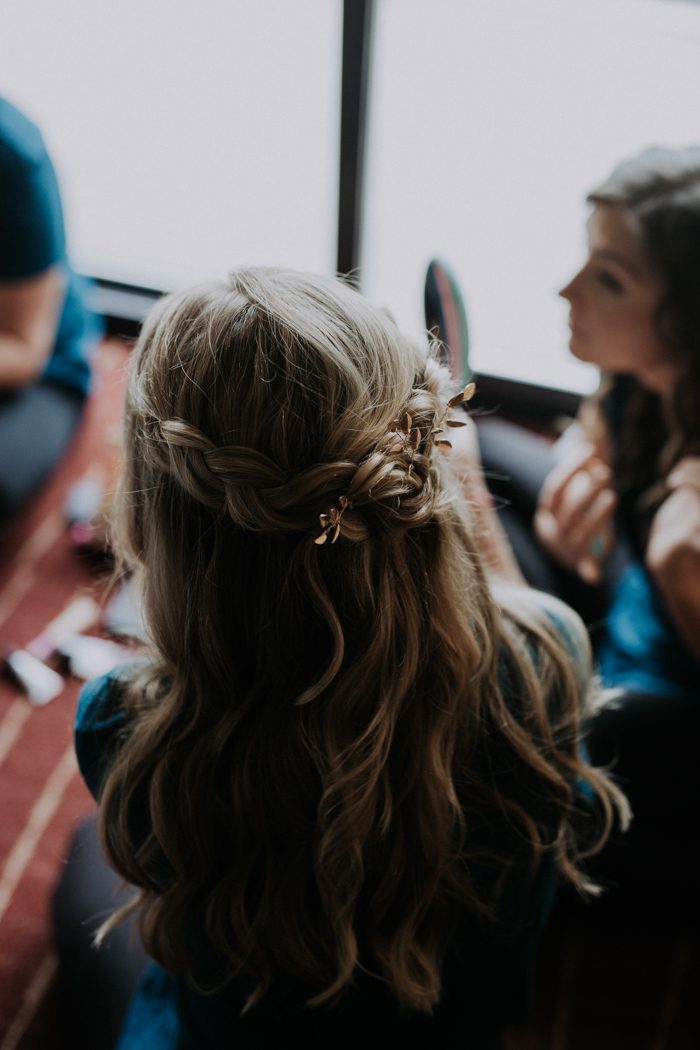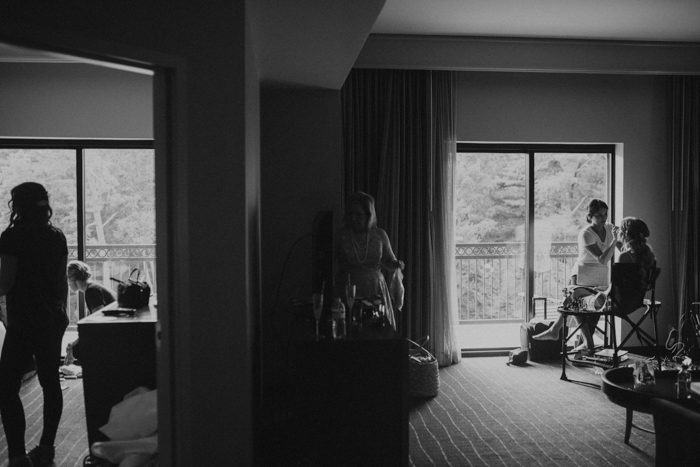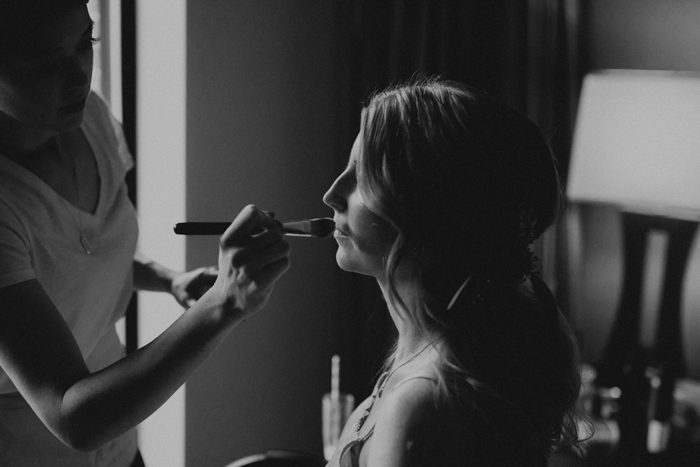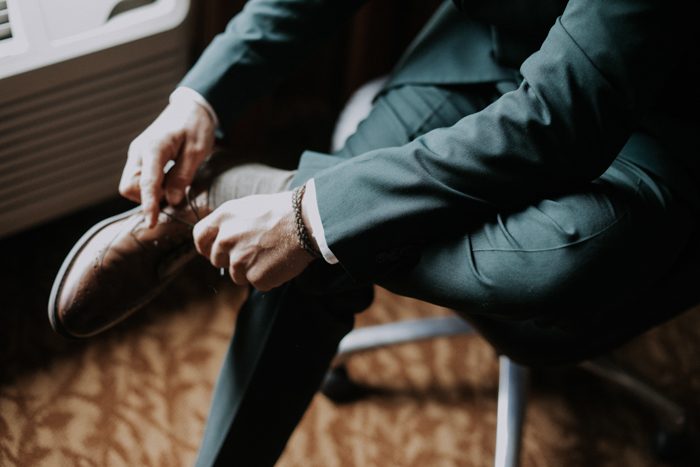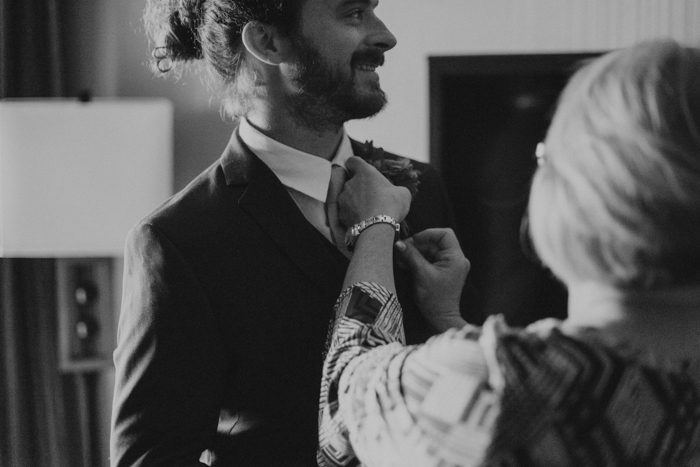 We both wanted an outdoor setting for our wedding. Adam wanted to be near a body of water, and I wanted the spot to be wooded. We looked around online for weeks at all of the venues in the Asheville area, but the ones that were close to the setting we had in mind were either booked, only allowed a small number of guests, or were out of our price range.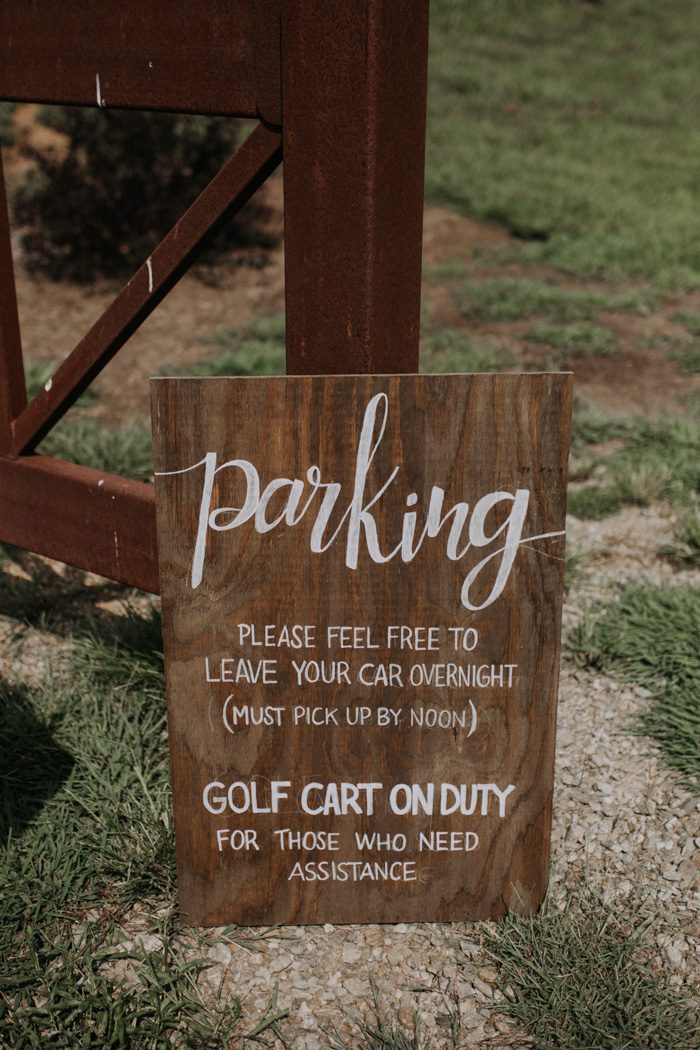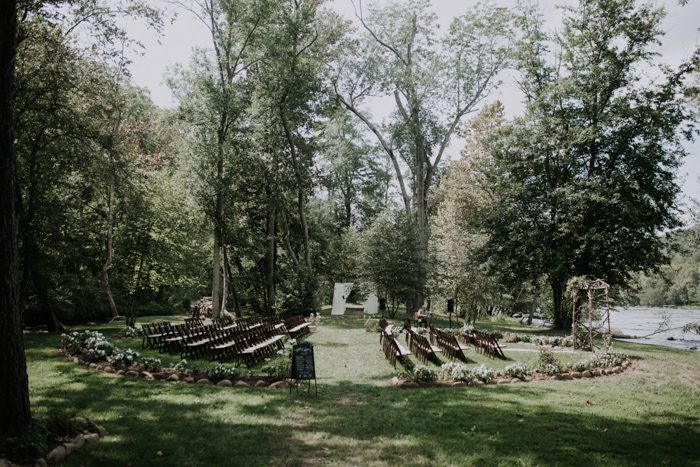 Just when we were getting really frustrated and considered moving our date back another year, we came across a new venue called Olivette. We were already familiar with the name because we had looked at the Olivette community for our potential new home. While the houses they were building on that beautiful chunk of land did not fit our budget, their new venue spot did! As soon as we set foot on the winding trail along one of the widest sections of the French Broad, with lush grass pads out to the side and breezy trees standing above, we knew that it was the perfect spot. We actually went ahead and booked it with their event coordinator before we left our tour!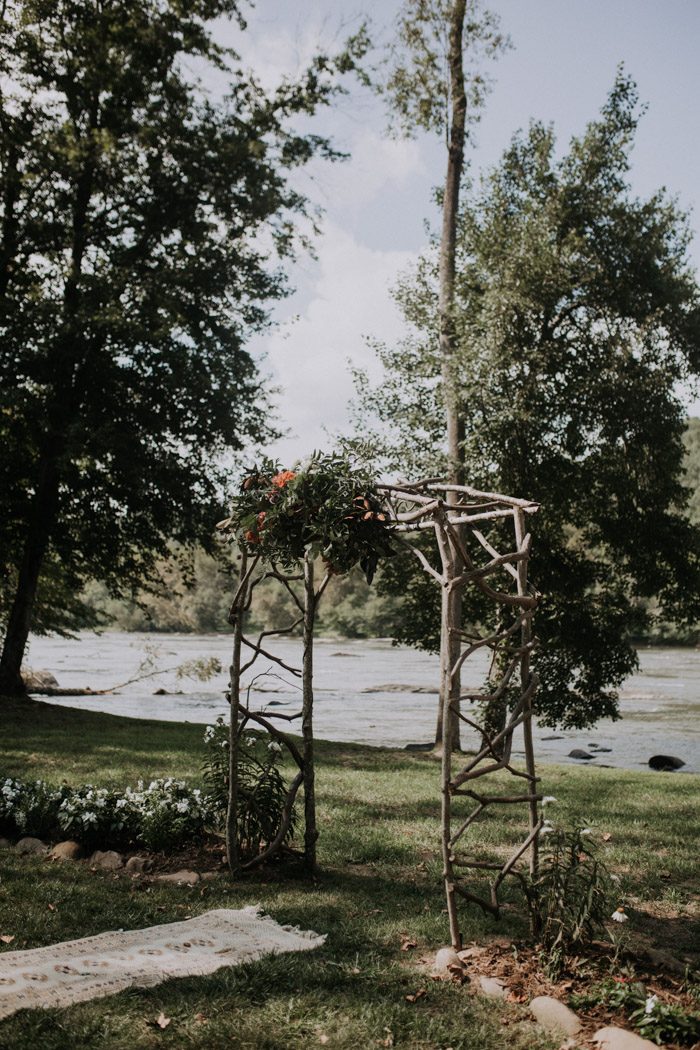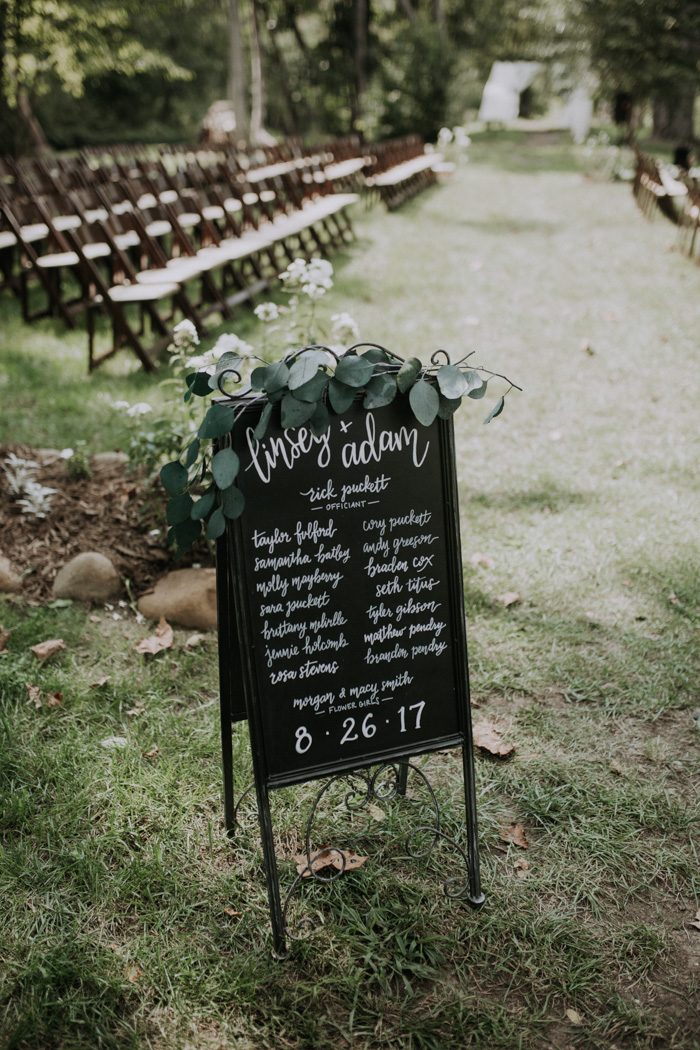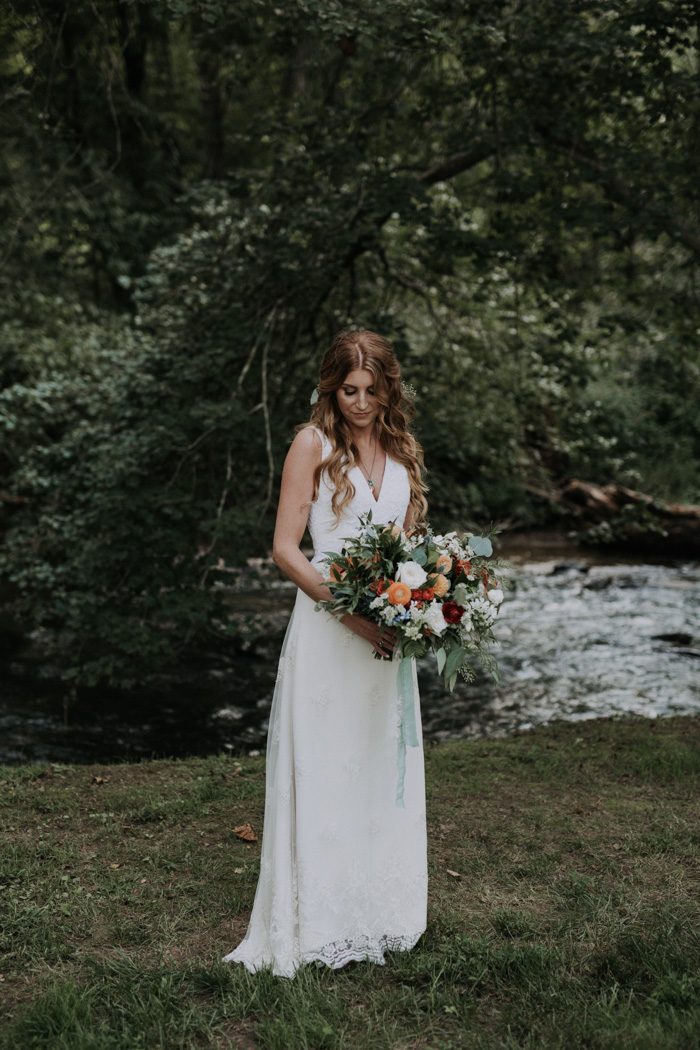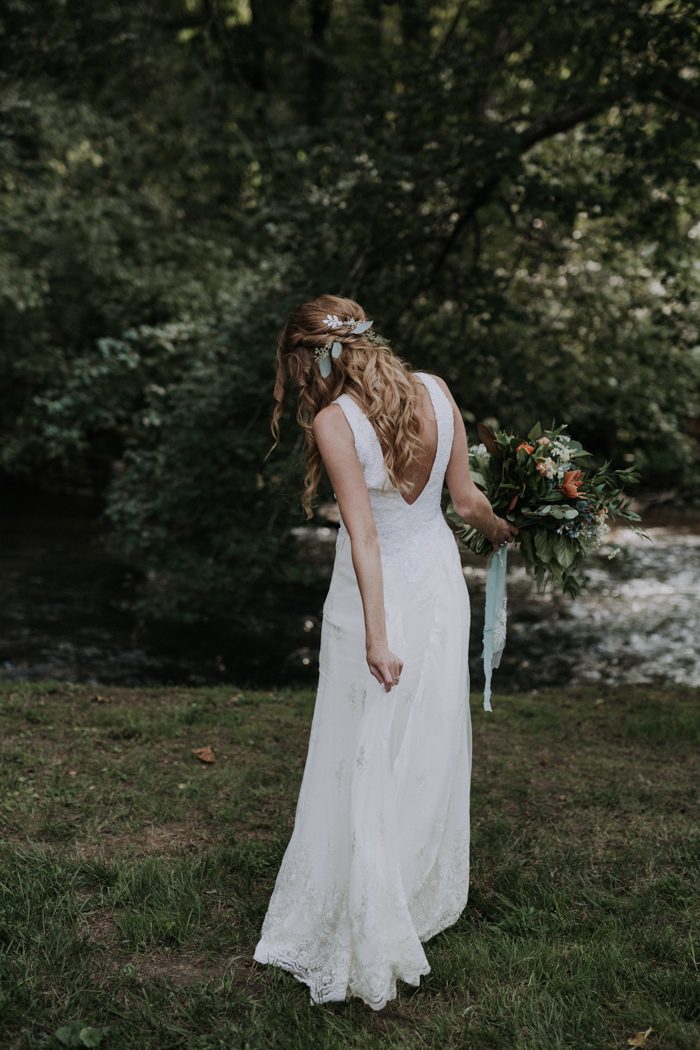 Our ceremony took place on a little island toward the end of the event space where a trickling creek coming off of the river winds behind and around that piece of land, which had the perfect amount of shady trees to keep our guests cool and allow good lighting for photos. It was the perfect balance between water and woods we were looking for! We used their existing twig arbor with a beautiful flower arrangement from Flora as our altar and the flowing French Broad as our backdrop.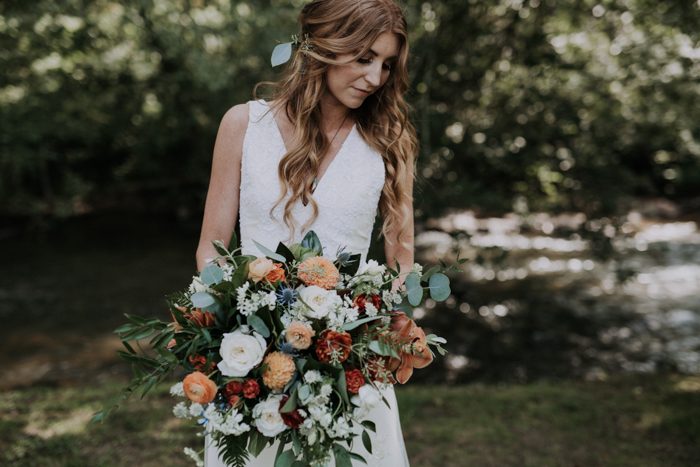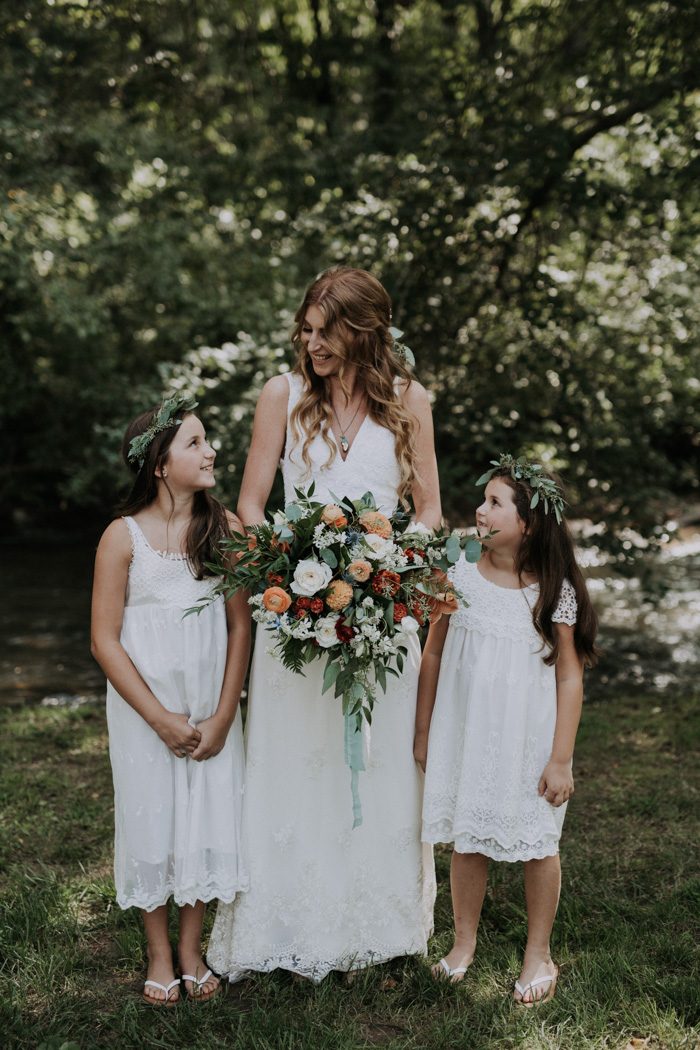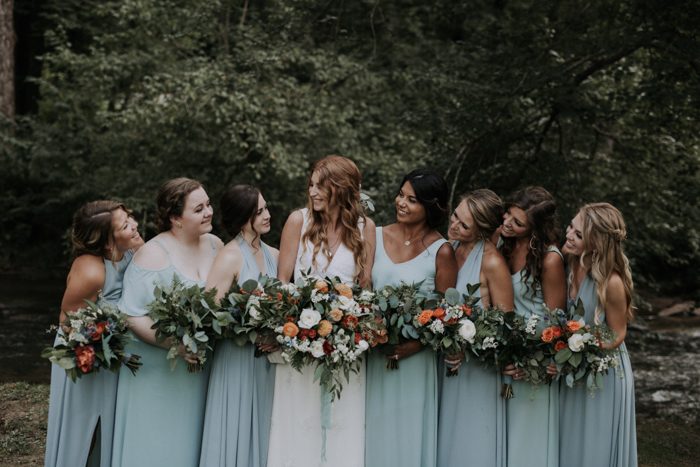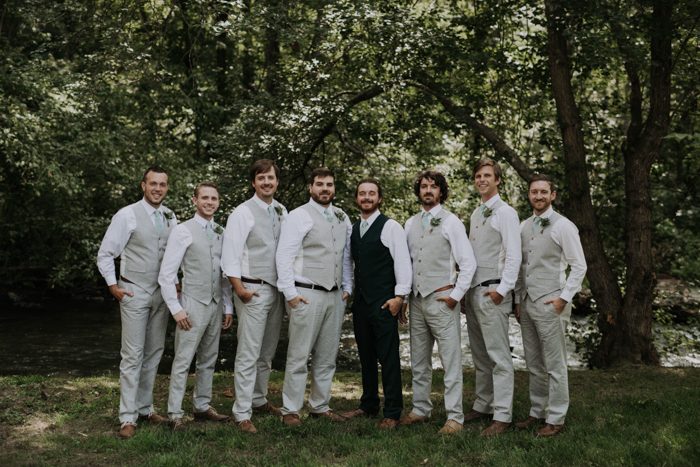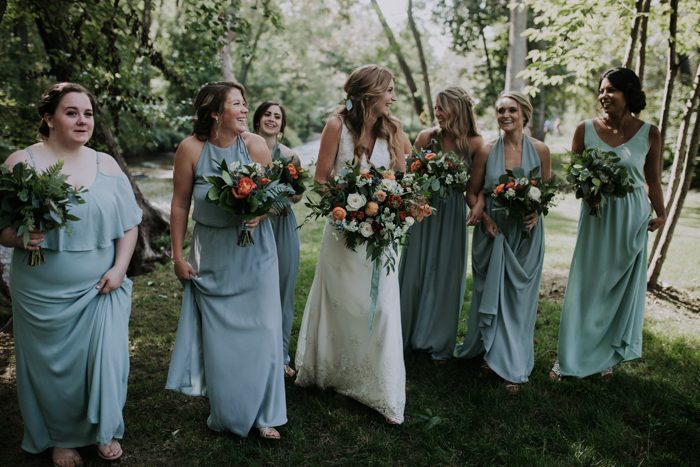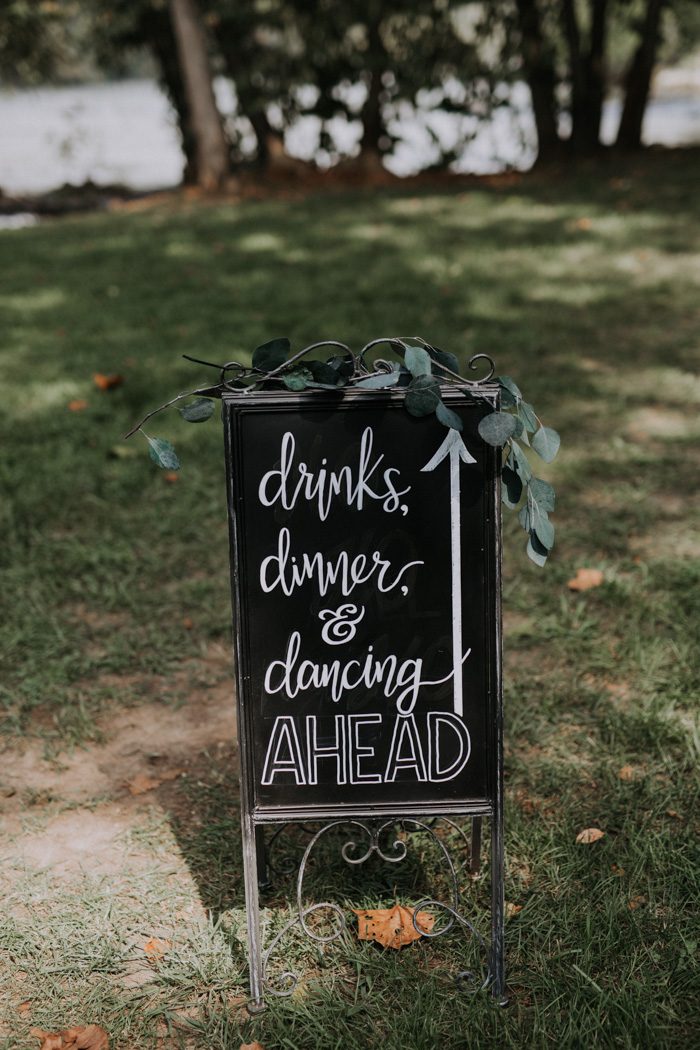 We're both music nerds and both of our families are made up of Beatles fans, so we had a very talented friend play an acoustic Beatles medley as our guests arrived and as family and our wedding party entered. But my (Linsey) father is probably the biggest Beatles fan on the planet and "Here Comes the Sun" has always held a special place in our father-daughter relationship — we even have matching tattoos of it! So, naturally, that's what he walked me down the aisle to. "I've Just Seen A Face" by Paul McCartney was our recessional song.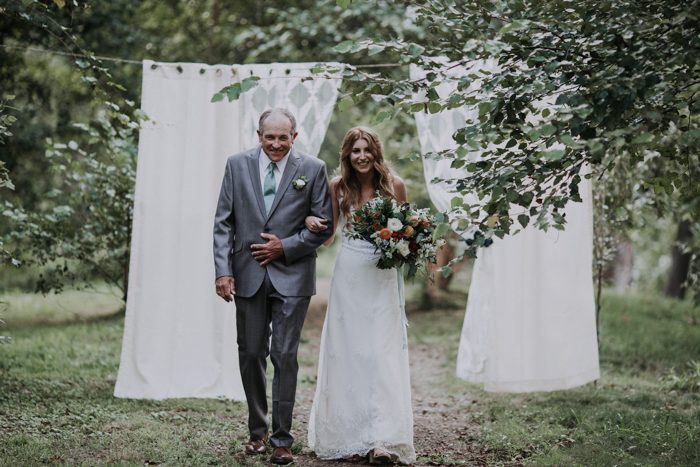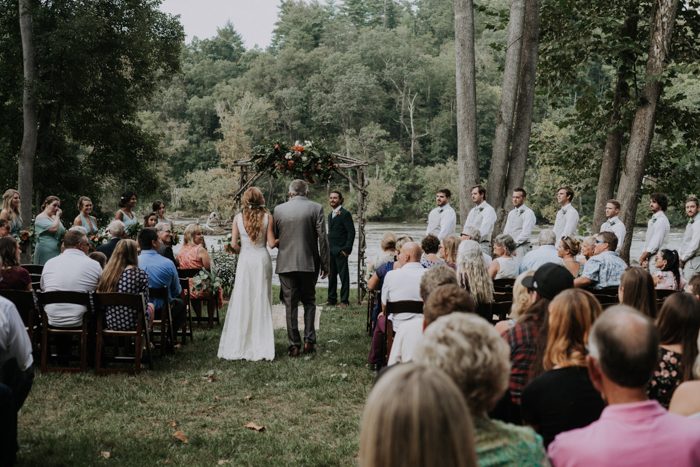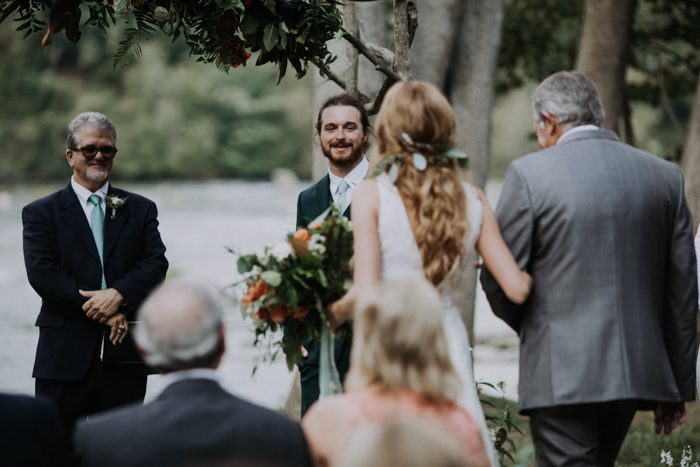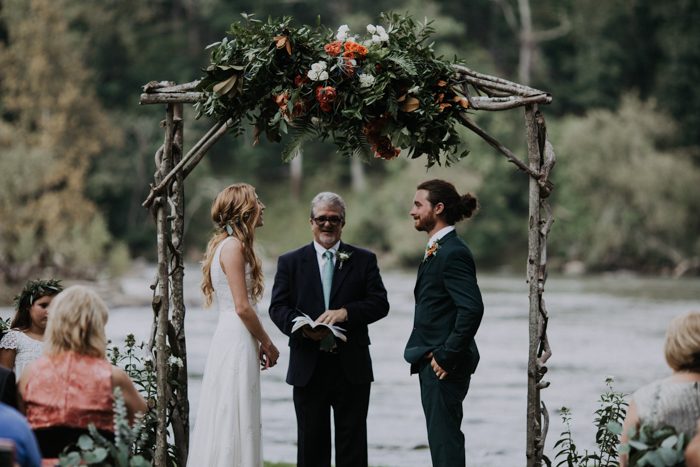 The most memorable moment — yet probably unnoticed by anyone else — was when Adam kept trying to wink at me during our ceremony. It's been a running inside joke since we first started dating. I tried winking at him during a date but, like an idiot, I winked with the eye opposite to the side of me he was sitting on, which meant he never saw the wink. I tried a few more times that night, quietly getting upset that he still wasn't noticing my hidden (literally) wink. Ever since we'll randomly wink with the opposite eye to each other as a joke. After he did this 3 or 4 times during the opening prayer, I finally noticed and couldn't stop laughing for the remainder of the ceremony!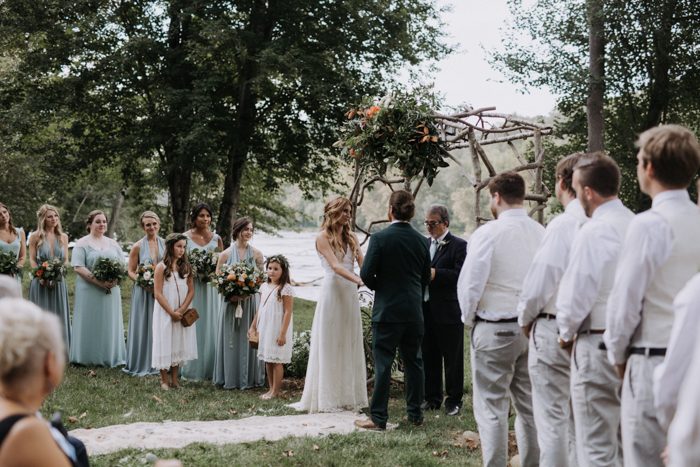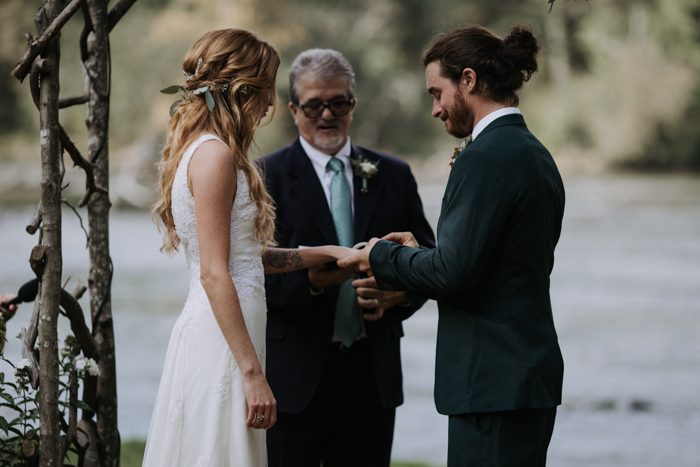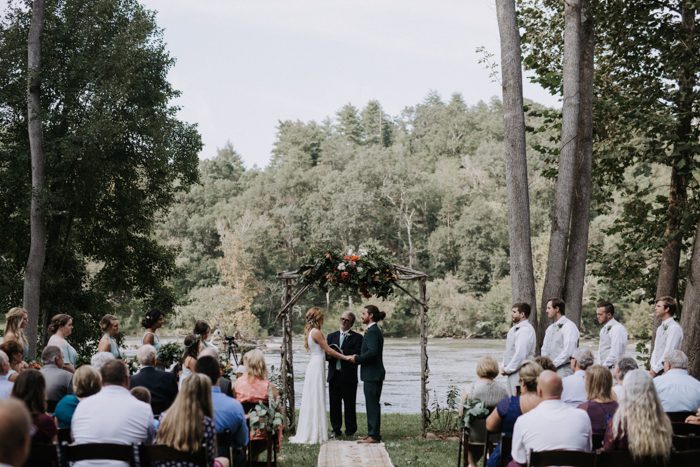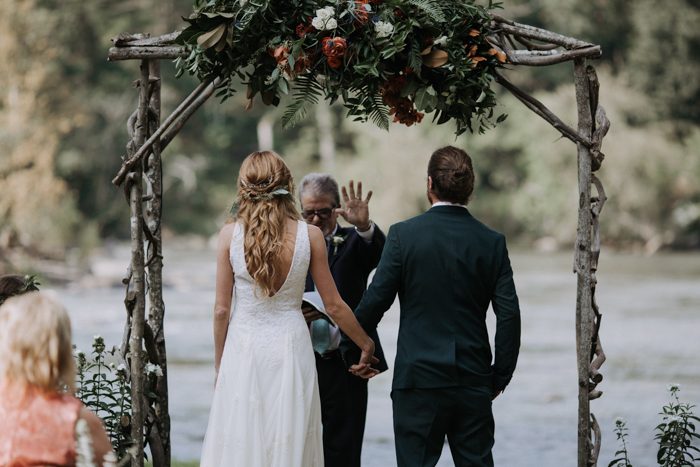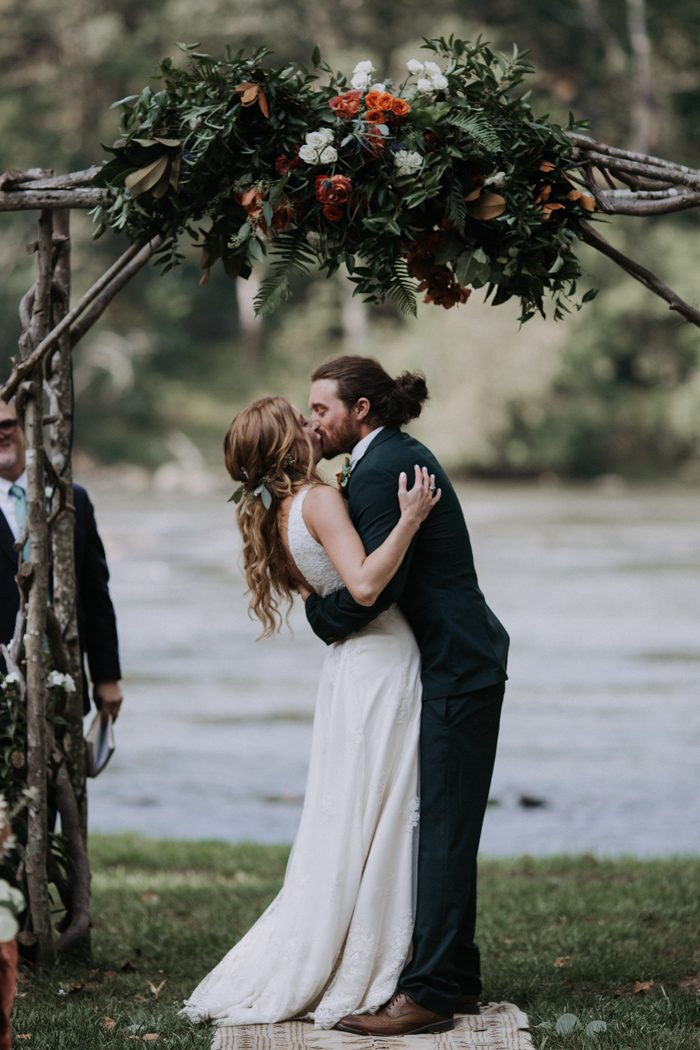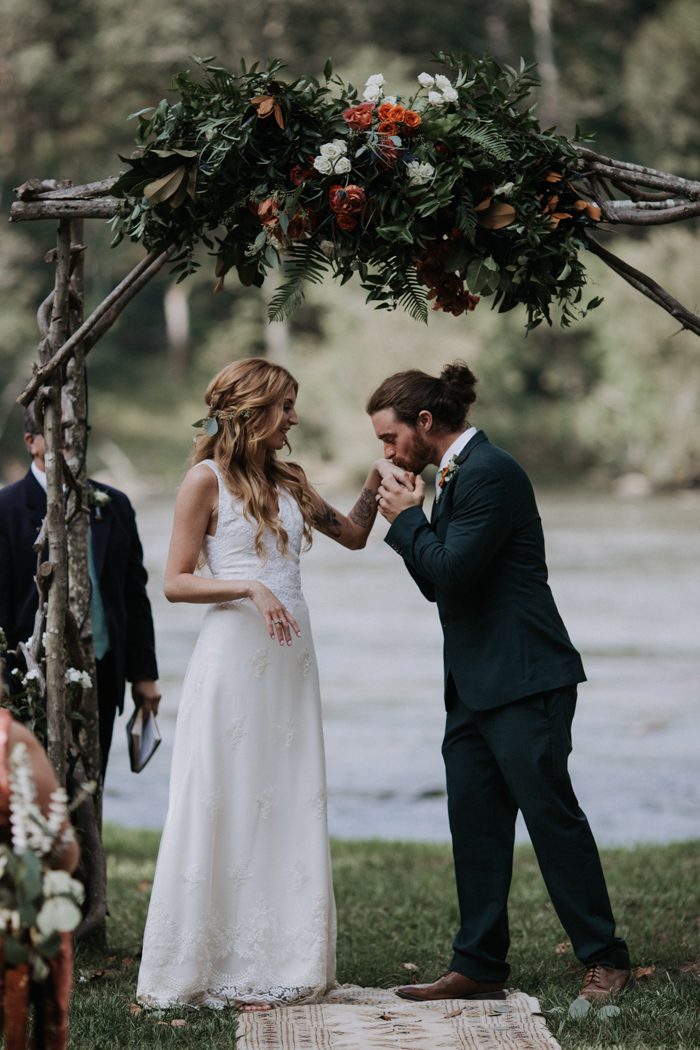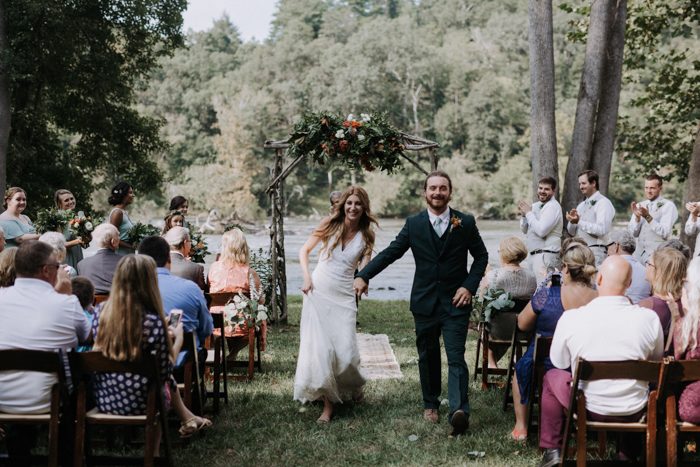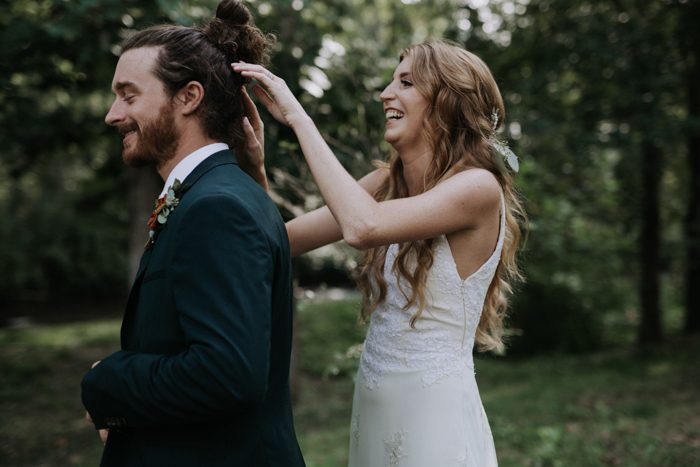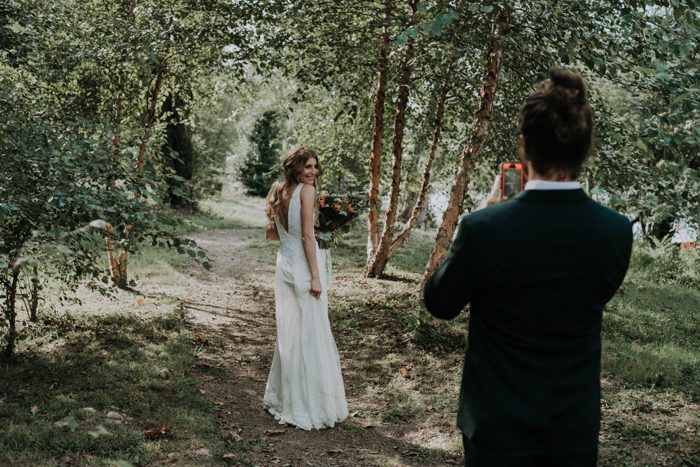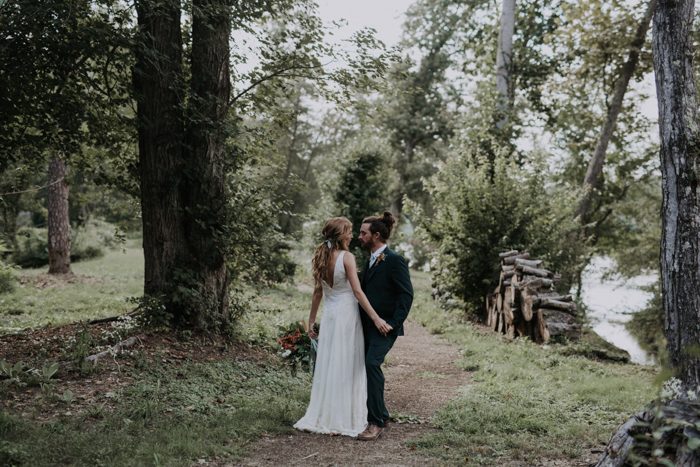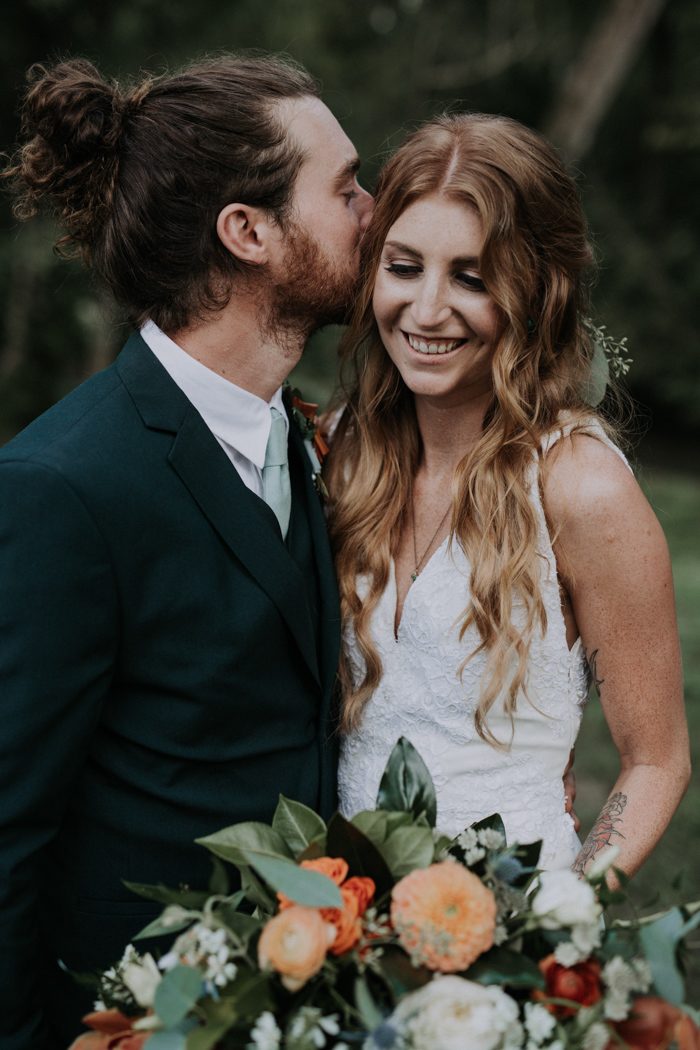 Adam and I met at an antique show he was working. He used to restore furniture and had a few pieces on exhibit. That shared interest is what initially bonded us and antiques/heirlooms/furnishings, in general, are still a shared passion. We had both recently lost grandmothers. Since they weren't able to physically be with us on our wedding day, we were able to bring some special things from their homes into our wedding decor — antique tables, chairs, candle holders, vases, mirrors. This quickly shaped the look and feel of our big day and felt so natural as these pieces spoke so strongly to our shared interest of "vintage."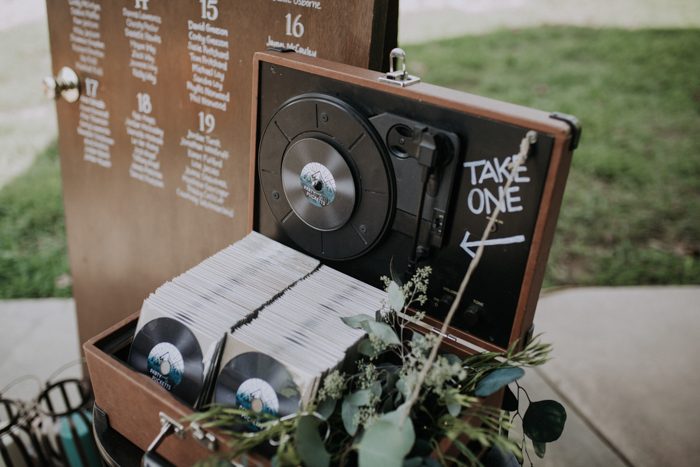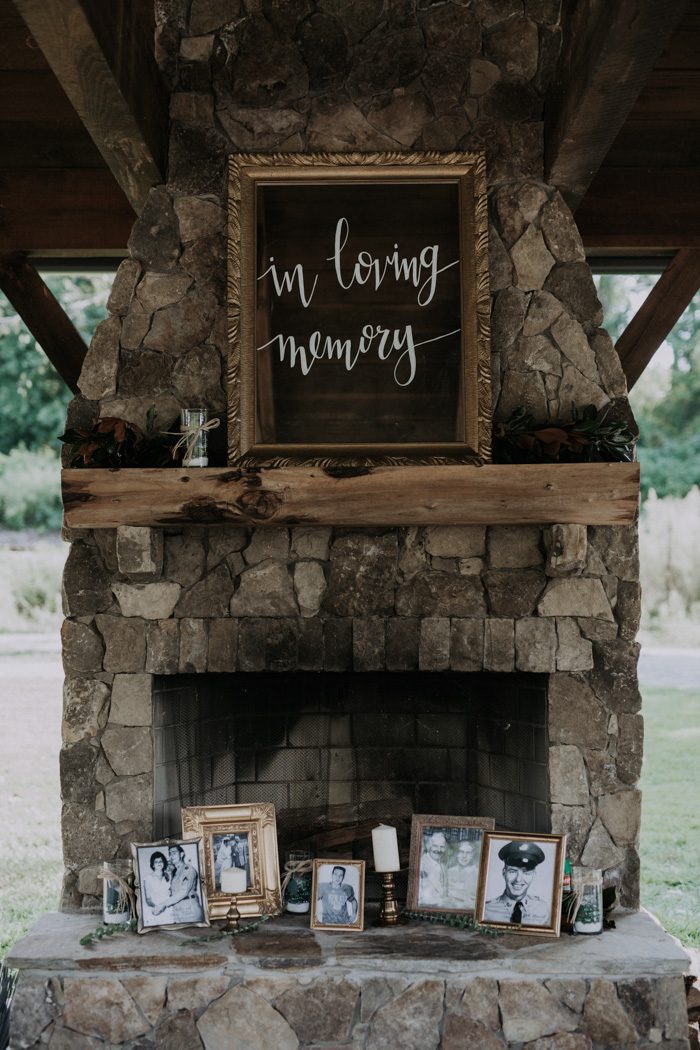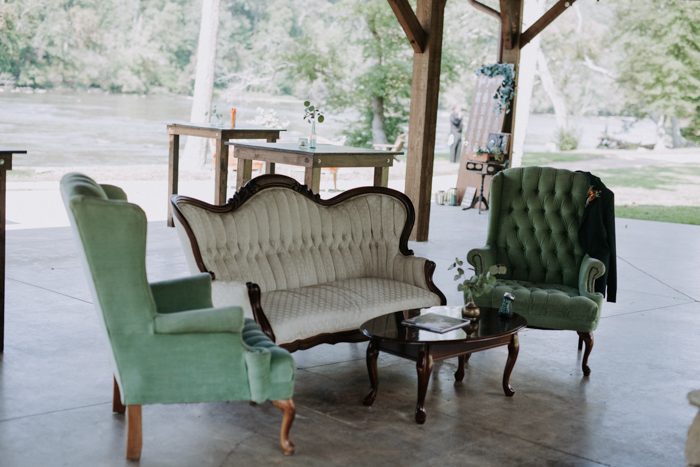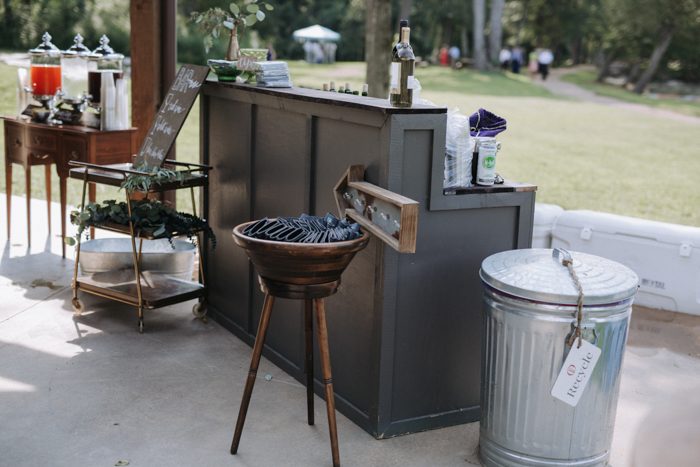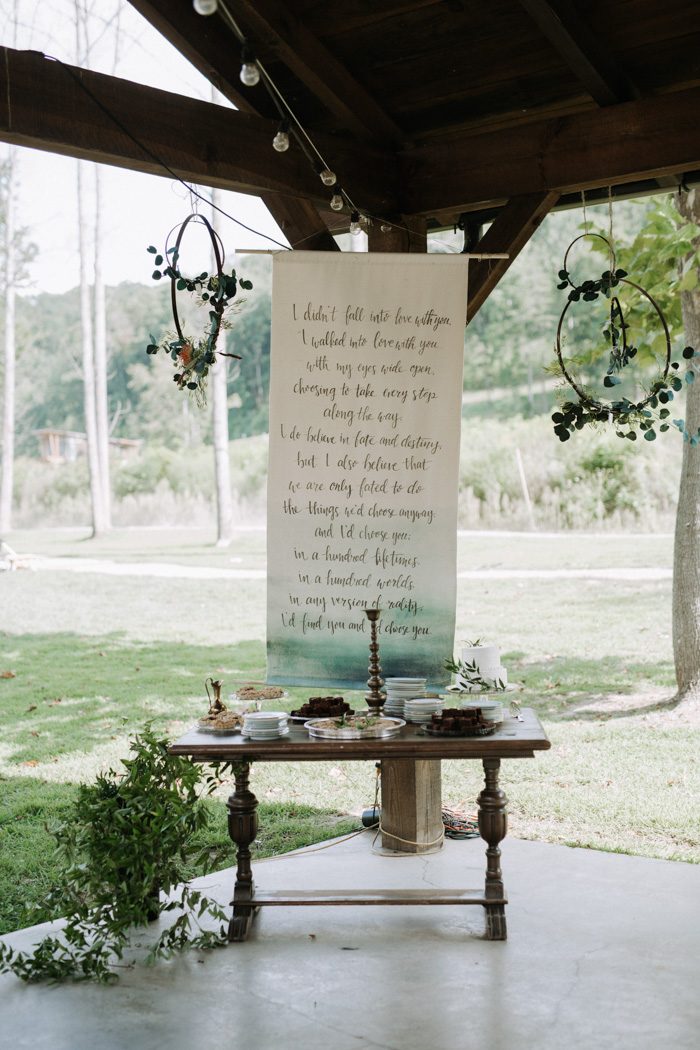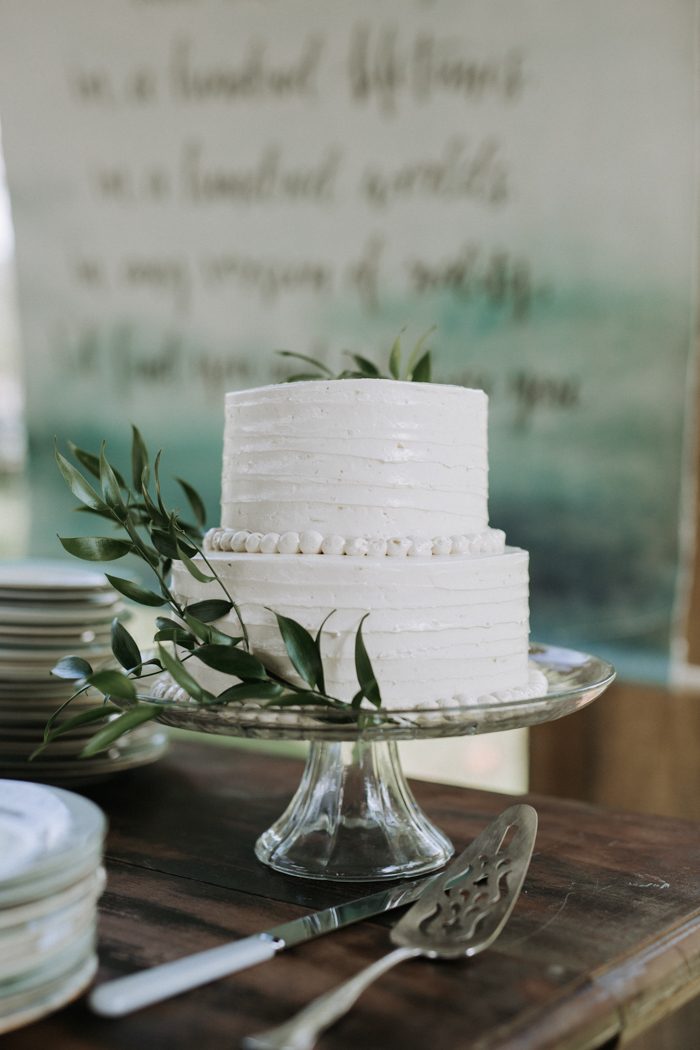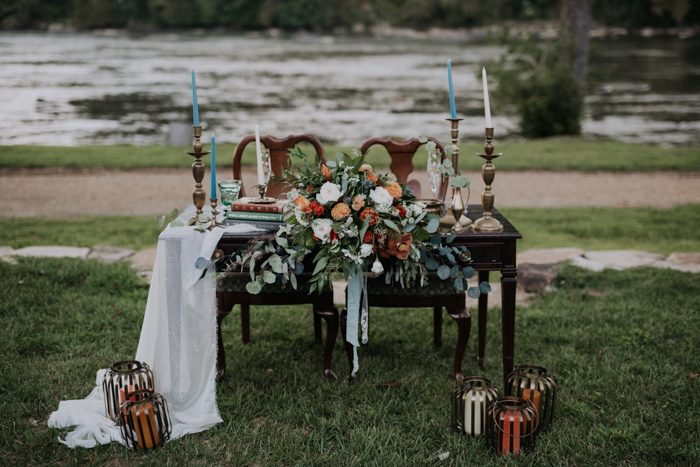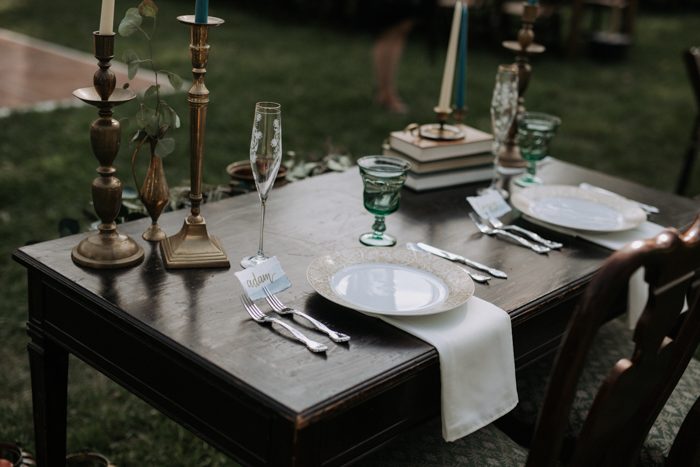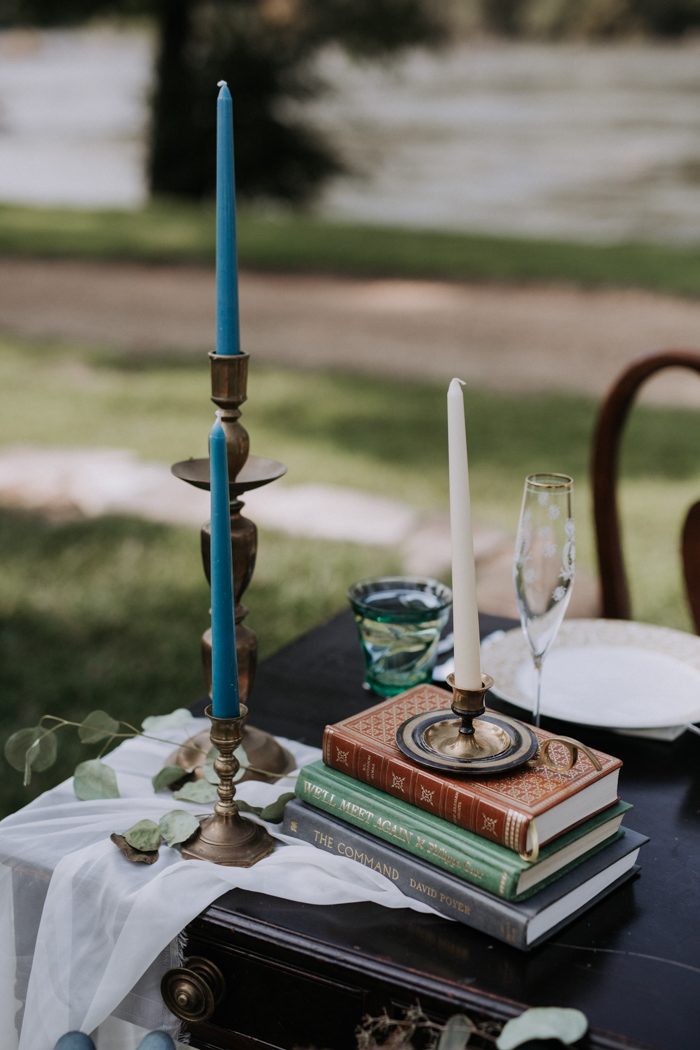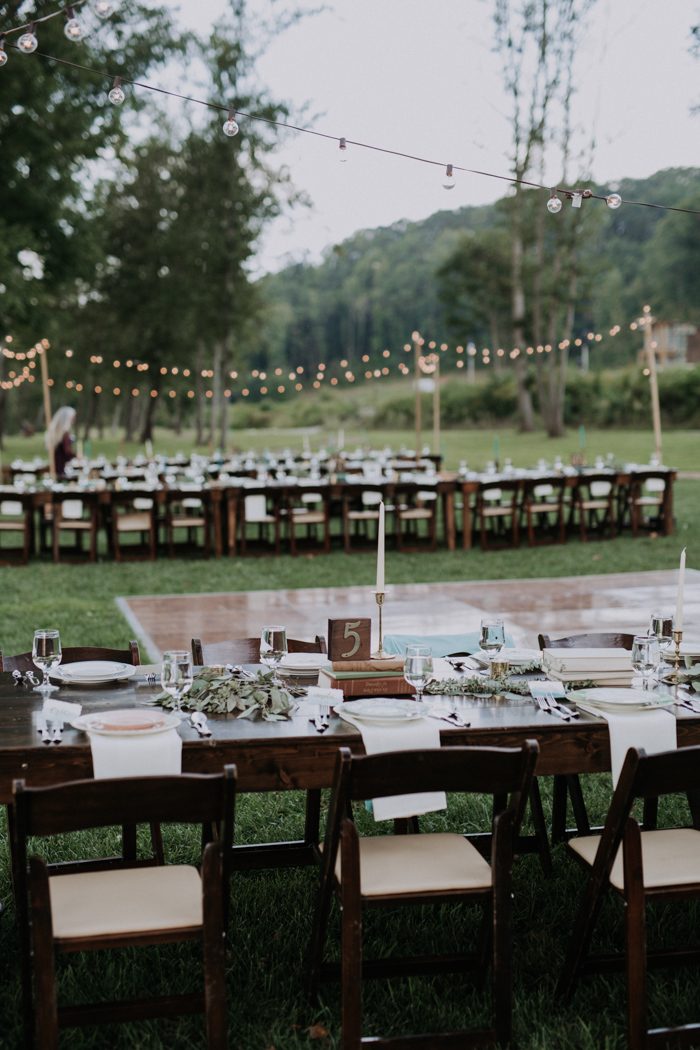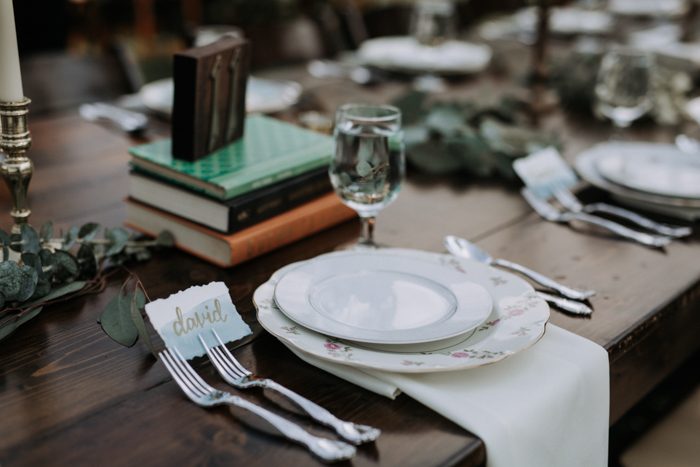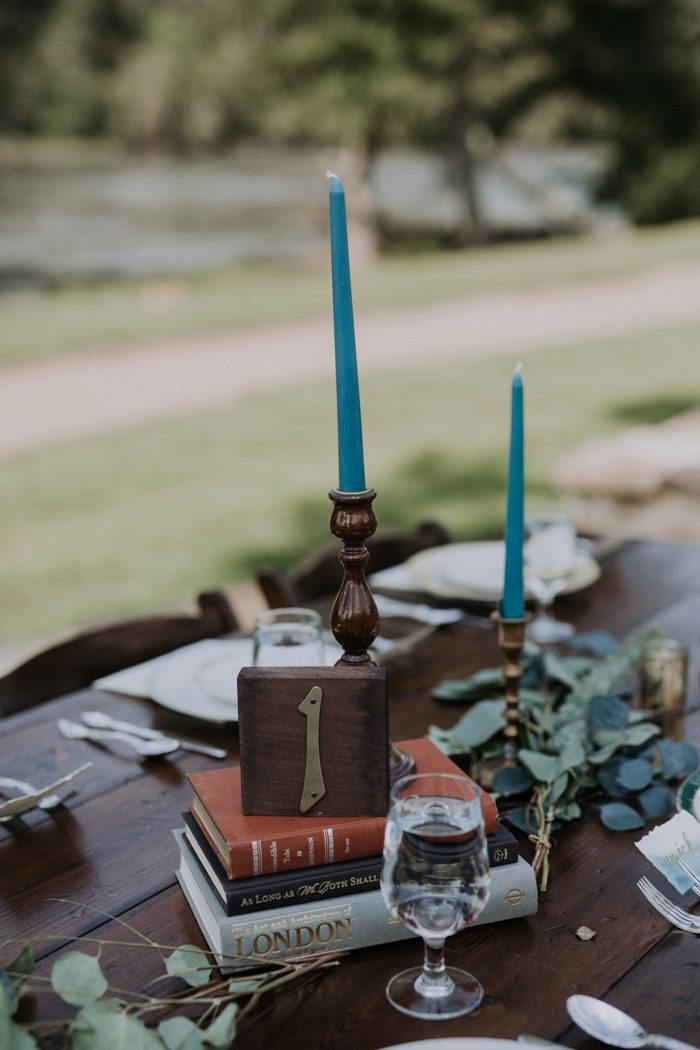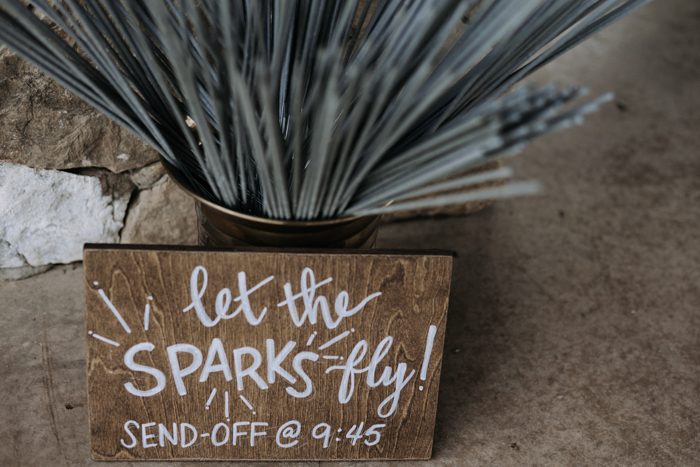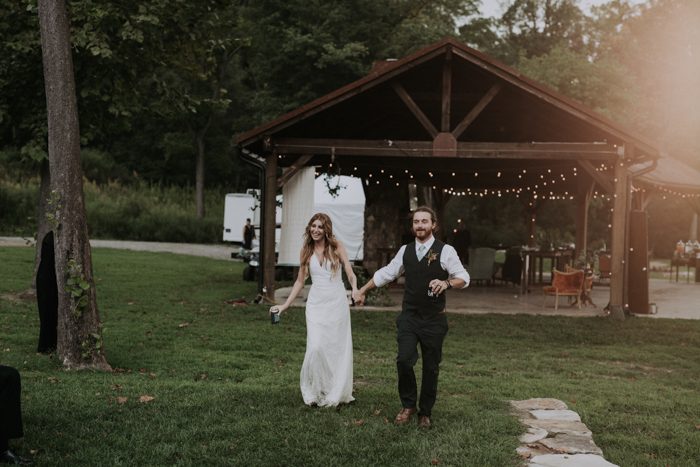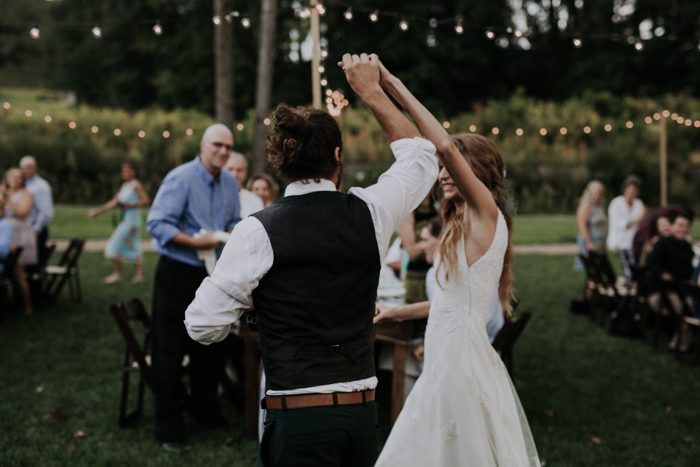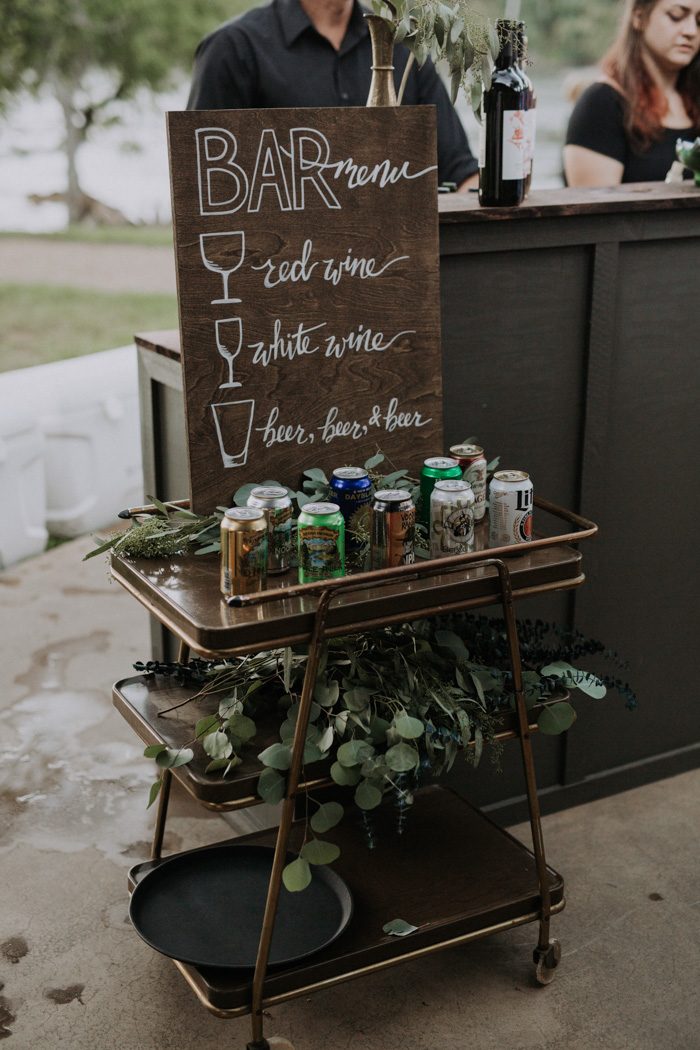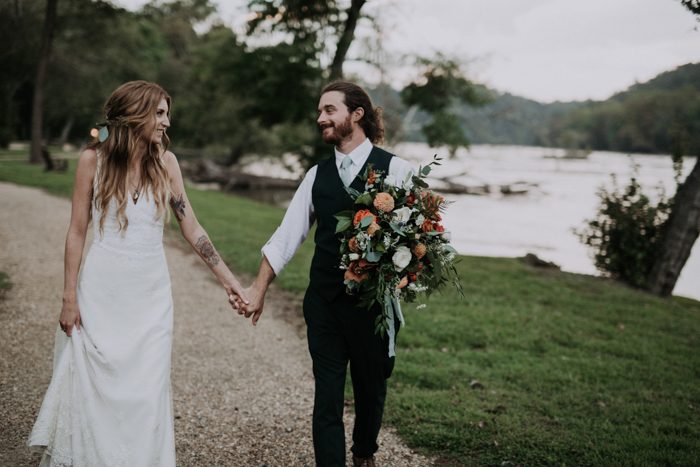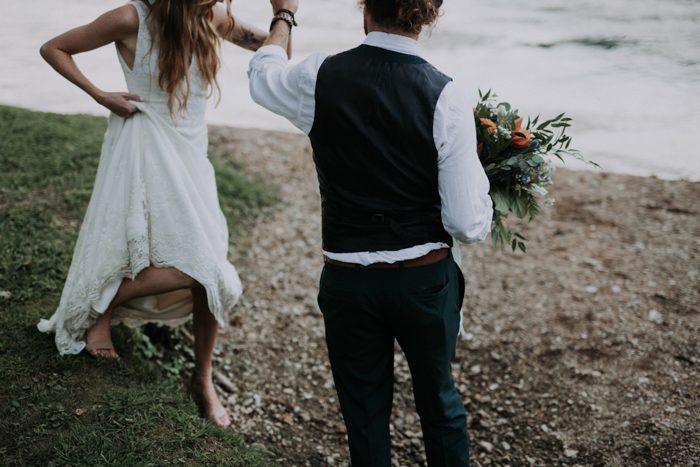 I knew I wanted my mother to make my wedding dress. She had made a few in the past along with her entire wardrobe throughout high school and college. And the lace from her 1970s wedding dress came from my late grandparents' fabric store. I found a 1930s evening gown pattern in my grandmother's fabric store loot that I fell in love with. My mother and I worked together to customize that pattern, and then she embellished it with the lace she removed from her dress.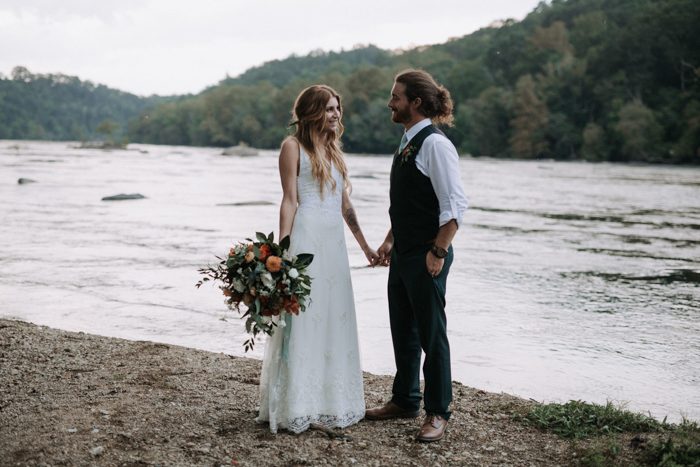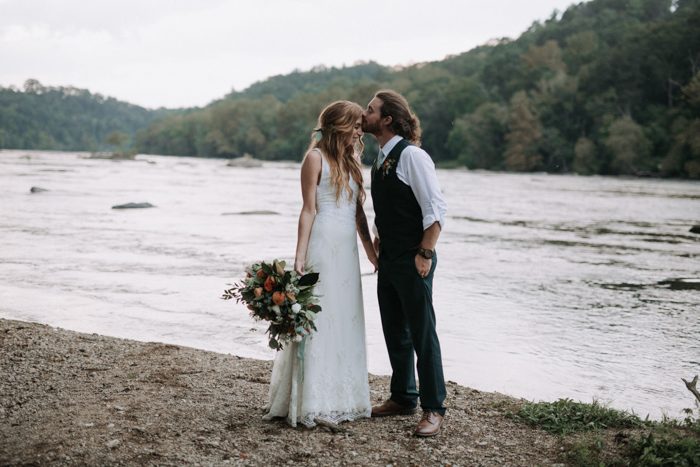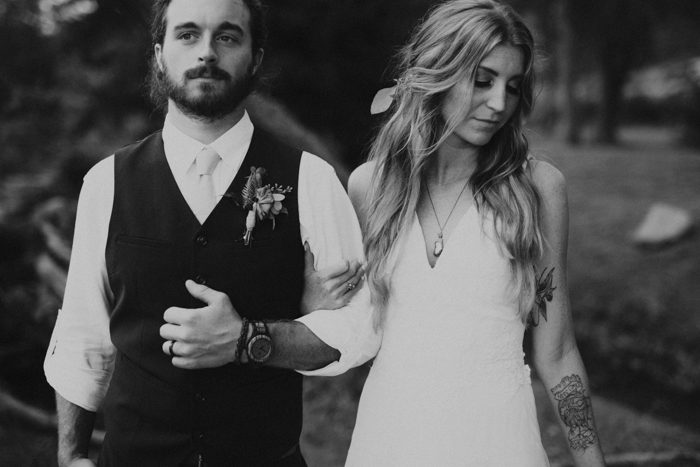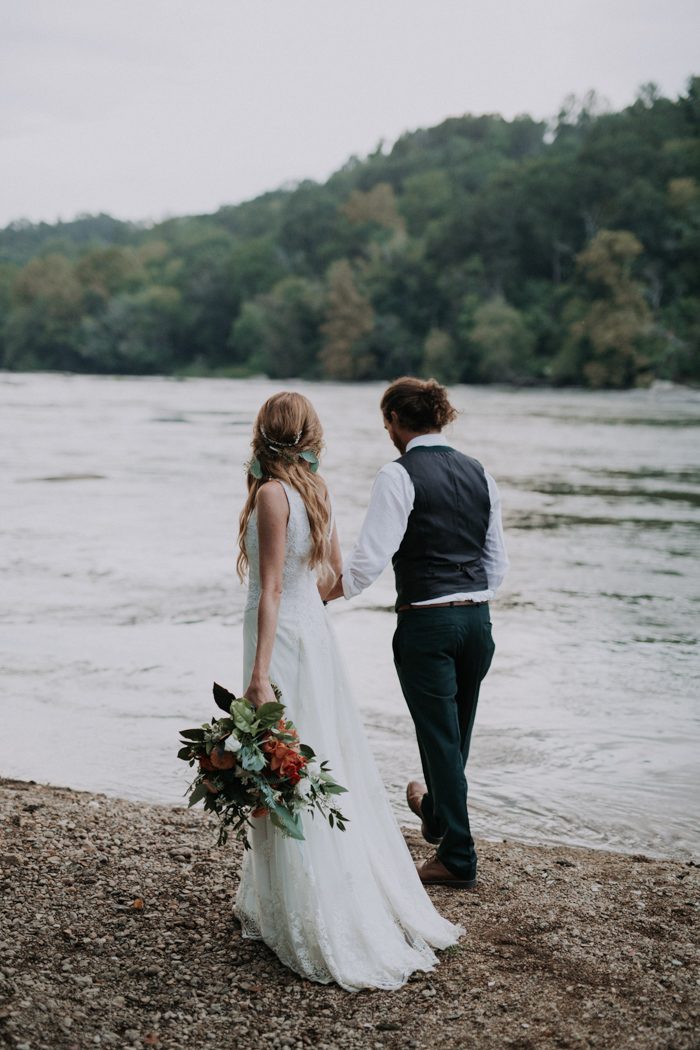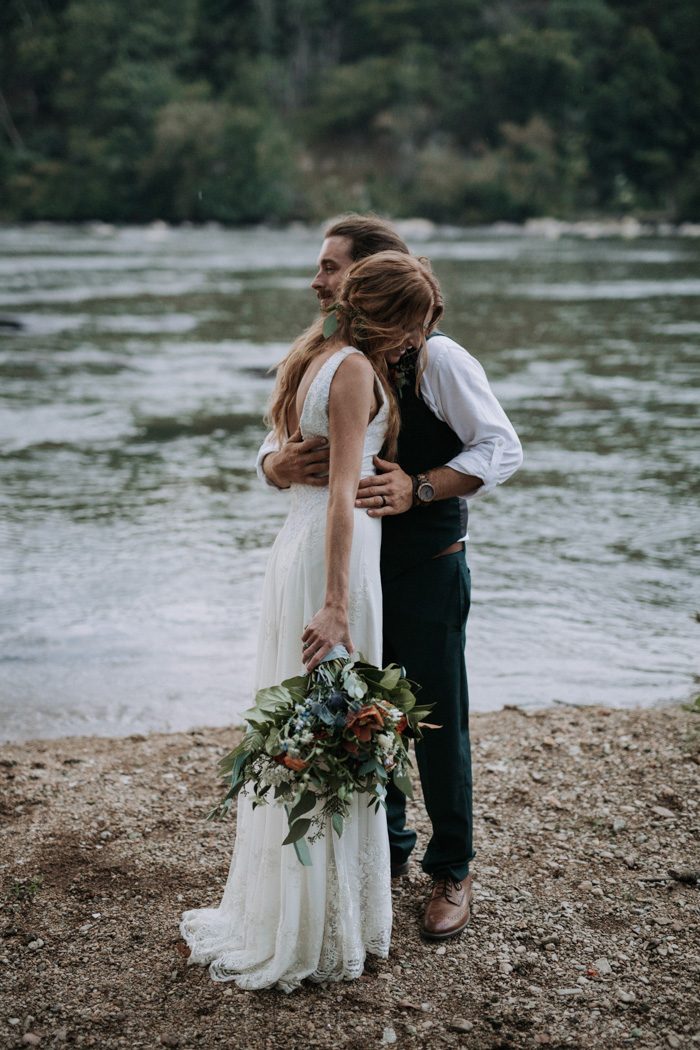 There was only a 10% chance of rain that day, and our venue was entirely outdoors with the exception of a small sheltered area. I am not a fan of event tents so I refused to book one, going on faith that the 10% chance of rain would disappear. The weather held out for our ceremony and allowed all our guests to get at least a first round of dinner. But then the bottom fell out…and our band's gear got soaked. Fortunately, being the good friends they were, they quickly grabbed all their non-electronic instruments and began an a cappella set! Tyler, their frontman, held a plastic cup to his mouth to project his voice just a little further. All our 160+ guests were crowded under that tiny shelter and just danced! Everyone was soaked — from both rain and sweat — and seemed very impressed that our band made the best of the situation. Looking back, we still wouldn't have rented that tent because that was the most intimate, let-lose wedding reception I've ever experienced! (And we heard the same from our guests!)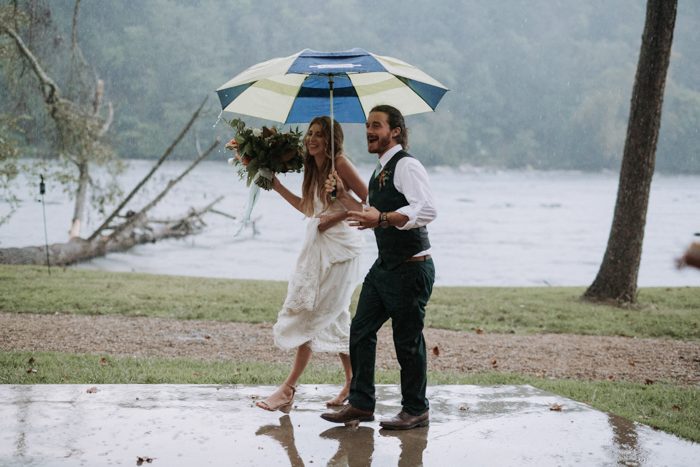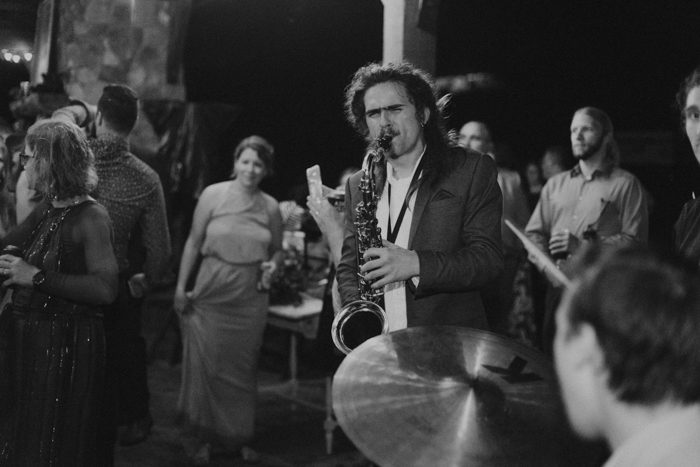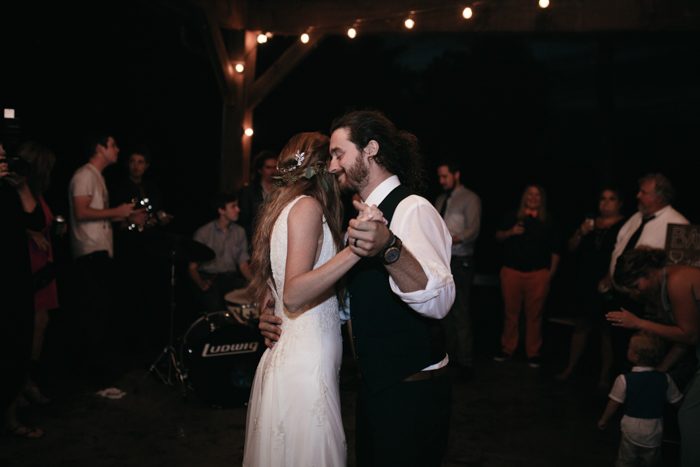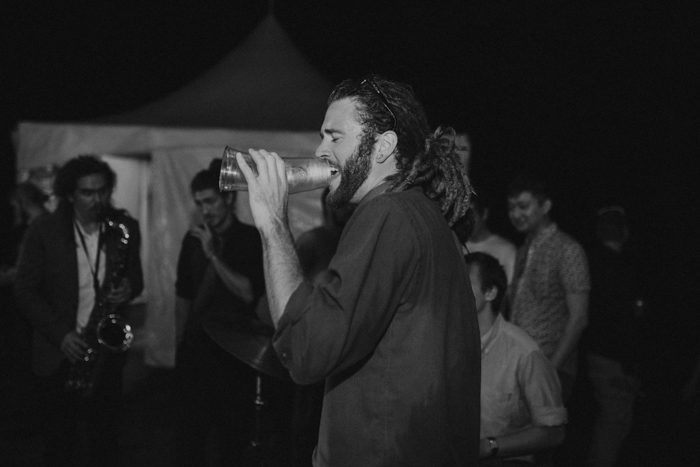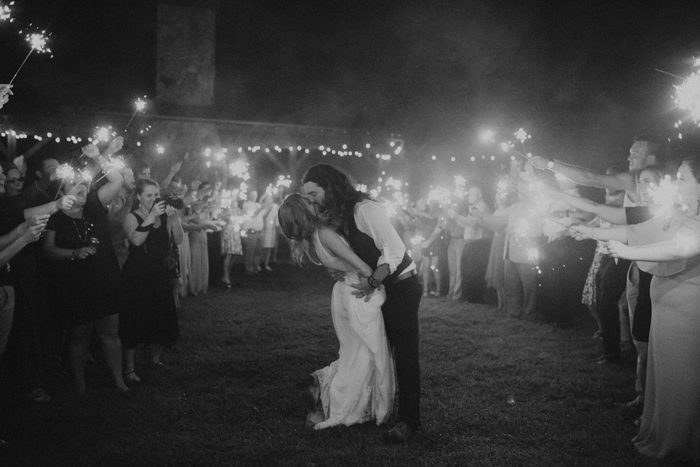 Congratulations to Linsey and Adam, and a big thanks to Sheila Nolt Photography for sharing this lovely North Carolina wedding at Olivette with Junebug! Love the vintage feel they incorporated into their decor? This vintage-inspired Scenic Beach State Park wedding is sweet as pie!