all photos ©Charleton Churchill Photography
Brought together by their shared passion for the outdoors and for adventure, Jen and Erik decided to check off a major bucket list item for their wedding. Not long after connecting with California-based wedding photographer, Charleton Churchill, Jen and Erik flew half way around the world to be married at Everest Base Camp with the Himalayas as their ceremony backdrop. After landing at Lukla Airport, the world's most dangerous airport, the couple and their amazing team of vendors and guides began the trek up to Base Camp. Little did they know that their journey would be interrupted by the massive Nepal earthquake.
The Couple:
Jen and Erik
The Wedding:
Northeastern Nepal
The Inspiration:
I knew I would be getting married after not showering for over a week, with greasy hair and with my normal makeup (which is just some eye makeup) and hope for the best! I reached out to BHDLN and they graciously sponsored my white wedding dress and a lapis blue gown for contrast pictures. I wanted a soft and feminine wedding dress that would contrast against the rugged and forbidding Himalayas. The gown had to be light weight, not wrinkle easy and also not blow up higher than my knees! It was Charleton's idea to get a dark colored dress for contracts against the snow. These 2 gowns where rolled up in a big gear duffel bag and carried on the side of a Zokio (a pack animal) while on the trail. I wore my hiking boots under my dress. Erik brought a dress shirt (which was horribly wrinkled) and ordered a corduroy blazer 7 days before we were supposed to leave for our trip. We were more interested in getting all our outdoor gear ready than our wedding attire. The earthquake altered our plans and we never made it to Base Camp, but we still did some photos shoots half way up the trail so I took my rolled up gowns and stuffed them in my backpack and we headed out to find a good location. Changing from hiking gear to white dress, to blue dress while on the side of the rock and dirt trail was a lot easier than expected, but certainly not warmer. It was cold and windy and cold since we were at 11,500 feet and with cloud cover and wind.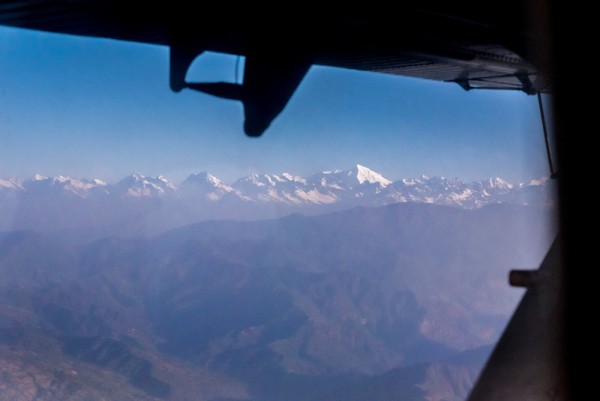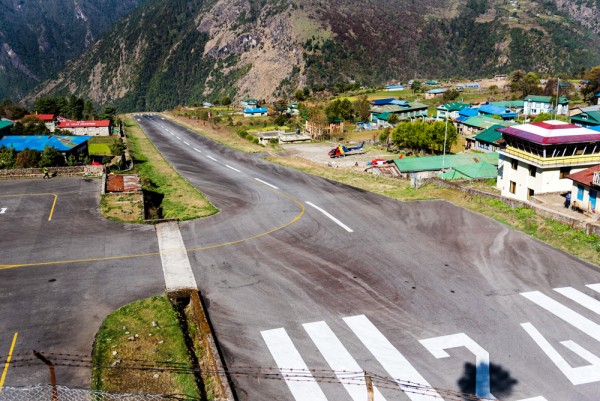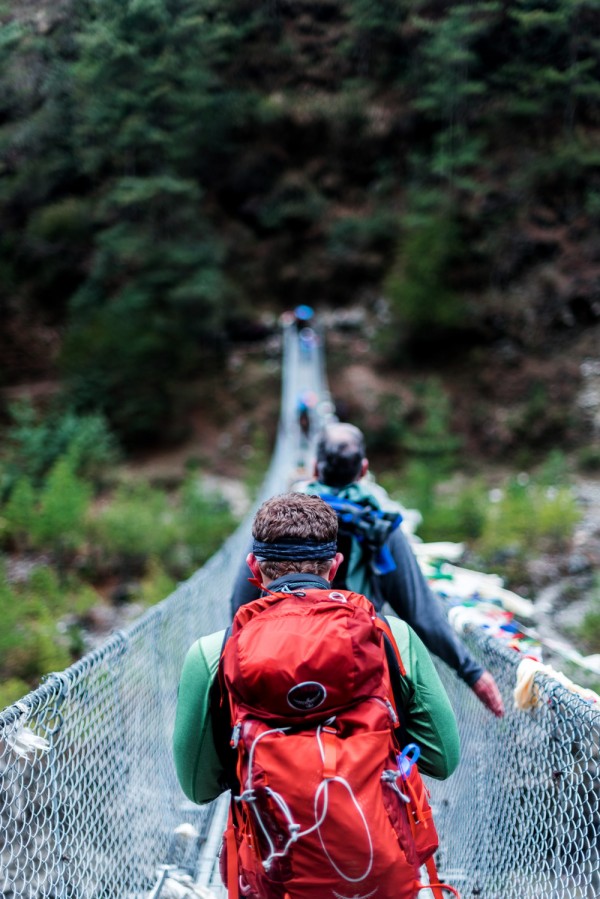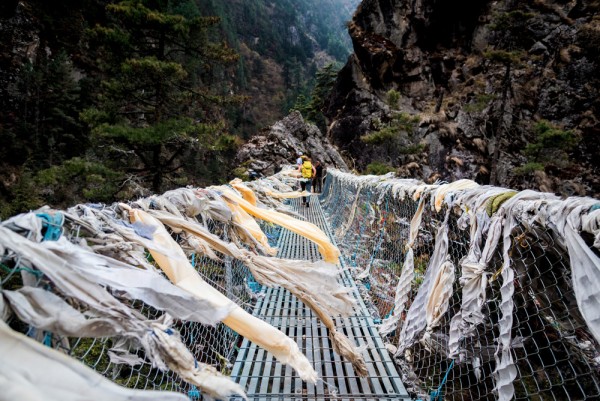 On April 25th, while staying in the small village of Namche Bazaar, the first shocks of the 7.8 earthquake began. Amid all the rubble and destruction, Jen and Erik, and their entire team, were thankfully unharmed.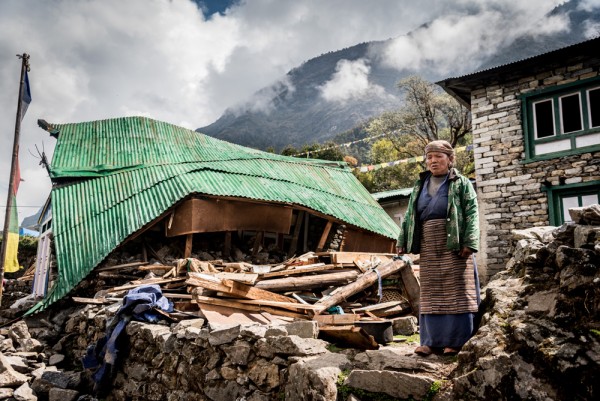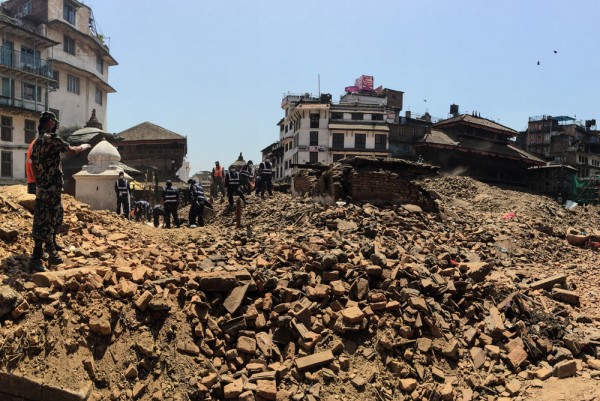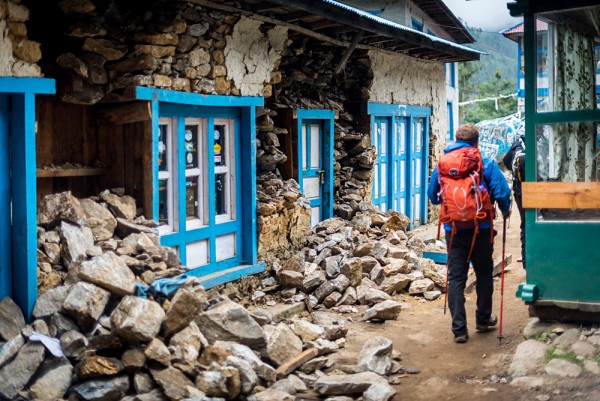 Despite their hopes to make it to Base Camp, the couple and their crew decided against making the dangerous trek. Out of respect for the people of Nepal and even members of their own team who were affected by the quake, Jen and Erik contemplated forgoing their wedding plans. 5 days after the earthquake, the couple's guide suggested that Jen and Erik get married at the local monastery. After receiving blessings from the villagers, Jen and Erik exchanged vows at the mountainside monastery. It was a beautiful ceremony that helped to lift the spirits of everyone who witnessed their nuptials.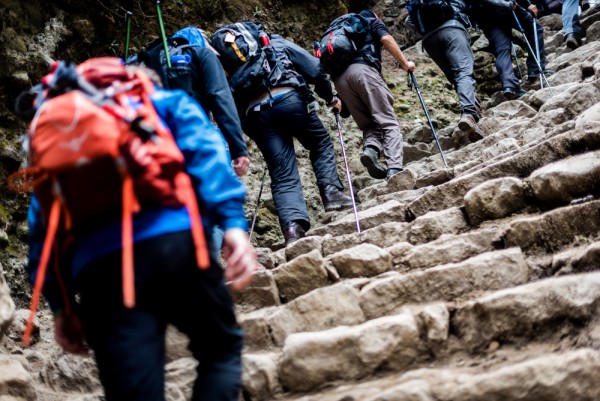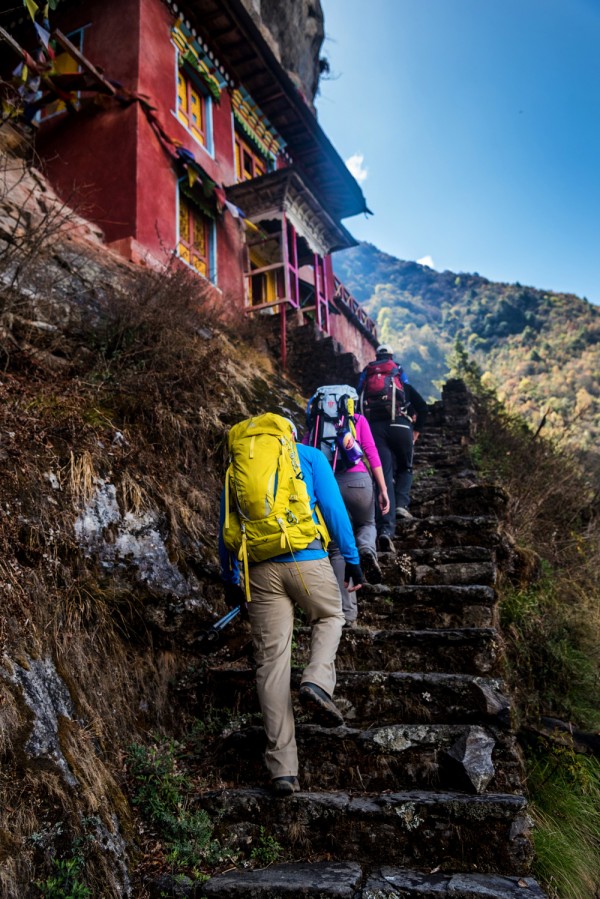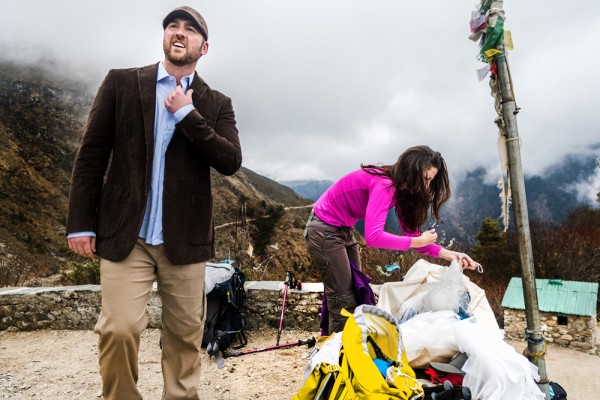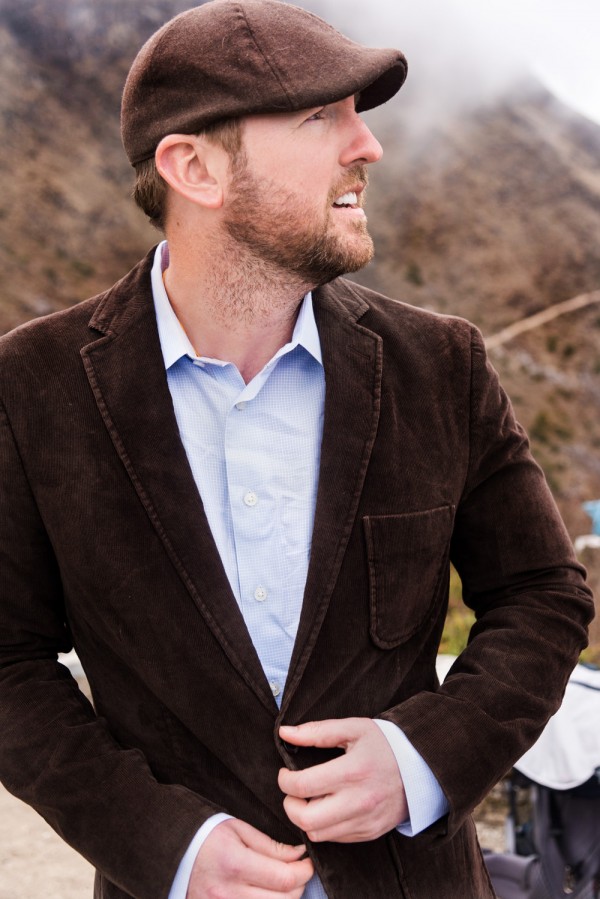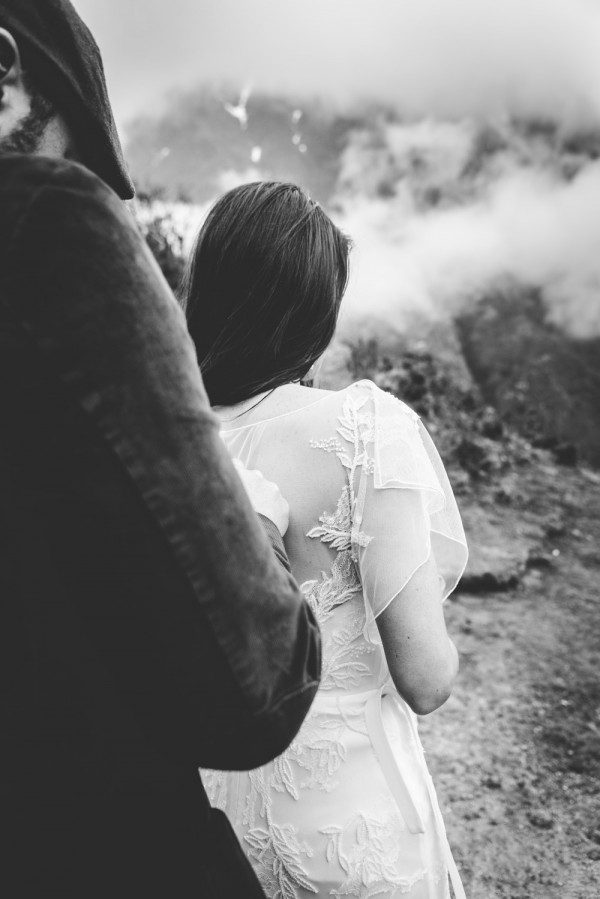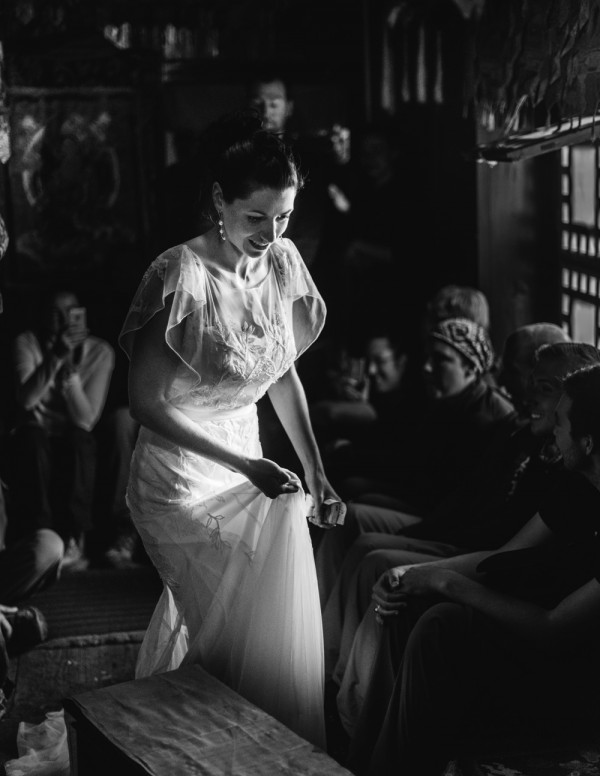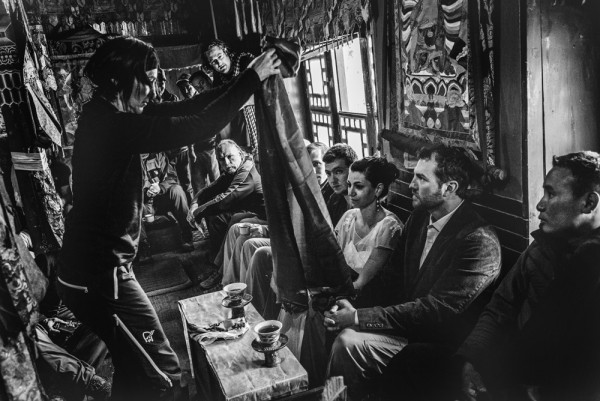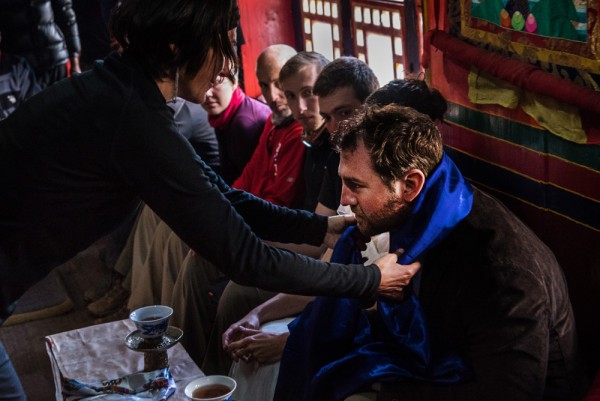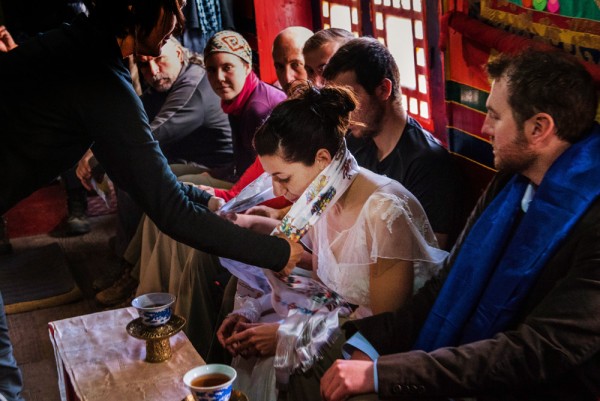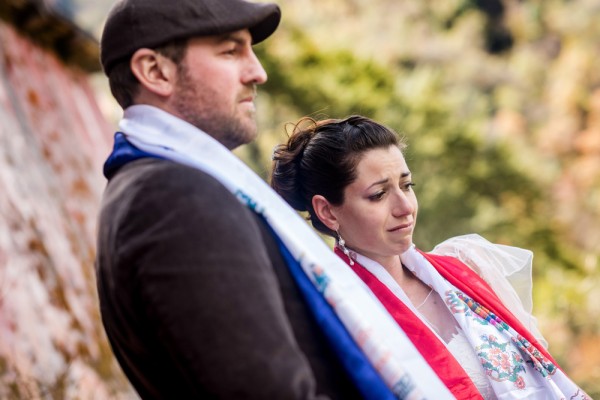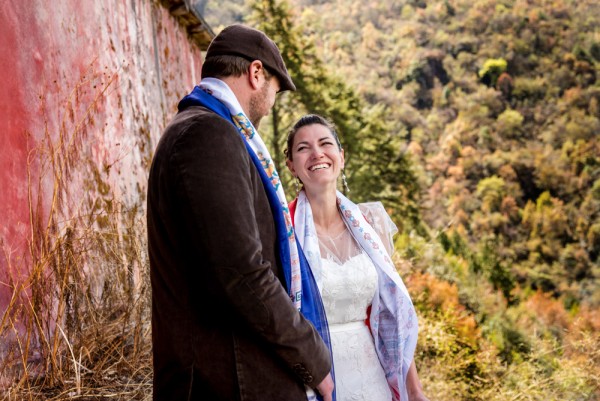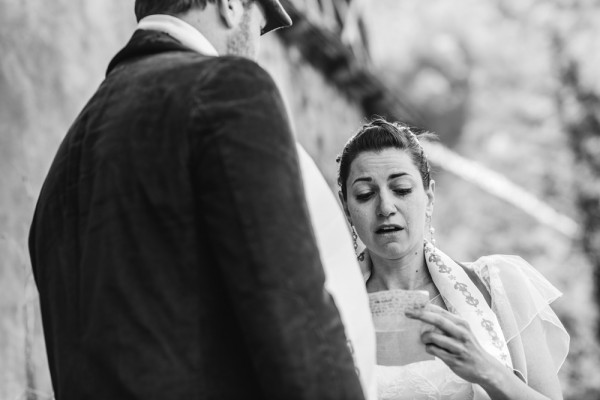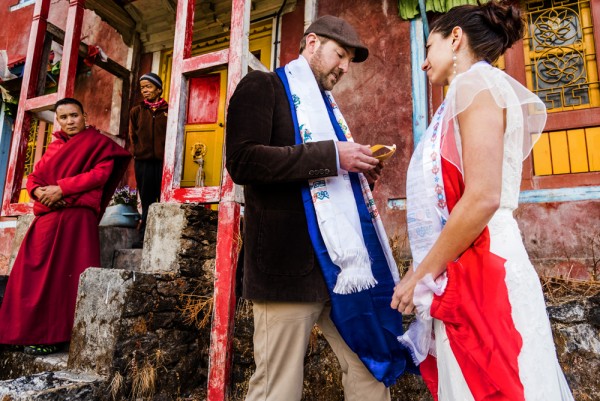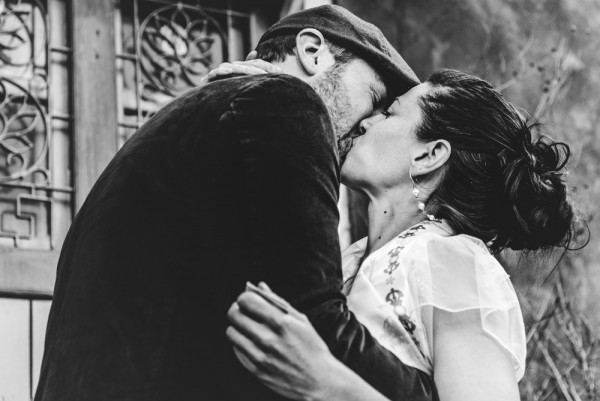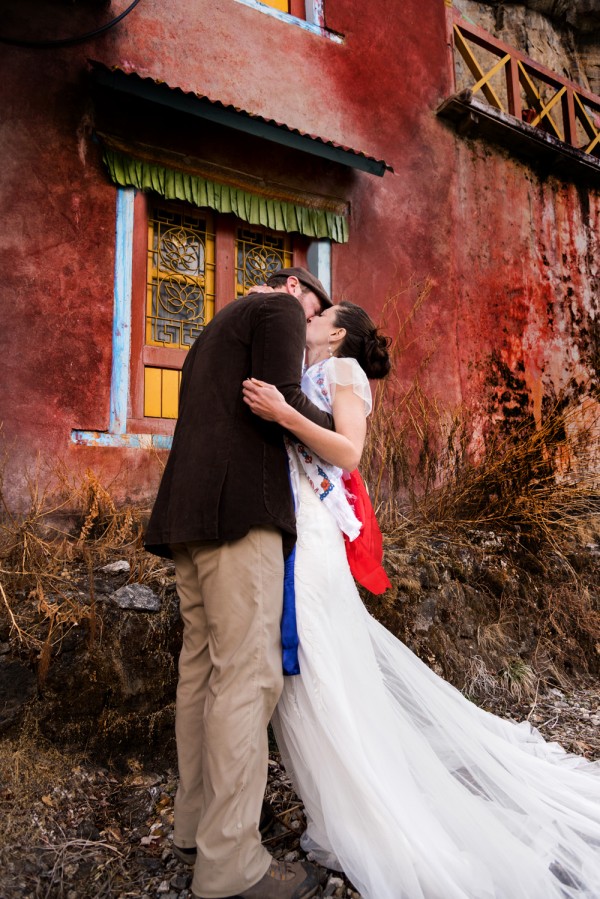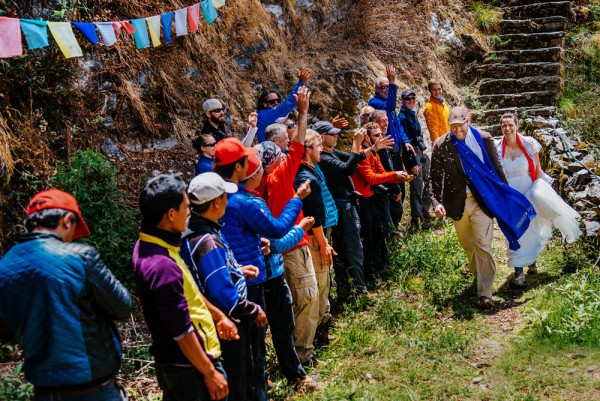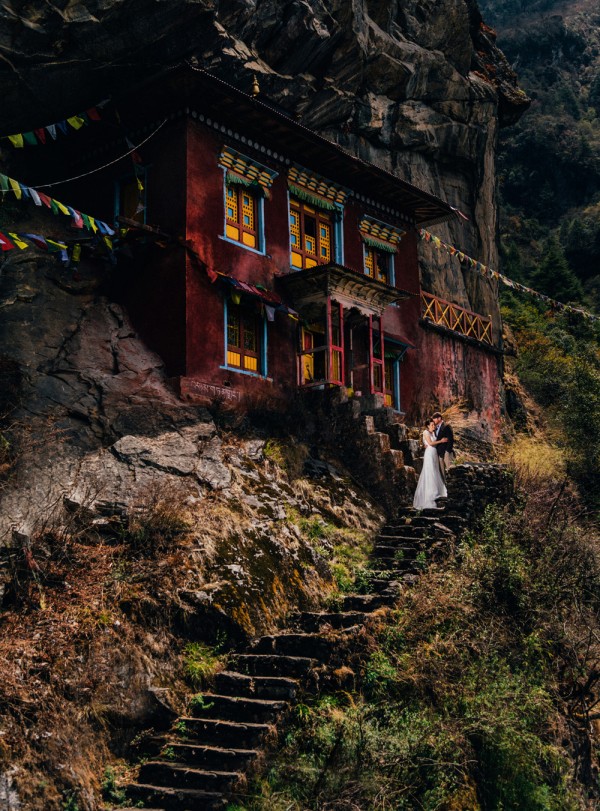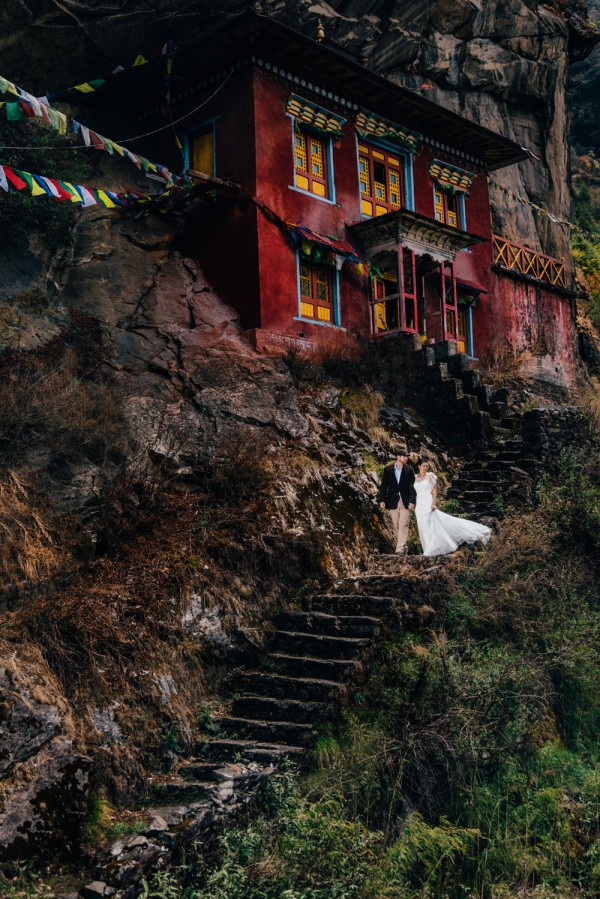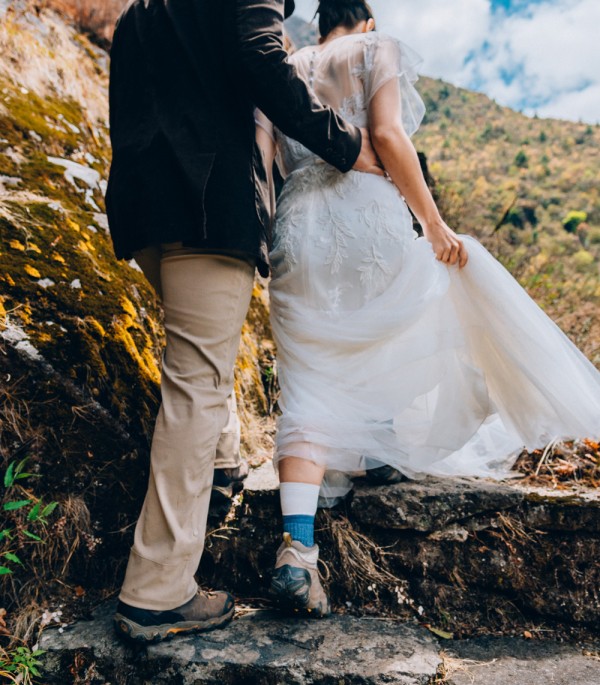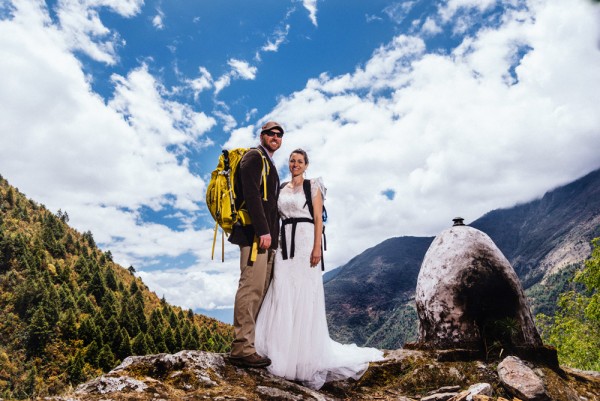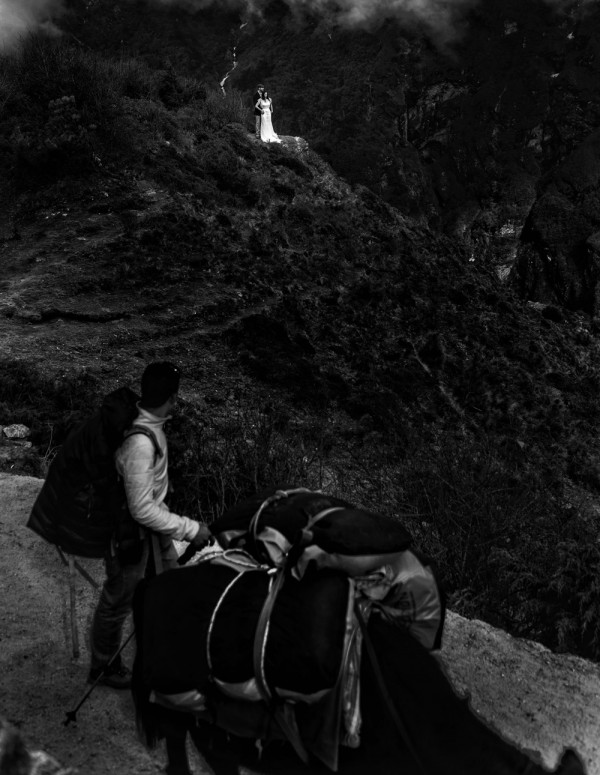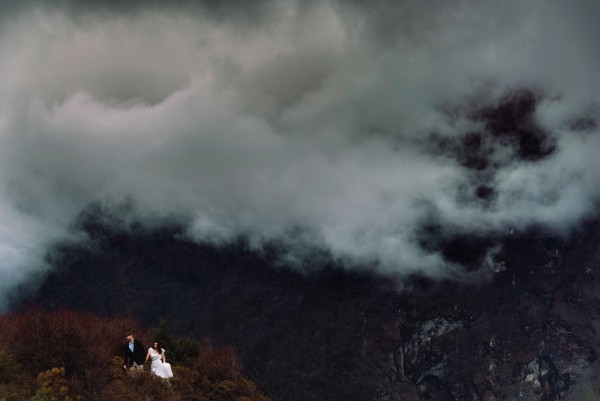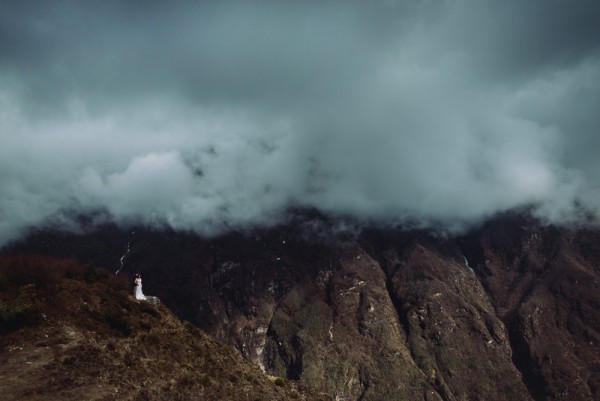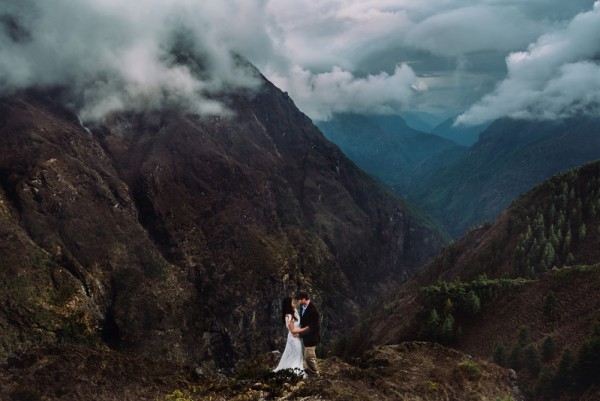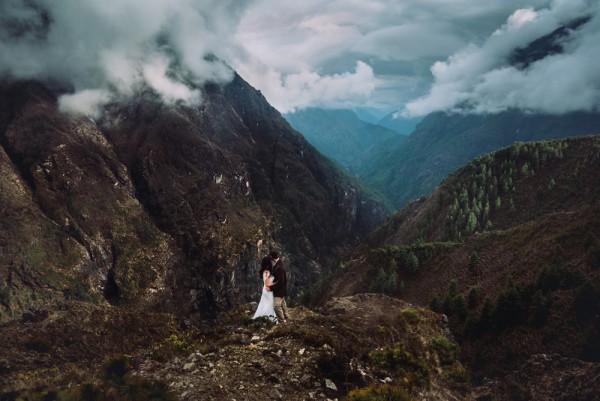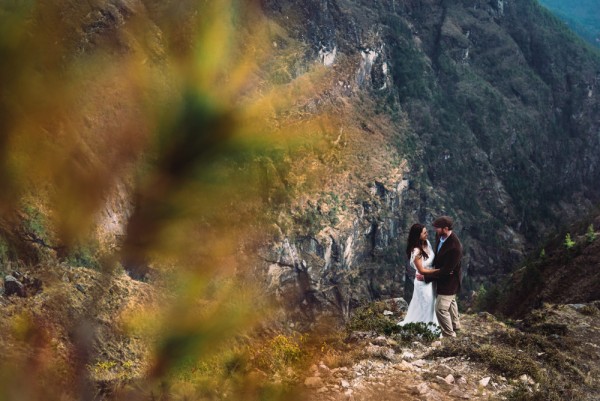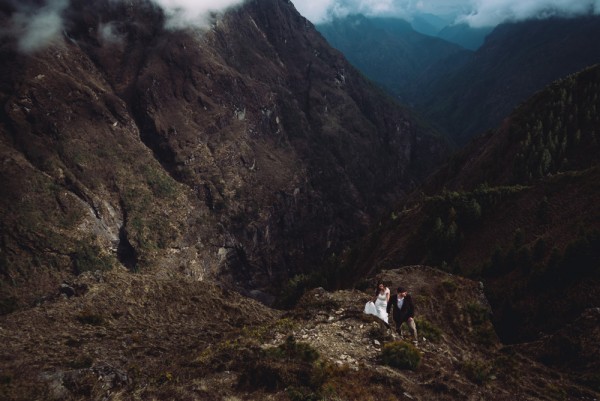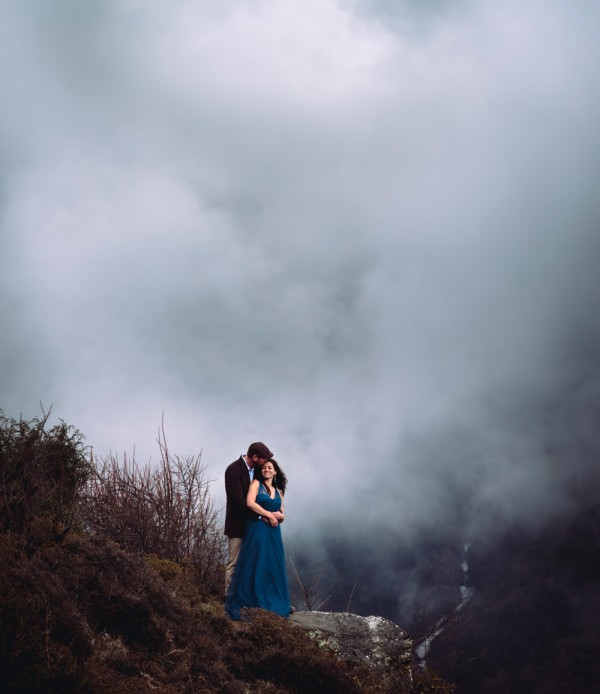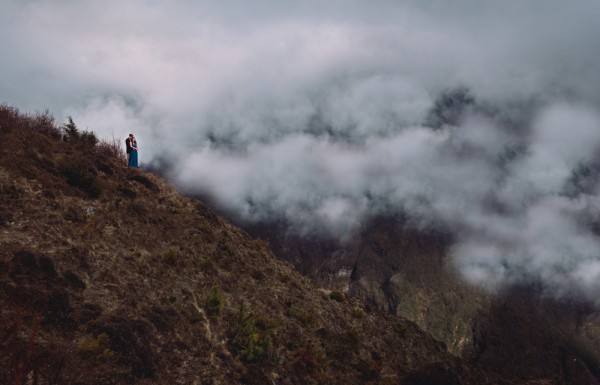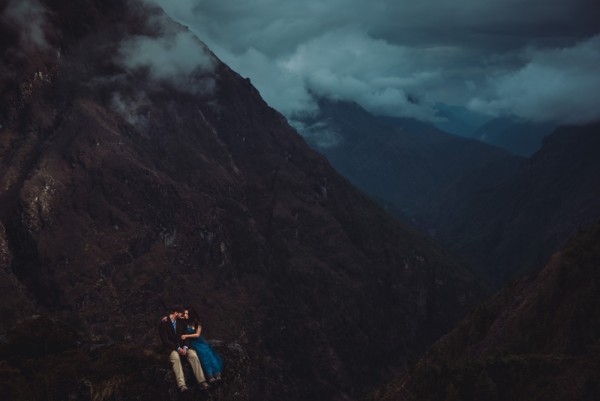 The Nepal earthquake was a devastating tragedy for the country of Nepal and there is still work to be done to rebuild the country and assist the people who live there. Deana Zabaldo, one of Jen and Erik's guides on the trip, started a fund for Nepal. Her goal is to raise $150,000 in order to rebuild and repair homes in Nepal. Right now $83,395 has been donated. If you're looking to contribute and help the people of Nepal rebuild, please consider donating. DONATE HERE!
The Wedding Team:
Photography – Charleton Churchill Photography
Wedding Dress – BHLDN
Rings – Tiffany and Co.
Guides – Mountain Madness
Trip Sponsors:
Nikon (Cameras and lenses)
BHLDN (Wedding dress)
Profoto (B2 Lighting gear)
BlackRapid (Straps)
Manfrotto (Gear)
Thank you to Jen and Erik for sharing their incredible journey with us. Again, if you are looking to donate to the rebuilding efforts in Nepal, please visit Deana's Go Fund Me Page!