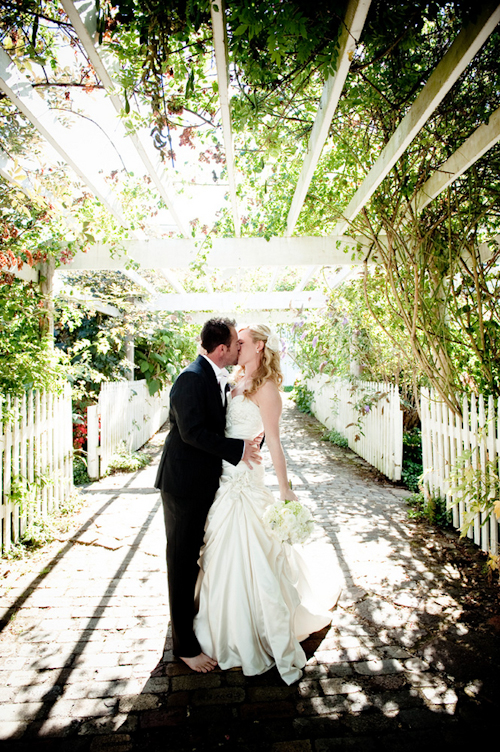 Bridget and Tim's late summer wedding was an intimate, romantic, weekend-long event at one of the most beautiful places in Washington. Quintessentially northwest, Roche Harbor Resort on San Juan Island has breathtaking views, a relaxed vibe, and gorgeous historic buildings. It was the perfect spot for the couple that had recently transplanted to the northwest and wanted to share their new home with all of their guests. Enjoy this glimpse of their nature-inspired wedding day that was captured by two talented, fun ladies – Laurel McConnell and Barbie Hull!


The Goals: We wanted our wedding to be meaningful and personal. Our main goal was to have everything, from the ceremony to the decorations, reflect our relationship as well as our personal style. We didnt want our event to be constrained by typical wedding expectations and wanted to have a fun, unique event that our guests would always remember. We chose to have my grandfather, Jack, perform the ceremony because we wanted the ceremony to be performed by someone who knew us, so that the ceremony would be heartfelt and personal. He did a wonderful job; there was not a dry eye in the house by the end of the ceremony! He and my grandmother celebrated their 57th wedding anniversary shortly after the wedding, so it was an honor to be married by someone who has had such a successful and happy marriage. Also, we wanted to be connected to the earth while we were saying our vows, so the entire wedding party took off their shoes for the ceremony!
The best decision that we made was our unique timeline. We chose to have the wedding ceremony at 11:00am and the reception at 5:30pm. Since all of our guests were staying at the resort, it gave them time to enjoy the island, while giving us time to relax and take pictures. We didnt feel rushed and it gave us the chance to take everything in and really enjoy the day. We wanted photography to be a focus on our wedding day, so we went on a two and a half hour trip around the island to take pictures. It was one of the best parts of the day! With such an extended time for pictures, we were able to get shots in Pacific Northwestern woods, rolling fields and cliffs overlooking the Juan de Fuca. Our very talented photographers, Laurel McConnell and Barbie Hull were amazingly fun and were able to take some really fantastic pictures. It was the most relaxing part of the day, where we didnt have to focus on anyone else but each other.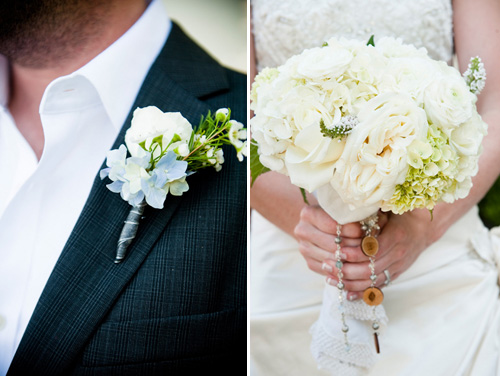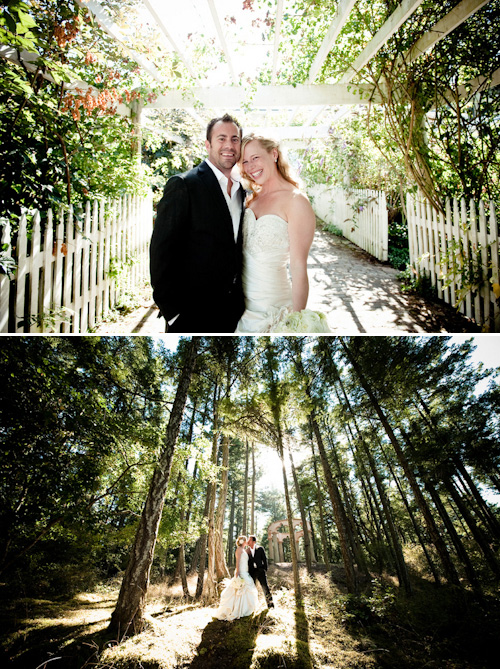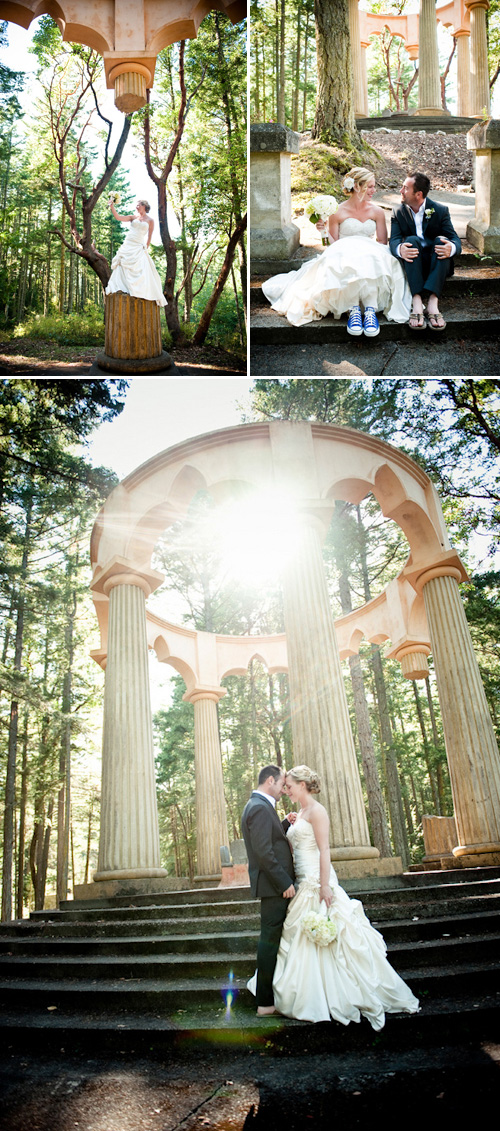 The Design: We held the wedding and reception at Roche Harbor Resort on San Juan Island, Washington. Tim and I moved to Seattle from Frederick, Maryland about a year before the wedding, so we wanted to showcase one of the most beautiful areas of our new home. We were drawn to the resorts history and its beautiful gardens. It was an intimate wedding with forty guests, most of who traveled across the country to be with us. Since most of our guests were visiting from the east coast, we wanted to take advantage of the time that they were with us. Our wedding was a two-day event, which started on Sunday with a bridal shower for the ladies and a whale watching tour for the gentleman. In the evening we had a welcome barbeque for all of our guests, followed by the wedding the next day.
We relied on the colors of the natural elements we incorporated as our decorations to bring color to the reception. We really wanted to capture the Pacific Northwest, so we used moss table runners and pinecones that we had collected together on several hikes. The candles had a soft green burlap ribbon with hemp rope accents on them. We used blue hydrangeas as an accent color on the tables, which were mostly greens, browns and creams. Our table numbers were vine maple stumps with reclaimed house numbers that we found at a second-hand building supply shop. To add dimension to the tables, we used five different heights of candles.There were over 600 candles at the reception! We hung candle-lit grapevine chandeliers from the ceiling.
We also purchased an old window from the same building salvage store, painted the glass with chalkboard paint and wrote our seating chart on the windowpanes. Our wedding favors were the escort cards that we made for our guests. Keeping with the engraved wood theme from our invitations, Tim branded pieces of birch bark with each of our guests names by hand.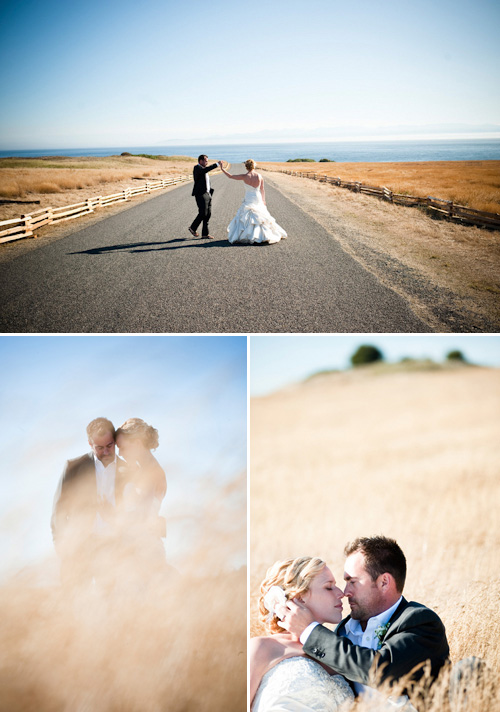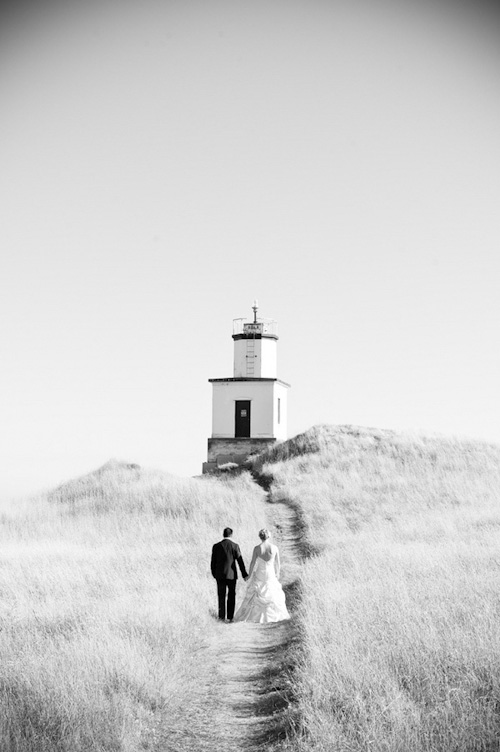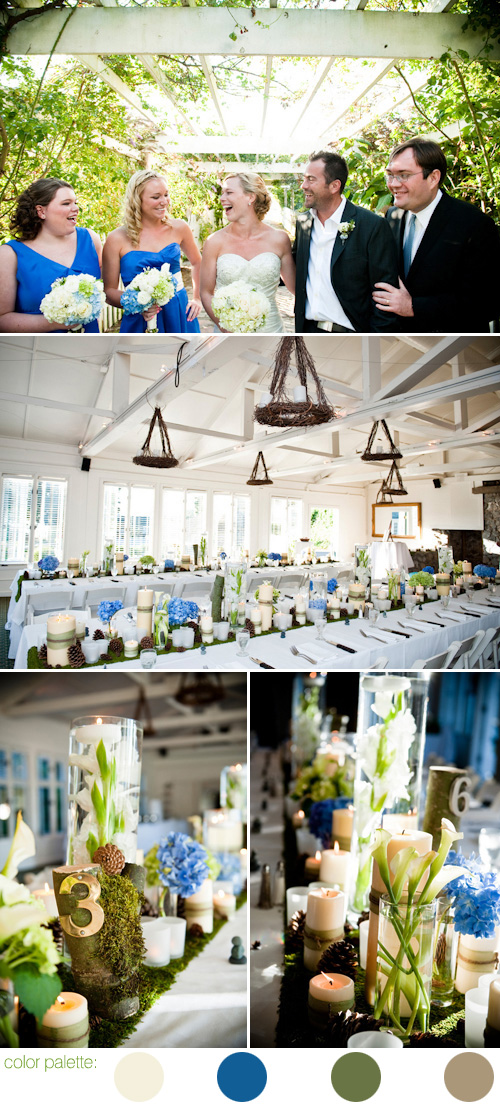 The Look: I wanted my look to be timeless, and the garden that the wedding ceremony took place in was the inspiration for my bridal style. My dress was my favorite part of my look. As soon as I put the dress on, I knew I would wear it down the aisle. One thing that I really loved about it was the asymmetry, which added interest to our pictures since the left side of the dress looked different from the right side of the dress. The rose I wore in my hair was designed for me by Sally Crew, and my bouquet was made mainly of large polo roses to echo the flowers on the dress. Tim loves my hair down, but I knew if I wore my hair down all day I would be hot. Since we had such a long time in between the wedding and reception, I was able to have my hair put up in between. It was really fun to have two different looks during the day.
My something old and something borrowed was a lace trimmed handkerchief that was hand tatted by my great-great aunt. Six women in my family, including my mother, have carried the handkerchief at their weddings, so it was a very special piece to have with me. My something blue came from two things: one was the pair of Chuck Taylor Converse sneakers that I was secretly wearing under my wedding dress, which I had embroidered with my new last name. No one knew that I was wearing those shoes until Tim took off my garter! It was really fun to see everybodys faces when they saw my shoes. My youngest sister also made me an anklet that was blue.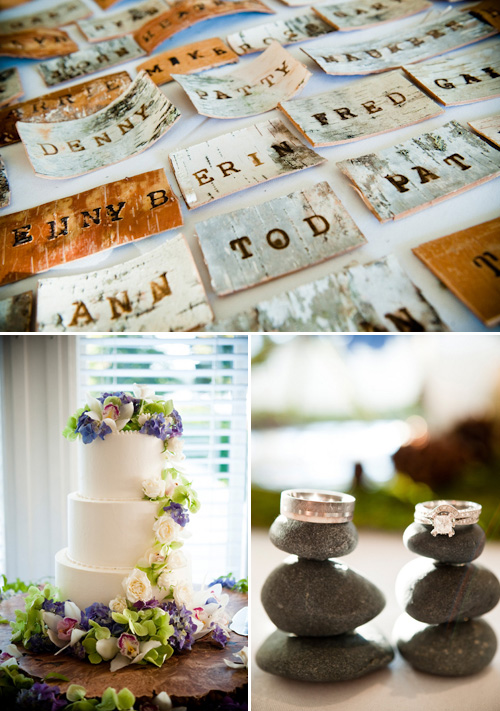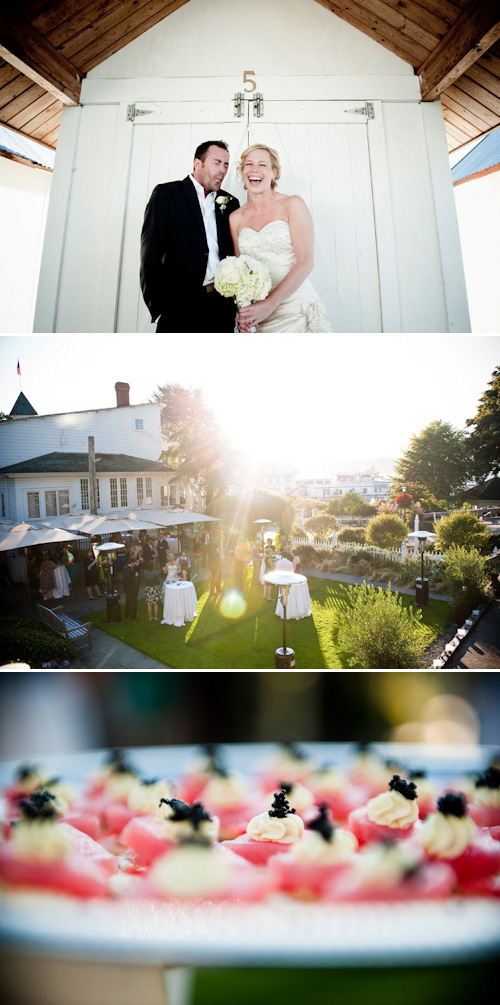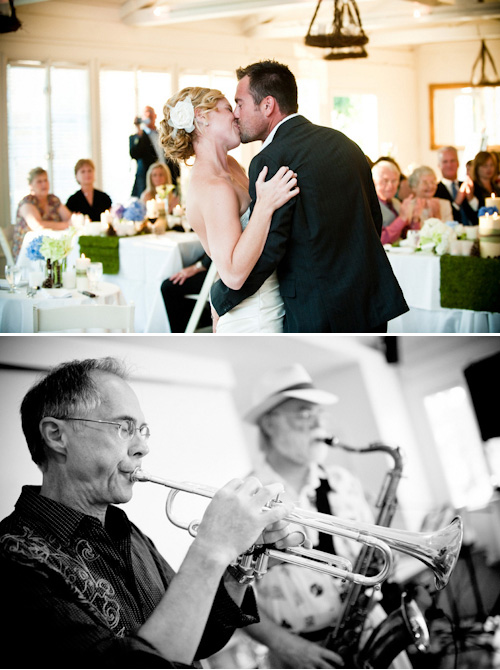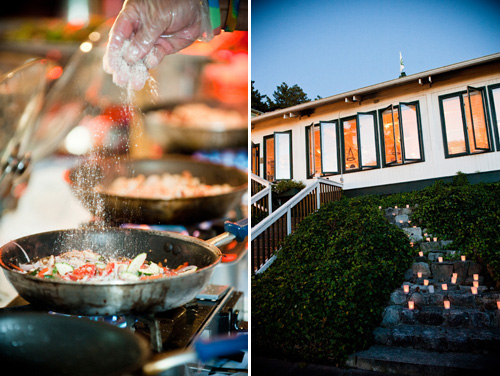 The Moments: Exchanging vows was the most wonderful part of the day. Tim told me, on our second date three years earlier, that he never wanted to have another first date, so we had been looking forward to our wedding day for a long time! On the day of our wedding, I wrote Tim a letter and had it delivered to him just before the ceremony. Tim had asked me every day for those three years if today was going to be the day that he was going to marry me. I always told him not yet, so it was really special to start my letter with Today is they day that we get to be married. The letter meant a lot to Tim and I think it was the perfect way to start the ceremony. And, it was an incredible feeling to make a lifelong commitment to each other in front of our families and closest friends.
Right after we were announced at the reception, we had our first dance to At Last. The song was beautifully done by the band and we were dancing in our own world, focused only on each other. Under Tims direction, our family and friends had decorated the Pavilion for the reception. I hadnt seen the decorated room, and didnt notice any of the decorations until after the dance was over. It literally took my breath away to see how perfectly everything had come together and to see our hard work pay off.
The Pros: Please head over to Bridget and Tim's page in our Real Wedding Library to see the detailed list of the talented professionals that contributed to their day.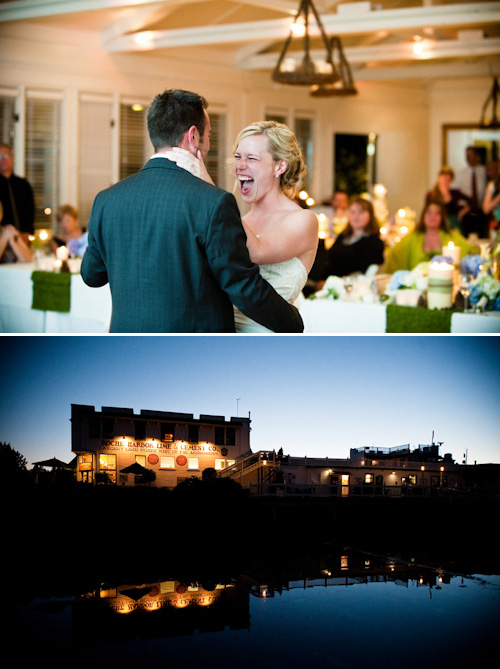 Thank you Bridget and Tim for sharing your beautiful nature-inspired wedding day with us! We wish you all the best!