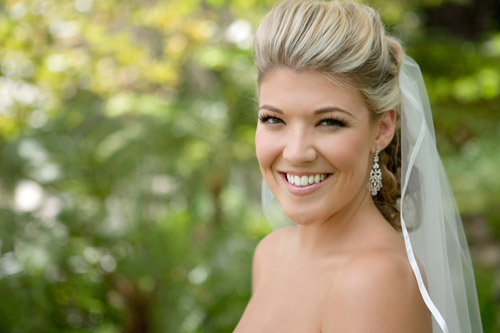 Here at Junebug, we love all things wedding makeup related. From the pretty, pristine packaging, to the way it can transform and enhance your look, we adore it all. So, we asked makeup genius and super-talented Junebug member, Lynn Switzky from Lynn's Makeup Art, to tell us how to get a clean, romantic and natural look for your wedding day. Using one of her recent brides, Hailey, as the perfect example, Lynn gave us all the details…
The Idea: This look is great on any bride. Hailey was going for a soft romantic look for her wedding day. She doesn't wear a lot of make-up on a day-to-day basis, so she wanted to look polished but not too dramatic. If a bride is looking for something subtle that will showcase her natural beauty, it's always best to stick with earth tones. You can't go wrong with them because they look great on everybody! Golds and champagnes are wonderful too because they add just enough light and shimmer to make the bride's wedding makeup sparkle.
The Eyes: We wanted to emphasize her eyes, so we went for a soft smoky eye; which I sometimes call a daytime smoky eye – not too dark and not too light, but a wash of a medium shade all over the lid. We used a beautiful bronze from MAC called Tempting, all over her lid and blended it out with soft brown shadow, also by MAC, called Soba. To add a soft shimmering highlight on her brow bone, we used MAC's Ricepaper. For a less dramatic look, we lined her eyes top and bottom with a dark brown eyeliner from MAC, called Teddy. It's a beautiful dark brown with a bronze shimmer to add a little more light and emphasis on the eyes. I love to use metallic eye liners because they add so much light to the eye that the the eye color really pops. I curled her lashes, and of course, only applied waterproof mascara. It's a must for the wedding day! It's also a pro secret: only waterproof mascara will hold the curl! If you try regular mascara the lashes will just fall back to normal. We used a denser false lash for tiny bit of extra drama. They were thick from base to tip, and flared longer at the outer corners. For a more natural look, use wispier lashes that are thinner at the tips.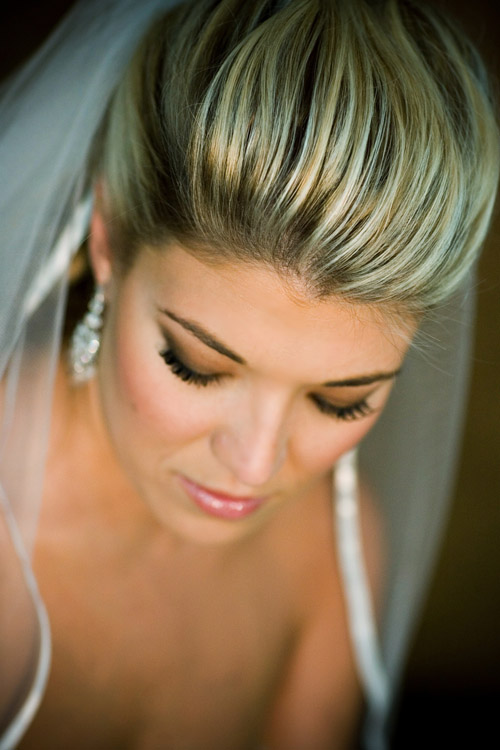 The Face: I think keeping the skin as natural looking as possible really allows the bride to shine, not the make-up. I love using Youngblood Mineral Radiance Moisture Tints for subtle coverage, and Chanel Teint Innocence for a little extra coverage and a dewy finish. Always set with powder, like Youngblood Hi-Definition Powder to ensure the make-up lasts all day.
The Cheeks: I love using peachy-pink tones on the cheeks for a rosy and natural look. Sometimes pinks look a little too "doll" like, and peaches and corals can look beachy, so look for shades that are a mix of both pink and peach. To bring out the shape of your cheekbones, contour the cheeks with a bronzer, and highlight the top of the cheeks with a light shimmer powder, then apply the blush to the apples of the cheeks. This technique will give you a beautiful rosy glow and bring out your bone structure in photos.
The Lips: Longevity is key for weddings, so I like to use a natural pink liner and fill in the entire lip, then I used a soft nude/pink gloss, like Love Nectar from MAC. Most of my brides want something sheer, soft and comfortable to wear on their wedding day, so they usually wear gloss. Lip gloss is also easy to re-apply throughout the wedding.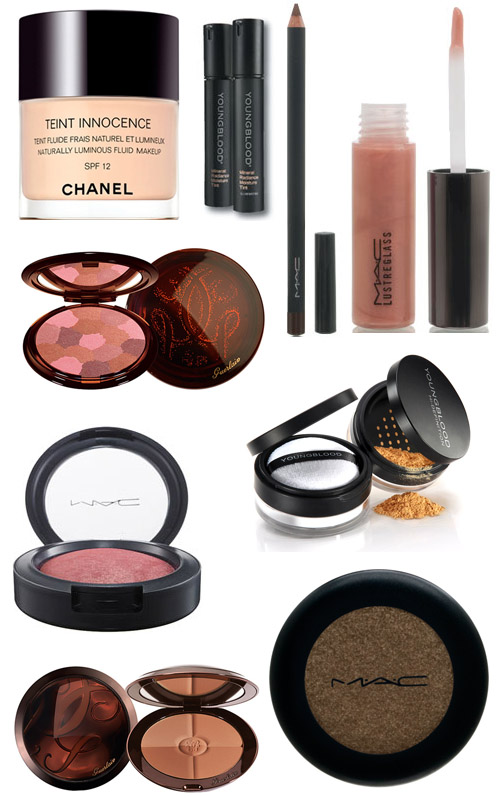 A few of Lynn's make-up picks:
Top Row: Chanel Teint Innocence from Nordstrom.com, Youngblood's Mineral Radiance Moisture Tints from YBSkin.com, MAC Eye Kohl in Teddy from Nordstrom.com, MAC Lustreglass in Love Nectar from Nordstrom.com
Second Row: Guerlain Terracotta Light Bronzing Powder from Nordstrom.com
Third Row: MAC Mineralize Blush in Dainty from Nordstrom.com, Youngblood Hi-Definition Hydrating Mineral Perfecting Powder from YBSkin.com
Fourth Row: Guerlain Terracotta Four Seasons Bronzer from Nordstrom.com, MAC Eyeshadow in Tempting from Nordstrom.com