Let's celebrate Black History Month by shining a light on some amazing Black-owned wedding brands. We've teamed up with three incredible businesses to give away wedding goodies that will help make your special day even more unique.
From Julie Harris Designs, a veil designer with over 20 years of experience to Kingsley Leather, a craftsman who turned his hobby into a business, and Amanda Reid Designs, a calligrapher who has worked with brands like Kendra Scott and Mattel–these three have made a name for themselves in the industry and deserve recognition.
Keep scrolling to read what each business is about, what they're giving away, and how you can enter!
Julie Harris Designs
About Julie: Julie Harris Designs Bridal Veils and Accessories creates classic, romantic, and dramatic wedding veils, bridal capes, and headpieces for stylish modern brides. The veil creates the magic! Our handmade wedding veils are designed and created in my Los Angeles studio using top-quality American-made tulle. With over 20 years of experience ~ specializing in authentic French lace and custom bridal veil designs ~I help brides bring their bridal veil vision to life and find the perfect accessories to celebrate their unique and personal wedding style!
What you'll win: Celebration veil – A classic cut edge drop cathedral veil of bridal illusion tulle

Kingsley Leather
About Kingsley: My name is Kingsley and I am the craftsman behind Kingsley Leather. Like so many others I had an office-bound day job where I spent a lot of my time in front of a computer screen. I wanted a 'manly' craft that would take me away from a computer but also creatively challenge me.
What inspired me to take up leatherworking, in particular, was that I have always admired leather goods and how they gain character as they age, think old leather suitcases and satchels. However, the cheap mass-produced imports from countries outside of England never seemed to last as long as I expected – I was changing my wallet every 6 months for example! I decided that I could kill 2 birds with 1 stone–create the quality leather goods that I desired for myself and pursue a new non-computer-based hobby.
After a couple of months of practice, my work began to get noticed by friends and family and this led to my first set of 'commissions'. After creating a leather satchel for my girlfriend, a wallet for my brother, and plenty of belts, I soon decided to begin accepting orders from the wider (and paying!) public. I now run Kingsley Leather full-time and have never looked back – follow me as my journey continues.
What you'll win: 3 personalized leather cufflinks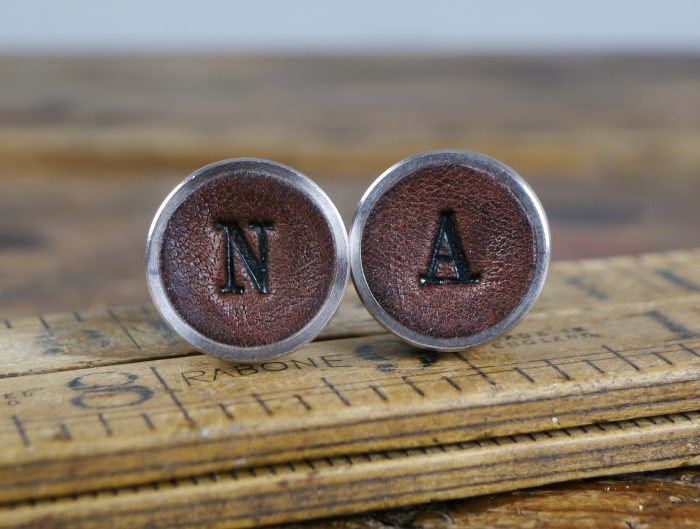 Amanda Reid Designs
About Amanda: Amanda Reid is a modern calligrapher, workshop instructor and physical therapist. She is the owner of Amanda Reid Designs, a modern calligraphy studio based in Austin, TX that specializes in providing calligraphy and engraving services for events and brands. Amanda also shares her passion for calligraphy with others by hosting fun, interactive workshops to teach aspiring letterers how to use brush pens and/or dip pen and ink.
Since starting ARD in 2019, Amanda has been featured in several publications, taught hundreds of calligraphy students, and worked with brands such as Kendra Scott, Uno/Mattel, Erin Condren, Pentel, and more.
Amanda believes that calligraphy is more than just pretty lettering, but it is an experience. Outside of her own personal brand, Amanda Reid is also the founder of Calligraphers of Color, an inclusive online community that promotes diversity within the calligraphy space by providing resources for and featuring BIPOC calligraphers.
What you'll win: A custom bridal jacket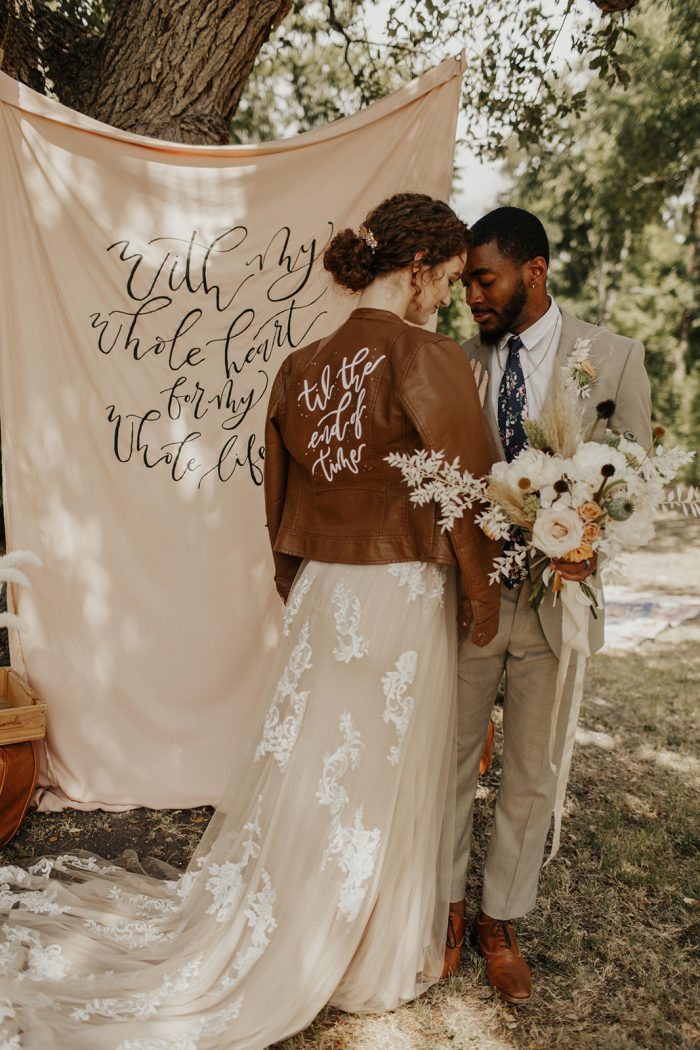 Official Giveaway Rules
– You must be 18 years of age or older to enter
– You must enter prior to the giveaway close date on February 23rd at 11:59 PM Central Time
– Winners will be notified via email on February 26th
– Winner will receive a veil, personalized cufflinks, and a customized bridal jacket
– By entering, you agree to be contacted via email by Junebug Weddings as well as Julie Harris Designs, Kingsley Leather, and Amanda Reid Designs regarding future promotions and news
– By entering, you agree to the Official Rules and the Junebug Weddings Terms and Conditions
Enter To Win
This giveaway is closed. The winner will be contacted by email.