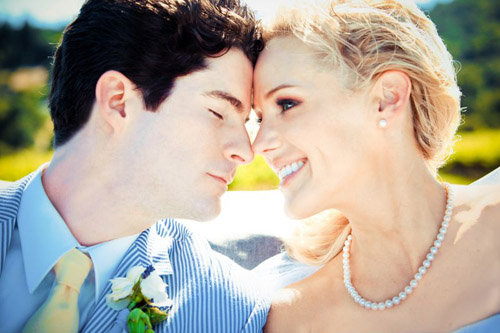 The Couple: Cher and Ian
The Wedding: 6.12.10 – Shady Oaks Winery, Napa, California
What three adjectives that best describe your wedding? Casual, elegant, vintage
What inspired your personal wedding style, and how did you incorporate your style and personalities into your big day? We love vintage style, casual elegance and the feeling of being with family. We wanted everything very personal and for each person to feel special. We hoped our guests would come home feeling like they had gone on vacation and not worn out from being dragged around.


Looking back, what are the moments, decisions or memories that you love the most about your wedding? It's very difficult to pinpoint just one because the entire experience was a dream. If I had to pick I would say walking out of the church and climbing into our white convertible vintage car, looking around at all our friends and family with the beautiful church and blue sky in the background…feeling like an absolute princess with my handsome smiling husband at my side.
What was your wedding color palette? Blue was definitely a theme but we brought in all colors…sort of a big Monet painting.

The Wedding Team:
Photographer: Laura Grier – Beautiful Day Photography
Event Planner: Julie Nunn Martin- IDO Event Design
Ceremony Venue: First Presbyterian Church
Reception Venue: Shady Oaks Winery
Officiant: Shawn Robinson
Catering: Elaine Bell Catering
Florist: Valley Flora
Cake: Sweetie Pies
Wedding dress: Carolina Herrera
Bridal accessories: Claude Morady Beverly Hills
Bridal shoes: Christian Louboutin
Bridesmaids' dresses: Corsets from Frederick's of Hollywood and skirts from Dina's Bridal in Santa Monica
Groom and groomsmen apparel and accessories: Seersucker suits from Huge Store
Hair and make-up: Jim Avila
Live music: Swing Fever
Transportation: Classic Convertible Wine Tours
Dance instruction: Athur Murray
Rings: Claude Morady Beverly Hills
Rentals: Wine Country Party and Events
Thanks for sharing Cher and Ian! Such a lovely vineyard wedding!
To find inspiration for your our personal wedding style, don't miss our Wedding Photo Gallery!