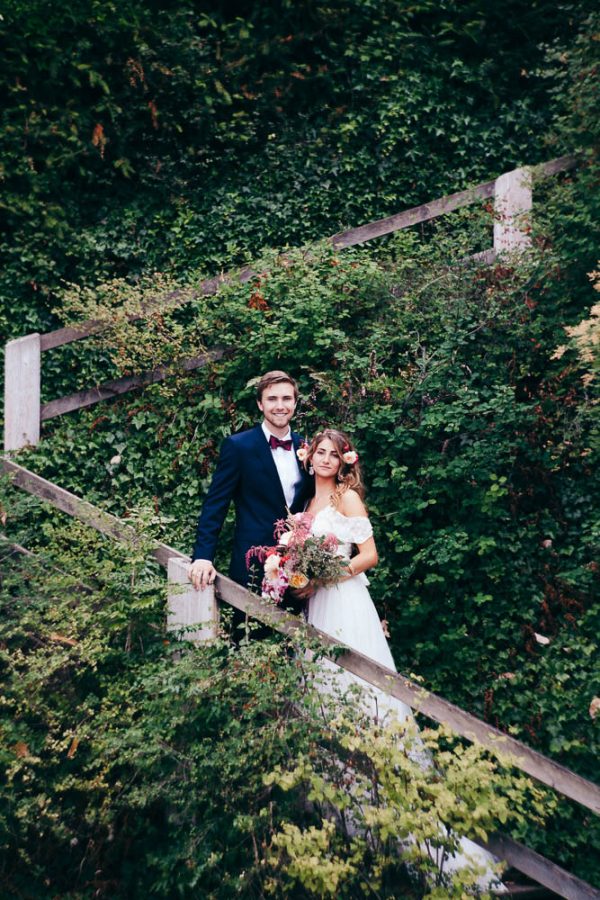 A well-traveled and culturally-inspired pair, Emma and Andrew decided to adopt elements from around the world when designing their wedding day. With the help of Lola Leigh Events, they created an Indian, Moroccan, and East Asian-influenced celebration with bold botanical accents, traditional lanterns, handmade signage, and fully accessorized lounging areas. Julia Kinnunen Photography's portraits of the couple around The Captain Whidbey Inn are impossibly romantic, true to every inch of their wedding day.
The Couple:
Emma and Andrew
The Wedding:
The Captain Whidbey Inn, Coupeville, Washington
The Inspiration:
Andrew and I share a love of travel, culture, nature, family, and art, and we wanted to make our wedding a manifestation of those interests and values. It was important to us to have a mini destination wedding of sorts – because we love to travel – but we also wanted all of our family and friends to be there. So we chose a historic inn by the sea on Whidbey Island. We felt that the semi remoteness and total uniqueness of the location made it perfect for a weekend getaway during which we and our guests could retreat from everyday life and celebrate something that transcends everything – love.
The design evolved from our mutual appreciation of the art of various cultures. We wanted to feature elements of Indian, Moroccan and East Asian design and to juxtapose those details with a loosely European aesthetic. I spent the year before collecting and selecting eclectic objects from shops and rental companies and I designed the invitations, menus, escort cards and chalk board signs by hand with an English garden meets Bohemia theme in mind.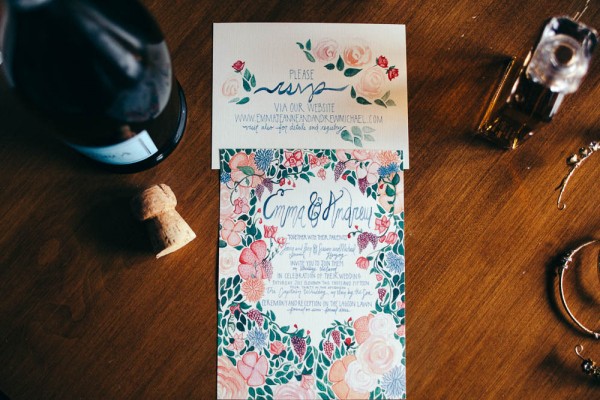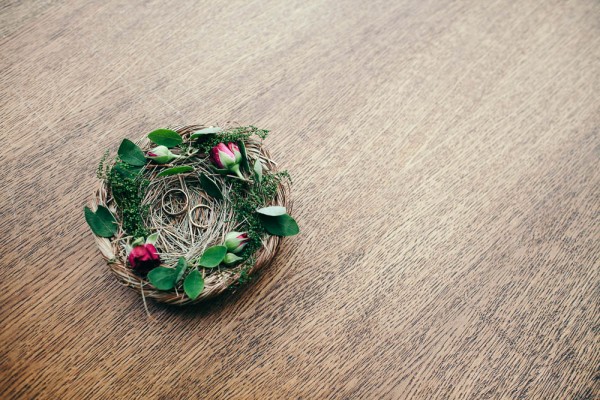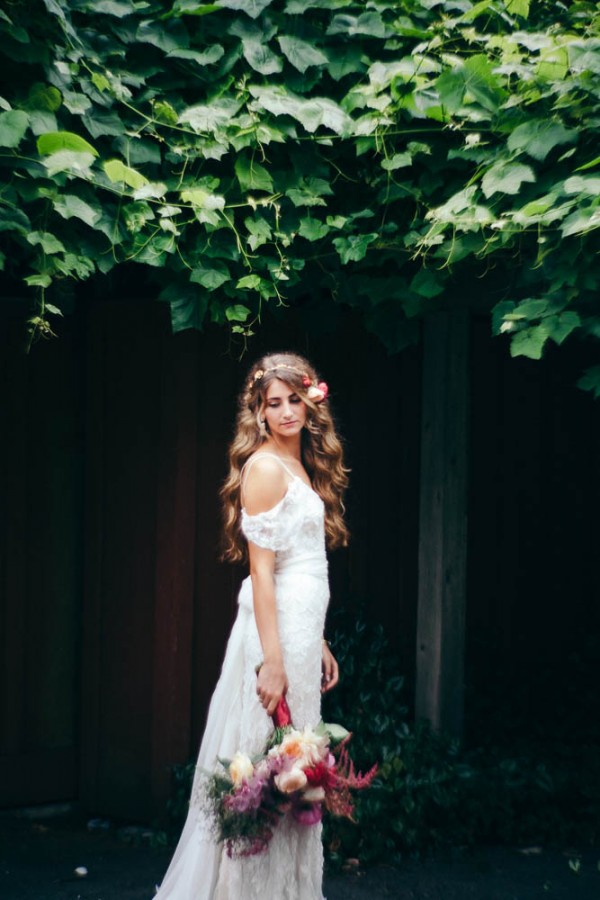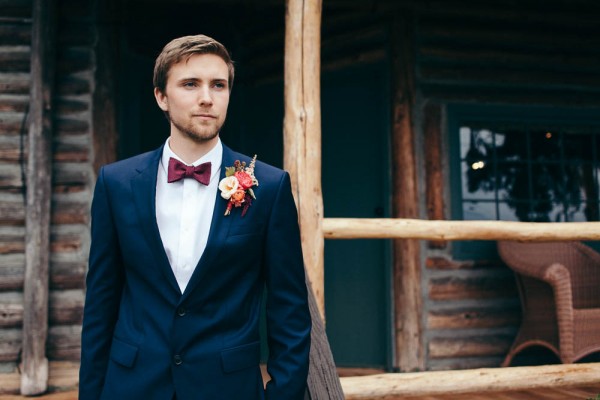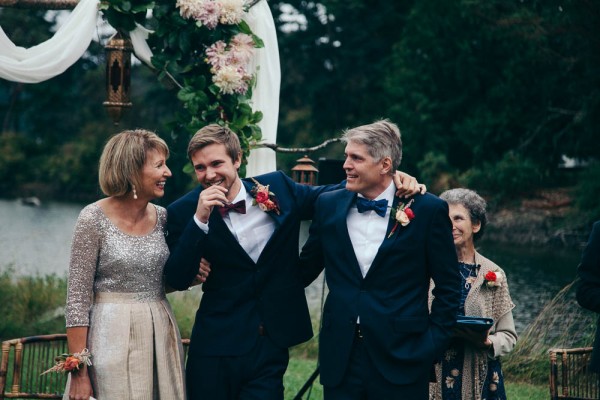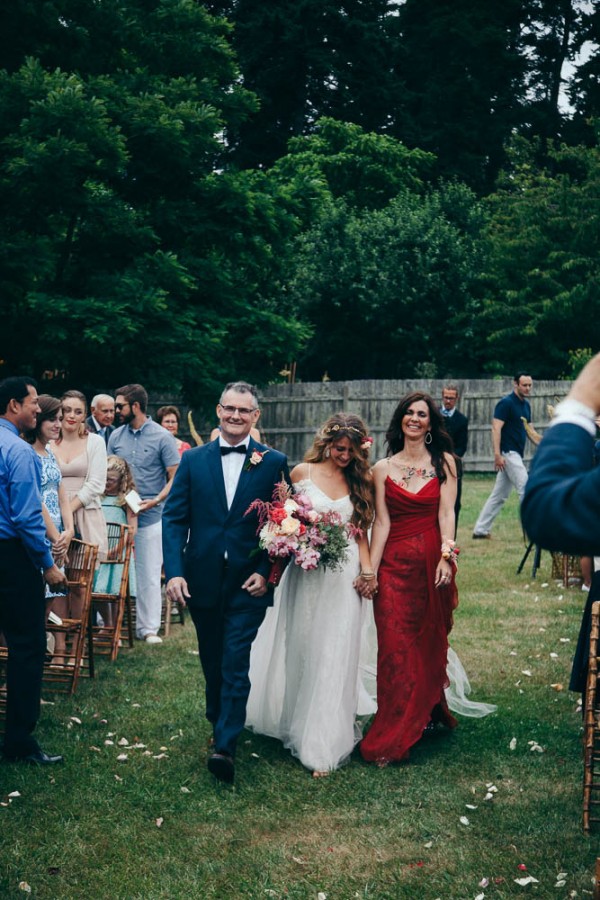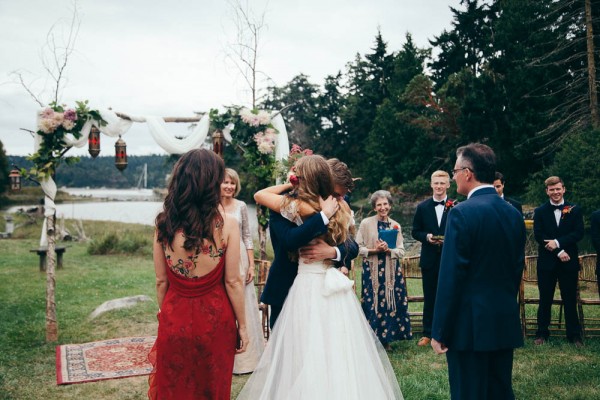 From The Bride: We chose a mixture of excerpts from various spiritual texts and multiple passages from some of our favorite books. We also asked a few of our bilingual family members and friends to share blessings in German, Arabic and French. Overall, our ceremony represented our belief that when it comes to the expression of what is ultimately real, there are many different voices but it is always love that is speaking.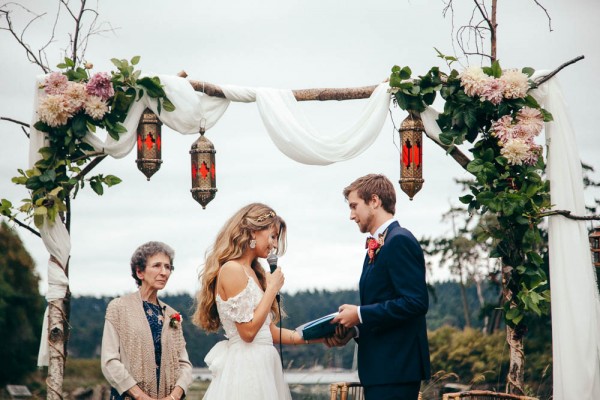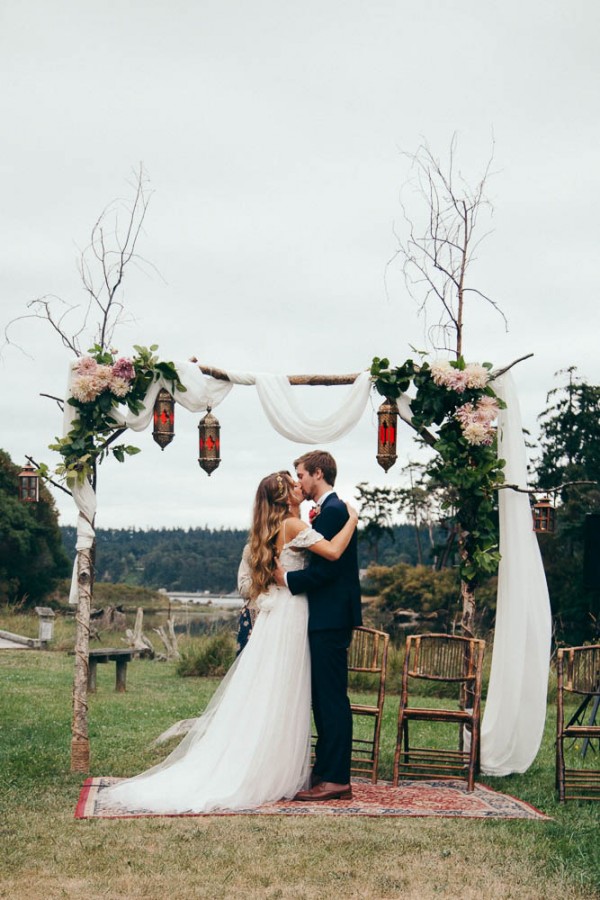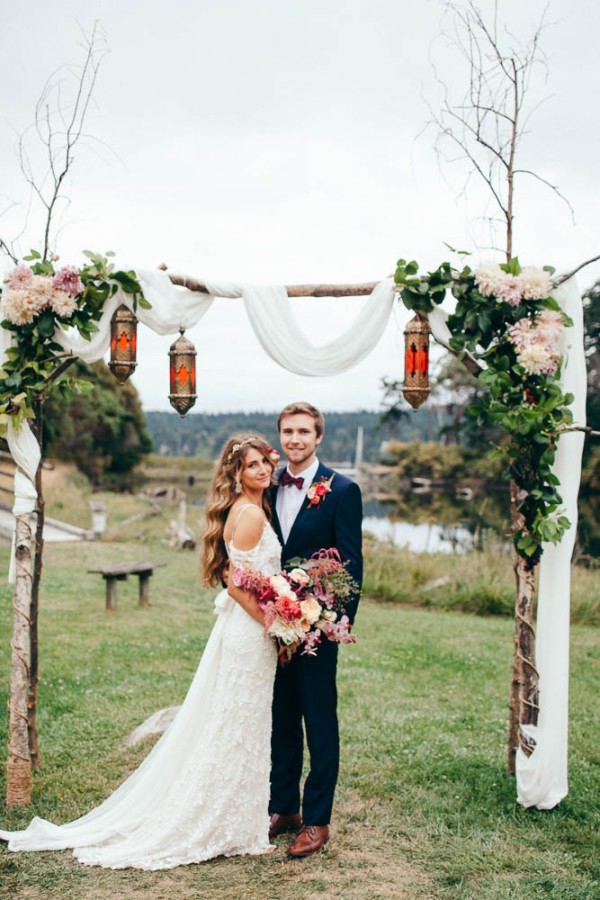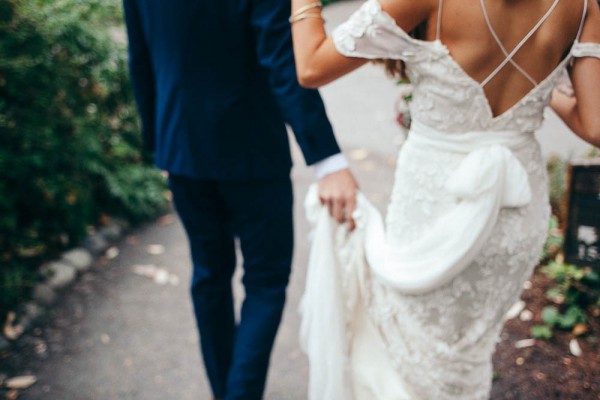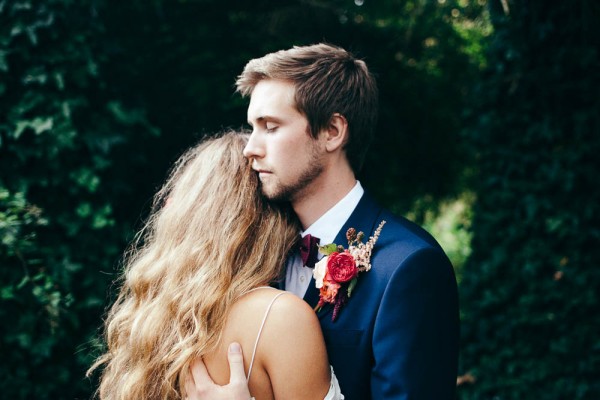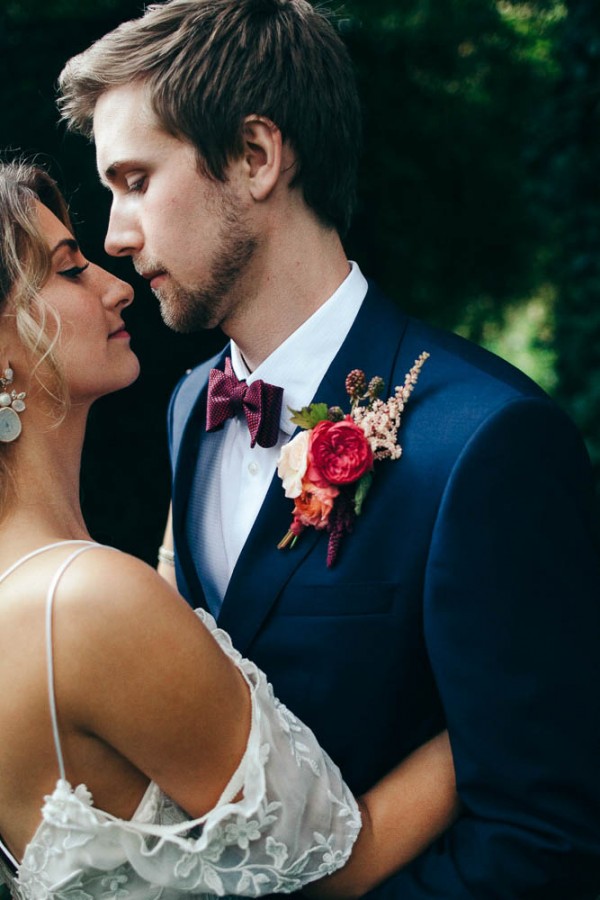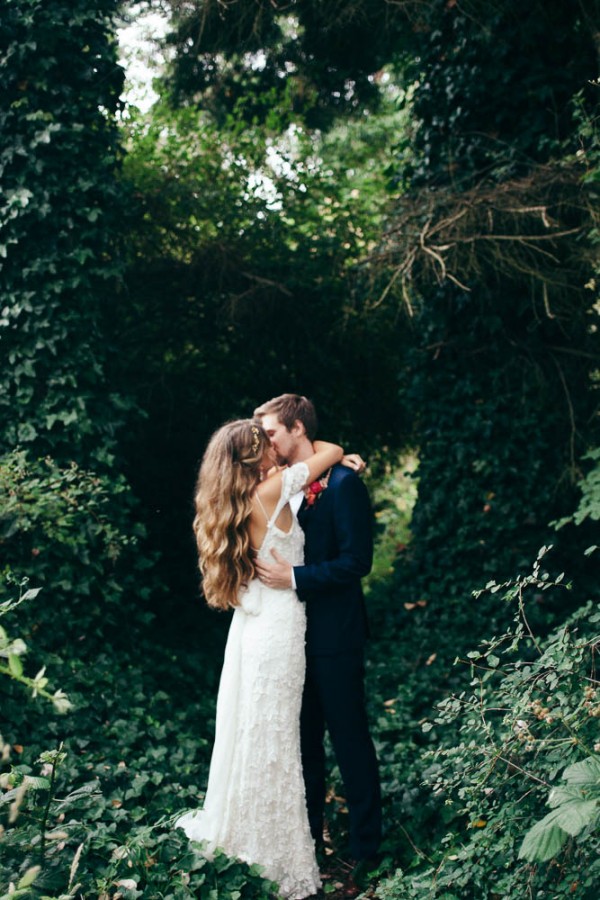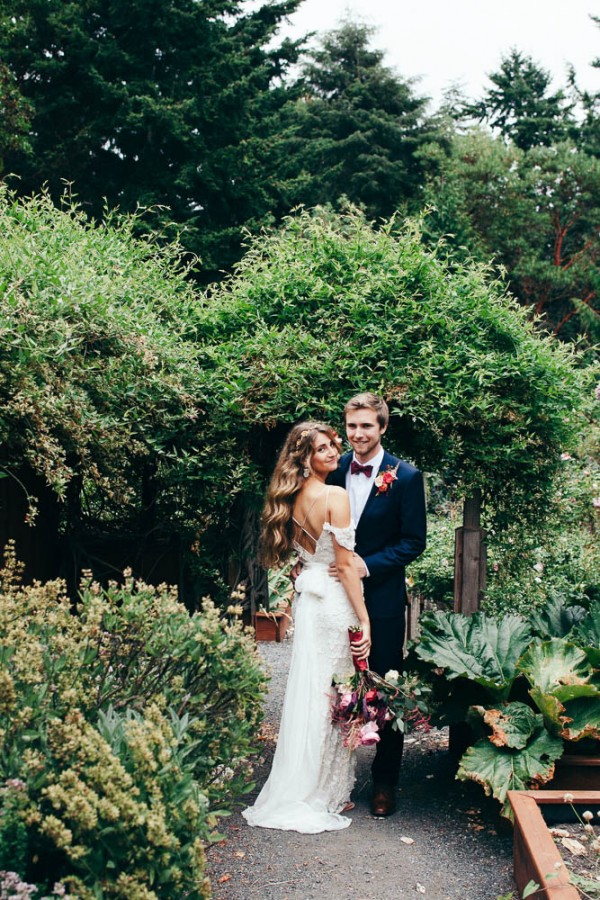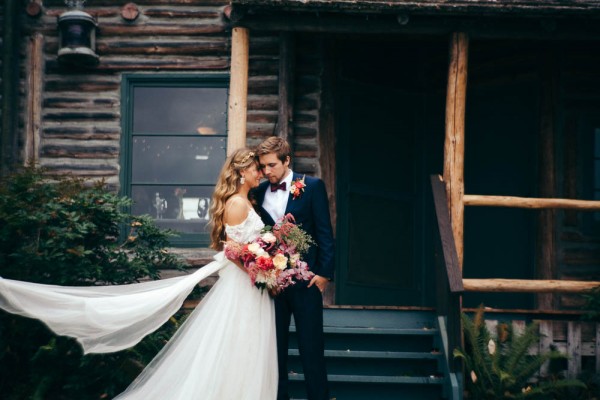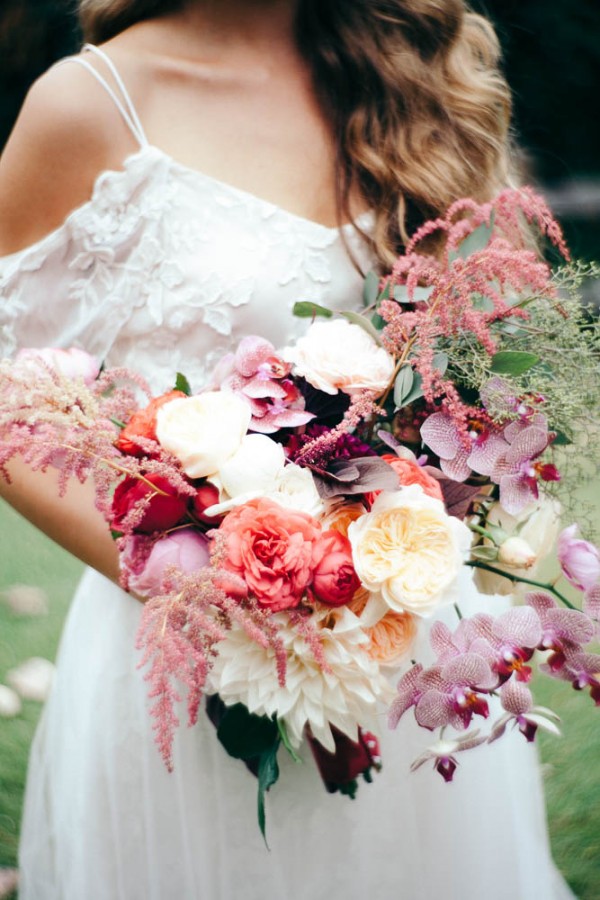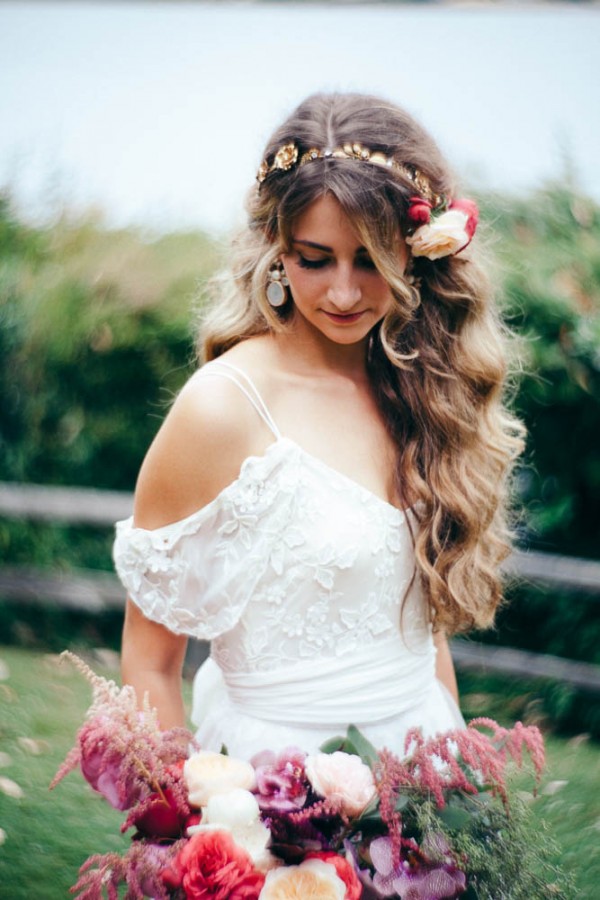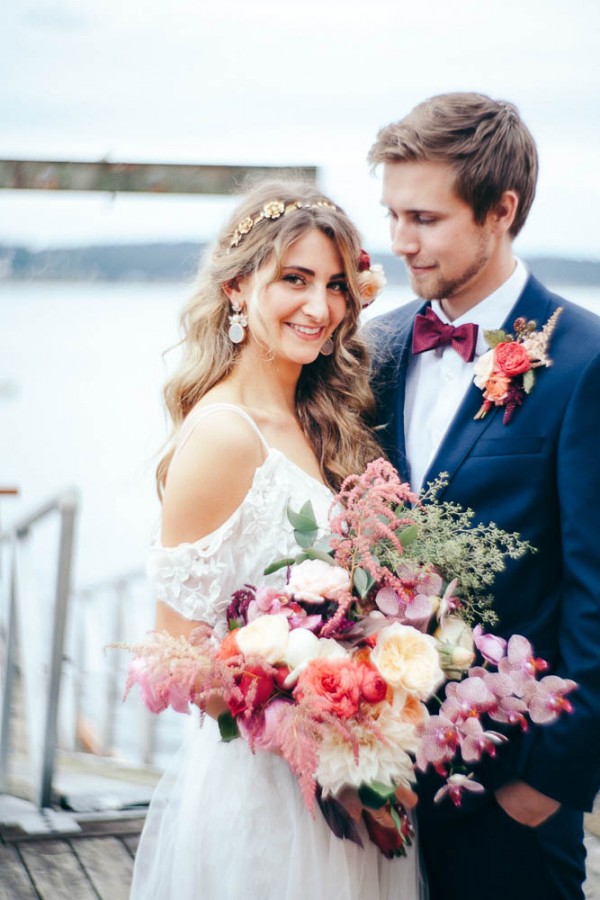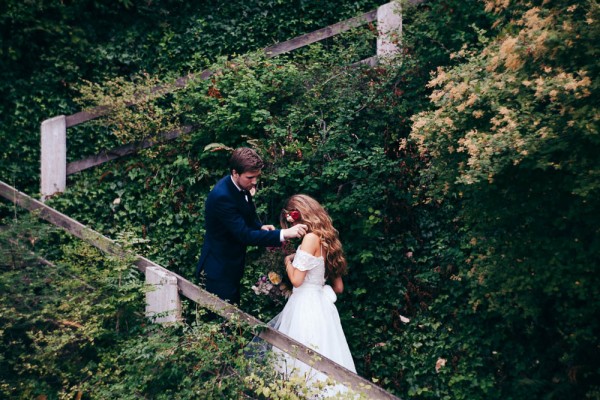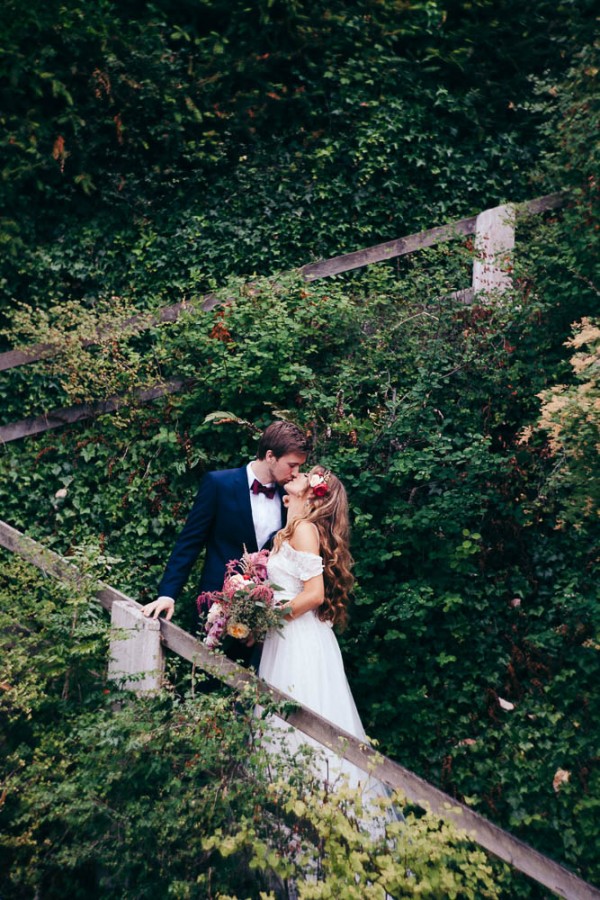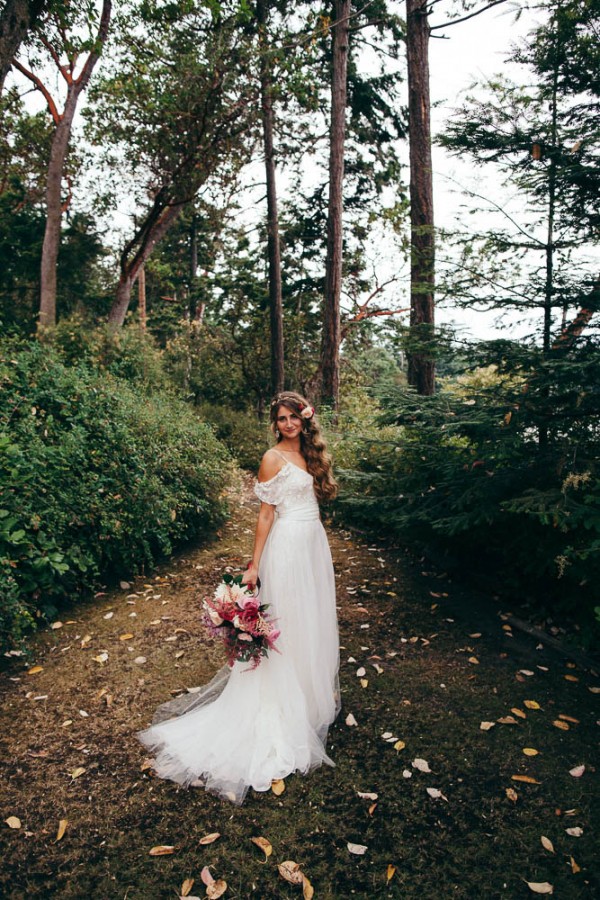 Emma's Lena Medoyeff Studio gown was layered over a BHDLN tulle skirt for an even more romantic look!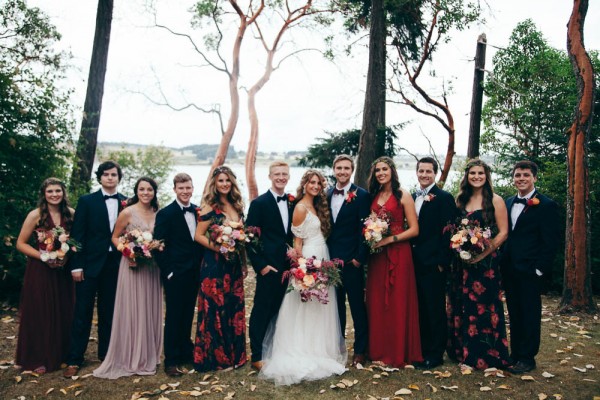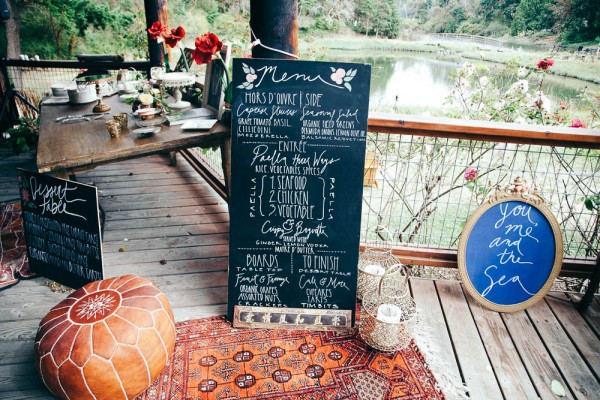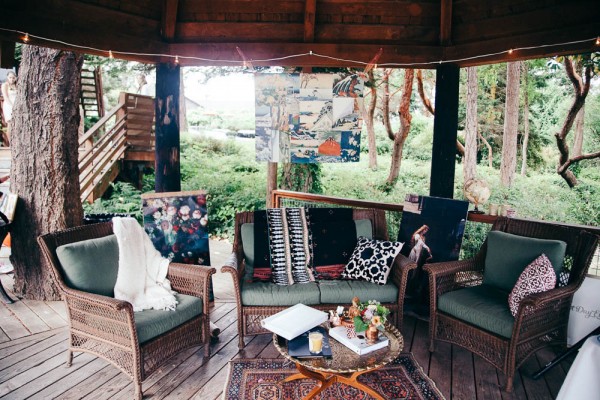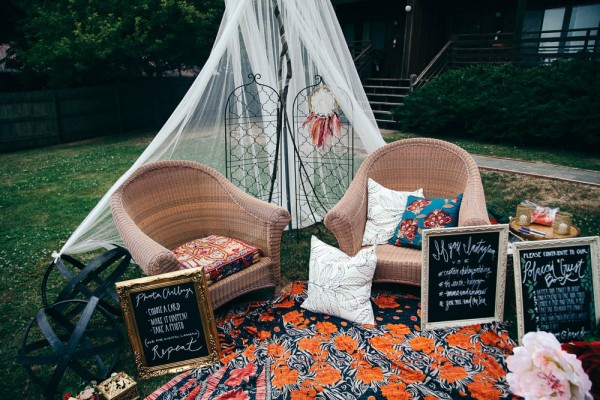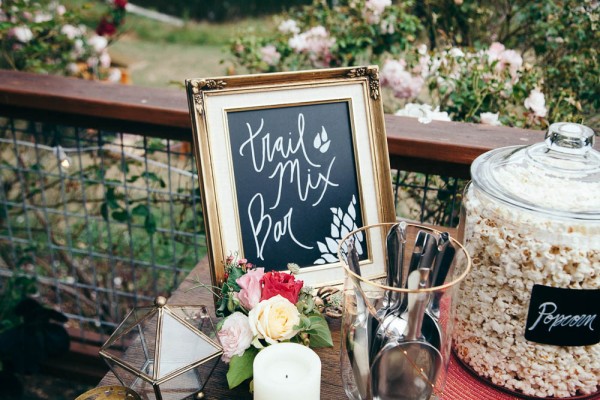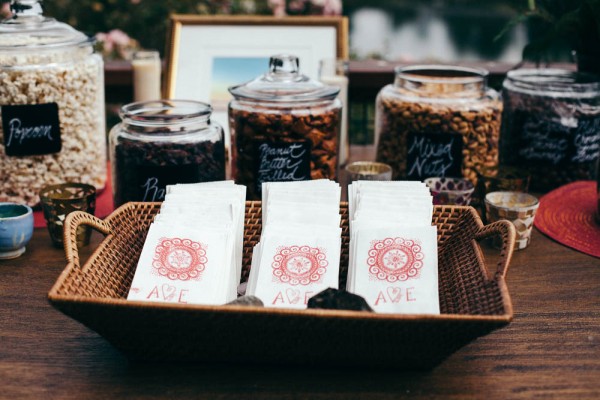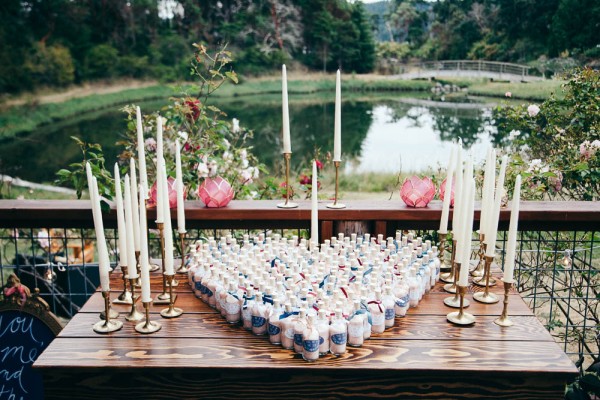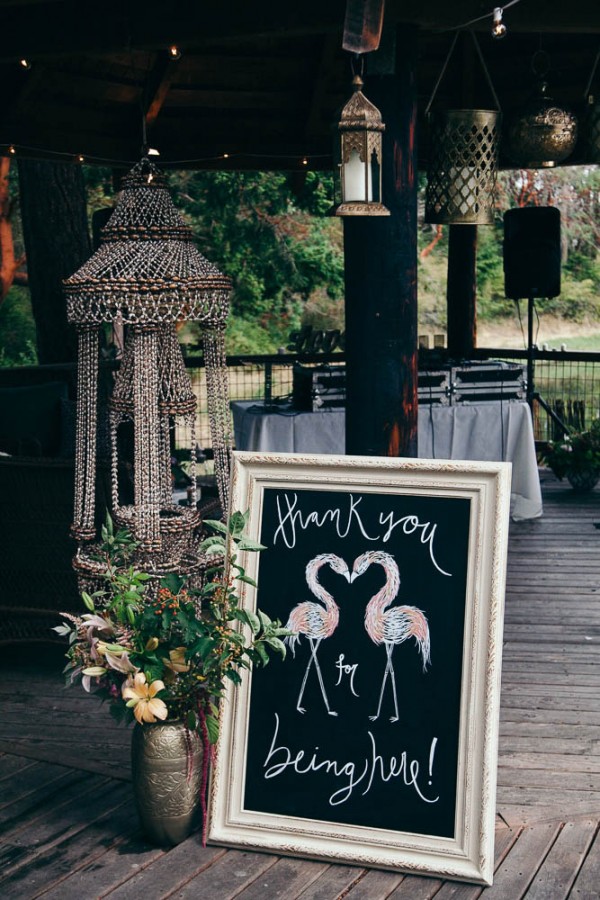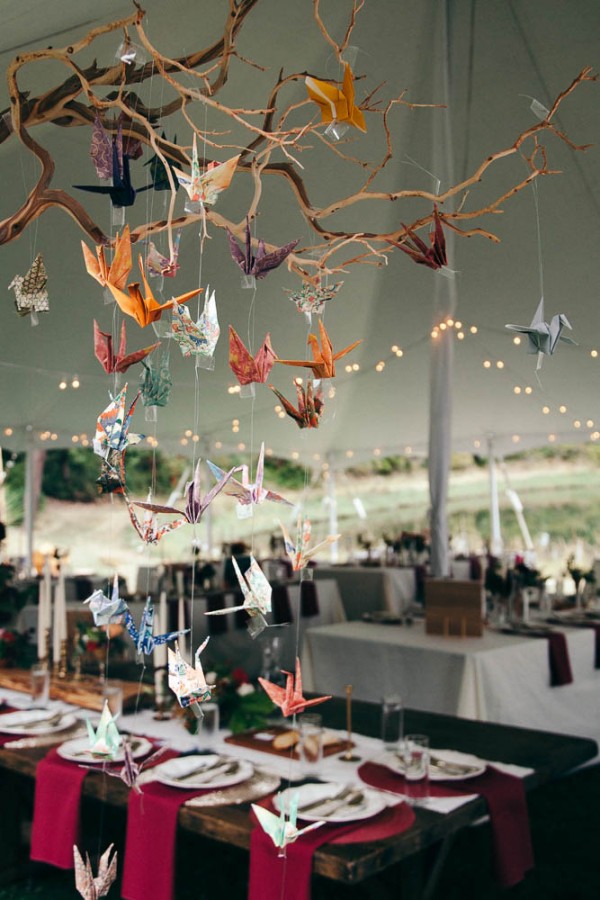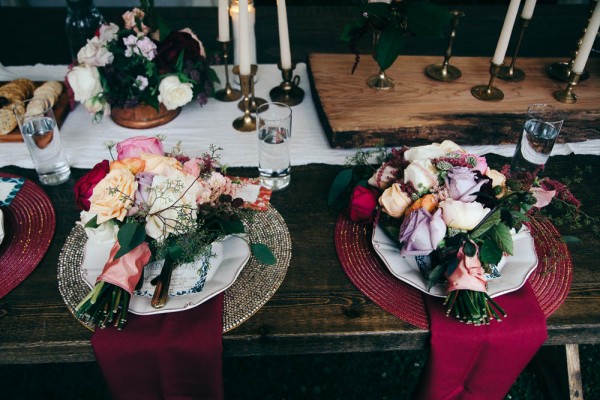 From The Bride: Our table top design was inspired by medieval banquets and still-life paintings, so our families hand carved, sanded and stained forty wood cutting boards that were topped with grapes and cheeses. My mum ordered all of the flowers wholesale and oversaw a team of incredible women in creating all of the abundant, organic floral arrangements.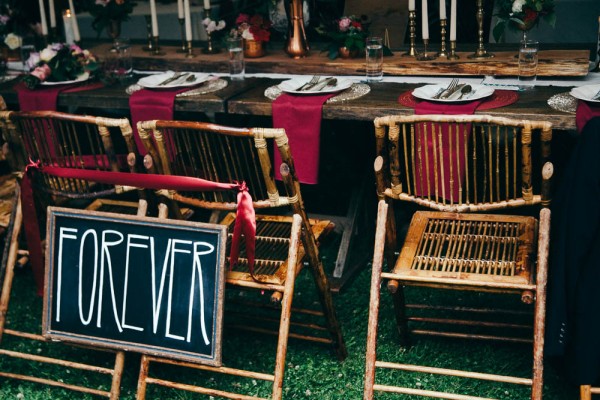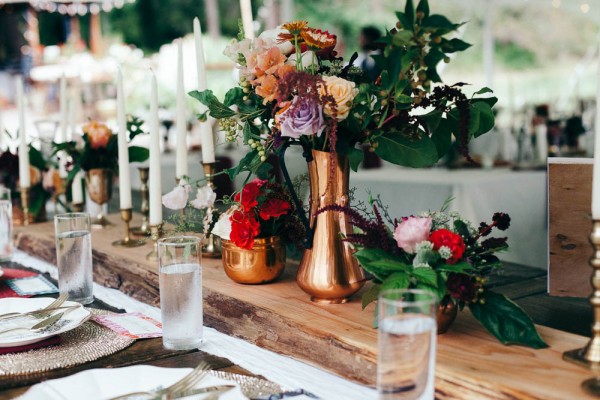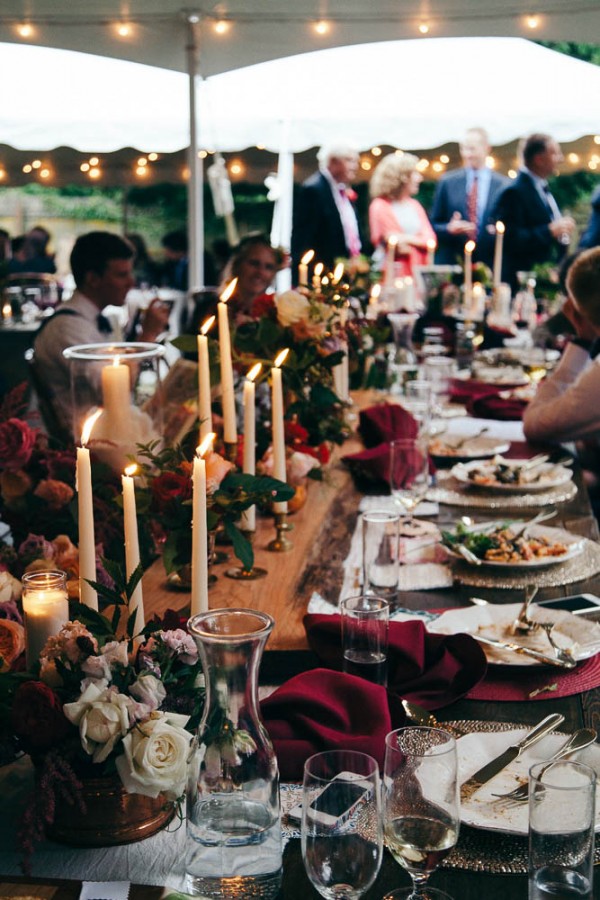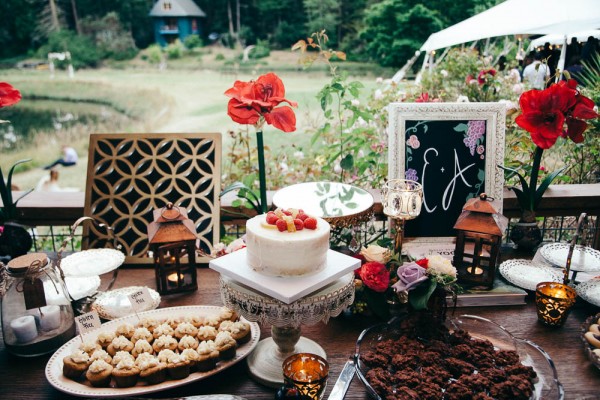 The Moments:
It was magical to have so many people we care about be there in that space together. On top of that, the nature of the venue made it possible for us to spend multiple days before and after with many of our guests who stayed at the inn itself or in the surrounding area. And then there was our ceremony. We asked our beloved friend Lynda to be our officiant and met with her regularly the year before to carefully select each reading and song that was shared. Andrew and I wrote our own vows, and for both of us, sharing those words with each other created a union between our souls that was tangible. We loved the heartfelt speeches given by our parents and the members of our wedding parties. And of course, we have to mention that we had so much fun celebrating with everyone! We had the time of our lives dancing and being merry until early morning.
The Couple Recommends:
Julia, our photographer, was wonderful in every sense. She made us feel natural and at ease the entire time. She took into account our stylistic ideas and desires, and produced images that embody all we imagined and much more. We would recommend her to anyone who is looking for a lovely individual with loads of talent who has an authentic, artistic eye, an ability to capture beautiful details and moments, and a commitment to caring about her clients above all else.
Our day-of coordinator, Christy, was professional, resourceful and brilliant. She has a calm and reassuring presence – we were anxious about multiple unresolved issues in the weeks before the wedding, but she had an answer for every question and a solution for every dilemma. Because of her, the event flowed naturally as if none of it had been planned (but of course it had)!
Kristina, our DJ, made everything come to life. She is a talented artist and she clearly loves what she does. We think that her fun and genuine approach gave our dance party that same effortless energy. The dancing started immediately after dinner and didn't end until around 3:00 in the morning. It was better than we could have imagined!
Our personal friend and videographer Matt was absolutely amazing. He blended in seamlessly with the proceedings — not just because he is a friend — but moreover because he knows how to approach his work in a way that is never contrived. He is a skilled professional and an incredible person to work with.
Congrats to Emma and Andrew on their Captain Whidbey Inn wedding! For more of Julia Kinnunen Photography, check out Liz and Anthony's alternative bohemian wedding at Storybook Farm.