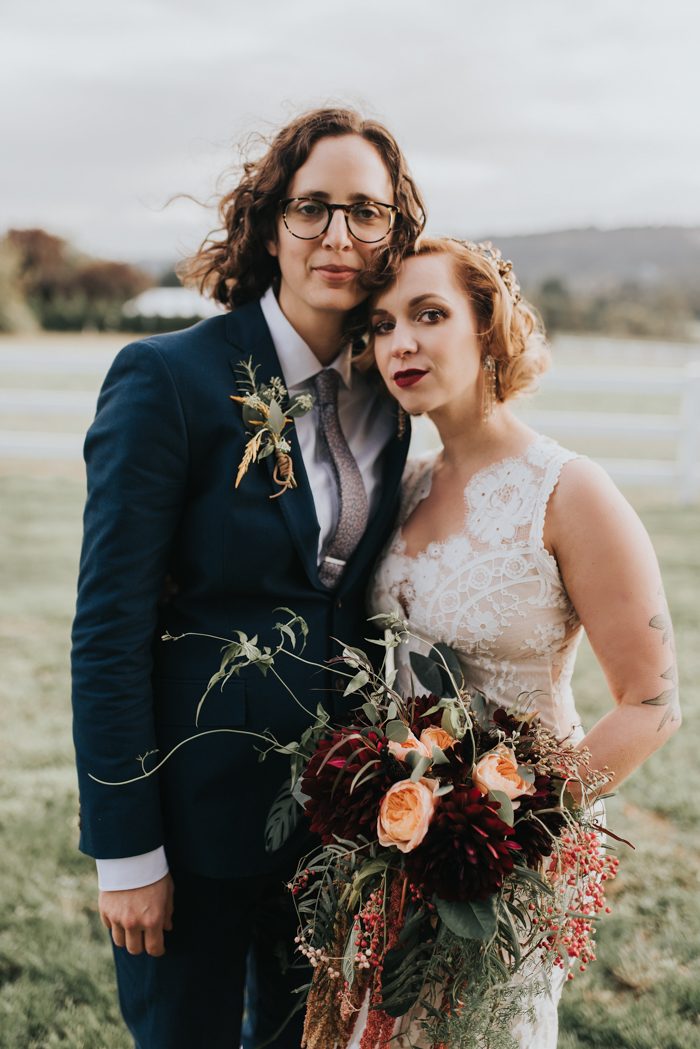 Clarity and Dani's wedding at Barn Kestrel is as dreamy as it gets. This stylish couple knocked it out of the park with styling their wedding day looks! Clarity's vintage glam look is complete thanks to her hair and make up by Rachel Krantz and Emi Garcia, and we are loving Dani's modern twist to her timeless blue suit from J. Crew. Clarity's love for texture came in full force from her bridal accessories to her bouquet created by Kate Duncan, and we are all about it! There is so much to love about this Oregon wedding and Baylee Dennis Photography captured all the dreamy details and explosive love between Clarity and Dani.
The Couple:
Clarity and Dani
The Wedding:
Barn Kestrel, West Linn, Oregon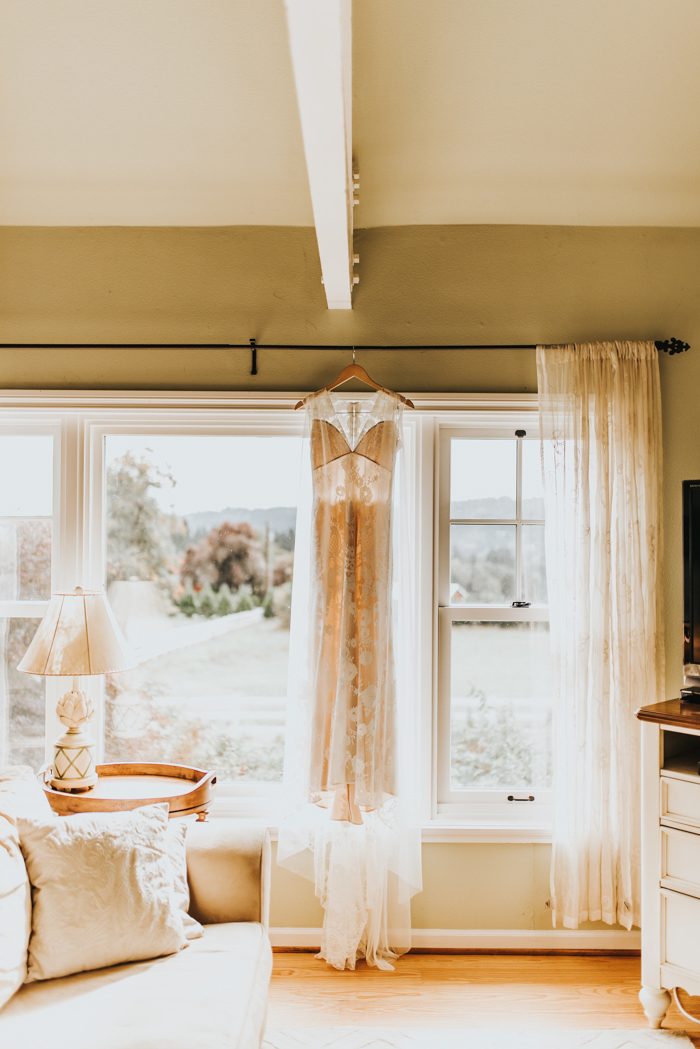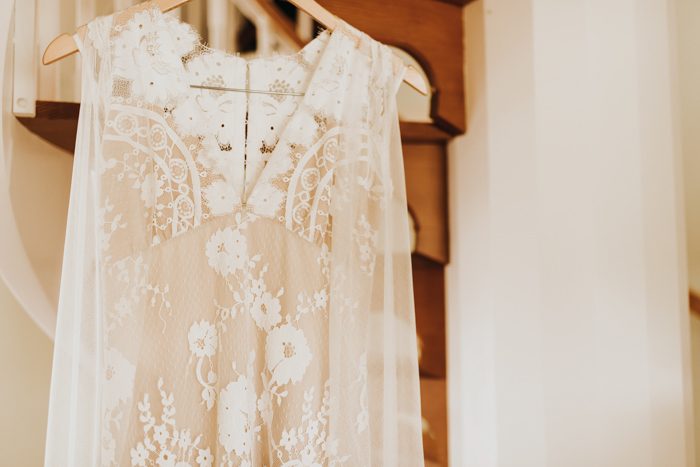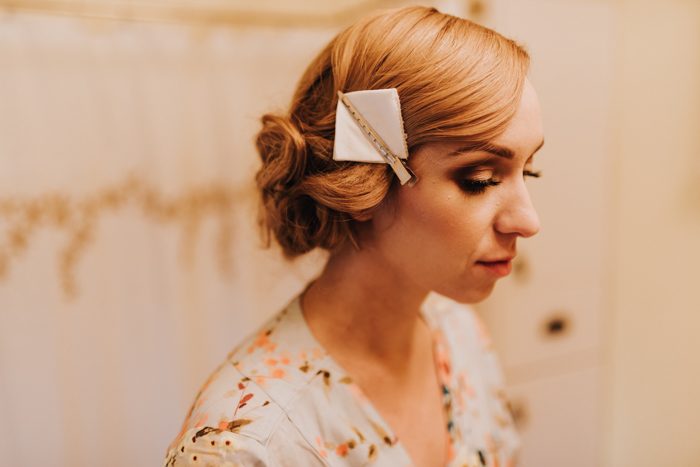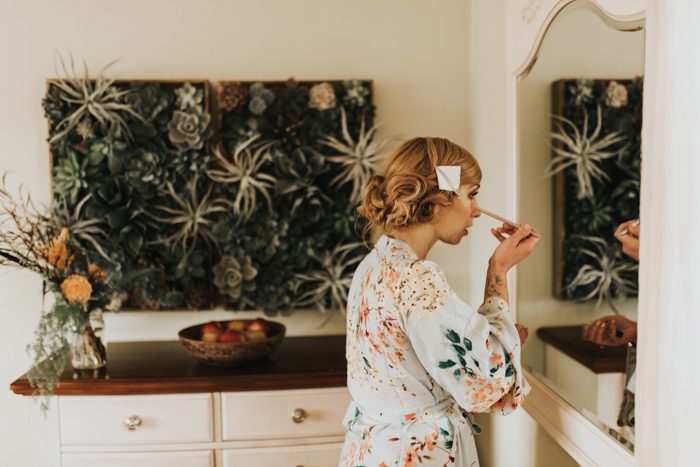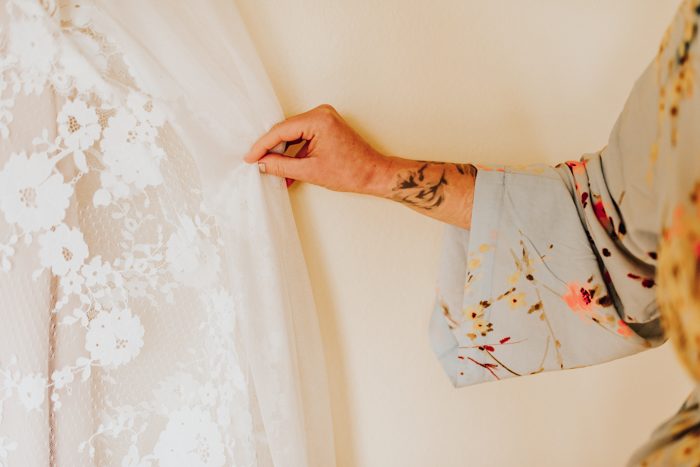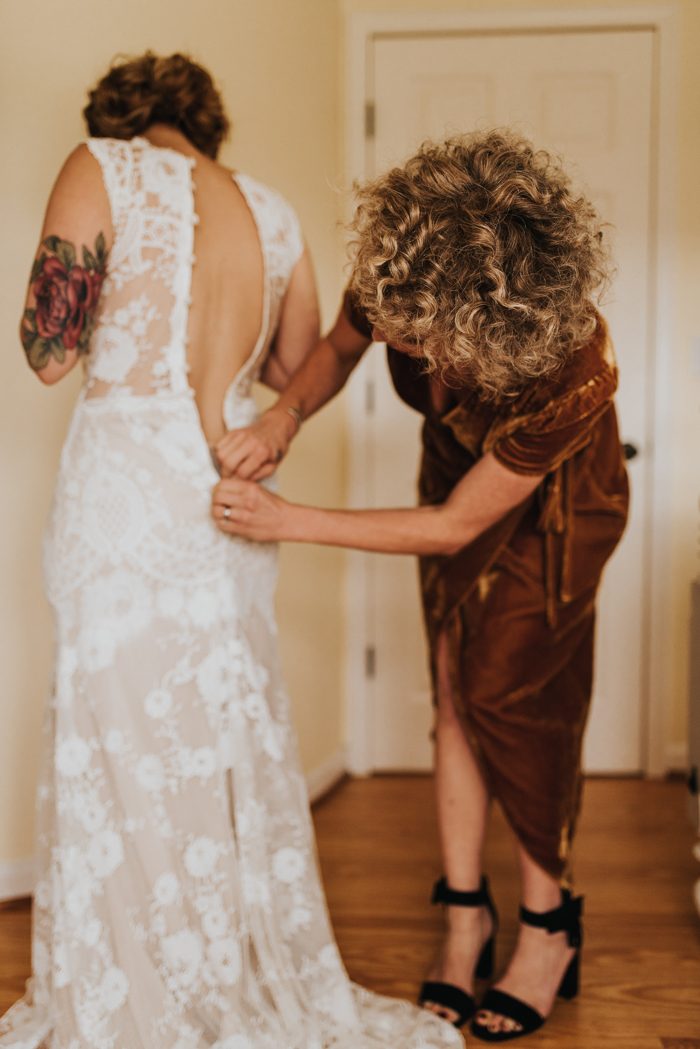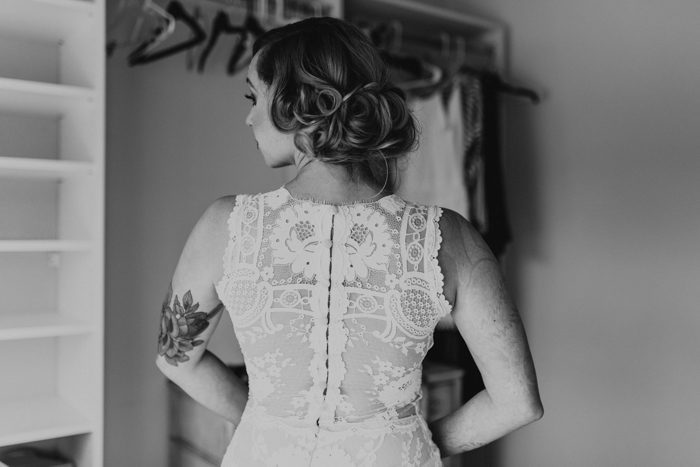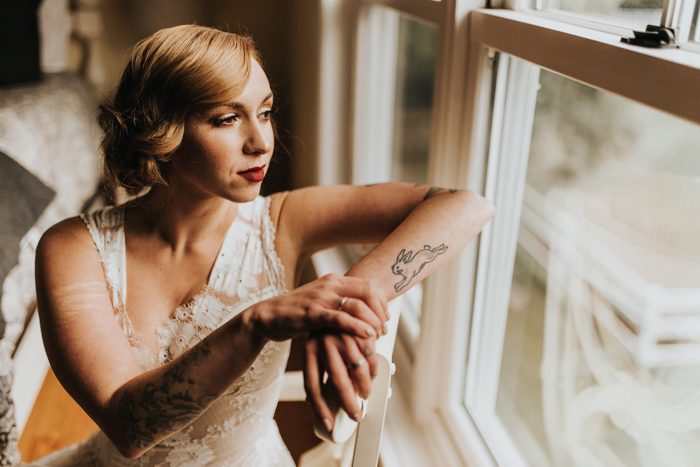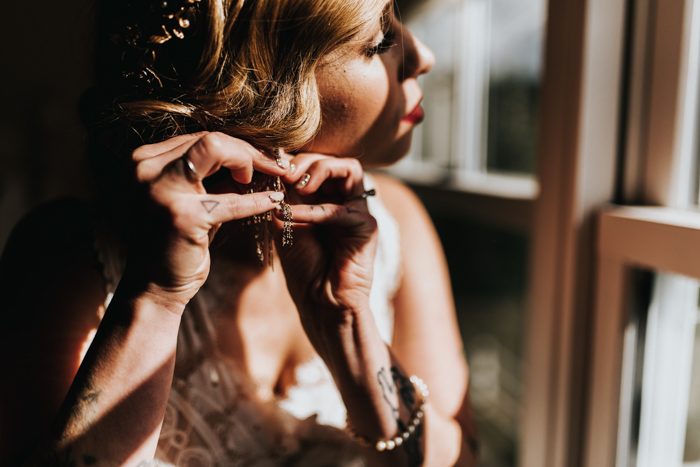 It was really important to us to stay true to ourselves and not fall victim to the pressure to do something just because it is traditional or expected. We also wanted to make sure the experience was just as much fun and humorous as it was romantic and symbolic of the life we wanted to build together.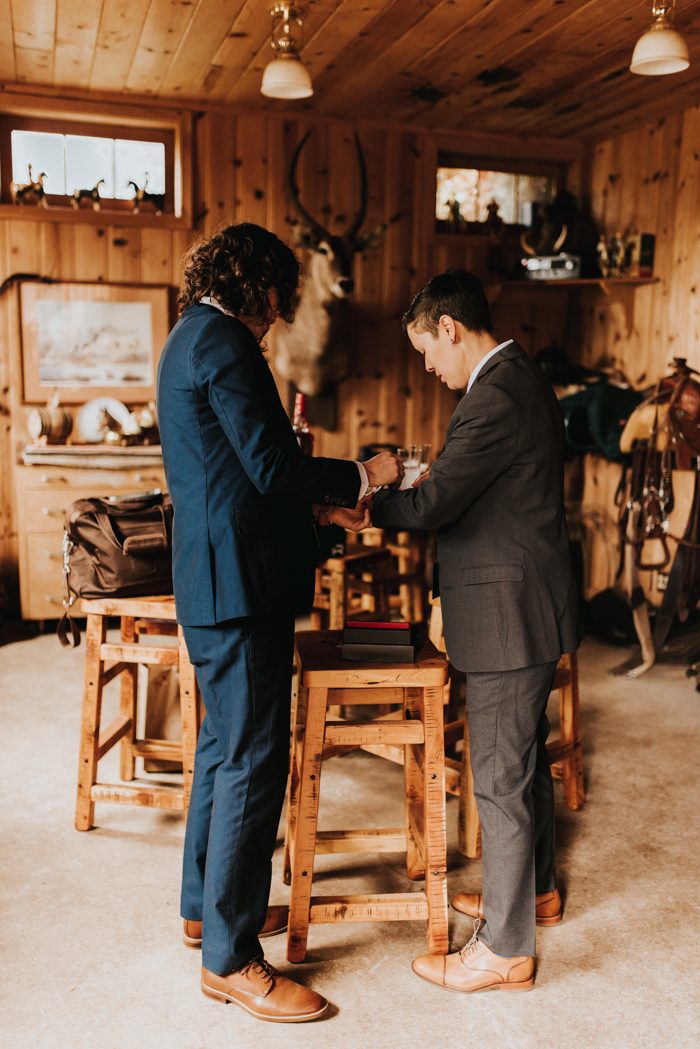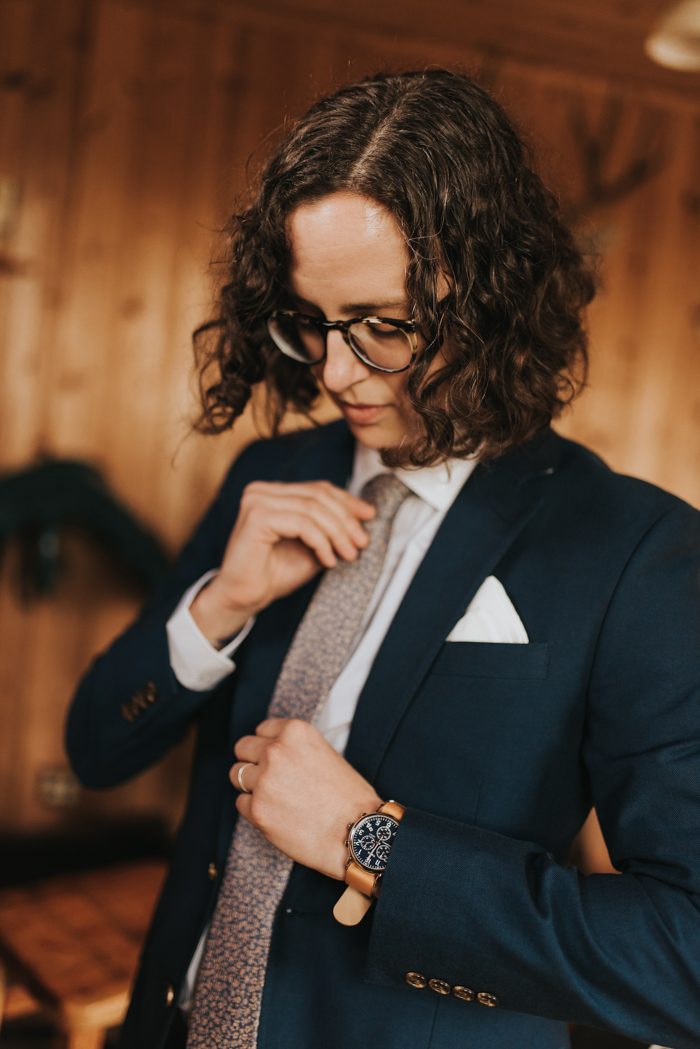 Dani – "I wanted to wear a simple, but classic suit and tie that aligned with the tone of the wedding, and my personal style. I knew that I wanted to find a suit in a medium blue color, so I started my search. As an androgynous person, it is definitely difficult to find men's suits that fit. Luckily, many brands are now open to this concept and are ready to help. I went to J Crew in the hopes to buy a suit off the rack and get it tailored to fit. The Ludlow suit looked great off the rack, and I knew that a little tailoring would make it even better. Once I had the suit color nailed down, I bought some simple red-brown oxfords, and a matching belt. I went with a plain white dress shirt, and a soft navy tie with a small blush flower print."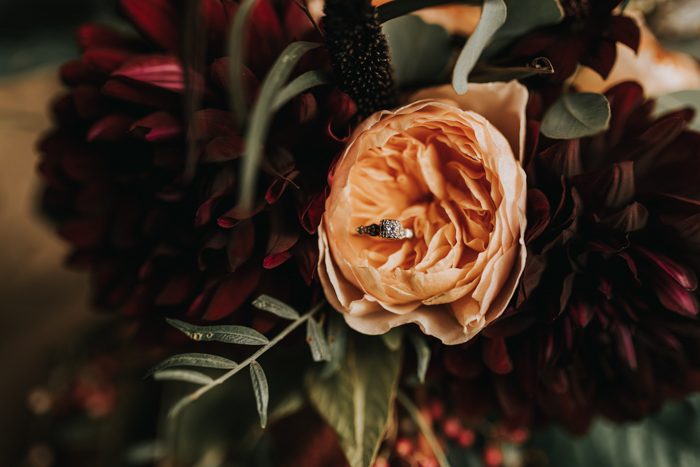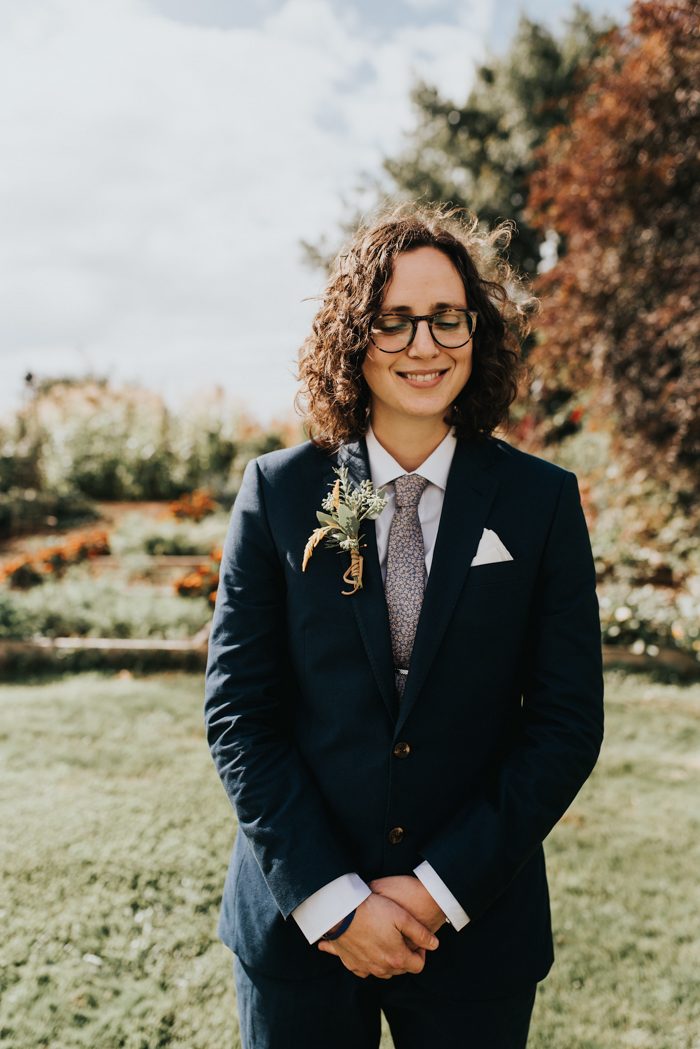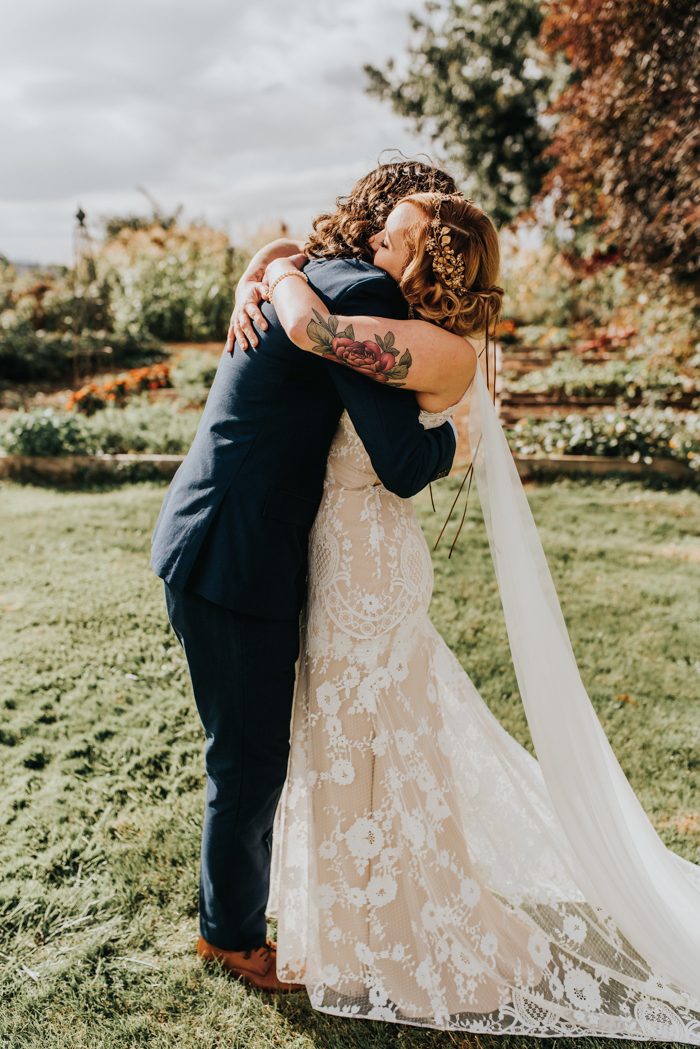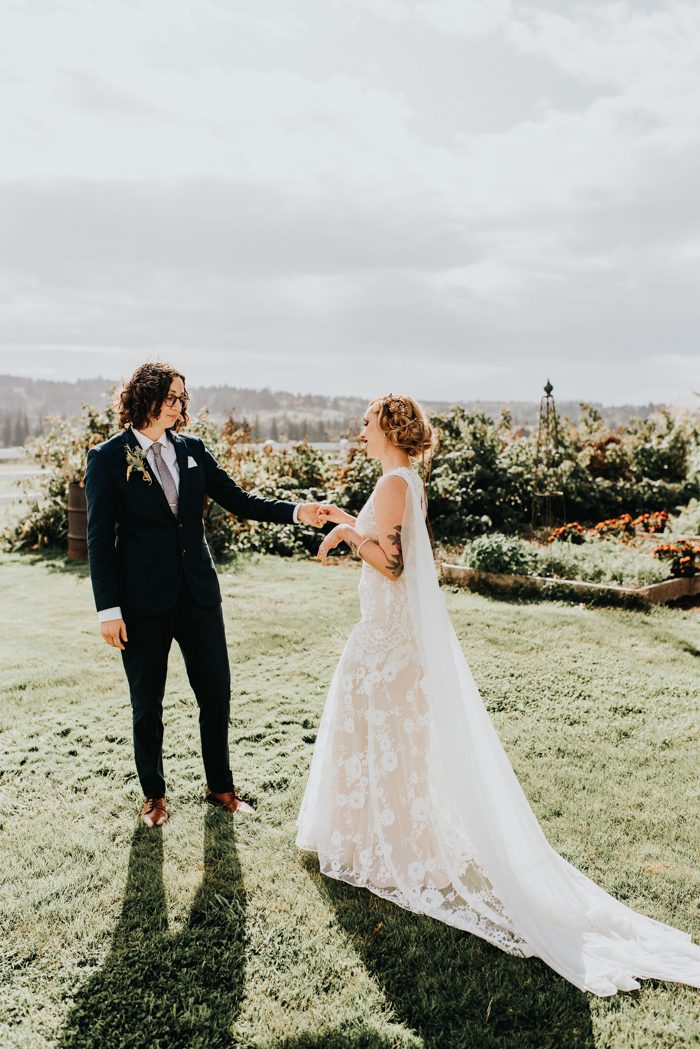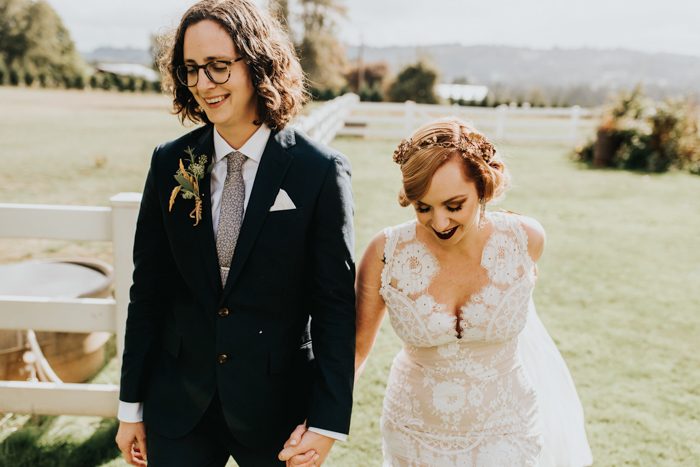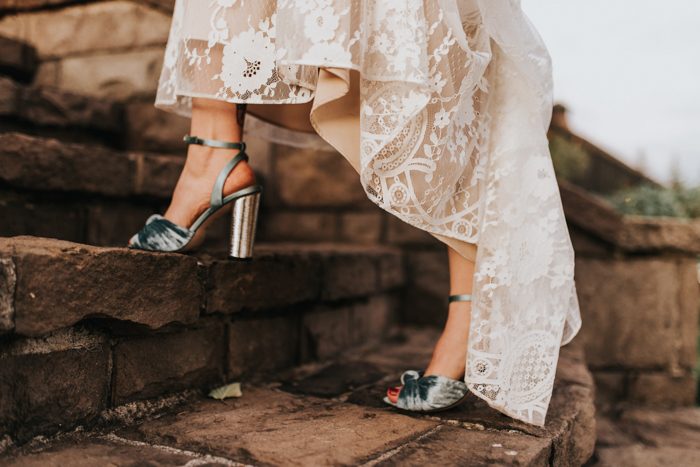 Clarity – "Texture was the driving inspiration for me as I built my look with blue velvet shoes, and a headpiece made from vintage gold by Jannie Baltzer. The back of the dress had such beautiful lace detail, so I wanted to wear my hair up. As for the makeup I knew I wanted a bold lip, but wanted more of a burgundy tone to really pull that fall vibe in. I wanted my makeup to be glowy and golden. I knew I would most likely get cold at times, so when I found a velvet green robe with a fuchsia silk lining my heart was won! I really did it up with bold colors and somewhat obscure components, but thats true to me. The goal was vintage glamour."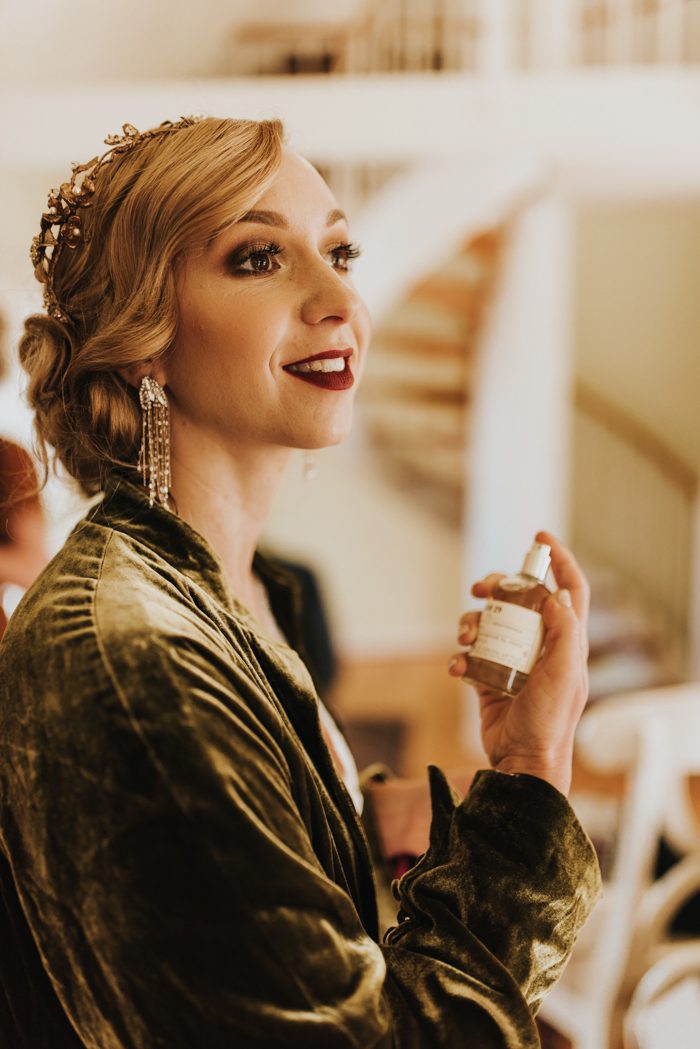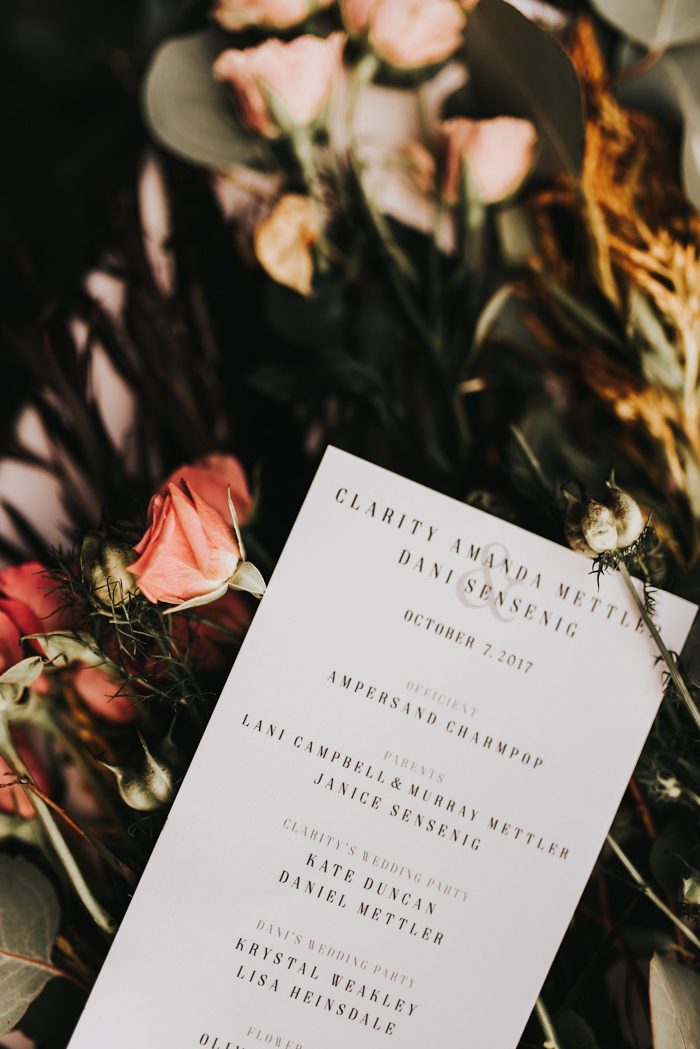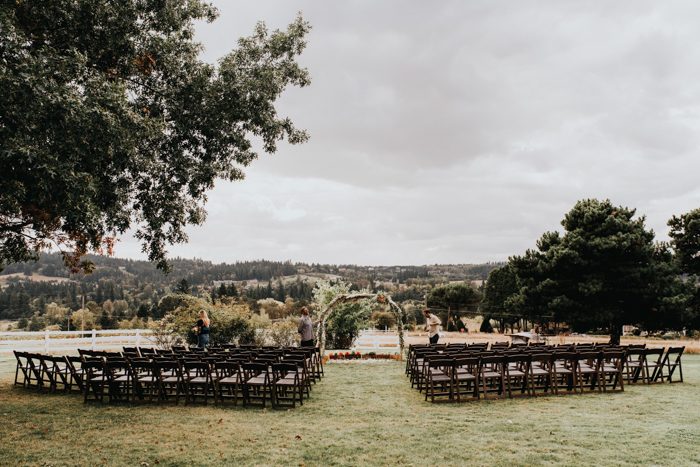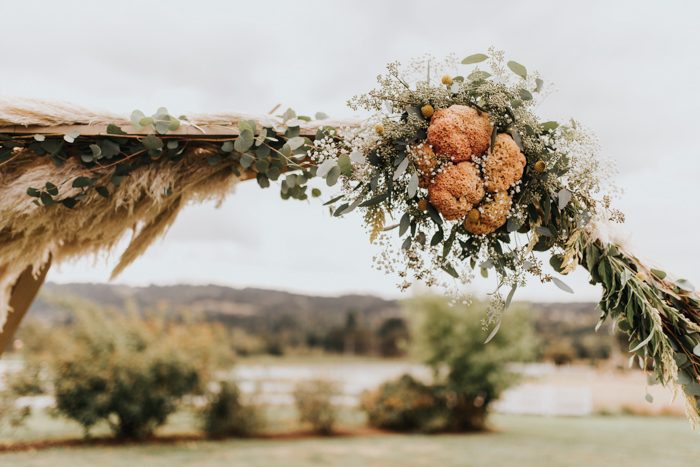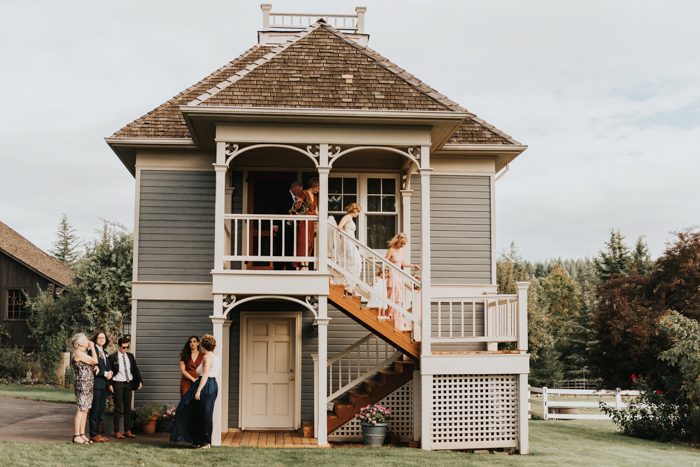 Our search for a venue was very extensive. We visited multiple locations, and went through the pros and cons of each. We wanted to be able to provide our own bar, hire our own caterer, and have as much privacy as possible. The Portland area has so many options that the search was daunting at times. Many of the venues had stipulations that went against our overall goals. However, when Clarity visited Barn Kestrel for the first time it took her breath away. The location itself was so beautiful that it would require very little work to prepare for the wedding. The site has a hundred-year-old barn in addition to several outdoor areas. This offered us a lot of options for planning, including the ability to have the entire wedding in the barn if the weather did not cooperate with us. The venue owner was warm and welcoming to us, and she even made the venue available to us Thursday through Sunday for a Saturday wedding. This allowed us to begin our set-up early, and perform our tear-down the day after the wedding instead of the evening of the wedding.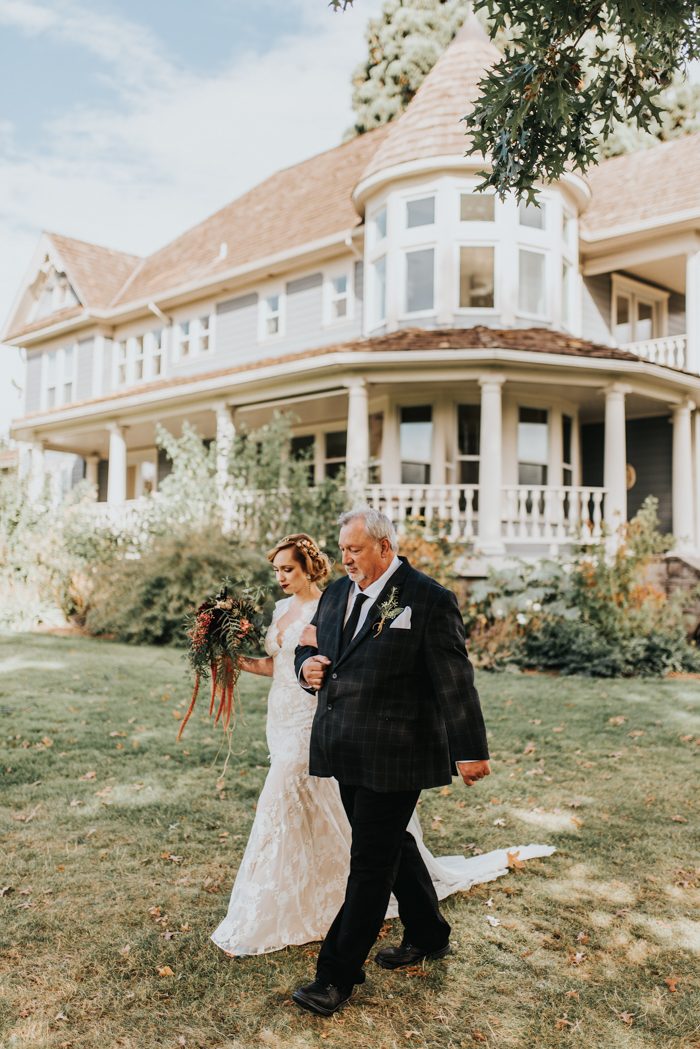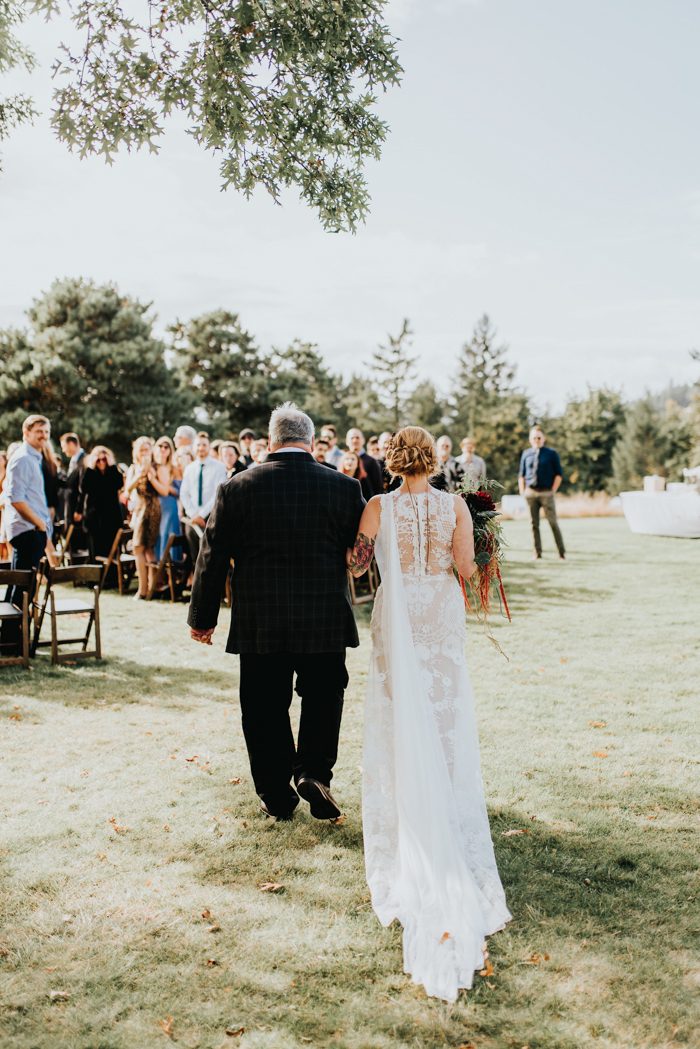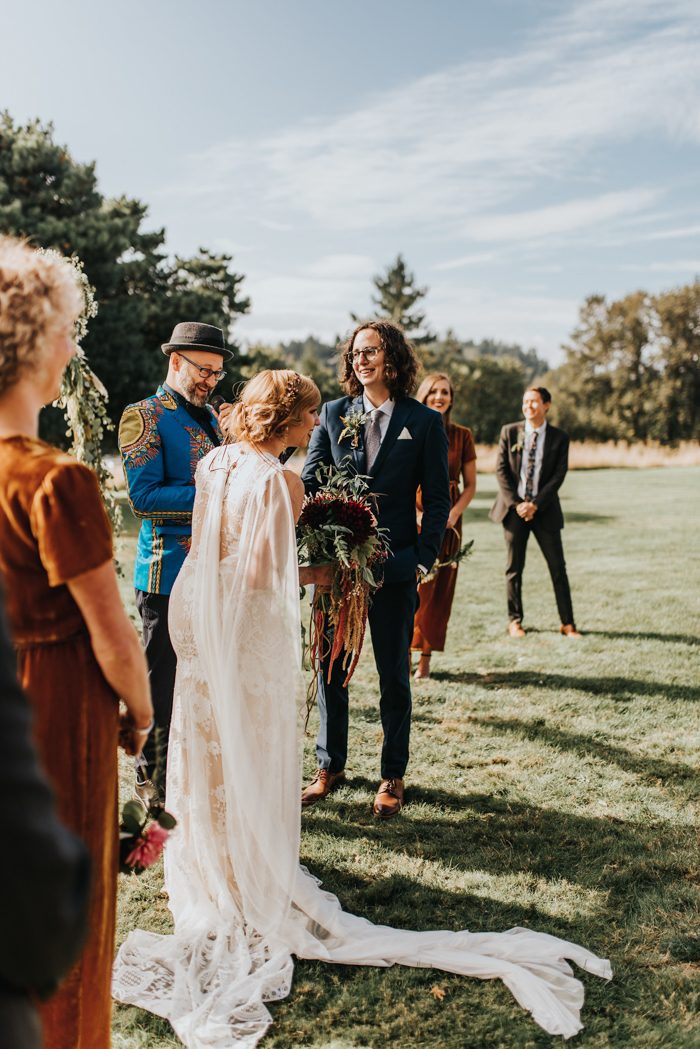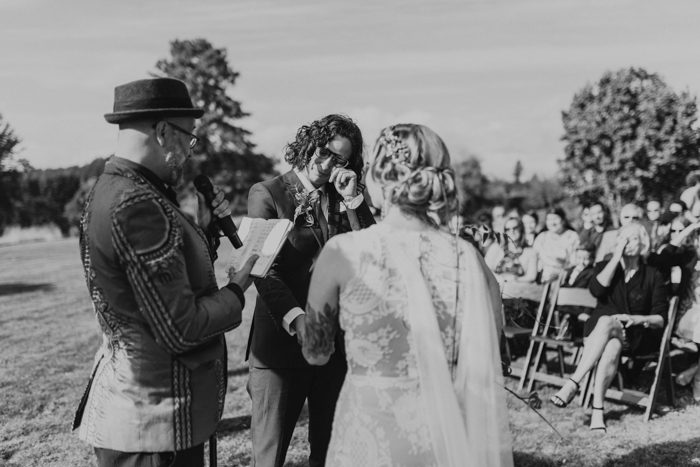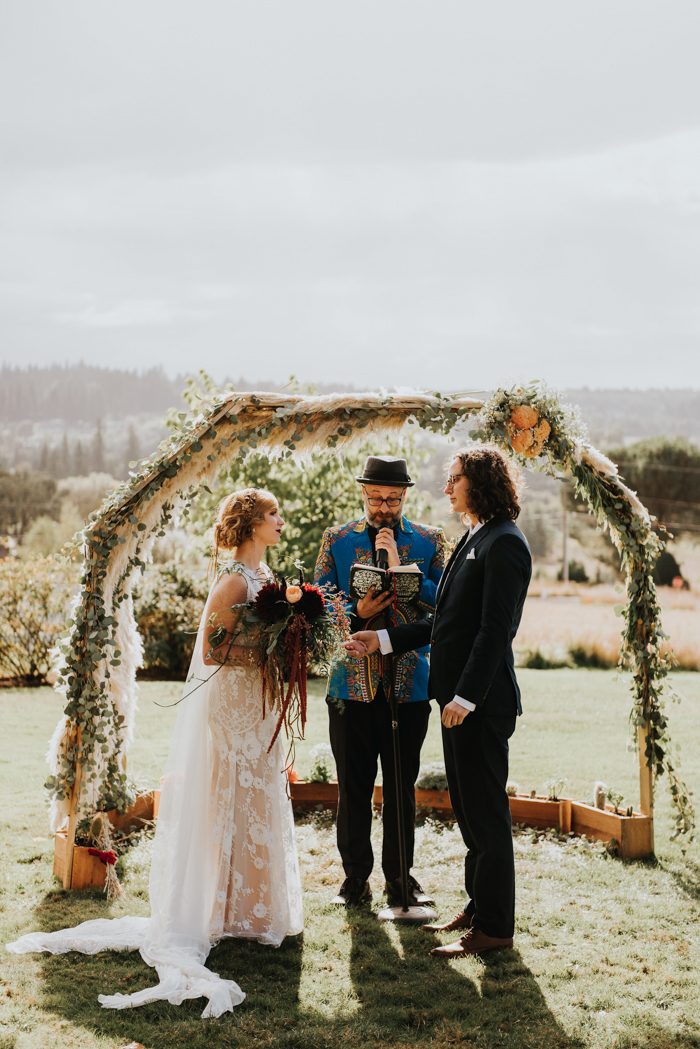 The ceremony was definitely the most memorable part of the day for us both. It had been raining gently all morning prior to the event, and the clouds parted just as the ceremony was set to start. Clarity's brother hand-built the most gorgeous arbor to frame us, and one of our dearest friends officiated the ceremony. With our blessing, our officiant wrote the vows for us. He did an exceptional job of making the ceremony funny, emotional, and very representational of us as individuals and as a couple. We also made sure to thank each other's parents for raising someone so special to each of us.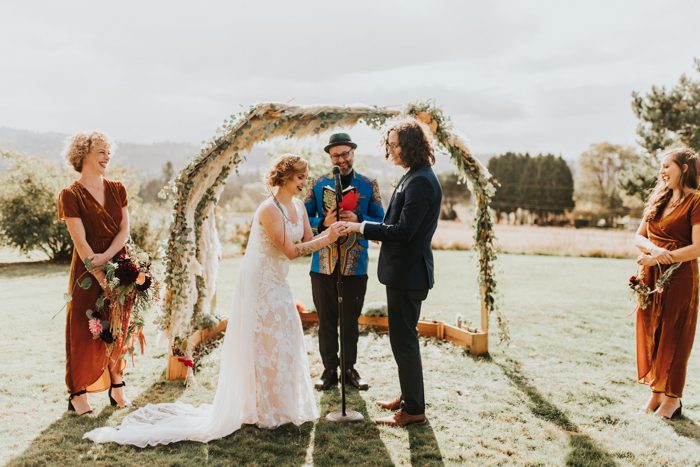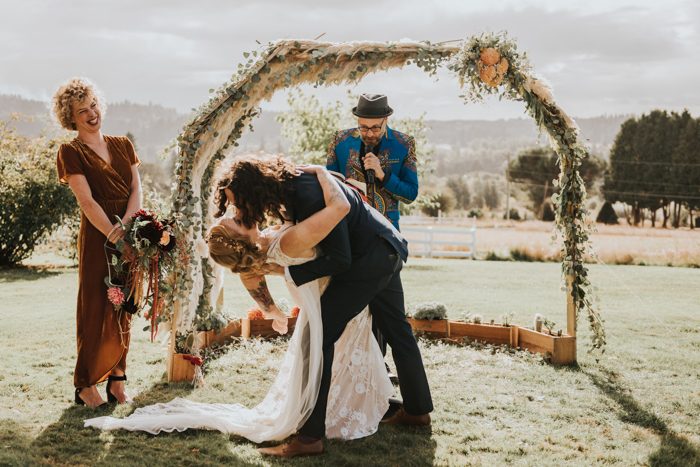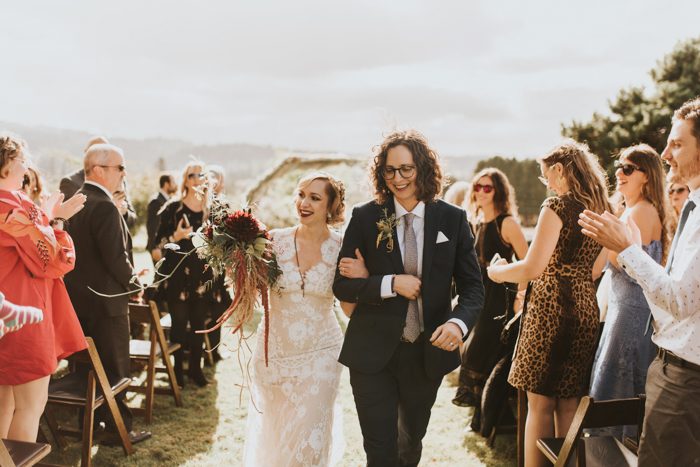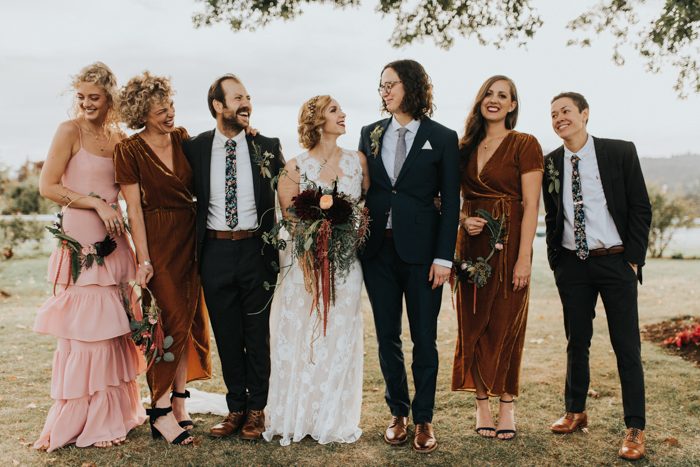 SHOP THIS POST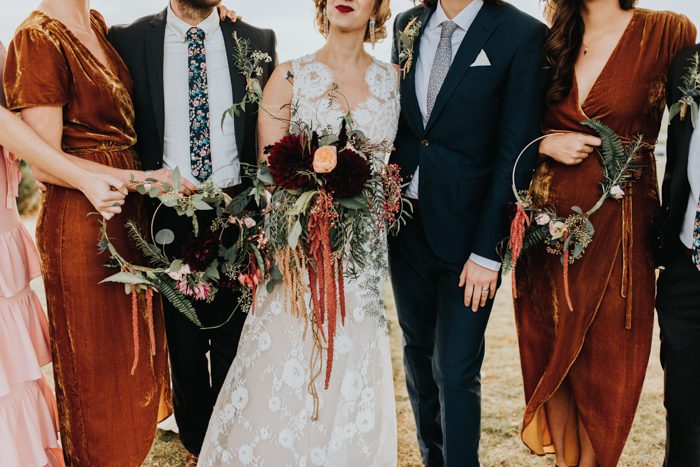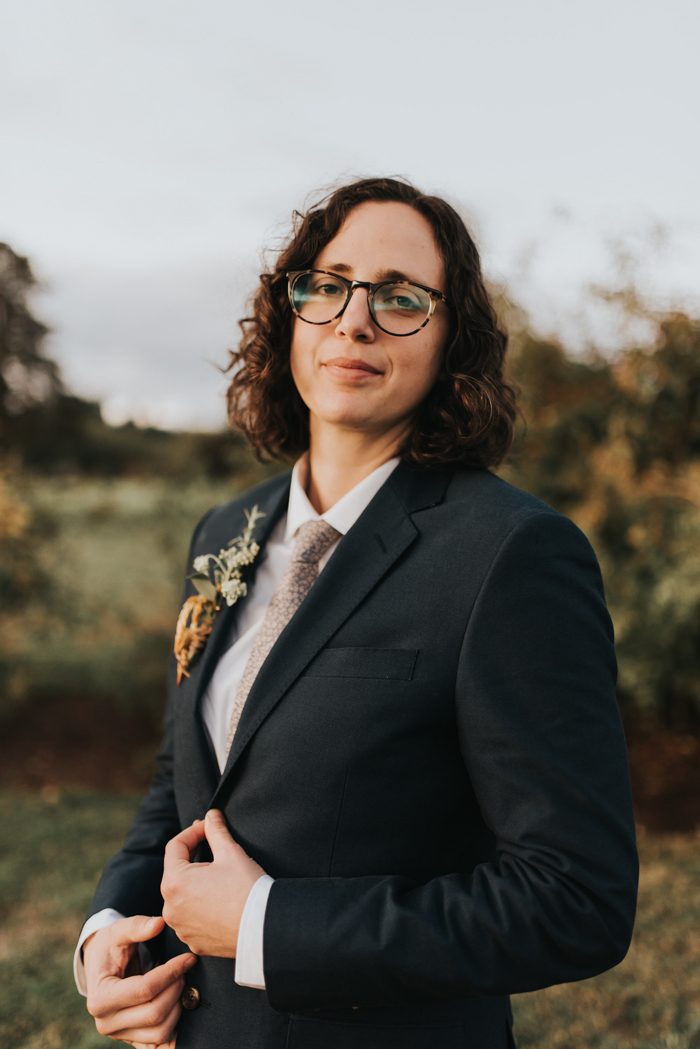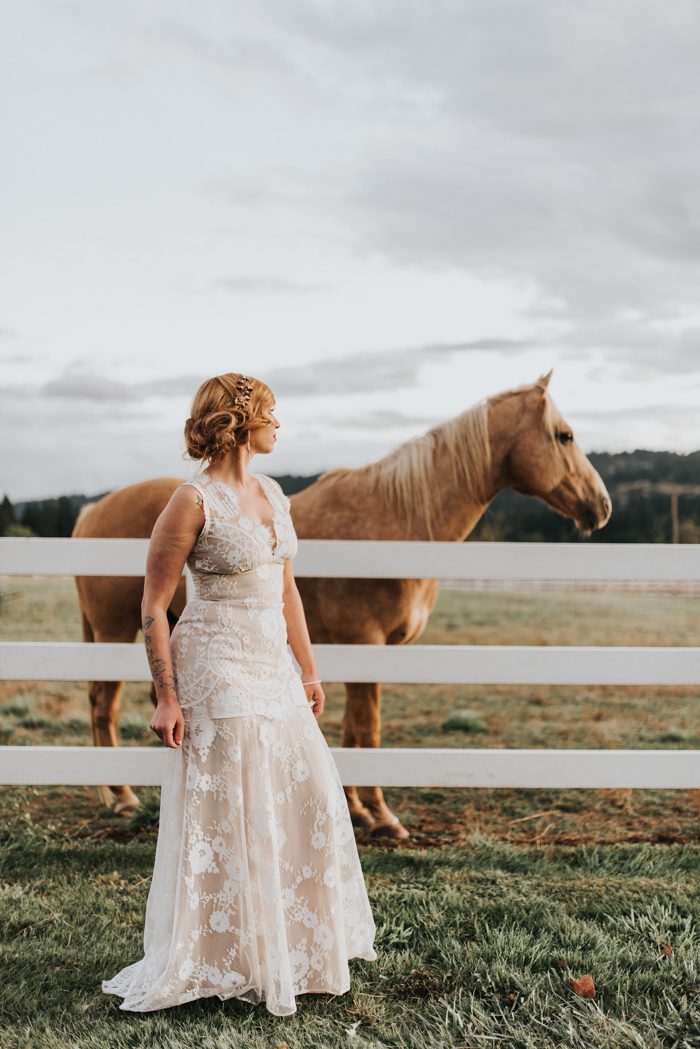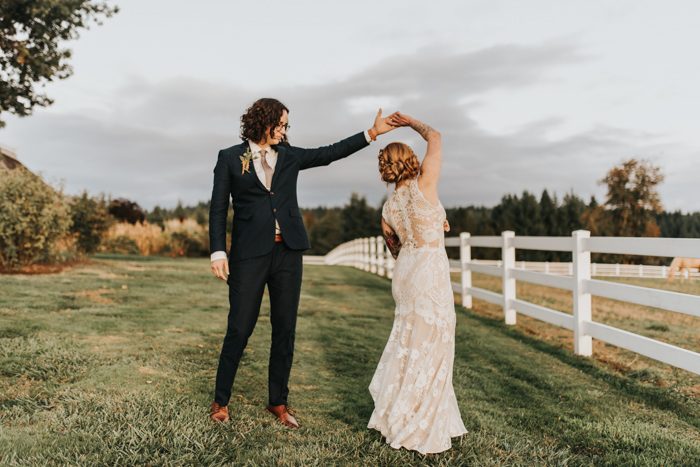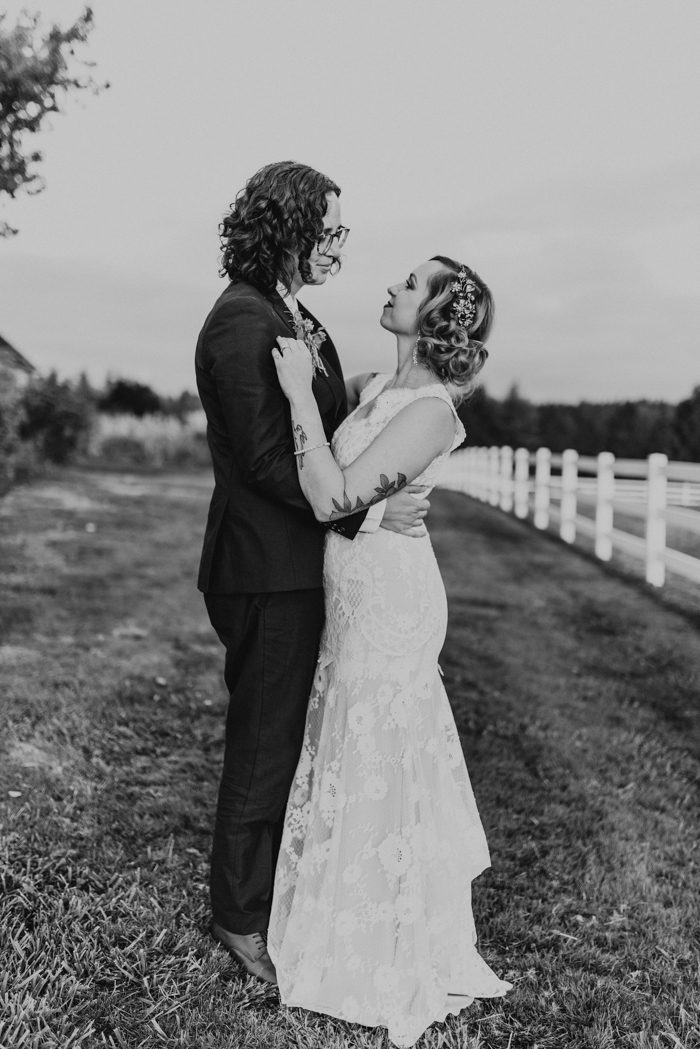 We were incredibly excited to work with Baylee Dennis on the wedding day. Baylee had taken our engagement photos, which was a wonderful way to familiarize ourselves with each other. Baylee has an incredible eye for composition, color, movement, and light. Baylee's picture-taking process is unobtrusive and fluid, so you are barely aware that she is taking candid pictures. At one point in the chaos of getting ready, Clarity found herself alone getting the finishing touches of her dress completed. Baylee stepped in and helped without hesitating, which was well beyond our expectations of her. The formal photo process went as smoothly as possible, and Baylee did a great job of eliciting genuine emotion from all of her subjects. Throughout the rest of the day she subtly flitted around the venue capturing many great moments. She also made sure to check-in with us several times to make sure we were getting all of the photos we wanted.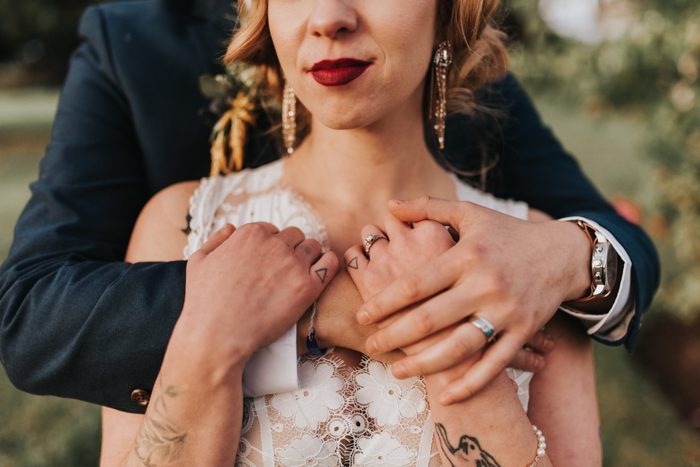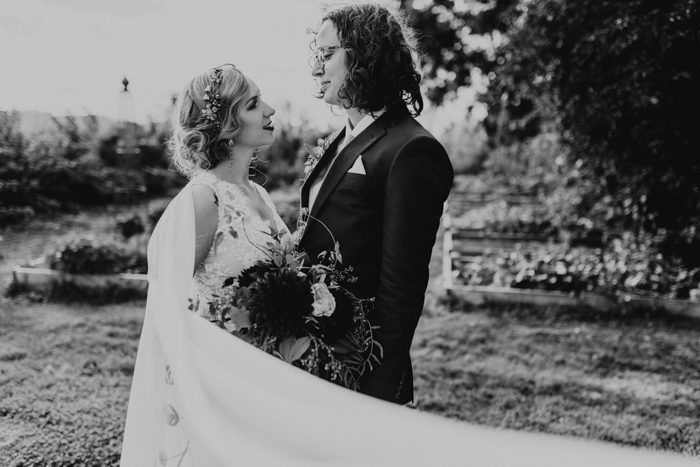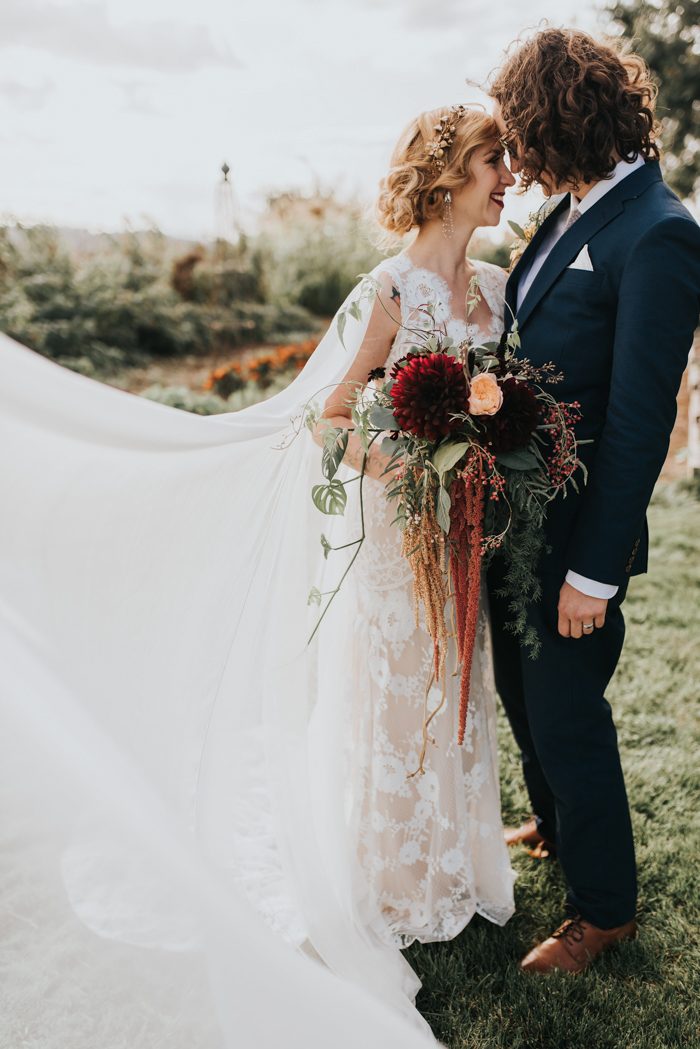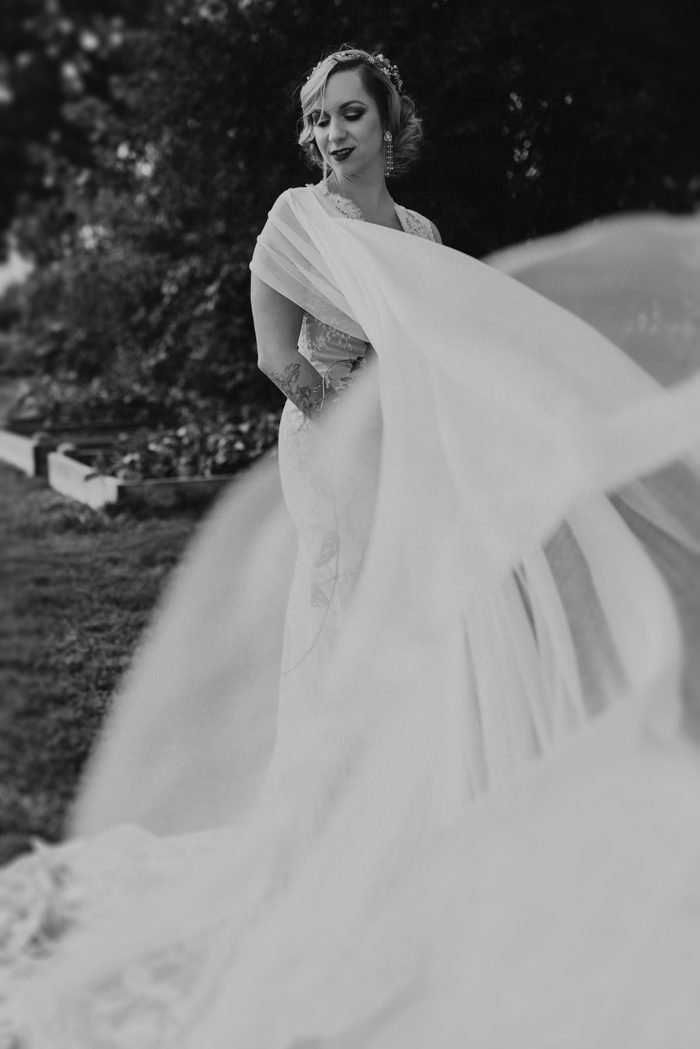 Clarity – "When we decided to go with an October wedding I wanted to make sure the overall feel was moody and romantic, but overall I didn't have much of a specific plan. Picking a dress was super challenging because I had no idea what direction to go in aside from really wanting something different and unconventional. After trying on wedding dresses of various styles at a few different shops my heart was stolen by a Claire Pettibone dress. What really brought the magic all together for me was adding a cape veil. It provided all of the whimsy I wanted for my look."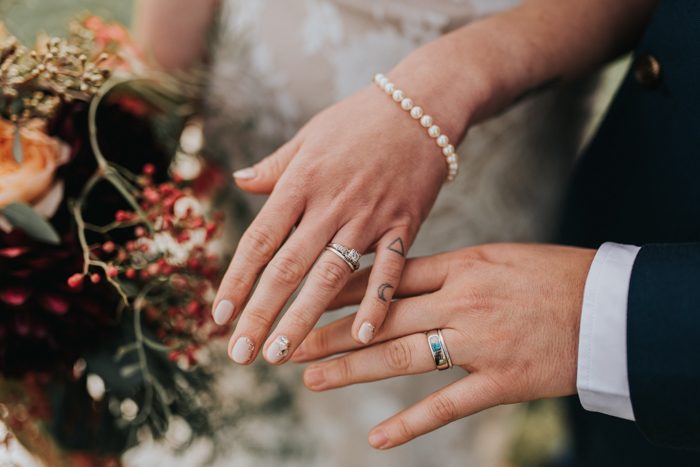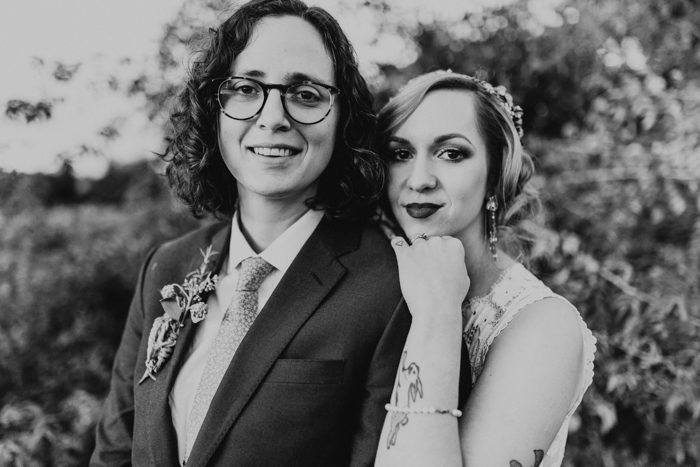 While DIY is a great way to save money and be involved in the process, it's really helpful to pay for professional help with more challenging or unfamiliar tasks. We also found that hiring a professional photographer who was not a friend or acquaintance prior to the wedding was very beneficial to us. Her objectivity and focus was just what we needed to make sure we captured the day as well as we wanted. If you're lamenting over whether or not you can invite a few extra people due to budget restrictions, just go for it. It's a once-in-a-lifetime event and it's worth it to have all of your loved ones present.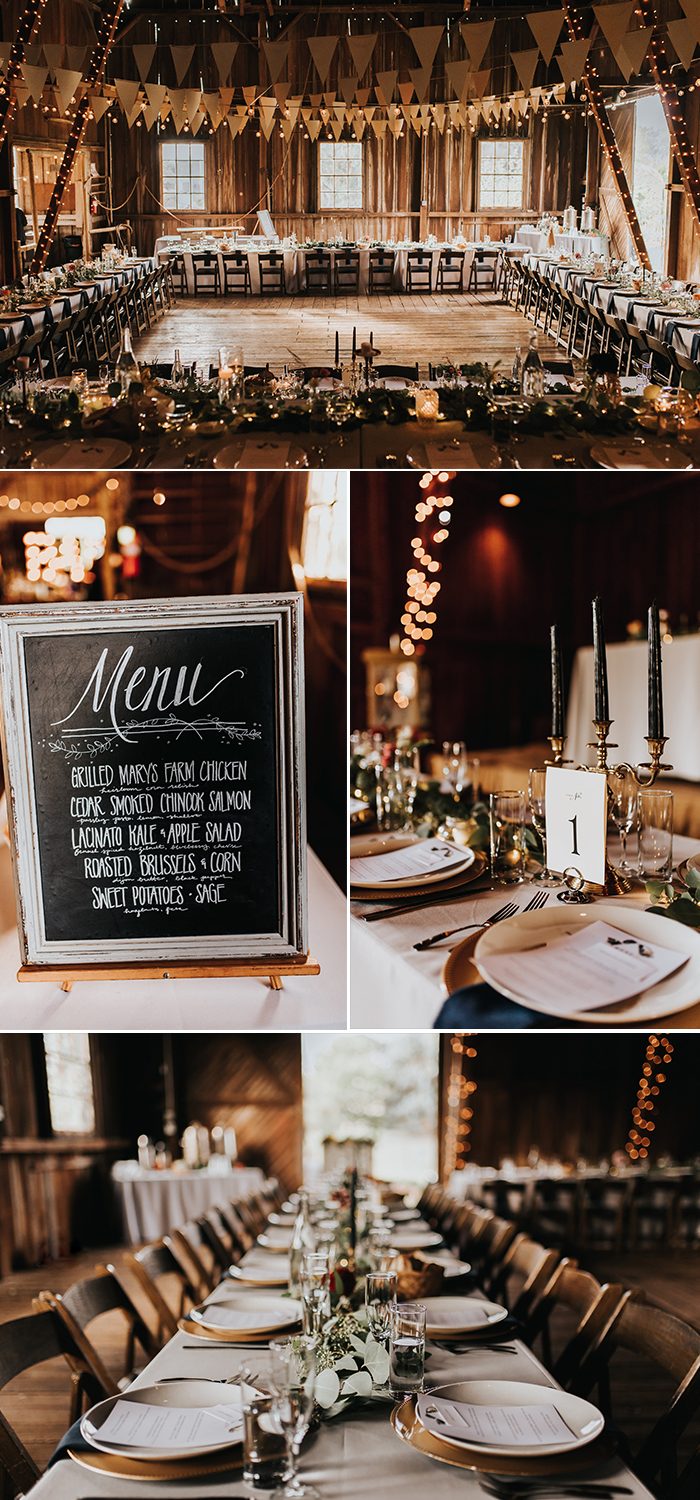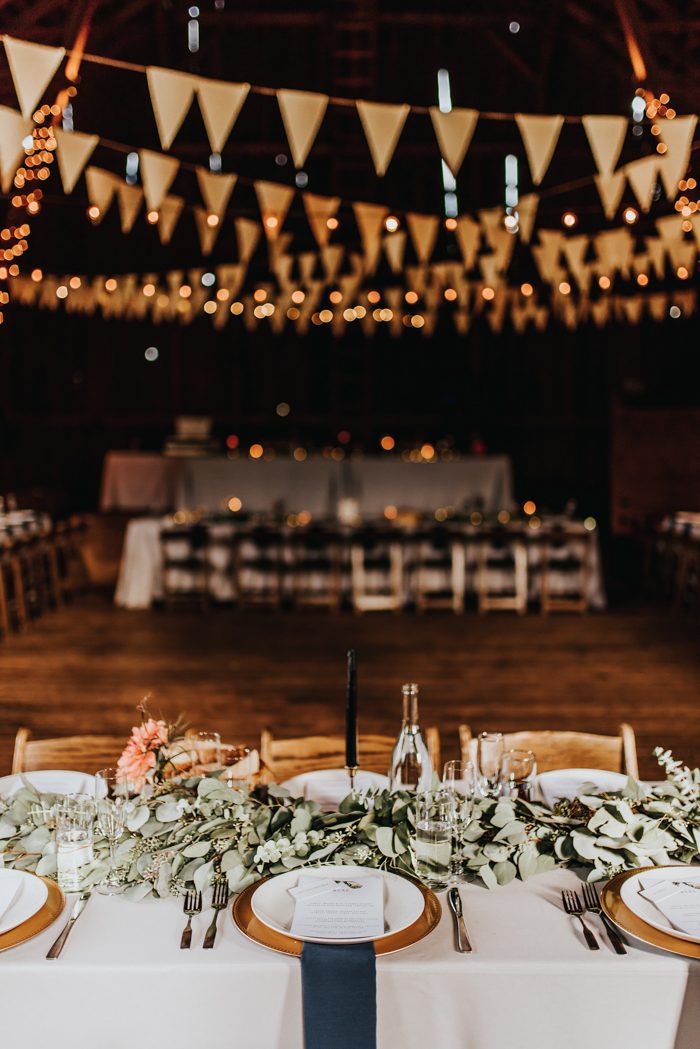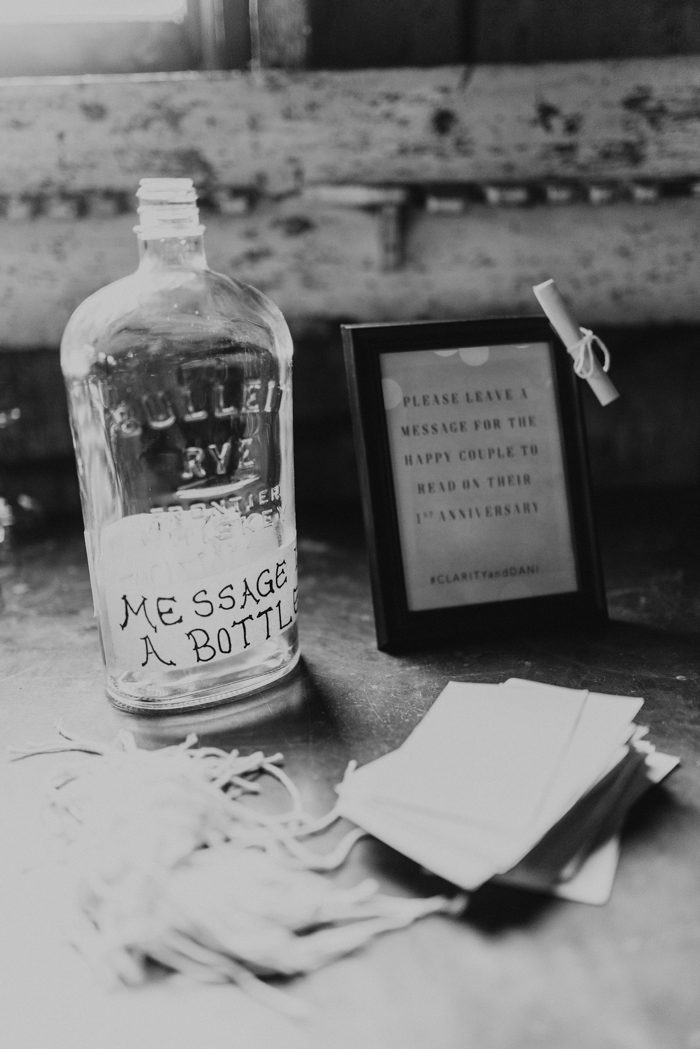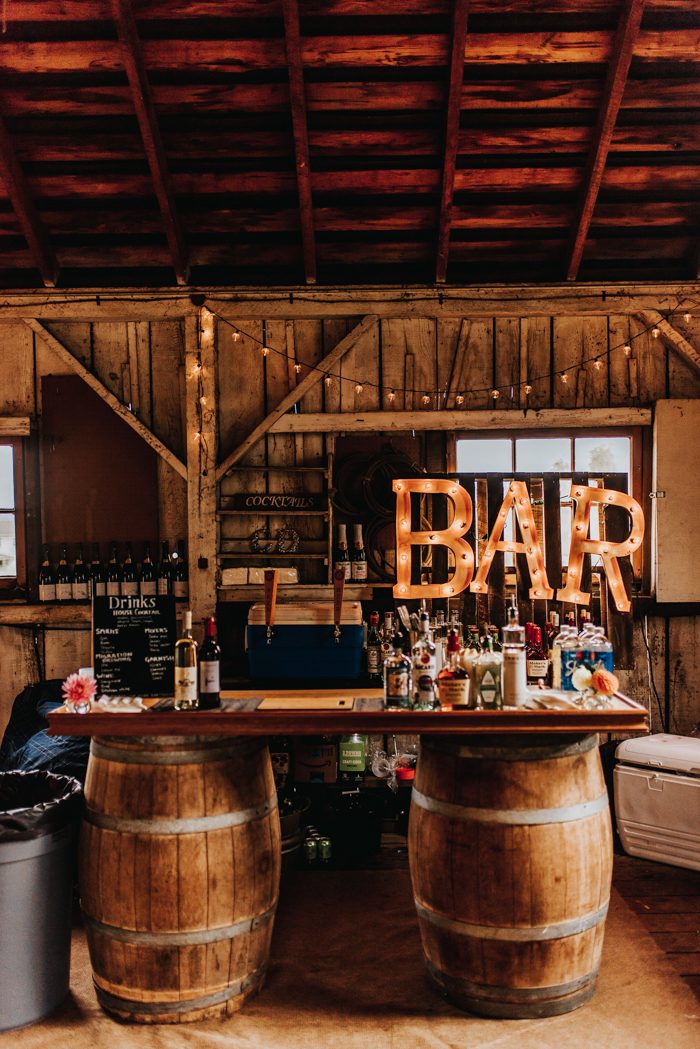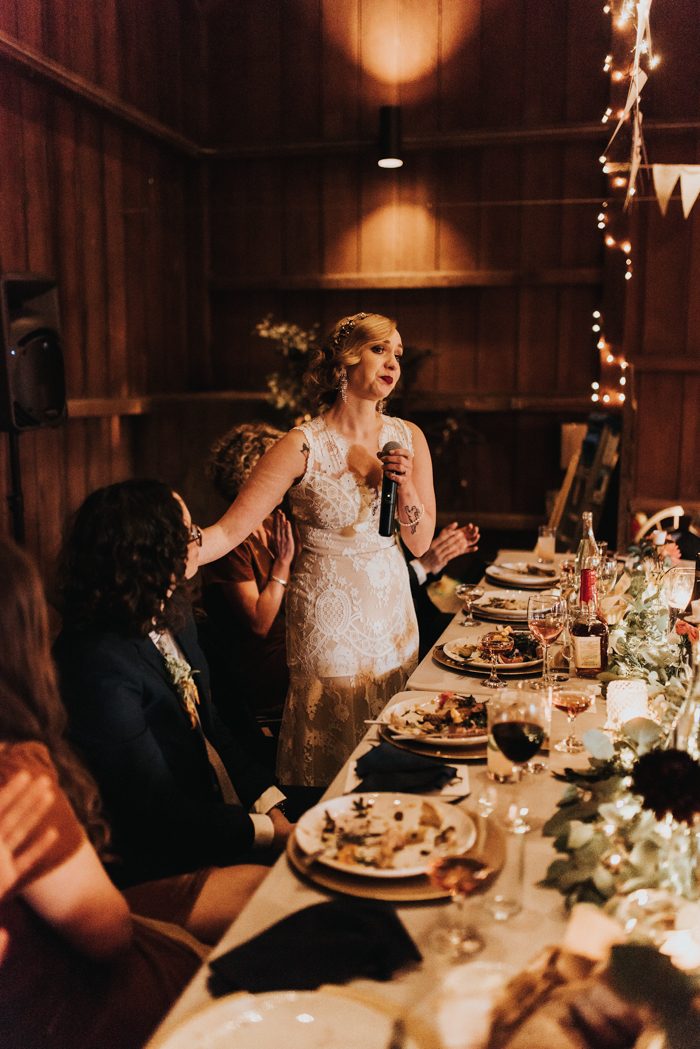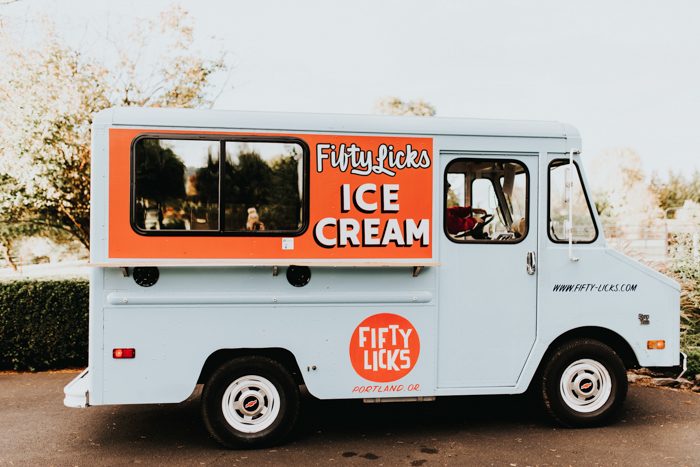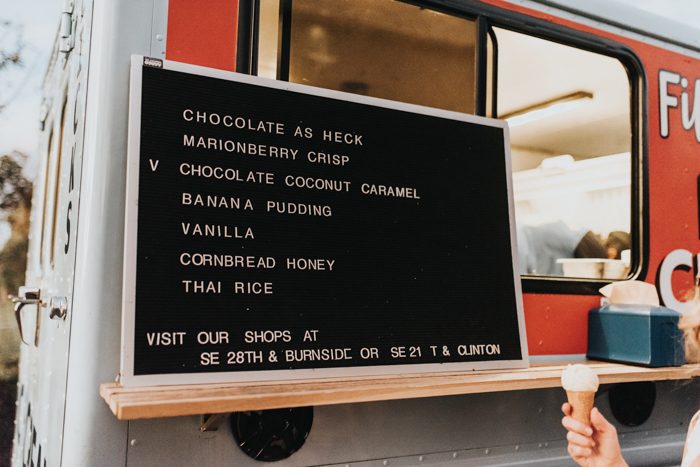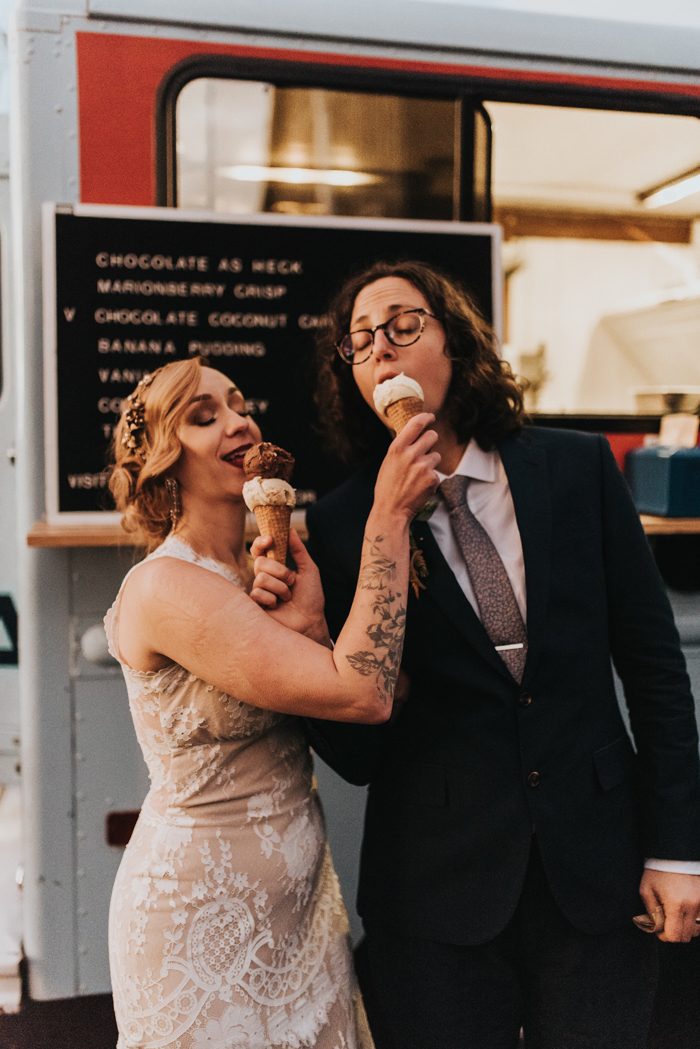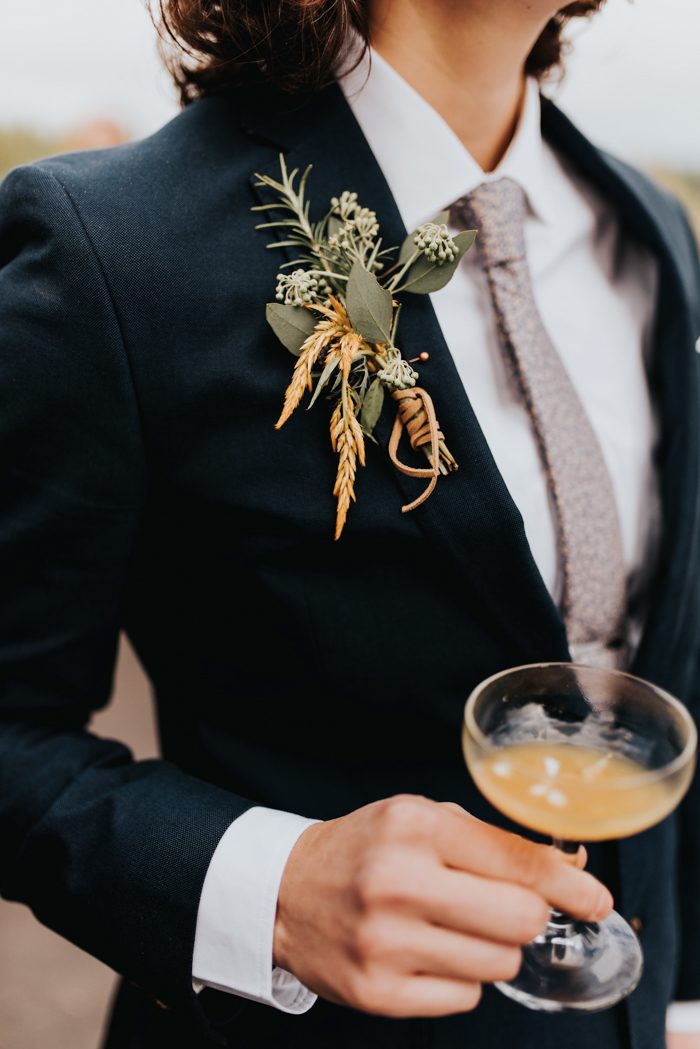 Clarity's maid of honor, Kate, is a floral designer and was responsible for all of the flowers. Everything she did was magical. Kate went above and beyond, especially since she also had to be present for all of the typical maid of honor duties. The flowers and colors she chose were everything we could have hoped for and more. Clarity's bouquet was a showstopper for sure. We loved the way everything draped and how the colors and textures played with all the bridal parties outfits. We loved the floral hoops that the bridesmaids carried. Our guest were full of compliments for a handful of things including the catering and venue, but the overall favorite were the flowers. We felt spoiled and so grateful to get to enjoy Kate's talent and gift of floral design.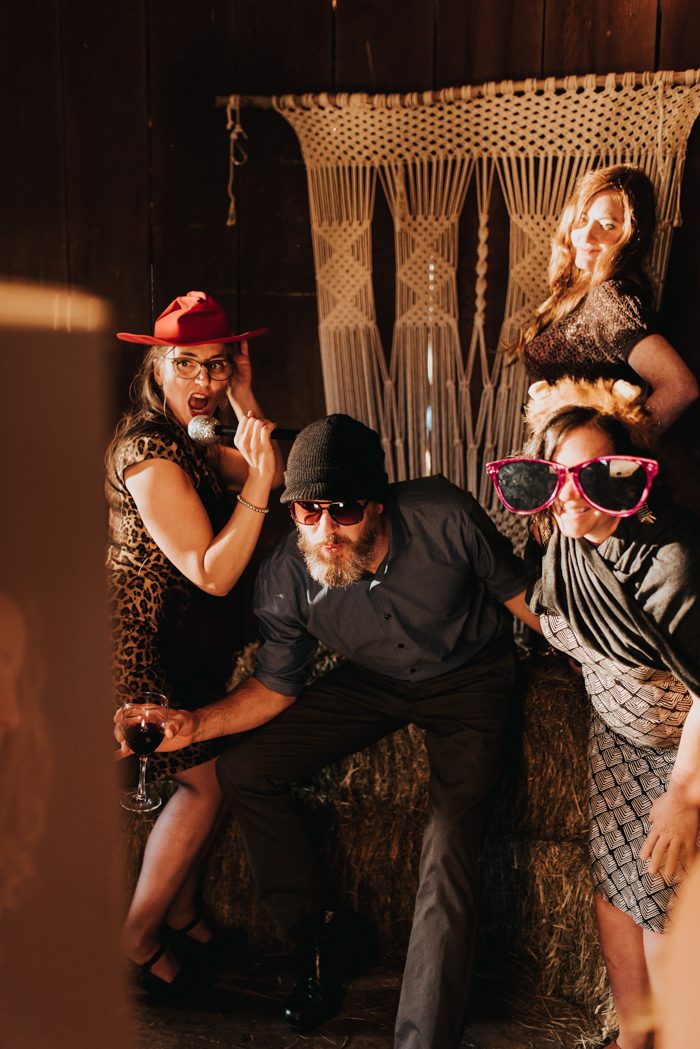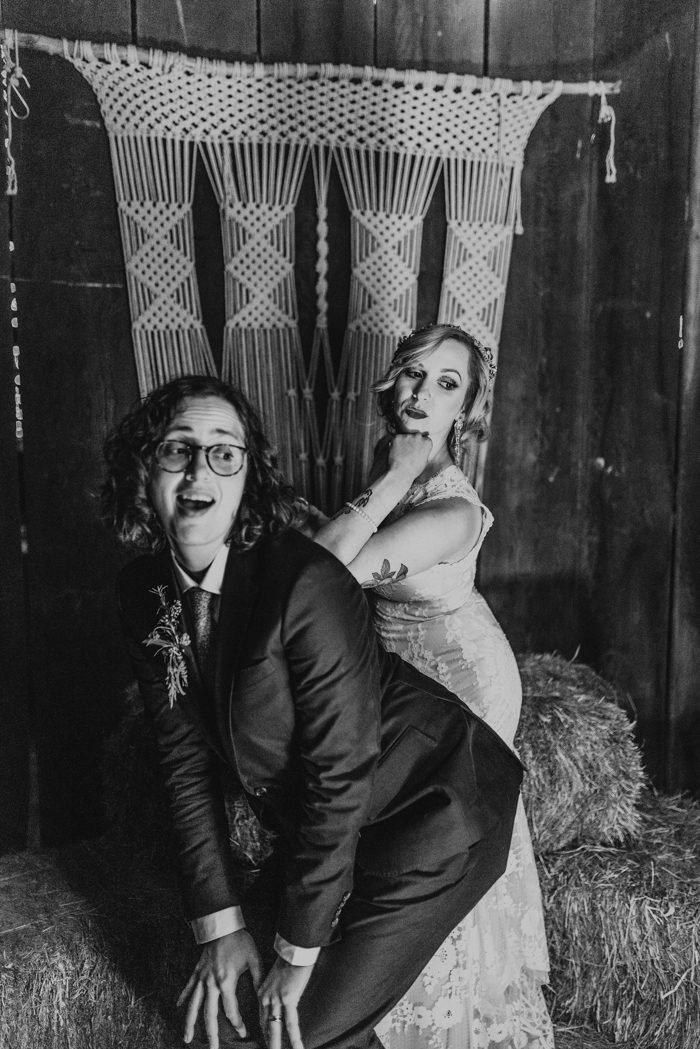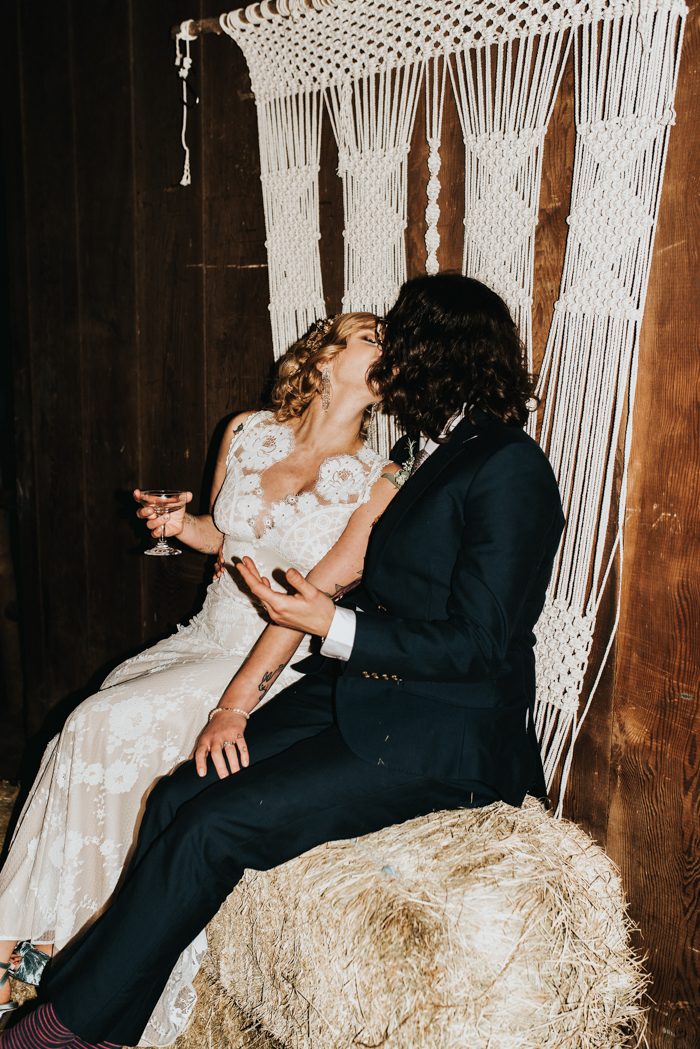 The biggest thank you to Baylee Dennis Photography for sharing this moody Oregon wedding with Junebug! If you're loving this dark wedding palette, then you have to see that this dark romance never looked better than in this Christianson's Nursery wedding.