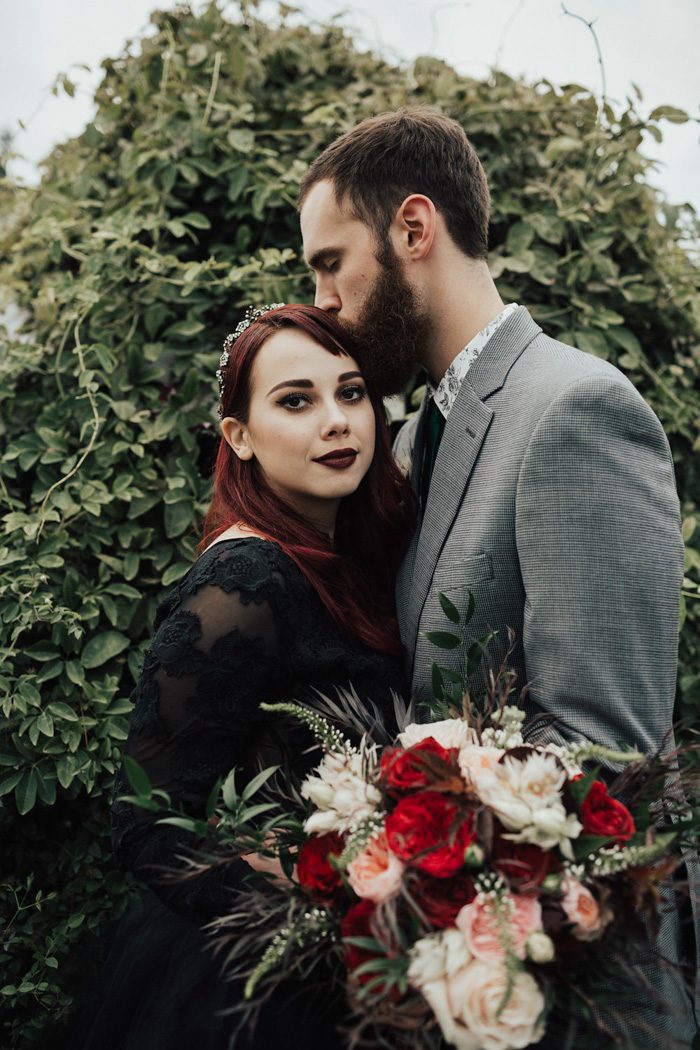 Emma and Caden took edgy romance to a whole new level in their exquisite wedding at Christianson's Nursery. The quaint Washington nursery had not only gorgeous greenhouses and gardens, which were the perfect backdrops for their couples portraits with Elizabeth Anne Studios, but also the most charming old schoolhouse that was the perfect size for their small wedding. Because they only had 30 guests, the couple was able to create an intimate feel not just for the ceremony but also for their elegant dinner-party style reception, which featured vintage gold candelabras, pink and red floral centerpieces from Pozie by Natalie, and crystal chandeliers. But, despite all the incredible details, Emma's black lace Sweet Caroline Styles bodysuit, voluminous Wardrobe by Dulcinea skirt, and antique accessories completely stole the show and our hearts!
The Couple:
Emma and Caden
The Wedding:
Christianson's Nursery, Mount Vernon, Washington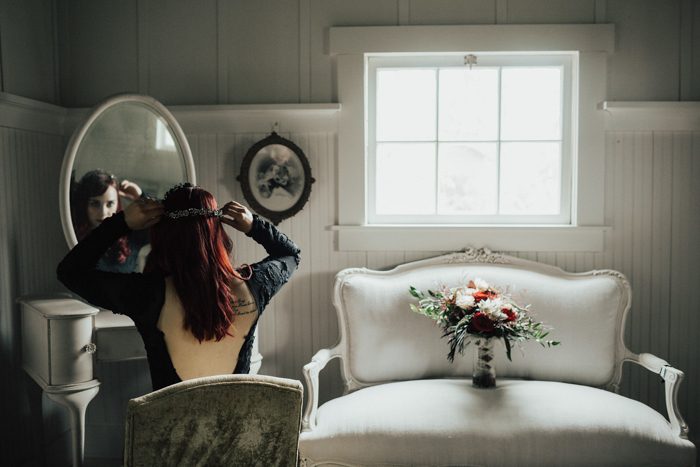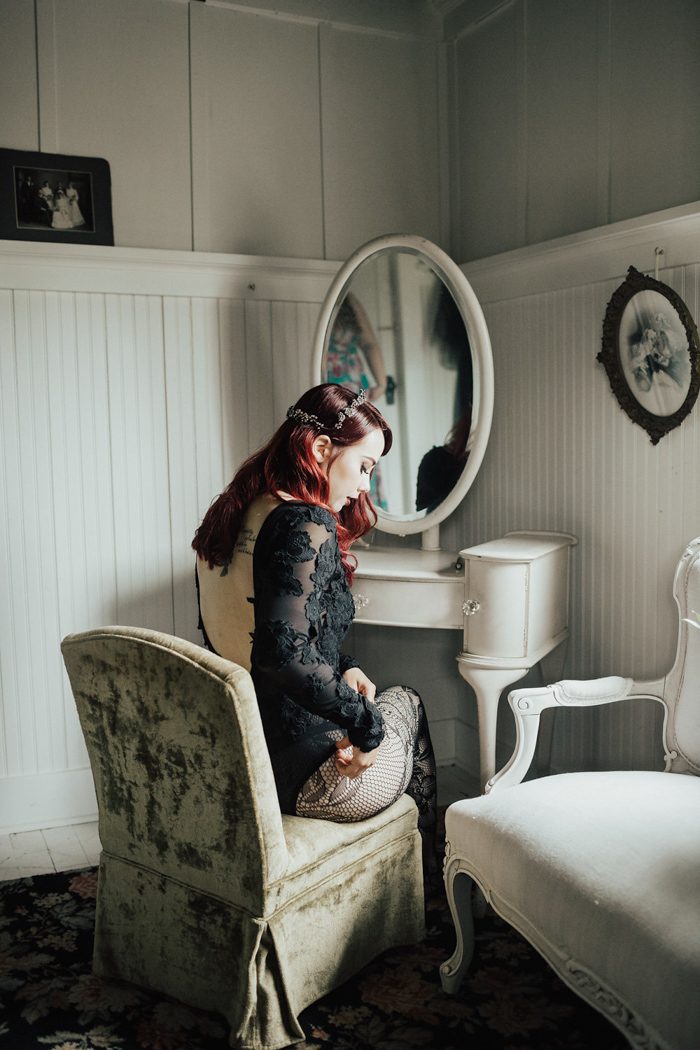 SHOP THIS LOOK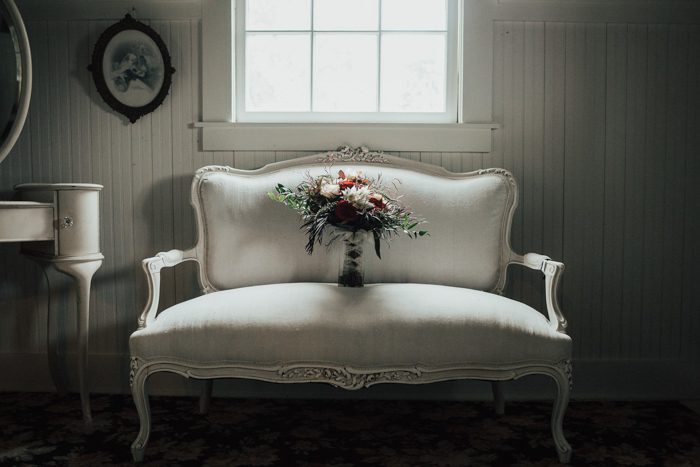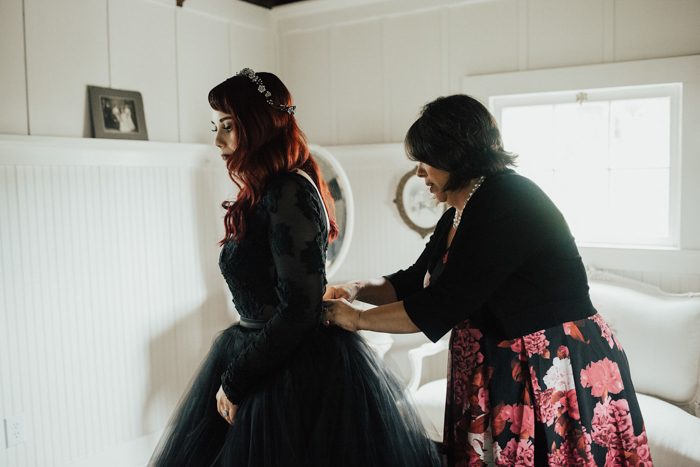 The most important thing to us was keeping the wedding personal and intimate. We kept our guest list quite small at less than 30 to make sure that no one felt unattended to. We also tried to pay close attention to all of the details in order to create the aesthetic and vibe we had in mind. The whole wedding, from the food and drinks to the venue and decor, was handpicked to feel like a reflection of us. We tried to incorporate our personal style in as much as we could so that people left the wedding with a distinctive feeling and memory.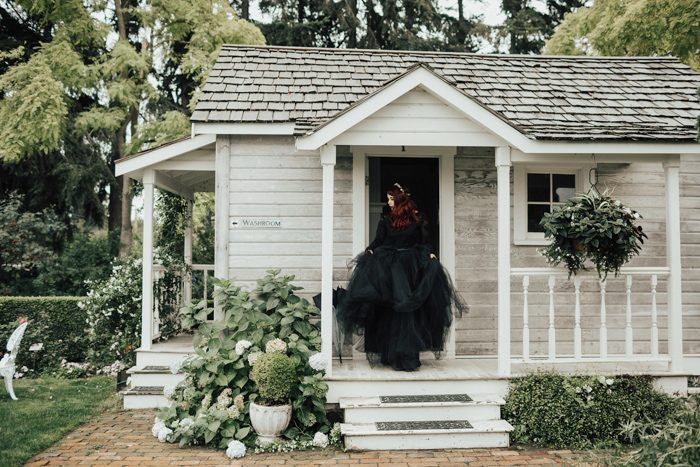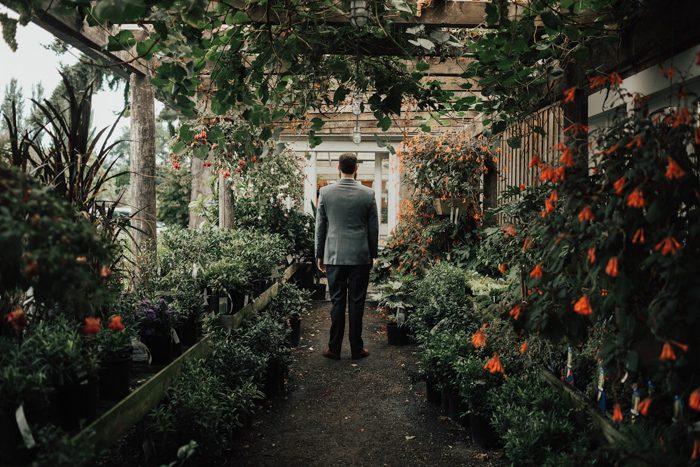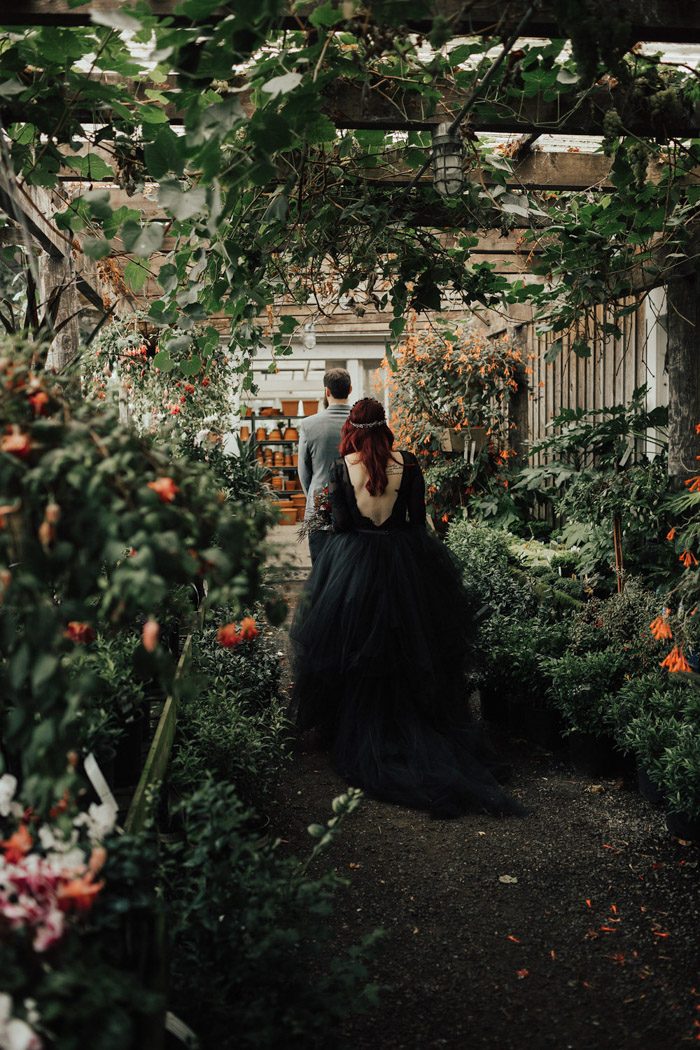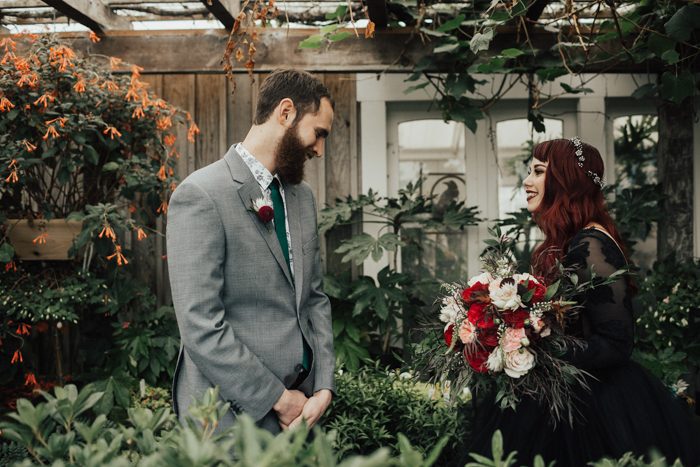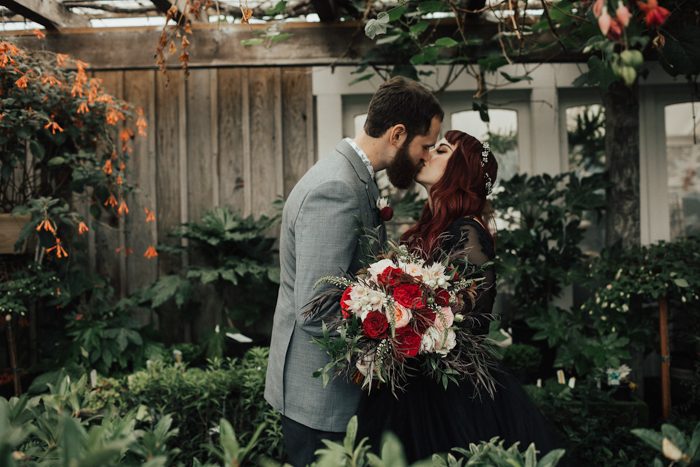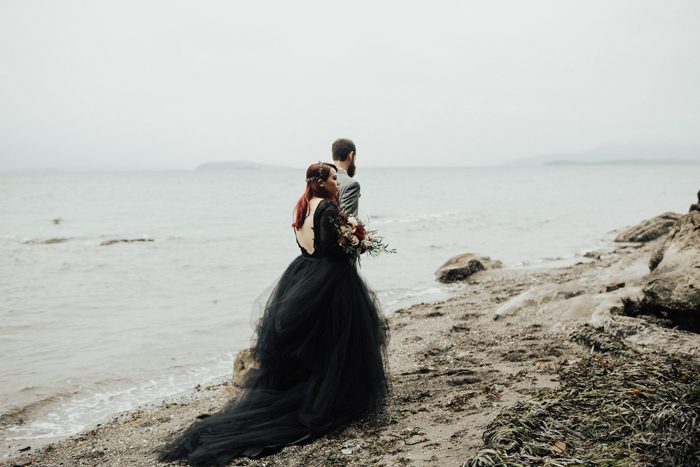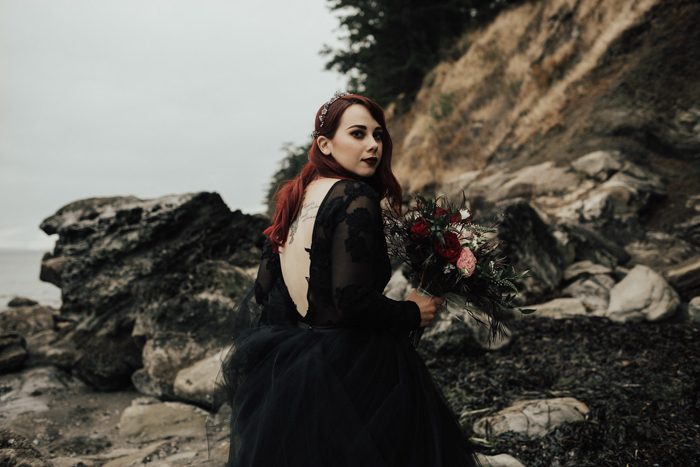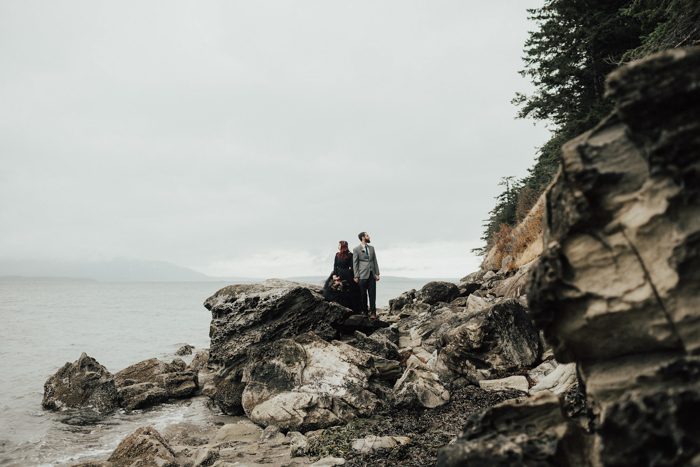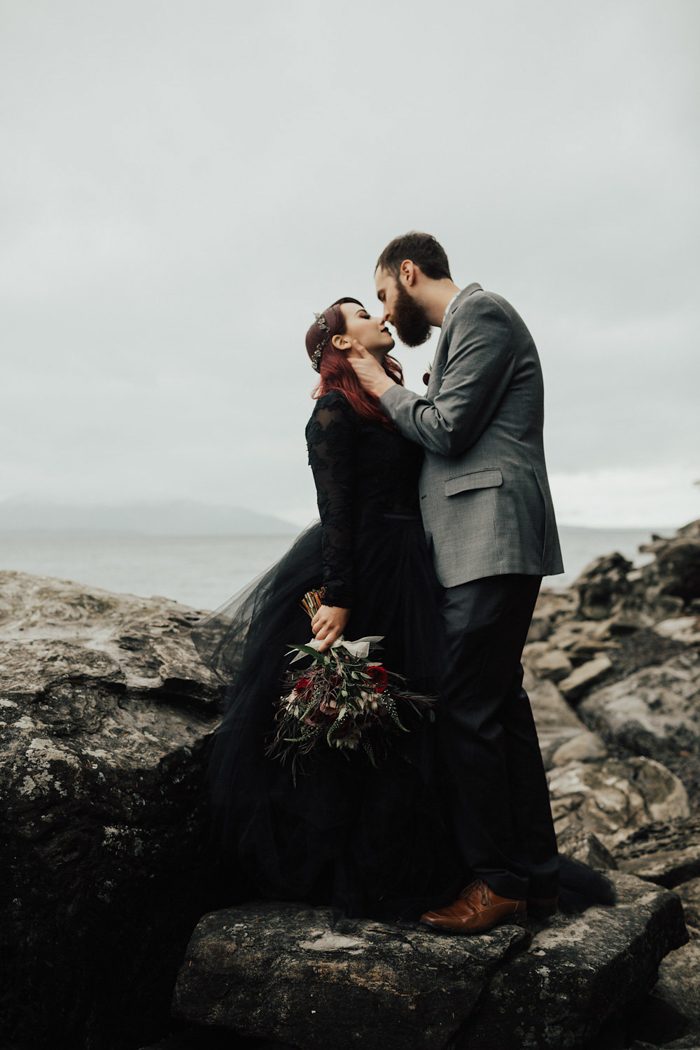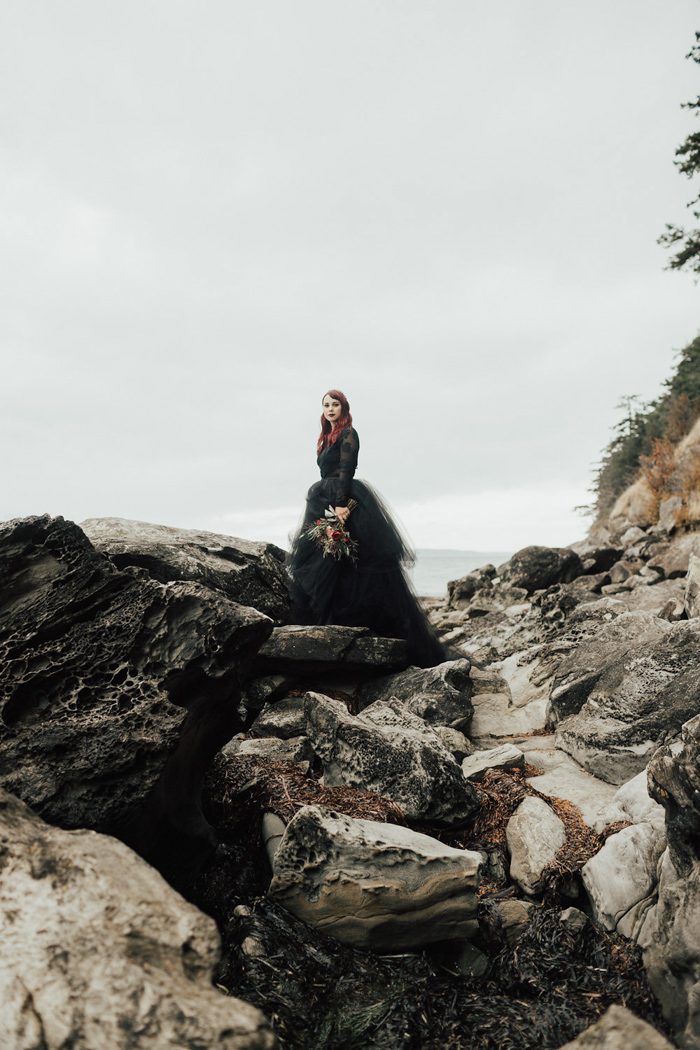 SHOP THIS LOOK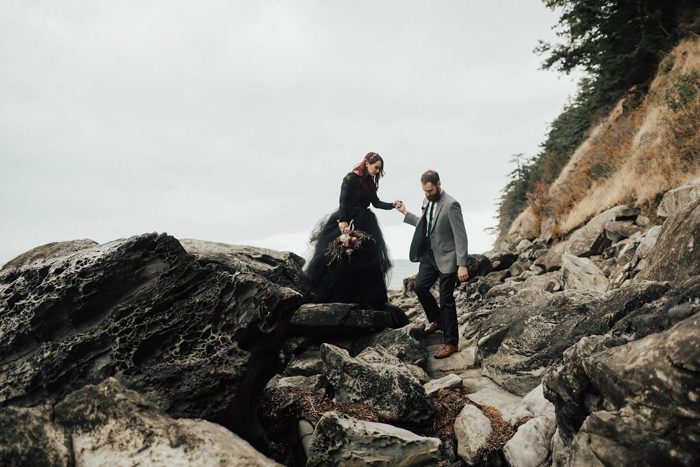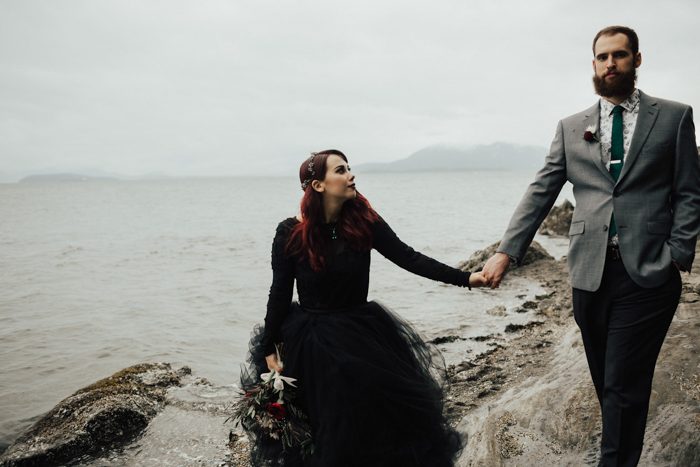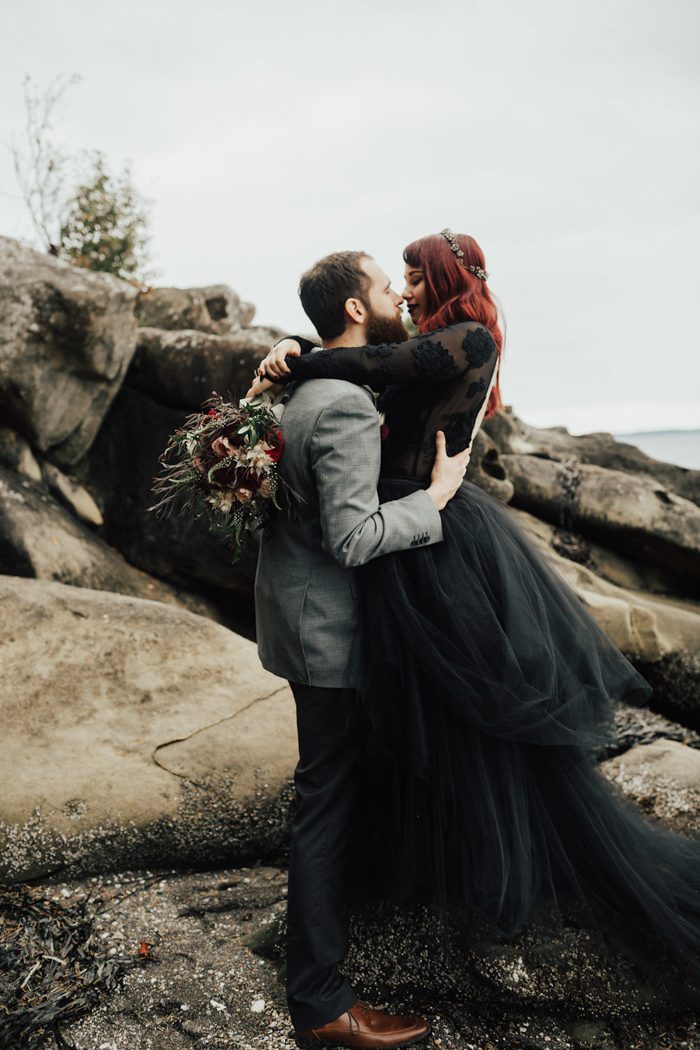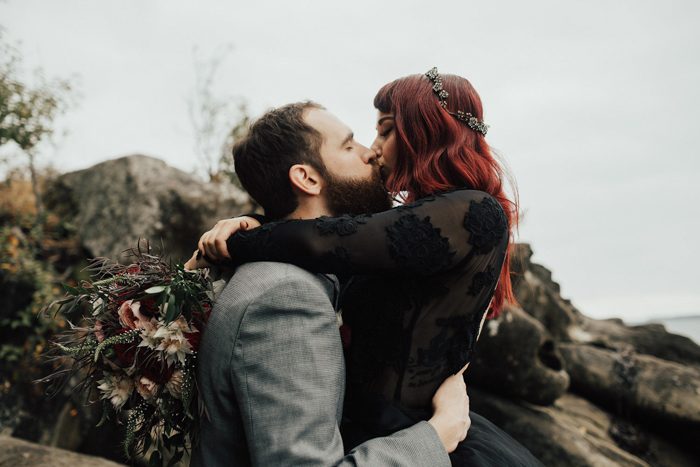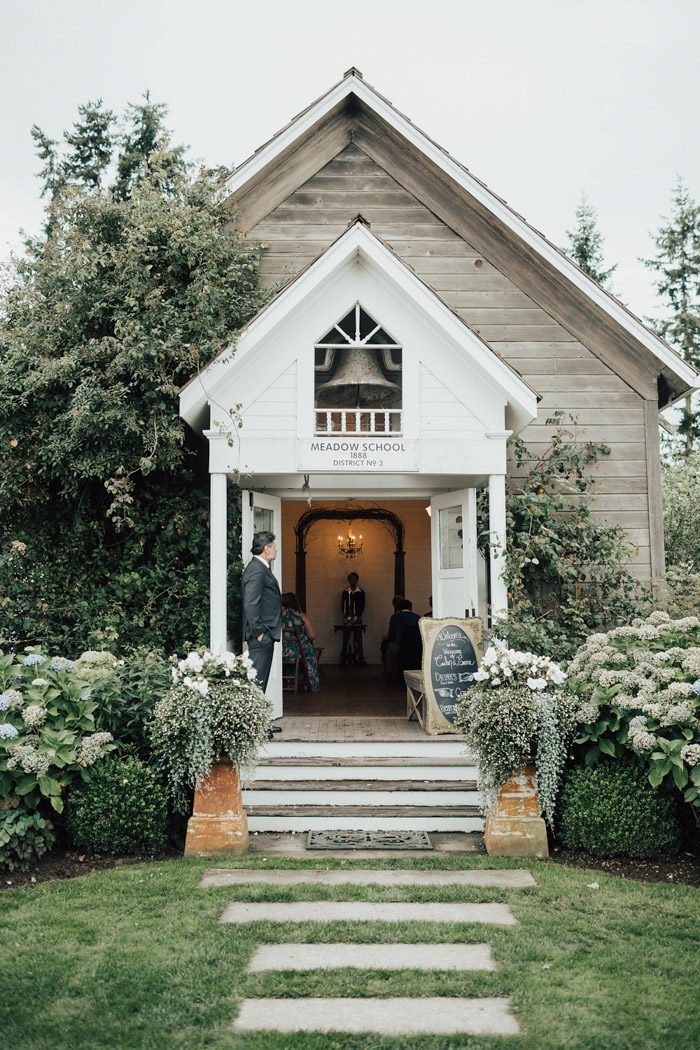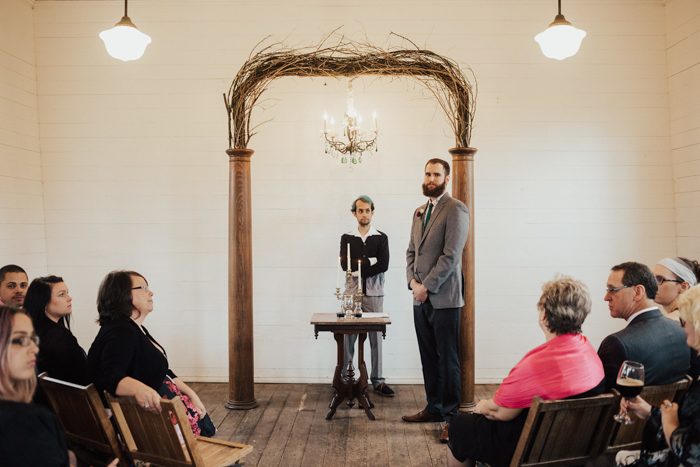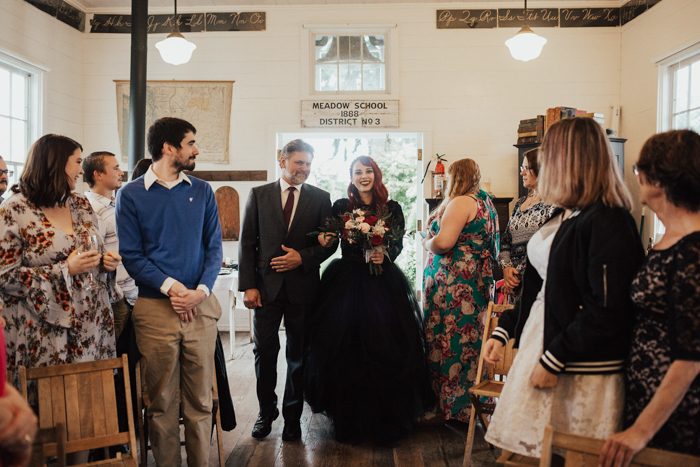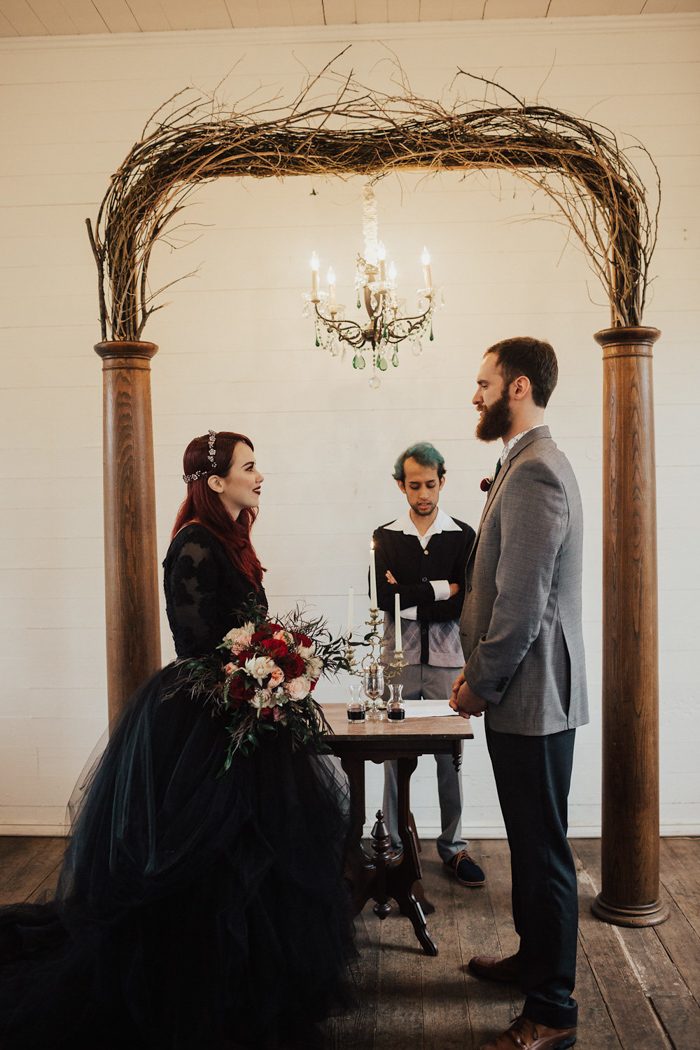 Our vows were definitely the most memorable. We were both nervous before the ceremony began, which felt silly after having been together for so many years. Not to mention we had already spent the whole morning and afternoon together beforehand, getting ready and taking portraits. We hadn't shared our vows with each other so we each were able to surprise the other. We each wrote them to be very personal and, after having been together for eight years, we certainly had a lot of experiences and love to draw from. Perhaps the memorable thing about the vows though were not just the words, but the emotion. We both cried and we both laughed really hard, and the same happened for our family and friends who witnessed it. It actually felt surreal to feel so much emotion from so many people in the same room, all at once. It was definitely the highlight of the whole day.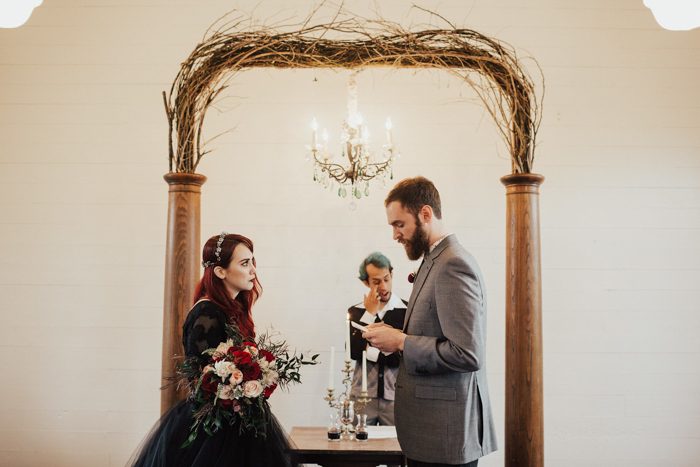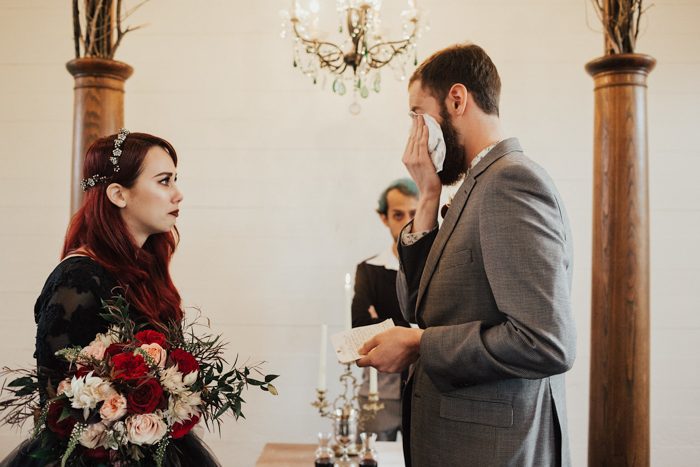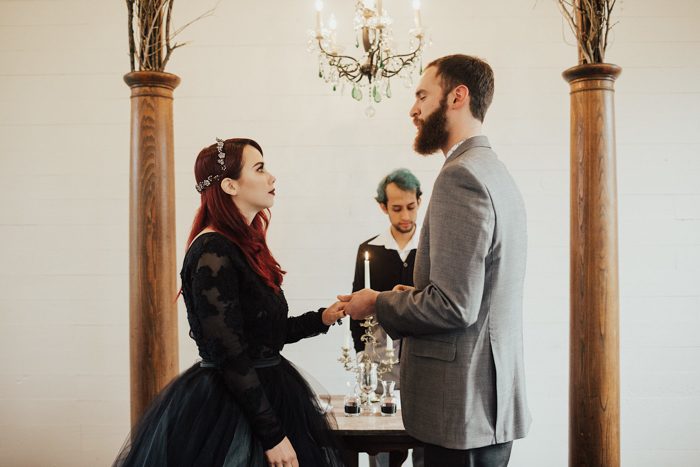 Aside from writing our own vows, we did our ring exchange with the vows from a favorite movie, The Corpse Bride. It had started off as a joke before we were engaged, but then ended up being the perfect choice. We even poured wine and lit candles to along with them. All of these details made the whole ceremony a lot of fun.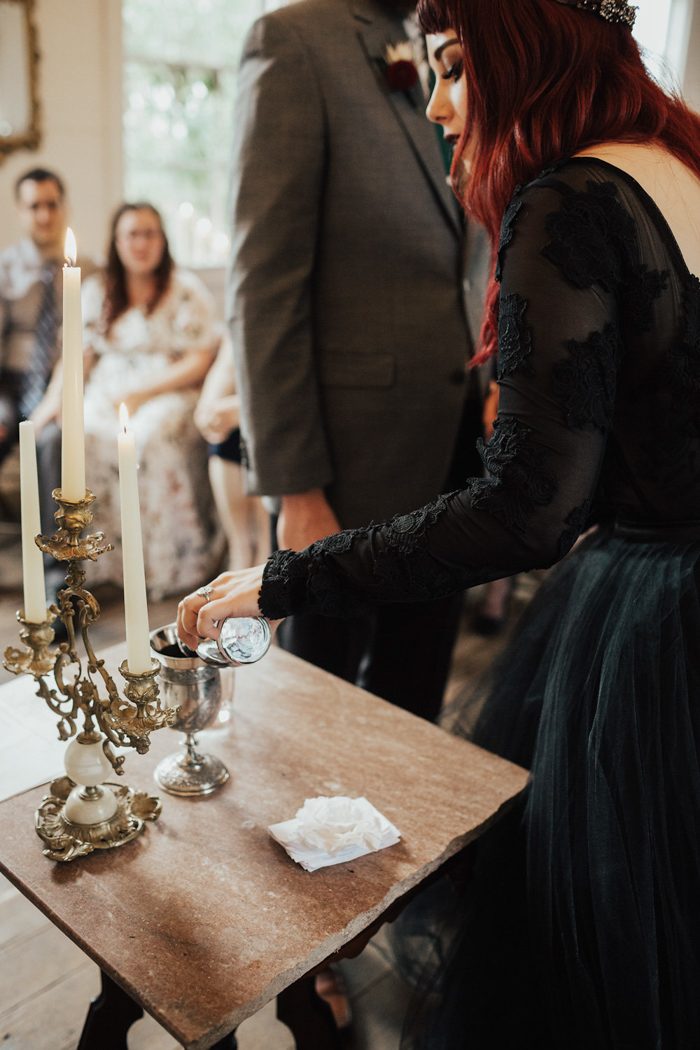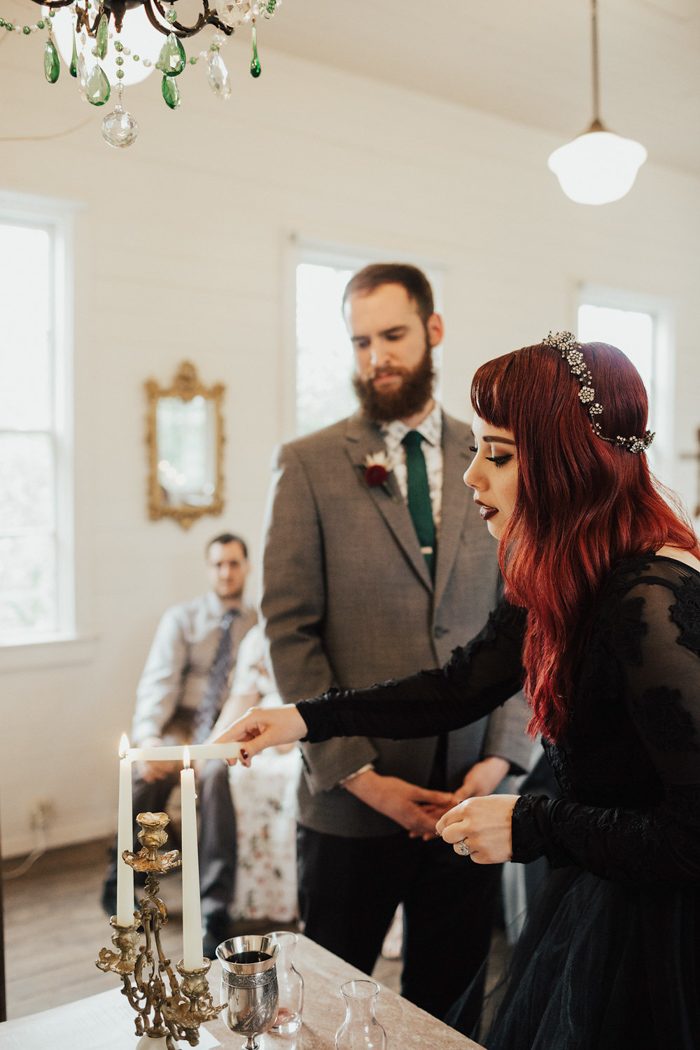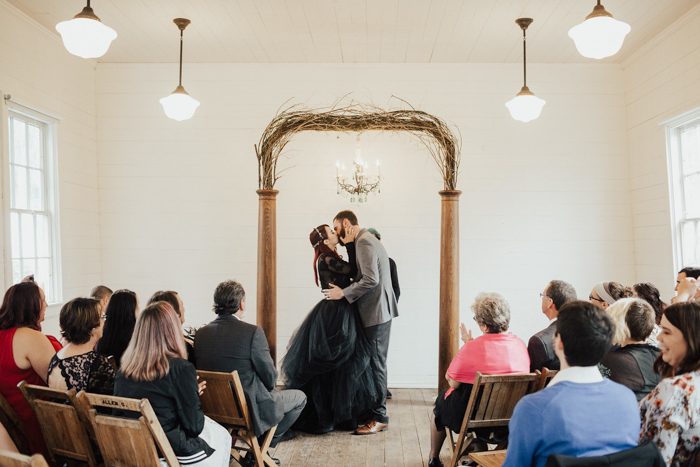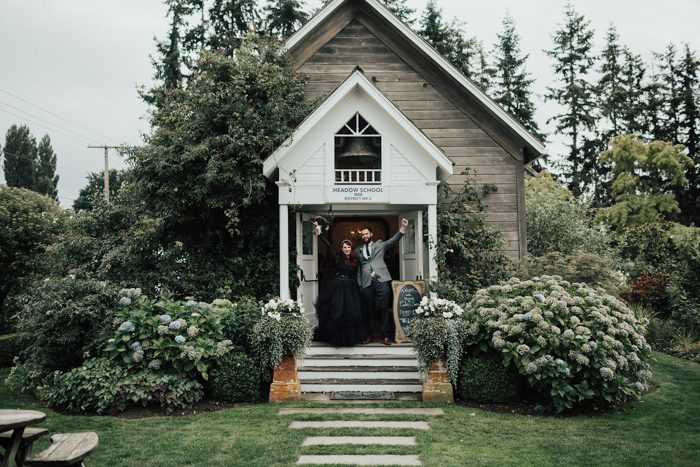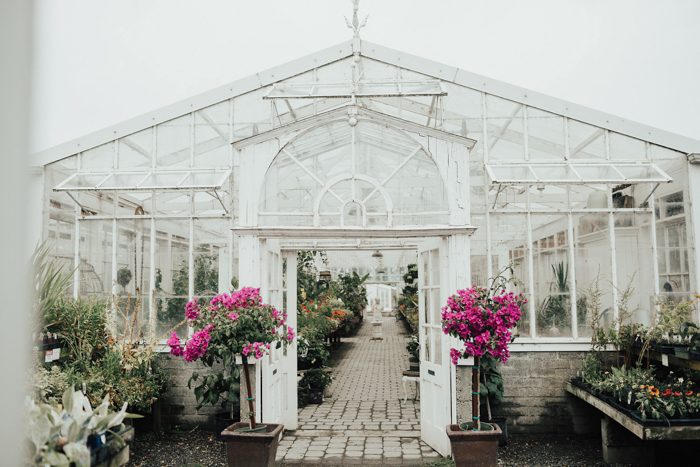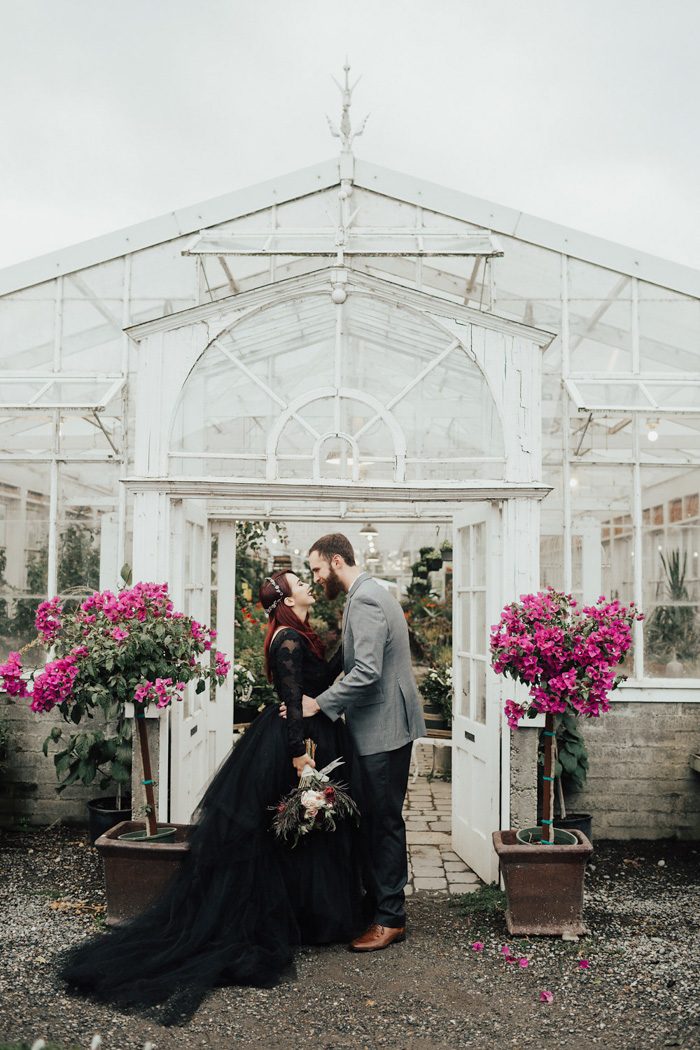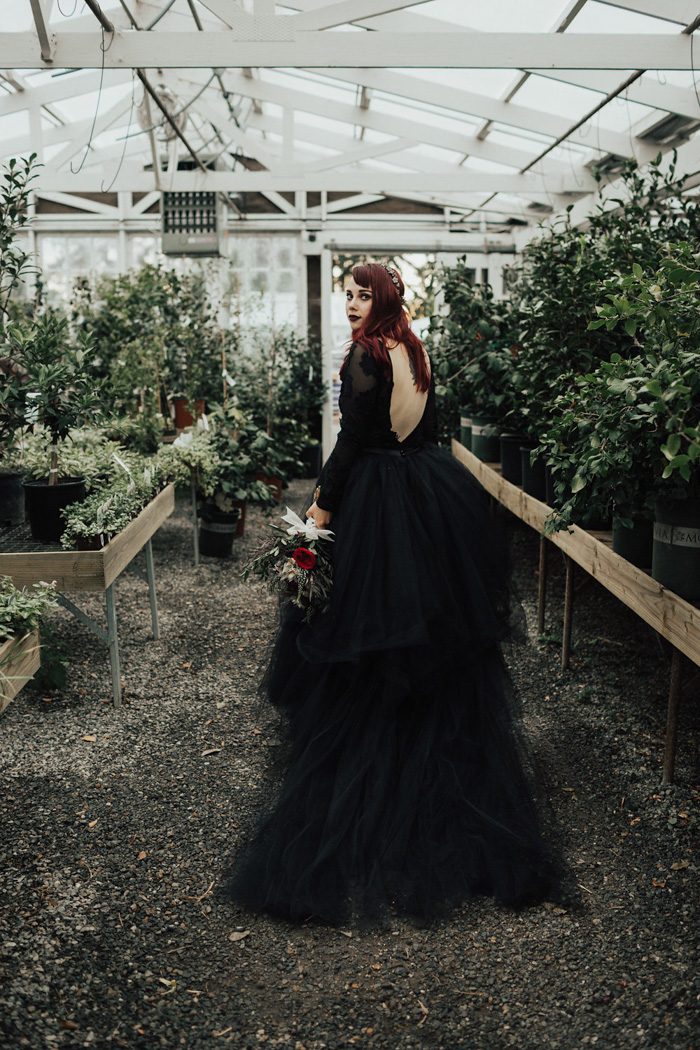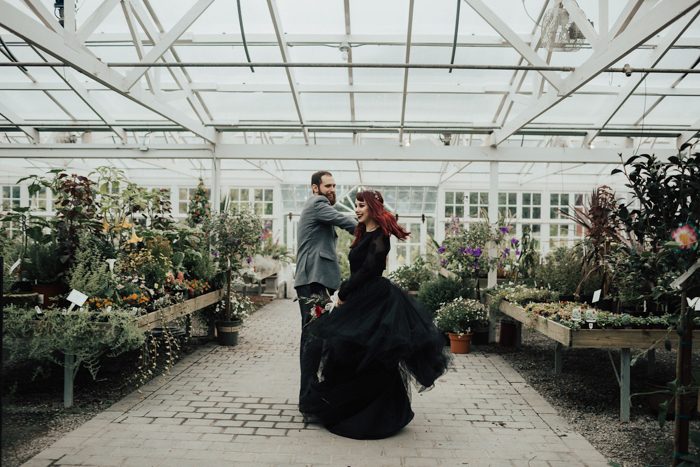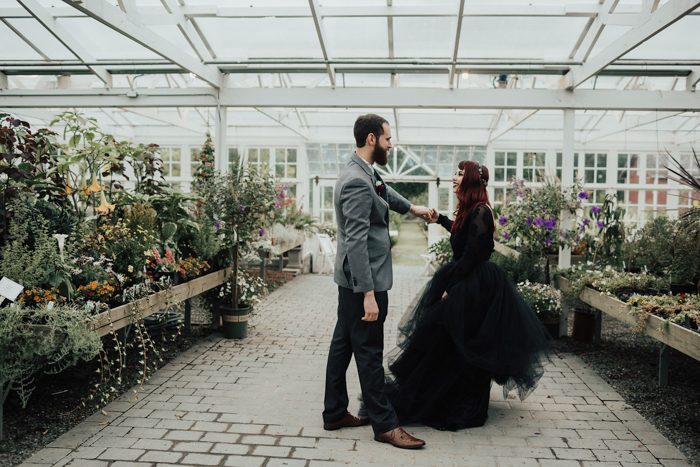 Our biggest piece of advice is not do anything that doesn't feel completely right. Don't include traditions that don't feel personal or like a good reflection of your relationship, and don't feel obligated to make the wedding bigger than you are comfortable with. By keeping our wedding small, we were able to afford to add details and do things for our guests (like a sit-down dinner) that we could not have otherwise been able to pull off with our budget. We also opted not to do several traditions, such as the first dance, because they would have felt forced. We wanted the whole day to feel natural and comfortable for everyone involved, especially ourselves. This day is all about the couple, their love and their personalities, to be shared with their most loved ones.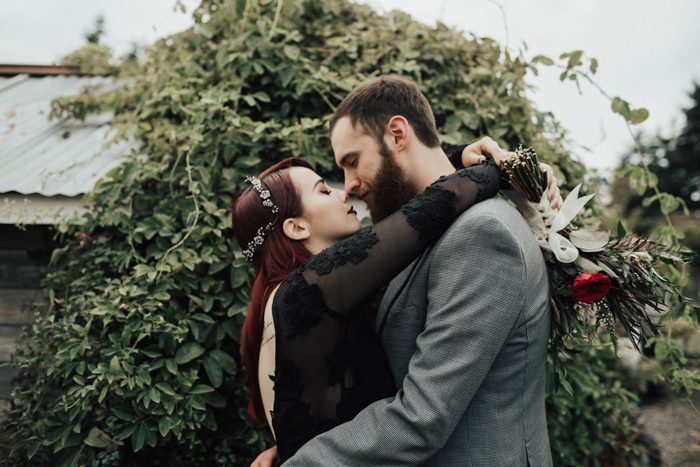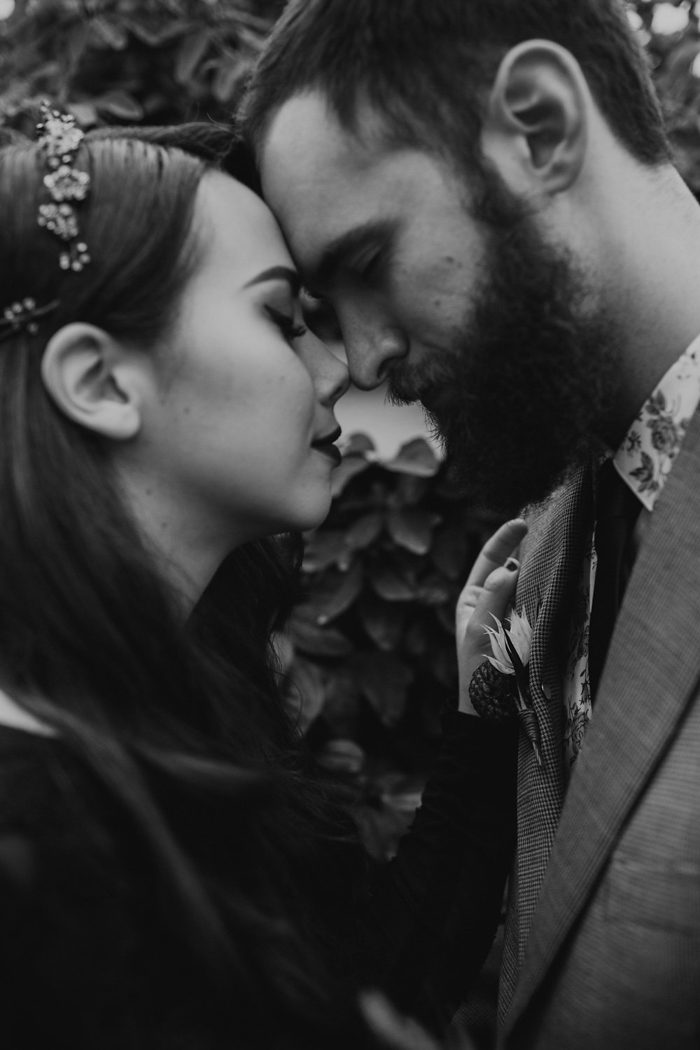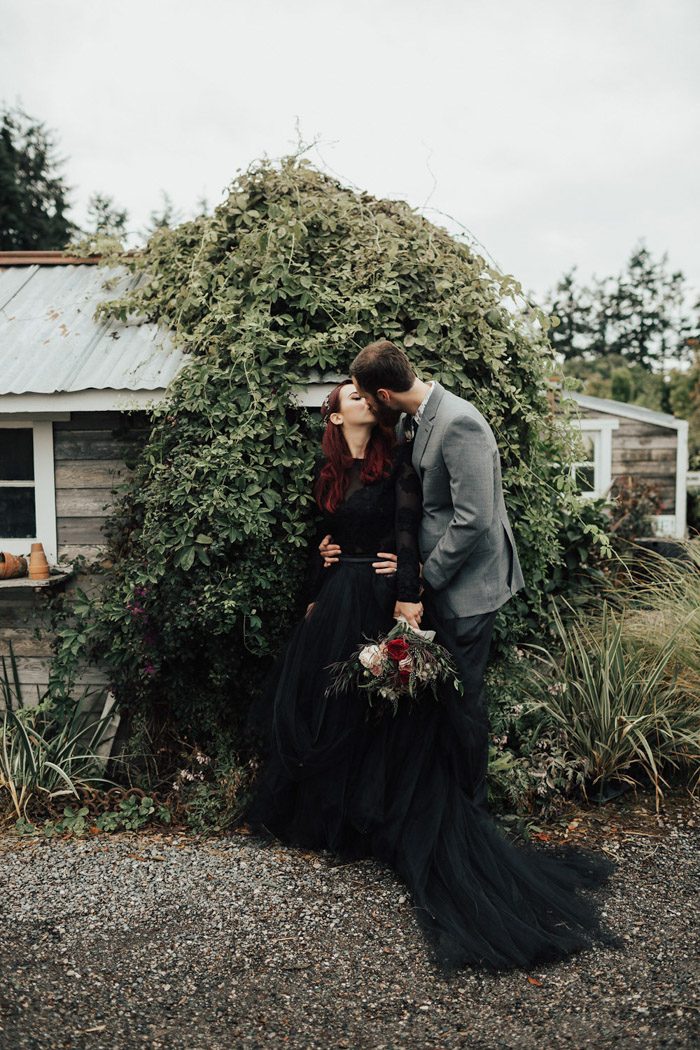 We both wanted looks that felt like "wedding attire" without giving up our own personal style. He didn't want anything too matchy-matchy, so we bought each a piece for his outfit individually, making sure it would be comfortable for all-day wear. For mine, no one was terribly surprised when I said I was wearing black because I wear black every day. But I still didn't think people knew what to expect from a black wedding dress. I wanted something dramatic that would feel subtly vintage. I chose the skirt because I thought it ethereal and the top I loved for the lace appliqué and open back. My headpiece was custom made by a gal who creates the most beautiful handmade jewelry and hair combs. I didn't want it to take away from the drama of my dress and felt it complimented it perfectly. I collect antique jewelry so the rhinestones she used reminded me of those used during the Art Deco era. I didn't want to wear a lot of jewelry, but I did purchase a 1920's glass necklace made of crystal and emerald colored glass. I thought it was a nice pop of color to reflect the greenery of the venue. I hadn't worn all of these elements at the same time until the day of the wedding but once it all came together I felt really beautiful.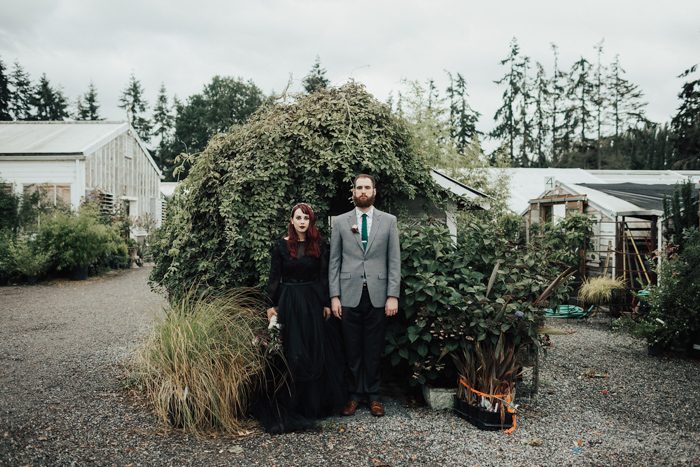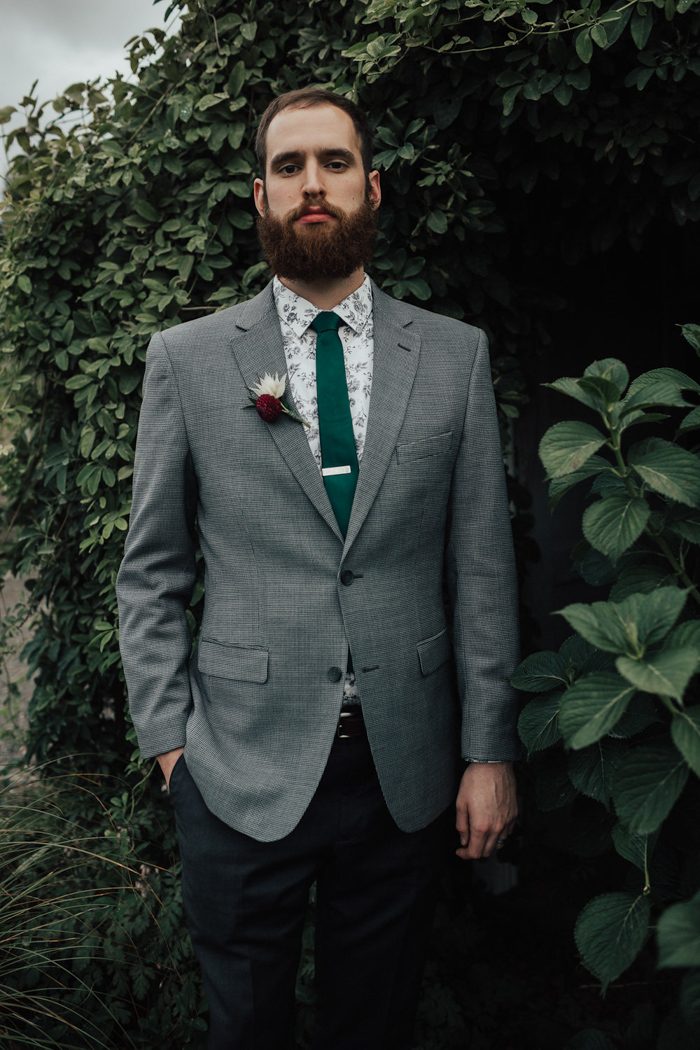 SHOP THIS LOOK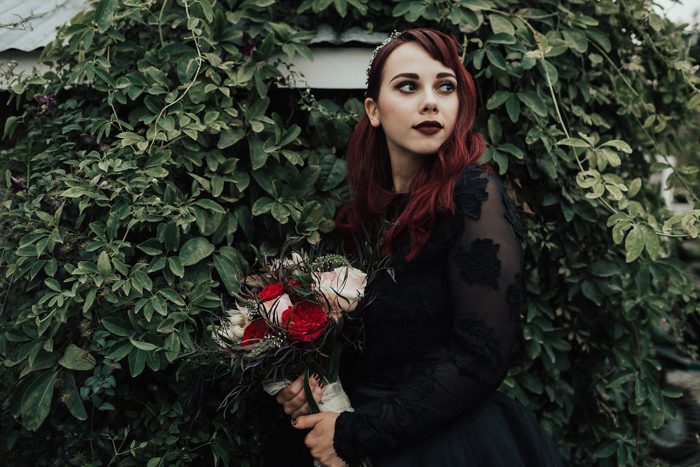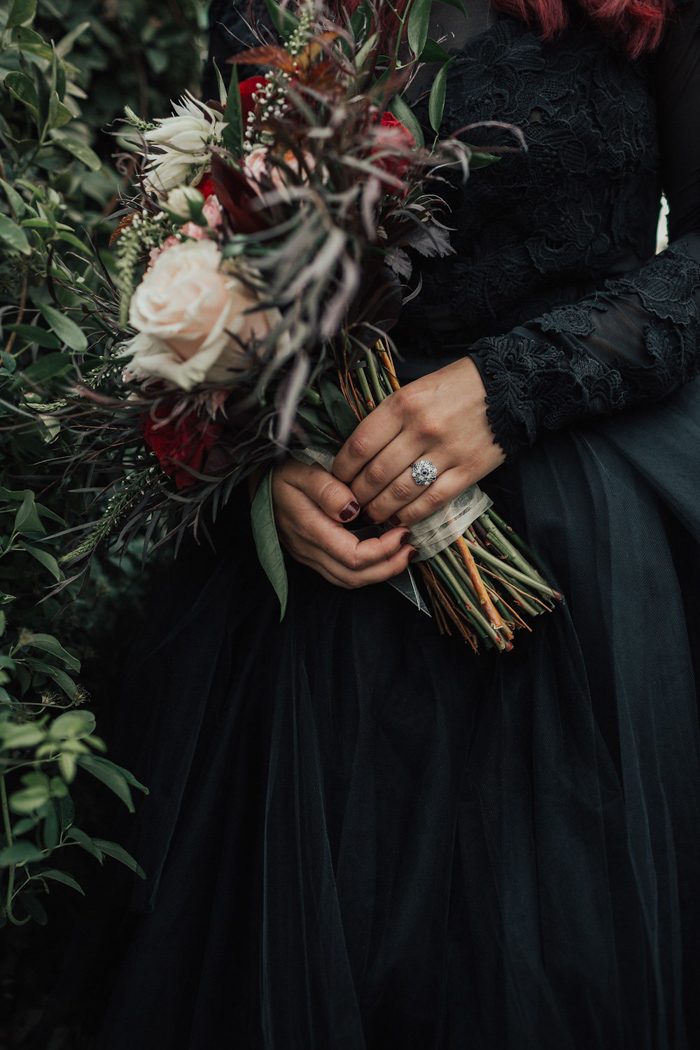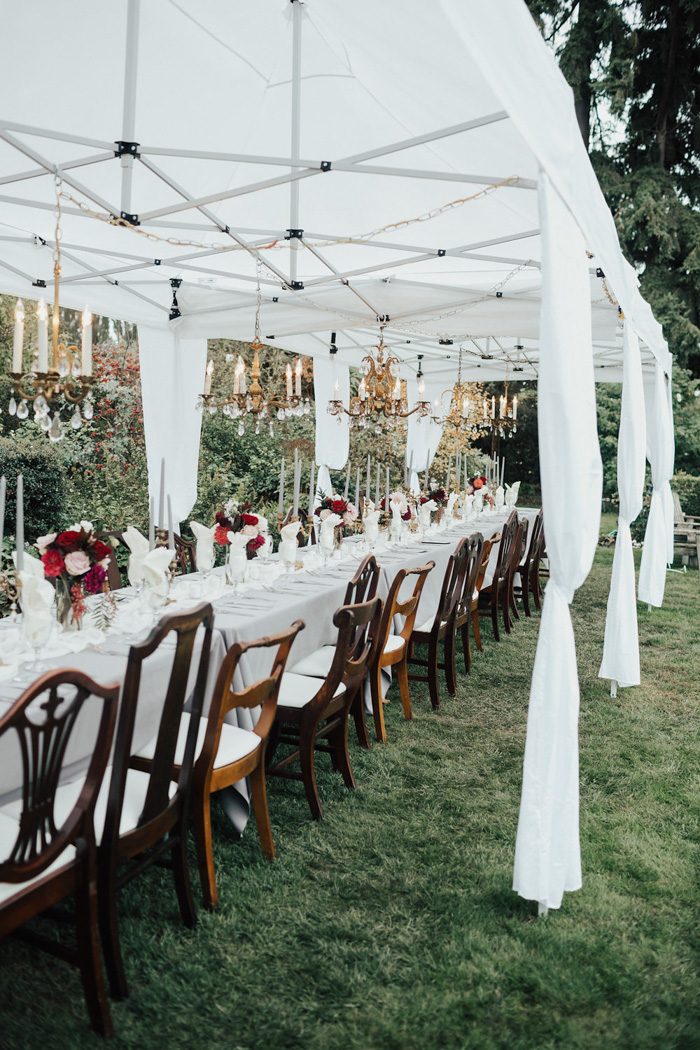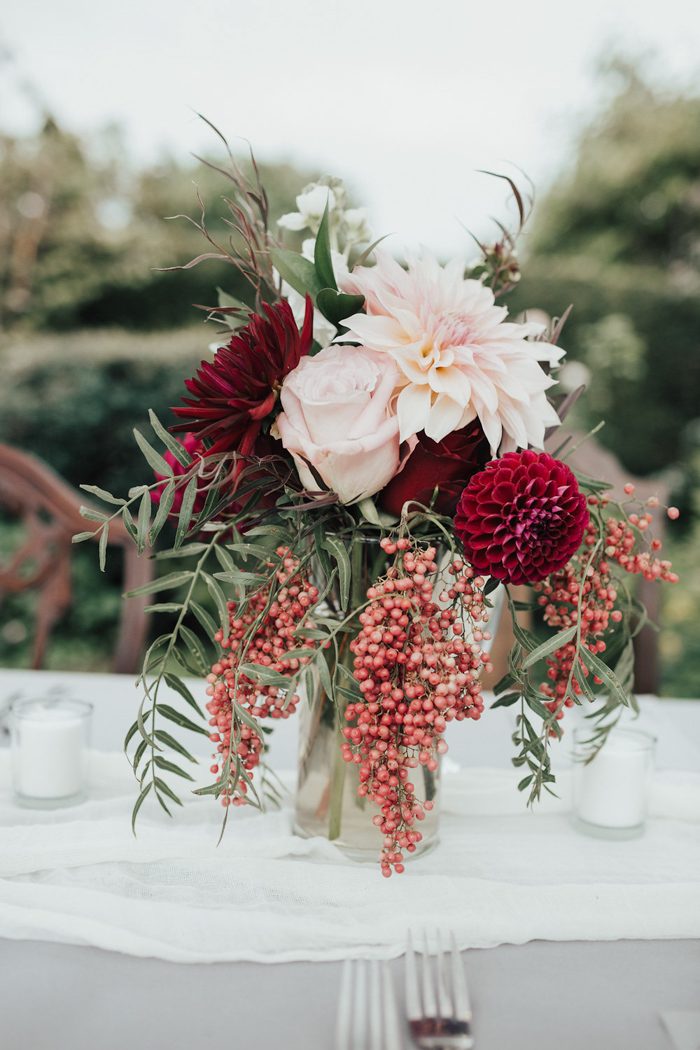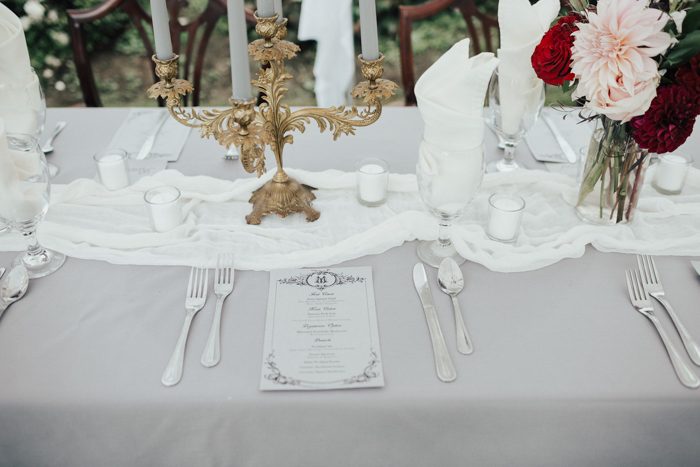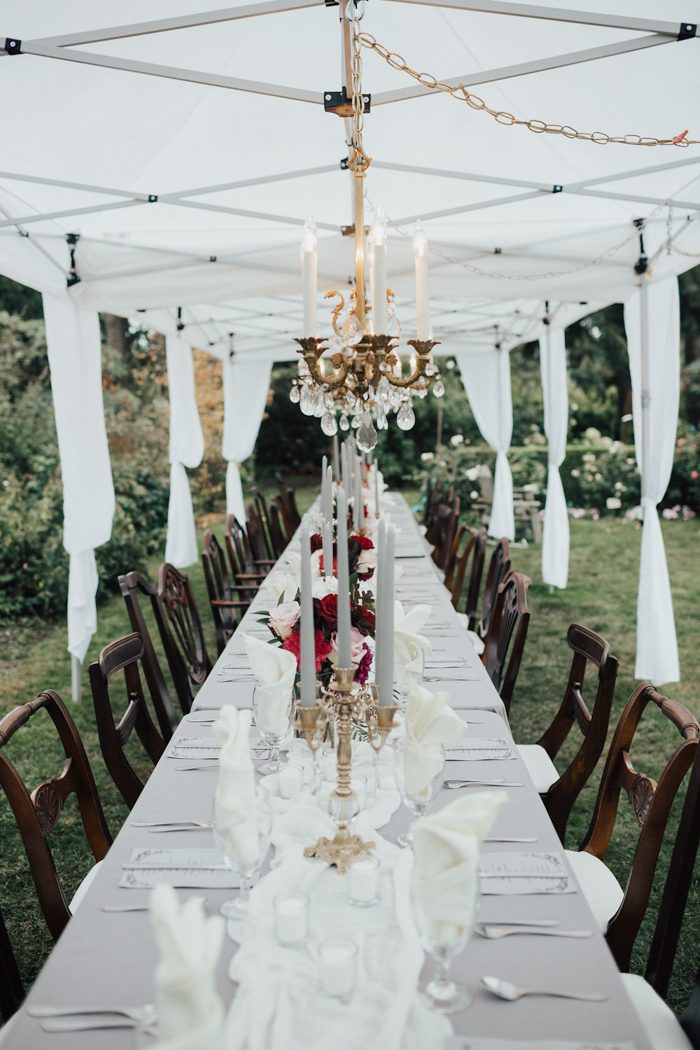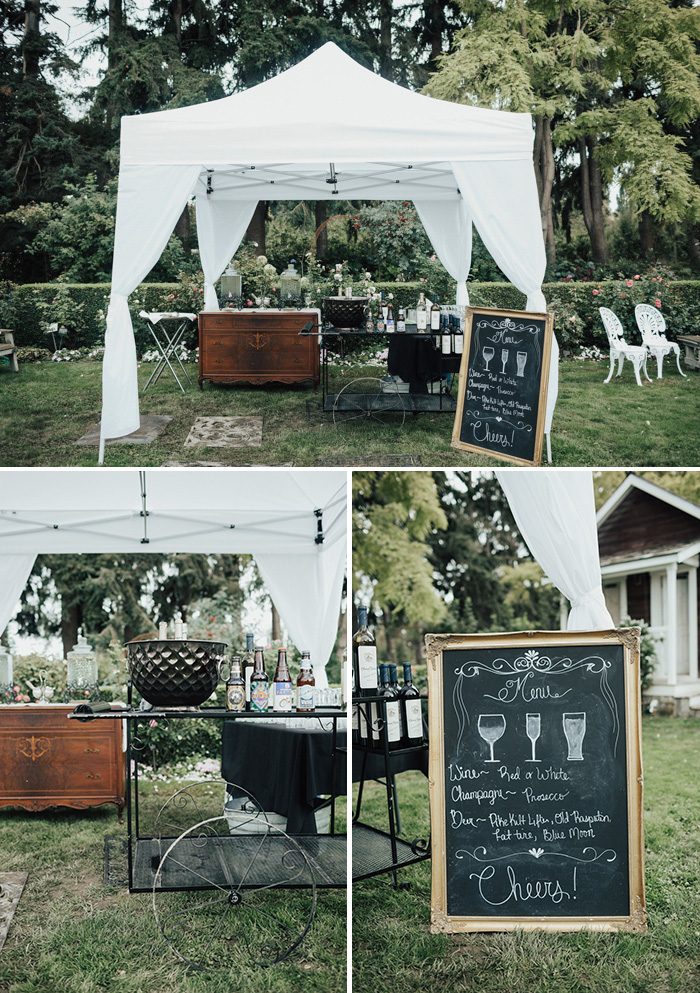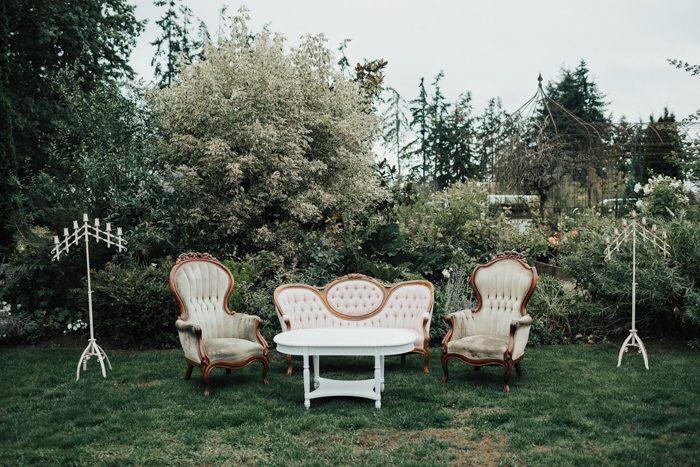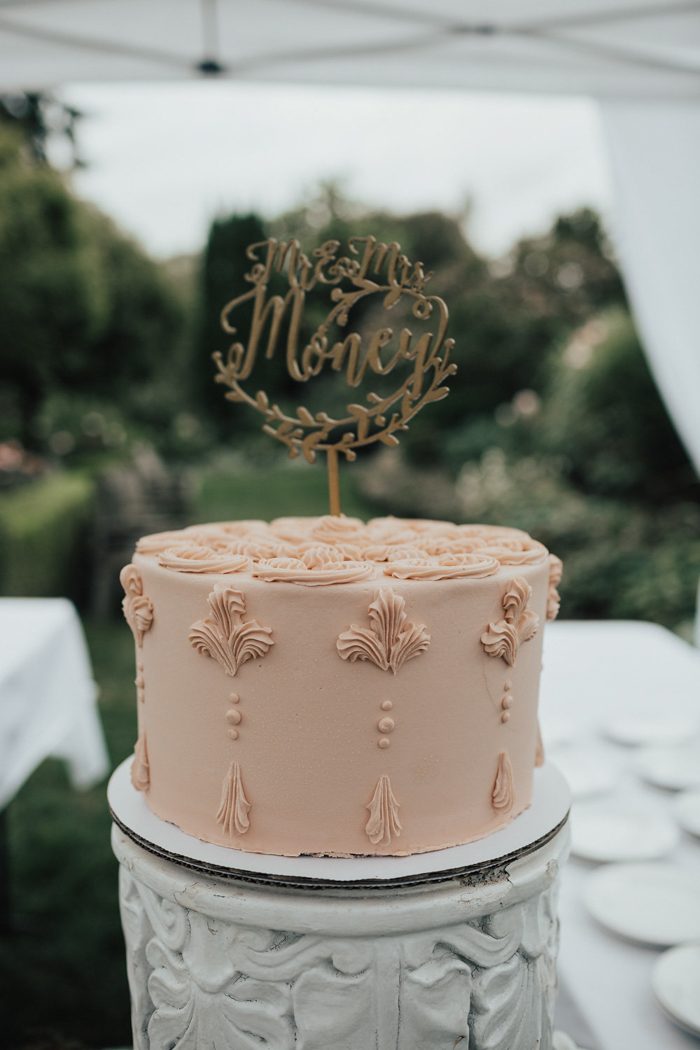 Congratulations to Emma and Caden, and a special thanks to Elizabeth Anne Studios for sharing this exquisite wedding with Junebug! Looking for more non-traditional bridal style inspiration? This enchanting forest elopement is brimming with edgy wedding fashion ideas!