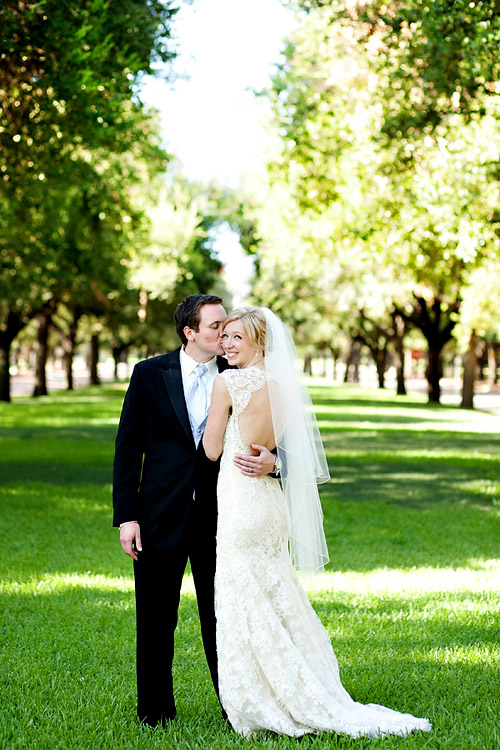 The Couple: Caroline and Nick
The Wedding: 07.30.11; 333 First Avenue Dallas, Texas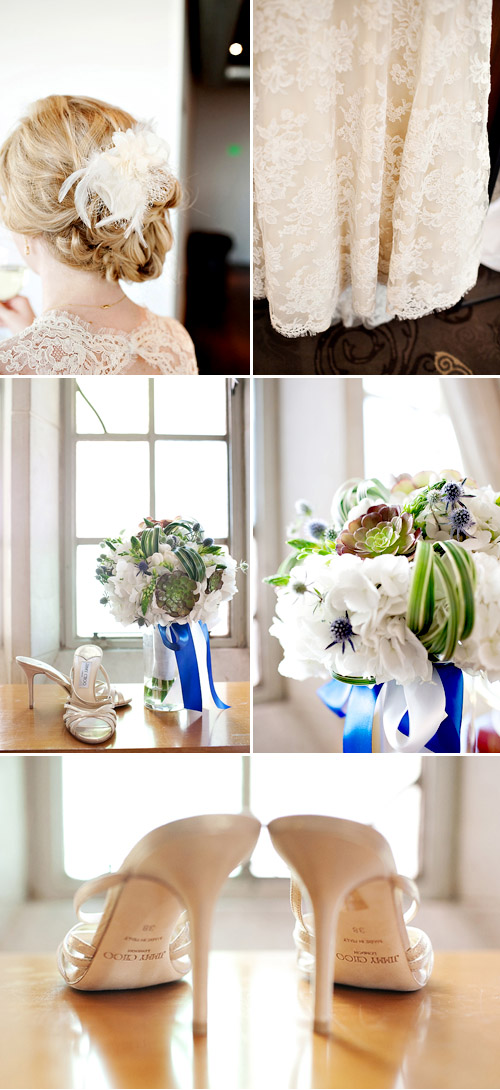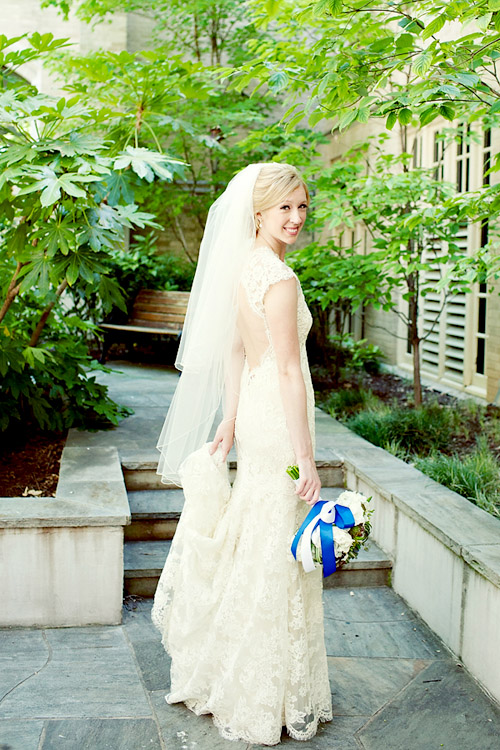 What were the top three priorities for you in planning your Dallas wedding? The most important thing for us was building a very strong foundation upon which to begin our marriage and we had such a great experience planning the ceremony and learning things we never knew about each other in premarital classes. We wanted to celebrate our marriage, and our reception reflected that. A live band, open bar, and fun crowd were our top priorities for the reception. First, we made sure the guests had a nice long cocktail hour, then beverages and light music during dinner, followed by live songs and an upbeat, young band that kept everyone dancing. The dance floor was packed the entire night!
What wedding traditions or cultural traditions did you incorporated into your wedding and what did they mean to you? During our ceremony, we served communion to our guests and it was a very moving moment for us because we were able to spread the love we shared with everyone who came to support us. We also brought our dog, Milo, to the reception. He is such a big part of our life and all of our friends love him so he donned a very handsome tuxedo and danced with us for a few hours before escorting my grandmother home.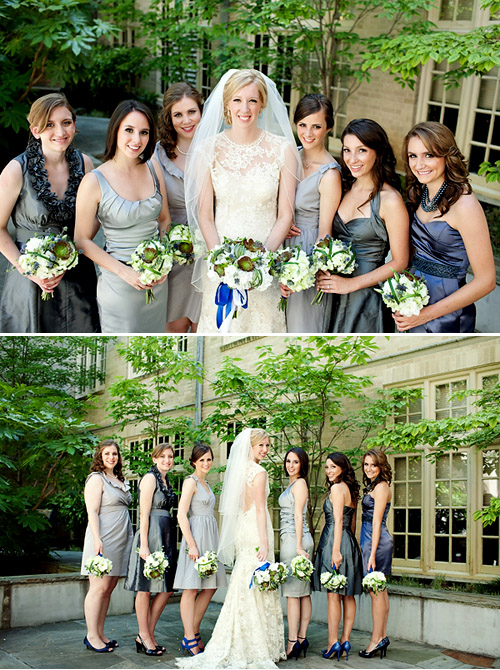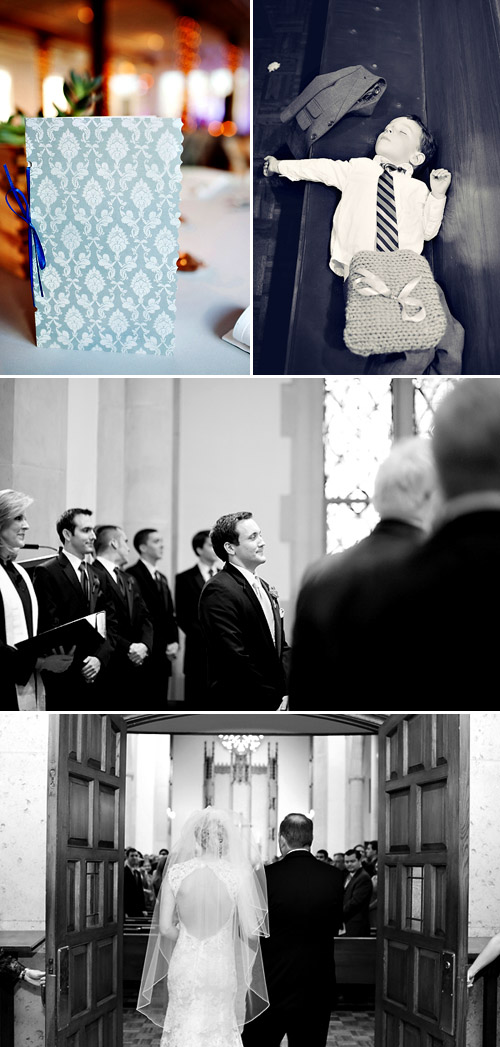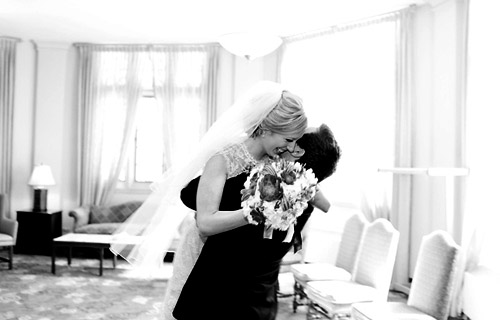 Where there any places where you broke the rules in your wedding planning? Why and how did you do that? Instead of traditional matching bridesmaid dresses, we asked our bridesmaids to choose their own dresses. Since each of them has such different style and body shape, they each chose something that was perfect for them but looked really great together. For this to work, we had to let go of almost all style decisions. We gave guidelines (grey & church appropriate) and approved the dresses as they looked in a collection, instead of based on our personal style. We also used lots of Friendors to create the decorations for our wedding. The bridesmaids made the puff-balls above the dance floor from tissue paper, my family made the potted succulent centerpieces (which also served as party favors, because what are you supposed to do with 30 potted succulent arrangements?) and, among other things, our super talented friends designed and made our wedding programs from mix-matched scrapbook paper.
What was your biggest wedding planning success? Our biggest wedding planning success was the glow stick dance party / send-off. Before the wedding, people thought we were crazy and teased us for having a Rave Wedding, but the guests loved them! Once Sweet Pea Events brought the glow sticks out on the dance floor for the last few songs, people really cut loose and pulled out all their best dance moves. It was, hands down, everyones favorite and most memorable part of our wedding. We chose to use necklace length, but if I could do it again, I would choose bracelet length because a lot of guests accidentally hit each other when they swung them through the air.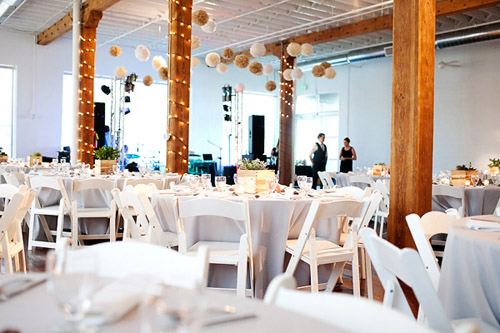 What was the most important thing that you learned through the wedding planning process and what would you tell other brides-to-be? The most important thing I learned is that getting every last detail right is not that important. You are marrying a wonderful man (or woman) and creating a life together that will stand the test of time. What a fantastic way to begin by incorporating his ideas into the wedding and letting him take the lead on things he cares about? Let people make/do things for your wedding (my step-mother wrote us a song!) and LET GO of how its going to turn out (especially if youre letting your bridesmaids pick their dresses)! Let your dad spend hours deciding the location of the bar & buffet and counting the number of parking spots in the lot. Be excited when your mom chooses her dress because its a big day for her too. Remind your bridesmaids they are beautiful and you love them. Have family parties the week before the wedding so you make sure you show your relatives how much it means to you that they came. The day is about being beautiful be beautiful inside, outside, and in your marriage. Best Wishes!

The Wedding Team:
Photographer: Perez Photography
Event Planner: Sweet Pea Events
Ceremony Venue: Highland Park United Methodist Church
Reception Venue: 333 First Avenue
Invitations: Wedding Paper Divas
Catering and Rentals: Edisons
Personal Flowers: Red Sole Events
Centerpieces: Bride & Family, with boxes from Ikea
Cake: Sugar Bee Sweets
Wedding dress: Monique Lhuillier
Bride's Shoes: Jimmy Choo
Groom and Groomsmen Apparel and Accessories: Als Formal Wear
Hair: Katie Page at Green Peridot Salon
Make-up: Kay Castro
Live music: Identity Theft
Dance instruction: Vow to Dance
Favors: Pecan Pralines made by bride
Stickers: Sweet Sanity on Etsy.com
Calligraphy Return Address Stamp: Emilie Friday
Tissue Paper for Pom-Poms: Container Store
Glow Sticks: Glow With Us
Thank you so much for sharing your gorgeous day with us, Caroline and Nick!
Readers, be sure to check out our Wedding Photo Gallery for more gorgeous wedding planning inspiration!