Whether you're in the LA area and can attend, or you'll be following along with us as we live blog and Tweet from the event, this Sunday is Mindy Weiss' second annual Most Ridiculous Wedding Event Ever! and we're getting so excited!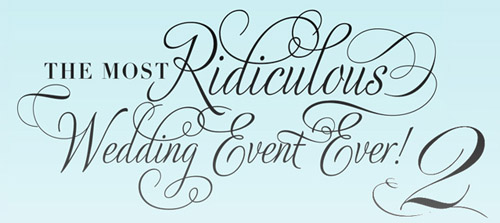 The Junebug crew will be at the MRWEE in person as the exclusive bloggers to share with the attendees what we've learned about blogging, social media and photography in the wedding world, and to share with you, our online audience, special peeks into all the topics, speakers and fun activities that will be going on throughout the day. The Most Ridiculous Wedding Event Ever! is a wedding planning boot camp like no other, as only Mindy and her team could produce, so we asked Ms. Mindy herself a few questions about this weekend's big event…
Junebug: What makes The Most Ridiculous Wedding Event Ever a unique wedding event?
Mindy: The Most Ridiculous Wedding Event Ever is truly ridiculous…it is a beautiful classroom setting filled with speakers who are the best in the biz. It's not a stuffy day filled with pamphlets and salesmen but one where you will feel as if you are getting a one-on-one with a fun and fabulous group of experts.
Junebug: Who should consider coming to the event? Brides? Wedding Pros? Wedding fanatics?
Mindy: We have a lot of planners AND brides coming…even those who think they might be interested in the party and event world should attend.
Junebug: What are you most excited about for this year's MRWEE?
Mindy: THE FOOD, no just kidding! LOL I'm most excited about meeting all the attendees and all the fun giveaways. (Love giving stuff away!)
Junebug: Any clues as to some of the surprises in store for attendees?
Mindy: Hmmmmm…well there is a big surprise at the end of the party and there are surprises every hour, but if I tell you, then hey, no surprises!
To whet your whistle here are a few photos we took at last year's event, as well as a video of all the fun! We hope to see many of you there (tickets are available online at www.MindyWeiss.com), and we hope everyone else will follow along with us here on What Junebug Loves and on Twitter!


photos by Junebug Weddings and GH Kim Photography
Mindy Weiss's Most Ridiculous Wedding Event Ever! 2
Sunday, November 14, 2010
9:30 AM – 5:30 PM
The Bookbindery
8921 Lindblade Street, Culver City, CA