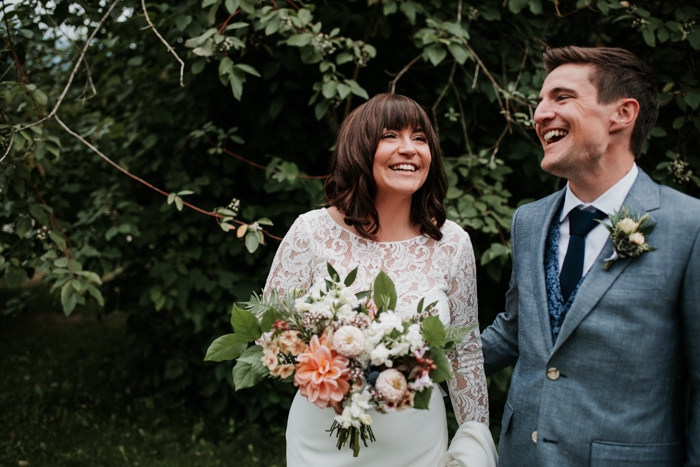 Despite wildfires that broke out in the area 3 weeks before the wedding day and heavy rains on the morning of, luck was on Victoria and Thomas' side when it finally came time for their outdoor wedding at Barking Frog Lodge! The couple, who moved to Canada from England, had friends and family from all over the world join them for their special day. They used furniture from their own home to decorate the sprawling venue and stuck to a mid-century color palette that made the entire event feel more like a festival than just a wedding. The couple also sourced, purchased, and harvesting everything locally to really immerse their guests into the Canadian lifestyle they've fallen so deeply in love with. Of course, none of this would have been possible without their exceptionally talented planner, Ola, from Flockando who inspired them to focus on their unique vision, as well as the keen eye photographer Darby Magill who captured every single moment!
The Couple:
Victoria and Thomas
The Wedding:
Barking Frog Lodge, Pemberton, British Columbia, Canada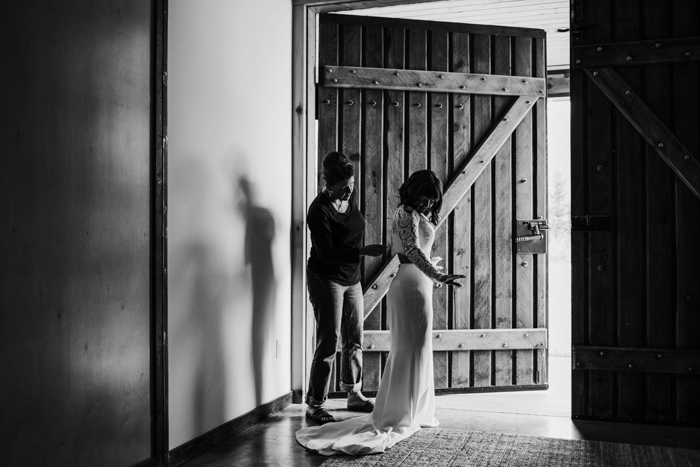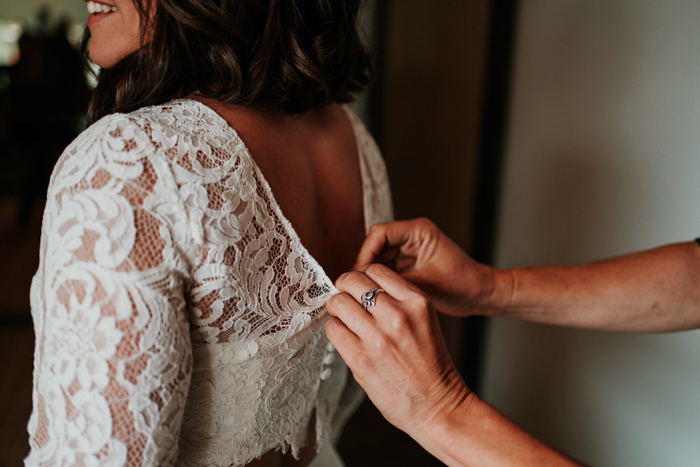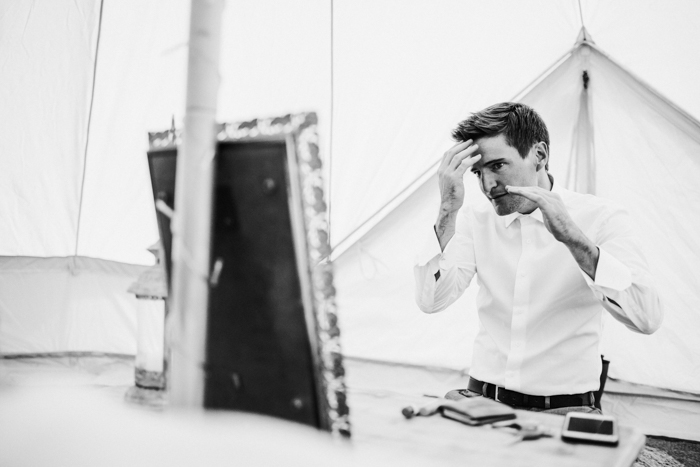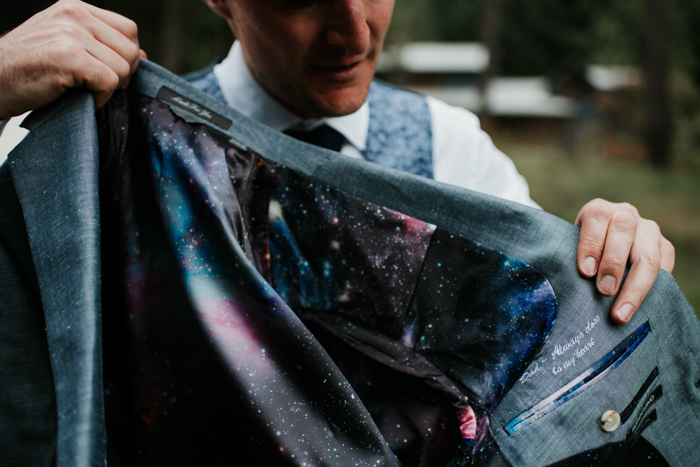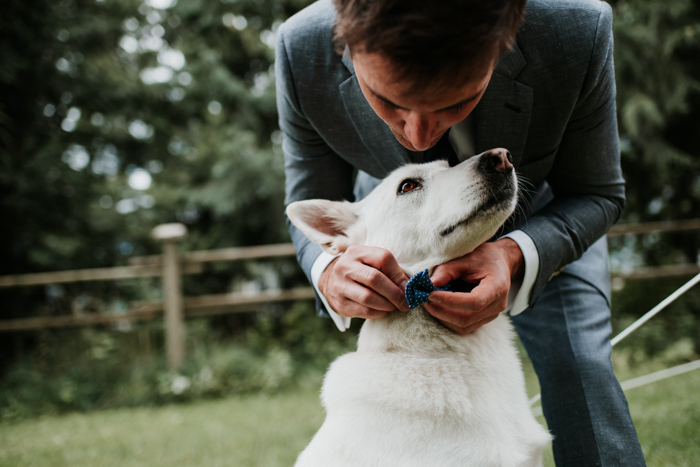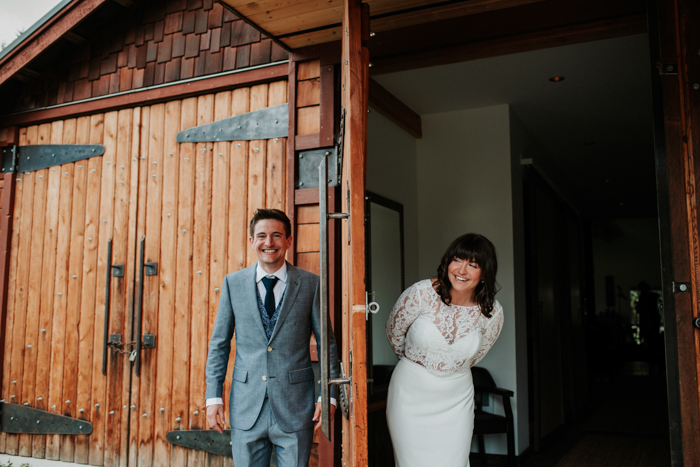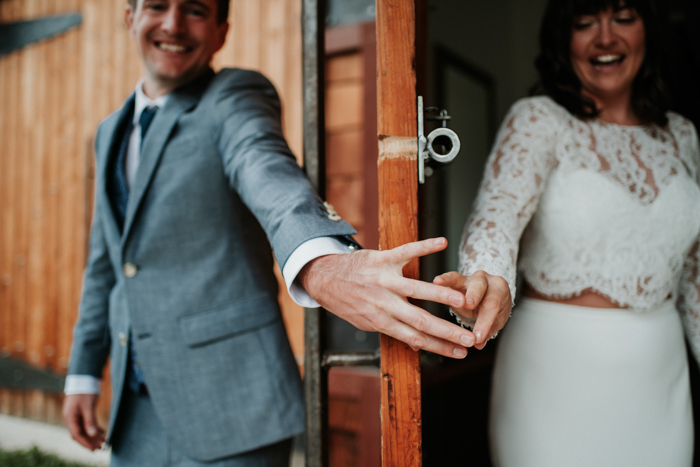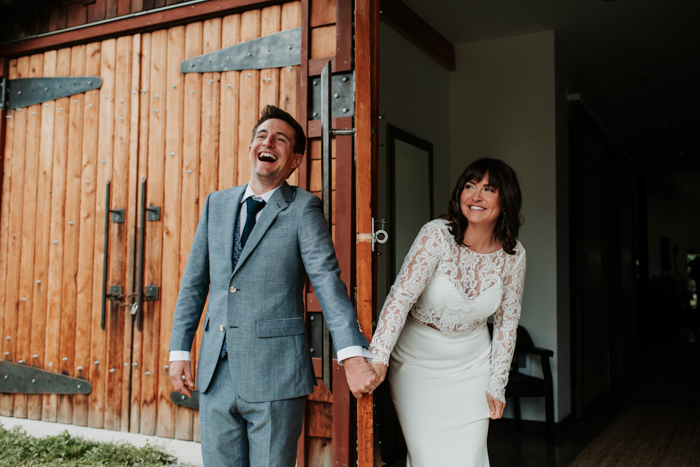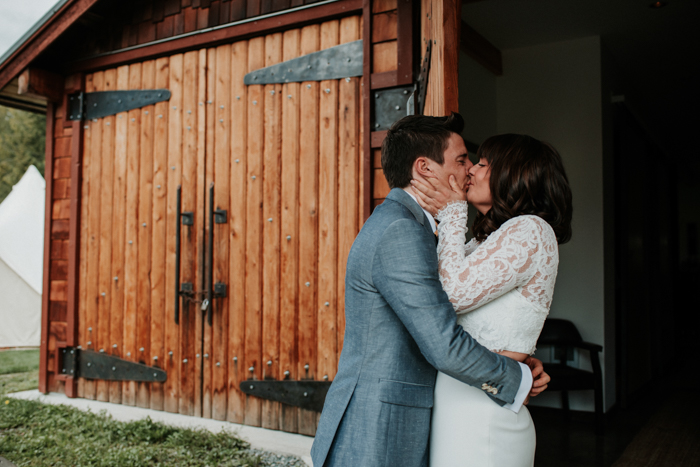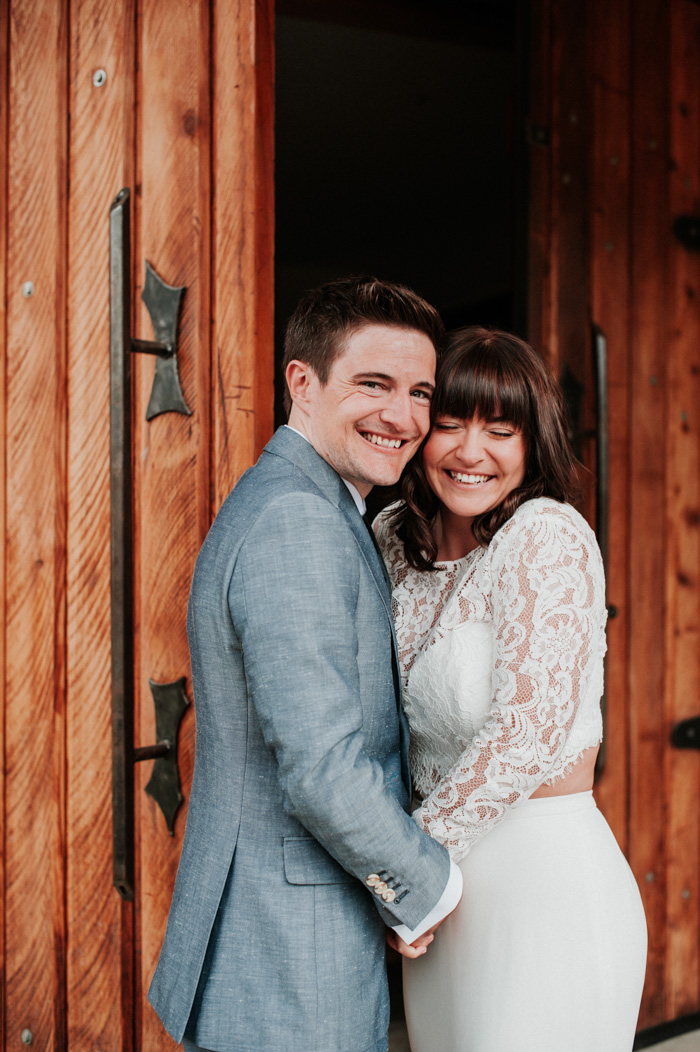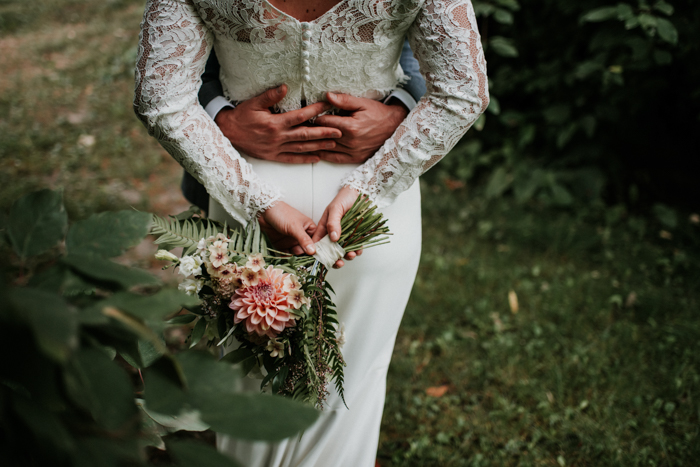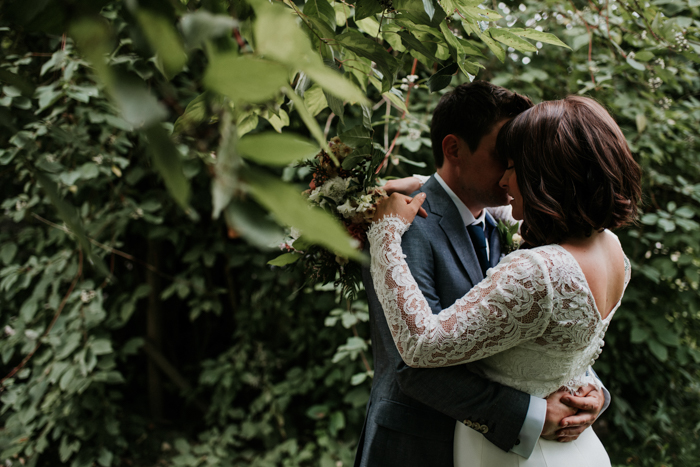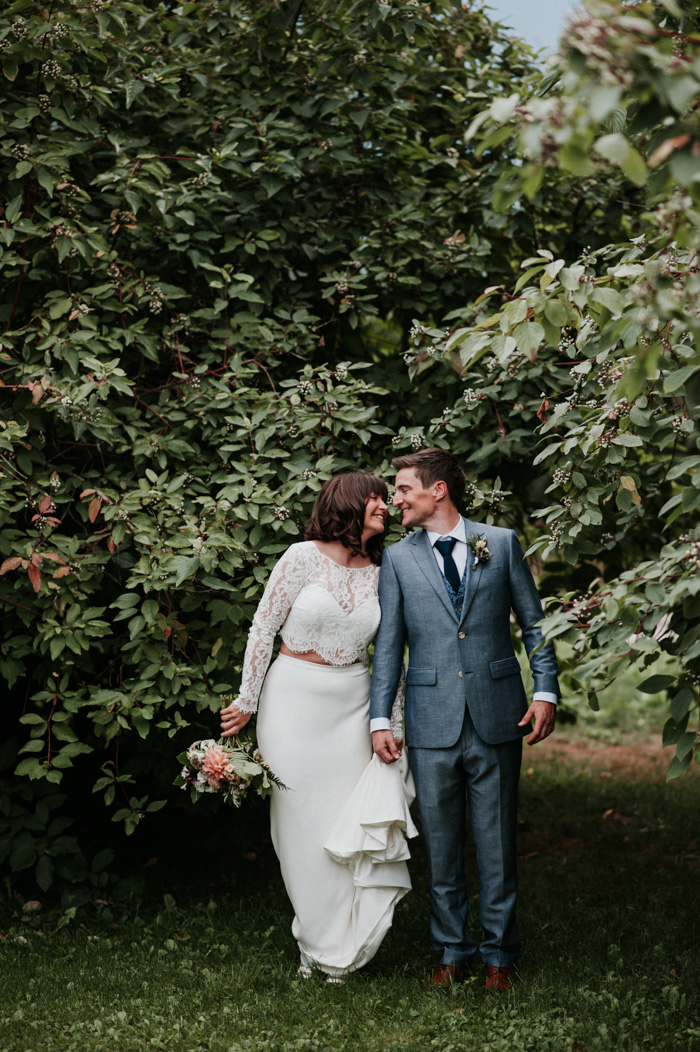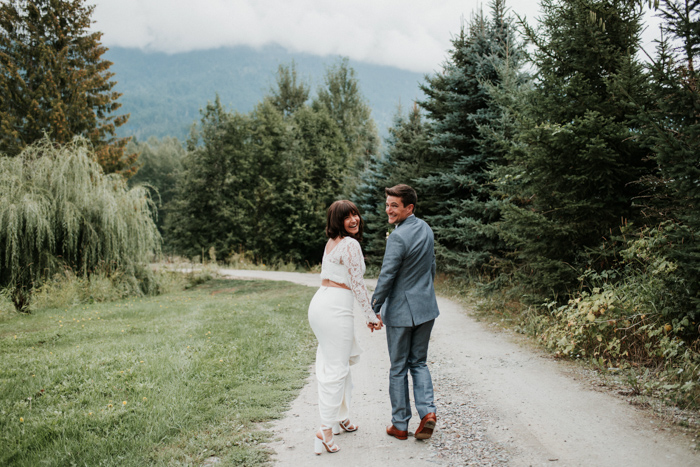 Five months before our wedding we decided to sell our home and buy a sailboat. This meant we had all of our furniture available for the wedding. Everything from our chairs, the dining table, garden furniture, shelves, pillows and plants to our cherished set of vintage walnut speakers, it all came with us and helped us create a uniquely Tom and Vic vibe. It also helped us save money on furniture rentals and made it super easy to pick a look and feel! We're both people who love welcoming friends and family into our home, and our wedding was just a big extension of that.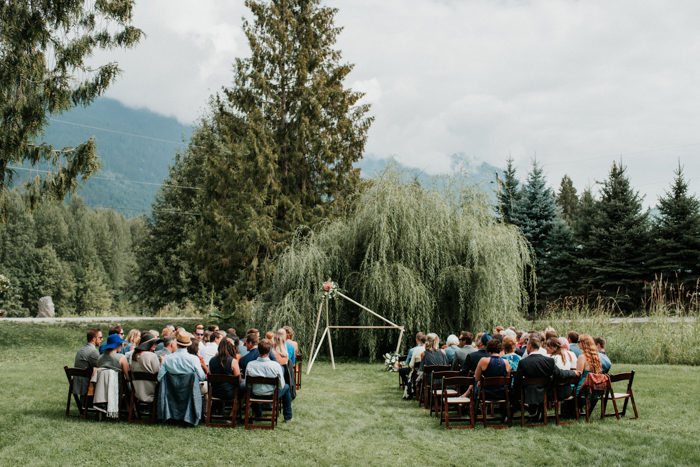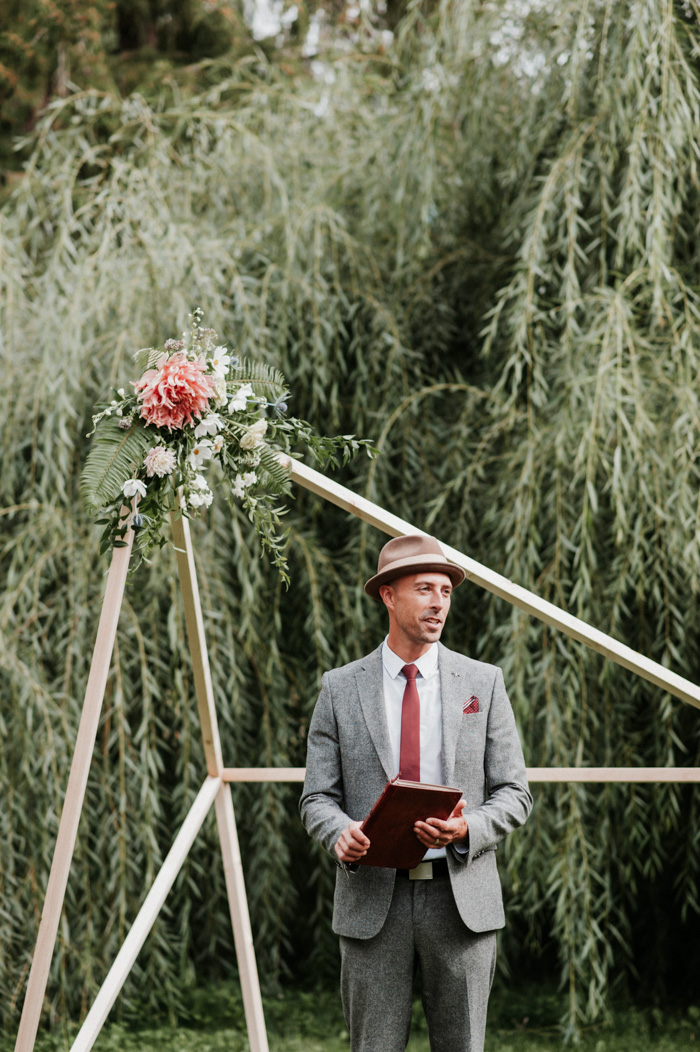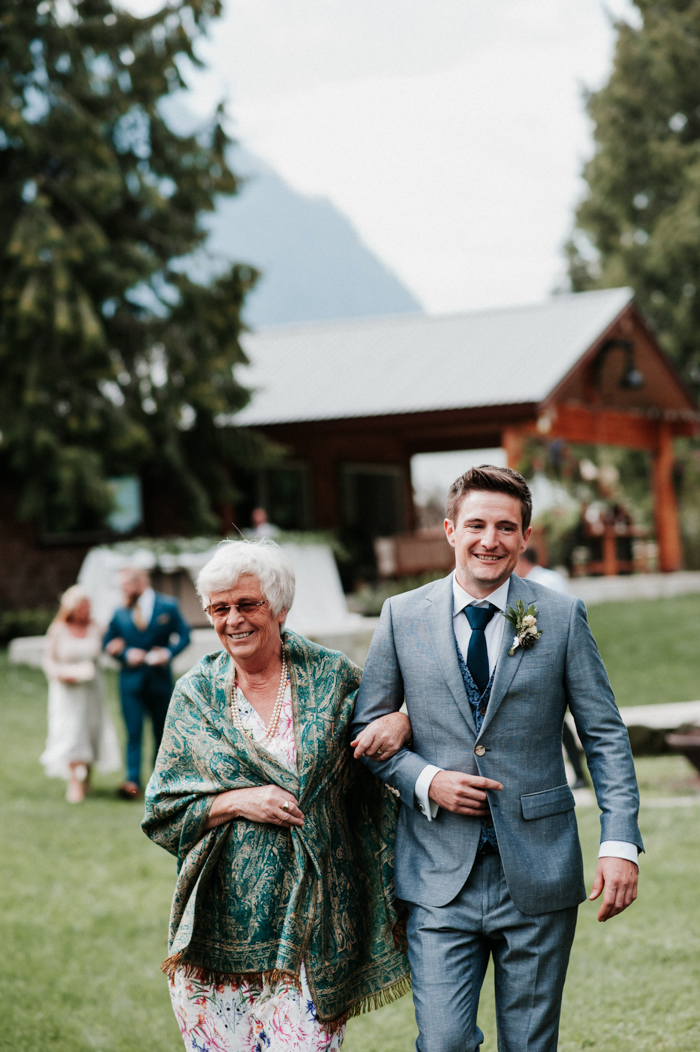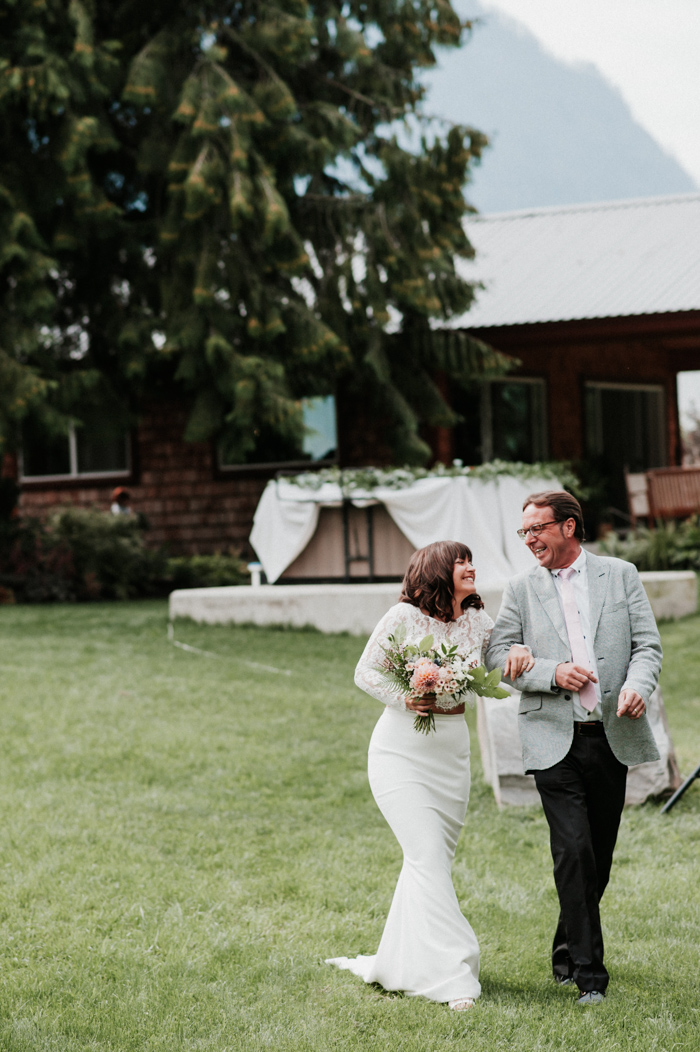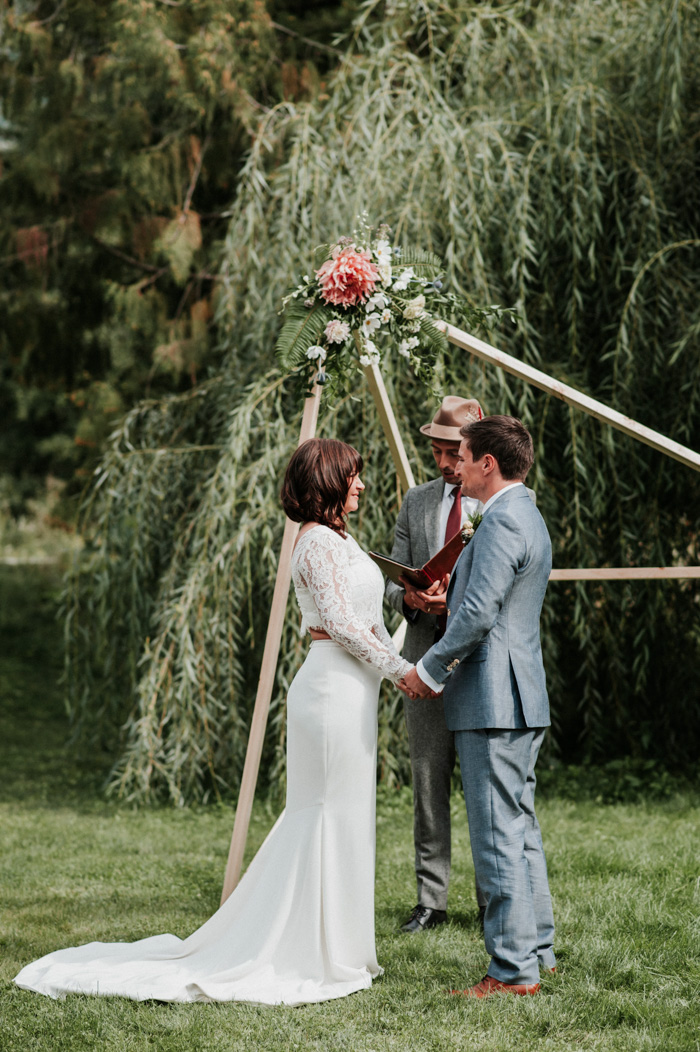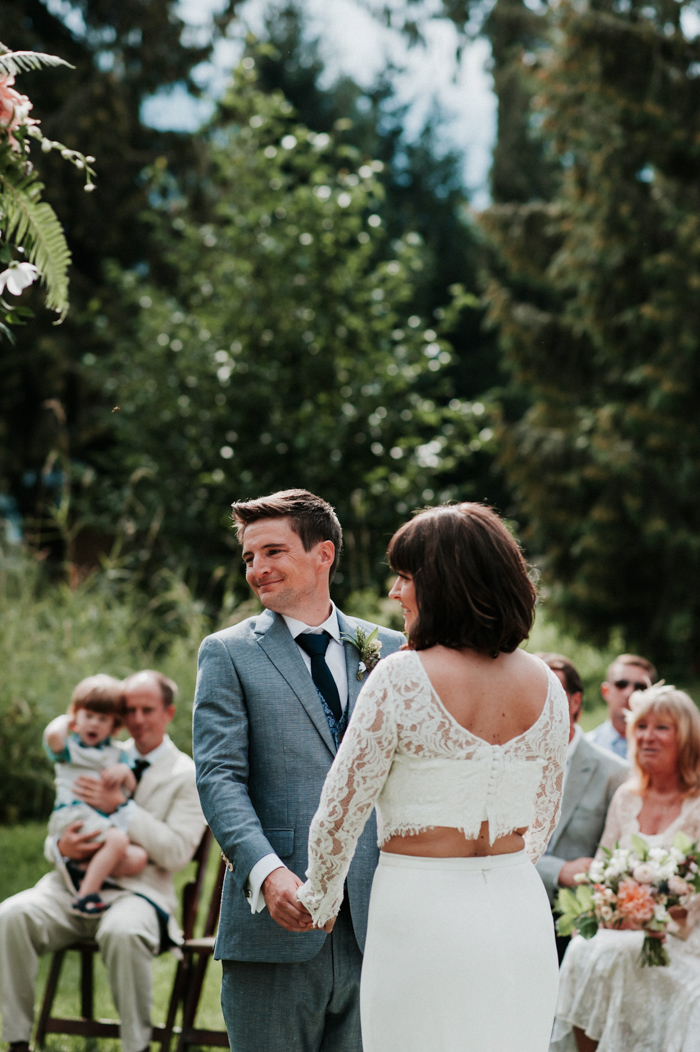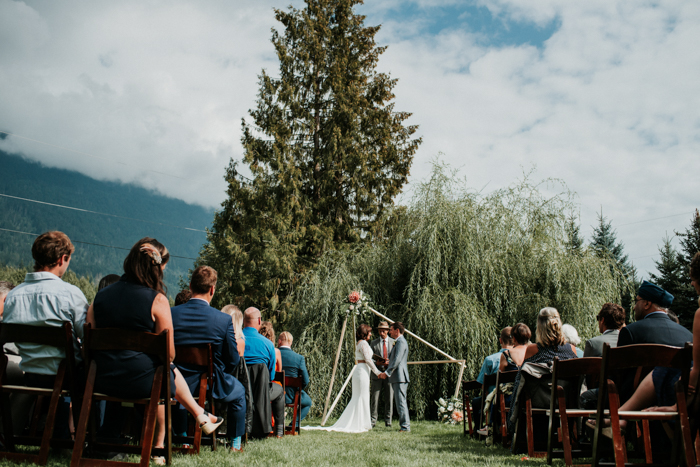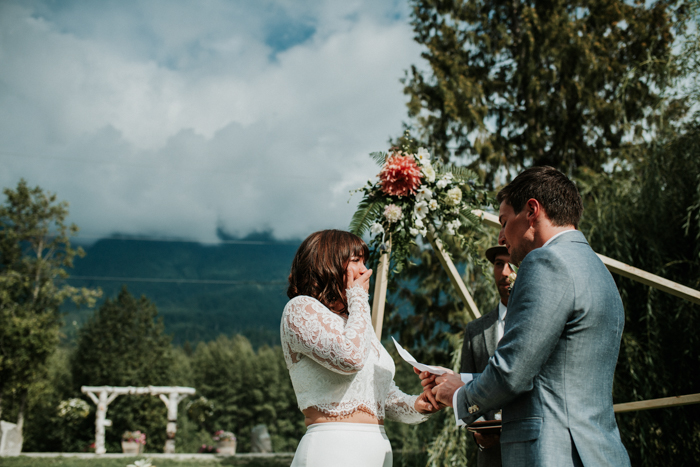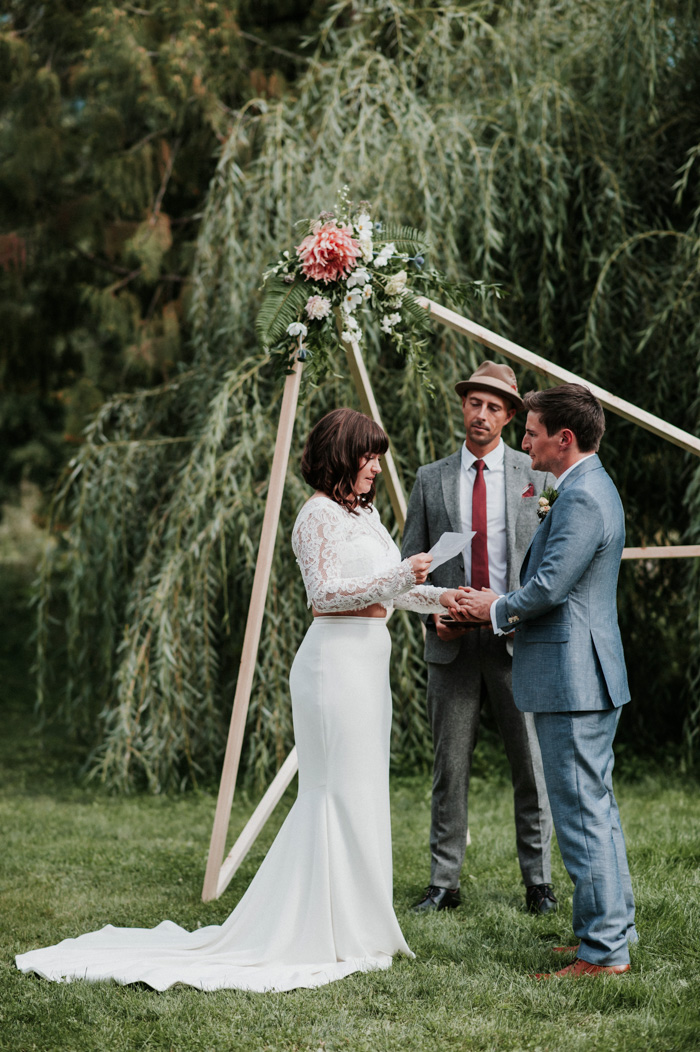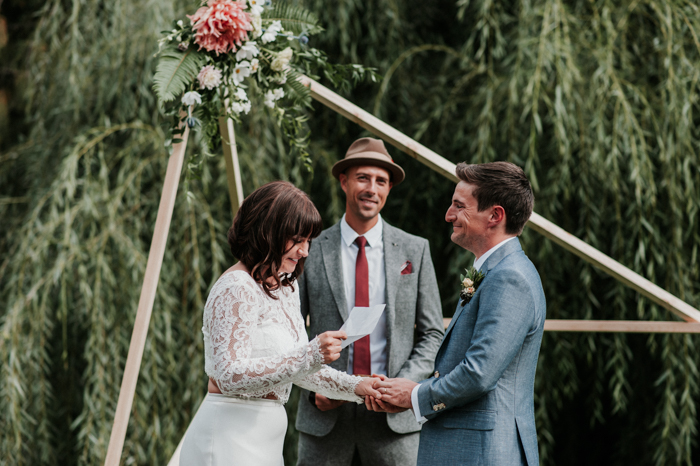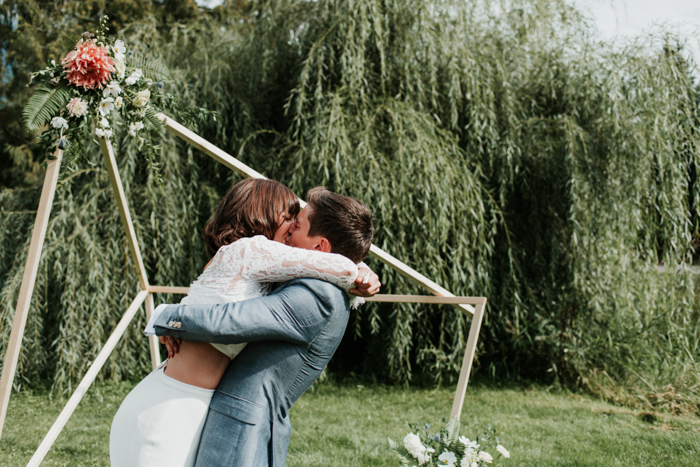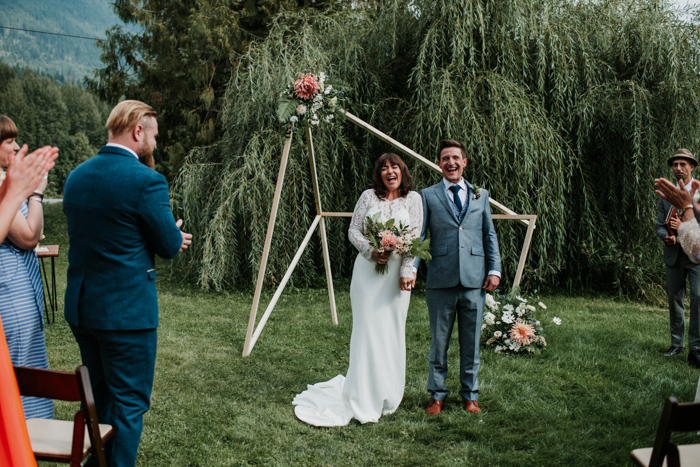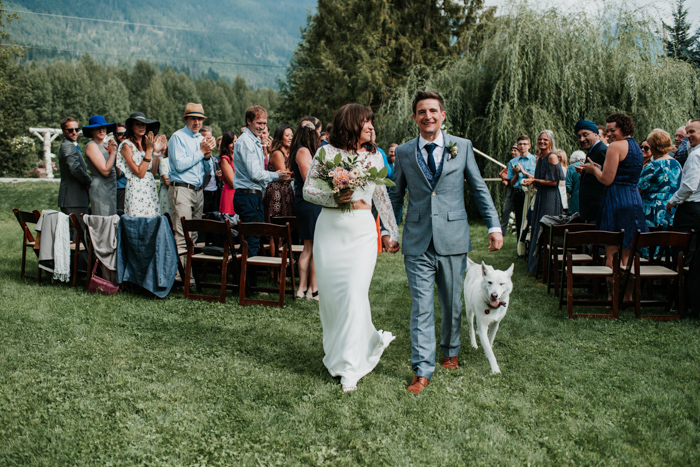 Barking Frog Lodge is a working farm on the banks of the Lillooet River in Pemberton, BC. It's flanked by the towering ridgeline of Mt. Currie on one side and the quaint farmland of Pemberton Meadows on the other. The lodge property sits in a large lush green garden filled with wildflowers, Fir and Hemlock trees, and backed by snow-capped mountains. Between the lodge and the bell tents, we had ample room to house both sides of the family, plus friends for four whole days of festivities.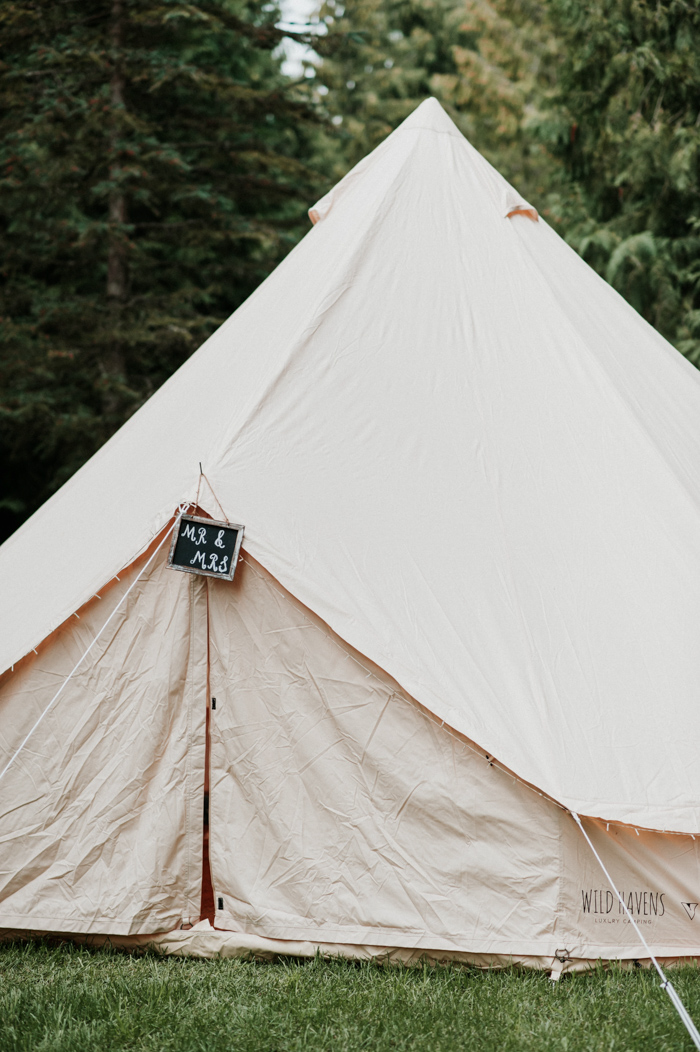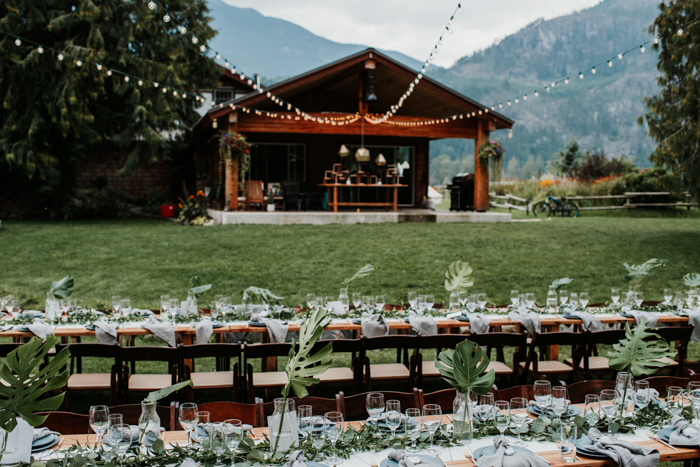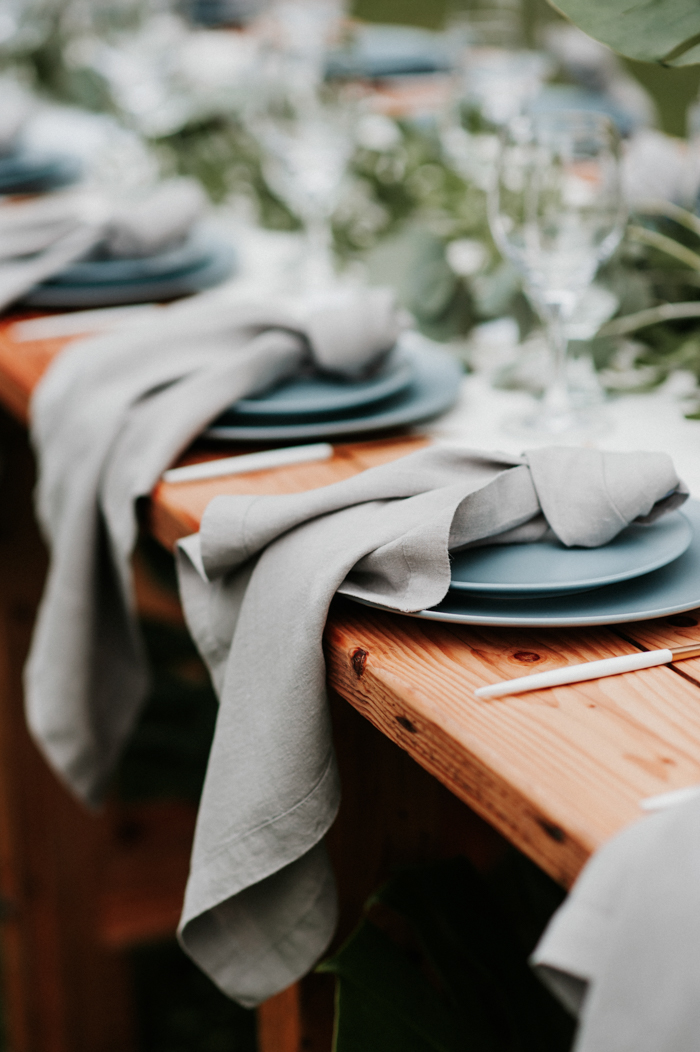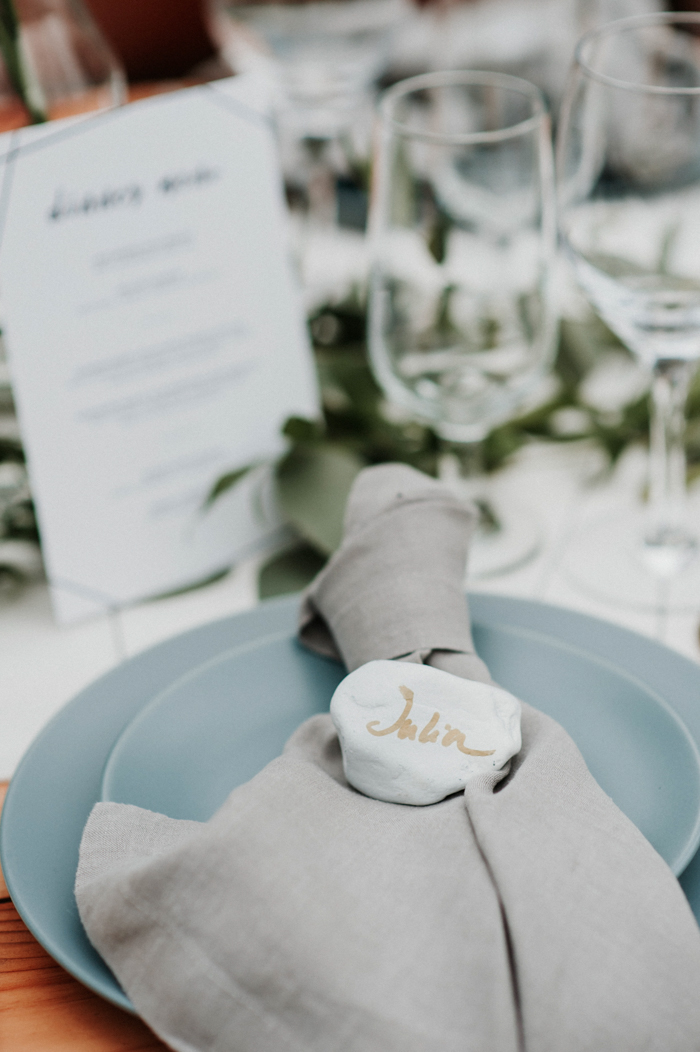 We DIY-ed a number things including our arbour, all the signage, the table runners, and signature wedding beer. One of our best friends, Vince, is a fantastic home brewer who worked with us to brew a Pineapple IPA that we called Hoppily Ever After. Tom and I designed the labels and Vince, also being a talented journalist, wrote a small passage for the bottle. He brewed enough beer for 100 people and it was so tasty it was all gone by the end of dinner. Having sold our home to buy a sailboat we actually moved in with Vince for 3 months immediately after our wedding!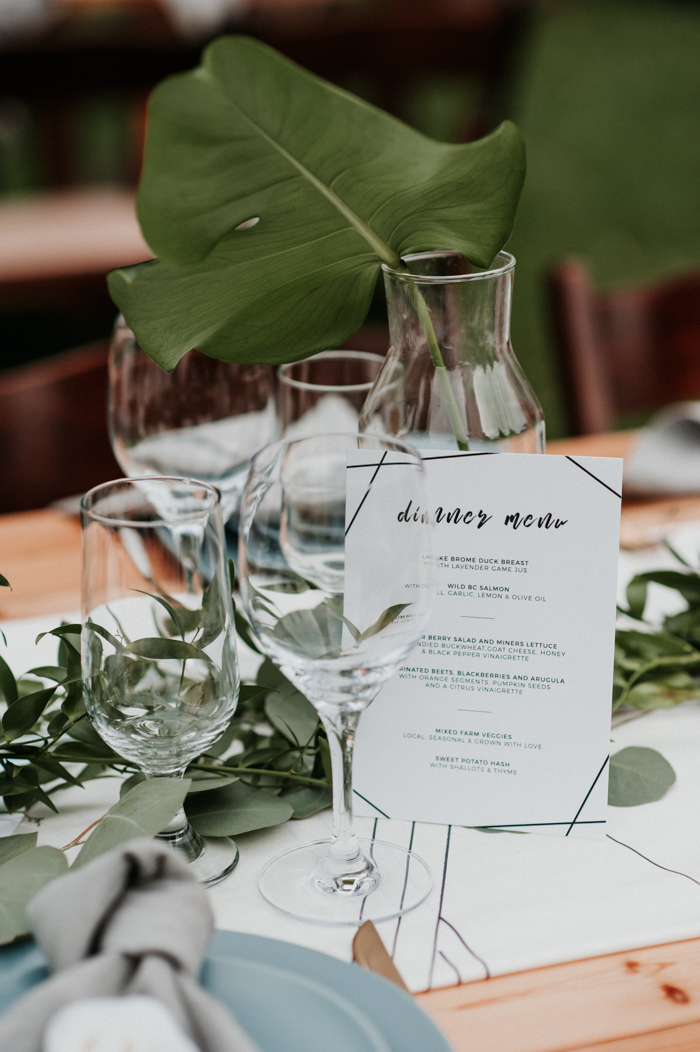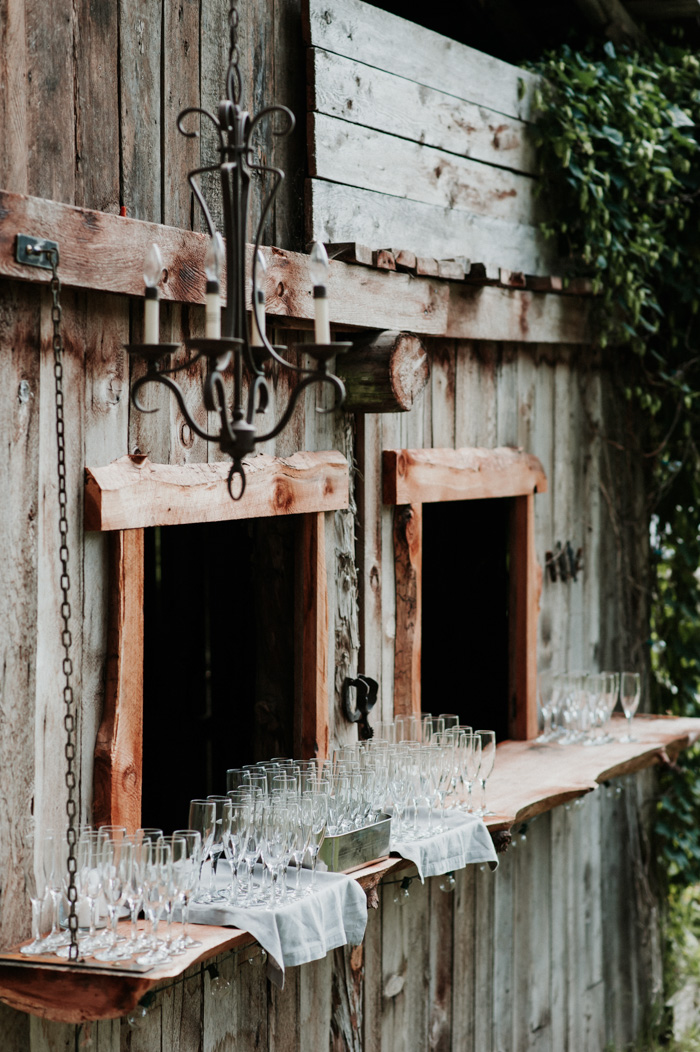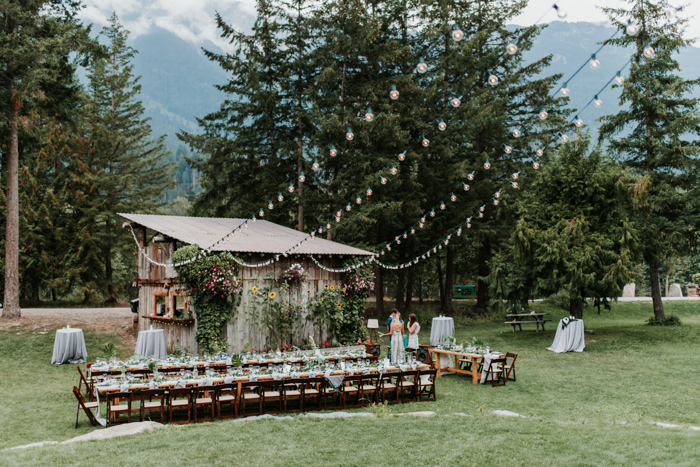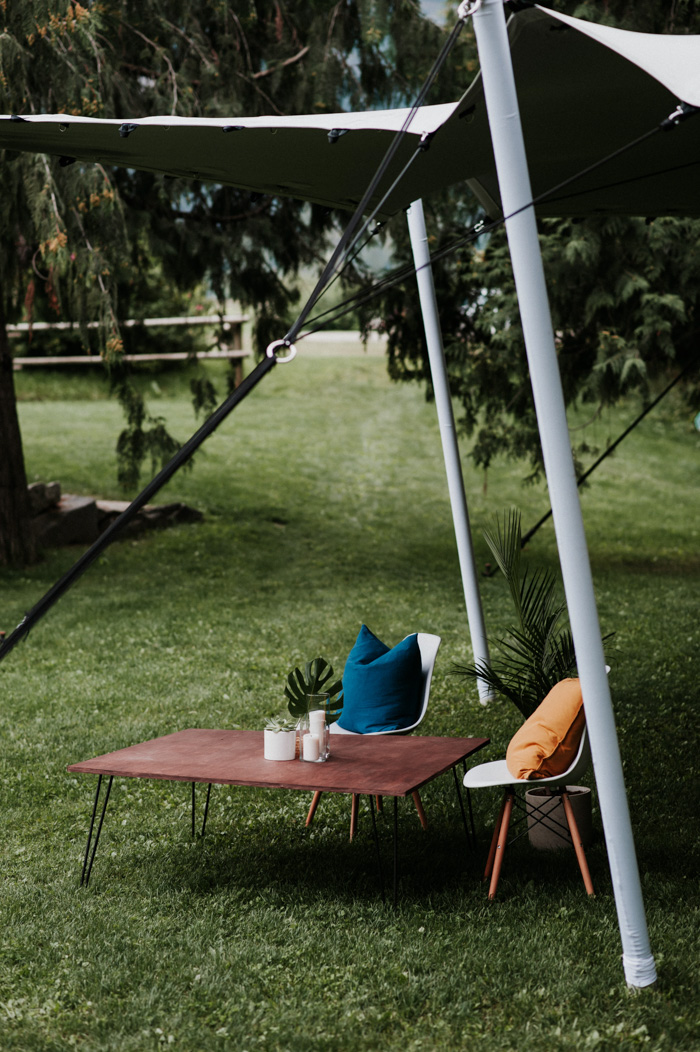 My style inspiration was actually myself, which might sound a bit strange. A few years before our wedding I sustained a serious brain injury that resulted in 3 years of post-concussion syndrome. During those 3 years, I had to stop biking, skiing, and snowboarding in case I hit my head again. I had memory problems, light, and sound sensitivity and I became a social recluse, hiding away from situations that would bring on symptoms. My social relationships suffered, my creative and athletic outputs were gone and I lost hold of who I was. In April 2018, after 6 months of intensive neurofeedback treatment (and 4 months before the wedding), I was given the all clear and told that I was 99.9% back to good health. The inspiration for my dress, hair, and make-up came from memories of myself before the injury.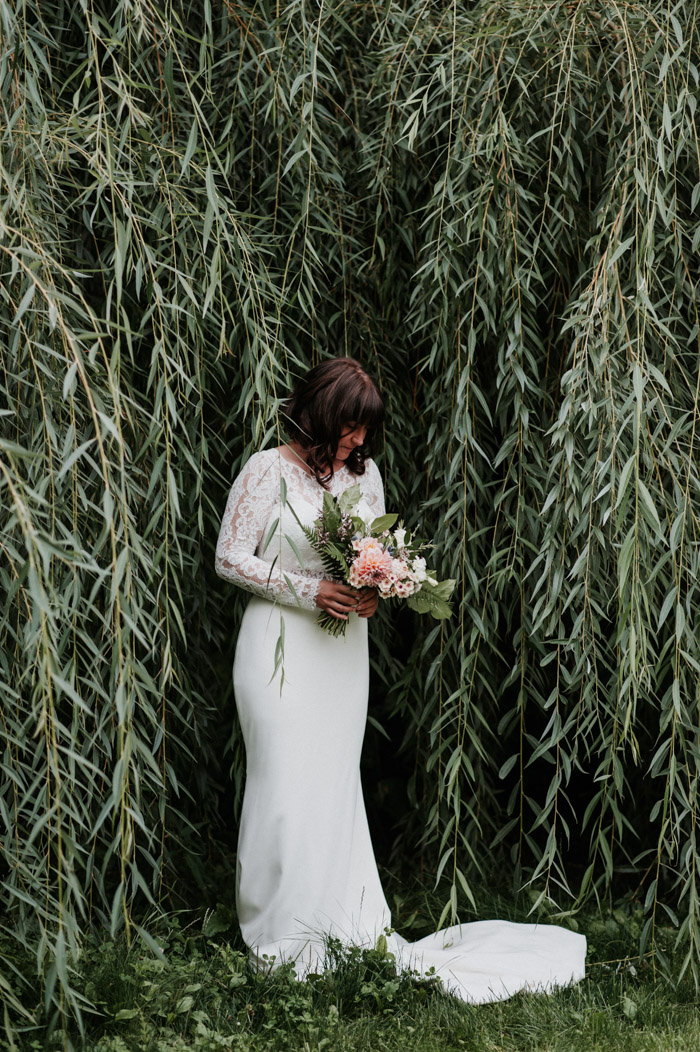 I looked back at photos of myself and wrote down words describing how they made me feel. It was very important to me, on our wedding day, that I felt confident in myself for who I am and not just because of the fancy dress I was wearing. I also had to be able to dance! Tom and I love dancing, so my dress had to be comfortable enough to swing my hips in and cool enough that I wouldn't melt into a puddle after dancing for 30 mins. After dinner, I swapped out my heel for a pair of converse and a gorgeous crown of green leaves made by my talented friend Stephanie.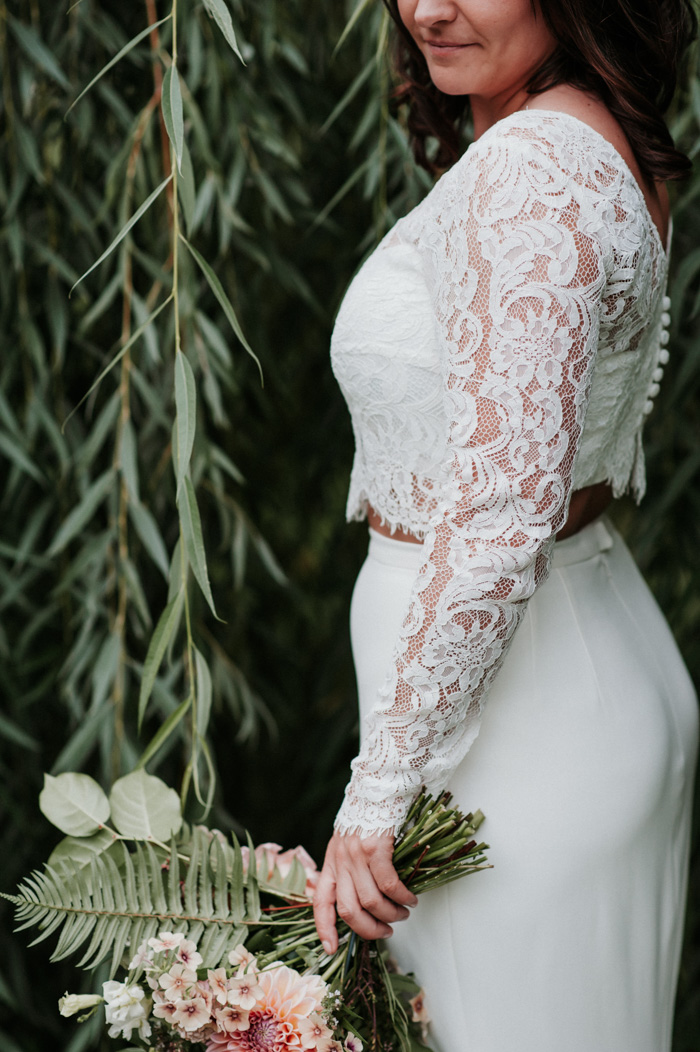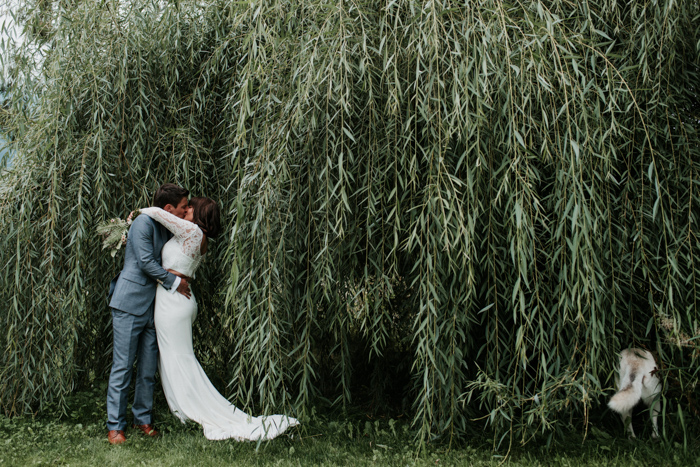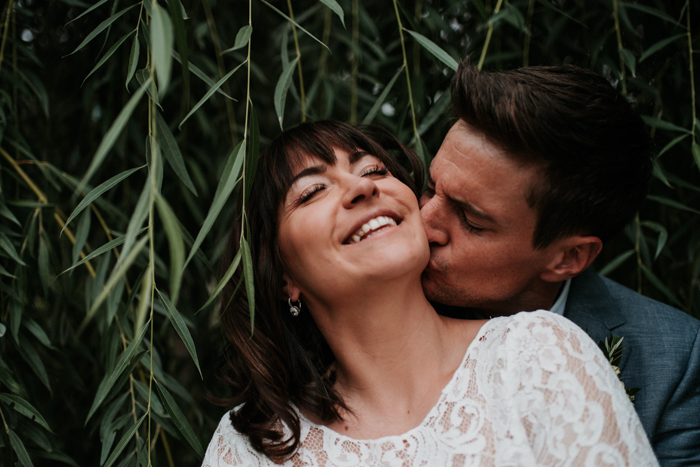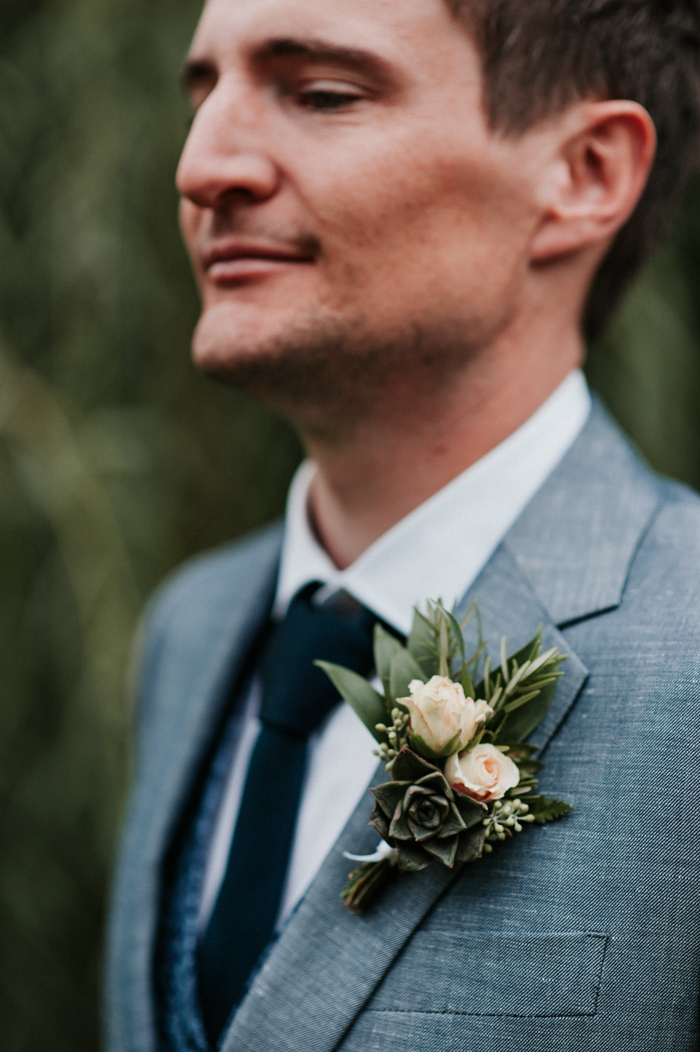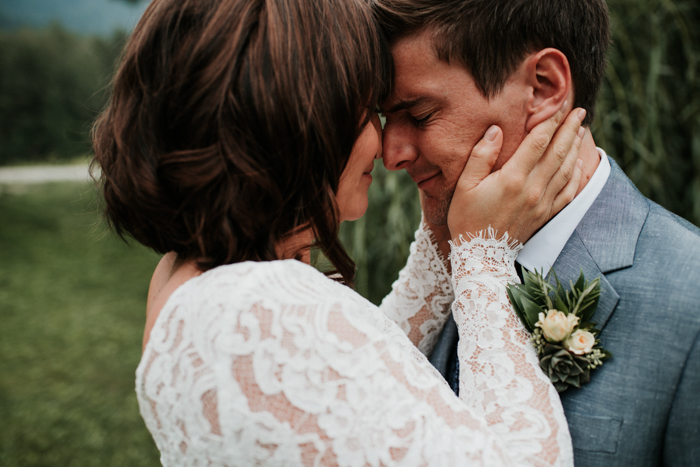 Thankfully we had 5 sets of friends get married the summer before us, so we surveyed all of them for advice. And three things came out on top: food, booze, and music. We prioritized those things and tried not to sweat too much over everything else. Another diamond piece of advice came from our wedding planner Ola about being strict with your invite list if you have a set budget to stick to. She said "would you pick up the phone and invite them over for dinner? If the answer is no, then leave them off the list".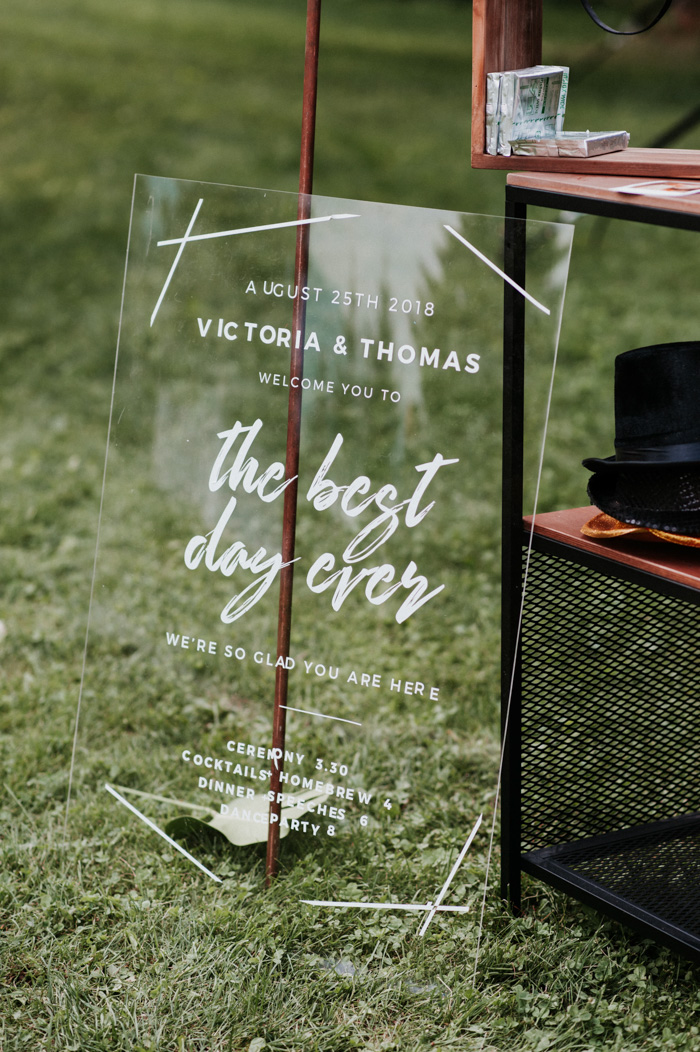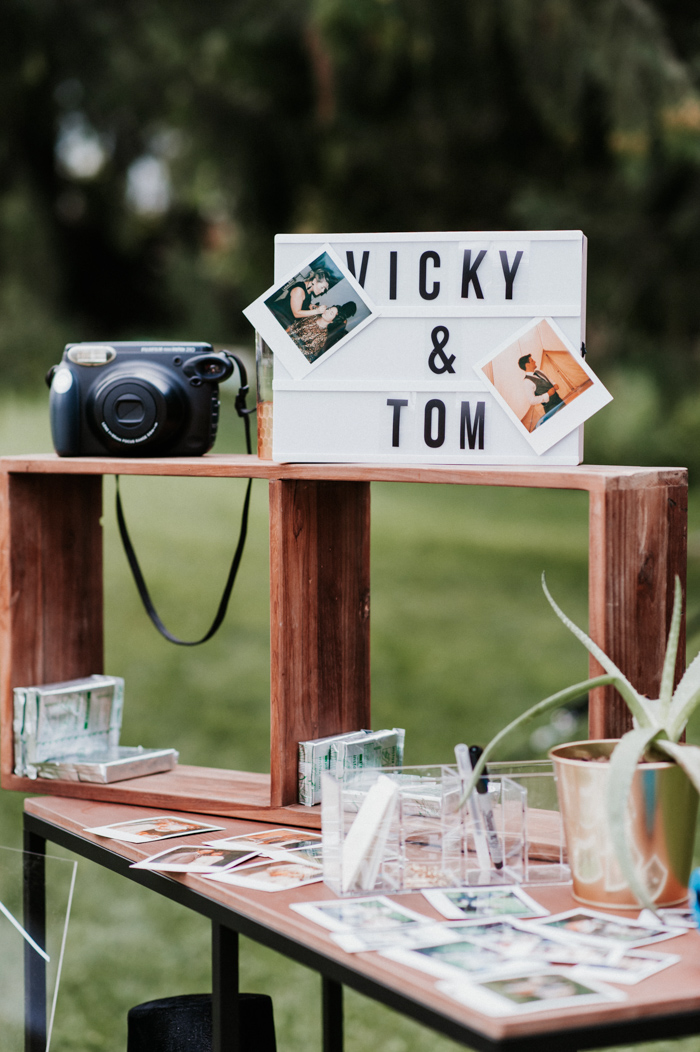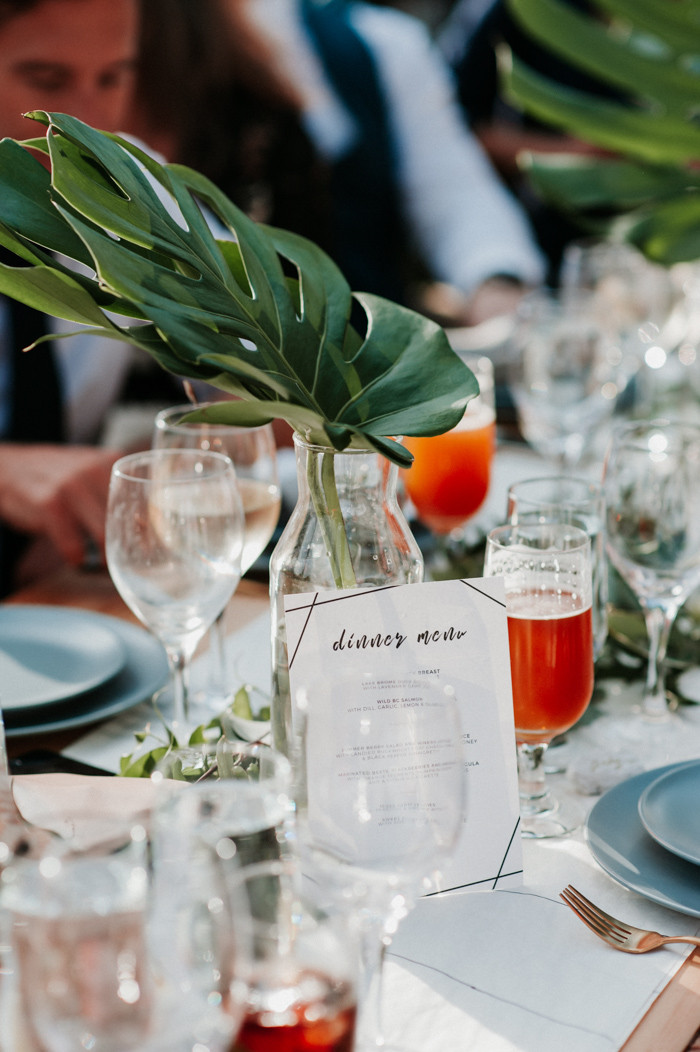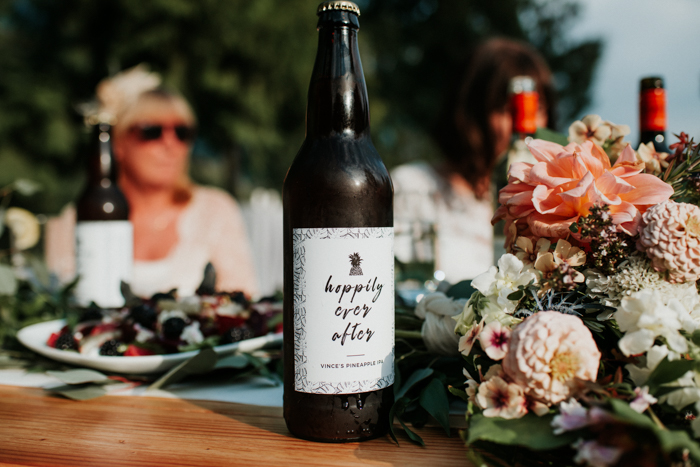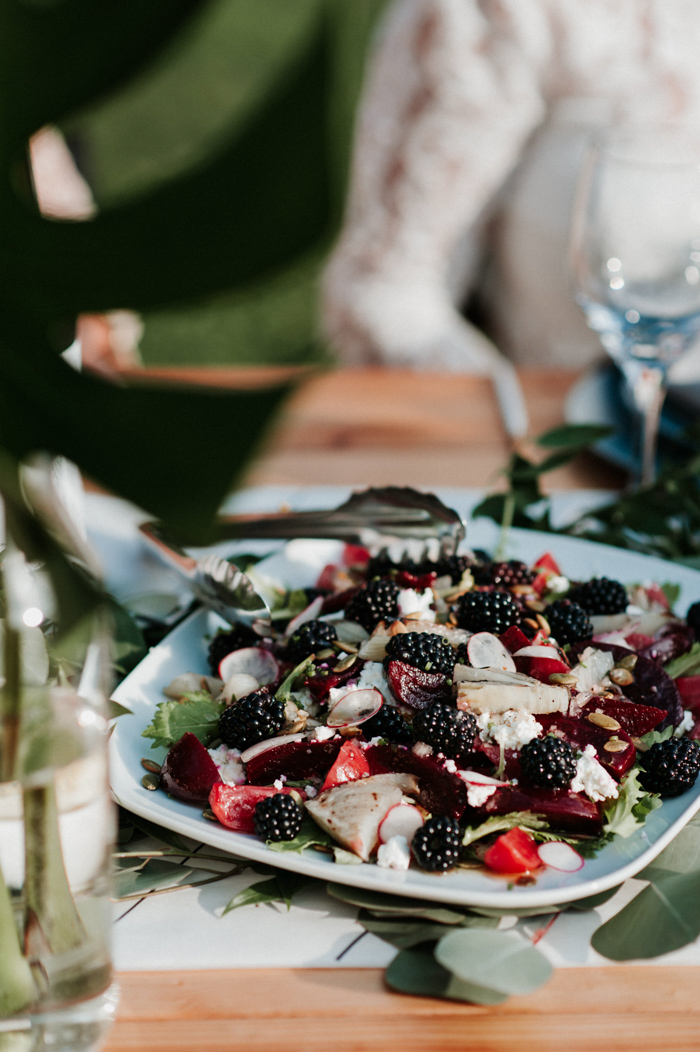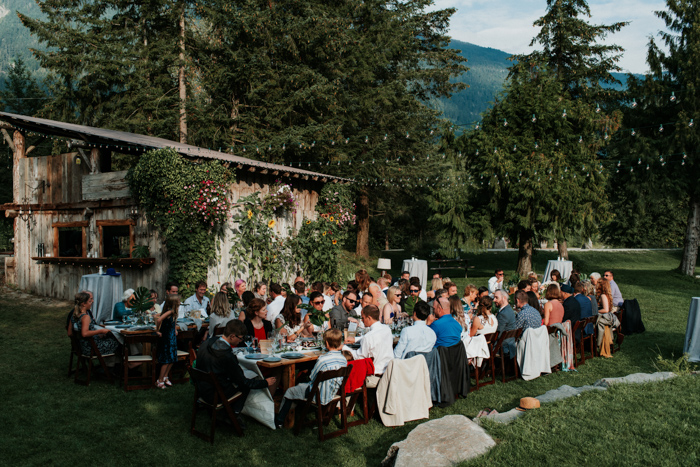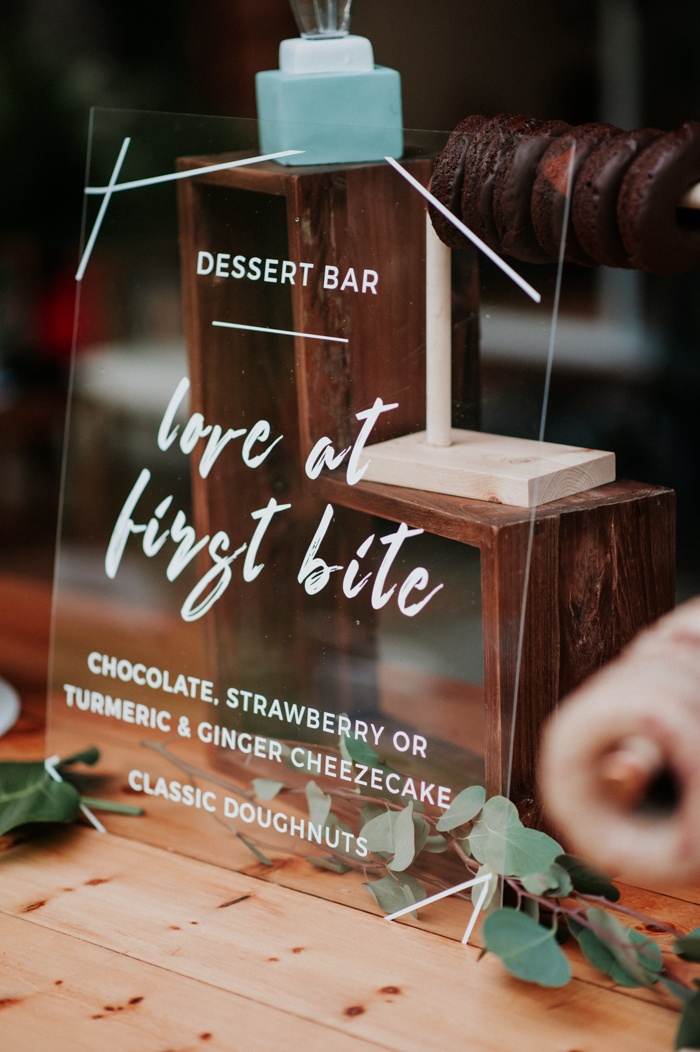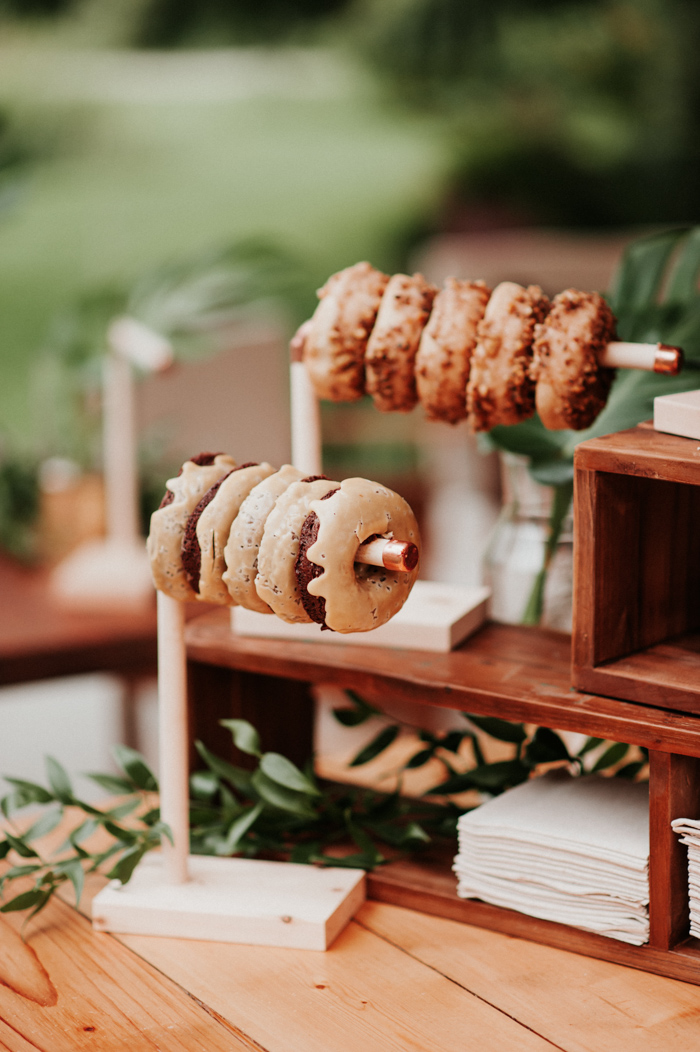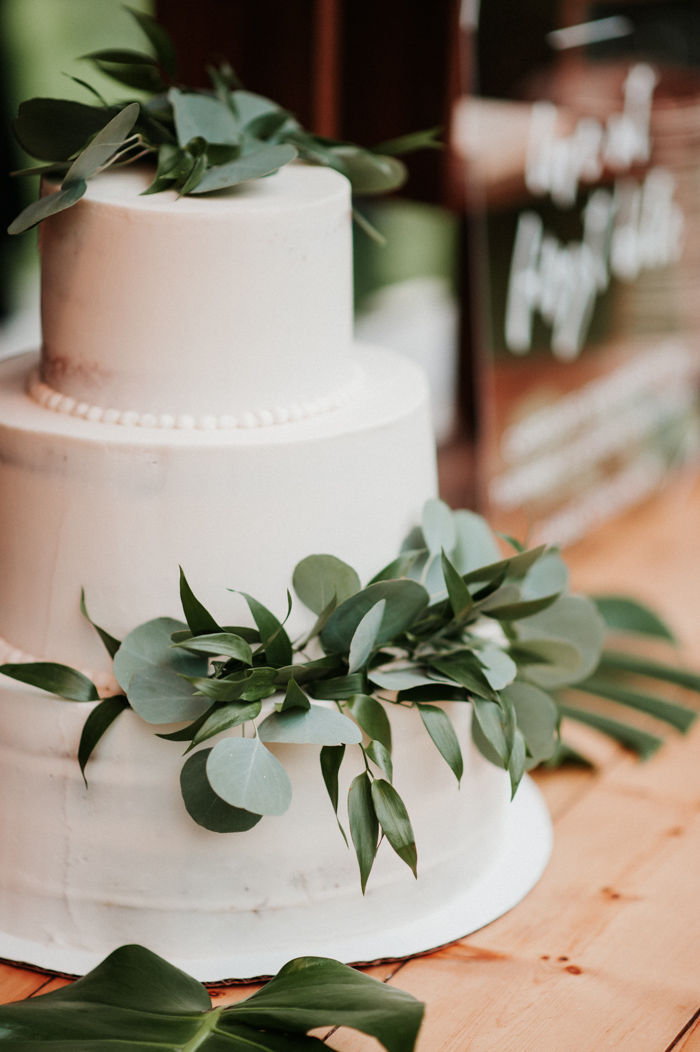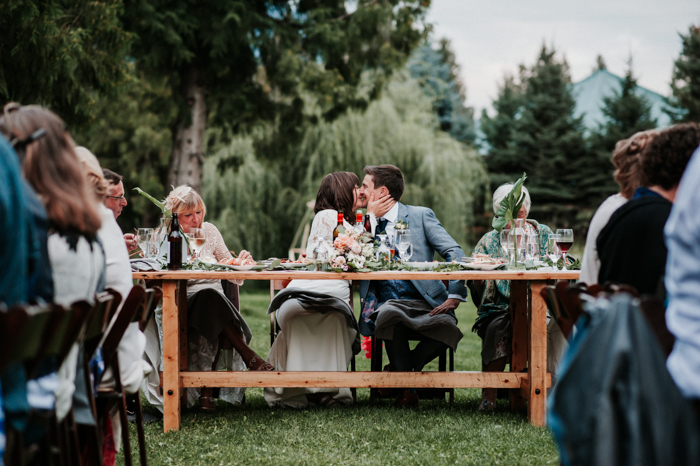 Our biggest congratulations to Victoria and Thomas, and a special thanks to Darby Magill for sharing this beautiful wedding at Barking Frog Lodge! Are mid-century modern wedding vibes your thing? Your mid-century Wes Anderson summer camp dreams come true in this Robinswood House wedding!