Travel Update- Monday, September 29th- Today my guy and I are heading back to Lusaka from our weekend at the South Luanga National Park for a last visit with family before heading home.
Today's guest blog post comes to us from the amazing invitation designers Whitney and Jonathan Speir of Brown Sugar Design. This husband and wife team creates invitation designs that are simply stunning for weddings and events of all kinds. Now they are looking back at their own 2003 wedding, with their special insight as wedding professionals, to generously share with us what it meant to them…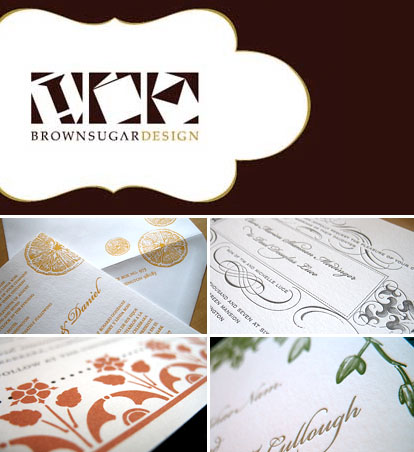 As we started planning our wedding, we knew that our biggest priority was to throw an event that would bring our closest friends and family together and would be a great evening for all involved. Jonathan is originally from Chicago, was living in Seattle at the time, and has family all over the world. Whitney is originally from Sacramento, and also has family from all over, so we really wanted to bring everyone together for an incredible evening that was all about getting to know one another (and having a super-fun time!)

Our budget was not huge, so we focused on finding a venue that was so incredibly beautiful on its own that it didn't need added fuss. Once we found the venue, everything else fell into place. We chose to be married at The Firehouse, a beautiful restaurant located in Old Sacramento (it was originally an actual firehouse!) It was the perfect location; stunning on its own with a classic historical feel that we both were drawn to. The decor was amazing. It had a brick courtyard overgrown with vines, wrought iron gates and balconies, large gilded mirrors, street lampposts, and a stained glass dome ceiling.

We really wanted our reception to feel more like a cocktail party with an organic flow of events rather than a structured time-line, so we did away with the typical sit-down dinner and had a late evening wedding starting at 7pm. Hors doeuvres and desserts were served after the ceremony and the venues huge oak bar (old gentleman's club style) acted as the main watering hole for all to gather around and talk. Since it was a late wedding, the bar was open before the ceremony so guests could have a drink and mingle before the actual ceremony and maybe even have a nip of something while sitting in chilly air of the courtyard during the ceremony.

Music was also an important part of our wedding. We wanted a wide-range of music that would set the tone for the night. We tried to include some unexpected selections; "Ain't that a kick in the Head" by Dean Martin was our recessional music, and it really kicked off the party. Along with your typical background music for a cocktail setting, we also included some Orchestra Baobab (a Senegalese Afro-Cuban band), some of Jonathan's favorite artist- Tom Waits, and some Whitney's favorite as well- U2. All this led up to some great dance music that kept the party going well into the night.



It was very important to us to keep the planning and the wedding details simple. We really wanted the evening to be about our new life together and our friends and family. In the beginning, Whitney found immediate design inspiration from her choice of heirloom jewelry. Her late grandmother had two beautiful matching antique gold bracelets, set with garnets.. The ornate, antique details fit perfectly with our historic location, the colors were just right for fall and their spare, simple style when paired together made a perfect necklace for her wedding attire. We planned a lot using those deep garnets and antique golds, along with black and white.

As we look back now, five years later, our favorite memories of the day are not what went wrong (it rained!) but rather, what a wonderful evening we were able to spend with our closest friends. A couple of our favorite photos from the night are of the crowd, immediately after the ceremony, hugging, crying, meeting and greeting.

Being in the wedding industry, we come in contact with innovative ideas and beautifully chic details that are being incorporated into current weddings every day. It's so much fun to see new trends emerge, but given the opportunity, both of us agree we wouldn't change a thing about our own wedding. It was far too special.




All wedding image by Bartlett Photography except for the two sepia images which were taken by a family friend.
Thanks so much Whitney and Jonathan! Be sure to visit the Brown Sugar Design website and blog to see all their gorgeous wedding invitation designs!