Notice anything different dear readers? That's right! Junebug's got a fresh new look, and some amazing new features we're incredibly excited to introduce to you. Our site (not to mention the wedding world and the internet) have grown and changed in huge ways since we launched back in 2006, so it was high time for a spring cleaning, a reorganization, and a whole new way to look at the content we have here, and how you, our readers, can interact with it best. With that in mind we've been working ridiculously long hours behind the scenes to keep the signature style we're known for, but come up with something new we think you'll love…

First up is our brand new World's Best Wedding Venues Hotlist! Based on our highly-vetted Hotlists of photographers, planners and designers, we're carefully searching the globe to find the most beautiful, unique, experienced and reliable wedding venues to recommend to you. We have some truly spectacular wedding venues on our Hotlist already, including One&Only Ocean Club in the Bahamas, Great Hall at Union Station in Seattle, Gramercy Park Hotel in New York, Chateau Challain in France, Kenwood Inn and Spa in Napa, and the St. Regis Punta Mita in Mexico to name a few (photos from these properties are seen below) and we'll be adding many more in the coming months, so be sure the check back often!
Our nav bar at the top of the page has been simplified and reorganized, and our homepage is all new, with easy links to the newest blog posts on What Junebug Loves and Photobug, images in our Inspiration Photo Gallery and special sections and features we don't want you to miss.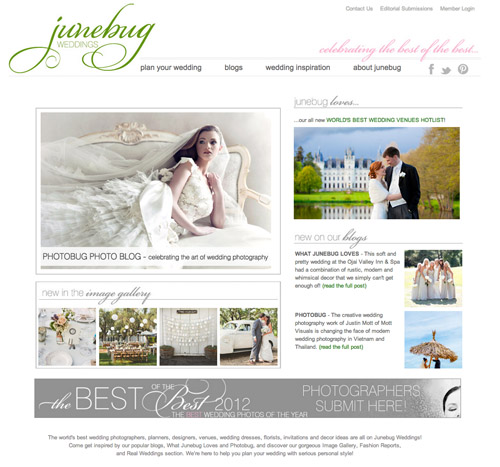 Our new Hotlist pages let you start by choosing where you're planning your wedding, or by focusing in on finding your wedding planner, designer, venue or photographer. We're adding fantastic wedding professionals from around the country every day, so soon, no matter what kind of wedding professional you need, Junebug will have just what you're looking for. You can get to all of these pages from the drop-down menu in our nav bar under "plan your wedding". (Wedding pros interested in join our community, click here to learn more and apply!)
And we even have new Wedding Planning 101 articles for you, so you can start your planning process off right by making your decisions with confidence and ease.

(wedding photo by Sarah Ainsworth)
We're so grateful for your support and the work we get to do here at Junebug everyday, and so honored to get to be a part of your wedding. We hope that you'll love our new look and that these new features will help you plan your wedding with minimum stress – maximum fun and a whole lot of personal style. Stay tuned for more to come, explore, and enjoy!