Day three of our wedding giveaway week has arrived, and today it's all about Gratitude and Gifts! We're talking about gift registries for you, gifts of thanks for your friends and family, and gratitude in general for finding the kind of love you want to share for the rest of your life! Woo-hoo! Our big winner for today will receive:
– A pair of beautiful champagne flutes from Monique Lhuillier's home gifts collection
– A trio of colorful glassybaby hand blown glass votives
– A set of 50 personalized thank you notes from Papeterie
– And a $50 gift certificate from Gent Supply Company
To enter to win leave us a comment explaining what you find you're most grateful for as you plan your wedding, and what kinds of gifts you're thinking about giving to all those who are helping you along the way. We'll choose a winner at the end of the day on Sunday, and announce the results on Monday, December 21st.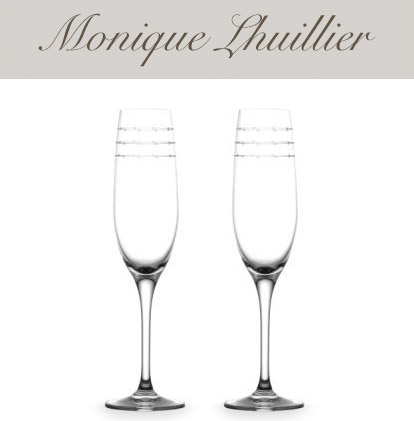 Most of us know Monique Lhuillier for her stunning wedding dress designs, but she also has a line of china, glassware and home gifts that are to-die-for. With details reminiscent of delicate wedding fabric embellishments, these lovely pieces would make every day feel like a special occasion. The team at Monique Lhuillier is generously offering a pair of their champagne flutes so you can toast to each other on your wedding day, and again and again on any day! You can shop the home gifts collection online at MoniqueLhuililer.com, and you can even set up an online wedding registry there.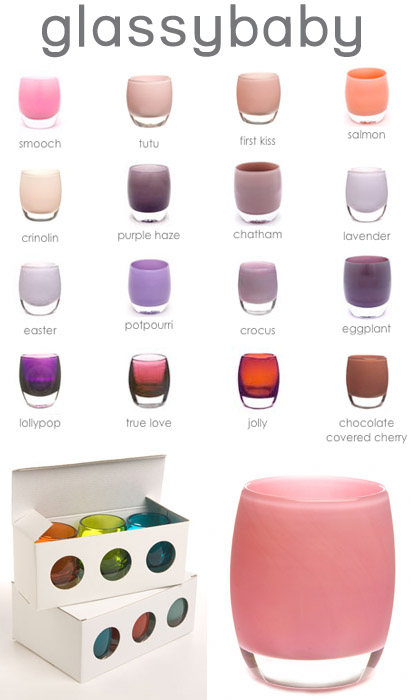 Glassybaby glass votives are major favorites of ours at Junebug. The color range to choose from is irresistible, and the warm glow they create once they're lit it a joy to see. Take it from me, when shopping for glassybabys, it is so hard to stop at just one! These amazing home decor accessories make the perfect gifts for Moms, bridesmaids and helpful friends, and now glassybaby even offers a rental program for weddings in the Seattle area and an online gift registry for couples anywhere in the country. Check out their website to set up your wedding registry and choose from every color under the sun!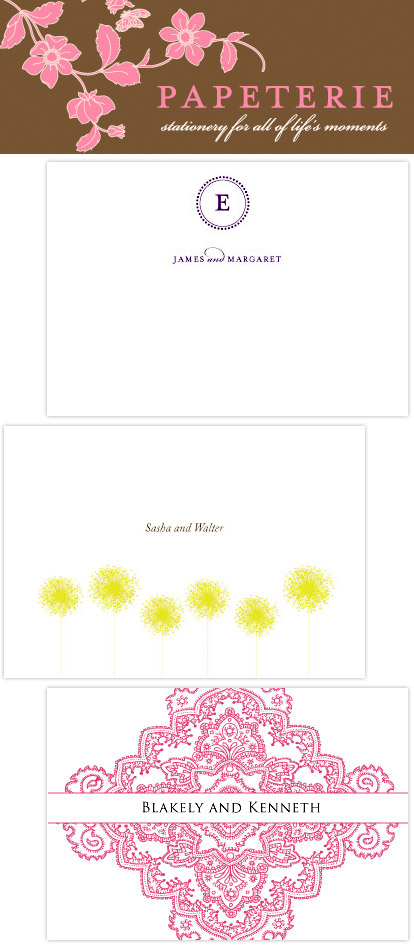 Hand written thank you notes are a must for all those wedding presents you're about to receive, and there is nothing quite as sweet as having personalized notes with your names on them together, side by side. Designer Kimberly Chiu and her team at Papeterie offer a wide variety of pretty thank you notes that come in flat or folded versions and can be customized with your newlywed names. See the full collection of designs on their website, as well as wedding invitations, favor tags, menus, save the dates, and more!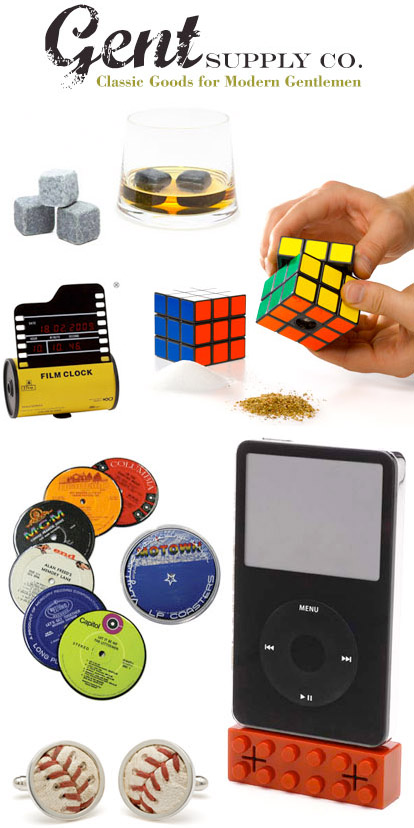 Gent Supply Company is all about fun gifts and gadgets that any guy would love. Wacky cuff links for your groomsmen, tech gadgets for your Dad, and funky home decor items and kitchen tools to brighten up your soon-to-be-husband's home. There's a little something here for everyone, which makes shopping their site a whole lot of fun! Take a look through and see what you find for all the important men in your life and in your wedding!
Thank you to the businesses who are so generously sharing their products with all of us, and good luck to all who enter! Don't forget to enter the giveaways from Monday and Tuesday, and to check in for more goodies on Thursday and Friday too!