Junebug's annual "Best Of" Fashion Report is coming up soon! On January 1st you'll be able to see a showcase of 2007's best real wedding fashion moments, seen through the eyes of our amazing Junebug photographers. I can't wait, it's one of my very favorite things we do here each year! To whet our whistles a little bit before then, I've asked our photographers to share a few of their own personal favorites from the past year and the reasons why the images are so special to them.
Today we get to see the stunning images from John Chin of Yours by John Photography and hear the inside scoop on his experience as the photographer…
1. "This was during the time when everyone was getting ready and setting up for the ceremony, before all the guests arrived. The bride was in search of the groom and I was following behind her. Just as she was on her way up the stairs, I snapped this shot. I appreciate the architecture, the lighting as well as the mood at that moment."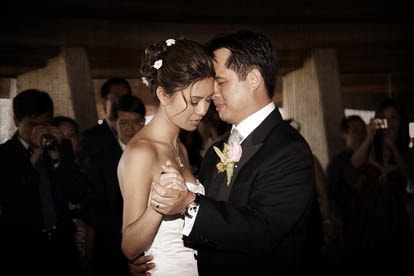 2. "Enough said… this couple was living in a world of their own during their first dance as husband and wife. Nothing is better than seeing them surrounded by family and loved ones to celebrate this important day of their lives."
3. "In this emotional moment the bestman was making his speech and describing the difficult time the groom had gone through when he first came to the US, and his hope to bring his parents here to provide them with a better living environment. His wish had finally come true and now he was celebrating the biggest day of his life with his family all together… Everyone was touched, especially the groom, and his bride was doing her best to comfort him."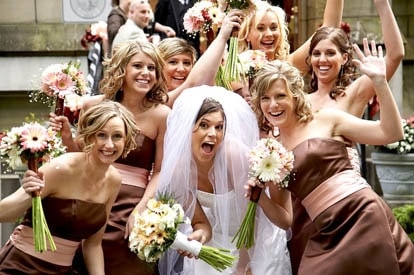 4. "This is another 'enough said' image… The bride was having the time of her life and celebrating it with her best friends. That day, I believe everyone was truly and genuinely happy from their hearts."
Thanks John!!!