As Junebug's birthday month approached, we thought long and hard about all the ways the wedding industry and planning trends had changed over the past five years and all the ways they had stayed the same. The more I looked back over the posts on What Junebug Loves the more I saw an evolution playing out there as well, so what better way to honor the last five years than to revisit some of our favorite parts of it? Starting today and for the rest of the month we'll be republishing some of our favorite blog posts multiple times a day, and you're sure to see the differences there as well. The older posts are tiny in comparison to today's longer and photo-packed versions, but what I'm proud of and what I love about weddings, is that no matter what the topic, look or idea we're talking about, if it resonates with you and your personal style, it's all as relevant today as it was the minute it was first conceived of.
This morning we begin a week of favorite wedding planning ideas with this unique approach of a button themed wedding! Originally published on Novemeber 30, 2007, this creative idea is still just as cute as ever…
Cute as a button? There's a reason that saying rings true! There is something undeniably sweet and endearing about buttons, why not add a little of their charm to your wedding theme?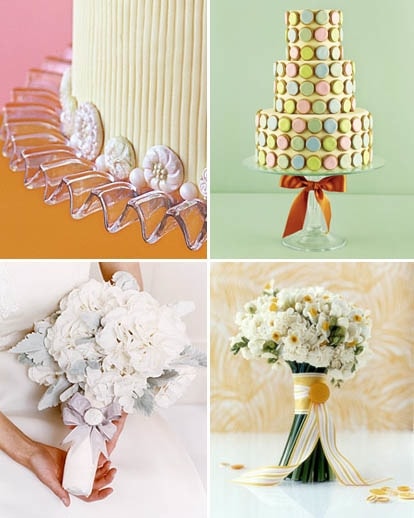 You could incorporate buttons into your wedding cake design, or add them as embellishments to your bouquet…
(Cakes from Brides.com, bouquets from MarthaStewart.com)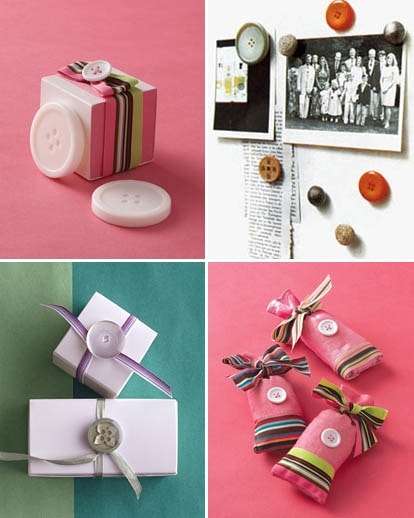 You could decorate your favor boxes with buttons or give away button soaps, button magnets, or little button sachets to your guests as wedding favors…
(Soaps and sachets from WhiteAisle.com, DIY button magnets and box decoration idea from MarthaStewart.com)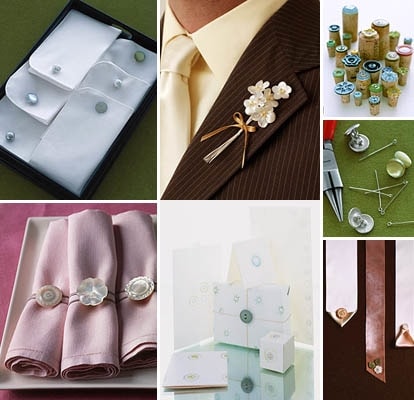 You could do some DIY projects with vintage buttons like making cuff links or boutonnières for your groomsmen, napkin rings for your table setting, stamps to decorate your paper products, or embellishments to a sash or hair ribbon for your flower girl. Check out sites like Etsy.com to find supplies of pretty vintage buttons.
(All DIY projects from MarthStewart.com)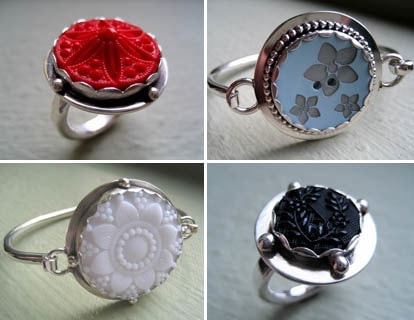 And you could give these pretty silver and vintage button rings and bracelets to your bridesmaids as unique and thoughtful thank you gifts.
(Available at Lotus Jewely Studio on Etsy.com)
What are your button ideas?