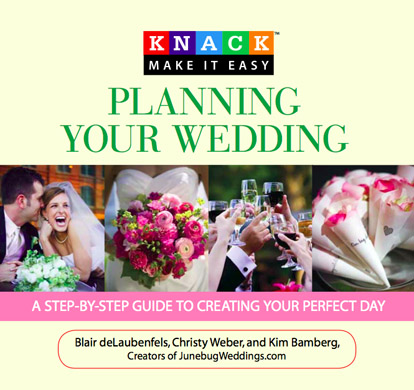 It seems like a lifetime ago when Blair, Kim and I got a call from the Globe Pequot Press, asking us to write a wedding planning book for their new how-to series called the Knack. JunebugWeddings.com had just launched, we were busy photographing weddings and fashion, and it would have been ridiculous to try to fit another project onto our plates. Naturally we said no (or so we thought). But it turns out that if you say no to a book deal, everyone you've ever met will tell you that you're crazy. Apparently you just don't do such a thing. (Who knew?) So eventually we said yes, and spent the next nine months of our evenings and weekends turning our wedding planning philosophy into an easy to use how-to book that we hope youre going to love!
The book, Planning Your Wedding: A Step-by-Step Guide to Creating Your Perfect Day, is scheduled to come out on December 8th and be distributed throughout the U.S., Canada and the U.K. Were thrilled to have an opportunity to reach a wide audience of couples and to share what we know about turning wedding inspiration into reality. It's a thorough, encouraging and easy to use visual guide to planning a stress-free wedding, and it has a great big focus (of course) on finding your personal style.
All this week well be bringing you excerpts from the book, beginning with todays post from Chapter 1 that shares our philosophy about how to get started planning a wedding thats totally you. Enjoy!
Chapter 1: Wedding Style- Your Wedding, Your Way
Stress-free wedding planning tips to help you have your cake and eat it, too!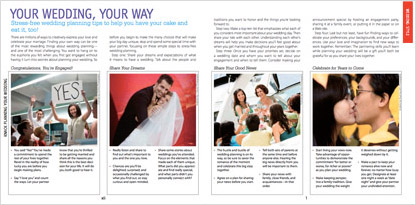 There are millions of ways to creatively express your love and celebrate your marriage. Finding your own way can be one of the most rewarding things about wedding planning and one of the most challenging. You want to hang on to the euphoria you felt when you first got engaged without having it turn into worries about planning your wedding. So before you begin to make the many choices that will make your big day unique, stop and spend some special time with your partner, focusing on these simple steps to stress-free wedding planning.
Step one: Share your dreams and expectations of what it means to have a wedding. Talk about the people and traditions you want to honor and the things youre looking forward to.
Step two: Make a top-ten list that emphasizes what each of you considers most important about your wedding day. Then share your lists with each other. Understanding each others dreams will help you make decisions youll feel good about when you get married and throughout your years together.

Step three: Once you have your priorities set, decide on a wedding date and whom you want to tell about your engagement and when to tell them. Consider making your announcement special by hosting an engagement party, sharing it at a family event, or putting it in the paper or on a Web site.

Step four: Last but not least, have fun finding ways to celebrate your preferences, your backgrounds, and your differences. Use your love and imagination to find new ways to work together. Remember: The partnering skills youll learn while planning your wedding will be a gift youll both be grateful for as you share your lives together.
Congratulations, You're Engaged!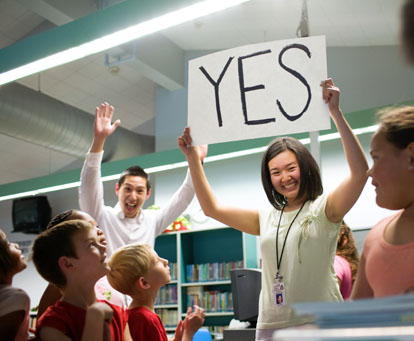 You said Yes! Youve made a commitment to spend the rest of your lives together. Revel in the reality of how lucky you are before you begin making plans.

Say I love you and count the ways. Let your partner know that youre thrilled to be getting married and share all the reasons you think this is the best decision for your life. It will do you both good to hear it.
Share Your Dreams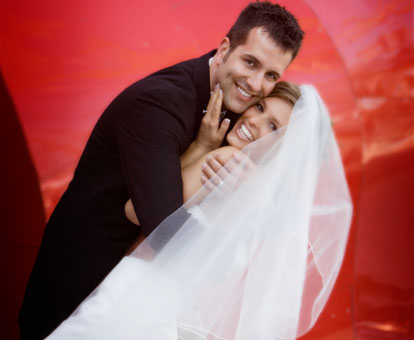 Really listen and share to find out whats important to you and the one you love.

Chances are youll be delighted, surprised, and occasionally challenged by what you find out, so stay curious and open-minded.

Share some stories about weddings youve attended. Focus on the elements that made each of them unique. What parts did you appreciate and find really special, and what parts didnt you personally connect with?

Share Your Good News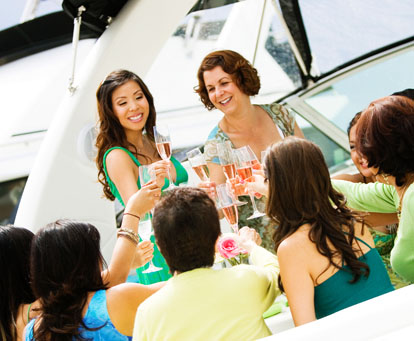 The hustle and bustle of wedding planning is on its way, so be sure to savor the romance of the moment and celebrate this big step together.
Agree on a plan for sharing your news before you start.
Tell both sets of parents at the same time and before anyone else. Hearing the big news directly from you will be important to them. Share your news with family, close friends, and acquaintancesin that order.
Celebrate for Years to Come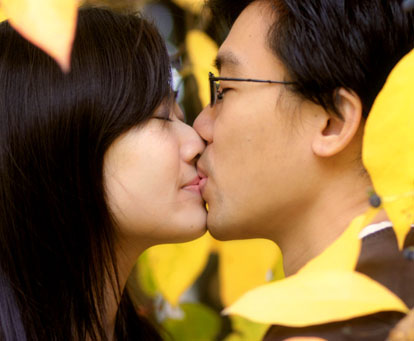 Start living your vows now. Take advantage of opportunities to demonstrate the commitment for better or worse, for richer or poorer as you plan your wedding.
Make keeping perspective a family tradition. Give your wedding the weight it deserves without getting weighed down by it.
Make a pact to keep your romance alive now and forever, no matter how busy you get. Designate at least one night a week as date night and give your partner your undivided attention.
(Excerpted from the book Planning Your Wedding: A Step-by-Step Guide to Creating Your Perfect Day. Cover images by: 1 and 2- J. Garner Photography, 3- Positive Light Photography, 4- GH Kim Photography. Real Wedding images by: 1 and 3- GH Kim Photography, 2- J. Garner Photography, 4- Yours by John Photography)