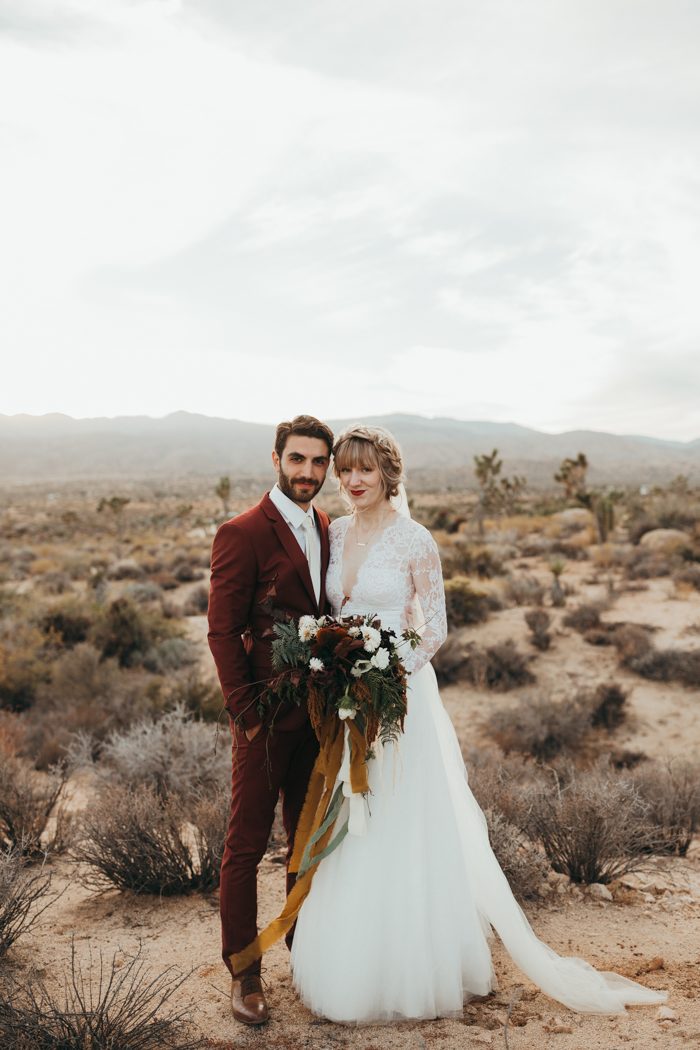 When looking for a desert venue for your wedding, look no further than this dreamy Pipes Canyon Lodge Airbnb! Tiffany and Aaron ventured out to Joshua Tree to tie the knot and it did not disappoint! With most of the elements being DIY projects done by Tiffany, Aaron, and their friends and family, they truly made their wedding centered around them as a couple. Tiffany has her own fiber art business, Kindred + Copper, and made a giant woven ceremony backdrop and a geometric sweetheart table installation! With modern elements throughout the decor, Tiffany and Aaron put a fun twist on their whimsical desert wedding. From getting ready in the morning to dancing under the stars, KNDM Co. beautifully photographed every step of the way.
The Couple:
Tiffany and Aaron
The Wedding:
Pipes Canyon Lodge, Pioneertown, California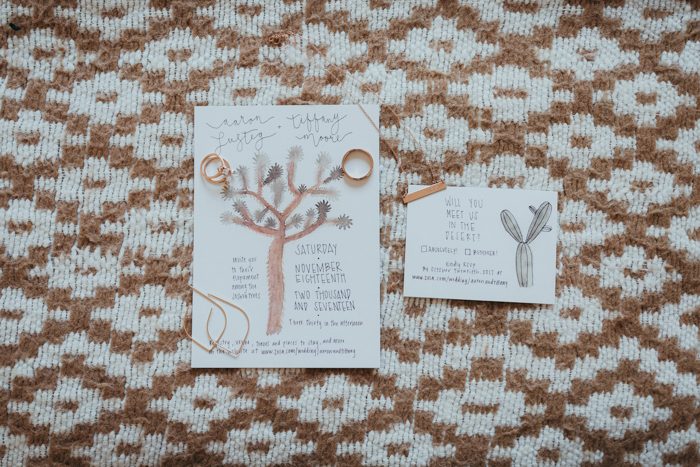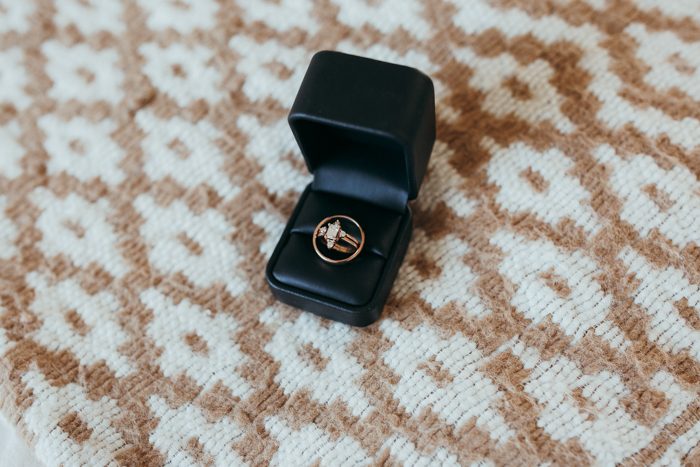 SHOP THIS POST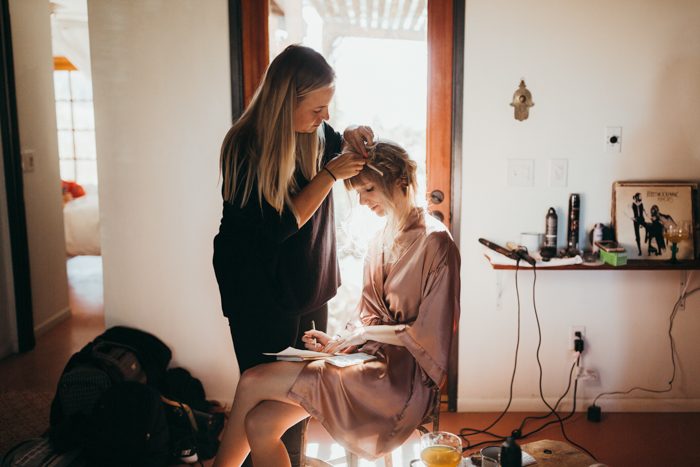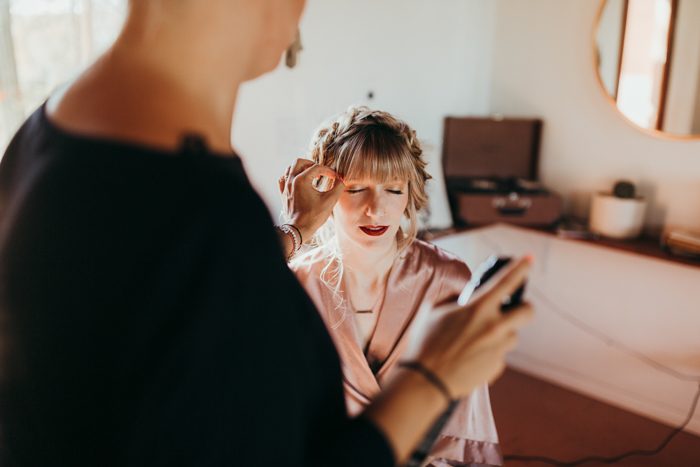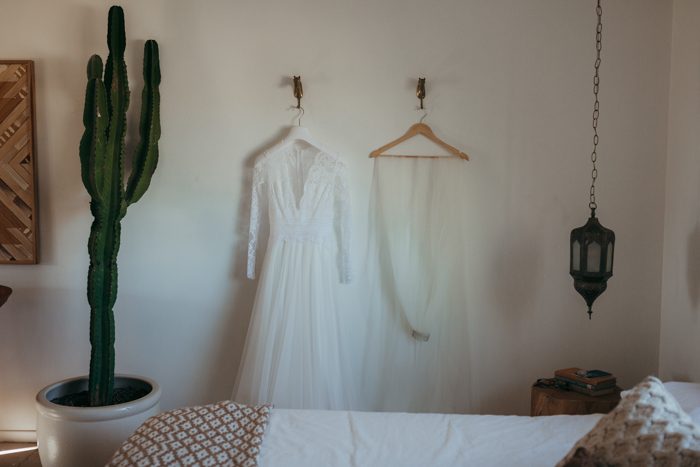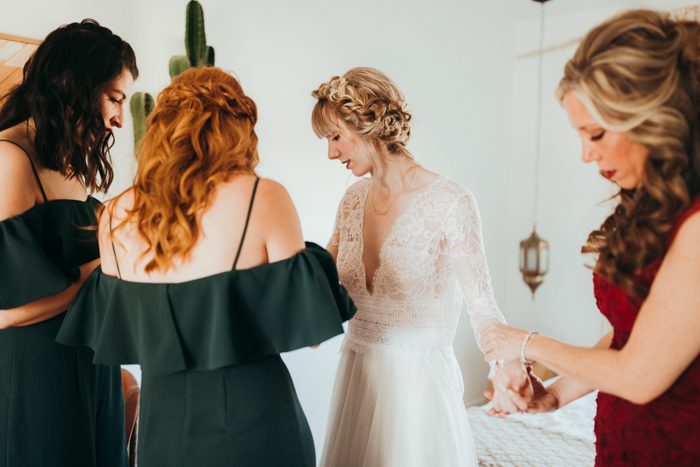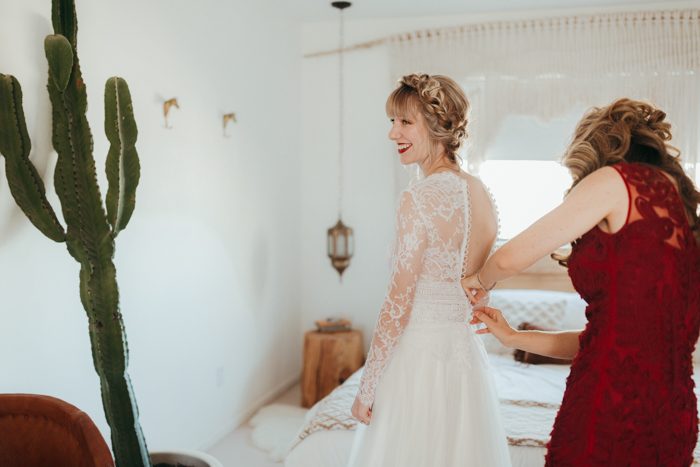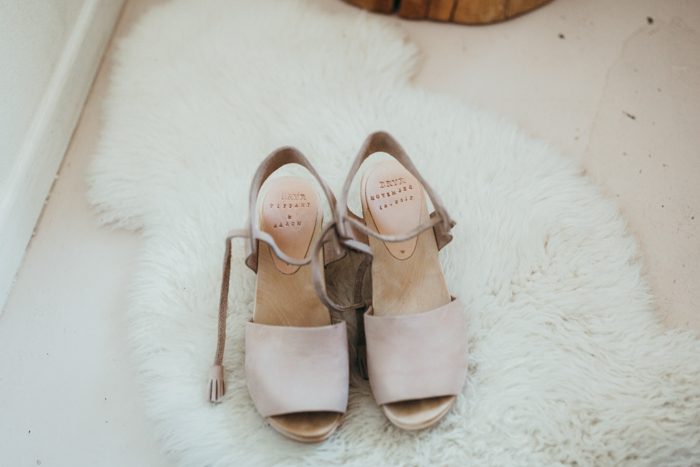 I have a deep and undying love for clogs so it only seemed fitting to wear them with my dress and my bridesmaids all wore them as well.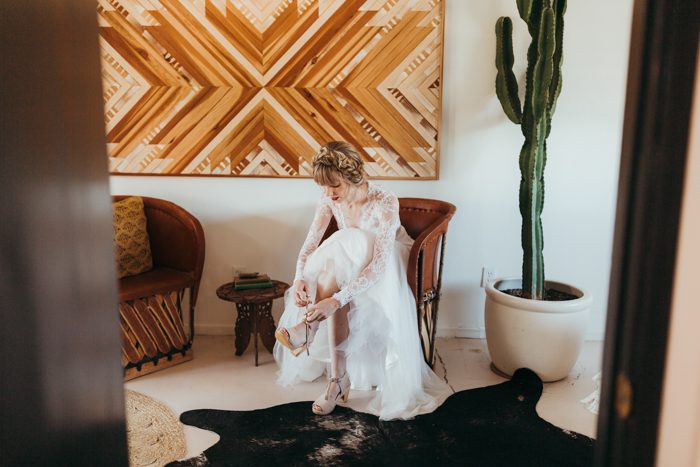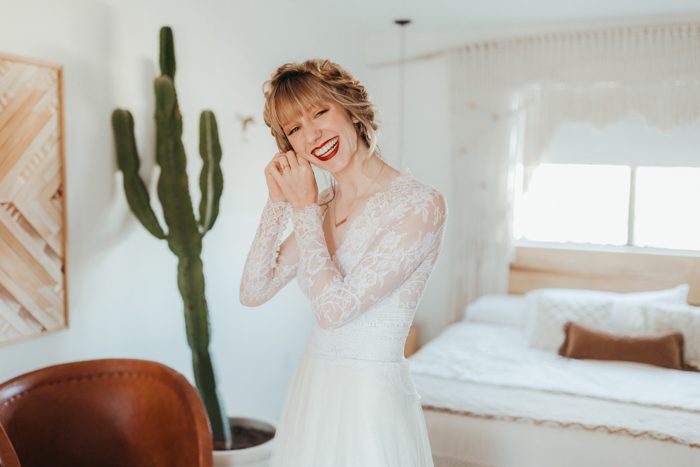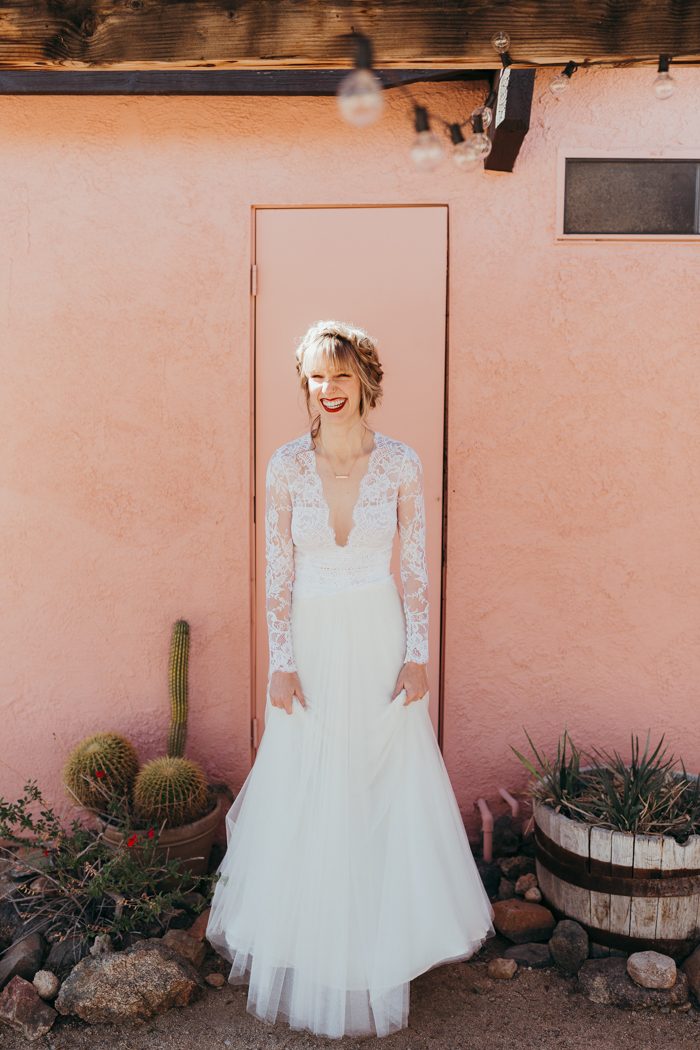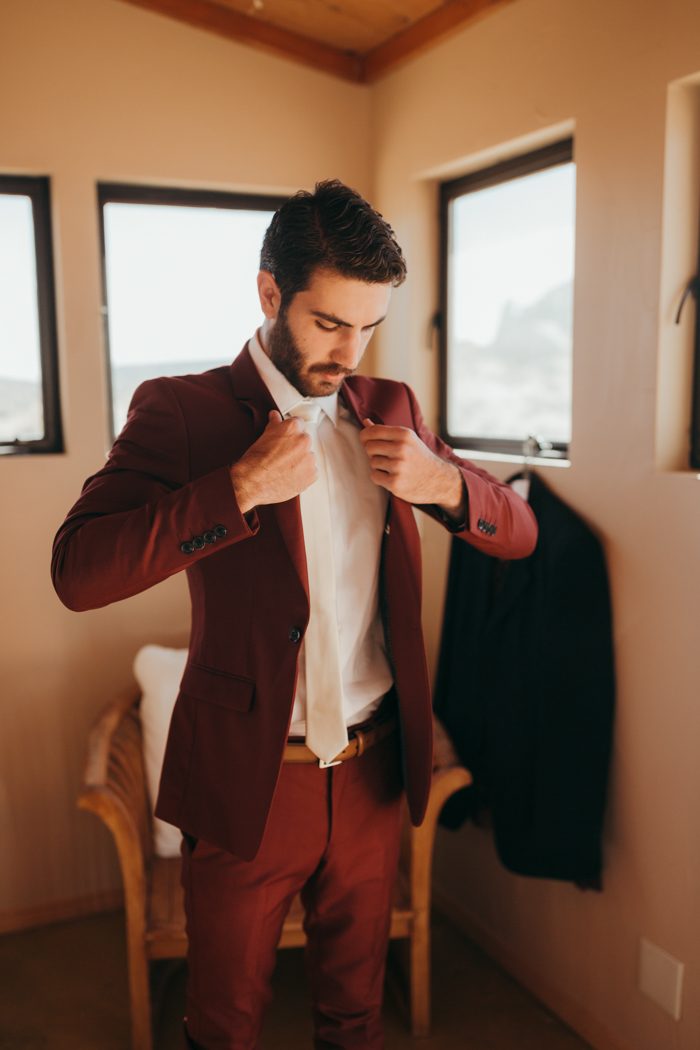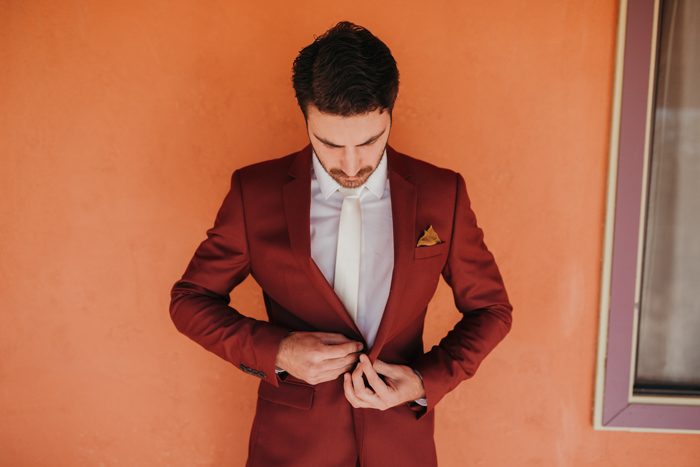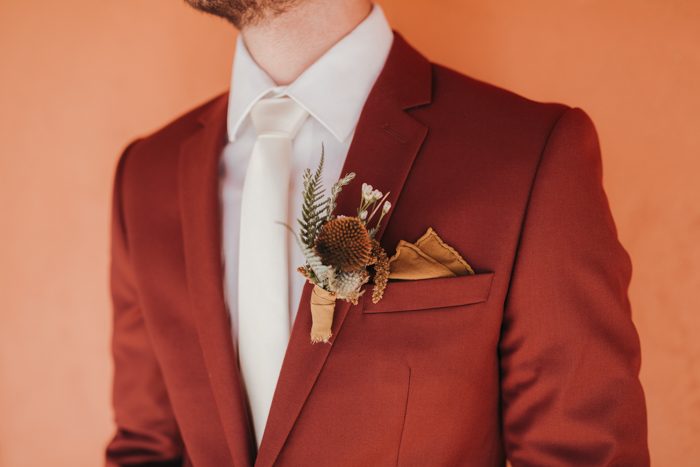 Our wedding felt wildly special and intimate because it was a team effort, put on entirely by our loved ones. We had a wonderful team of vendors supporting us, who each played a part in our story and our lives. I created our weaving installation backdrop and hand painted our invitations and favors. Our photographer, florist, and hairstylist have been very close friends for years, my life long friend and pastry chef baked our cake, and our siblings sang at our reception. As a young couple without very deep pockets, we had a very low budget wedding but you would never know this because we worked hard, thought outside of the box, and were surrounded by people who supported us! I don't think this by any means is normal or happens often but we were incredibly lucky to have been surrounded by friends and family who are so wildly talented in different ways. It really could not have been more personal, intimate, or reflective of who we were and the story we wanted to tell.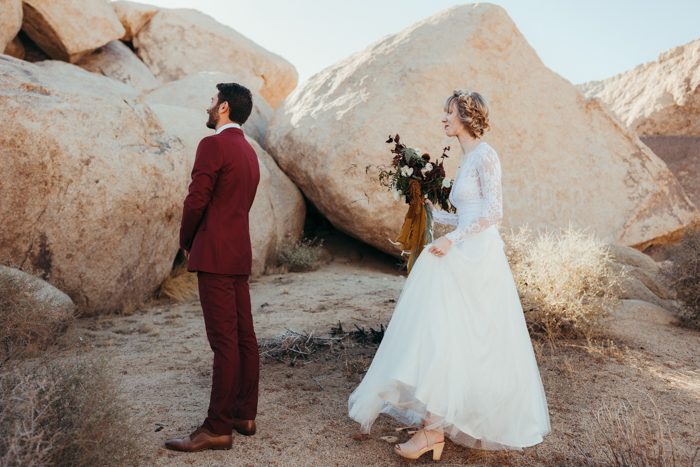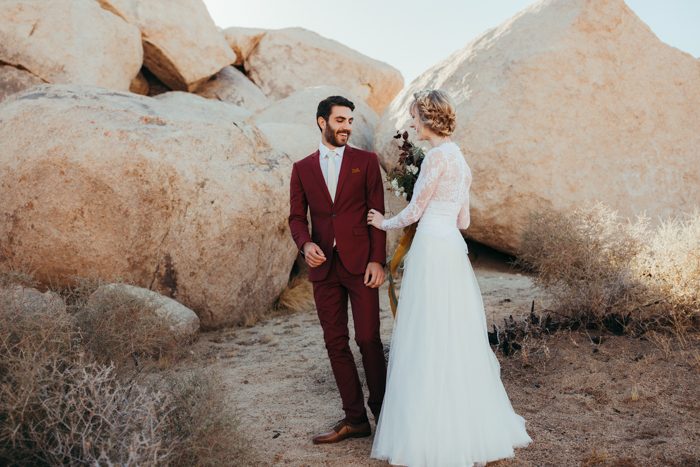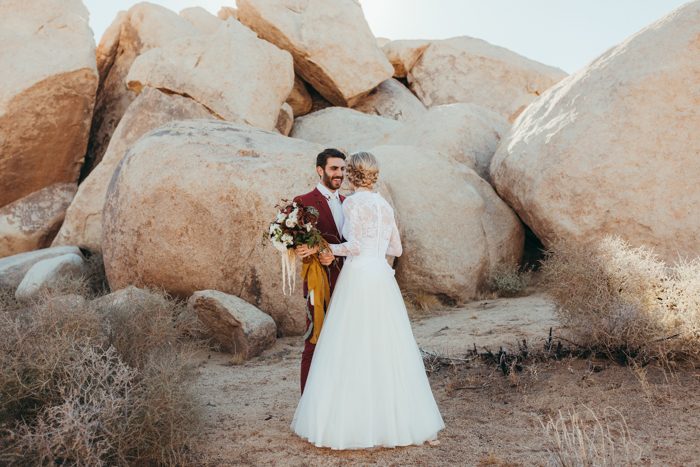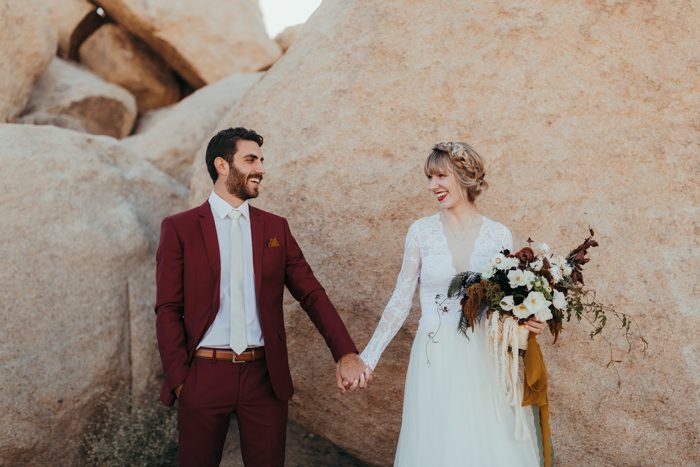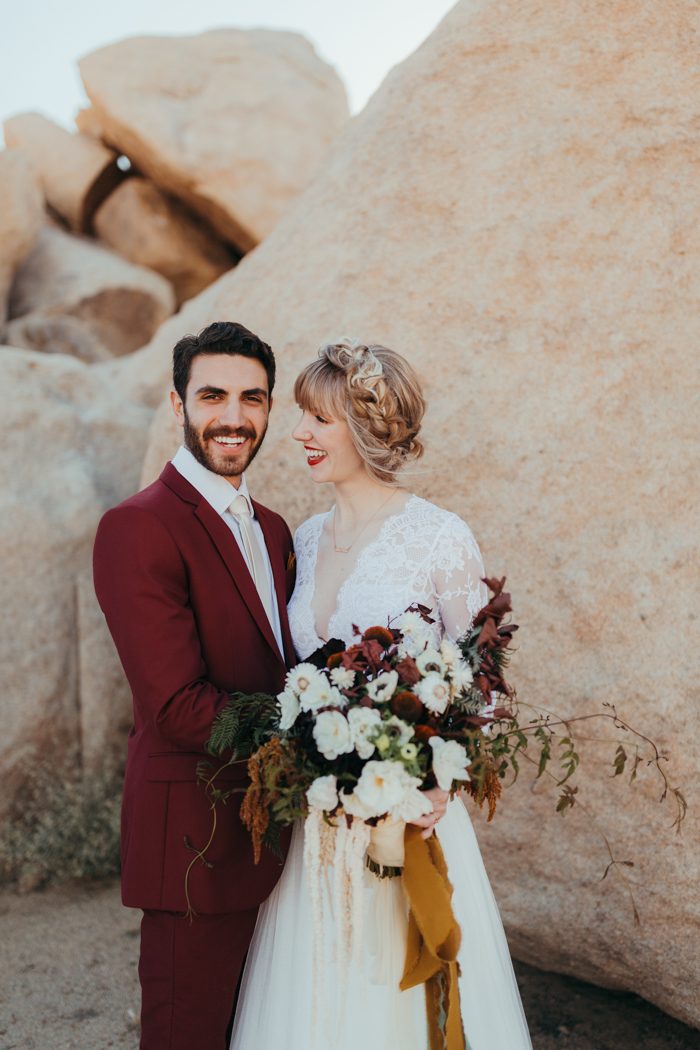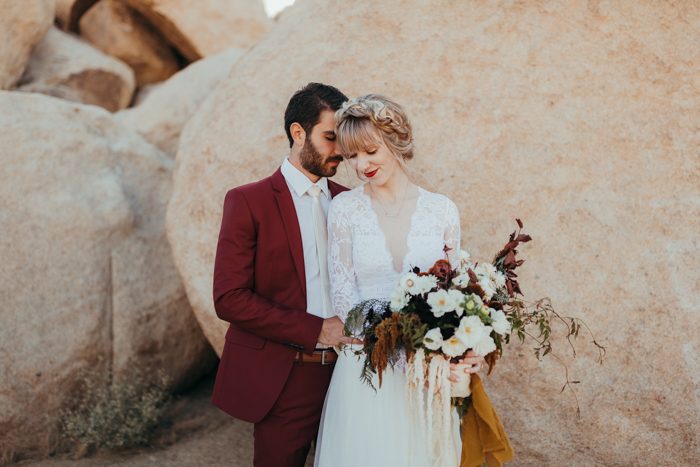 Kami, our photographer was incredibly intentional about making sure that what was important to us that day would be captured and prioritized. She was professional, organized, and personal throughout the whole process.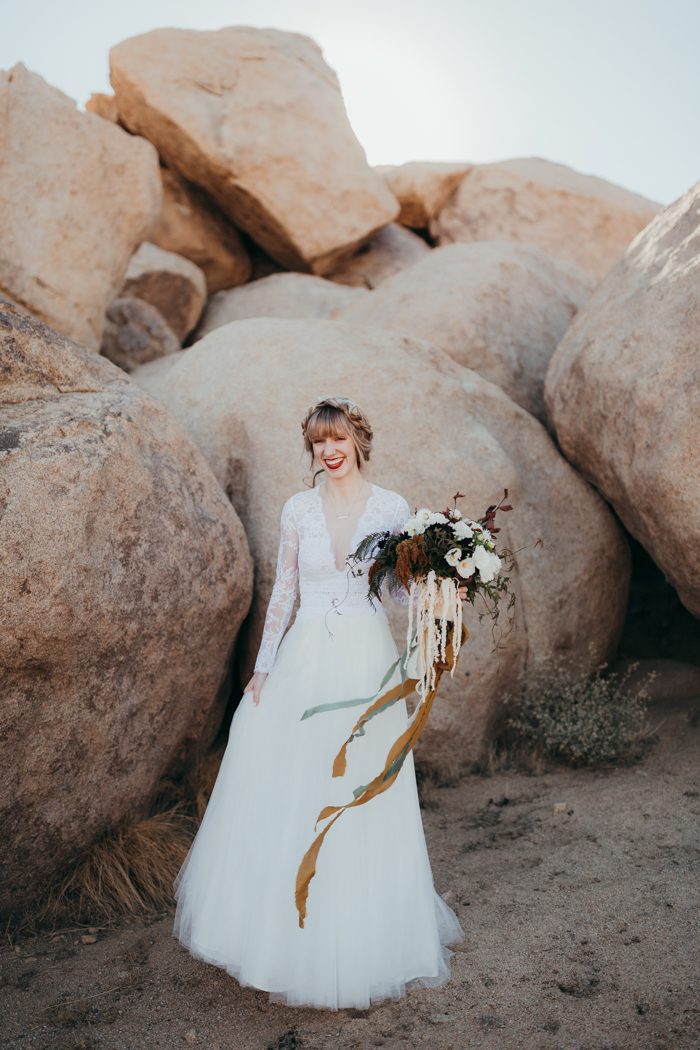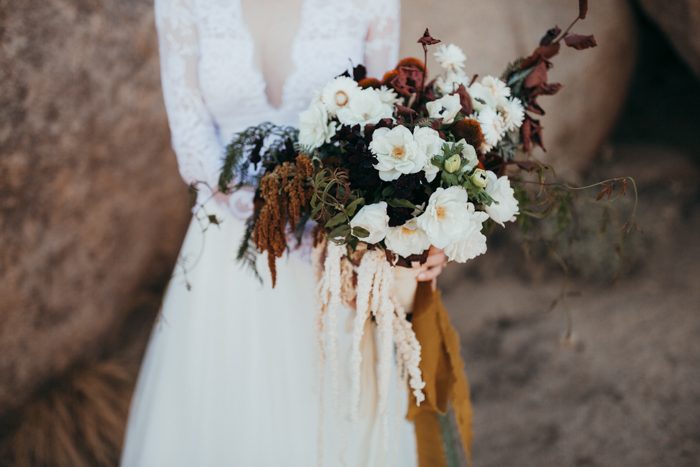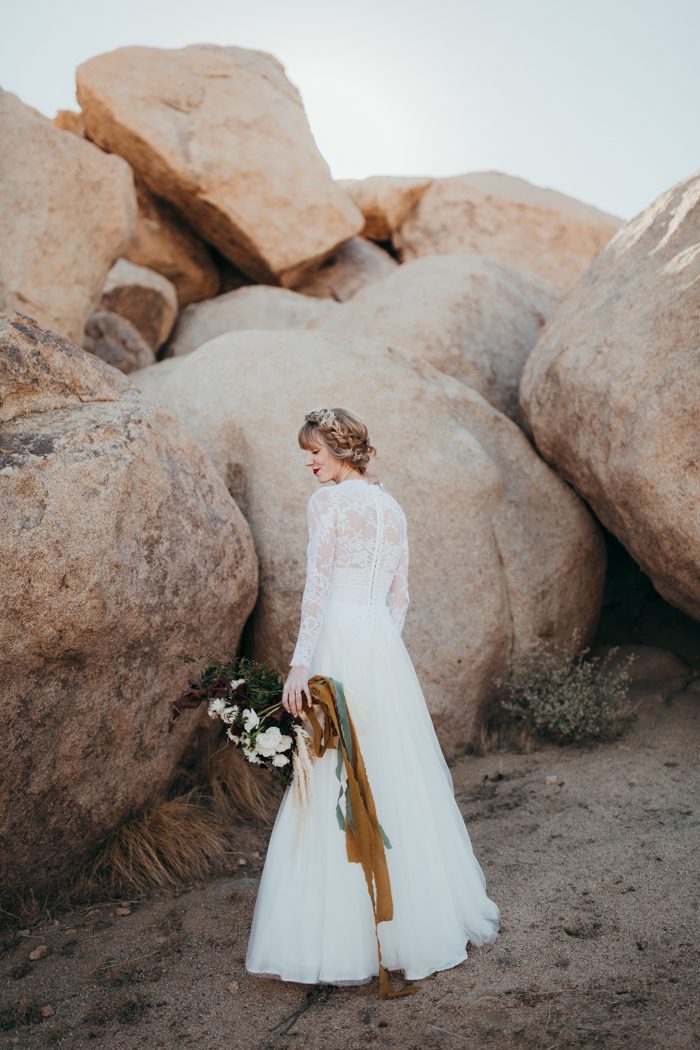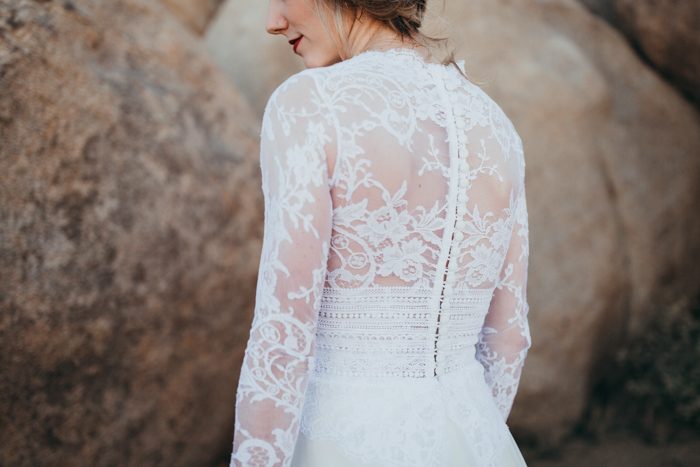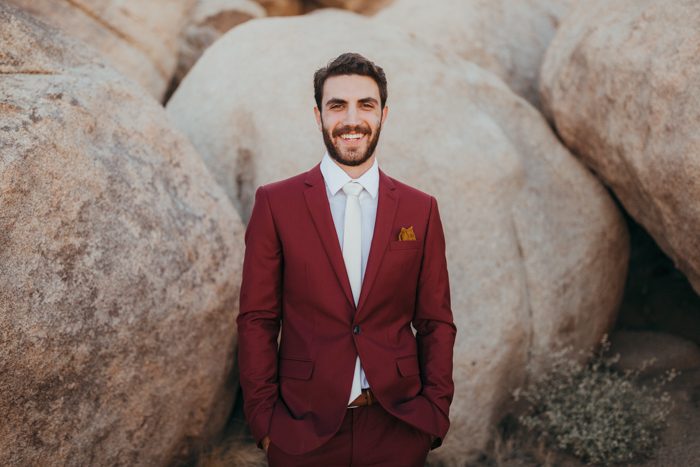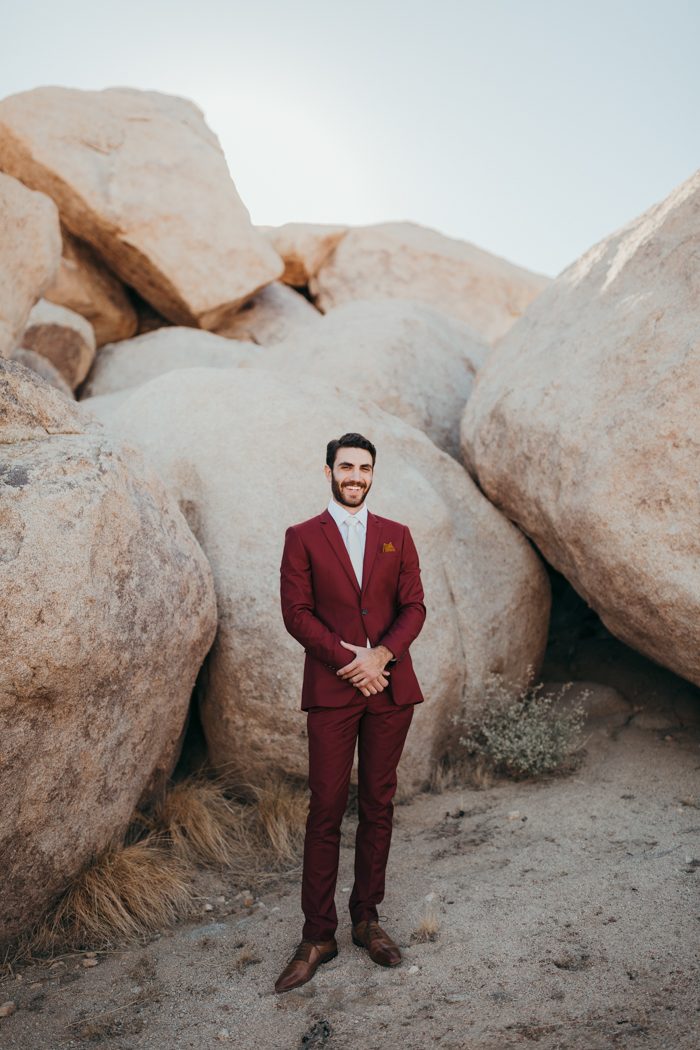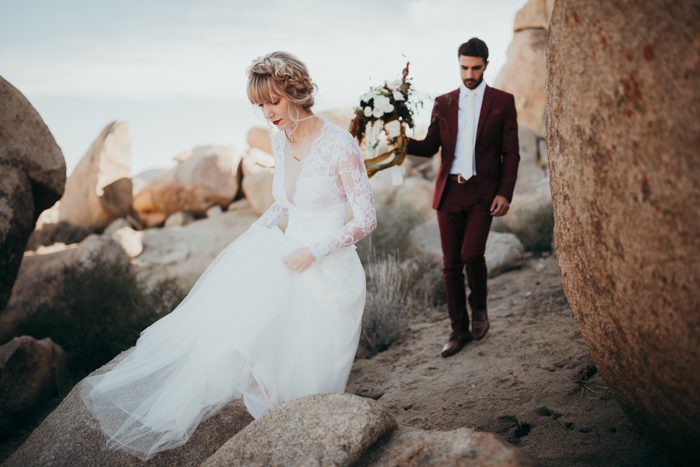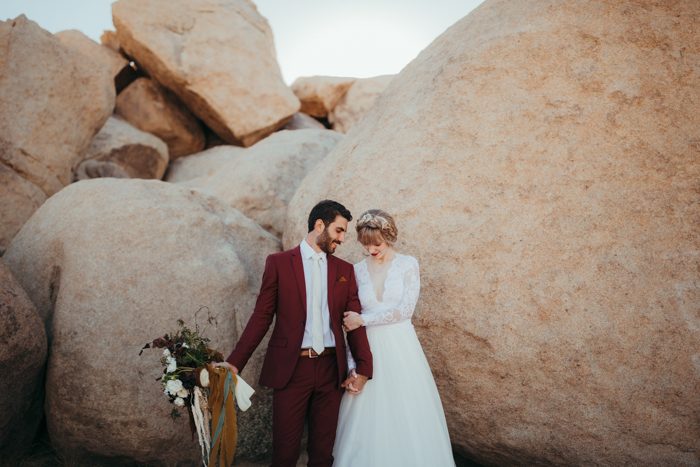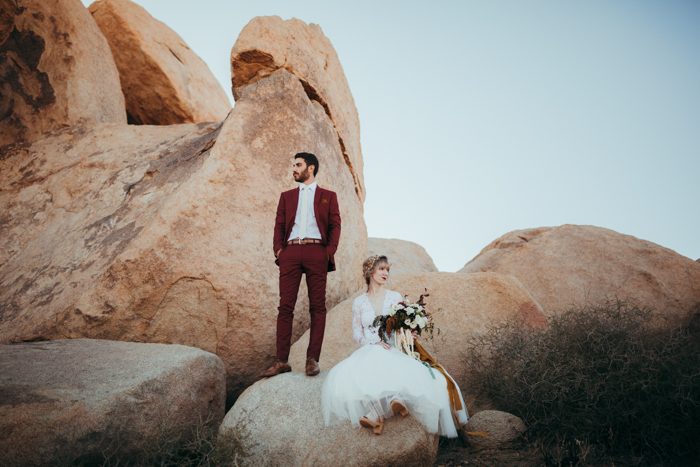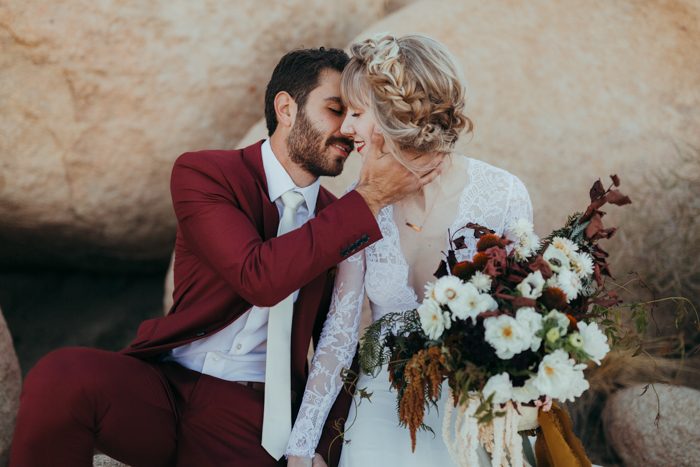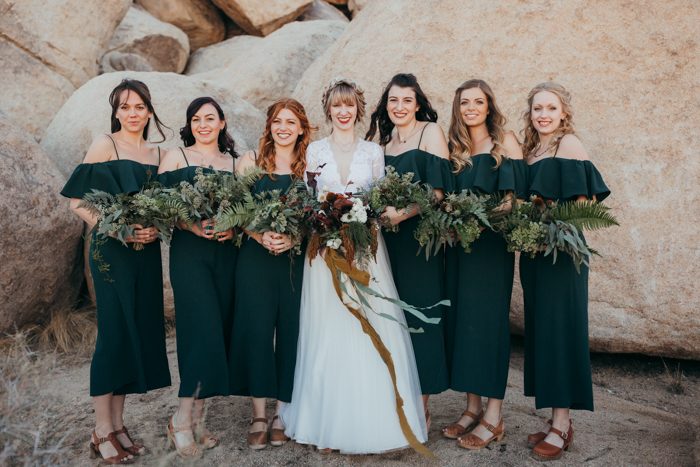 Our colors were rust, amber, and emerald green so Aaron wore a rust suit and the bridesmaids wore deep emerald green jumpsuits. I wanted to go for a look for my bridesmaids that was a little funky and nontraditional, so the gals wore pantsuits instead of dresses!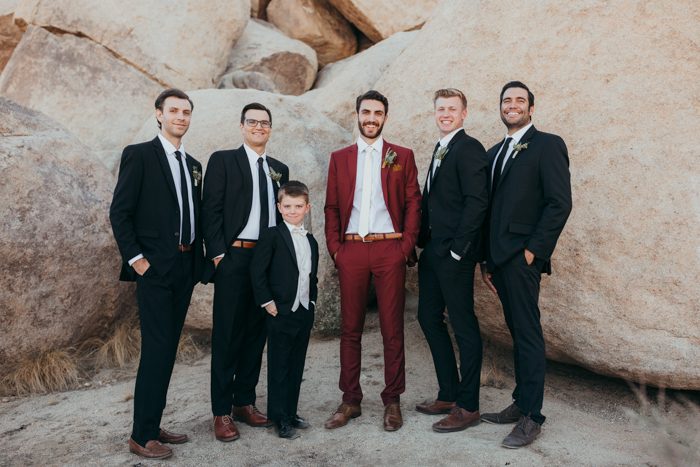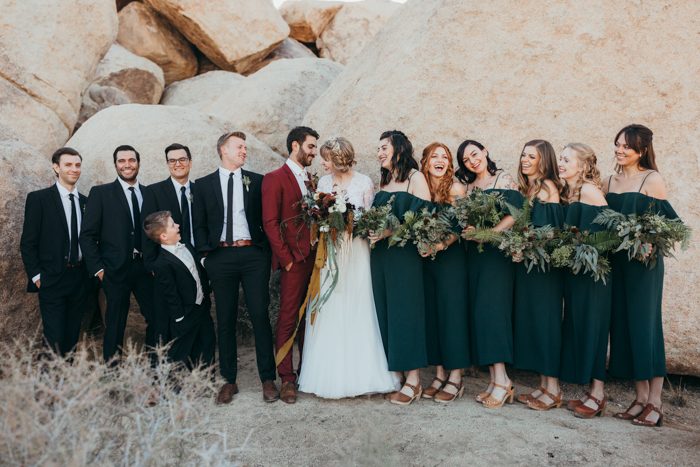 These days it is so easy to see what other people are doing and what the trends are in weddings and it has become more and more difficult for a couple to stay true to who they are when planning a wedding. If there was anything I could share with a newly engaged couple, it would be to completely ignore what is popular right now and make every decision based solely off of whether or not it is representative of the two of you and your story as a couple.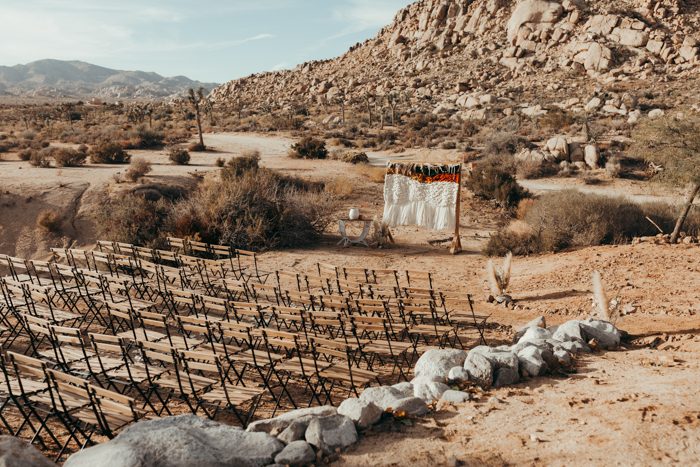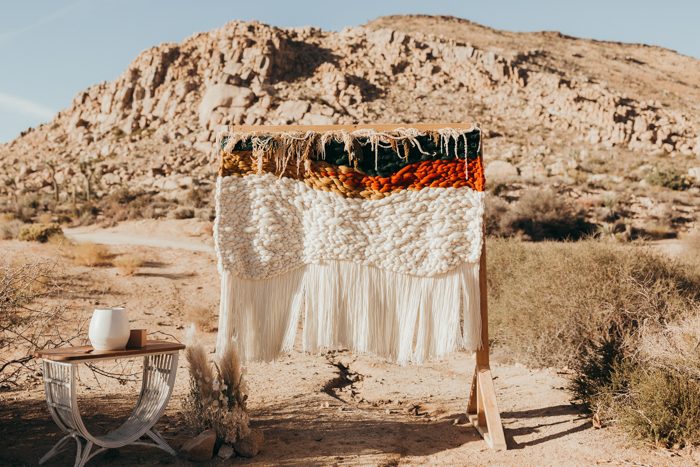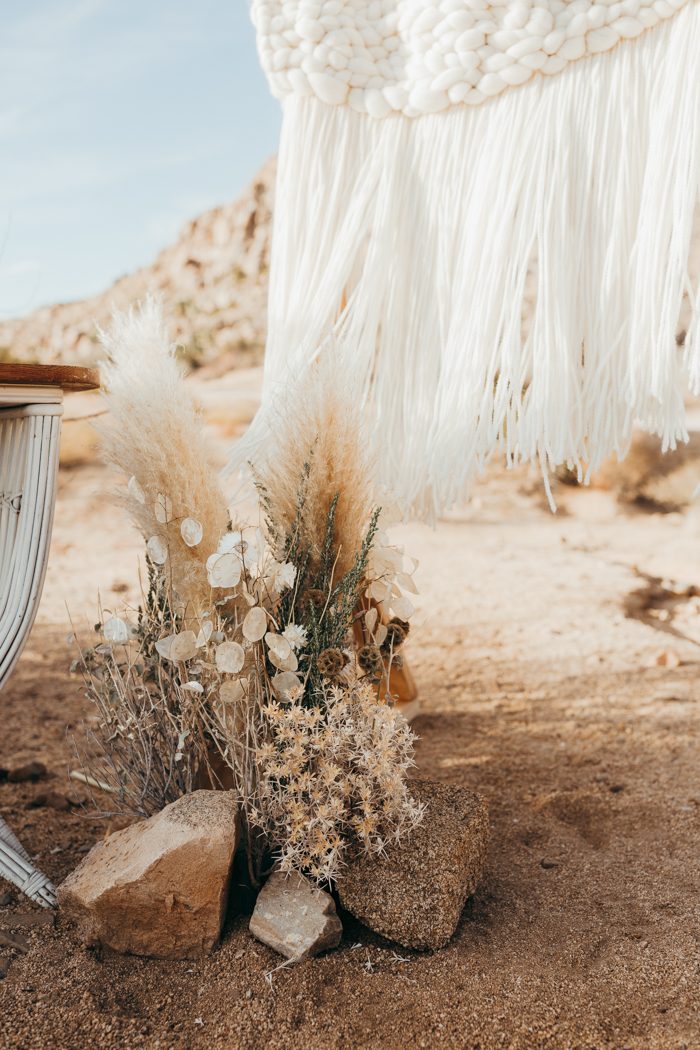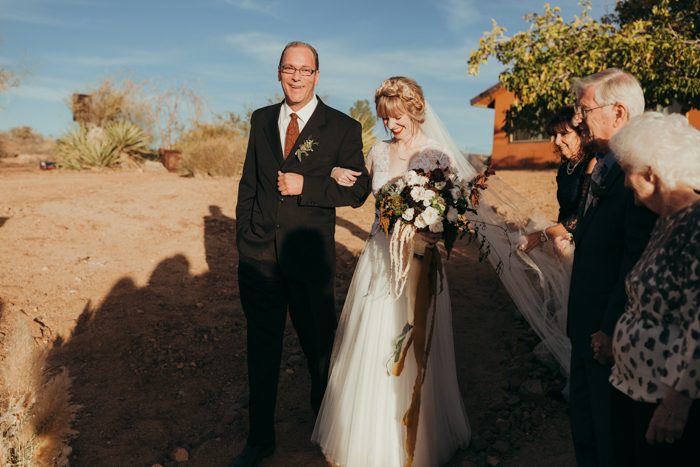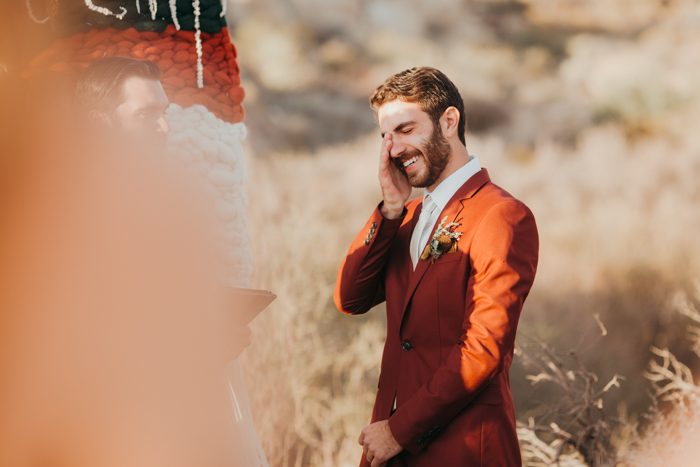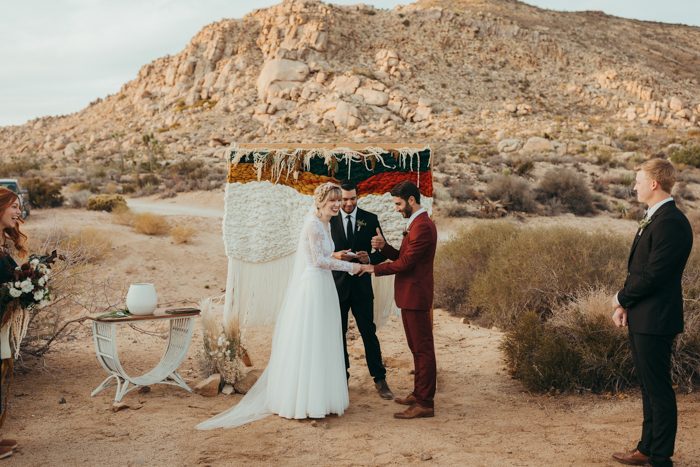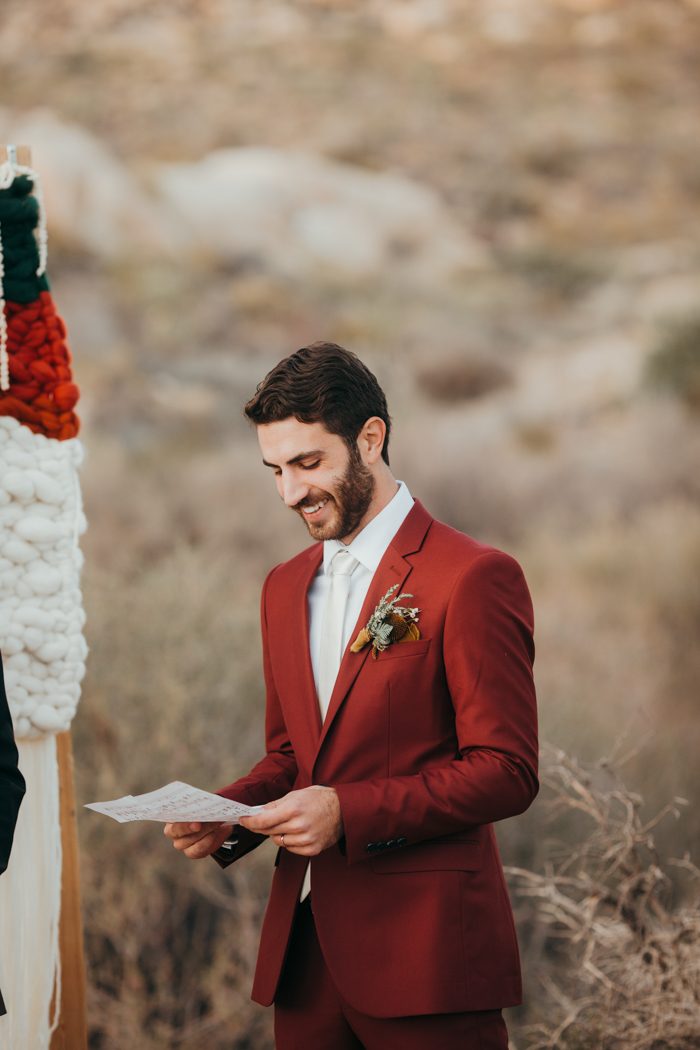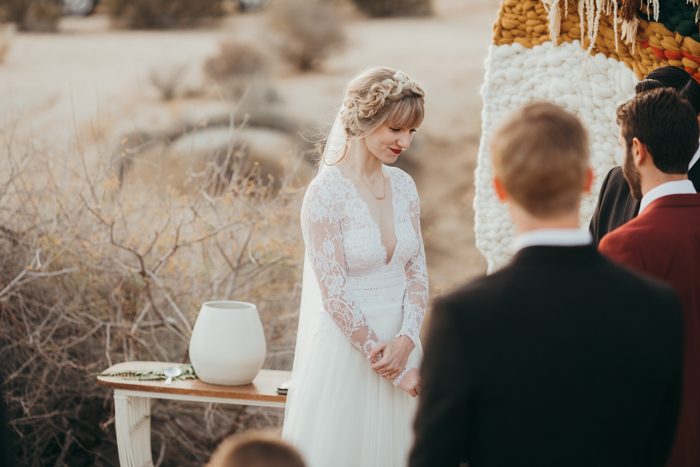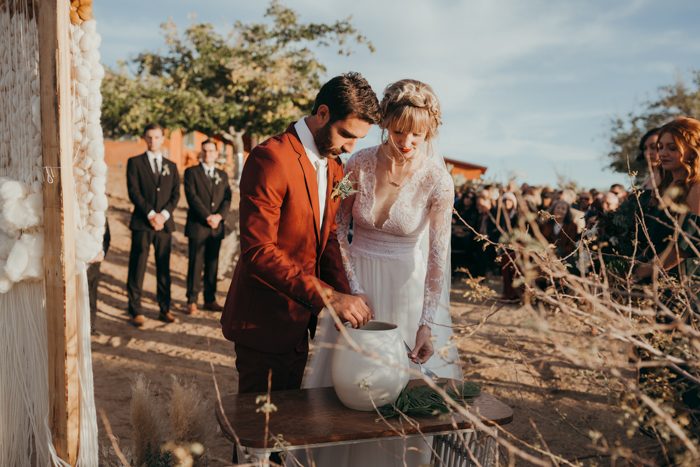 During our ceremony, we decided to have our 'first act' as a couple be something a little unconventional and out of the box, instead of doing communion or lighting a candle. Because the theme to our ceremony was to be 'rooted in love' we chose to plant a tree together during our ceremony. One of our first 'songs' as a couple when we started dating was "Mango Tree" by Angus & Julia Stone, and because this was sentimental for us, we had decided to dance to this as our first song. The evening before our wedding, Aaron surprised me with a mango seed that we used to plant during the ceremony. It sort of tied the whole thing together, with our favors being Joshua Tree seeds that our guests could plant. It made the ceremony special to us and told a very intimate part of our story to our loved ones.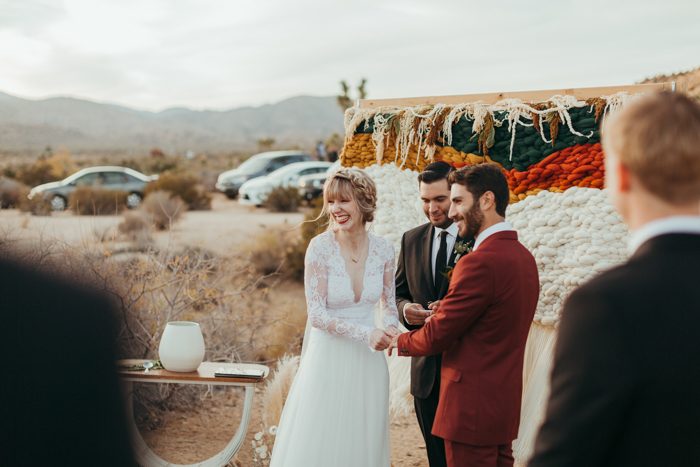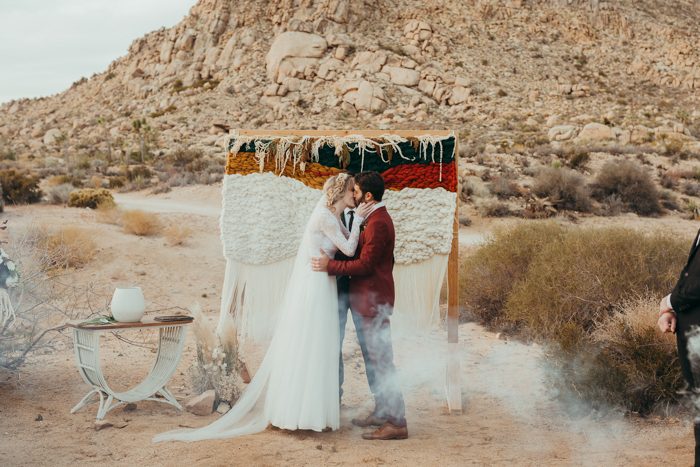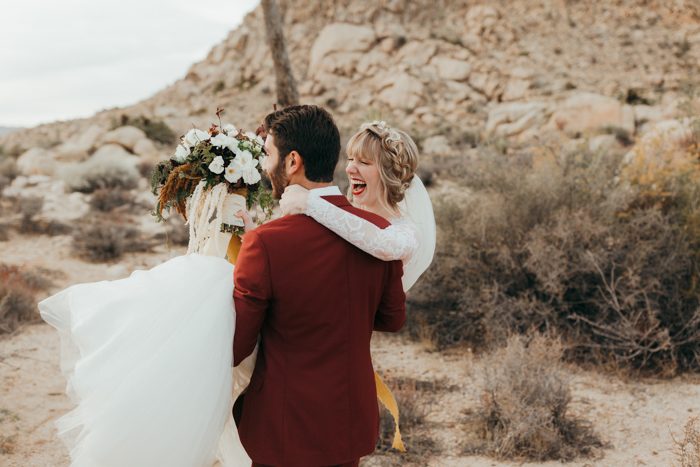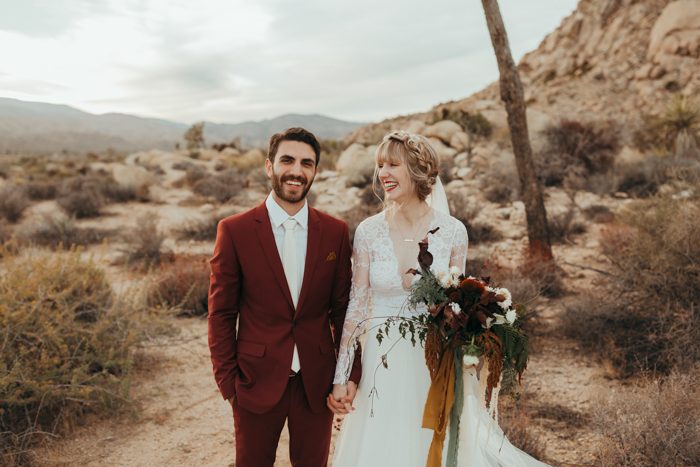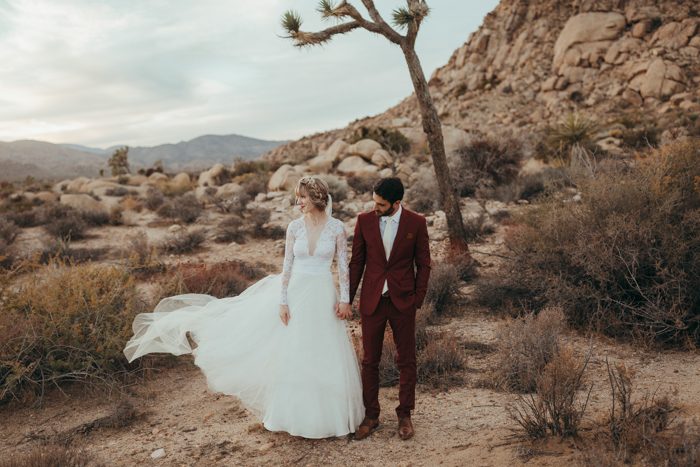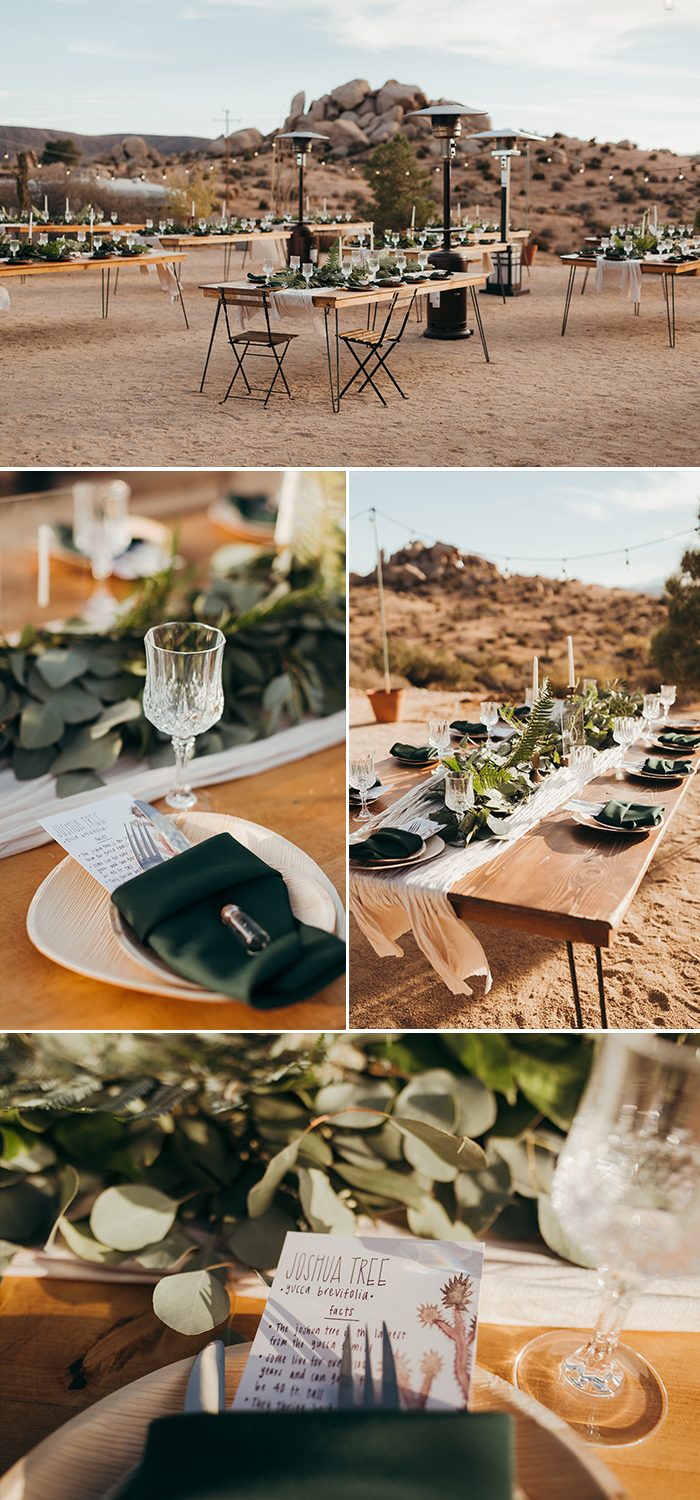 Because our wedding was in Joshua Tree and all of our guests made the trip out there for the weekend, we wanted to give something thoughtful that would serve as a reminder of our weekend shared in the desert! I found real Joshua Tree seeds (yucca brevifolia) and put them in tiny corked jars with care instructions on how to grow your own Joshua Tree. I wanted our loved ones to take a little piece of the desert home with them in a memorable way that would continue to grow and last a lifetime.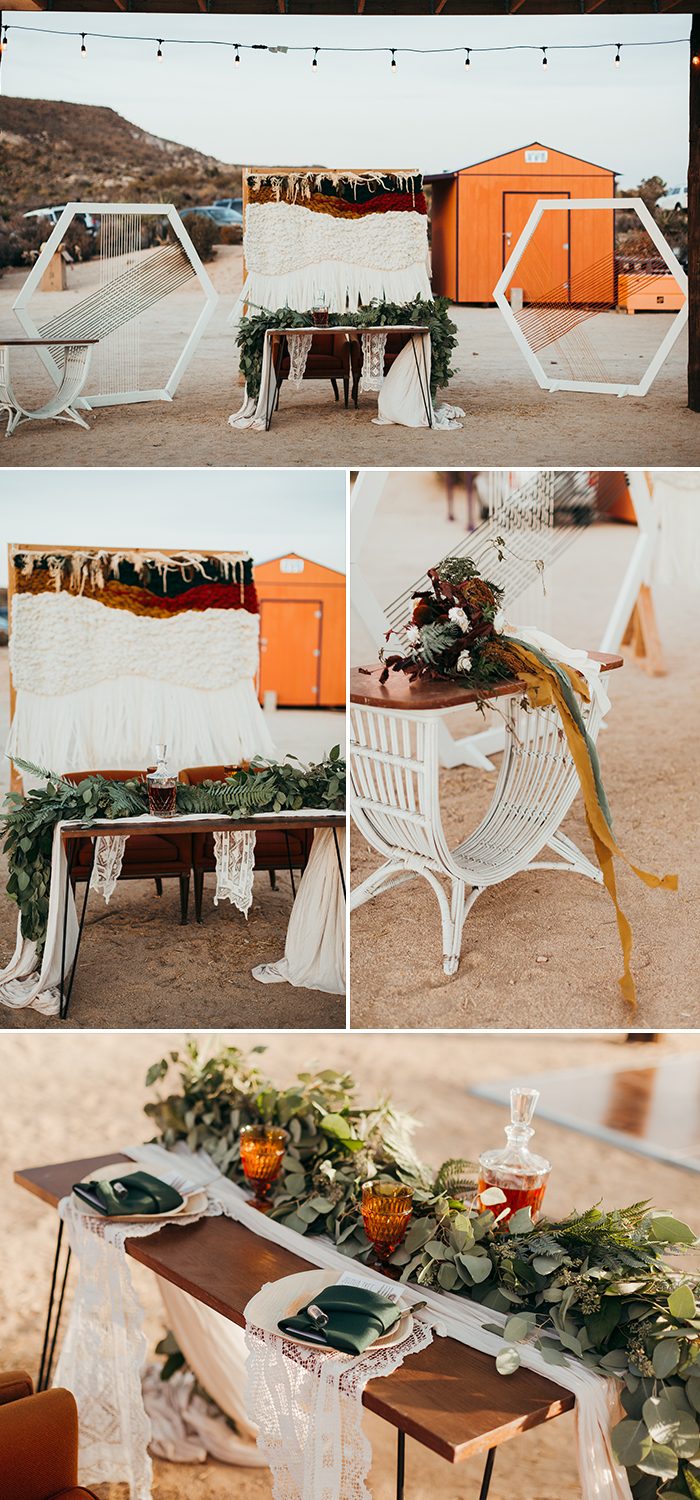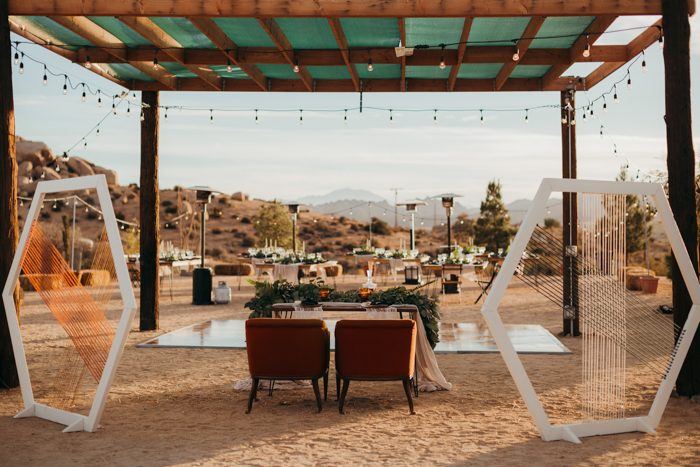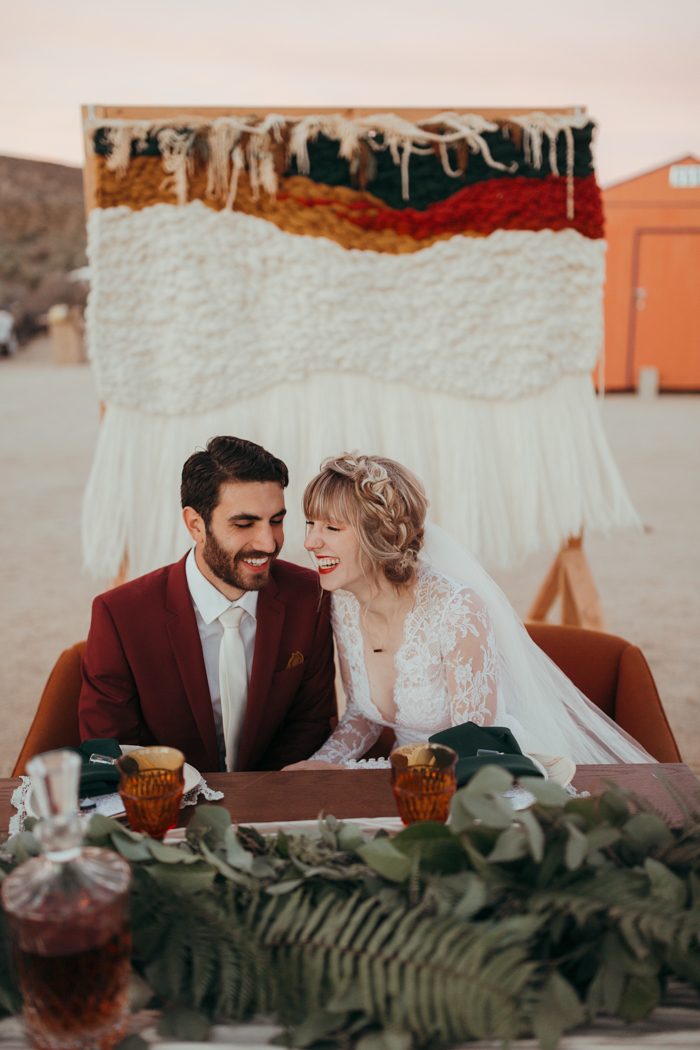 Nearly everything in our wedding was DIY'ed! I hand watercolor painted both our invitations and our favors, lettered all of our signage, and created two large scale installation pieces. I run my own little business as a fiber and installation artist and as a creative individual, I was inspired to hand make everything I could for our day. I created a giant weaving for our backdrop that took 6 weeks to make and measured 6 ft by 6ft. I also made two large wooden hexagon pieces with woven fiber that measured 6 ft by 6 ft and served as a way to separate space in the vastness of the open desert.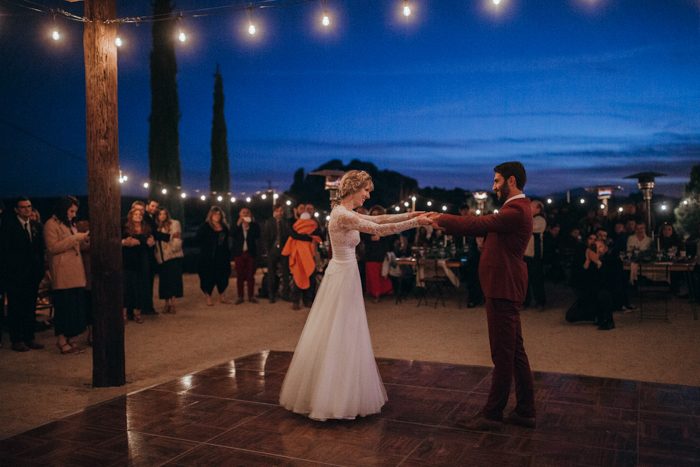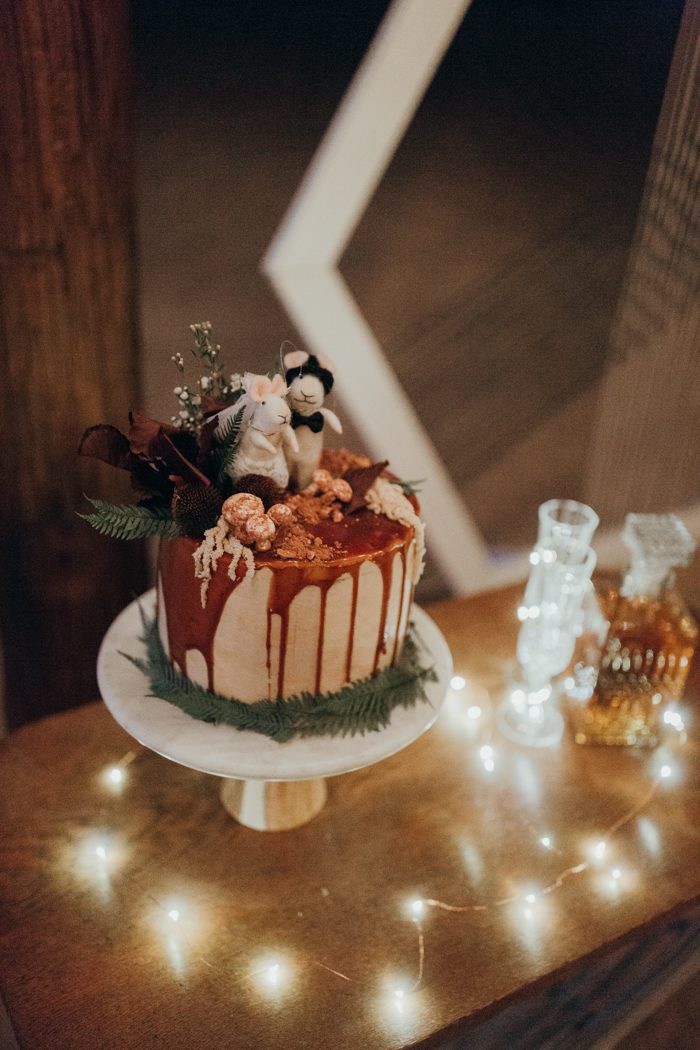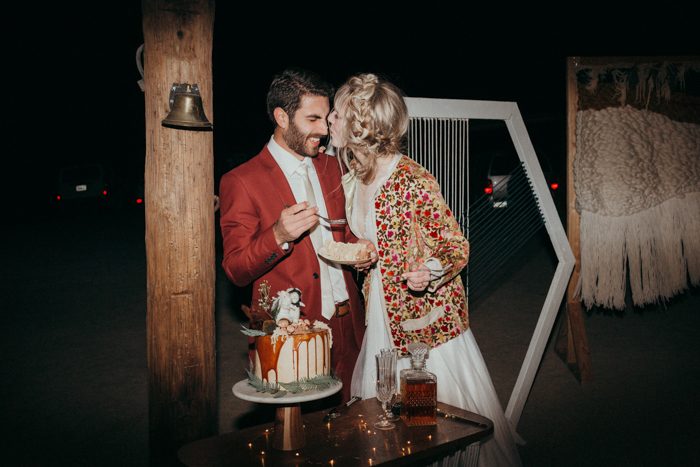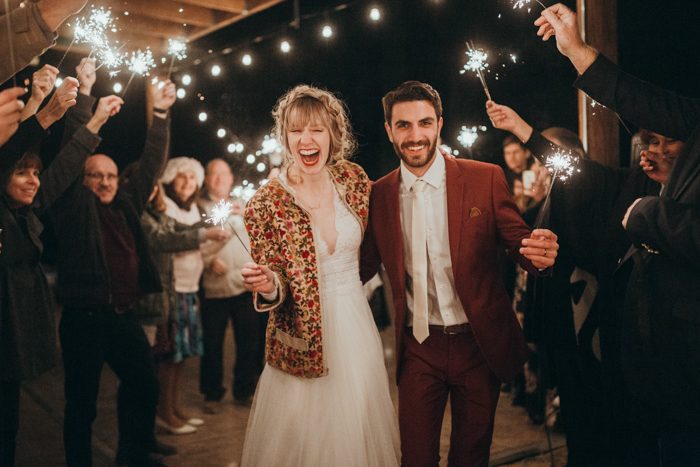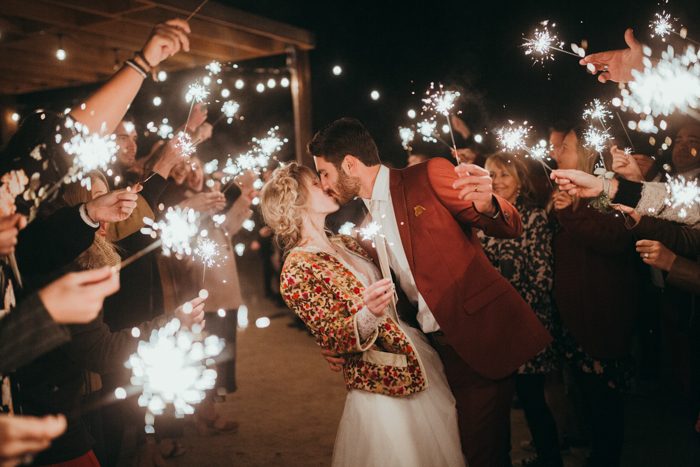 The biggest thank you to Junebug member KNDM Co. for sharing Tiffany and Aaron's desert wedding with us! If you want more intimate desert nuptials, then look no further than this rich color palette in this desert elopement inspiration at Sycamore Canyon Trails.