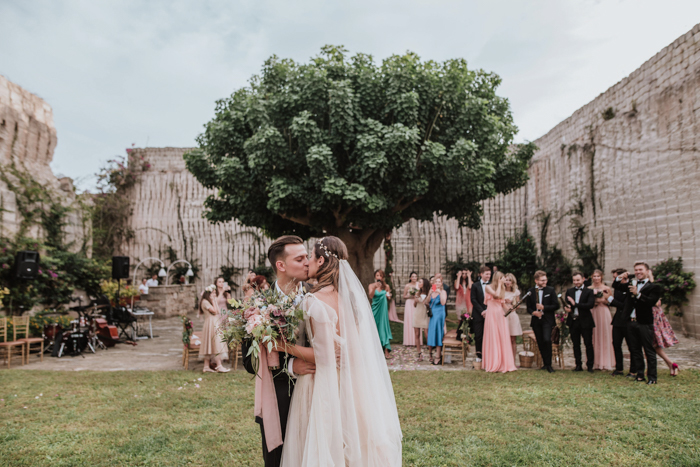 Katie and Lev dreamed of a fairy tale wedding with pure, honest celebration and intention at every turn, so a magical day at Hotel delle Cave was the perfect choice! We're smitten with the whimsical design the couple created alongside their planning team Style A Wedding. If you swoon over all things floral, just wait until you get a glimpse of the blooming masterpieces by Hanami Atelier, which were inspired by the couple's love of colors, natural surroundings, and earthy tones. Get ready for stunning bridal style, all the Sicily vibes, and even more captured beautifully by Yeray Cruz!
The Couple:
Katie & Lev
The Wedding:
Hotel delle Cave, Favignana Island, Sicily, Italy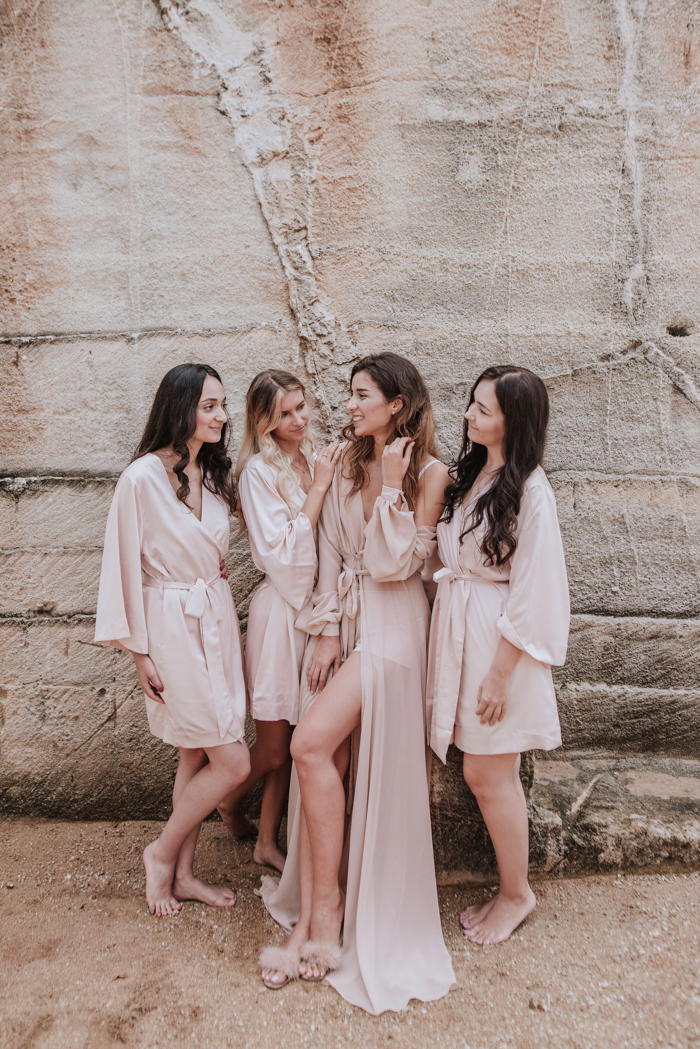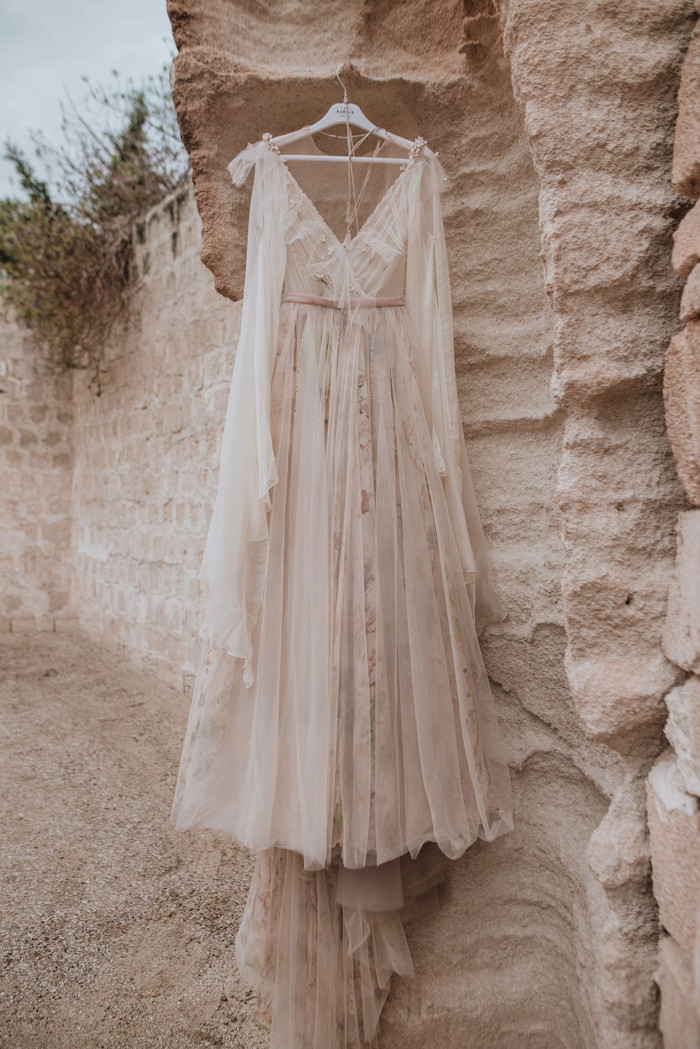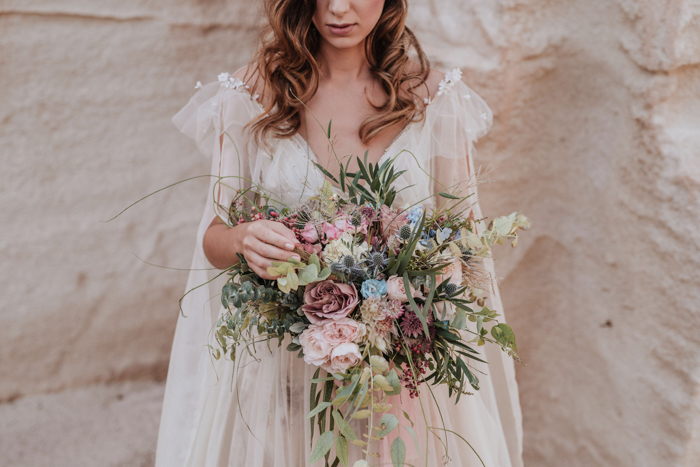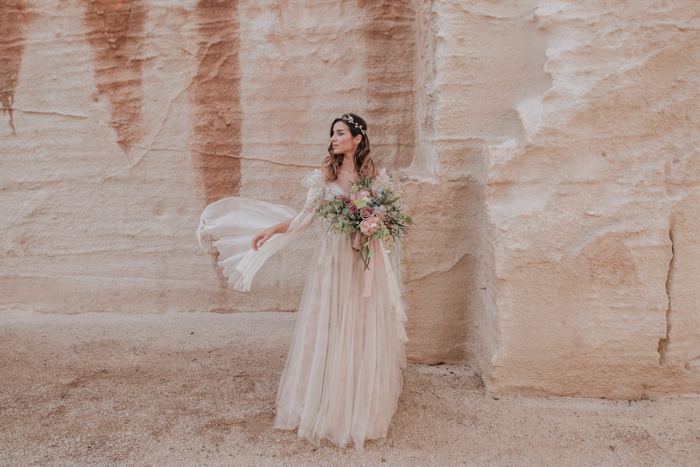 For a fantasy gown celebrating all the blossoms, there would only be one choice for the bridal gown designer—and Rara Avis did not disappoint. Inspired by the femininity and the uniqueness, the gown blossomed into a celebration of my romantic dreams adorned in tiny handmade Japanese clay flowers and beads. My hair was styled into one side waves to have a clear profile and back. The simple style was complete with a gold hairpiece. The fairytale accessories moved beautifully amongst the fallen blossoms of the surrounding displays, crowned by a headpiece of Hermione Harbutt – Sakura Garland. A dreamy cherry blossom garland with blush mother of pearl flowers, golden blooms, and leaf tendrils.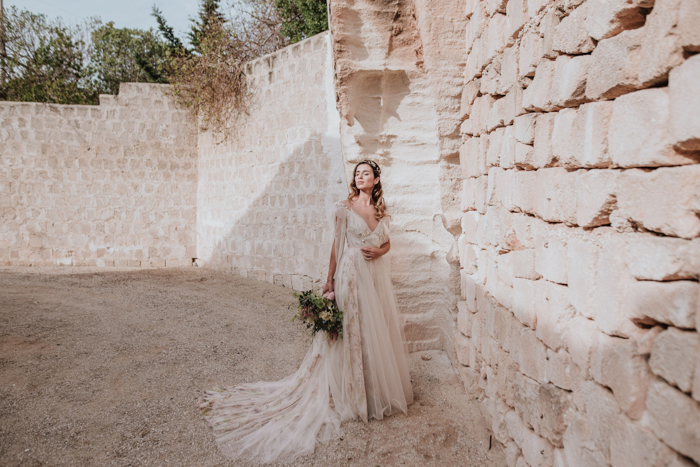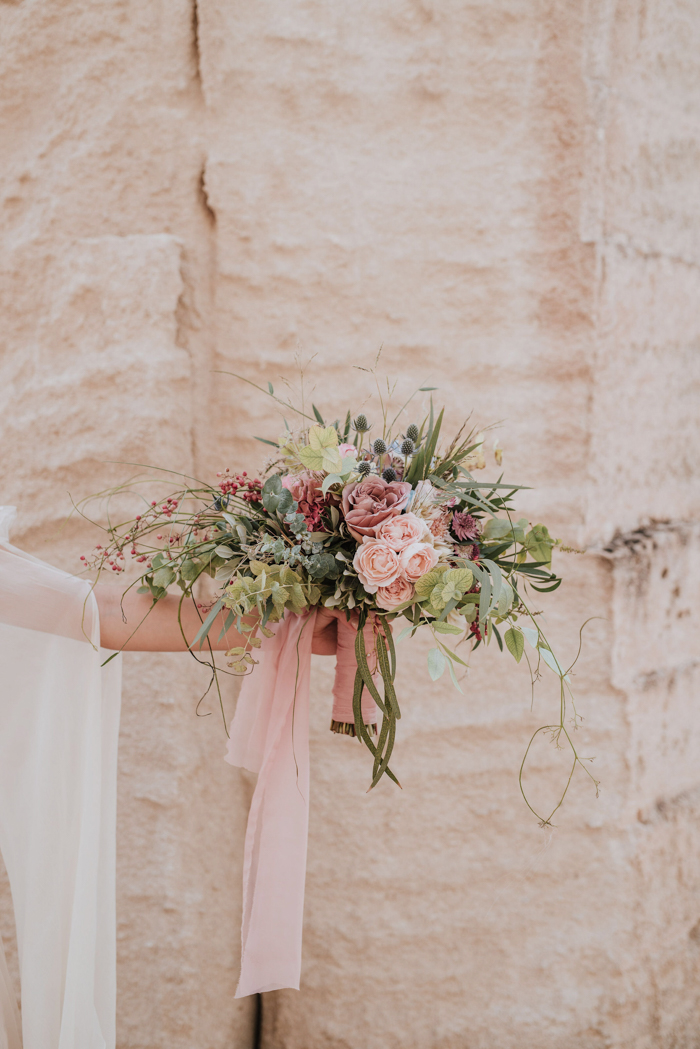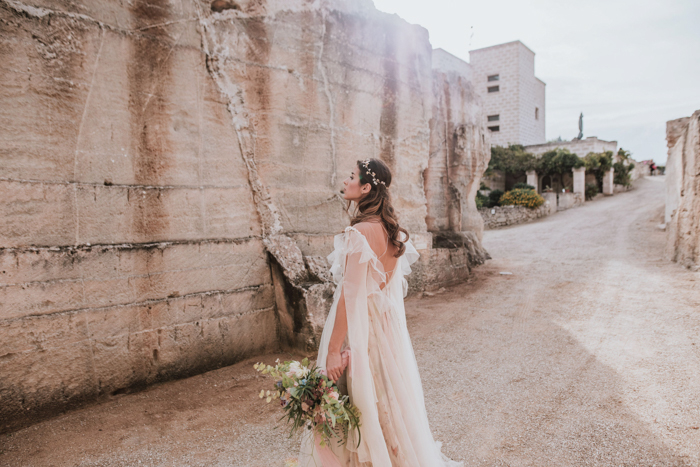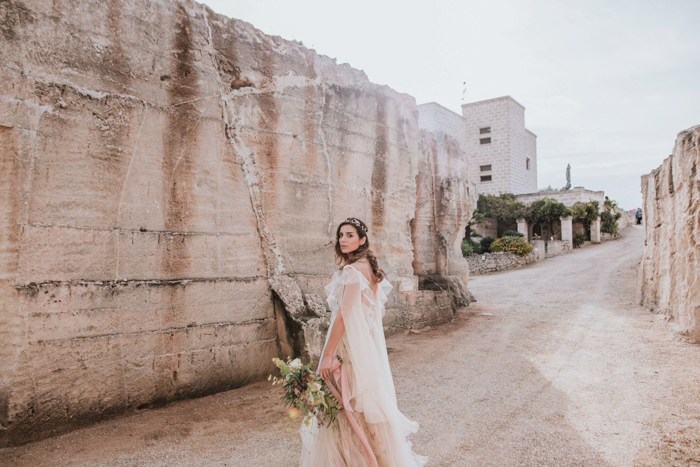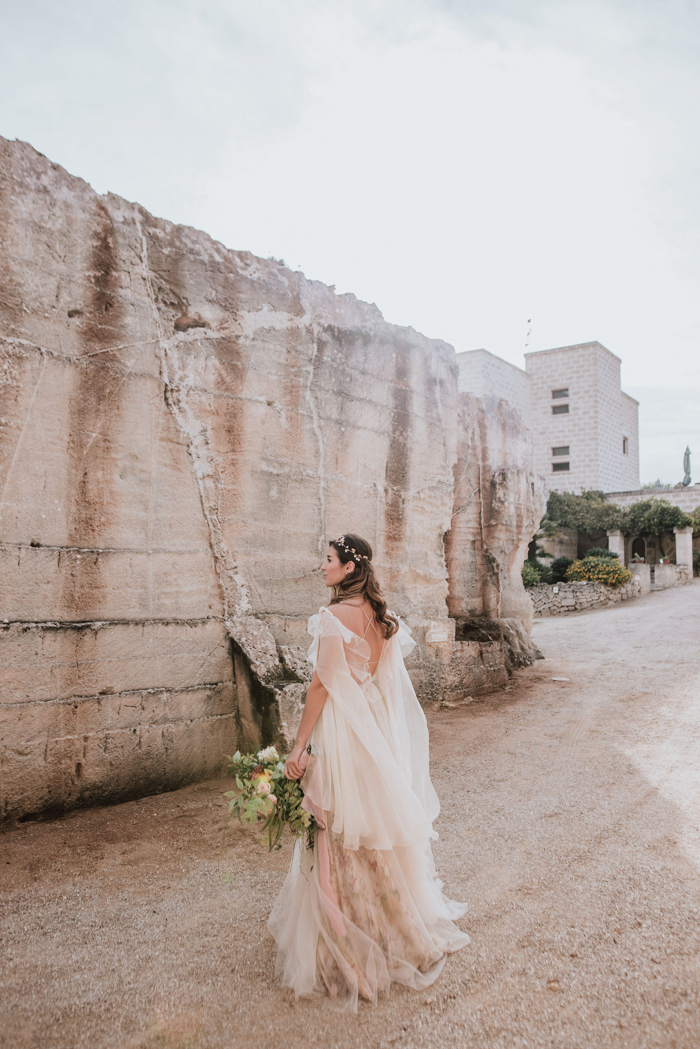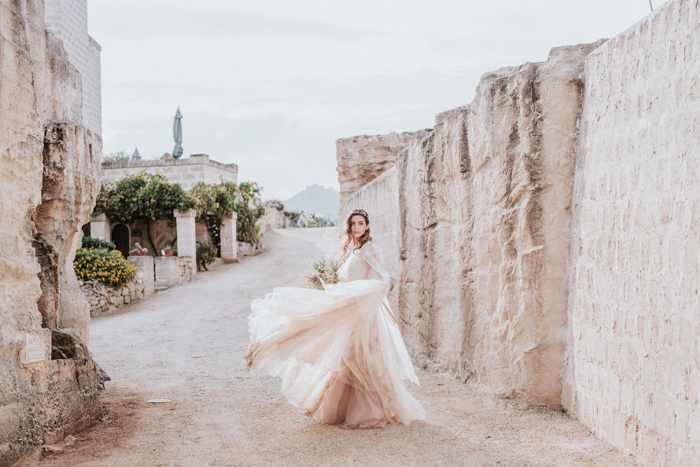 We had been to Italy twice together and loved the country's culture, food, wine, scenery and romance. It was a pretty quick decision as it was a good midway point for our family and friends who came from all over Europe, Georgia and Russia, and one we thought people would be happy to travel to. We came across Hotel delle Cave online during our hours of searching and after using Instagram to see more pictures we booked it quite quickly. Our ceremony and reception location were held in a former quarry turned into a beautiful garden. We chose it because it was a unique embodiment of a childhood dream: a wedding under an evergreen tree.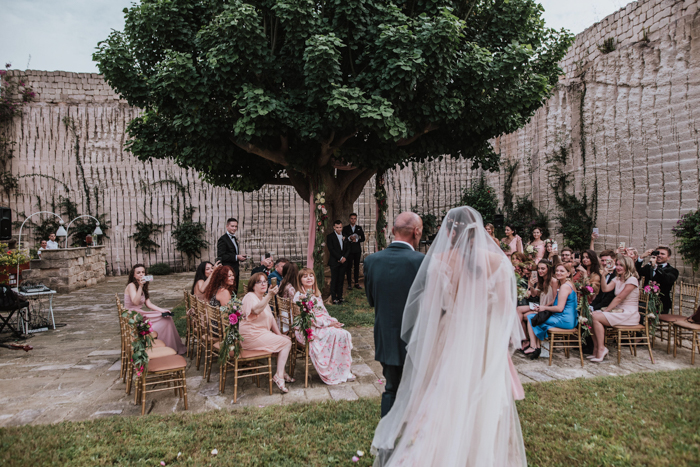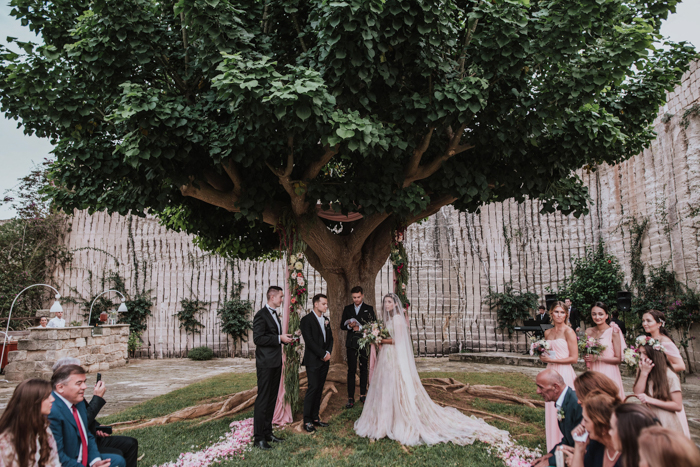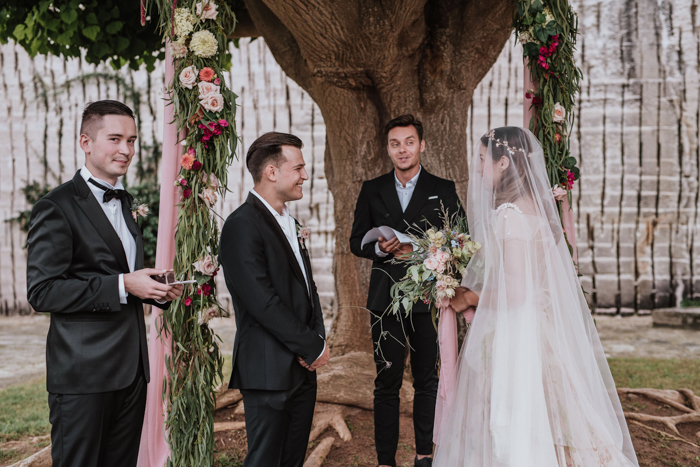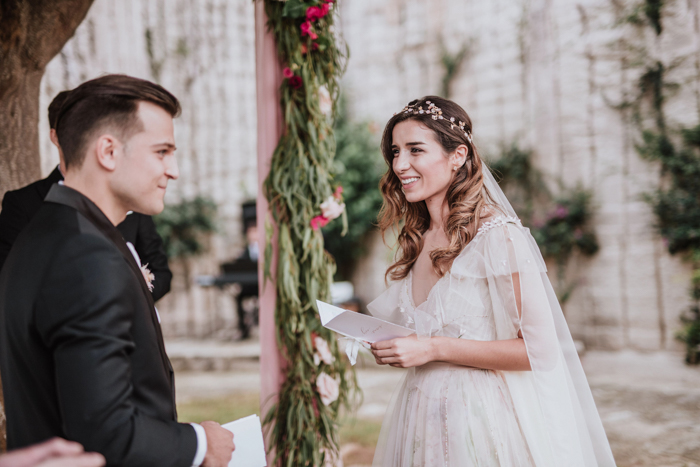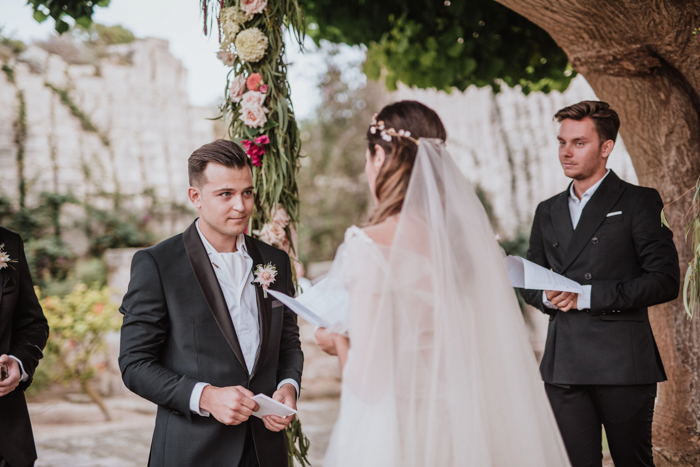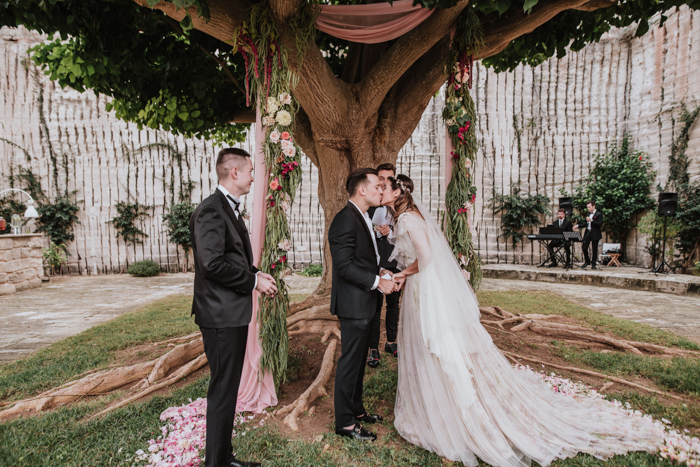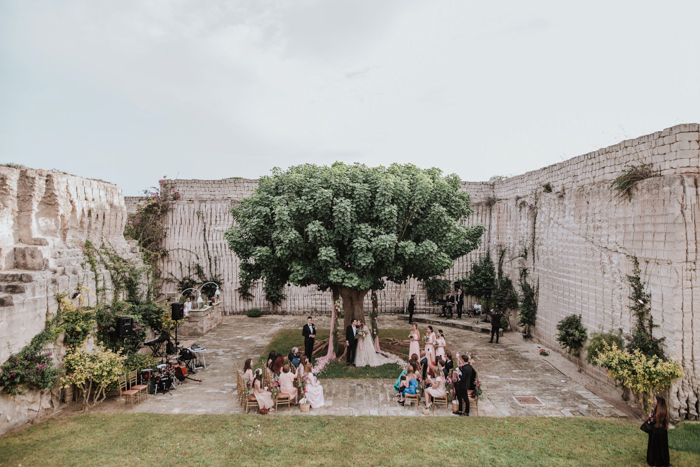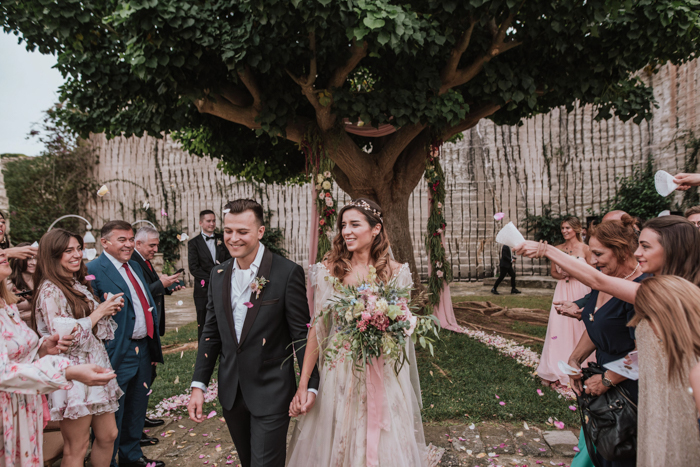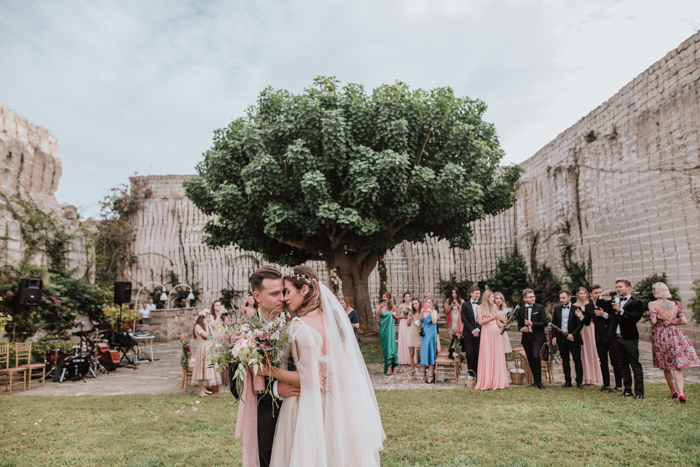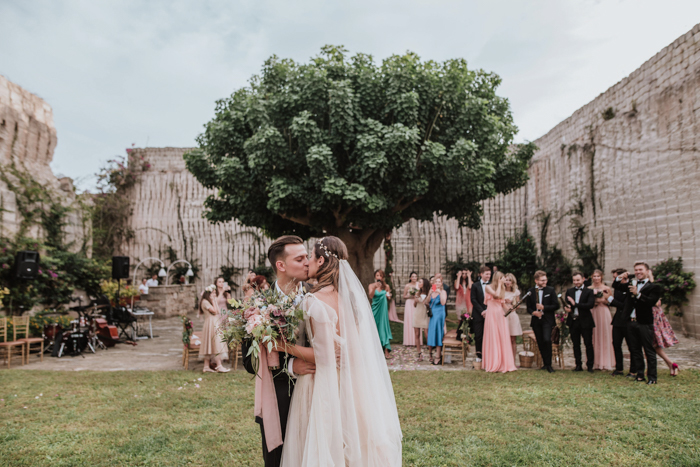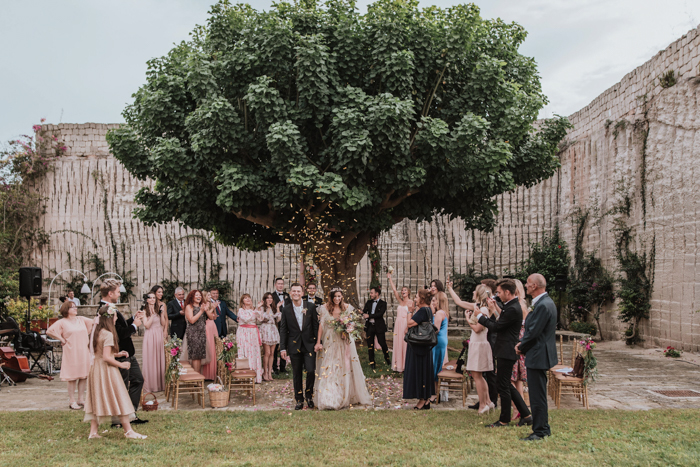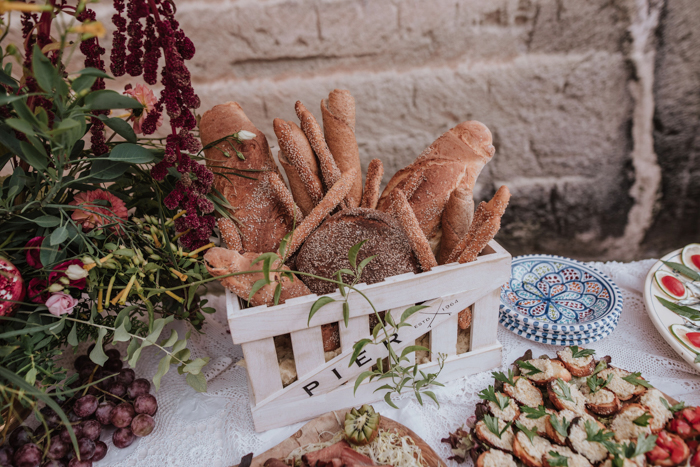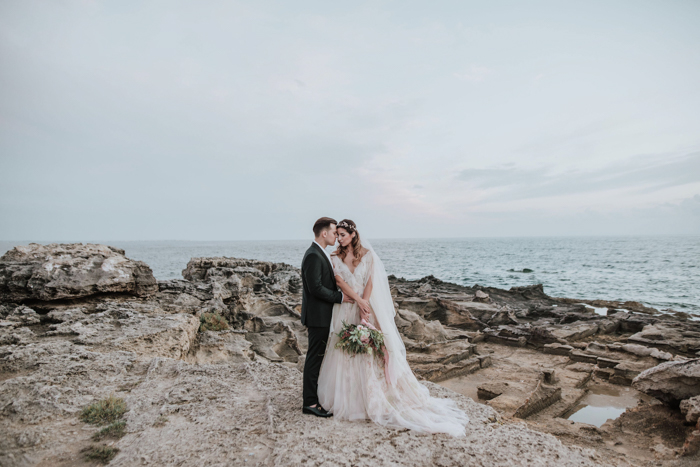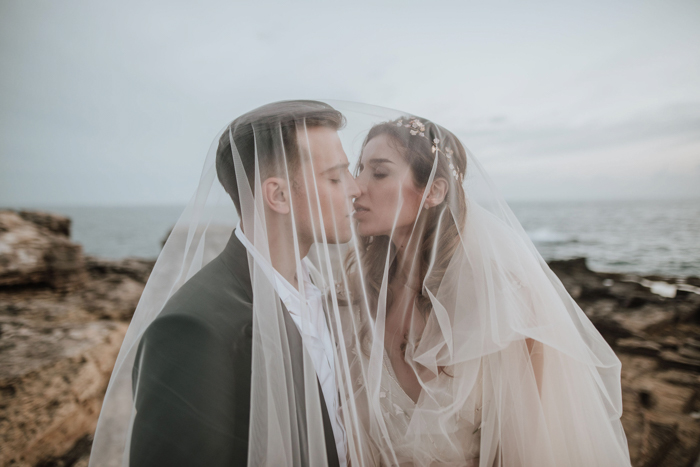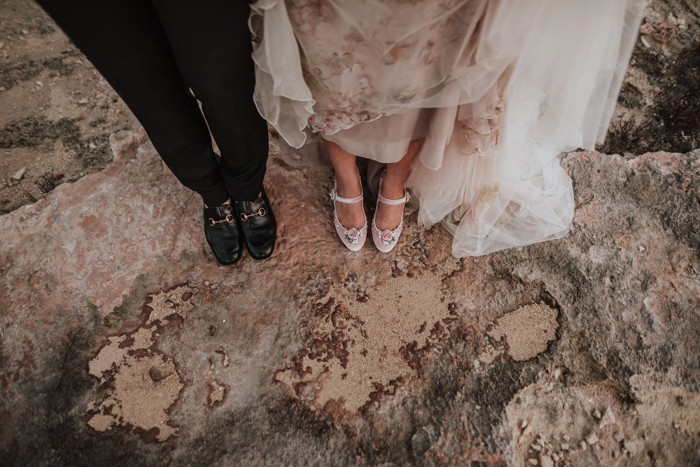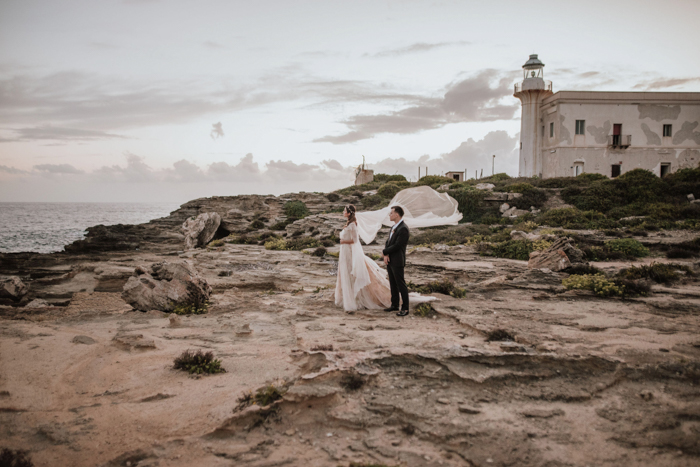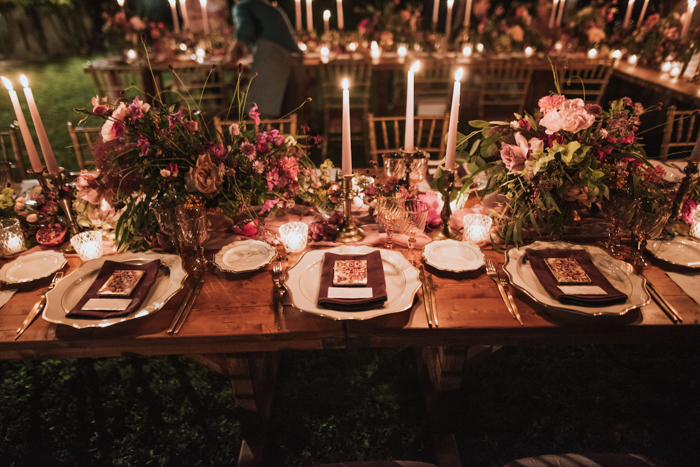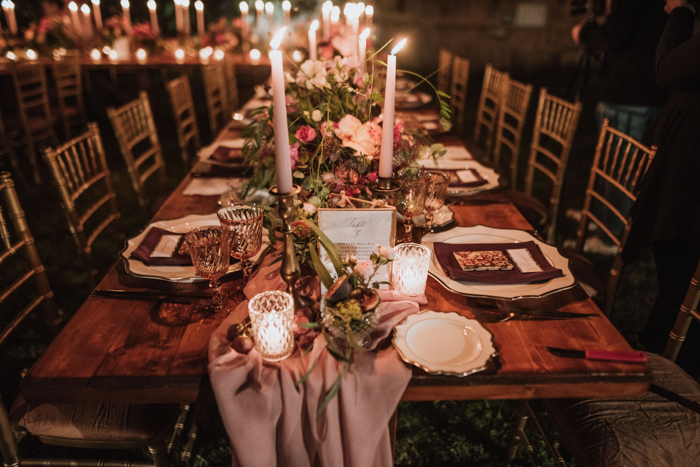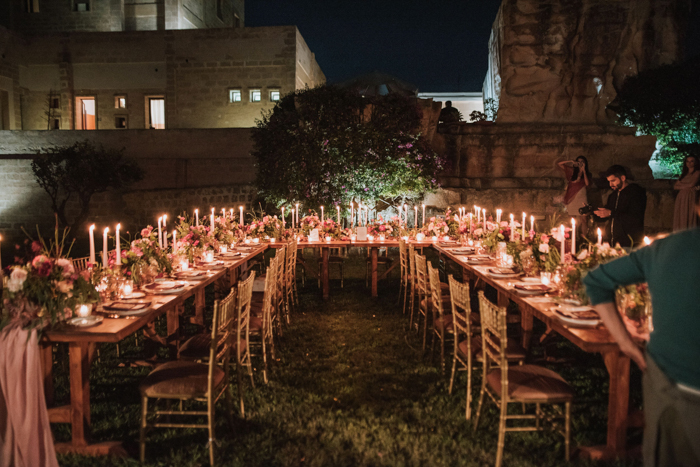 Having an autumnal wedding is all about bringing a sense of coziness and richness to the big day. Fall wedding colors posed a particular challenge. Orange was an obvious choice. We went for a jewel tone wedding decor softened by pastel colors that play up the mysterious and sultry vibe of the season. From elegant mauve and dusty pink to bold fuchsia and burgundy, we thought that it was the perfect time to add a splash of color into the wedding style. Jewel tones automatically brought a sense of opulence to the decor, but also the look was elevated even more by including metallic golden details such as golden chairs and tableware for added luxury.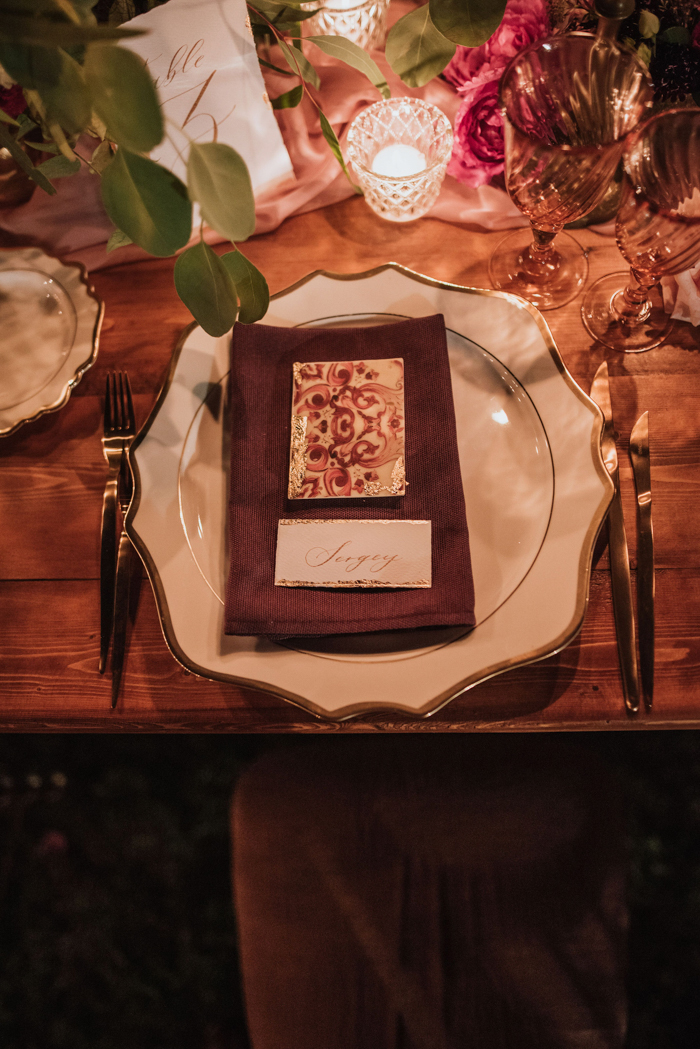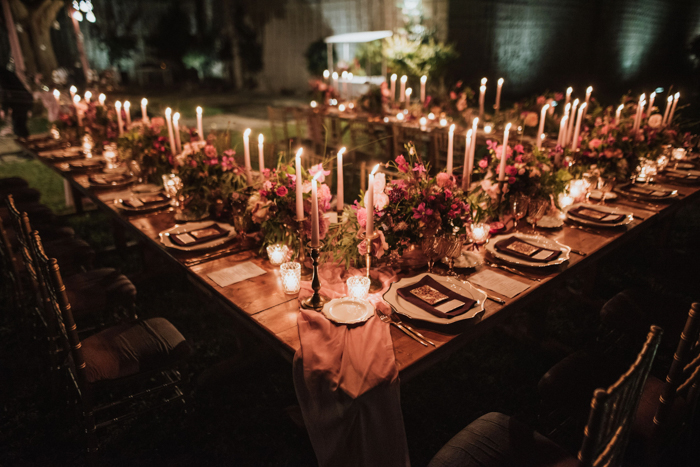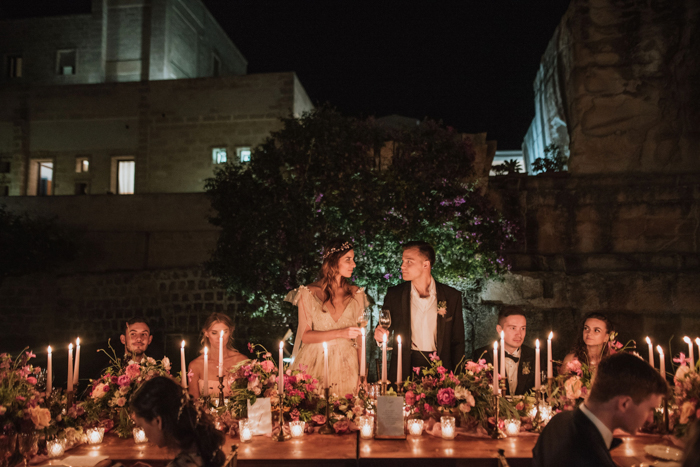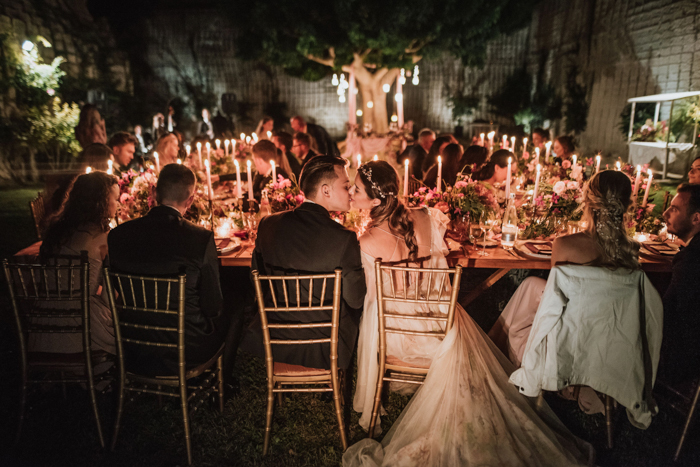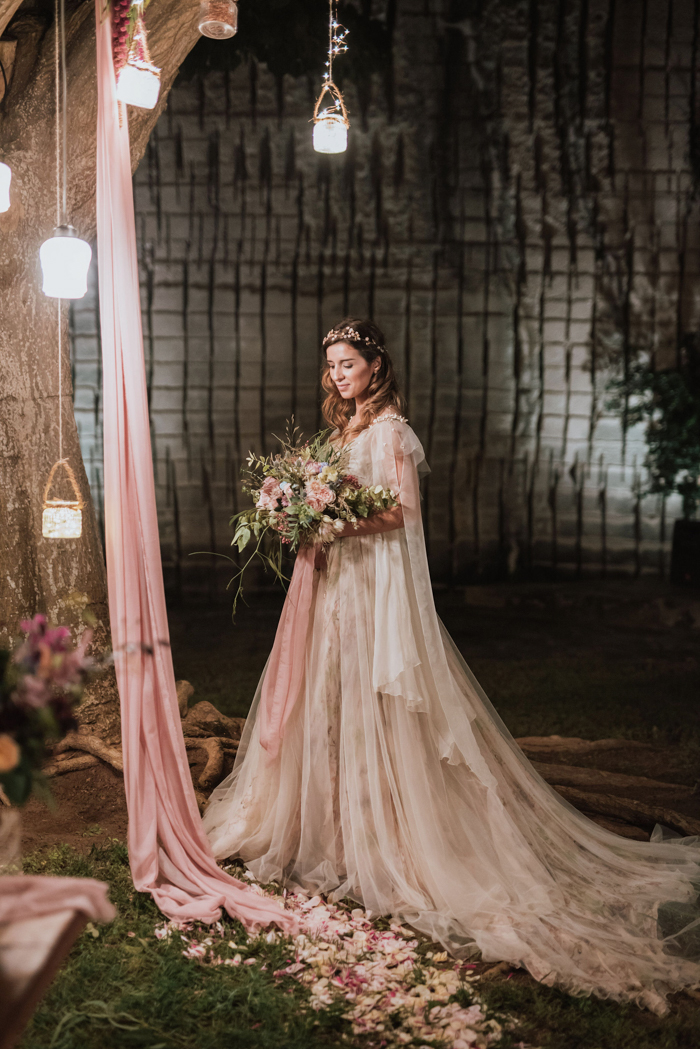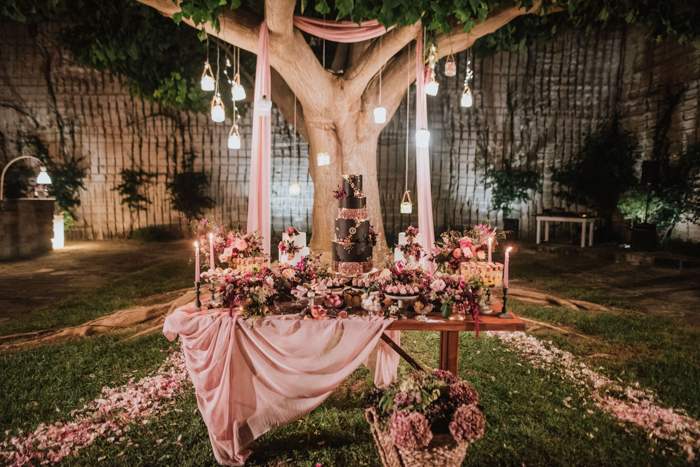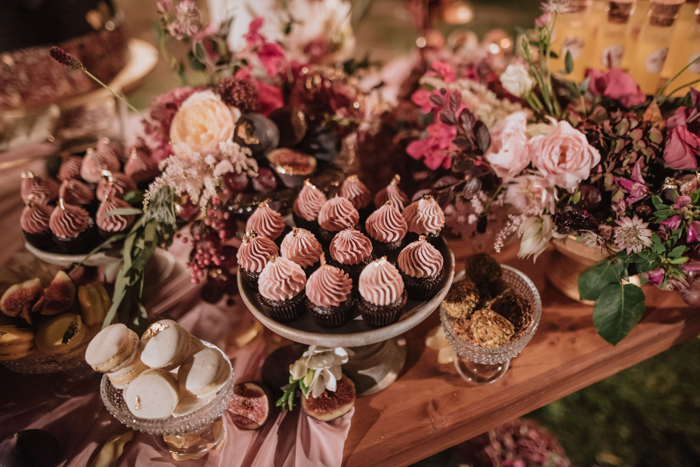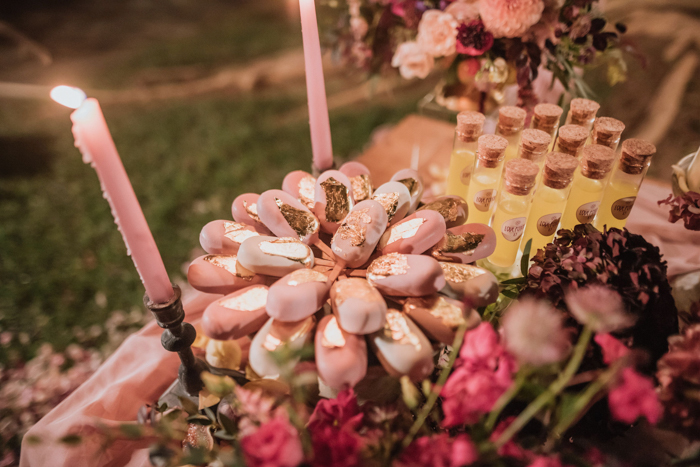 I was absolutely flattered by the way Marco and his team worked on the preparation and decoration of our sweet table and the cake. They worked on designing the Wedding Cake and the setting of the sweet table including other desserts for the purpose of creating something different from the typical wedding cakes. They created a "tailor-made experience", from the creation and design of the cake silhouette to the choice of every single flavor with very personal and organic essences and extracts to create unique flavors and scents, creams and filling. The presentation and taste of the creations exceeded all our expectations. Our guests have continuously commented on how delicious it was. We are looking forward to working with Marco again!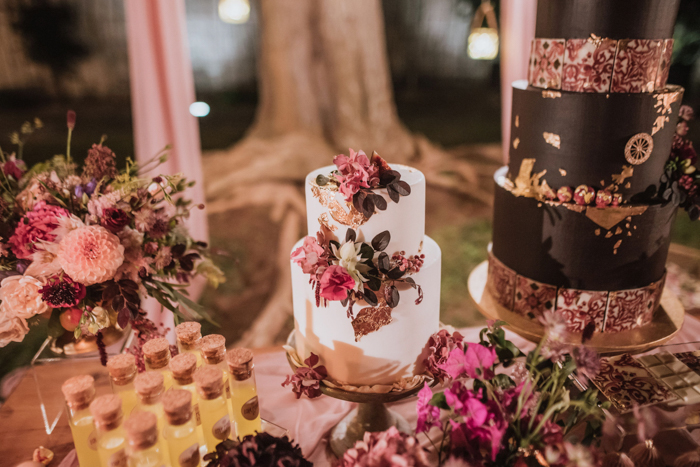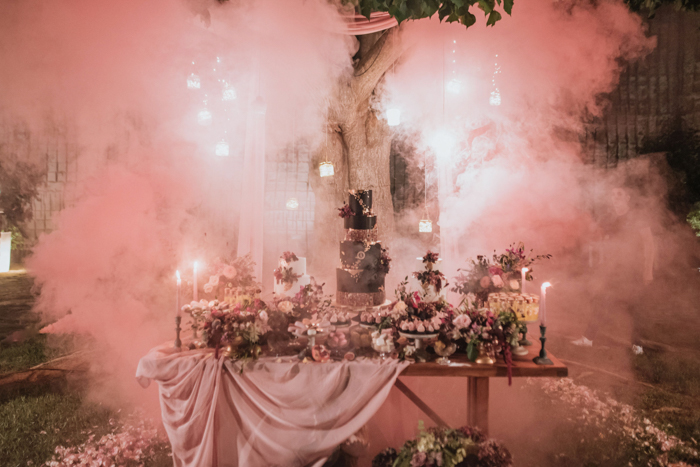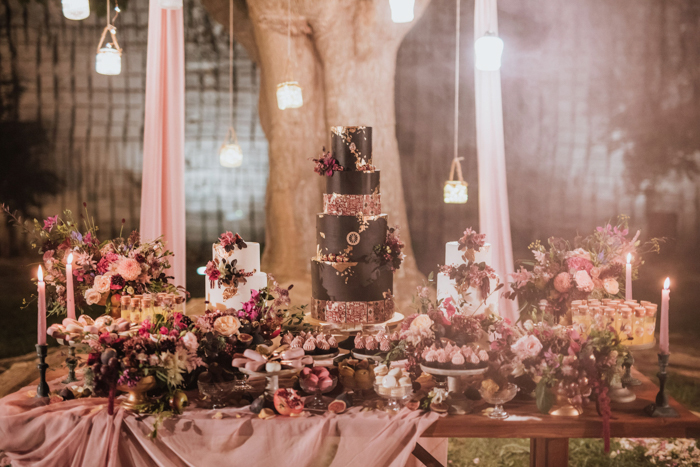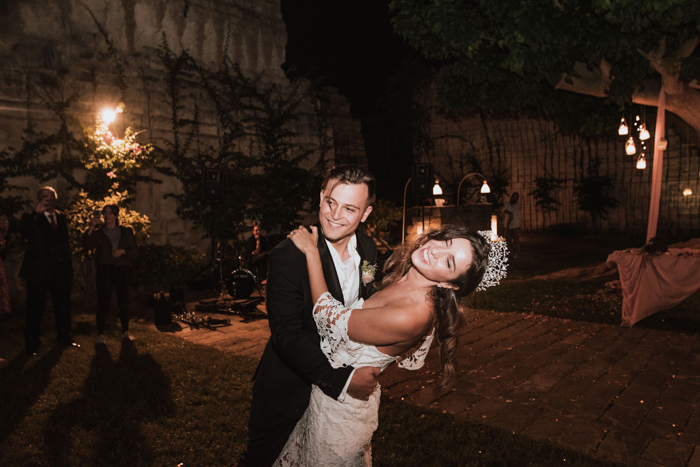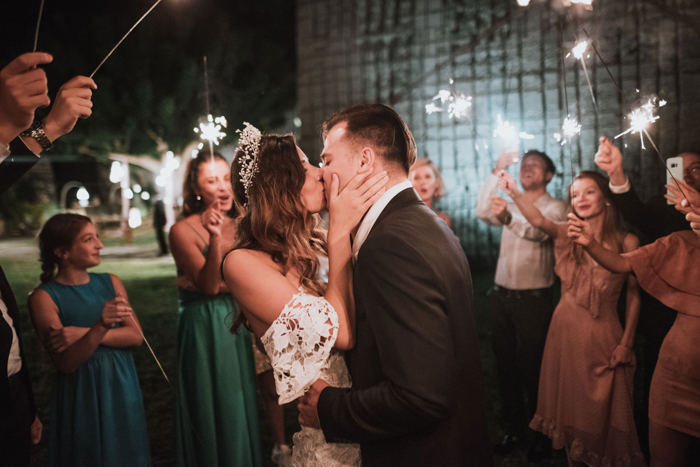 Congratulations, Katie and Lev, and many thanks to Junebug member Style A Wedding for sharing their Hotel delle Cave wedding with us! For more of Style A Wedding's work, be sure to visit their page in our directory of the world's best wedding planners.