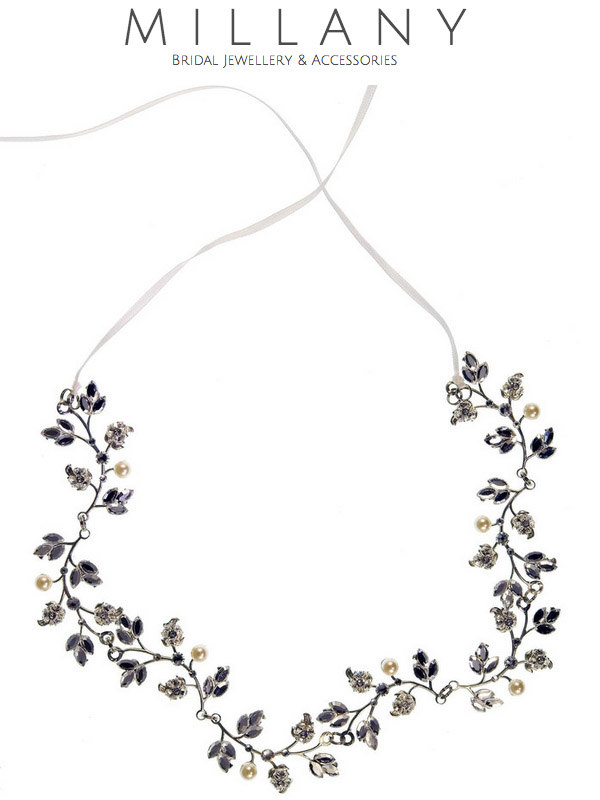 We are so excited to introduce Millany Bridal Jewellery and Accessories, founded in 2013 by fashion aficionado Tamsin Ridgwell following her glamorous career of runway shows and campaign shoots with celebrities and even royalty seeking her fashion advice. Her luxury bridal accessories boutique includes designs from Jennifer Behr, Flo and Percy, Hermione Harbutt, Enchanted Atelier and Stephanie Browne. Tamsin says, "I founded Millany as an inspiring, luxurious and directional environment, aligned with a more contemporary bride's style philosophy. I hope that the curated designs combined with the compelling contributions from some of the world's most visionary style influencers, create an enhanced and original shopping experience."
If that wasn't enough, her fabulous website is chock-full of incredible fashion inspiration and advice from top style visionaries such as Brides Magazine's fashion director Rachel Leonard and James Bond Producer Barbara Broccoli. Check out just a few pieces from Tamsin's incredible selection of bridal accessories and jewelry here, and then don't miss Millany.com for more!

Top Image:
Jardin Vine necklace by Enchanted Atelier
Bottom Image:
Alexandra earrings by Stephanie Browne
Paris Pearl bracelet by Stephanie Browne
Allure earrings by Stephanie Browne
Boucheron bracelet by Stephanie Browne
Cheshire comb by Flo and Percy
Madhatter headband by Flo and Percy
Teardrop Halo 2013 by Emmy
Caulfield 2013 earrings by Stephanie Browne
Cosmos Bandeaux by Jennifer Behr
Looking for more vintage inspired bridal accessories? Check out our recent post on Enchanted Atelier's Spring 2014 bridal collection!