Here at Junebug, one of our favorite things about weddings is that they are unique and different for each couple. We truly believe there is no right or wrong way to do things. I love how today's couple, Megan and Tim, followed their hearts and created a wedding day that had all the elements they love – intimate moments with their closest friends and family, spectacular seasonal northwest cuisine, and none of the things that felt like an obligation. Enjoy reading about their planning process, what was important to them, and the gorgeous photos by Renata Steiner of Nataworry Photography!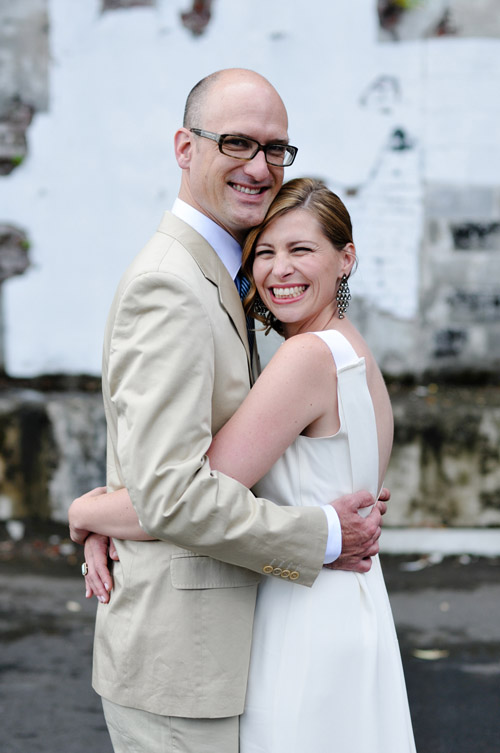 The Couple: Megan and Tim
The Wedding: 7.16.11 – Corson Building Seattle, WA



What were the top three priorities for you in planning your wedding? Food, family and DIY details. We really wanted to bring our three amazing families together to break bread over an incredible meal. We wanted to introduce our families not only to each other, but also to the local and seasonal foods of Washington. We chose to have a very intimate wedding with only immediate family and a few very close friends. We wanted to be able to talk and laugh and dine with everyone who traveled so far to share our special day with us. We wanted to have our hands in every part of the process. Tim and I have design and art backgrounds and very much wanted to design the invites and corresponding thank-you notes. Our friends made our guestbook and the place cards which used rocks collected from the beach near our home. Megans sister, a horticulturist, purchased flowers with Megan the morning before the wedding and created the bouquet, boutonniere, and table arrangements with the help of Megans mom. Tims mom Karyn sewed each dinner napkin from fabric we picked out together. Megan knitted her shrug and created the paper garlands that decorated the outdoor patio and bar.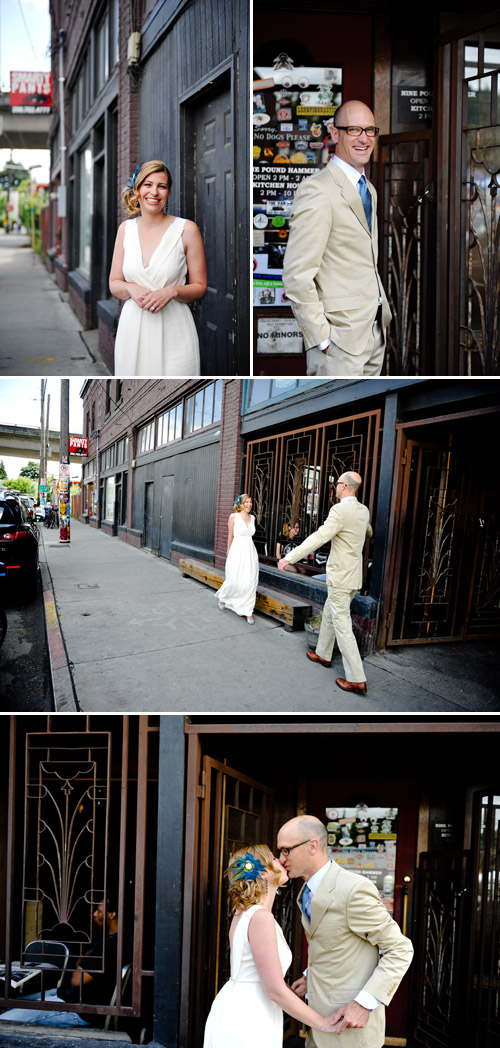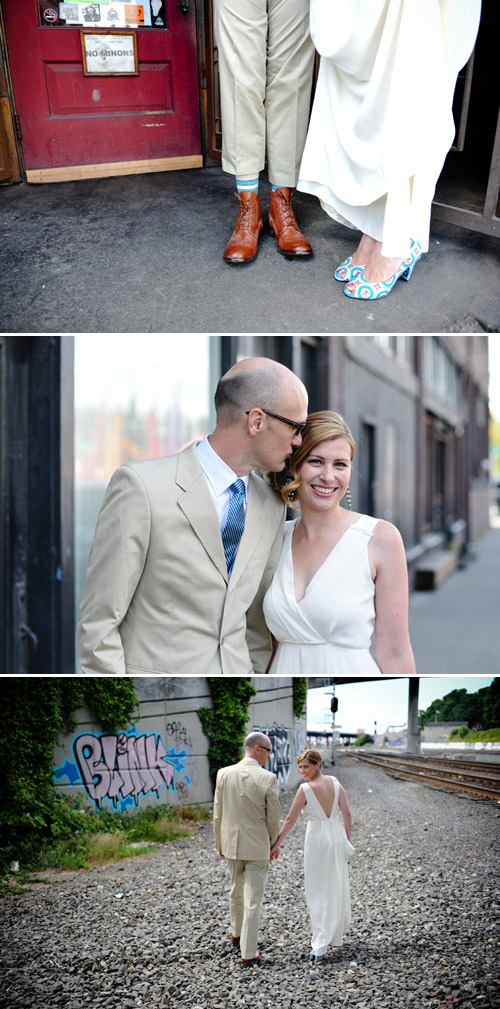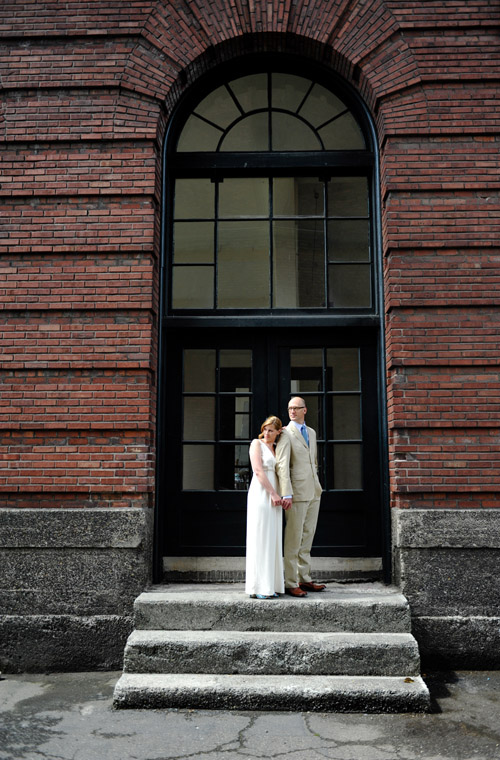 What wedding traditions or cultural traditions did you incorporated into your wedding and what did they mean to you? I did the something borrowed, something blue, something old and something new tradition. I had my sister wrap the stems of my bouquet in a handkerchief that my mom used in her wedding, as a very special something borrowed. Instead of the traditional wedding vows, Tim and I incorporated the Celtic handfasting tradition into our ceremony. It's where the term tying the knot originated. There are typically six questions to be asked of the couple, and with six parents, this worked out perfectly for us. A question is asked of the couple and then a ribbon is secured around their joined hands. It was a great way to include our parents and our families heritage. We also had a bagpiper play before and after the ceremony, as another nod to our heritage.
Were there any places where you broke the rules in your wedding planning? Why and how did you do that? We didnt follow the must dos. We decided early on that we wanted a dinner party atmosphere, not a traditional reception. There was no DJ or dancing. We also chose not to have a bridal party, not to have a first dance. To many couples, planning a wedding is checking off a list of the things that weddings are supposed to be instead of including the aspects that are meaningful to you as a couple.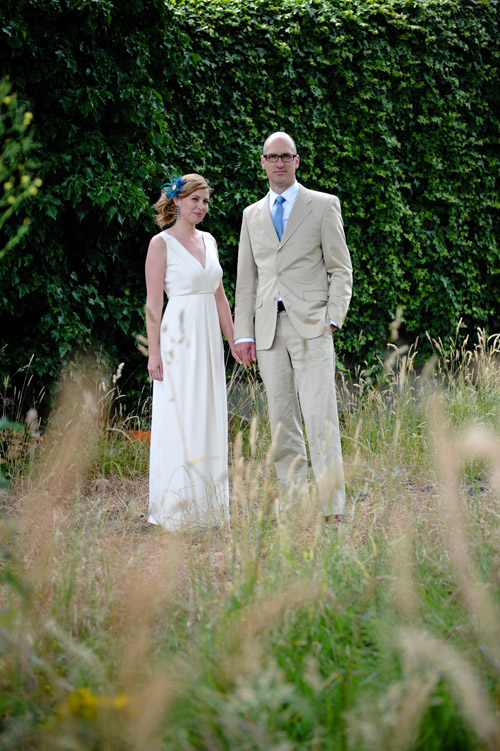 What was your biggest wedding planning success? The food! We worked very closely with chef Matt Dillon to craft a nine-course menu that would showcase the bounty of the Northwest in the summer. This included Dungeness crab, oysters, salmon, currants, mint and fava beans.
What was the most important thing that you learned through the wedding planning process and what would you tell other brides-to-be? Be true to yourself. Weddings can become overwhelming, both financially and mentally. The best thing Tim and I did was communicate our wishes right away to each other. With a united front, we told our families and we stuck to them. It would have been amazing to have everyone we know celebrate with us, but we stuck to our small budget and original wishes. To us, the day was everything that we wanted it to be! Also, stay calm and carry on. At the end of the day, the only thing that matters is that you are marrying the person of your dreams.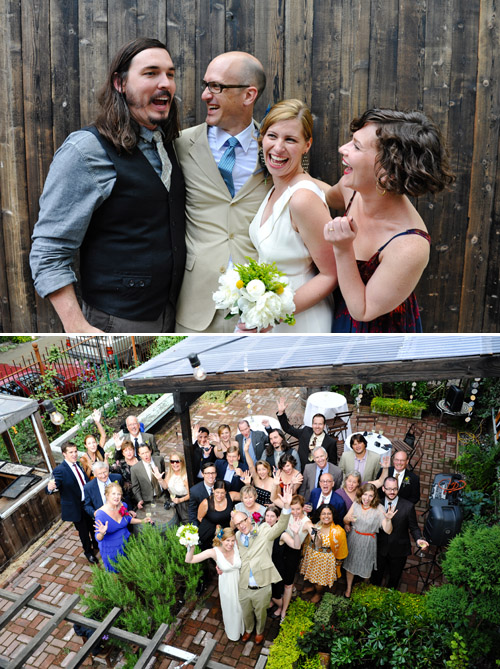 The Wedding Team:
The Photographer: Renata Steiner – Nataworry Photography
Ceremony/Reception Venue: The Corson Building
Officiant: MaryLee Lykes
Catering: The Corson Building
Florist: Rachel Hoverman and Judy Campbell
Wedding Dress: J.Crew
Bridal Accessories: Shoes – Marc by Marc Jacobs, Earrings – Leslie Danzis, Headpiece – YJDesign at Etsy.com
Groom's Apparel and Accessories: Suit – Zara, Shirt – Xacus, Tie – J.Crew, Boots – MOMA, Socks – Happy Socks
Hair and Make-up: Hair – Off White, Make-up – Aja Blanc
Live Music: Bagpiper Tyrone Heade
Favors: JonBoy Caramels
Rings: Laudick's Jewelery
Thank you, Megan and Tim, for telling us about your amazing wedding! We wish you the best of luck!
To learn more about wedding fashion and decor check our our Inspiration Gallery!