Well folks, we've made it to our Holiday Giveaway Week finale, and it's our biggest giveaway of the week! The winner of today's rehearsal dinner fashion giveaway will receive:
What a fabulous ensemble! To enter to win, just pop in over to Nina's website and tell us what you love most about their bridal collection. Then be sure to check out Kirribilla's I Do! Collection and leave us a comment here telling us which styles are your favorites. We'll be accepting entries through this Sunday, and choose our winner at random on Monday, December 23th, 2013. We hope you have a wonderful holiday season and best of luck to one and all!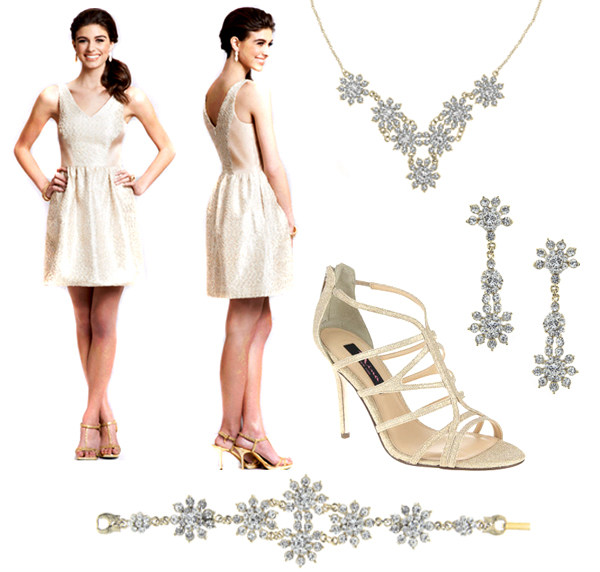 Rehearsal Dinner Fashion for the Bride
With a champagne hued dress from Kirribilla and sparkling accessories from Nina, this rehearsal dinner ensemble is perfect for the bride-to-be. Sophisticated, elegant and fun!
We hope you've loved our Holiday Giveaway Week as much as we have – be sure to enter to win all our other holiday giveaways from this week as well, including our All That Glitters is Gold Giveaway from Cloud Parade, Custom Wedding Stationery Giveaway, Bridesmaids' Gift Giveaway and Bridal and Men's Fashion Accessories Giveaway!