Your wedding planning months are a time in your life when you're going to be surrounded by beautiful products and design, so embrace the opportunity to celebrate your new phase in life with these fun, creative items. We love anything with a personal touch, so we've put together a group of giveaway prizes that will help you have just that. One lucky Junebug winner will soon be taking home:
– 25 Foil Stamped and Letterpressed Enclosure Notes from Haute Papier
– A Custom Address, Personal or Holiday Stamp from Paperwink
– A Custom Oil Painting From One of Your Wedding Photos by Julia Hou
Read on to learn more about each item, and to enter to win just leave us a comment here telling us what creative projects you're planning to make or purchase for your wedding. We'll accept entries all week long, and choose our winner randomly next Monday, December 19th, 2011.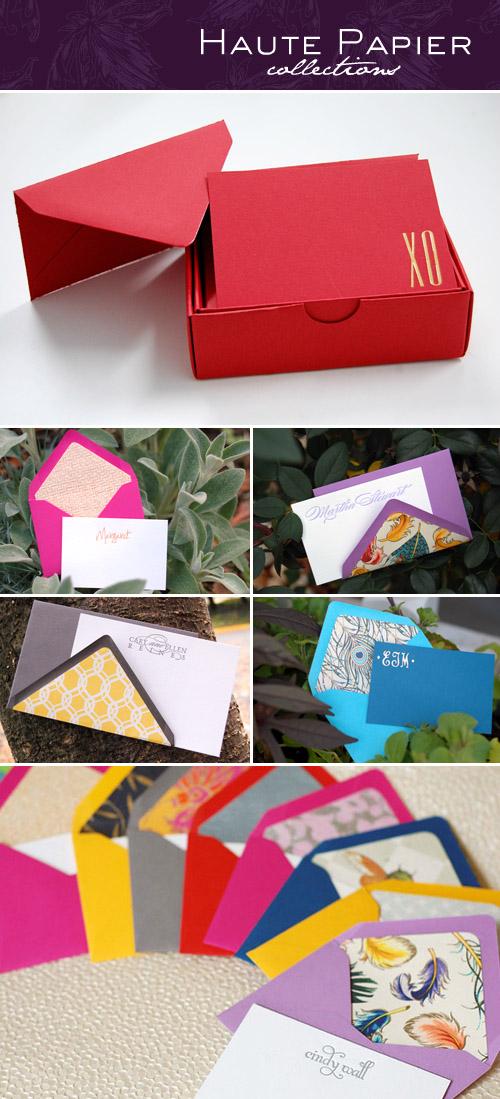 Haute Papier's bold and beautiful letterpress enclosure notes may be small but they pack a big punch. You can use them as gift cards, thank you notes, wedding escort cards and more, and with the incredible array of personalized designs they can be ordered in you'll want to use them for just about everything! We love the monogrammed options as well as the "signature" stationery option (letterpressed with your own signature!), and those envelope liner are to-die-for! To get our winner started with a set of their own, Haute Papier owners Sarah and Erin are giving our winner the set of 25 adorable red enclosure notes letterpressed with "xo" seen above! So sweet!

After discovering the products of Paperwink earlier this year, I've been obsessed with their custom address and personal stamps. Each and every stamp design Paperwink offers is so delightful that they would bring a little thrill to the most every day activities (really, who couldn't use a little more excitement when mailing out the bills?) Paperwink also offers wonderful invitations, address labels, notebooks and accessories, but custom stamps are close to their hearts, so they're generously giving our Junebug winner the custom address, personal or holiday stamp of their choice. Thanks Paperwink!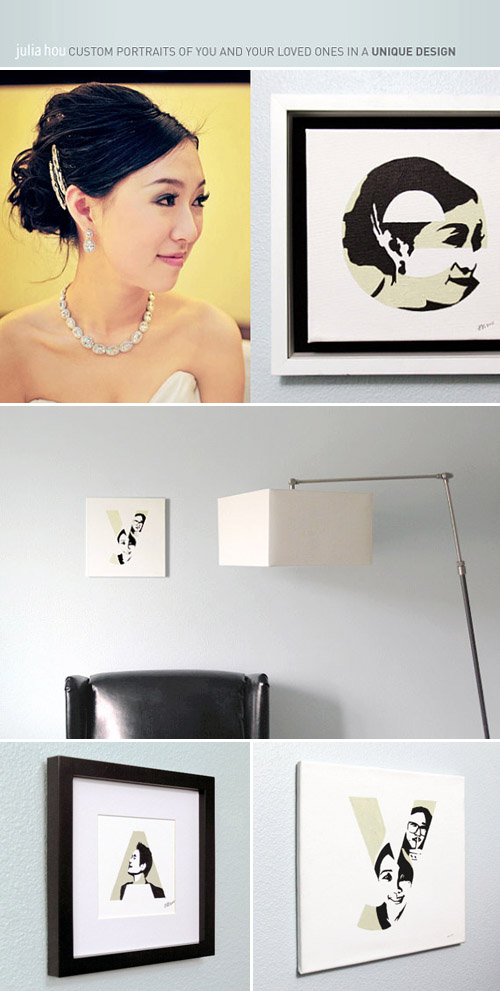 Artist Julia Hou creates custom oil paintings that are not your traditional portraits! Using one of your wedding photos she will interpret your image in the most modern way, inside the letter of your choice. It's like combining a monogram and portrait into one! Each piece is absolutely one-of-a-kind, and painted on an 8″ by 8″ gallery wrapped heavy duty canvas board, ready to display. I'm thrilled that Julia is giving a custom painting to the winner of this giveaway – what a treasure for your home.
Thanks for entering to win everyone! And don't forget to enter yesterday's Groomsmen's Gifts Giveaway, Tuesday's Bridesmaids' Gifts Giveaway, Monday's huge Bridal Fashion Giveaway, and all the photography related giveaways going on over on Photobug!