Our giveaway week continues today with a collection of bespoke items that are a sweet way to celebrate your upcoming wedding! The winner of today's "Custom Wedding Designs" giveaway package will receive:
-One custom 11″x14″ Laser Cut Double Fingerprint design from Lori Danelle
-Up to 25 DIY Printed Handkerchiefs from Benign Objects
-$100 in personalized Wedding Thank You Cards from Pear Tree Greetings
Read on to learn more about each item, and to enter to win just leave us a comment here telling us what custom touches you are planning for your wedding day! We'll accept entries all week long, and choose our winner randomly next Monday, December 24th, 2012. Happy Holidays everyone!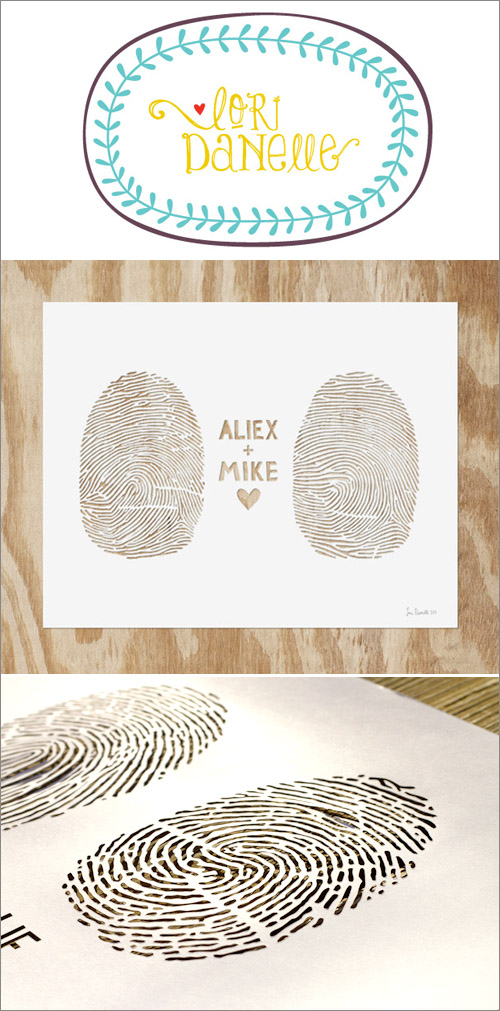 When you want something truly artistic and one-of-a-kind to celebrate your wedding day, look no further than Lori Danelle's Fingerprint Paper Cuttings. Made specifically for you, from your very own fingerprints, Paper Cut Artist Lori Danelle spends hours meticulously preparing each fingerprint design for layout and cutting, and then uses a precision laser (or in the case of her hand-cut designs, an x-acto knife) to cut the unique pattern into a work of art. Today's very fortunate giveaway winner will receive their very own Laser Cut Double Fingerprint design (see photo), and have something special to last forever!
To see all of Lori Danelle's creative designs and to learn how to personalize your own custom fingerprint design, visit her website!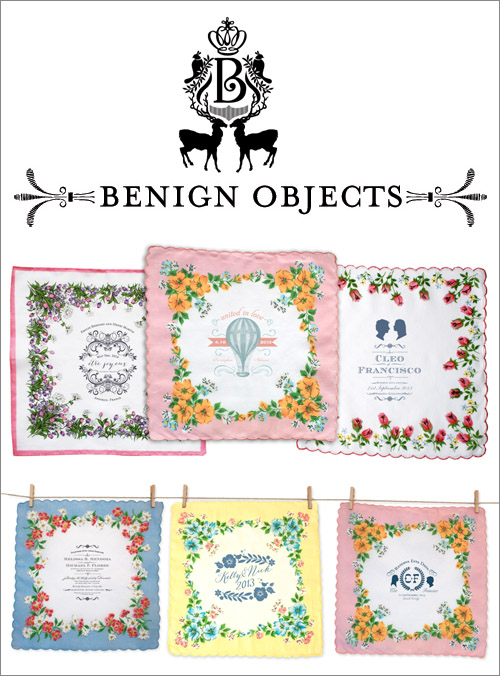 It's always such a joy to receive a wedding invite or save-the-date in the mail and hang on to it as a keepsake, purely for its uniqueness. Perfect for a smaller, vintage-style wedding, your wedding guests will adore these DIY handkerchiefs from graphic design company Benign Objects. Known for her specialty print, packaging and stationery items, Rachel of Benign Objects creates gorgeous designs that range from whimsical to classic. The winner of today's giveaway will receive up to 25 DIY handkerchiefs with a personalized graphic. With the choice of three handkerchief styles and tons of layout options, all you need to provide is your own iron-on transfer paper and elbow grease!
For the latest designs, DIY ideas and free printable cards, be sure to like the Benign Objects Facebook page. You can also check out Benign Objects on their website and blog.

Whether you're newly engaged or newly married, the one thing you should always have on hand throughout the wedding planning process is plenty of thank you cards. With such a wide variety of styles and customizing options available, we love online custom greeting card and invitation company, Pear Tree Greetings. Nearly all of their stationery items are printed on high-quality card stock and with so many options, there's literally something for everyone! Our lucky winner today will receive $100 at PearTreeGreetings.com to redeem for personalized Thank You Cards of their choice – now there's something to be thankful for!
Pear Tree also partners with non-profit organization CaringBridge that helps families going through a health crisis. To learn more about how you can order beautiful stationery and paper while making a difference, visit Pear Tree Greeting's website.
Remember, all you have to do to enter is leave us a comment telling us about the custom touches you are planning for your wedding day. And check back tomorrow for our final giveaway!