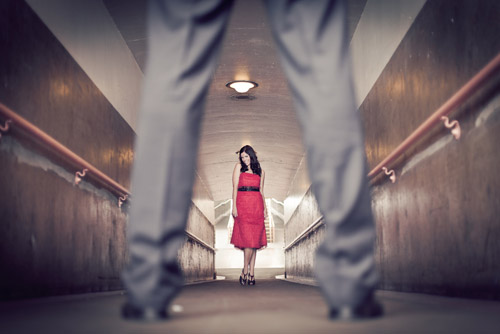 I recently received these fun engagement images of couple Amy and Paul from photographer Jonathan Lipking of Iris and Light Photography. I just love how Amy got all dressed up and embraced her love of fashion for the shoot. Truly, if clothing and accessories are your thing, there is no better time to indulge your fashion passion than during all the unique photo opportunities youll have during this special time in your life. So put on your favorite outfit, that fabulous dress, those heels you love–whatever it is that makes you feel your most comfortable, confident and beautiful. It will shine right through in your photos!
What will you (or did you) wear for your engagement shoot?

Want to learn about Amy's cute outfits?
Red Dress: BCBG with a vintage belt
Shoes: Miu Miu (black with red heels) and Christian Louboutin (black with peep toes and straps)
Polka dot dress: Laundry by Shelli Segal
Shoes: Stuart Weitzman