Happy Holidays dear readers! We're signing off today for a long Christmas weekend, and wanted to leave you with something sweet…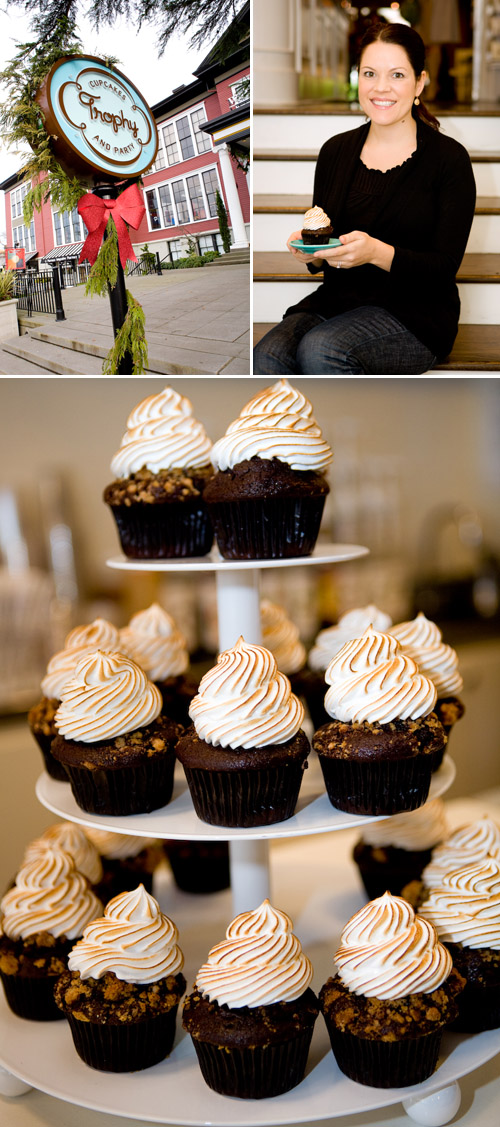 The brilliant Jennifer Shea and her team at Trophy Cupcakes are absolute cupcake gurus, and a few years back we published their incredible recipe for Chocolate Graham Cracker and Toasted Marshmallow Cupcakes after Jennifer demonstrated it on The Martha Stewart Show. These little beauties aren't holiday themed per se, but I think they look like perfect little mountains of snow and seem oh-so festive at this time of year. You can watch Jennifer and Martha baking up a storm in the video below, and then follow the recipe yourself for the most beautiful and delicious cupcakes around.
From the Junebug family to you and yours, we wish you the most joyous of holidays! See you back here on Tuesday! xoxoxo
Chocolate Graham Cracker and Toasted Marshmallow Cupcakes
Makes 2 dozen
* 2 1/4 cups plus 2 tablespoons sugar
* 1 3/4 cups all-purpose flour
* 3/4 cup plus 1 tablespoon cocoa powder (not Dutch-processed)
* 1 1/2 teaspoons baking powder
* 1 1/2 teaspoons baking soda
* 1 teaspoon salt
* 2 large eggs
* 1 cup whole milk
* 1/2 cup vegetable oil
* 2 teaspoons pure vanilla extract
* 1 cup boiling water
* 1 1/2 cups graham cracker crumbs (from about 20 squares)
* 1/3 cup unsalted butter, melted
* 9 ounces bittersweet chocolate, finely chopped
* Marshmallow Frosting
Directions
1. Preheat oven to 350 degrees. Line 2 standard muffin tins with cupcake liners; set aside.
2. Sift 2 cups plus 2 tablespoons sugar, flour, cocoa powder, baking powder, baking soda, and salt together into the bowl of an electric mixer. Using the paddle attachment, mix ingredients together on low speed.
3. In a large bowl, mix together eggs, milk, oil, and vanilla. Add to flour mixture and beat on medium speed for 30 seconds. Scrape down sides of bowl and continue mixing on medium speed for 2 minutes. Add boiling water and stir to combine; set cake batter aside.
4. Place graham cracker crumbs, remaining 1/4 cup sugar, and melted butter in a large bowl; stir until well combined.
5. Place 1 tablespoon graham cracker mixture into the bottom of each prepared muffin cup. Use the bottom of a small glass to pack crumbs into the bottom of each cupcake liner. Reserve remaining graham cracker mixture for topping.
6. Place 2 teaspoons chocolate in each muffin cup. Transfer muffin tins to oven and bake until the edges of the graham cracker mixture is golden, about 5 minutes. Remove from oven and fill each muffin cup three-quarters full with cake batter. Sprinkle each with remaining chocolate and graham cracker mixture. Return to oven and bake, rotating pans halfway through baking, until tops are firm and a cake tester inserted in the center comes out clean, 18 to 20 minutes. Transfer muffin tins to a wire rack and let cupcakes cool in pan for 10 minutes. Remove cupcakes from pan and let cool completely.
7. Transfer frosting (recipe below) to a large pastry bag fitted with a large plain round or French tip (such as Ateco #867 or Ateco #809). Pipe frosting in a spiral motion on each cupcake. Transfer cupcakes to a baking sheet. Using a kitchen torch, lightly brown the frosting, taking care not to burn the cupcake liners. Serve immediately or store in an airtight container, up to 2 days.
Marshmallow frosting

Makes enough for 2 dozen cupcakes
* 8 large egg whites
* 2 cups sugar
* 1/2 teaspoon cream of tartar
* 2 teaspoons pure vanilla extract
Directions
1. Place egg whites, sugar, and cream of tartar in the heatproof bowl of an electric mixer. Set over a saucepan with simmering water. Whisk constantly until sugar is dissolved and whites are warm to the touch, 3 to 4 minutes.
2. Transfer bowl to electric mixer fitted with the whisk attachment, and beat, starting on low speed, gradually increasing to high, until stiff, glossy peaks form, 5 to 7 minutes. Add vanilla, and mix until combined. Use immediately.