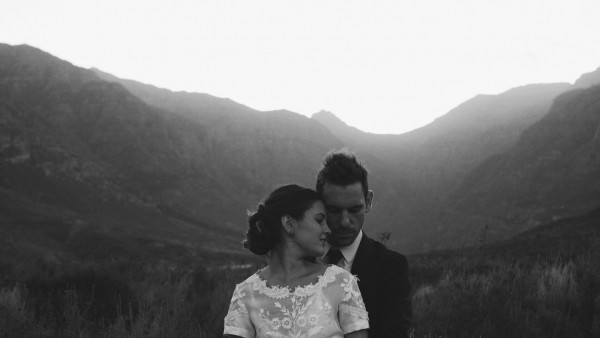 Marize and Jacques South African wedding wouldn't have been complete — literally! — without the love and talents of their friends and family. The couple decided a wedding would best represent their relationship if it was carefully crafted by the people who helped make them the couple they are today. The intimate and handmade celebration was brilliantly captured by Orpen Film Co., who captured the breathtaking landscape of Cape Town and the incredible love shared by Marize and Jacques.
The Couple:
Marize and Jacques
The Wedding:
Maison Estate, Cape Town, South Africa
The Inspiration:
Being a designer myself and extremely detail orientated, I knew it will be an interesting task at hand to plan my own wedding. One of the first things I wanted was for our wedding day to be a reflection of us, and not just me. I think it is funny that people walk away from a wedding day saying "The wedding was so "insert bride's name" if the whole day is actually about two people. So Jacques and I sat down over a coffee and decided what is important for us, which was: the food (since that is pretty much what our lives revolve around ), involving the talents of our friends and family, and to make choices that reflect our values and our journey together. The whole journey ended up being much more about letting our hearts dictate the day than a beautiful aesthetic.
I never had a dream dress in mind, but I knew I wanted it to be simple and comfortable and started joking about wearing a t-shirt and a skirt — and that is exactly what I ended wearing. A wide skirt, a t-shirt made of antique french linen dishtowels and simple sandles worth $10. I loved it. The rest of our wedding I would describe as a simple feast with little touches of delight that had a special meaning to us, but most of all — there was a theme woven around what was happening in the hearts of many people that day.
The Moments:
They always say that a wedding day goes by so quickly – and it does. Having a quite moment after walking down the isle, rarely happens and I wish there were many moments I could freeze in time and embrace. While the sun were setting we sneaked away for a few minutes with our photographer and videographers,who are also some of our best friends, to have some fun in the last minutes of the sun. On our way back to the venue, we were driving down a gravel road, dust dancing in big clouds behind us and the sunset painting all shades of pastel pink. We looked in the rear view mirror in silence and with thankful hearts, we embraced our first moment being silently present in the now-and-forever.
The Wedding Team:
Videography – Orpen Film Co.
Ceremony Venue – Kylemore Church
Reception Venue – Maison Estate
Live Music – Gerald Clark
Hair & Makeup Artist – Nadia Professional Hair & Makeup
Wedding Dress – Stefania Morland
Rings – Dear Rae
A special thanks to Orpen Film Co. for sharing this gorgeous film of Marize and Jacques' wedding! For more South African wedding inspiration, check out Pippa and Max's bohemian forest wedding in South Africa.